This post may contain affiliate links. Please read our disclosure policy.
Are you craving a restaurant-quality bowl of traditional French Onion Soup? Then you will absolutely love how delicious and rich this homemade french onion soup recipe is. Made with onions, red wine vinegar, beef broth, butter, and a few spices, you can't go wrong. While this recipe takes some quality time to ensure the onions are deepened and caramelized, it's well worth the effort and isn't as difficult as it may sound. Patience will get you the best homemade version of French onion soup that's full-bodied with broth-soaked toasty bread and melty cheese in every bite.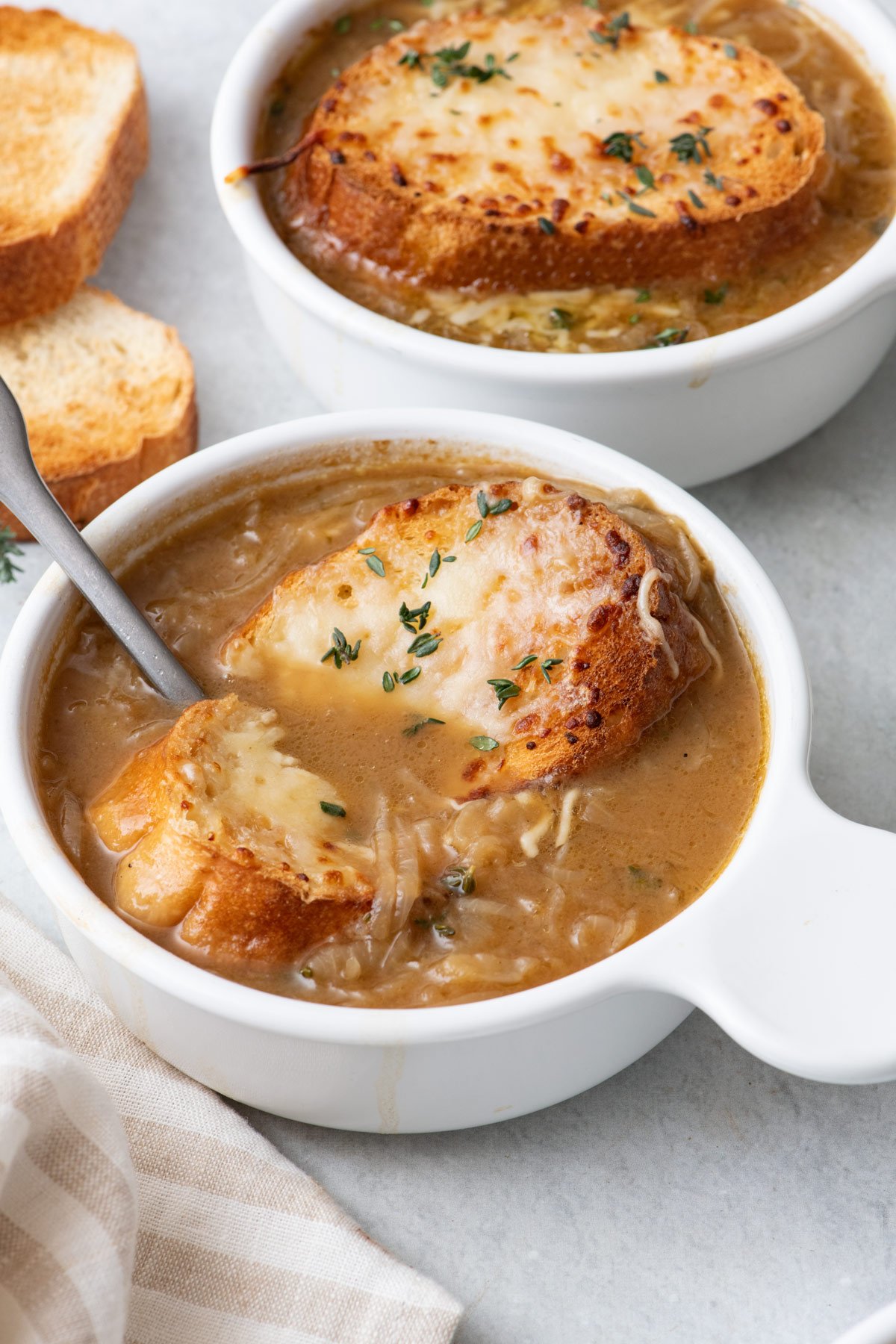 Table of Contents
This labor of love soup recipe starts by slicing up a bunch of onions (we're talking 3 pounds) and cooking them down slowly in a pan for about an hour. This method of slow-cooking the onions releases their sugars and breaks down the intense flavors until they are deep and caramelized. A splash of red wine vinegar lifts all the bits from the bottom of the pan before adding in the beef broth and seasonings. Top with crusty bread to soak in all the delicious beefy onion soup and gruyere to finish with a melty cheesy top.
Why you'll love this homemade french onion soup
The best flavor. It's no secret that French onion soup has some of the best flavors in the soup world. We're talking rich, robust, slightly sweet onion and beefy taste that hits those umami notes to delight your tastebuds with each brothy and cheesy bite.
Wine-free. This French onion soup without wine is an alcohol-free version of the traditional recipe. Instead, it subs red wine vinegar, so you don't miss out on that signature depth of flavor from the acidity wine adds.
Restaurant-quality. There's a technique to making a classic French onion soup recipe of slowly caramelized onions, and this recipe walks you through achieving the best results. The time and effort spent are well worth it!
Ingredients to make French onion soup
For the Soup:
Butter and oil. Using both butter and oil help to slowly cook the onions and give them extra flavor while they caramelize.
Onions. I use 3 pounds of yellow onions, but red onions also work and give a slightly stronger oniony flavor.
Seasoning: Salt, pepper, and fresh or dried thyme.
Flour: A couple of tablespoons of flour are sprinkled on the onions before the broth is added to form a roux and thicken the soup a little.
Beef broth: All beef broth's rich, deep, and savory attributes combine with the onions for some mouthwatering flavors.
Red wine vinegar: This is a quick way to lift all the caramelization from the bottom of the pan and add a punch of flavor.
For Serving:
Baguette or french bread: Slice and toast up before adding to the soup.
Gruyere cheese: To get the best cheesy pull, use freshly shredded cheese.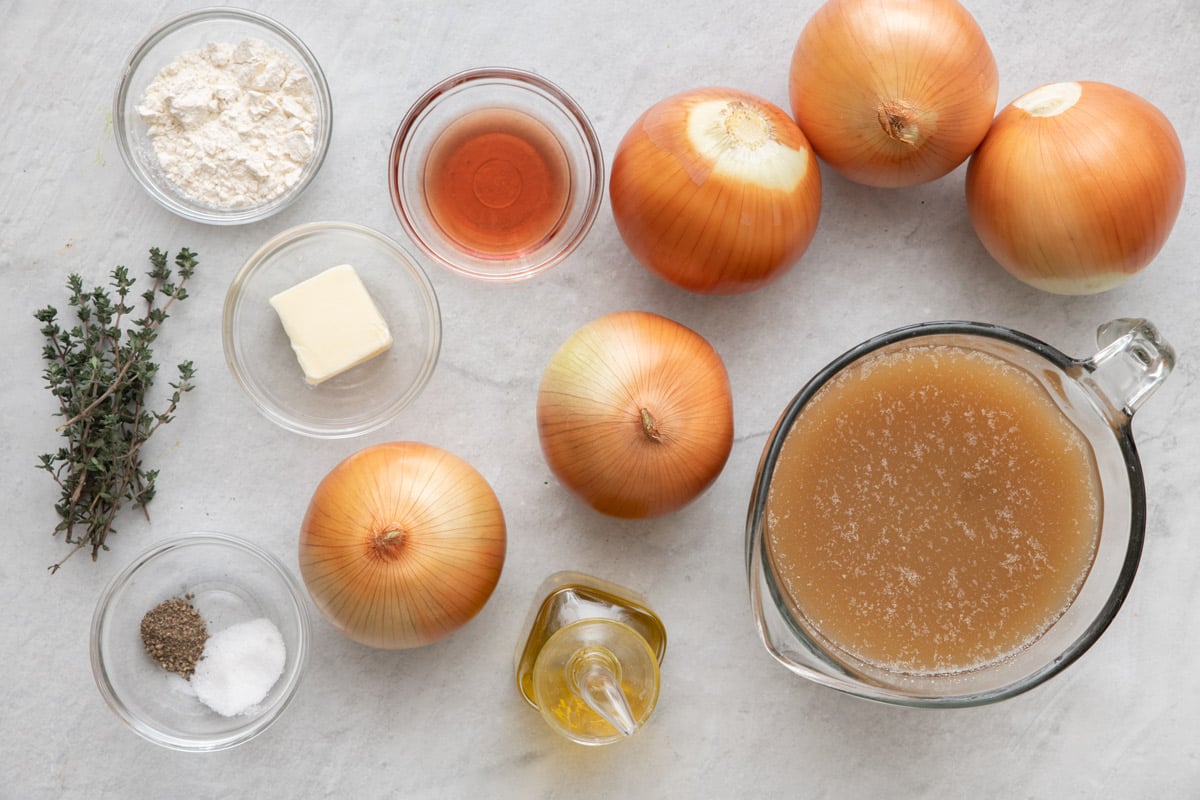 How to make easy French onion soup
Heat olive oil and butter to a large dutch oven, and then add the sliced onions, salt, and pepper.
Stir the onions constantly until they are softened and lightly browned.
After the onions are deeply caramelized, sprinkle the flour and thyme and mix until the flour is no longer visible.
Add the beef broth and vinegar, stir, and simmer until thickened.
Divide the soup into bowls and top with the bread and cheese.
Place under a broiler until cheese is bubbly and brown. Keep a close eye on this process to avoid overcooking and burning the top of your cheese.
Tips for making the best french onion soup
Take your time caramelizing the onions. Caramelizing onions is a slow process, but the end result is worth the patience! Resist the temptation to raise the heat to attempt to cook the onions faster. Low and slow is best and helps to prevent burning the onions, which causes the soup to be bitter.
Serve without broiler-safe bowls. There's no need to go out and buy broiler-safe serving bowls. You can place the bread on a rimmed baking sheet, top it with cheese, and toast under the broiler until melted. Then, transfer the cheese toast to bowls of soup before serving.
Toast the bread before broiling it with the soup. This gives the bread an extra crunch and helps make it sturdier on top of the soup.
Make the soup ahead of time. Because this soup keeps you in the kitchen with a watchful eye while the onions cook, you can make it when you have time to dedicate to making it. Skip the bread and cheese for now. Then you can enjoy French onion soup by simply reheating it on the stove and finishing with the bread and cheese under the broiler.
Popular substitutions & additions
Use a different cheese. Any melty white cheese will work for this soup. Try it with provolone or mozzarella as an alternative to Gruyere.
Add red pepper flakes. Add some heat and sprinkle some flakes on top before serving, or infuse the soup from the start and include it when adding in the spices.
Add a bay leaf. The thyme does a wonderful job adding a little herby flavor to this beefy brothy onion soup, and adding 1 or 2 bay leaves will give it even more flavor.
Use vegetable broth. Make this a vegetarian French onion soup and replace the beef broth with vegetable broth. It won't have that same beefiness, but add a splash of soy sauce and Worcestershire sauce to give it more depth.
How to store & reheat French onion soup
To store: If you have leftovers, allow the soup to cool before transferring it to an airtight container in the fridge. You'll want to store it without the bread and cheese, reserving this step for reheating.
To reheat: Heat a saucepan on the stove and add the soup. Heat through, add to a bowl, and top with the bread and cheese, broiling to get it all toasty and melty.
How long will french onion soup last in the fridge?
Store french onion soup in the fridge for up to 4-5 days.
Can I freeze homemade french onion soup?
You can freeze french onion soup by adding it to freezer-safe bags or containers after completely cooling. Store in the freezer for up to 3 months, and thaw in the fridge overnight.
Frequently asked questions
What broth is French onion soup made from?
Beef broth is traditionally used for making French onion soup. I highly suggest finding a beef broth that you like, as boxed broth varies in flavor and you don't want to make a whole batch of soup to find out the broth flavor isn't what you expected.
Is French onion soup supposed to be thick or thin?
You want this to be slightly thicker than a broth soup but nowhere near as thick as a chowder. Adding a roux gives it just enough body for the broth to adhere to the onions, so you get a spoonful in every bite.
Why is my soup bitter?

Cooking the onions too quickly and burning them is the only reason your French onion soup is bitter. It's important to have patience and allow the onions to cook slowly and release their sugars to build a deepened caramelization and get that traditional taste.
What type of onions should I use?
The best onions to use for french onion soup are, without a doubt, yellow onions. They have a higher sugar content than white or red and caramelize beautifully!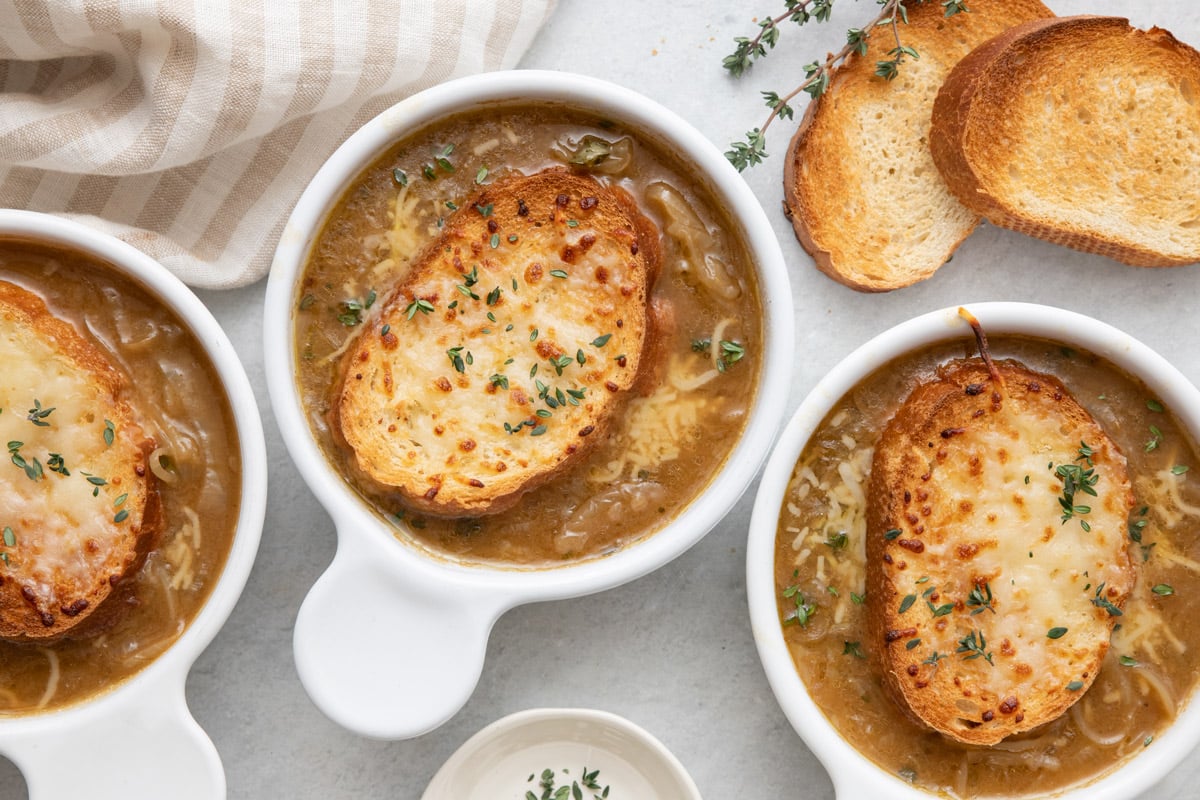 Look no further than your kitchen for a quality French Onion Soup recipe that compares to one of the most popular soups on restaurant menus. Once you've learned the proper technique to caramelize onions into a deep and rich base, you've basically mastered this recipe. French onion soup is so comforting and will be a go-to recipe you'll love to make and is sure to impress.
More soup recipes:
If you try this feel good French Onion Soup recipe or any other recipe on Feel Good Foodie, then don't forget to rate the recipe and leave a comment below! It helps others who are thinking of making the recipe. We would love to hear about your experience making it. And if you snapped some shots, share it on Instagram so we can repost on Stories!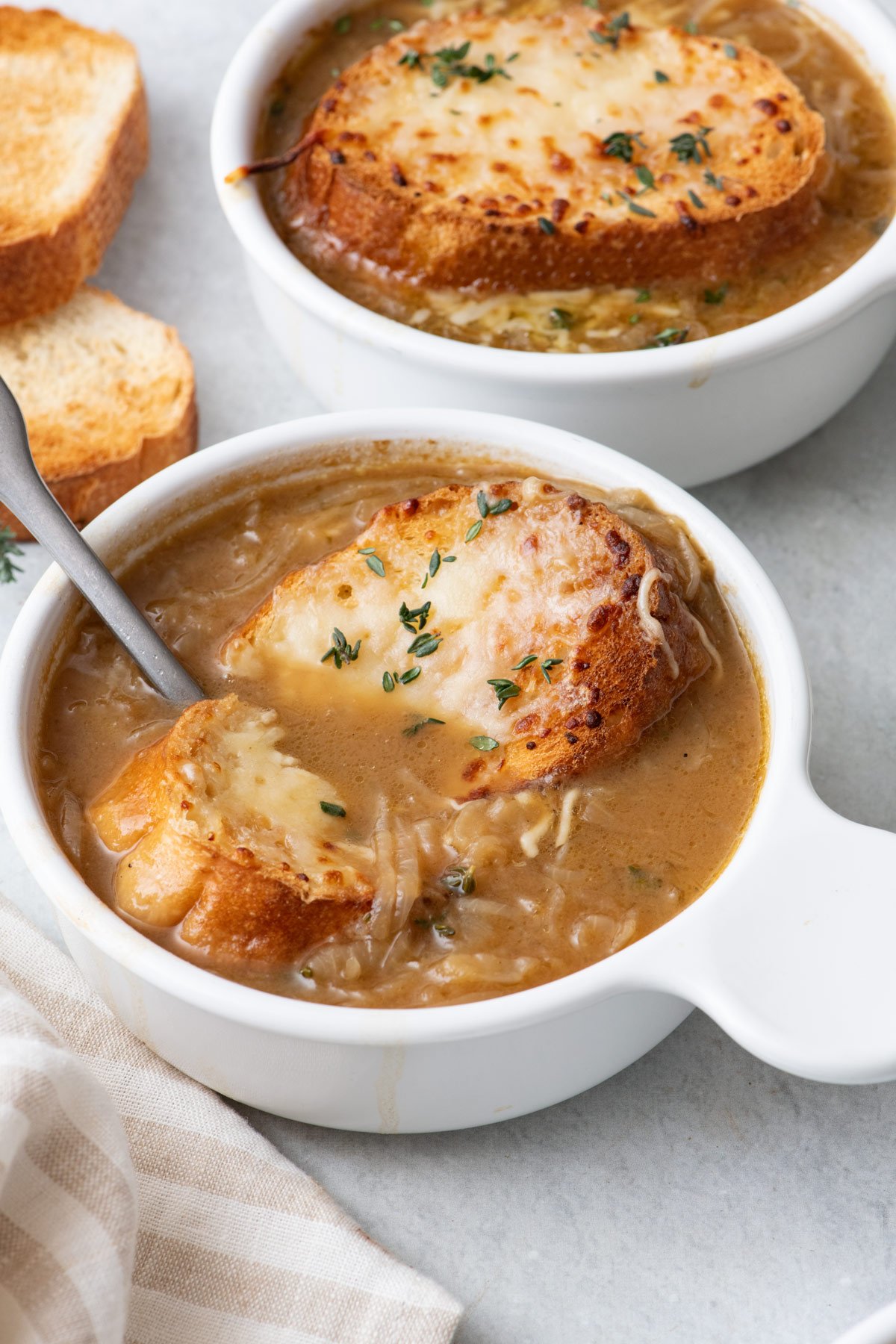 French Onion Soup
Dip your spoon into a bowl of comforting and traditional French Onion Soup with easy step-by-step instructions to achieve restaurant-quality results. If you're looking to impress, this is definitely one to master!
Ingredients
For Serving:
8

slices

baguette or french bread

1 ½

cup

grated gruyere cheese

divided
Instructions
Add olive oil and butter to a large dutch oven. Set over medium heat. Once butter has melted, add onions, salt and pepper and cook, stirring almost constantly, for about 30 minutes, or until the onions are softened and lightly golden. Increase the heat to medium-high and continue to cook the onions until they are deeply caramelized, about 25-35 more minutes. If needed, you can add a little bit of water to the pan as the onions cook if they are sticking to the pan.

Add flour and thyme and stir until the flour is no longer visible. Add beef broth and red wine vinegar and bring to a boil. Reduce heat to a simmer and cook uncovered until thickened, about 20 minutes.

When ready to serve, preheat the broiler. Divide the soup into broiler-safe serving bowls (about 2 cups of soup per person), then top each with a slice of bread. Divide the cheese evenly on top of each bowl of soup, then broil for 1 to 2 minutes, or until the cheese is bubbly and brown. Keep a close eye on this process as every broiler is different!
Nutrition
Calories:
338
kcal
,
Carbohydrates:
34
g
,
Protein:
15
g
,
Fat:
16
g
,
Saturated Fat:
7
g
,
Polyunsaturated Fat:
1
g
,
Monounsaturated Fat:
6
g
,
Trans Fat:
0.1
g
,
Cholesterol:
35
mg
,
Sodium:
1566
mg
,
Potassium:
450
mg
,
Fiber:
4
g
,
Sugar:
9
g
,
Vitamin A:
368
IU
,
Vitamin C:
14
mg
,
Calcium:
343
mg
,
Iron:
2
mg
Nutrition information provided is an estimate. It will vary based on cooking method and specific ingredients used.