This post may contain affiliate links. Please read our disclosure policy.
This leftover turkey and rice soup with veggies is perfect for using up all of that Thanksgiving turkey! It's healthy, hearty, and delicious. The best part is that it's really easy to make. Just soften the vegetables, then add the rice and cook, followed by the cubed turkey. Finally, stir in some fresh spinach for a boost of nutrition. This homemade turkey soup is perfect for a cold winter day!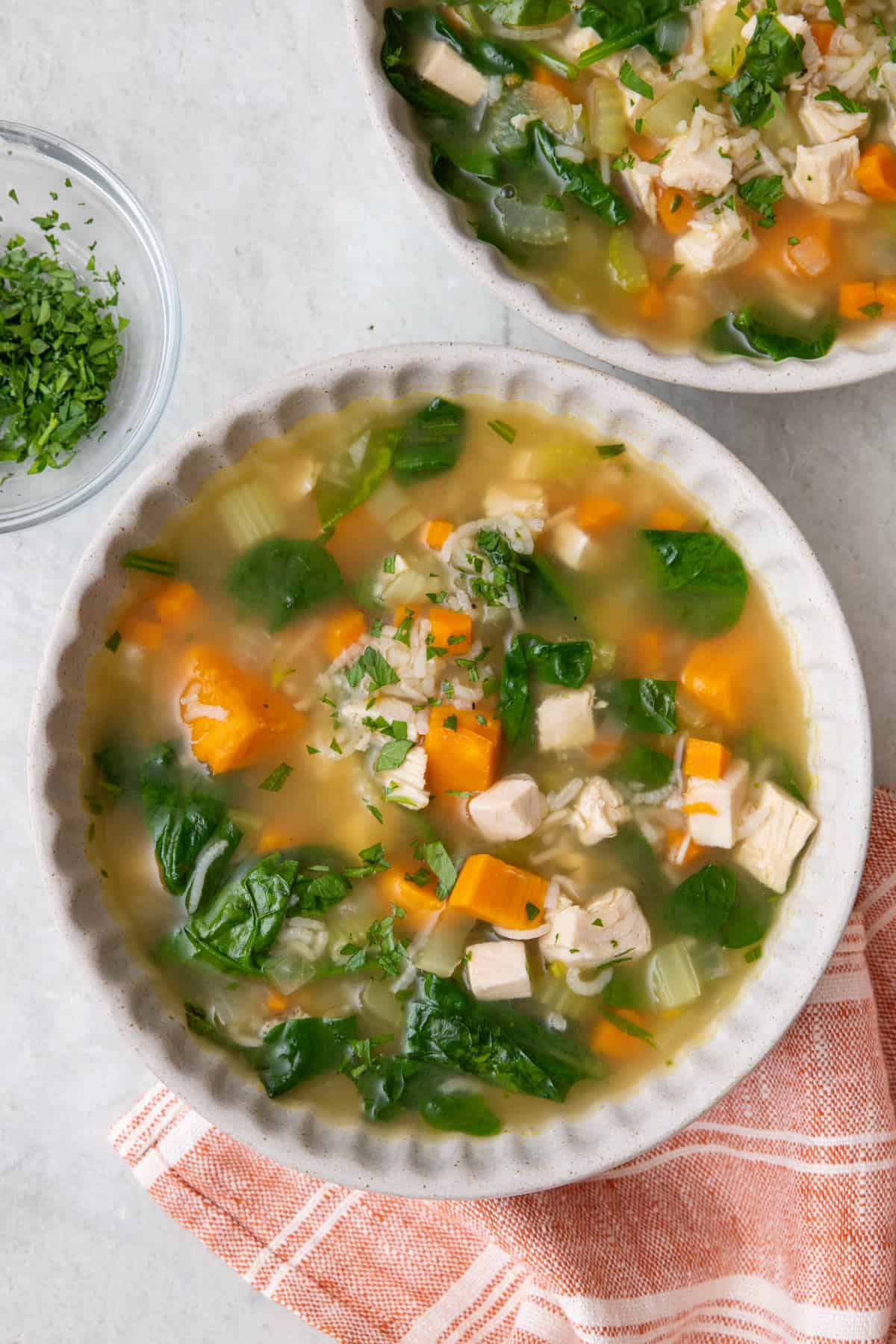 Since I only eat halal poultry, turkey comes to my butcher's once a year. And it's not hard for me to eat any leftovers. But if you find yourself not sure what to do with leftover turkey or chicken, this soup is for you. I also love that it has sweet potatoes and fresh aromatic herbs, which you may also have left over if you cooked up a Thanksgiving meal.
"So so good!! I made a turkey bone broth and used that in place of the stock. Everything else I used exactly as listed. Wonderful way to use all the Thanksgiving leftovers!" – Val
Table of Contents
Recipe at a glance
Cuisine Inspiration: American
Primary Cooking Method: Stovetop
Dietary Info: Gluten-free and Dairy-free
Key Flavor: Savory
Skill Level: Beginner
Summary
A different way to eat leftover turkey. While turkey sandwiches filled with turkey salad, or just turkey and mayo, are delicious, I sometimes find myself ready to move on from the same flavors. This leftover turkey soup offers a change of pace while still letting you use up all of that holiday bird.
Hearty and comforting. This soup is light and refreshing but still hearty enough to make a filling meal. After a big feast, I find it nice to eat something that warms my belly without putting me into sloth mode.
Easy to customize. I love that this leftover turkey recipe can be easily customized to your personal preferences or what you have on hand in the fridge. Just throw in whatever vegetables you want! Add some kale, or even swap out the rice for noodles.
Meal-prep friendly. Similar to a chicken and rice soup, this turkey and rice soup is a good candidate for freezer-meal prep. You may want to switch out the white rice for wild rice as it holds up better when frozen (if your plan is to freeze, to begin with), then just pack the soup up in individual portions or in a ziplock bag and enjoy it later on. Cook the wild rice to the package instructions.
Ingredients to make leftover turkey and rice soup
Turkey: I like to use leftover turkey breast, but you can use all dark meat or a combo of both. If you're trying to use up little pieces of turkey, don't worry about cubbing them perfectly. You can do a rough chop on them to get them down to spoon-sized pieces.
Rice: For this recipe, I recommend using long-grain white rice or basmati rice. The cooked grains add a nice amount of heft to the soup and make it feel more like a meal.
Vegetables: In addition to onions and celery, you can also add any other leftover veggies you have on hand. Some of my favorites are carrots, sweet potatoes, and fresh spinach.
Herbs: I like to use fresh rosemary for this recipe. It gives the soup a very aromatic flavor that really complements the turkey taste. You can also use thyme and even tarragon if you have them on hand.
How to make turkey rice soup
Add onions, carrots, celery, garlic, and sweet potato cubes to a preheated dutch oven.
Cook until the vegetables begin to soften.
Add rice, rosemary, salt, pepper, and chicken stock, bring to a boil. Reduce heat to a simmer and cook until the rice is cooked and the sweet potatoes are tender.
Stir in turkey and heat until turkey is warmed through.
Add spinach
Cook until the spinach has just wilted and serve!
Tips for making the best turkey soup
Don't add the turkey too soon. The turkey only needs to be added towards the end of cooking. You only need it to heat up, and if you add it too soon, it may get overcooked and dry.
Keep an eye on the rice while cooking. The rice may need to be stirred more frequently or covered with a lid during cooking, depending on your stove and pan type. Keep in mind the rice will continue to cook once the burner is off and while the soup cools.
Cut your veggies into uniform pieces. This is particularly important for the potatoes, and carrots as you want them to cook evenly. The celery and onion tend to be a little more forgiving, but using a uniform size will make sure everything is cooked at the same time.
Popular substitutions & additions
Use up those Thanksgiving scraps! This recipe is a great way to use up odds and ends from the big day. Feel free to swap the sweet potato for a regular potato or even cubed squash.
Change up the greens. Kale or Swiss chard would be a great swap. You may just need to cook them slightly longer than the spinach.
Experiment with different flavors and seasonings. Want to add a little spice? Toss in some red pepper flakes! You can even experiment with warm spices like cumin to add a little surprise!
how to store & reheat turkey and rice soup
Store the soup in airtight containers or sealable freezer bags and keep it in the fridge. To reheat, simply ladle into a saucepan over low heat until warm. You can also microwave individual portions if you want to. Enjoy!
how long will homemade turkey soup last in the fridge?
The homemade turkey soup should last in the fridge for up to 5 days. To maximize freshness and flavor, always use clean utensils when scooping out portions. You may also want to refrigerate the soup quickly after cooking, as this will help stop the cooking process.
can I freeze turkey rice soup?
If you want to freeze this turkey and rice soup for later use, cool the soup to room temperature, then pack it into freezer-safe containers, leaving about an inch at the top of each container for expansion in the freezer. Close tightly and freeze for up to 3 months.
Frequently asked questions
Can I use chicken instead of turkey?
Yes, you can use chicken instead of turkey in this recipe. Any poultry will work!
Can I cook the rice and then add it to the soup?
Sure! In fact, this is a great way to make sure that any leftover soup does not contain leftover mushy rice. Add the desired amount of rice to your bowl and ladle the how turkey soup on top of it, and you'll be good to go!
How do you keep rice from getting soggy in soup?
As mentioned above, cooking the rice separately before adding it to the soup is a great way to avoid soggy rice in your turkey and rice soup. You can also take steps to minimize water by carefully monitoring the cooking time and stopping the cooking process with an "ice bath," which is really not feasible for most.

If you do want to stop the cooking process with ice, it's similar to using a double boiler. You need a large bowl filled a little over ¼ the way with ice and then a second large, but slightly smaller bowl (think nesting bowls) to transfer the soup into. Place the bowl of soup in your ice bowl and start the cooling process. You may have to add ice several times.
This leftover turkey and rice soup recipe is a great way to use up Thanksgiving scraps. The great thing about this soup is the flexibility, so feel free to add or substitute your favorite fresh herbs, spices, or other ingredients.
More soup recipes:
If you try this feel good Turkey Rice Soup recipe or any other recipe on Feel Good Foodie, then don't forget to rate the recipe and leave a comment below! It helps others who are thinking of making the recipe. We would love to hear about your experience making it. And if you snapped some shots, share it on Instagram so we can repost on Stories!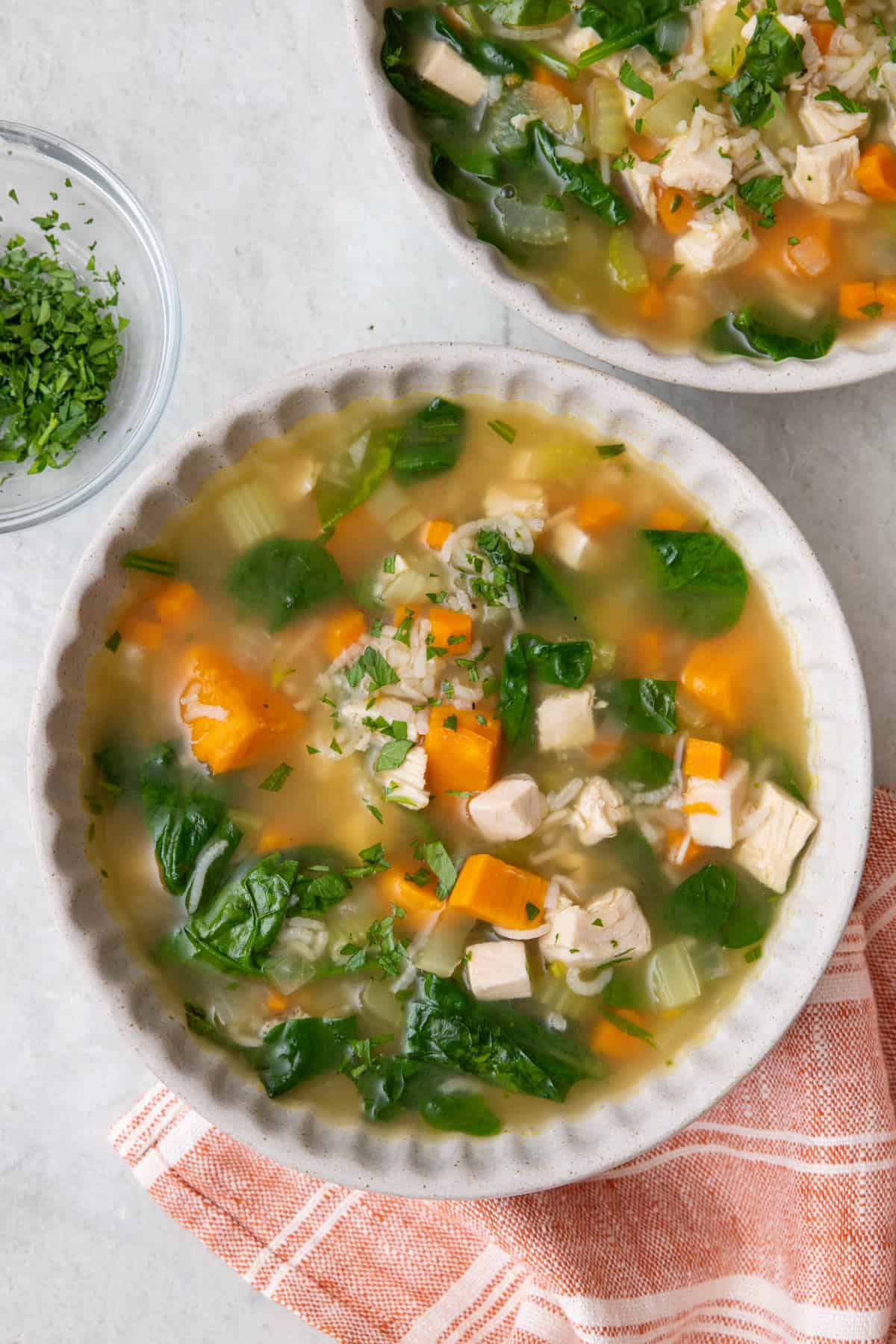 Turkey Rice Soup
Leftover turkey and rice soup with fresh vegetables and a herbaceous rosemary-infused broth. It's the homemade turkey soup recipe you've been looking for!
Ingredients
2

tablespoons

olive oil

1

onion

diced

3

carrots

diced

3

celery stalks

diced

2

garlic cloves

minced

1

medium sweet potato

peeled and diced

½

cup

long grain rice

uncooked

2

tablespoons

chopped fresh rosemary

½

teaspoon

salt

½

teaspoon

black pepper

8

cups

chicken stock

2

cups

leftover cubed turkey

1

5 ounce bag

baby spinach
Instructions
In a large dutch oven or deep pot, add olive oil and heat over medium heat. Add onions, carrots, celery, garlic, and sweet potato and cook for 5 to 7 minutes, or until the vegetables begin to soften.

Add rice, rosemary, salt, pepper, chicken stock, bring to a boil. Reduce heat to a simmer and cook for 15 minutes, or until the rice is cooked and sweet potatoes are tender.

Stir in turkey and cook for 5 more minutes. Add spinach and cook just until spinach has wilted, 2 to 3 minutes. Serve warm.
Notes
Tip: To keep your rice from getting soggy, cook it separately and add it to the bowl before you add your turkey soup.
Nutrition
Calories:
255
kcal
,
Carbohydrates:
29
g
,
Protein:
19
g
,
Fat:
8
g
,
Saturated Fat:
1
g
,
Polyunsaturated Fat:
1
g
,
Monounsaturated Fat:
5
g
,
Trans Fat:
0.003
g
,
Cholesterol:
31
mg
,
Sodium:
389
mg
,
Potassium:
666
mg
,
Fiber:
3
g
,
Sugar:
4
g
,
Vitamin A:
10499
IU
,
Vitamin C:
5
mg
,
Calcium:
53
mg
,
Iron:
2
mg
Nutrition information provided is an estimate. It will vary based on cooking method and specific ingredients used.