This post may contain affiliate links. Please read our disclosure policy.
This freekeh and chicken soup is full of complex flavors from my homemade 7 Spice blend and is packed with moist shredded chicken. The combination of bright tomato, hearty freekeh, fresh onions, and vibrant parsley makes this soup irresistible. It's perfect for a quick, healthy meal on a chilly day!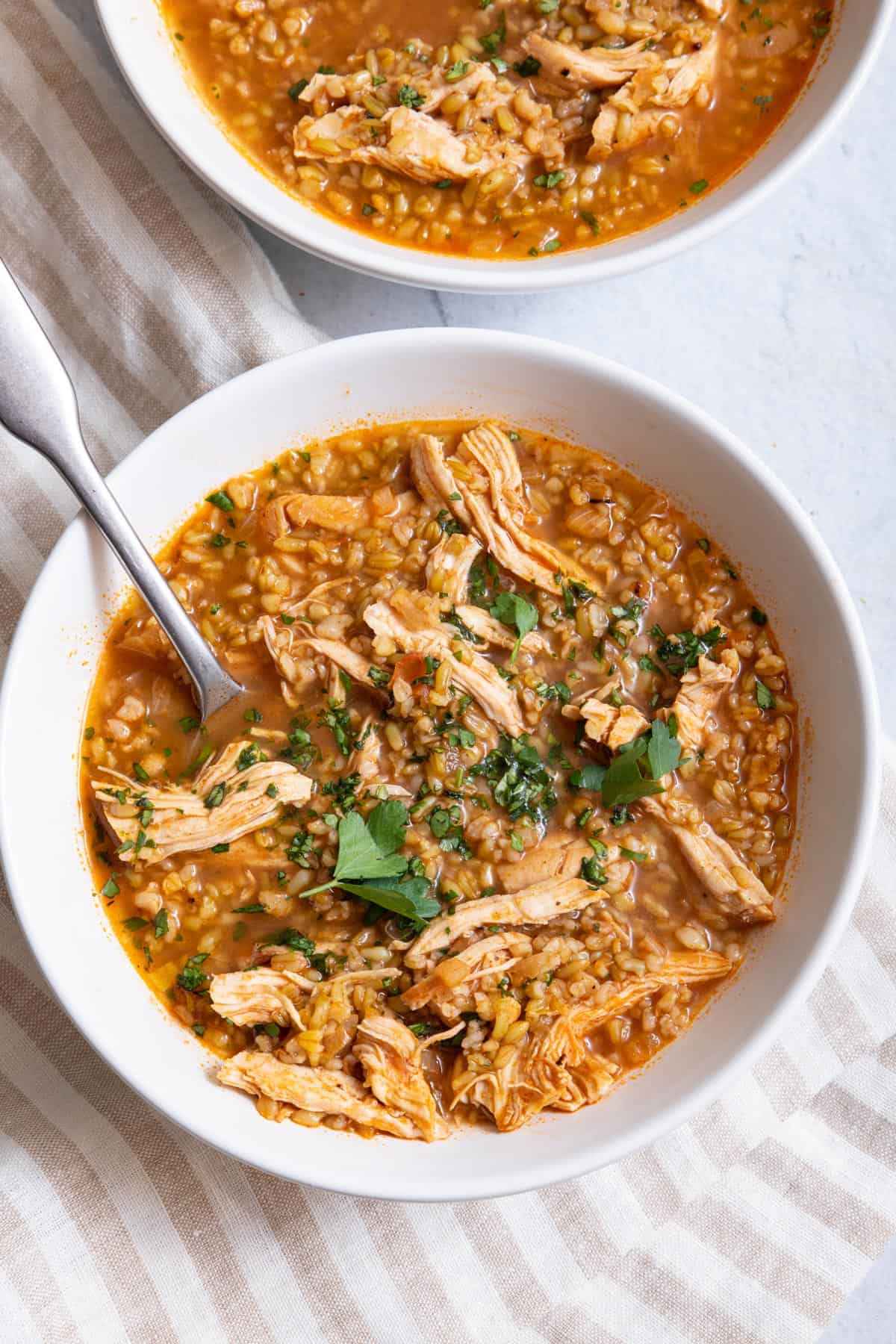 Freekeh soup is a Lebanese soup recipe from the Middle east. The chicken is cooked in a simple, warm spiced broth with onions and, of course, freekeh. I like to use my homemade spice blend in this soup for extra flavor, but you could use any store-bought Middle Eastern blend that you like.
What is freekeh?
Freekeh (pronounced "free-ka") is a fire-roasted baby green wheat. It's a healthy grain that's earthy, and nutty and adds delicious flavor to many dishes. It is high in fiber and protein and perfect to use in recipes that call for rice, quinoa, or other grains. In this case, it's the main ingredient in this soup that gives it a nutty flavor.
why you'll love this freekeh soup with chicken
Complex flavor profile. While this soup requires the simplest of ingredients, it's packed with flavor. The freekeh, chicken, tomato paste and spices all work together to create a delicious, hearty soup.
Healthy and filling. This soup is high in fiber and protein, making it the perfect meal for a chilly day. It will fill you up and keep you satisfied for hours.
Easy to make. This soup is really easy to make. It only requires one pot and a little simmering time. You could also make it in a slow cooker if you like.
Ingredients to make freekeh soup
Chicken: You could use any type of chicken in this soup, but I like to use shredded or chopped chicken breast.
Cracked freekeh: You may have to order this online as it's not carried in most grocery stores. You can find it at most health food stores, Middle Eastern stores or online. It's well worth seeking out, as it has a delicious nutty flavor.
Tomato paste: Adds brightness and acidity to the soup. You could also use diced fresh tomatoes if you have them on hand.
Onion: Yellow onion works best in this recipe, but you could also use a red or white onion.
Butter: Adds richness and helps break down the onions bringing out their natural sweetness.
Spices: I like to use my homemade spice blend in this soup, but any Middle Eastern blend would work well. Salt and pepper add flavor to the soup as well.
How to make Lebanese freekeh soup
This soup does require a little prep work, but it's nothing too daunting. The wait is really the hardest part of this recipe!
Soak Freekah
Pick over freekeh to remove any debris, and rinse in cold water.
Soak the freekeh in cold water to help soften it for cooking.
cook the freekeh Soup with chicken
Heat the butter in a large pot. Add the onions and cook until golden brown.
Add the tomato paste, 7 spice, salt, and pepper, and cook until the tomato paste darkens in color and becomes more fragrant.
Transfer the drained freekeh into the pot.
Stir to combine the tomato paste and freekeh together until well coated.
Push the freekeh to the side, add the whole chicken breasts to the pan, and sear in the pot on each side, browning the meat, but not cooking it fully.
Add water to the pot and cook until the freekeh is tender and the chicken is ready to shred.
Tips for making soup with freekeh
Comb through the uncooked freekeh to check for any debris and toss. Some batches are better than others, but I usually find a couple of small stones and pieces of debris in there, which can be unpleasant (but harmless) to chew on.
Wash the freekeh well until the water runs clear. This is similar to other grains like rice or quinoa that have a starchy coating on the outside that can sometimes be bitter.
Soak the freekeh for half hour before cooking. This allows the grain to soften and become more tender, which could speed up the cooking process. It's an optional step that you can skip but I always prefer to do this.
Sear the chicken. I like to use whole chicken breasts in this recipe, but you could also use thighs if you prefer. I find searing the chicken really amps up the flavor in the soup.
popular substitutions & additions
Skip the tomato paste. The tomato paste is actually something I learned from an old kitchen assistant who adds it for a great umami flavor and a hint of color. Traditionally though, the tomato paste is not used.
Add vegetables. My mom loves adding mushrooms to this freekeh soup. She chops them up finely, and they soak up all the flavor of the soup. You can also add peppers, zucchini, tomatoes, or eggplant.
Make it with beef. Instead of using shredded chicken in the recipe, you can try it with beef instead. It's best to cut them up and sear them to the side in the pan, so they release extra flavor into the freekeh soup.
Use barley in place of the freekeh. This would be a last resort if you just can't find freekeh and don't want to wait to make this dish. Be sure to try it with the freekeh when you do find it!
how to store & reheat the freekeh soup
Let the soup cool to at least room temperature before transferring it to airtight containers. Store in the fridge.
To reheat, place the soup in a pot over medium heat and cook until heated through. You might need to add a little broth or water if it's too thick when reheating. Enjoy!
How long will freekeh soup last in the fridge?
This soup will last in the fridge for up to four days. The longer it sits, the more the flavors will meld together and intensify.
Can i freeze freekeh soup?
Yes! This soup freezes well. Just be sure to let it cool completely before transferring to freezer-safe containers or bags. It will last in the freezer for up to two months.
Frequently asked questions
Is freekeh gluten-free?
No, freekeh is not gluten-free. It's made from durum wheat, which contains gluten. This recipe still tastes amazing with gluten-free options like quinoa or wild rice if you need a gluten-free meal.
Can I make this soup vegan?
Yes, you can easily make this soup vegan by substituting the chicken for chickpeas or adding extra vegetables like chopped eggplant, zucchini or mushrooms.
What is the difference between cracked and whole freekeh?
Cracked freekeh has been broken into smaller pieces, while the whole freekeh has not. I prefer to use cracked freekeh in soup because it cooks a little bit faster and becomes more tender. Whole freekeh needs more soaking and more cooking.
The Lebanese Freekeh Soup with Chicken has a rich, savory flavor that's perfect for cold winter days or Ramadan days. The recipe is easy to make and can be modified in many ways based on what you have available or prefer. No wonder it's always on rotation at my house!
More Mediterranean Soup & Stew recipes:
If you try this feel good Freekeh Soup recipe or any other recipe on Feel Good Foodie, then don't forget to rate the recipe and leave a comment below! It helps others who are thinking of making the recipe. We would love to hear about your experience making it. And if you snapped some shots, share it on Instagram so we can repost on Stories!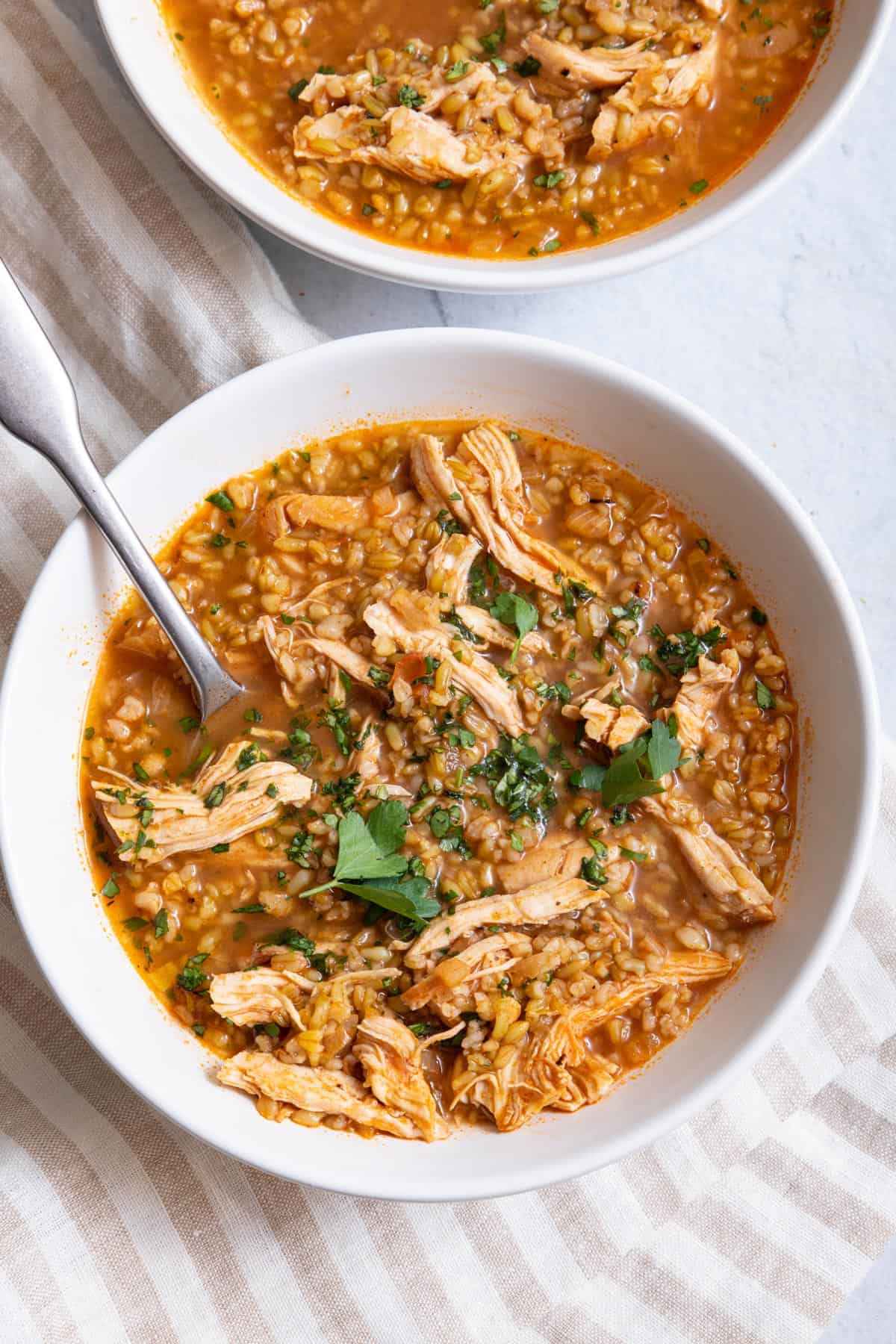 Freekeh Soup
Cracked freekeh soup with an aromatic warm broth loaded with shredded chicken, onions, and spices. This Lebanese soup recipe is even better the next day!
Instructions
Pick over freekeh to remove any debris, and rinse in cold water until water looks clear. Soak the freekeh in cold water for 30 minutes, then drain and set aside.

Heat the butter in a heavy-bottomed large skillet over medium heat. Add the onions and cook until golden brown, about 5 to 10 minutes. Add the tomato paste, 7 spice, salt and pepper and cook until the tomato paste darkens in color and becomes more fragrant, about 2-3 minutes. Transfer the freekeh into the pot and stir to combine.

Push the freekeh to the side and add the whole chicken breasts to the pan and sear in the pot for 2-3 minutes per side to brown and flavor. Add water, turn heat to high and bring to a boil. Reduce heat to low and simmer covered until the freekeh is tender, about 30 minutes.

Use a fork to remove the chicken breast from the freekeh soup. Rest on a cutting board and shred with two forks. Return the shredded chicken to the freekeh soup and stir to combine.

Ladle the soup into bowls and garnish with parsley, if desired.
Notes
Storage: This freekeh soup is even better the day after! Store it in the fridge in an airtight container for up to five days, freezing whatever is left that won't get eaten in time. 
Nutrition
Calories:
234
kcal
,
Carbohydrates:
29
g
,
Protein:
21
g
,
Fat:
6
g
,
Saturated Fat:
2
g
,
Polyunsaturated Fat:
1
g
,
Monounsaturated Fat:
1
g
,
Trans Fat:
1
g
,
Cholesterol:
44
mg
,
Sodium:
746
mg
,
Potassium:
314
mg
,
Fiber:
5
g
,
Sugar:
2
g
,
Vitamin A:
494
IU
,
Vitamin C:
3
mg
,
Calcium:
41
mg
,
Iron:
1
mg
Nutrition information provided is an estimate. It will vary based on cooking method and specific ingredients used.