This post may contain affiliate links. Please read our disclosure policy.
Inspired by the viral baked feta pasta, this tomato-based feta soup is loaded with fresh and tangy flavors. Made with orzo pasta, salty feta cheese and fresh and sweet cherry tomatoes, this is one delicious soup recipe to try!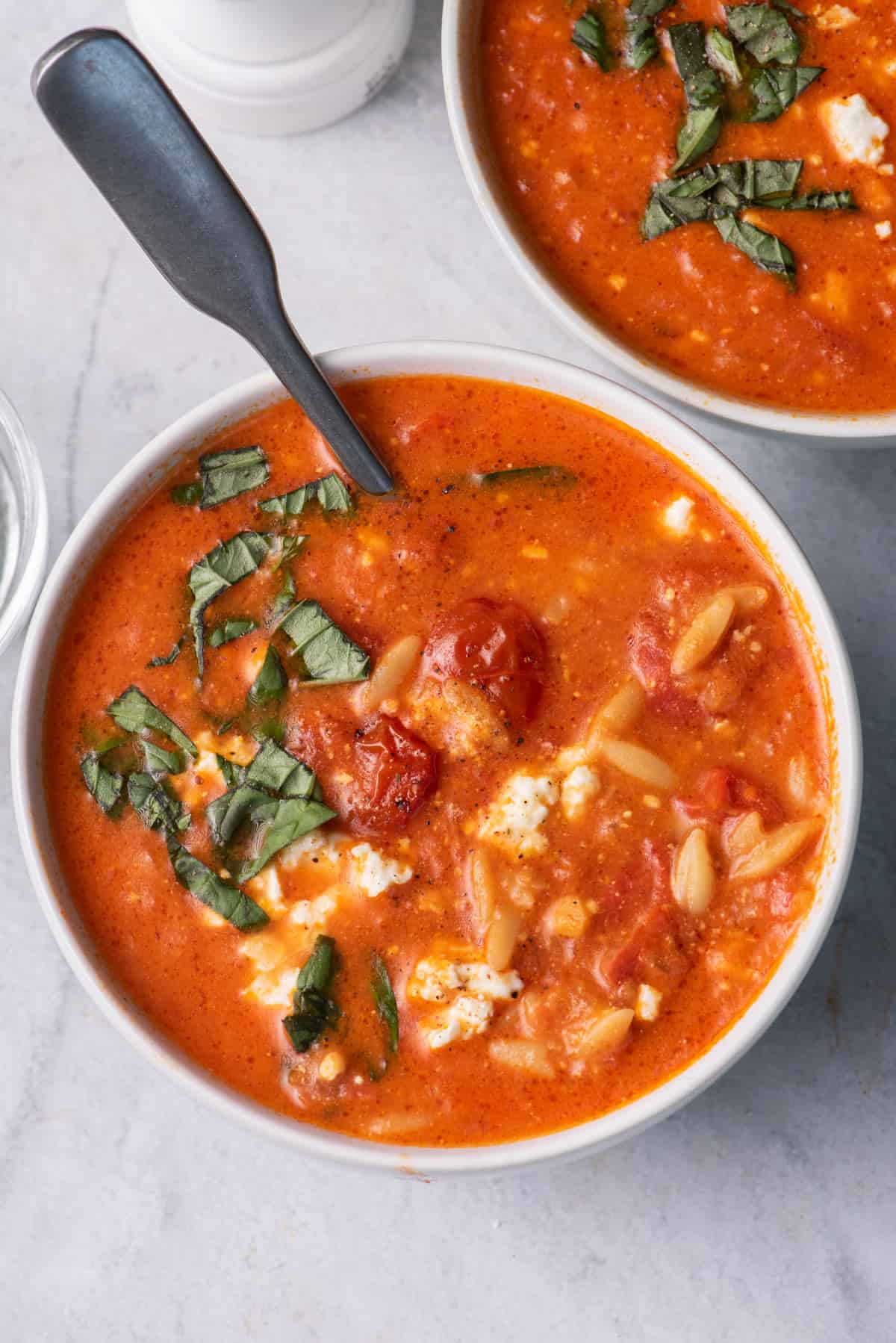 Get ready for a unique spin on classic tomato soup with my Tomato Feta Soup recipe. Combining the vibrant sweetness of roasted cherry tomatoes with the tangy, creamy notes of oven-baked feta, this soup is an explosion of Mediterranean flavors. The addition of orzo pasta transforms this tomato feta soup into a hearty, satisfying meal, while fresh herbs lend an enticing aroma and depth of flavor. This tomato feta soup, topped with crumbled feta and fresh basil, offers a wonderful harmony of textures and tastes that'll leave you craving more.
Why You'll Love This Tomato Feta Soup
Innovative Twist on a Classic: Who knew tomato soup could get even better? The addition of oven-baked feta takes this dish to a whole new level of deliciousness. You'll love the flavors and the unique twist on a beloved classic.
Easy to Make: This recipe involves simple ingredients and straightforward steps. With most of the magic happening in the oven and a single pot, it's a breeze to prepare and clean up.
Versatile: You can customize this tomato feta soup to your heart's content. Want more veggies? Toss them in! Prefer another type of pasta? Go for it!
Impressive Presentation: This soup is not just tasty but also visually impressive. The vibrant colors make it a great option for entertaining guests or a fancy date night at home.
Healthy and Balanced: Packed with tomatoes (a great source of vitamins A and C, as well as heart-healthy lycopene), nourishing vegetable broth, and feta cheese (which adds a dose of calcium and protein), this soup is as nutritious as it is delicious.
Satisfying Comfort Food: Creamy, hearty, and full of flavor, this feta soup is comfort food at its finest. Enjoy it on a chilly day or whenever you need a bowl of something warm and soothing.
Ingredients to make baked feta soup
Feta cheese: Feta is a Greek cheese and it has a wonderful salty and tangy flavor that works so well in this soup. You can use goat cheese instead if you prefer that. Look for French feta cheese if possible for the ultimate creaminess.
Cherry tomatoes: Cherry tomatoes are baked whole to really enhance their natural sweetness. The baking process softens them so they mix easily with the other soup ingredients.
Onions & garlic: Onions and garlic are softened to release their flavors to add more depth to the soup.
Canned crushed tomatoes: We use crushed tomatoes as well as the baked cherry tomatoes for a really rich flavor. You can use tomato sauce for a smoother consistency or diced tomatoes for a chunkier soup.
Olive oil: For cooking the soup and baking the feta with the tomatoes. It adds a nice rounded flavor to the finished soup, but you can use canola or vegetable oil.
Spices: Salt, pepper, crushed red pepper flakes and fresh basil to garnish.
Vegetable broth: Keep this soup meat free by using vegetable broth, or you can use chicken stock if you prefer.
Pasta: Adding short grain pasta in this soup makes it more filling. Orzo works great. For a lighter soup, you can skip the pasta if you prefer or add other vegetables like diced zucchini or riced cauliflower.
RECIPE VIDEO TUTORIAL
How to make baked feta soup
bake the feta & tomatoes
Place the tomatoes and feta in an oven proof dish, pour over the oil and season with salt and pepper.
Bake until the tomatoes burst and the feta melts.
cook the soup
Soften the onions and garlic in oil and adding seasoning.
Add the tomatoes, vegetable broth and thyme and simmer.
Add in the baked tomatoes and feta along with the orzo and simmer until cooked.
Tips for making the recipe
Crowd the baking dish with the cherry tomatoes. When roasting cherry tomatoes, if you want them saucy, crowd the pan; if you want them dry-roasted, place them in a single layer. It's better to use a smaller baking dish than a larger one.
Season the soup from the beginning. The key to making a great soup is to add flavor right from the get go. Season the onions and tomatoes early in the process to start to build those layers of flavor. You can omit the chili flakes if you prefer things mild, or add more if you like your soups spicy.
Make a smoother soup. I love the texture of this soup, but if you prefer a smoother soup, you can blend it together before you add in the orzo to cook. Use an immersion blender to blend the soup in the pot, or transfer it carefully (it will be very hot!), in batches, to a stand blender.
Cook the pasta separately. For convenience and using less dishes, it's easier to cook the orzo pasta with the soup. However, for best results, especially if you're expecting leftovers, cook the pasta in another pot and ladle into soup bowls.
POPULAR SUBSTITUTIONS & ADDITIONS
Tomato Types: While cherry tomatoes add a delightful burst of flavor, you can also use grape tomatoes or even diced regular tomatoes for a different texture and taste.
Cheese Alternatives: If you're not a fan of feta or don't have it on hand, consider using goat cheese or ricotta as a creamy alternative. Remember, this might alter the soup's final flavor profile.
Pasta Variations: Instead of orzo, you can use other small pasta types like ditalini, small shells, or even a gluten-free option to suit dietary needs.
Herb Add-Ins: To elevate the flavor further, consider adding fresh oregano or even a splash of balsamic vinegar for a tangy twist.
HOW TO STORE & REHEAT FETA TOMATO SOUP
Storing: Once cooled, transfer the soup into an airtight container. Ensure the container's seal is tight to prevent any leaks or moisture from entering.
Reheating: Pour the soup into a pot and heat over a medium flame. Stir occasionally, ensuring the soup doesn't stick to the pot's bottom. Add a splash of broth or water if it has thickened more than you prefer.
HOW LONG WILL FETA TOMATO SOUP LAST IN THE FRIDGE?
Stored correctly in an airtight container, your feta tomato soup should remain delicious for up to 4 days.
CAN I FREEZE FETA TOMATO SOUP?
Yes, you can, but if you plan on freezing this, leave out the orzo until you reheat it.! Allow the soup to cool thoroughly before transferring it into freezer-friendly containers or bags. Leave a small gap at the top for the soup to expand when frozen. You can store the soup for up to 2 months in the freezer. To reheat, it's advisable to defrost the soup in the fridge overnight before heating it on the stovetop.
Frequently asked questions
Can you make it ahead of time?
Because this soup contains orzo pasta, it's best to enjoy it fairly soon after it's made, otherwise the orzo can overcook and become very soggy.

If you want to make this ahead of time, you can make the whole recipe up to the point of adding in the pasta, then let it cool and store it. It will keep well for 4 to 5 days in the fridge. Reheat the soup to a simmer and add in the orzo to cook it before serving.
The soup seems too thick; what should I do?
No problem! Just add a bit of vegetable broth or water and stir it in until you reach your preferred consistency.
Can I skip the orzo or pasta?
Certainly! You can either leave it out entirely or substitute with grains like quinoa or rice.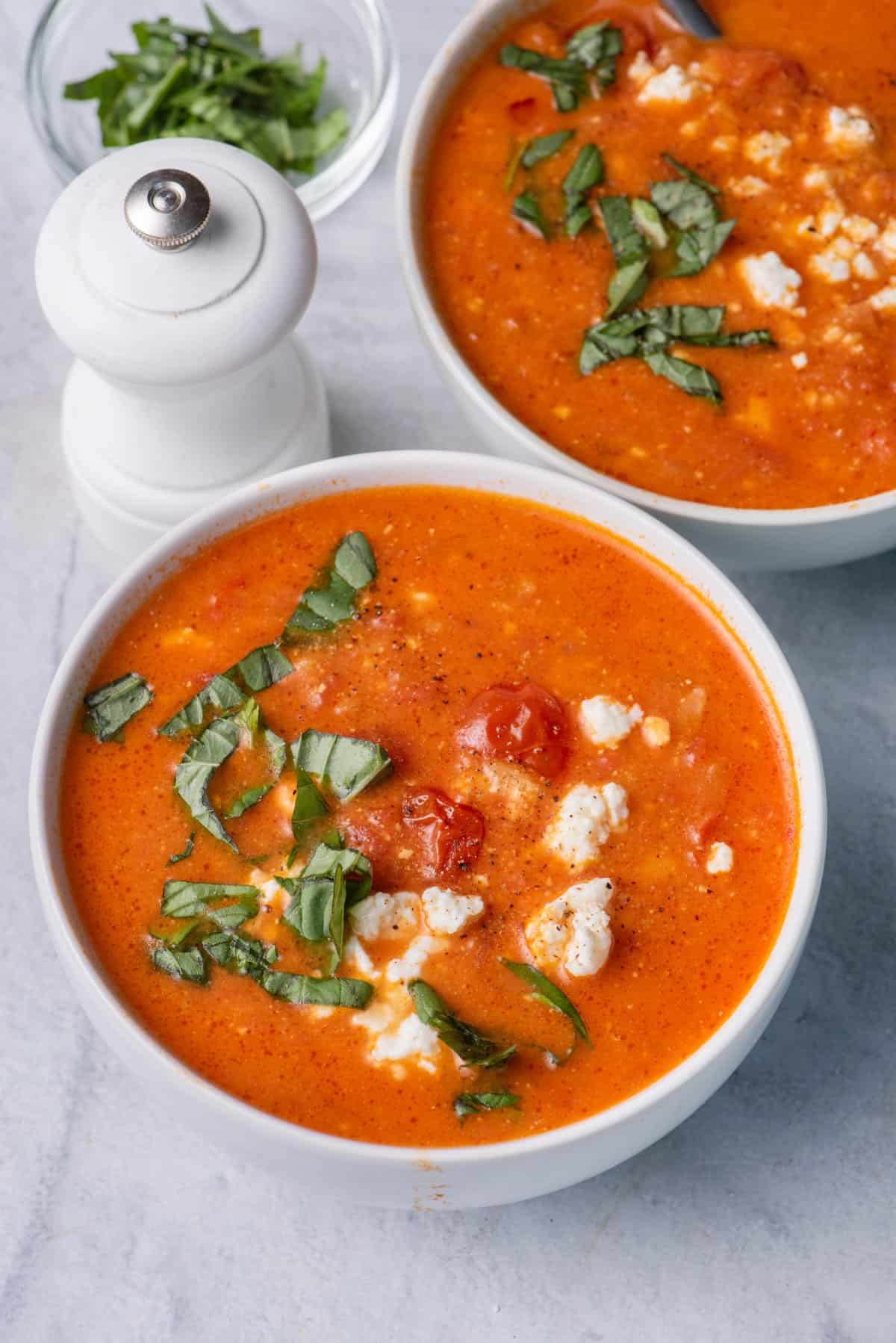 This baked feta soup is so wonderfully rich in flavor. If you've tried baked feta pasta, you are going to love this variation of it! It's a great soup to enjoy with seasonal tomatoes during the summer or all year round.
More soup recipes:
If you've tried this healthy-ish feel good baked feta soup recipe or any other recipe on FeelGoodFoodie, then don't forget to rate the recipe and leave a comment below! It helps others who are thinking of making the recipe. We would love to hear about your experience making it. And if you snapped some shots, share it on Instagram so we can repost on Stories!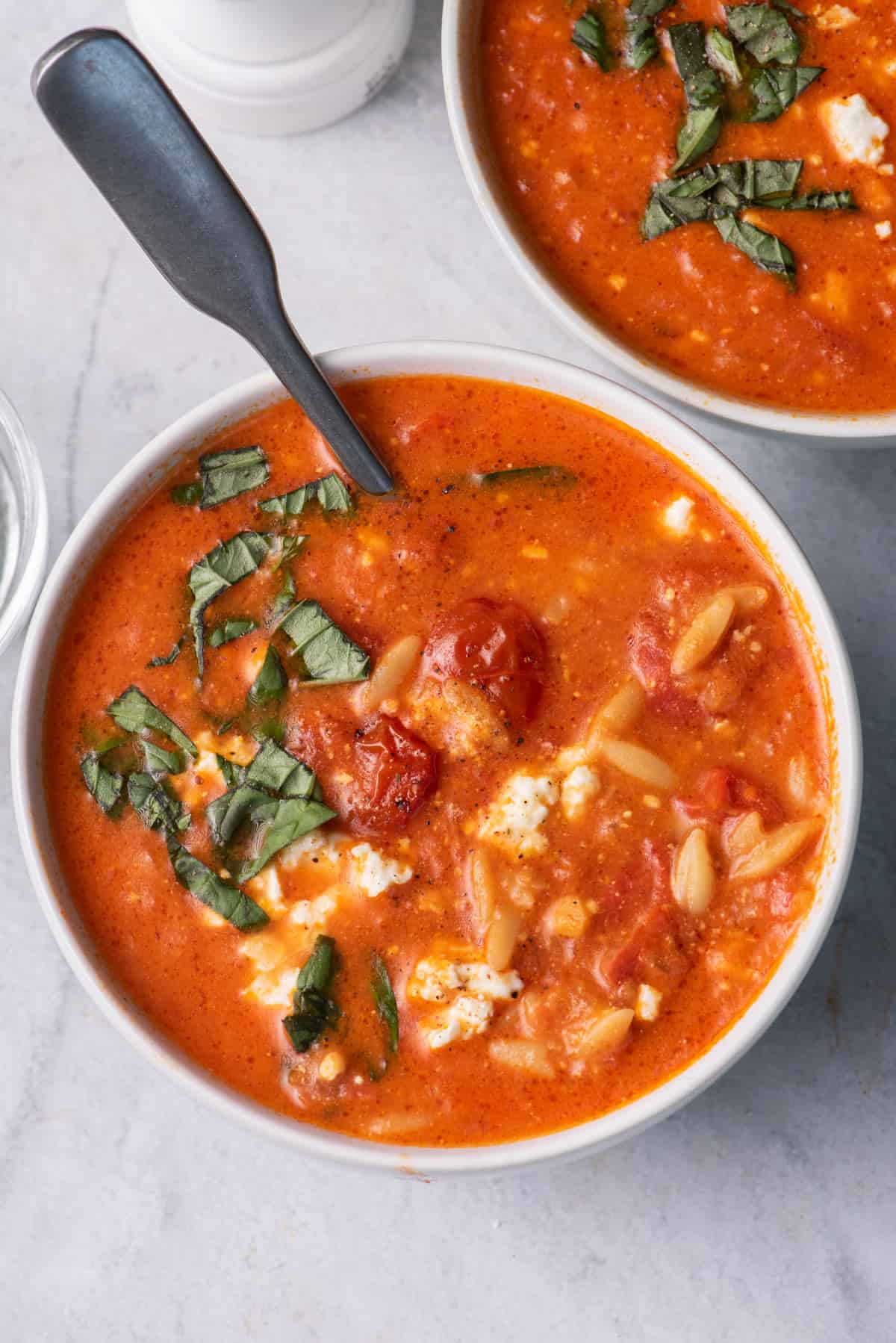 Baked Feta Tomato Soup
Simple to make, baked feta soup is full of rich flavors. A fun variation on the famous TikTok baked feta pasta the whole family will love!
Ingredients
2

pints

cherry tomatoes

8

ounces

block feta cheese

plus more, crumbled for garnish

¼

cup plus 1 tablespoon

extra virgin olive oil

divided

Salt and pepper

to taste

½

medium yellow onion

finely chopped

Crushed red pepper

to taste

1

28 ounce

can crushed tomatoes

with juices

4

cups

low sodium vegetable broth

1

tablespoon

fresh thyme

finely chopped

4

garlic cloves

minced

¼

cup

fresh basil

chopped, plus more for garnish

¾

cup

orzo

or any short cut pasta
Instructions
Preheat oven to 400°F. Place the cherry tomatoes in an oven-safe baking dish. Pour ¼ cup olive oil on top, and season with salt and pepper. Toss until well combined.

Place the feta block in the middle of the baking dish surrounded by the cherry tomatoes and flip a couple times to coat it with the olive oil and seasoning.

Bake in the preheated oven for 35-40 minutes, until the cherry tomatoes burst, and the feta cheese melts

While the feta is baking, heat remaining 1 tablespoon olive oil over medium heat. Add the onions and cook until soft and translucent, 5 minutes. Season with salt, pepper, and crushed red pepper (if using). Add the garlic, canned tomatoes, stock and thyme, and let gently simmer until tomatoes in the oven are done roasting

Once tomatoes and feta in the oven are done, transfer to the simmering pot. Season with salt and pepper, to taste and add the basil. Bring the soup back to simmer and add orzo. Simmer until orzo is fully cooked, 7-8 minutes. Serve with more crumbled feta, basil, and black pepper.
Notes
Storage: If making ahead of time, it's best not to add the orzo until you are ready to serve. Without the pasta, the soup will keep well refrigerated for 4 to 5 days and frozen for up to 6 months.
Nutrition
Calories:
440
kcal
,
Carbohydrates:
62
g
,
Protein:
16
g
,
Fat:
19
g
,
Saturated Fat:
8
g
,
Cholesterol:
34
mg
,
Sodium:
1258
mg
,
Potassium:
1380
mg
,
Fiber:
15
g
,
Sugar:
14
g
,
Vitamin A:
1895
IU
,
Vitamin C:
50
mg
,
Calcium:
447
mg
,
Iron:
8
mg
Nutrition information provided is an estimate. It will vary based on cooking method and specific ingredients used.