This post may contain affiliate links. Please read our disclosure policy.
It's officially Chicken Soup weather here in Michigan and if you're like me, you dial up the soup recipes this time of year. But if you are looking for a new chicken soup recipe for the family, this Chicken Lemon Rice Soup is such a great way to jazz it up. It's a very similar idea, but I use rice instead of noodles and finish it off with some freshly squeezed lemon juice for a light and vibrant flavor!
RECIPE VIDEO TUTORIAL
How to make chicken broth
I love making my own vegetable broth or chicken broth. It's all about using up the scraps of vegetables you have laying around and cooking it with chicken, some herbs and water. For this chicken lemon rice soup recipe, you can use the scraps from the vegetables needed for the recipe.
Step 1: Season chicken breast or chicken thighs with salt and pepper and place inside a large stockpot.
Step 2: Peel the outer layers of onions and outer layers of washed carrots; cut the ends and leaves of celery stalk. Add those "vegetable scraps" on top of the chicken in the pot along with a couple bay leaves. If you have other leftover herbs that you're trying to use up, you can throw them in there as well.
Step 3: Add 10-12 cups of boiling water on top of the chicken, vegetables and herbs, bring to a boil and then simmer for 30 minutes until the chicken is cooked through.
Step 4: Remove the chicken and shred. Then strain the chicken broth using a fine-mesh sieve. All the vegetable scraps will be leftover and you can toss them. You were probably going to toss them before anyways and now you made your own homemade chicken broth from them!
How do you make chicken lemon rice soup
Now that you know how to make the broth, the actual chicken lemon rice soup is easy peasy. Start by cooking the chopped onions, carrots, and celery along with garlic and any herbs you'd like (I love using thyme or oregano). So, making the broth wasn't all that pretty since we used vegetable scraps. But now we can chop the vegetables finely (and nicely!) because we'll actually be eating these.
Then add the shredded chicken from making the homemade chicken broth. You can also use leftover chicken here. And add the short grain rice.
Now you'll add the broth that you made (or store bought broth) and let everything cook together. The goal is for the rice to get tender and fluffy. That's how you'll know the chicken soup is ready.
When they say chicken soup is for the soul, they ain't kidding! This soup is soul warming and seriously has some healing capabilities. But even if you're not feeling that bug coming on, I think you should still try this recipe! You and your family will love this quick, easy and healthy chicken lemon rice soup recipe! If you love a good chicken soup then you'll also love my Vegetable Chicken soup!
Tips for making chicken lemon rice soup
Cook it quicker by using store-bought or previously made chicken broth and leftover chicken. That will eliminate the time to make the broth and cook the chicken, and you'll still get a fresh and bright soup.
Make it grain-free by using chopped potatoes instead of rice. This would make it Whole30 compliant. To make it low-carb or keto-friendly, you can swap up the starch with celery root, riced cauliflower or chopped zucchini.
Don't add the lemon juice until you're done cooking. When I'm making soup, I'm tempted sometimes to throw everything together to cook at once in the pot. And that's fine sometimes. But when it comes to the lemon soup, adding the lemon too early will create a bitter taste to the soup. Instead, adding it after it's finished cooking will bring out a fresh and bright flavor.
Make the soup in a heavy bottomed pan or Dutch oven. Because they are thicker, they conduct the heat more evenly, whereas thinner pans can form hotspots and scorch the bottom of your soup.
Frequently Asked Questions
How long does it keep?
This soup is great for make ahead meals. Let it cool completely before transferring in an airtight container. It will keep well in the fridge for 4 days. Reheat the soup gently on the stovetop or in the microwave for 3 minutes, stirring halfway through.

The rice will absorb moisture as it sits, so you may want to stir in a little water or stock when reheating to loosen it back up.
Can you freeze it?
The soup itself is best not to be frozen, but you can make the broth and freeze that before you make the rest of the recipe. The broth will keep well in the freezer for up to 3 months and can be thawed in the fridge overnight before using.
What's the best rice to use?
I like to use white short grain rice, like arborio in this soup. A long grain white rice like jasmine or basmati will also work well. If you like, you can make this with brown rice too, you'll just need to increase the cooking time for an extra 25 minutes to make sure that it is cooked through.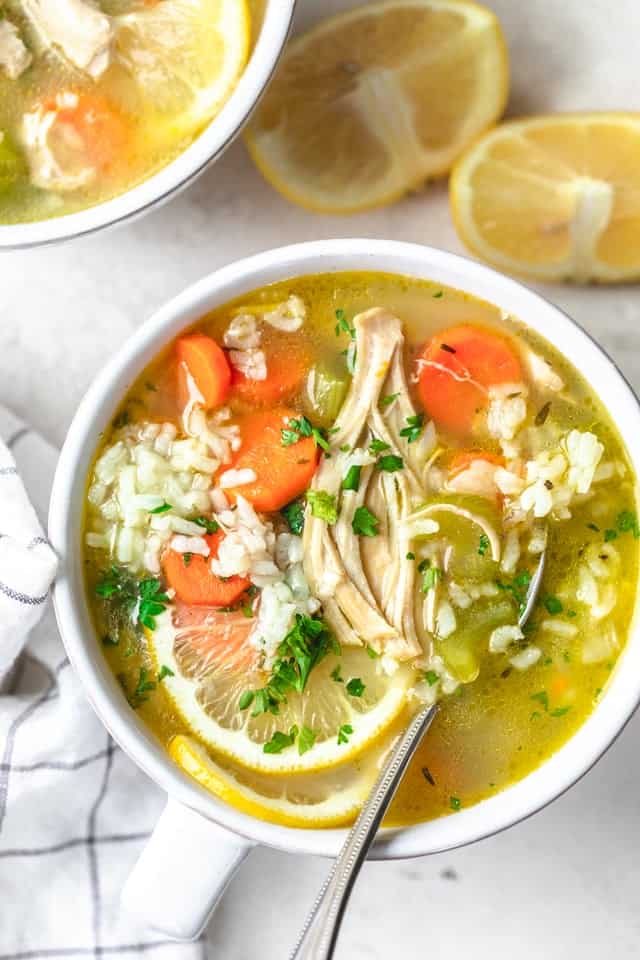 This recipe is inspired by the Greek lemon chicken soup (Avgolemono), but it's not the same recipe because that one includes tempering an egg into the broth. This is a much simplified version that's inspired by it with a simpler and quicker technique. It's a very heartwarming, filling and nutritious chicken soup recipe that I'm sure will become a staple recipe in your house, like it is in mine!
For more soup recipes, check out:
If you've tried this healthy-ish feel good Chicken Lemon Rice Soup recipe or any other recipe on FeelGoodFoodie, then don't forget to rate the recipe and leave me a comment below! I would love to hear about your experience making it. And if you snapped some shots of it, share it with me on Instagram so I can repost on my stories!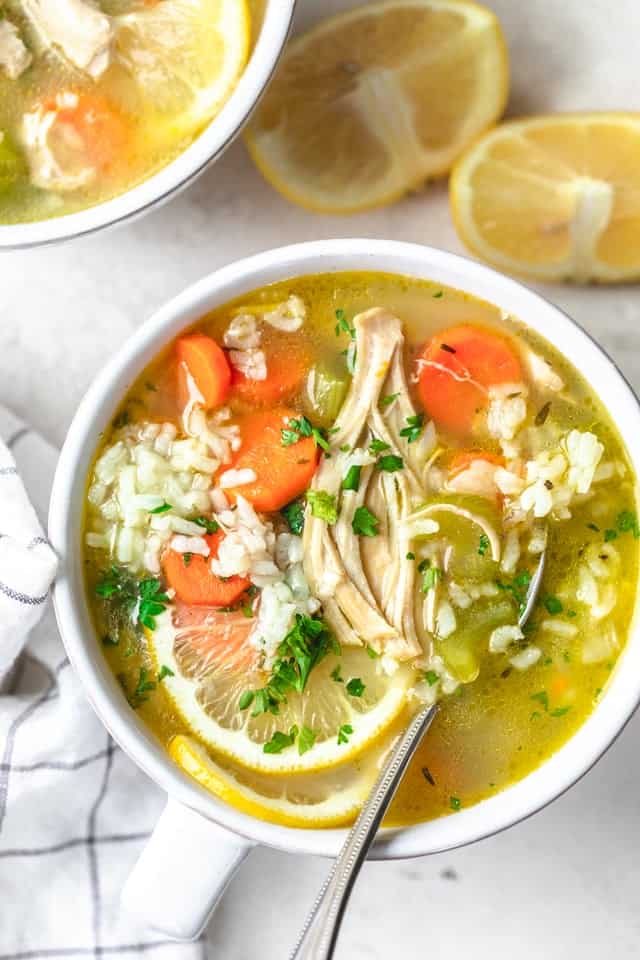 Chicken Lemon Rice Soup
Similar to Chicken Noodle Soup, this Chicken Lemon Rice Soup is a cozy and comforting recipe full of hearty vegetables, chicken and a homemade lemony broth!
Ingredients
1

pound

boneless chicken thighs

1

onion

diced

3

carrots

diced

3

stalks celery

diced

Salt and pepper

to taste

8

cups

water

1

tablespoon

olive oil

2

garlic cloves

minced

½

teaspoon

dried thyme

½

cup

short grain or Arborio rice

Juice of 2 lemons

Parsley for serving
Instructions
Place chicken and scraps from the outer layers and end of the onions, carrots and celery in a large stock pot. Season with salt and pepper, add bay leaves and water, and bring to a boil. Reduce heat and simmer until chicken is fork-tender, about 30 minutes.

Remove chicken and shred; then strain the chicken broth using a fine-mesh sieve and discard the vegetable scraps.

Heat oil in a large pot over medium heat. Add the chopped onions, carrots, celery, garlic and thyme and cook until tender, about 4-5 minutes. Stir in the shredded chicken and rice, then return the broth to the stockpot and bring a boil.

Reduce the heat and simmer until the rice is cooked, about 20 minutes.

Stir in the lemon juice and season with salt and pepper. Serve immediately with fresh parsley, if desired.
Notes
Recipe: This recipe is inspired by the Greek lemon chicken soup (Avgolemono), but it's not the same recipe because that one includes tempering an egg into the broth and also includes some butter and flour.
Storage: Store any leftovers in an airtight container. The soup will stay fresh for about 4-5 days.
Make Ahead Tips: You can make the homemade chicken broth ahead of time and freeze for up to 3 months. When ready to use the broth, just thaw in the fridge overnight or for at least 4-6 hours.
Substitutes: For best results, follow the recipe as is. However here are some common substitutes that would work well in this recipe.
Instead of short grain rice, you can use long-grain rice or brown rice. If you're using brown rice, be sure to add an extra 25 minutes to the cooking time though. You can also use potatoes, riced cauliflower, celery root or chopped zucchini for some grain free and/or low carb options.
If you don't have thyme, feel free to use oregano, parsley, cilantro or other herbs.
Nutrition
Calories:
270
kcal
,
Carbohydrates:
19
g
,
Protein:
14
g
,
Fat:
15
g
,
Saturated Fat:
3
g
,
Cholesterol:
74
mg
,
Sodium:
96
mg
,
Potassium:
344
mg
,
Fiber:
1
g
,
Sugar:
2
g
,
Vitamin A:
5245
IU
,
Vitamin C:
4.4
mg
,
Calcium:
30
mg
,
Iron:
1.4
mg
Nutrition information provided is an estimate. It will vary based on cooking method and specific ingredients used.