This post may contain affiliate links. Please read our disclosure policy.
Get ready for a big bowl of yum with this hearty Chicken Vegetable Soup made with rice. This recipe elevates a classic chicken soup with savory broth, tender white meat chicken, a handful of fresh vegetables, and rice to bulk it up. Like most one-pot dishes, it starts by building a base for the flavors to develop over time. The result is a rich and delicious chicken and veggie soup with chewy rice in the best aromatic broth with a pop of lemon to take it over the top!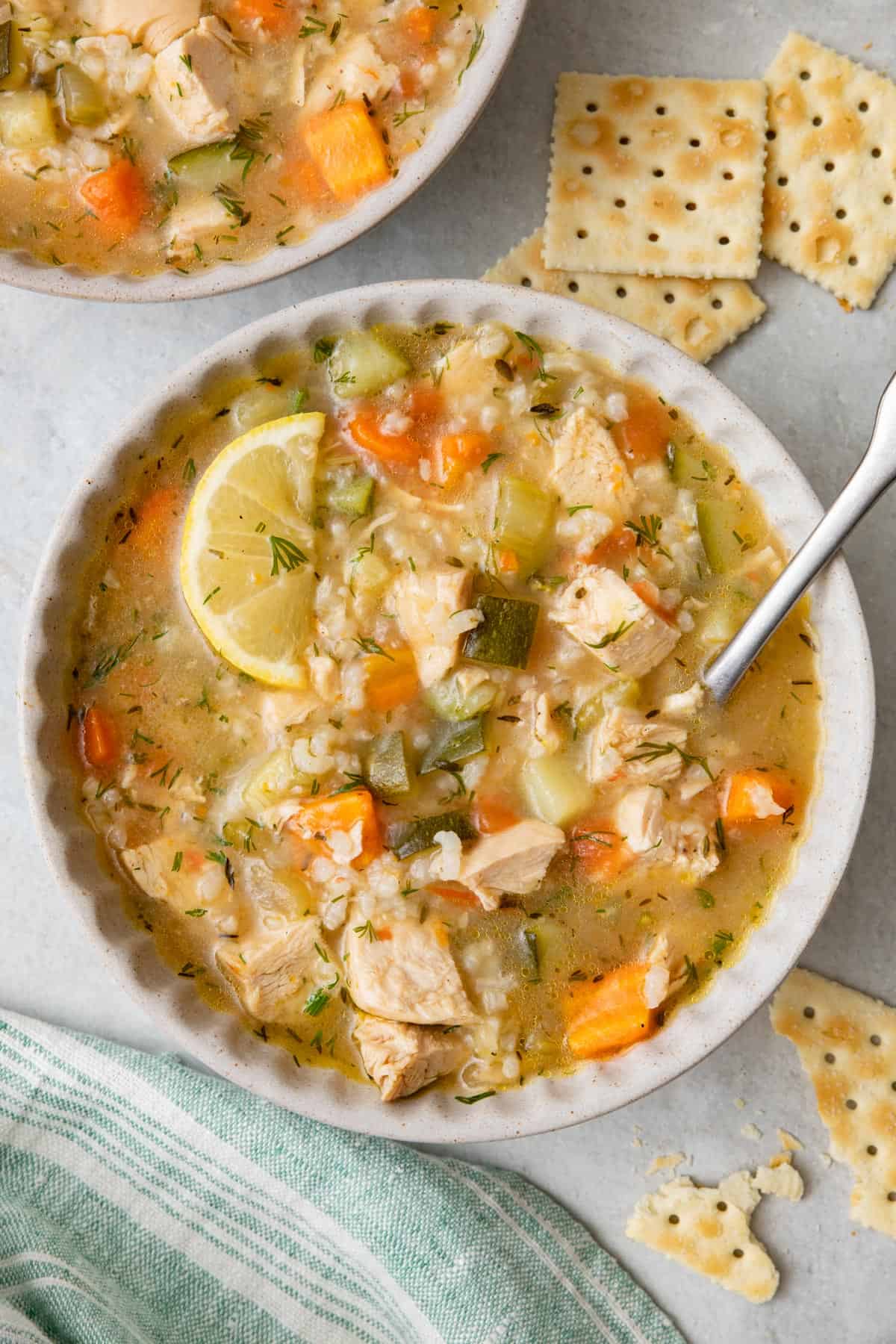 This Chicken Vegetable and Rice Soup is wholesome and so comforting, made with healthy ingredients like zucchini, carrots, celery, and chunks of chicken cozied up in a warm broth with rice. Squeeze in fresh lemon juice before serving for a burst of citrusy flavor and a balanced finish.
Table of Contents
Why you'll love this hearty chicken vegetable soup
The best savory flavor. This soup recipe continues to build flavor with each step. A classic mirepoix medley of onions, carrots, and celery, plus even more fresh veggies, are combined with chicken seared and simmered in a self-made broth, all enhanced with aromatics like garlic, lemon, and dill. The rice adds a soft bite that soaks in all that delicious broth.
Easy to make in one pot. Once you've chopped your vegetables, this chicken soup recipe comes together easily. There are a couple of steps to cooking each part in the beginning, but after everything is added, you simply let it simmer until the rice is done.
Comforting and hearty. This chicken soup recipe is a warm hug in a bowl with a rich broth, tender chicken, chunky vegetables, and filling rice. Dip in some soft garlic bread or dinner rolls to soak up all the rich and savory soup for an enjoyable bite.
Meal-prep friendly. Chicken and rice vegetable soup is a great meal prep idea and a freezer-friendly recipe. You can freeze the soup with the rice already added to it, or you can make the soup with everything but the rice, freeze and then make the rice fresh when ready to thaw and eat. Divide the soup into single-serving portions to enjoy during the week or in a few weeks by storing it in the fridge or freezer.
Ingredients to make chicken vegetable soup with rice
Chicken: I like to use boneless skinless chicken breast and pan sear them in the same pot to catch all the browned chicken tidbits on the bottom of the pan. This step enhances the overall recipe, infusing it with the best chicken flavor.
Vegetables: This soup recipe starts with sauteing a classic mirepoix blend of onions, carrots, and celery and then adds fresh veggies like zucchini and Roma tomatoes for a hearty, savory vegetable soup with chicken and rice.
Aromatics: Garlic, fresh dill, and lemon boost the flavor of every bite.
Seasoning: Dried thyme, salt, and pepper. You can use fresh thyme instead; just increase the amount. A good rule of thumb is a 1:3 ratio of dried versus fresh herbs.
Water: You're basically making a broth with the ingredients already used, but you could add in some extra flavor by switching to a vegetable or chicken stock instead.
How to make homemade chicken vegetable soup
The best part about soup is utilizing one pot to cook every layer. It starts by caramelizing the 'holy trinity' of vegetables, then pushing them aside to pan-sear the chicken breast so all the drippings are left in the pan creating a rich flavorful base for the remaining soup ingredients.
In a large pot, cook onions, celery, and carrots until tender. Add the garlic and cook until fragrant.
Move the vegetables to the sides and add the chicken to the pot so it touches the bottom of the pan.
Flip the chicken halfway through cooking and add water, bringing it to a boil. Reduce the heat and simmer until the chicken has cooked through.
Remove the chicken to a cutting board and cut it into small cubes.
Return the chicken to the soup with rice, tomatoes, and zucchini. Cook uncovered until the rice is cooked.
Remove from the heat and stir in the dill and lemon juice.
Tips for making chicken veggie soup
Chop the vegetables finely. Because there are so many different vegetables in this soup recipe, I recommend making small cuts so that every spoonful has a medley of vegetables, flavors, and textures.
Shred the chicken instead of cubing it. I love the chunks of chicken, but you could also shred the chicken instead!
Give it a stir while cooking. Once you add the rice, make sure to stir the soup on occasion to ensure the rice doesn't settle on the bottom and stick to the pan.
Add lemon last. Before serving, add the lemon juice to the pot or squeeze over each serving to brighten and balance the flavors of the soup.
Cook the rice separately. This is a great one-pot recipe, but you can cook the rice on its own and add it to the soup or each individual bowl before serving. Soup without rice is better for freezing.
Popular substitutions & additions
Rest the chicken. Sure, it's getting tossed right back into a brothy soup, but to hold on to the tender, juicy texture, you'll want to let the chicken rest for a few minutes before cutting into it. This allows the juices to settle in the meat and keeps it from becoming tough or rubbery.
Swap the water. There's already plenty of great flavor in this vegetable chicken soup, but you can elevate it even more by subbing all or some of the water for chicken or vegetable broth!
Make it creamy. The rice helps to thicken the soup, but you could also add milk to make the broth velvety and creamy. Regular dairy milk or any unsweetened plant-based milk will do.
Add some heat. Add some red pepper flakes for a nice spicy kick, or chop a hot pepper to saute with the veggies.
Use a different protein. You can simply swap the chicken breast for boneless chicken thighs or use turkey, beans, chickpeas, or tofu instead.
Use a different rice. I like regular short-grain rice in this soup, but you could also use brown rice, basmati rice, or wild rice like in my chicken wild rice soup.
How to store & reheat chicken soup with rice and veggies
To store: Allow the soup to cool completely before transferring it to an airtight container and placing it in the fridge.
To reheat: Reheat on the stovetop over medium-low heat or in the microwave, occasionally stirring until heated through. Add a splash of water or broth to thin the soup if it's too thick.
How long will chicken vegetable soup last in the fridge?
Chicken vegetable soup will last in the fridge for up to four days when stored properly. After that, it's best to discard it.
Can I freeze chicken soup with vegetables?
If you want to freeze this chicken soup with rice and vegetables for later use, cool the soup to room temperature, then pack it into freezer-safe containers, leaving about an inch at the top of each container for expansion in the freezer. Close tightly and freeze for up to 3 months. Note the rice may puff up more and lose its structure while freezing and reheating. Avoid this by leaving the rice out if freezing and adding fresh during the reheat.
Frequently asked questions
Can I add the veggies without cooking them first?
It may be tempting just to throw everything into the pot and let it work its magic, but to make a soup with depth and great flavor, take the time to sautee the veggies first. This adds a bit of sweetness and lovely caramelized flavor from them cooking down and builds a stronger base for your chicken vegetable soup.
Should I sear chicken before adding it to soup?
This actually isn't necessary, but man does it boost the flavor! The juices caramelize, creating a brown crust on the chicken breast, and release some great flavor. Adding other ingredients picks up these tidbits and spreads all the goodness into the soup, creating a robust and delicious flavor.
How do I keep the rice from becoming mushy?
The longer the rice is cooked in the soup, the softer it will become. Avoid this by cooking the rice separately, adding it before serving or into each bowl, and ladling the soup on top. This will keep the rice al dente for a chewy bite. Store it separately from the soup if you have leftovers.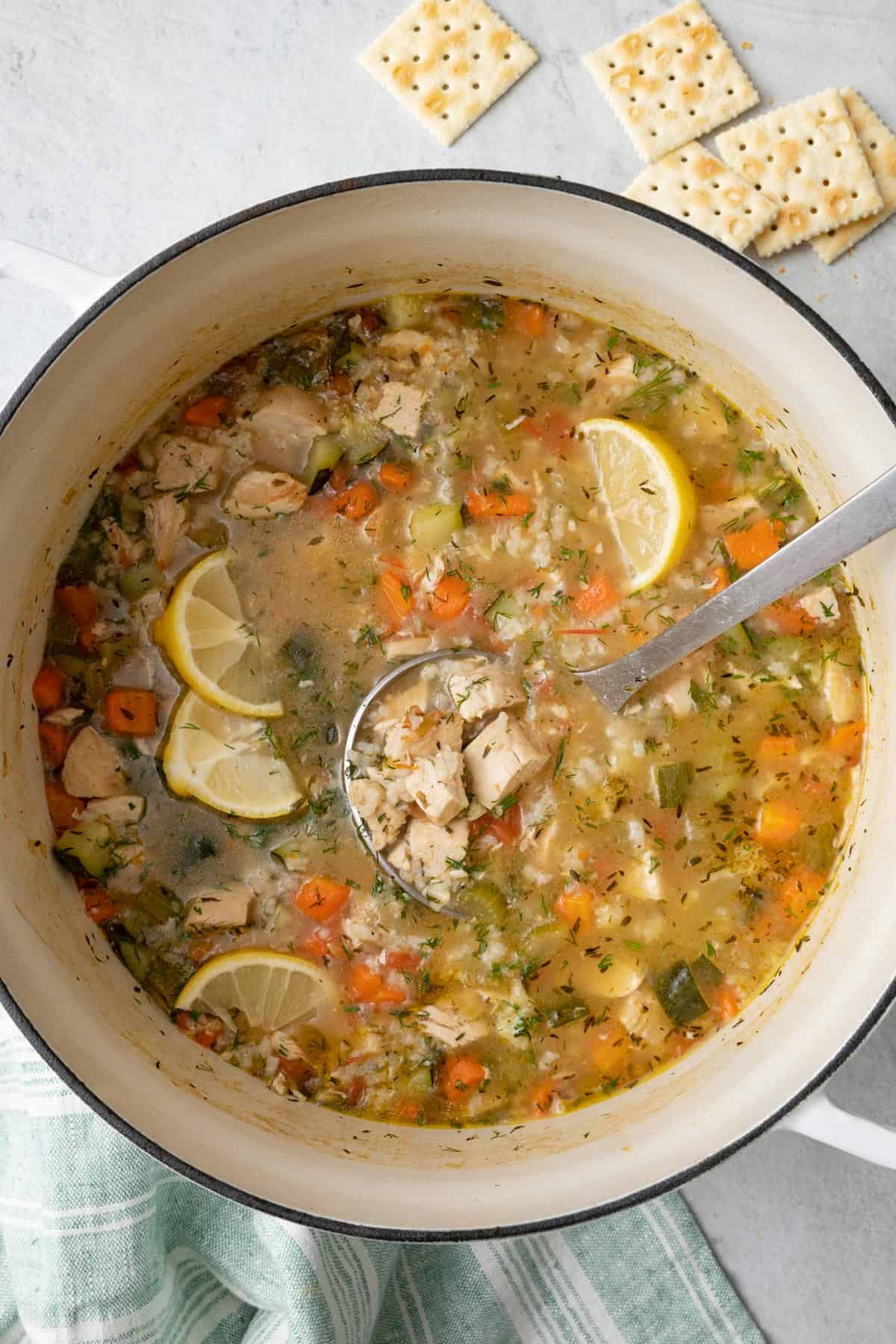 One pot, big flavor, and chock full of veggies, this homemade chicken vegetable soup with rice is a family favorite! Be sure to make extra for meal prep and leftovers for the freezer so you can enjoy it again. You won't regret it!
More soup recipes:
If you try this feel good Chicken Vegetable Soup recipe or any other recipe on Feel Good Foodie, then don't forget to rate the recipe and leave a comment below! It helps others who are thinking of making the recipe. We would love to hear about your experience making it. And if you snapped some shots, share it on Instagram so we can repost on Stories!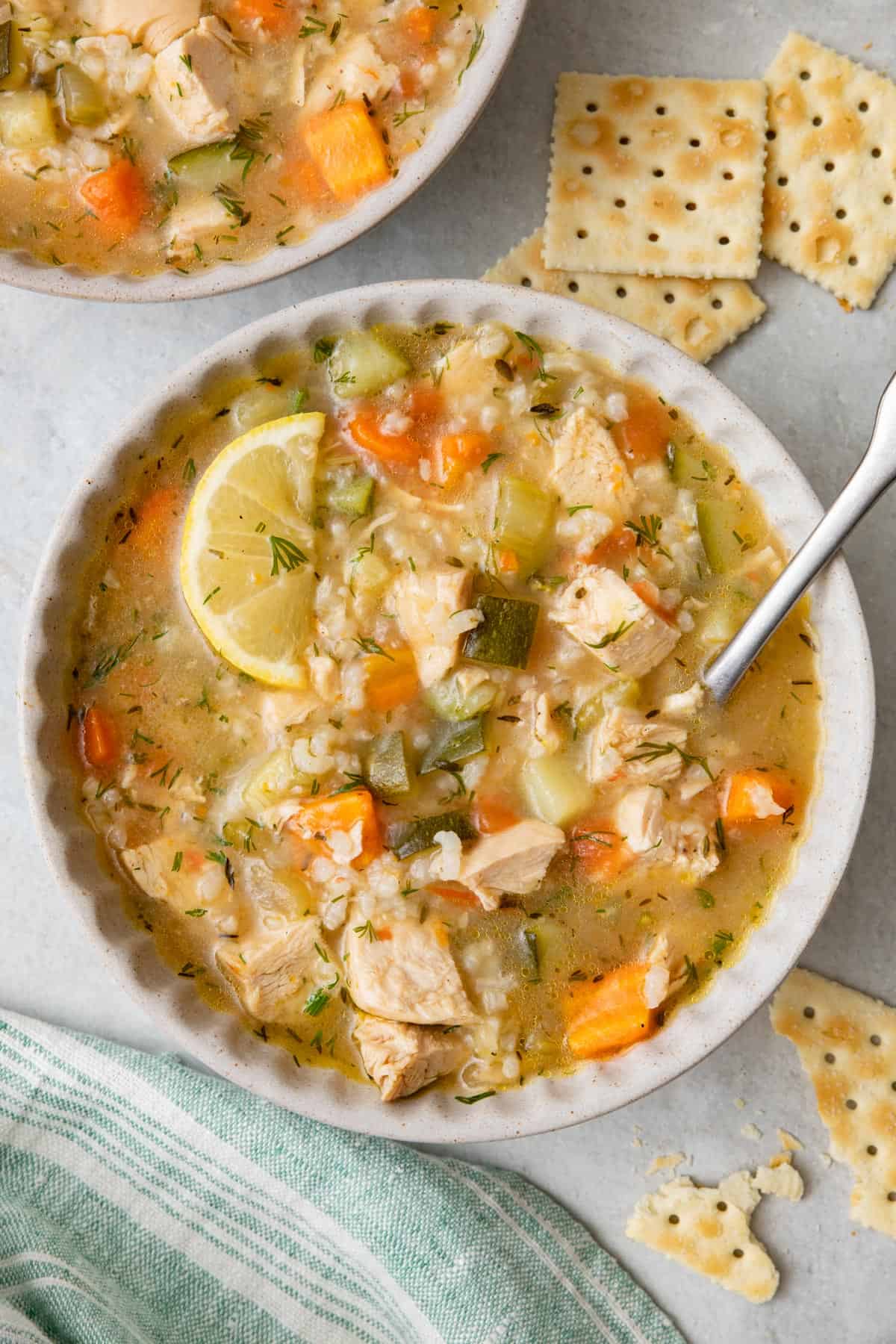 Chicken Vegetable Soup
Chicken Vegetable Soup is a comforting family favorite recipe made with a handful of veggies, rice, and a burst of lemony flavor for a balanced finish
Ingredients
2

tablespoons

olive oil

1

onion

chopped

2

large carrots

chopped

2

celery stalks

chopped

1

teaspoon

salt

plus more to taste

½

teaspoon

black pepper

plus more to taste

2

garlic cloves

minced

1 ½

pounds

boneless skinless chicken breasts

1 ½

teaspoon

dried thyme

8

cups

water

½

cup

short grain rice

2

roma tomatoes

chopped

1

small zucchini

chopped

2

tablespoons

chopped fresh dill

2

tablespoons

lemon juice
Instructions
In a large Dutch oven or heavy bottomed pot, add olive oil and cook over medium heat. Add the onions, carrots, celery, salt and pepper. Cook, stirring occasionally, until the vegetables become slightly tender, about 5-7 minutes. Add the garlic and cook until fragrant, 1 more minute.

Move the vegetables to the sides for the pot, add the chicken breasts in the middle and season with salt, pepper and thyme. Cook undisturbed for 5 minutes, then flip the chicken to the other side and add the water. Bring the mixture to a boil, then reduce the heat to medium-low and simmer, covered, until the chicken is cooked through, about 25 minutes.

Remove the chicken to a cutting board and cut into small cubes. Return the chicken back to the soup along with the rice, tomatoes and zucchini. Continue to cook the soup uncovered over medium-low heat until the rice is tender and the broth is reduced, about 30 minutes. Remove from the heat and stir in the dill and lemon juice.
Notes
Tip: To keep your rice al dente cook it separately and add it to a bowl followed by a ladle of your chicken soup. Store separately.
Nutrition
Calories:
260
kcal
,
Carbohydrates:
20
g
,
Protein:
27
g
,
Fat:
8
g
,
Saturated Fat:
1
g
,
Polyunsaturated Fat:
1
g
,
Monounsaturated Fat:
4
g
,
Trans Fat:
0.01
g
,
Cholesterol:
73
mg
,
Sodium:
553
mg
,
Potassium:
741
mg
,
Fiber:
2
g
,
Sugar:
2
g
,
Vitamin A:
3791
IU
,
Vitamin C:
20
mg
,
Calcium:
44
mg
,
Iron:
2
mg
Nutrition information provided is an estimate. It will vary based on cooking method and specific ingredients used.