This post may contain affiliate links. Please read our disclosure policy.
How do you cut a carrot? Well, it depends on where it's going. Cut them into thin matchsticks for salads, like Asian Chicken, slice thinly in classic rounds for soups and stews, and make them into sticks for dipping and snacking. Here is a guide to cutting carrots for three common uses.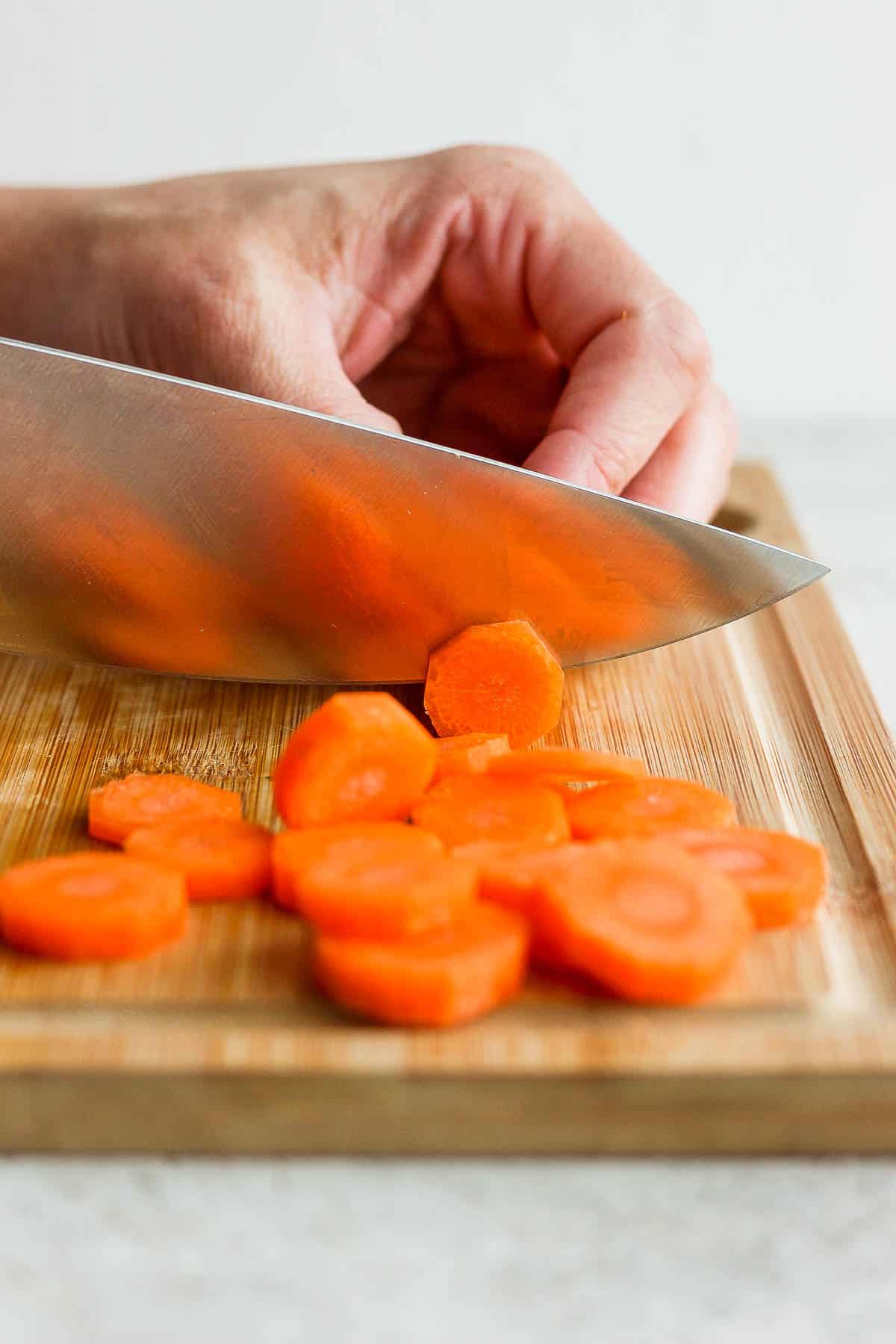 WHY learn to cut carrots
Saves times. Chopping vegetables seems intuitive, but like anything else, it's a learned skill, and the proper knife moves practiced regularly will have you flying through tasks with minimal food waste and less frustration.
Looks pretty. This is important, especially for pickier eaters. Scientists have proven that the way food looks truly affects how people experience its taste. Think about how a gorgeously presented restaurant plate makes you feel.
Cooks correctly. When a recipe suggests a certain size for carrot pieces, it means the recipe creator tested it that way, and the vegetables will be cooked to perfection within that time. Also, when the pieces are all the same size, they all cook – and are done – at the same time
Changes the taste. Carrots diced very finely and cooked in a soup will absorb other flavors and almost disappear into the broth, while those sliced into more substantial disks will maintain a more carrot-forward flavor and presence.
Adds super nutrition. Carrots are so good for you! They have an astounding amount of vitamin A for eye health, vitamins C, K, and B6, plus calcium, iron, and fiber to keep you full and promote healthy digestion.
HOW TO cut carrots into slices
No matter what shape you're going for, cutting carrots usually begins with peeling clean carrots with a vegetable peeler.
For round slices, start from the bottom, aka the skinny end. This gives you a firmer grip on the carrot by holding onto the top or thicker end.
Slice off 1/8″ slices and continue until you reach the top. Discard the very end piece with some of the stubby greens left on it.
Not shown: for a variation on this, hold your knife at an angle and cut the slices on the diagonal, rolling the carrot after each slice. This is called a roll cut.
HOW TO cut carrot STICKS, JULIENNE, AND DICES
If you'd like to cut carrots into sticks, julienne style, or into a dice, start by cutting the carrot into a rectangle. From there, it's much easier to cut into these desired shapes.
Cut off the end where the leafy tops grew.
Chop off the skinny end. Depending on the size of your carrot, you might be chopping off a teeny, tiny skinny end or separating your carrot into smaller sections.
Delicately, shave just enough off enough from each side of the carrot to make the cylinder shape into a rectangle shape.
carrot Sticks
Take the rectangle and cut 1/4-inch slabs from it.
Now, stack the slabs by turning them over and cutting them into 1/4-inch strips.
Julienne carrots
Use the same process as sticks to make a finer cut. Using the rectangle, cut 1/8-inch strips from each rectangle.
Then, flip and stack the 1/8-inch slabs and cut them into 1/8-inch strips.
Diced Carrots
After chopping 1/4-inch slabs from each rectangle. Then flip and cut those slabs into strips
Next, crosscut the strips by ¼ inch to get the cubed dice.
TIPS FOR cutting carrots
Sharpen first. Always, always make sure you have a sharp knife.
Miniaturize if you want. For diced carrots, the dice can also be made on 1/8-inch sized sticks for a very tiny dice, called brunoise.
Divide to conquer: When dealing with humungous-sized carrots, first cut them into two or three segments before proceeding with making sticks and dice.
Get a grip: When slicing rounds or dealing with large carrots, hold the thick end for a better grip.
recipes to make with carrots
HOW TO STORE cut carrots
Store cut carrots tightly sealed in the refrigerator. Use an airtight container, or refrigerator storage bag, or wrap them tightly in foil.
HOW LONG WILL carrots LAST IN THE FRIDGE?
Cut carrots last 2 to 3 weeks in the refrigerator. You read that correctly. They are among the produce world's heartiest vegetables.
CAN I FREEZE carrots?
Yes, you can freeze cut carrots, but it is a bit of work, and after thawing, they are best used in cooked dishes, not for salads, because they lose their crunch. To freeze, blanch for two minutes, freeze the pieces on sheet pans, and then tightly seal the frozen pieces into freezer-safe containers. They will last one year.
FREQUENTLY ASKED QUESTIONS
Can I skip peeling carrots?
Yes, you can skip peeling carrots, but you should make sure to scrub the outsides very thoroughly. However, the light outer layer can become bitter when cooked, and the carrots will have a rougher, less pleasing look. Experiment and see if it makes a difference to you.
What is the best shape for roasting carrots or stir-fries
For roasting and stir-fries, use the roll cut, where carrots are cut on the diagonal. This increases the amount of surface area on each carrot piece allowing it to have maximum contact with cooking surfaces and develop delicious flavors – like caramelization.
I see rainbow carrots in the grocery store ranging in color from white to red to purple. Do they taste the same as orange carrots?
You will notice slight changes in flavor amongst the various colored carrots, especially when you eat them raw – white or yellow are considered the sweetest. All can be used interchangeably in recipes, but, of course, may change the color of cooked food.
Knowing these three basic carrot cuts will make you the master chef of your own kitchen!
MORE cutting tutorials
If you found this tutorial for How to Cut Carrots helpful or if you try any recipe on Feel Good Foodie, then don't forget to rate the recipe and leave a comment below! It helps others who are thinking of trying out this tutorial and we would love to hear about your experience. And if you snapped some shots, share it on Instagram so we can repost on Stories!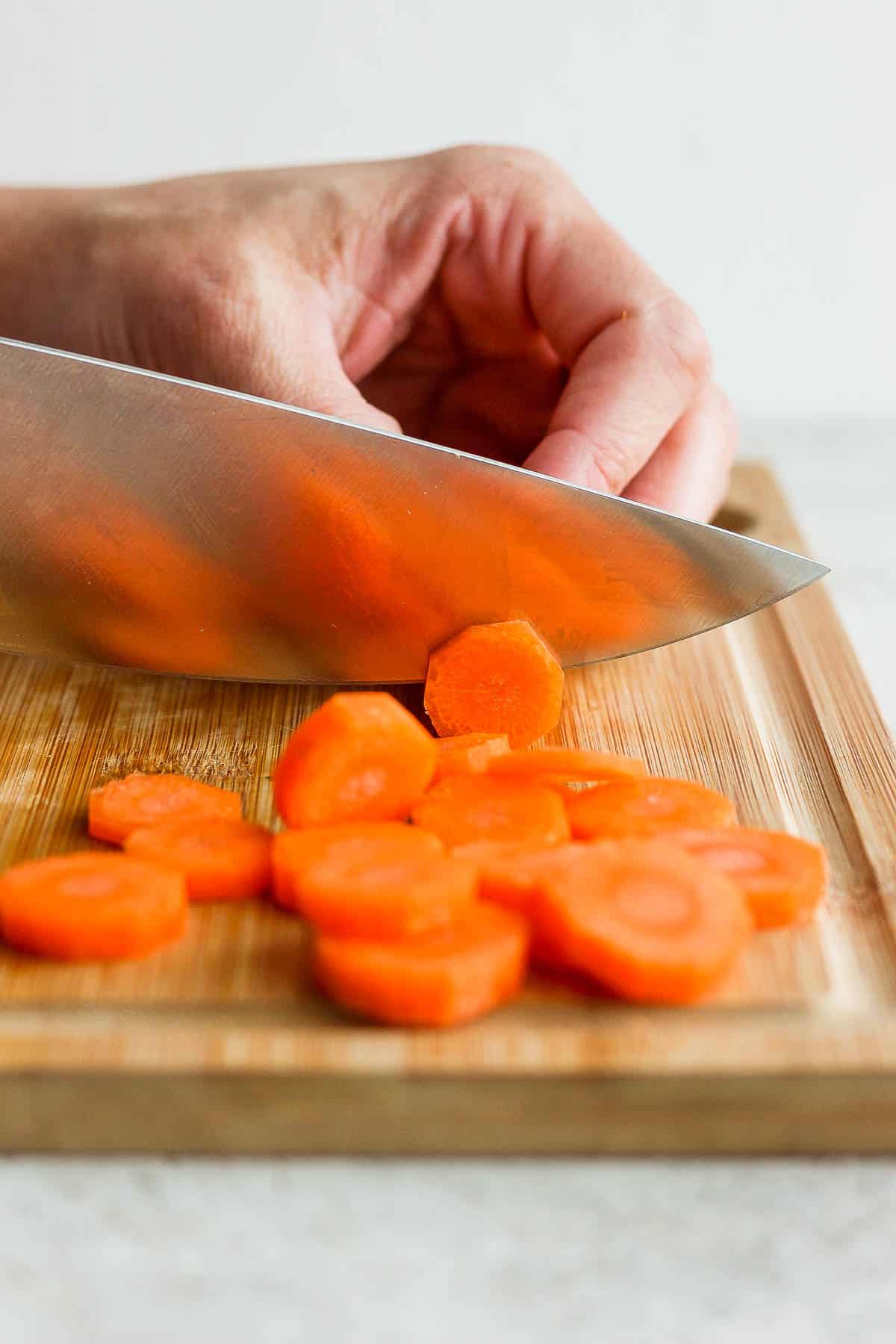 How to Cut Carrots
How to cut carrots 4 different ways – matchstick, rounds, diced & julienned. Knowing how to cut carrots helps them cook evenly and stay fresh longer!
Ingredients
1

large carrot

rinsed and peeled if desired
Instructions
For Slices
Using a sharp knife, starting from the bottom of the carrot, begin slicing ⅛ inch slices. Continue until you have reached the top
For Sticks, Julienne, and Dices
Remove the top (stem side) of the carrot. Cut the carrot in half across its width, each half should be 2 ½ to 3 inches long.

Square off the sides of the carrot so you have a rectangle. Continue to cut per desired shape

For sticks cut ¼ inch slabs from each rectangle. Then stack the ¼ inch slabs and cut them into ¼ inch strips

For julienne, cut ⅛ inch slabs from each rectangle. Then stack the ⅛ inch slabs and cut them into ⅛ inch strips

For dice, cut ¼ inch slabs from each rectangle. Then stack the ¼ inch slabs and cut them into ¼ inch strips. Cross cut the strips by ¼ inch to get a cubed dice
Notes
Tip: Pay attention to how a recipe calls for a carrot to be cut. This is vital to keeping the carrot at its freshest and yummiest for that specific recipe. 
Nutrition
Calories:
25
kcal
,
Carbohydrates:
6
g
,
Protein:
1
g
,
Fat:
1
g
,
Saturated Fat:
1
g
,
Polyunsaturated Fat:
1
g
,
Monounsaturated Fat:
1
g
,
Sodium:
42
mg
,
Potassium:
195
mg
,
Fiber:
2
g
,
Sugar:
3
g
,
Vitamin A:
10191
IU
,
Vitamin C:
4
mg
,
Calcium:
20
mg
,
Iron:
1
mg
Nutrition information provided is an estimate. It will vary based on cooking method and specific ingredients used.