This post may contain affiliate links. Please read our disclosure policy.
If you're looking for the ultimate Halloween snack, you have to try this Halloween Chex Mix recipe! With a mix of rice Chex, pretzel snaps, kettle corn, and a handful of sweet treats like M&Ms, mini marshmallows, and more, it's both easy to make and hard to resist. It's a great balance of sweet and salty, and you can make a big batch in minutes. This "monster munch" is perfect for feeding a crowd of trick-or-treaters!
Table of Contents
What I love about this Halloween Chex mix recipe is that it's not only scary good but also super versatile. It's decked out for Halloween right now, but you could easily switch things up for other occasions. Plus, it's a great activity to keep the little ones busy and involved in the kitchen! So, if you're planning a spooky party or just want a fun snack on hand, this monster munch is a solid choice. It's easy, quick, and, yes—pretty addictive!
Why you'll love this halloween chex mix recipe
Endlessly Customizable. One of the best things about this Chex mix recipe is that you can make it your own. Not a fan of butterscotch chips? Swap it for white chocolate chips. Allergic to something? Leave it out! You can tweak the ingredients to fit your (or your guests) taste buds.
Balance of textures: The crispness of the pretzels, the softness of the marshmallows, the crunch of the Chex, and the melt-in-your-mouth chocolates and candies make for a fun treat!
Better Than Store-Bought: You might find pre-made snack mixes at the store, but they won't hold a candle to this homemade Halloween Chex mix recipe. When you make it yourself, you control the quality of ingredients, ensuring that every bite is as fresh and flavorful as possible.
Great for Gifting: This monster munch recipe isn't just for enjoying at home; it also makes a charming homemade gift. Pack it up in little cellophane bags, tie it with a cute ribbon, and you've got yourself a thoughtful treat to hand out to family, friends, or neighbors.
Ingredients to make Chex mix monster munch
Rice Chex: This is your base; it's crunchy and holds up well with the other ingredients. If you're brainstorming different Halloween snack ideas and want to switch things up, you could also use corn Chex or even Cheerios.
Pretzel Snaps: Adds that salty crunch we all love. If pretzel snaps aren't your thing, try using mini pretzel twists or even some bagel chips.
Kettle Corn: This brings in a sweet-and-salty element. If kettle corn isn't available, regular popcorn or even caramel corn works great too.
Mini Marshmallows: These add a soft, chewy contrast to the crunch. If you're not a marshmallow fan, maybe some dried fruit like raisins or cranberries could work.
M&M Candies: For color and chocolatey goodness. Feel free to swap these out for another coated chocolate candy or try chocolate-covered raisins.
Butterscotch Chips: These bring in a unique, buttery sweetness. If butterscotch isn't your jam, white chocolate chips could be a nice substitute.
Chocolate Chips: Because more chocolate is always a good idea! You could also use dark chocolate chips for a less sweet, more intense flavor.
Candy Corn: Adds a classic Halloween vibe to the mix. If you're making this for another occasion, or if you're not a candy corn fan, consider using jelly beans or gummy bears instead.
Popular substitutions & additions
Switch up the cereal. If Rice Chex isn't your thing or you just want some variety, try using Corn Chex or even a cinnamon cereal for a different flavor profile.
Add nuts. Consider adding a cup of almonds or cashews to the mix if you want an extra layer of crunch! Just be sure to check for any allergies among your guests before you add them in.
Choose a different candy. Not everyone is a fan of candy corn, and that's okay. You can easily swap it out for some Skittles, jelly beans, or even gummy worms.
Make it gluten-free. Swap out the regular pretzels for gluten-free ones, and make sure your cereal choice is gluten-free too.
How to make Chex mix monster munch
In a very large mixing bowl, combine all ingredients. [Image 1]
Gently stir until well combined. [Image 2]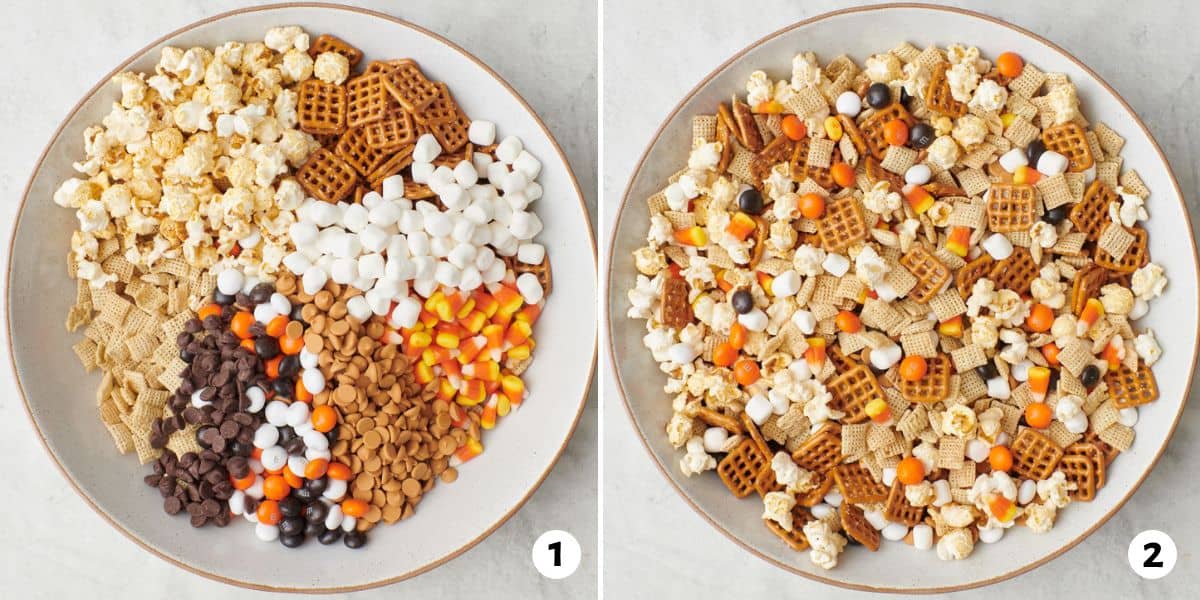 Tips for making the best no bake Halloween Chex mix
Stir gently but thoroughly. Make sure to give your monster munch a good stir to get all those flavors mingling, but don't go overboard. You don't want to crush your Chex or popcorn! A rubber spatula works great for this.
Choose fresh ingredients. Even though they're all shelf-stable, make sure your ingredients are fresh. Stale pretzels or old kettle corn can really impact the overall texture and flavor of your monster munch.
Taste as you go. Before you seal up that airtight container, grab a spoon and give your monster munch a little taste test. Need more salt? Toss in some extra pretzels. Missing some sweetness? A few more chocolate chips never hurt!
How to store this monster munch recipe
Storing this snack is super easy. Just grab an airtight container or a resealable plastic bag and toss your monster munch in there. Make sure to seal it well to keep it fresh. Also, keep it on your counter or in your pantry; no need for the fridge.
How long will the monster munch recipe last in the fridge?
Don't put it in the fridge! The cold can make the pretzels and Chex go a bit stale. Just keep it in your airtight container at room temperature, and it should stay good for up to 5 days.
Can i freeze halloween chex mix recipe?
As for freezing, it's not really recommended for this recipe. The texture of some ingredients, like the marshmallows and pretzels, won't hold up well in the freezer. If you're looking to make it in advance, just store it in an airtight container at room temperature.
This monster munch recipe is your ticket to an easy and yummy snack that's sure to be a hit at any party! Perfect for Halloween or whenever you're in the mood for a sweet and salty treat, it combines all the crunch, flavor, and fun you could ask for. Plus, it's simple enough for the kids to help out with, making it a family-friendly activity as well!
More Halloween Recipes recipes:
If you try this feel good Monster Munch recipe or any other recipe on Feel Good Foodie, then don't forget to rate the recipe and leave a comment below! It helps others who are thinking of making the recipe. We would love to hear about your experience making it. And if you snapped some shots, share it on Instagram so we can repost on Stories!
Halloween Chex Mix
Enjoy the magic of Halloween Chex Mix aka Monster Munch – a wickedly delicious blend of sweet and salty surprises, all in one spooktacular snack!
Ingredients
6

cups

rice Chex

2

cups

pretzel snaps

2

cups

kettle corn

1

cup

mini marshmallows

1

cup

M&M candies

1

cup

butterscotch chips

1

cup

chocolate chips

1

cup

candy corn
Instructions
In a very large mixing bowl, combine all ingredients, then gently stir until well combined. Store in an airtight container at room temperature for up to 3 days
Nutrition
Calories:
369
kcal
,
Carbohydrates:
69
g
,
Protein:
3
g
,
Fat:
9
g
,
Saturated Fat:
6
g
,
Polyunsaturated Fat:
0.2
g
,
Monounsaturated Fat:
0.3
g
,
Trans Fat:
0.03
g
,
Cholesterol:
4
mg
,
Sodium:
307
mg
,
Potassium:
91
mg
,
Fiber:
1
g
,
Sugar:
47
g
,
Vitamin A:
307
IU
,
Vitamin C:
3
mg
,
Calcium:
84
mg
,
Iron:
5
mg
Nutrition information provided is an estimate. It will vary based on cooking method and specific ingredients used.