This post may contain affiliate links. Please read our disclosure policy.
Did you know you can make your own oat flour? It is so easy! Do you have a blender or food processor? Oatmeal? Then, you are ready to go! With some restrictions, it serves as a full-sub for all-purpose flour or a partial swap to zhuzh up the nutritional profile of everything from banana bread to chocolate chip cookies.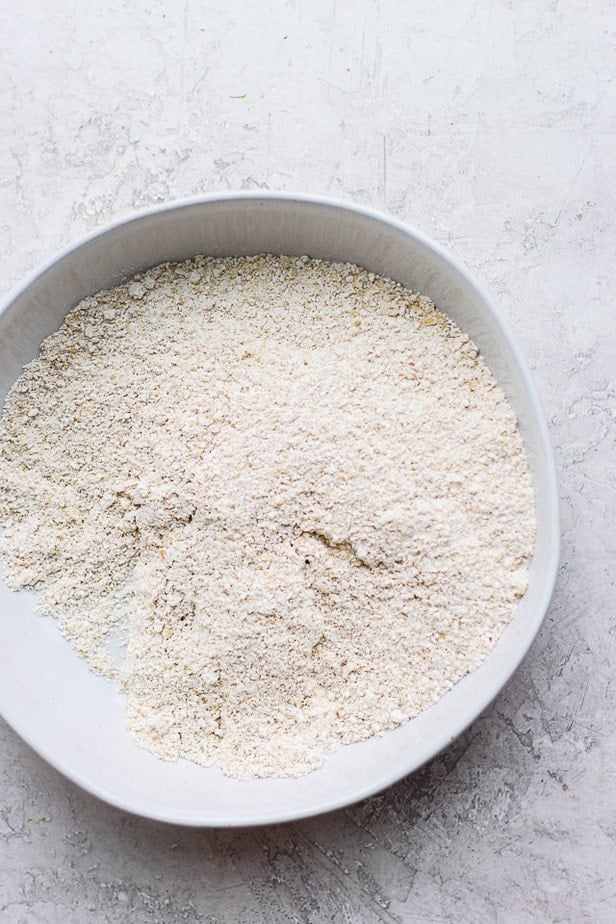 This gluten-free homemade flour possesses all the health benefits of oatmeal, including helping to lower cholesterol. Dieticians think the fiber in oats sticks to cholesterol in the digestive tract preventing it from being absorbed.
What is oat flour?
Oat flour is a gluten-free form of whole grain flour which is made from old fashioned oats or whole oats that have been ground into a powder-like consistency.
Difference between oat flour and wheat flour
It has has 11 percent more fiber than white all-purpose flour, plus it contains iron, calcium, and potassium. The fiber in oatmeal keeps you full longer.
It is is gluten-free. This is good news for celiacs and those avoiding gluten but bad news if you are making dough that needs to rise slowly like bread or pizza. Gluten is an elastic protein that stretches allowing yeast to create air bubbles and volume in dough
It gives baked goods more flavor than regular all purpose flour,
It can give baked goods a chewier and crumblier texture as compared to using all purpose flour because of the lack of gluten.
Oat flour can be used to make so many delicious recipes, why not try my Oat Flour Chocolate Chip Pancakes or this wonderful No Bake Cookie Dough Bars!
The best oats to use to make oat flour
First, some basics. Oats are a seed. Before we eat them, the hull or inedible outer layer is removed leaving the inside called a groat.
Steel Cut Oats: Minimally processed, steel-cut oats, are the groat cut into two or three pieces. If you use steel cut oats to make the flour, it will have a tan color and a heavier, damper consistency compared to all-purpose flour.
Rolled Oats, aka Old-Fashioned Oats: To make old-fashioned oats, the groats are steamed and rolled into thin pieces. During this process, oil within the groat is slightly altered giving rolled-oat flour a light, fluffy texture that most mimics all-purpose flour. For this reason, I use old-fashioned rolled oats to make the recipe.
Quick Oats: Rolled oats rolled into very thinner pieces to cook faster.
Instant Oats: Instant oats are made from groats that have been pre-cooked and dried before being rolled. Processing changes their texture to the point that they don't work well in baked goods, according to The Food Lover's Companion.
Oat Bran: is the outer layer of the groat. Do not substitute for flour.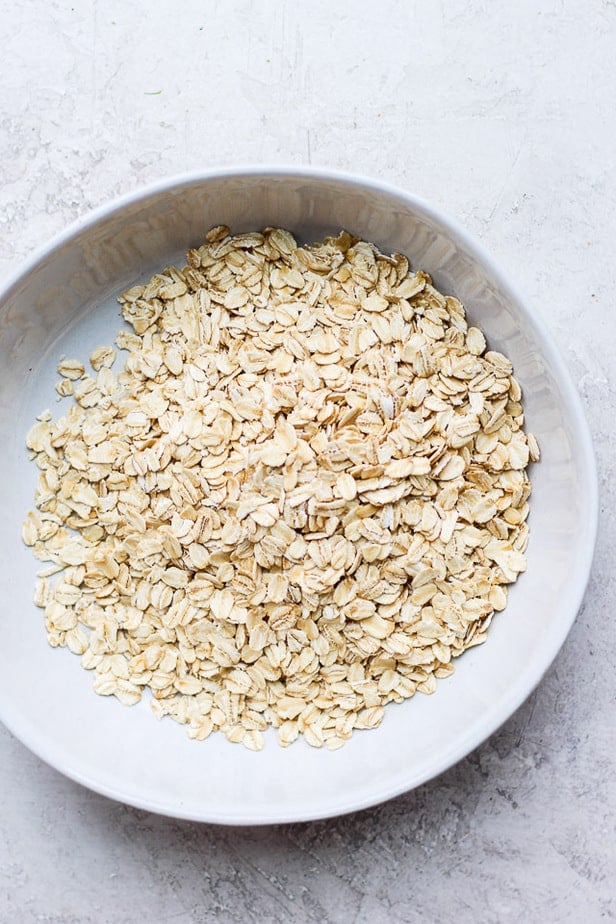 How to grind oat flour
First, place the old fashioned rolled oats in a high-speed blender (like Vitamix) or food processor and blend for 30 to 60 seconds. You want a fine, powder-like consistency. Over blending can cause clumping so watch it closely.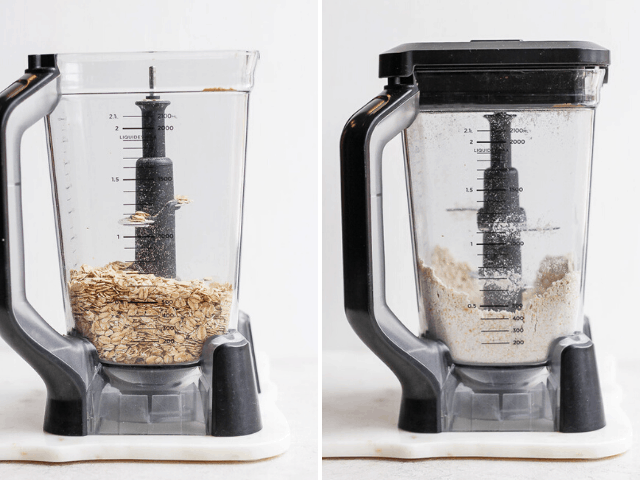 Below, see old-fashioned oats before and after processing. That's the consistency you're looking for.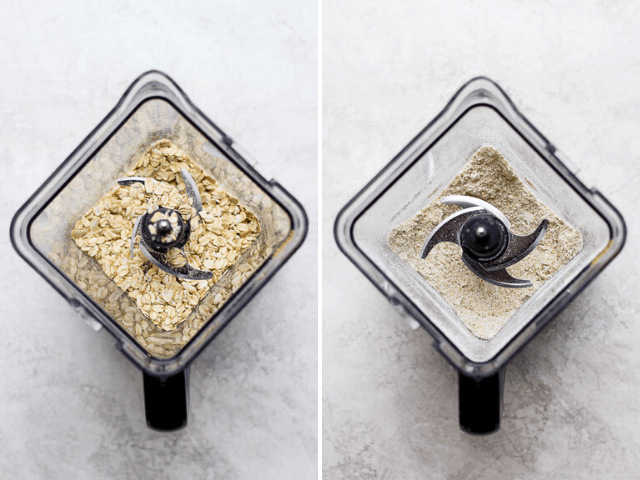 Note the powdery consistency – it will be very close to the texture of all-purpose flour but just slightly more granular. Finally, stop and stir to ensure that all the oats are finely ground. If needed, pulse for 15-30 more seconds.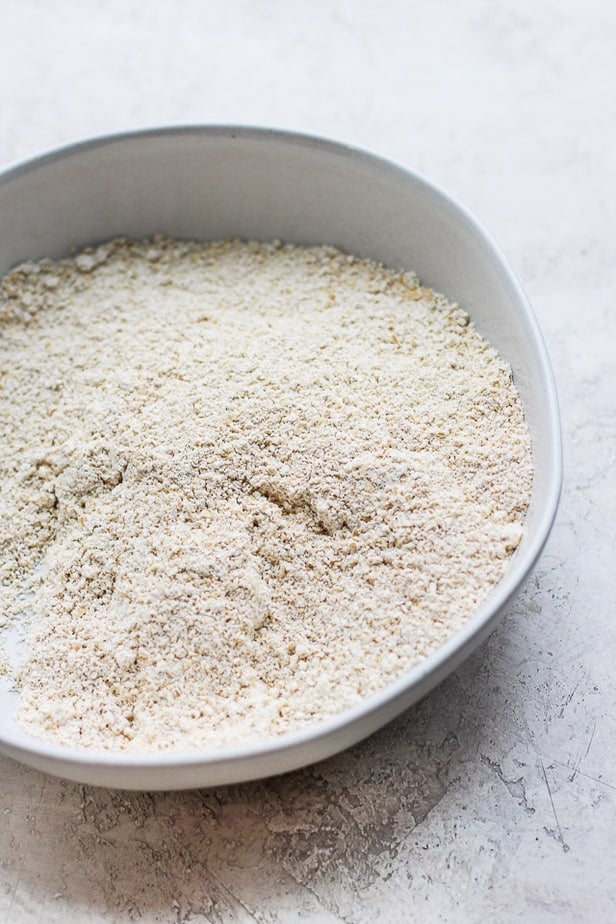 How to store homemade oat flour
Store the finished product in a mason jar or other container with a tight-fitting lid. It keeps at room temperature for a month.
If you want it to last longer, store in the refrigerator (about three months) or freezer (up to six months.)
The oil in the germ of whole grains, like oats, that make them go bad faster than refined grains. Both heat and light are enemies. If you don't have room for storing oat (or other whole grain flours) in your fridge or freezer, King Authur Flour recommends putting them in the coolest, darkest part of your pantry.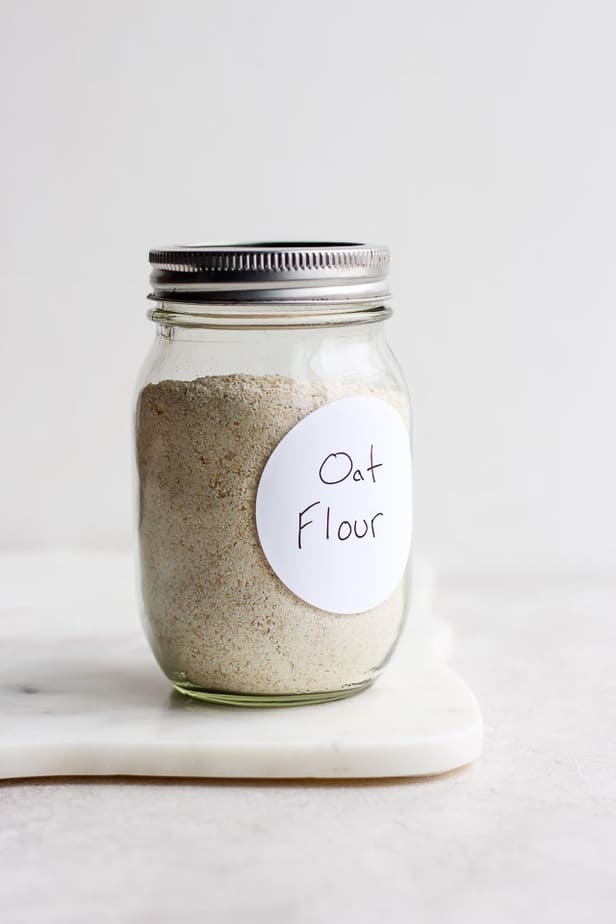 Frequently asked questions
Which type of recipes works best for oat flour?
Alone it works best in recipes that don't use yeast – think cookies, quick breads,  pancakes, or waffles. You can also try using it in place of flour when breading chicken, thickening soups, or making a crumbly topping for cakes or crumbles.
Can I mix oat flour and all-purpose flour?
Definitely. In a recipe that calls all-purpose flour, try replacing 25 percent of the flour with your homemade blend. This is especially delicious in recipes like oatmeal cookies, where the oat flavor is already present. Think about how the flavors of your recipe will pair with the nuttiness of oats.
Do I need to add anything to oat flour when I bake with it?
Many manufacturers of oat flour recommend using xanthan gum to improve the elasticity of all non-gluten flours including oat flour. According to King Arthur Flour's start with ¼ teaspoon of xanthan gum for every one cup of oat flour.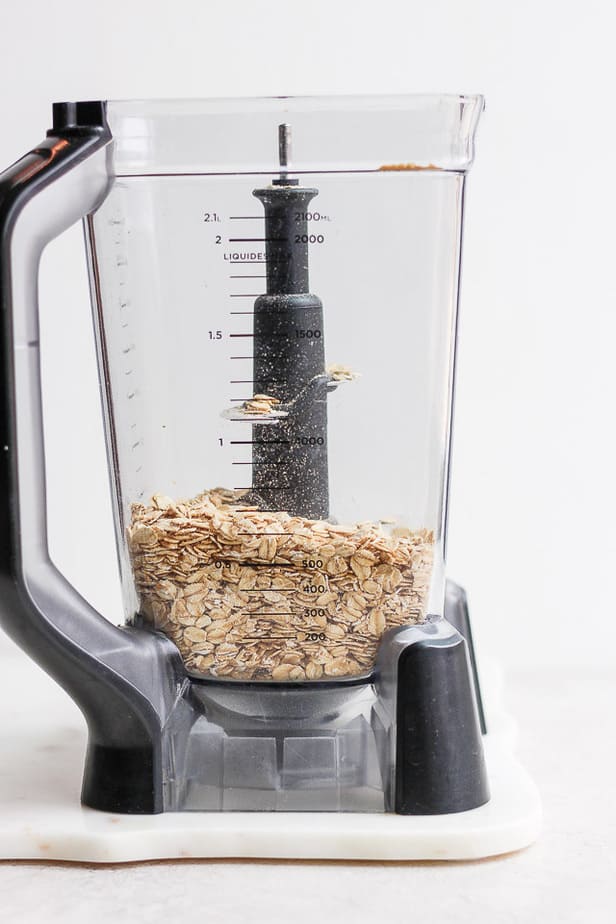 It is so easy to get into a rut baking with only all-purpose flour. I highly recommend blending your own homemade oat flour with the oatmeal that is probably sitting in your cupboard right now. It is a fun and easy way to try something delicious and healthy.
Easy recipes that use oat flour
For more cooking resources, check out:
If you've found this cooking resource for How to Make Oat Flour helpful or if you've tried any recipe on FeelGoodFoodie, then don't forget to rate the recipe and leave me a comment below! I would love to hear about your experience with this technique. And if you snapped some shots of it, share it with me on Instagram so I can repost on my stories!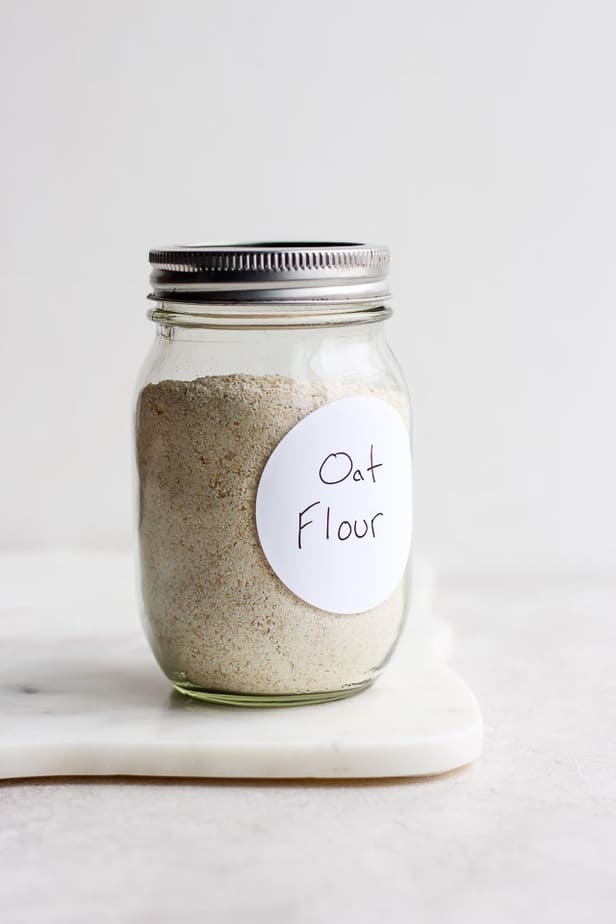 How to Make Oat Flour
Learn how to make your own gluten-free Oat Flour at home. Follow my step-by-step tutorial to make using just rolled oats and a blender – quick & easy recipe
Instructions
Place the rolled oats in a high-speed blender for 30-60 seconds. Blend until the oats reach a fine powder-like consistency. Don't t over-blend or the oat flour may get clumpy.

Stop and stir to ensure that all the oats are finely ground. Pulse for 15-30 more seconds if necessary.

Use in a recipe or transfer to a mason jar with a tight-fitting lid. Store at room temperature for up to 1 month.
Equipment
Notes
Storage: Store in a mason jar with a tight-fitting lid, at room temperature for up to 1 month.
Photo Credit:
Erin Jensen
Nutrition
Calories:
153
kcal
,
Carbohydrates:
27
g
,
Protein:
5
g
,
Fat:
3
g
,
Saturated Fat:
1
g
,
Sodium:
2
mg
,
Potassium:
147
mg
,
Fiber:
4
g
,
Sugar:
1
g
,
Calcium:
21
mg
,
Iron:
2
mg
Nutrition information provided is an estimate. It will vary based on cooking method and specific ingredients used.