This post may contain affiliate links. Please read our disclosure policy.
How to make self-rising flour – Ever found yourself in the middle of a recipe only to realize you don't have any self-rising flour on hand? It may seem like the only option is an impromptu trip to the store, but that is not the case! If you find yourself in a pinch, you can make your own self-rising flour right at home!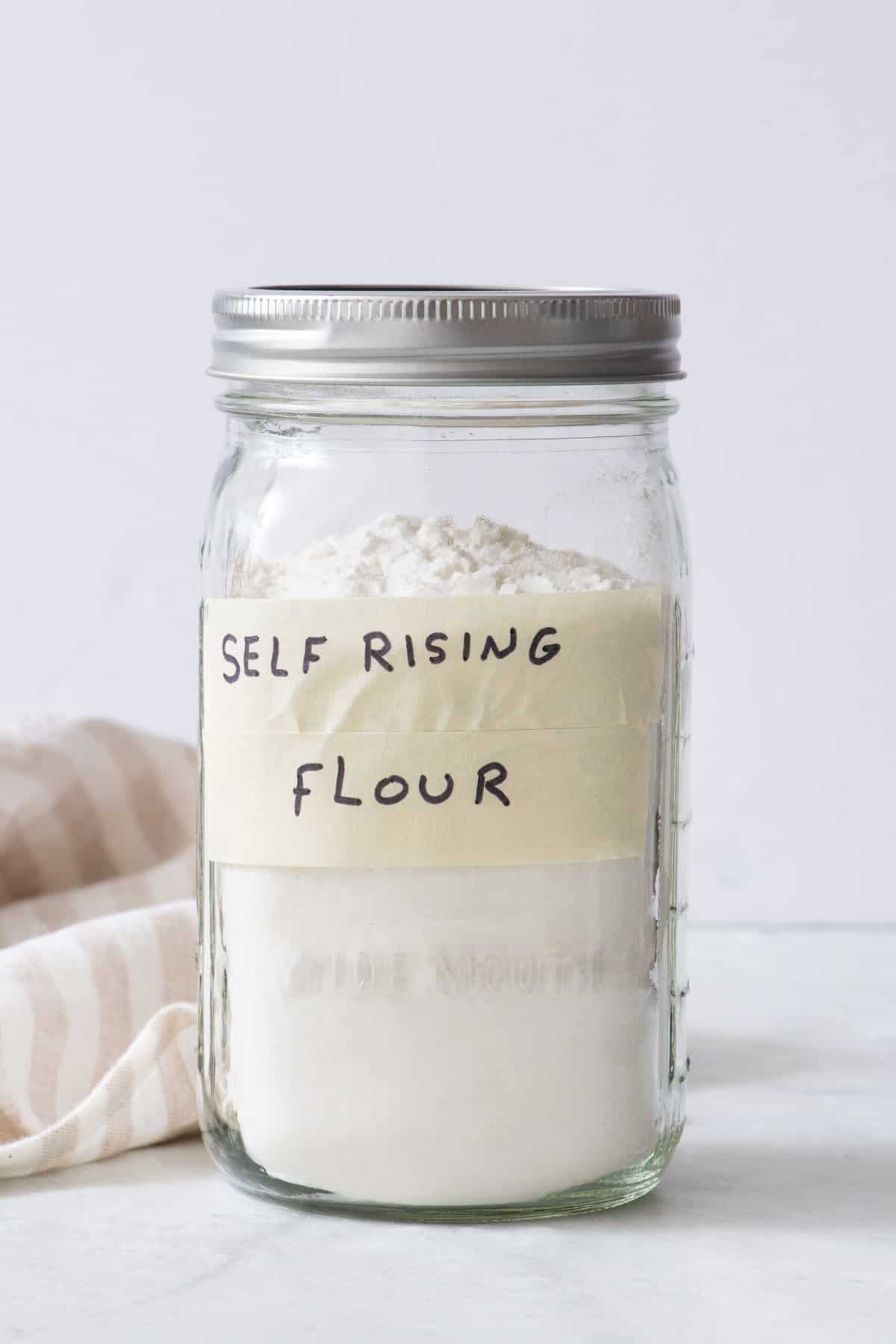 It's super easy to make self-rising flour and only requires 3 simple ingredients. Plus, this recipe for homemade self-rising flour can be made on an as-needed basis, or you can mix up a batch to store in the pantry for your baked goodies. Rest assured, this recipe can be substituted for store-bought self-rising flour no matter the use, and it is great to have on hand!
What is Self-Rising Flour?
Self-rising flour is a blend of all-purpose flour, baking powder, and salt. This 3-in-1 ingredient is used in recipes where you want light and fluffy textures, such as in biscuits, pancakes, and quick bread.
WHY learn to Make Self Rising Flour
A staple ingredient. It is used in many baking recipes, and not having it available when you need it can be frustrating. This quick substitute is perfect when you're in a pinch.
Just 3 ingredients! Check your pantry, and I'm sure you have these common ingredients handy: all-purpose flour, baking powder, and salt. That's it!
Great for storage. Mix up a larger batch to and store it in a large sealed container with a label and date. Before using, whisk it to redistribute the baking powder.
Self Rising Flour Ingredients
All-purpose flour – Substitute ½ the required amount with whole wheat flour if you would like.
Baking powder – I always prefer to use aluminum-free baking powder. Also, check for freshness. If you're weary, if it is still fresh, test it by adding a little to boiling water. If it is very bubbly, you're good to go!
Salt – Just a small amount to enhance the flavor of recipes made with self-rising flour.
How to Make Self-Rising Flour from All-Purpose Flour
Measure ingredients and place in a bowl.
Use a whisk to combine well. If saving for later, transfer to a sealed container such as a mason jar for storage.
Note: This recipe is equivalent to 1 cup of store-bought or pre-mixed self-rising flour. If you're recipe calls for 3 cups of self-rising flour, you'll need to triple this recipe to match the ratio.
TIPS FOR Making Self-Rising Flour
Use fresh ingredients. Check the dates on your flour and baking powder to make sure they are still fresh. Baking powder loses its potency after opening.
Store extra or don't. If you're a baker and are likely to use it often, make a bigger batch to store with your other baking ingredients. If it isn't something you use often, make it just when a recipe calls for it.
Measure the flour. Get accurate measurements of the flour by using the spoon method. Mix up the flour and then spoon it into a measuring cup without compacting it. Then, use a knife to level the flour. If you scoop straight into the flour, you may get too much. Alternatively, you can weigh 4 ½ ounces for one cup of flour.
HOW TO STORE Homemade Self-Rising Flour
Store in an airtight container that does not allow light to penetrate the flour. You can then store it on the counter or in the pantry.
HOW LONG WILL Self-Rising Flour LAST IN THE pantry?
Store for up to 3 months when using fresh ingredients.
FREQUENTLY ASKED QUESTIONS
What is self-rising flour used in?
Self-rising flour is found in many baking recipes, such as pancakes, biscuits, scones, pizza dough, and some cakes.
How to make all-purpose flour self-rising?
For every cup of all-purpose flour, add 1 ½ teaspoons of baking powder and ¼ teaspoon salt.
Is homemade self-rising flour the same as storebought?
Not exactly. Storebought uses a lower protein flour than all-purpose flour. Because of the higher ratio of protein, the homemade mix may not be as tender. It's great to use in a pinch, and you may not notice the difference at all.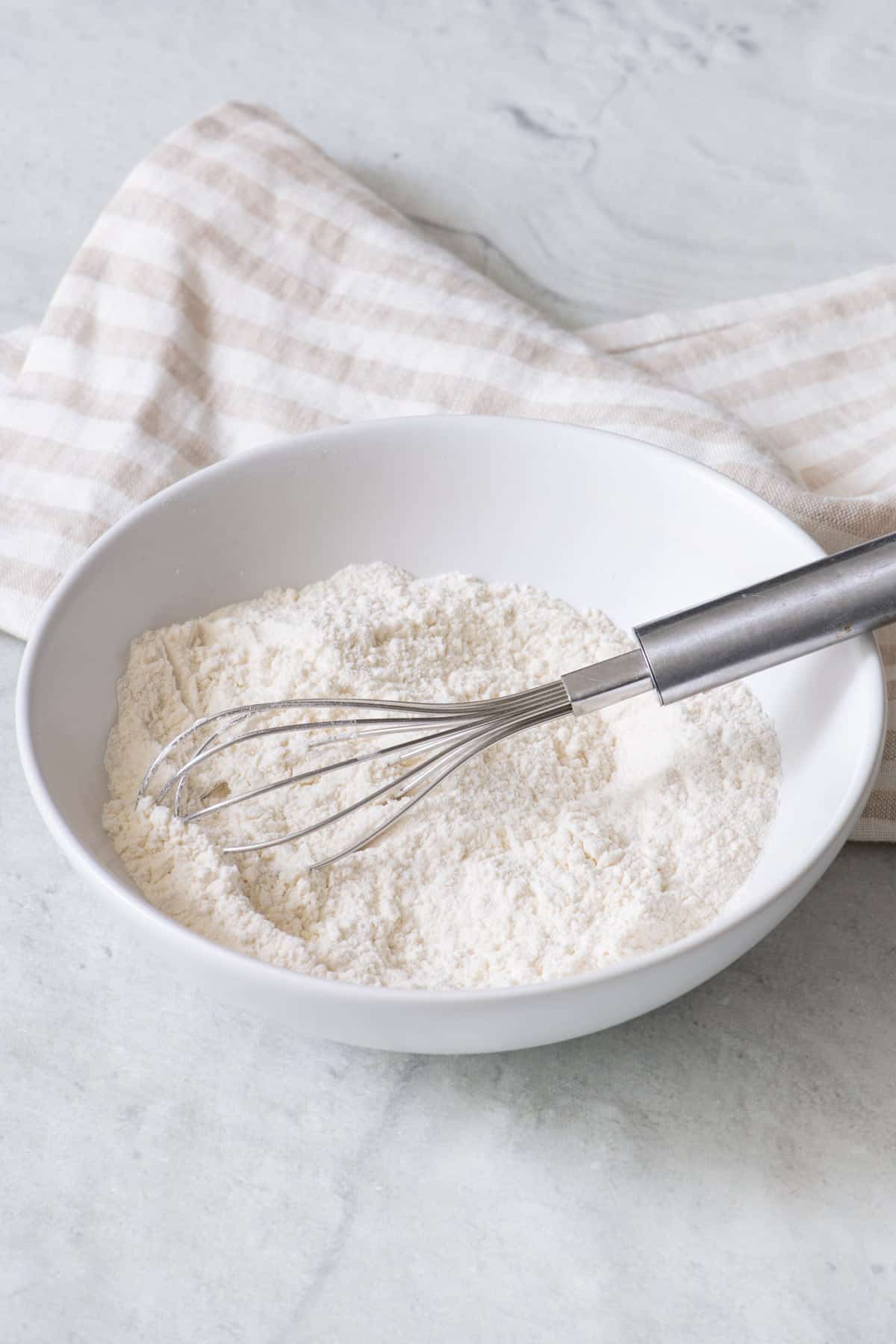 Now that you know how to make self-rising flour with 3 simple pantry ingredients, you can get to baking and creating some delicious recipes!
MORE cooking tutorials:
If you found this tutorial for How to Make Self Rising Flour helpful or if you try any recipe on Feel Good Foodie, then don't forget to rate the recipe and leave a comment below! It helps others who are thinking of trying out this tutorial and we would love to hear about your experience. And if you snapped some shots, share it on Instagram so we can repost on Stories!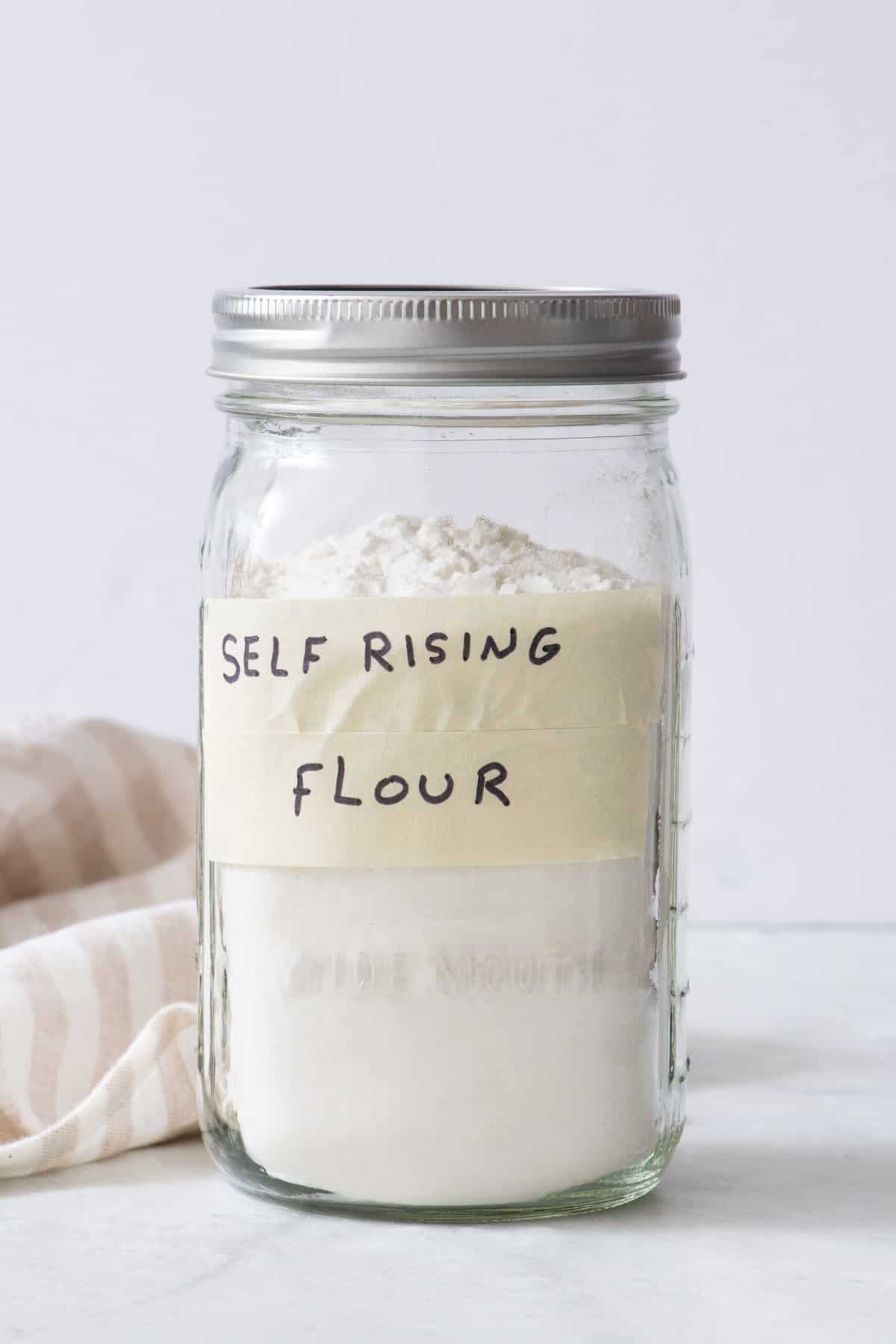 How to Make Self Rising Flour
Learn how to make self rising flour out of "plain" all-purpose flour with just two added ingredients baking powder and salt! Perfect substitute recipe!
Instructions
Whisk all of the ingredients together in a bowl; then use as directed in your recipe or store in an airtight container for up to 6 months.
Notes
Tip: Flour does not like light. Store any leftover flour you have in a light-proof container or in a pantry or cabinet for a longer shelf-life. 
Nutrition
Calories:
461
kcal
,
Carbohydrates:
98
g
,
Protein:
13
g
,
Fat:
1
g
,
Saturated Fat:
0.2
g
,
Polyunsaturated Fat:
1
g
,
Monounsaturated Fat:
0.1
g
,
Sodium:
589
mg
,
Potassium:
740
mg
,
Fiber:
4
g
,
Sugar:
0.3
g
,
Calcium:
279
mg
,
Iron:
6
mg
Nutrition information provided is an estimate. It will vary based on cooking method and specific ingredients used.