This post may contain affiliate links. Please read our disclosure policy.
2-Ingredient Bagels are the easiest thing you'll whip up this week. All you need is some self-rising flour and Greek yogurt, and you're on your way to fresh, warm bagels right at home. These easy homemade bagels with yogurt are super versatile and great for breakfast, lunch, or anytime you need a quick and yummy carb fix.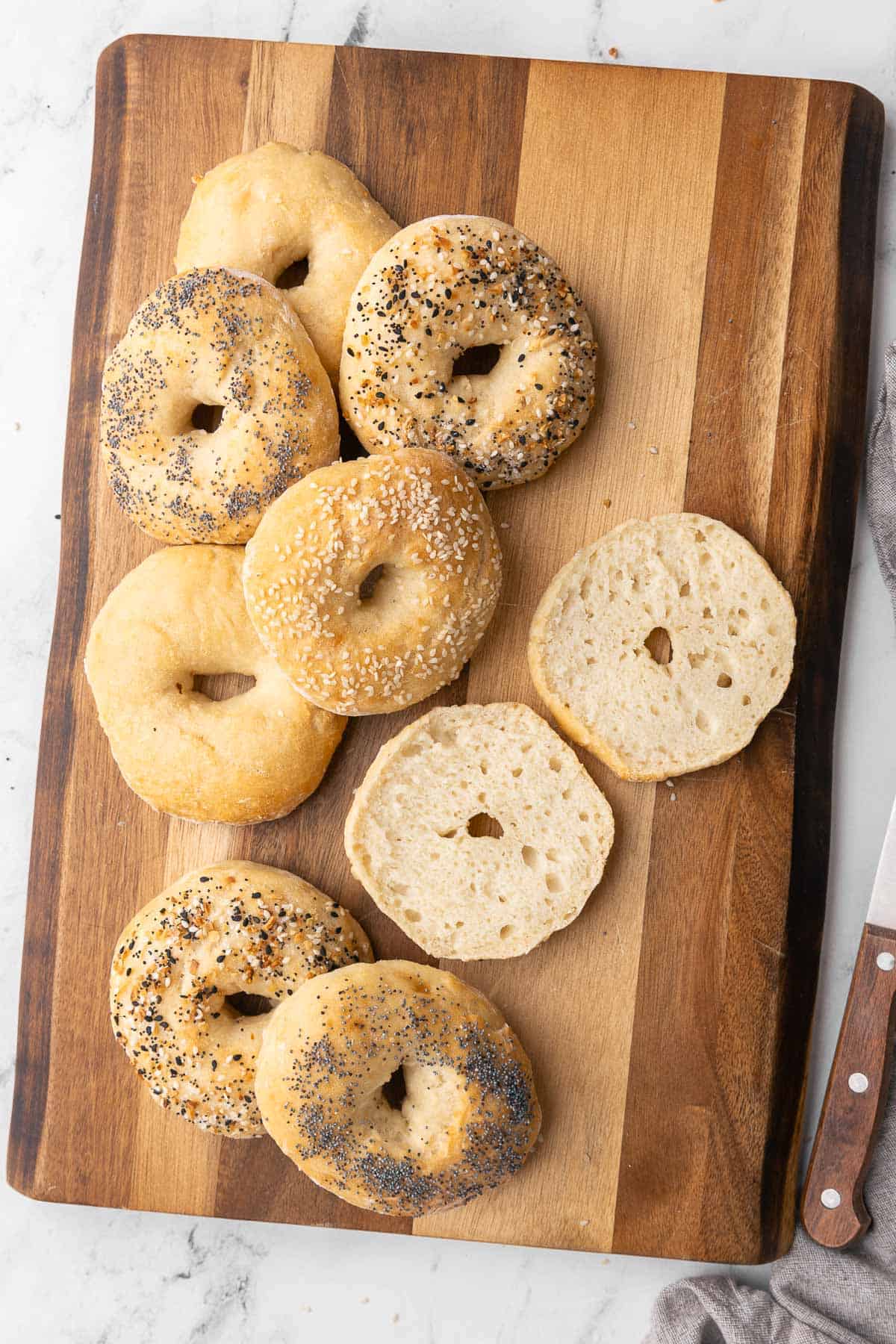 Table of Contents
What I love about making bagels with Greek yogurt is that I know exactly what ingredients I am eating, making them a healthy alternative to mainstream bagels that are full of preservatives. Not to mention, the taste and texture is soo good – the yogurt creates a soft inside with that perfect chewy outside that we all love in a bagel. You can even customize them with any topping you're craving, like poppy seeds, everything bagel spice, or sesame seeds. Trust me, once you've tried these, store-bought bagels will take a backseat!
Why you'll love these easy homemade bagels with yogurt
Quick Cleanup: This recipe doesn't just save you time in preparation – the minimal ingredient list means you'll have the kitchen tidied up in no time!
Perfect Canvas for Sandwiches: Transform lunchtime by using these bagels as the foundation for a variety of sandwiches. Their dense and chewy texture holds up well to all kinds of fillings, elevating your sandwich game to new heights.
Adaptable to Dietary Preferences: If you prefer a gluten-free or protein-packed option, you can experiment with different types of flour and yogurt to suit your nutritional needs without compromising on taste.
Freshness You Can Taste: There's something unbeatable about the taste of a freshly baked bagel, hot out of the oven. The golden crust and the warm, soft center just can't be found in a store-bought version.
No Special Equipment Needed: Forget the stand mixers and dough hooks; all you need is a bowl and your own two hands to bring this recipe to life. It's baking made simple, with tools you already have in your kitchen.
Ingredients to make 2-Ingredient Bagels
Self-rising flour: Already has the rising agents in it, so there is no need for anything extra. If you run out, you can make your own self-rising flour with regular flour, a bit of baking powder, and a pinch of salt. Visit my how to make self-rising flour recipe for the exact measurements.
Greek yogurt: Grab the plain kind, full fat, it makes your bagels soft and adds a touch of tang.
Optional Additions
Egg: This will give your homemade bagels that lovely golden sheen on top. If you're vegan or allergic, you can use an egg substitute or even a bit of non-dairy milk to brush on top.
Pinch of salt: Just to enhance the flavors of the egg wash. Trust me, it makes a difference.
Toppings of Choice: Go wild! Poppy seeds, sesame seeds, or everything bagel spice. Even some shredded cheese if you're feeling cheesy.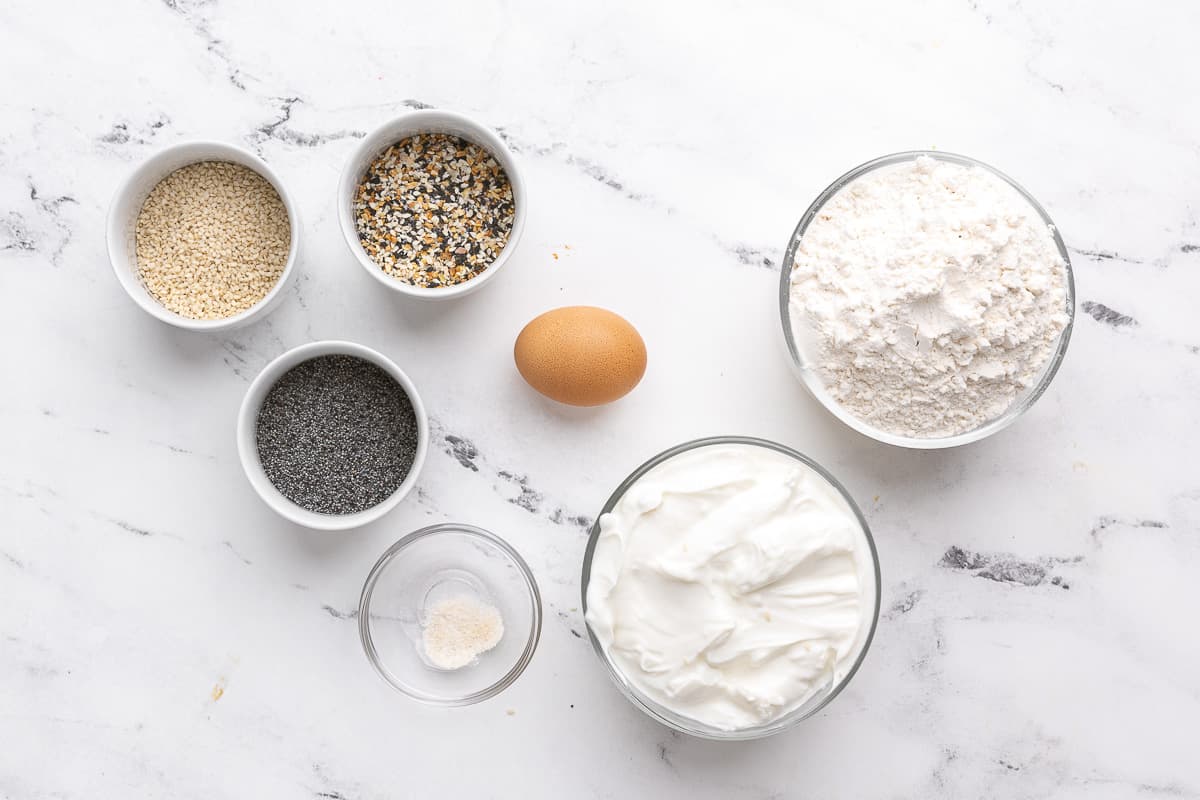 How to make 2-Ingredient Bagels
Making bagels with yogurt is super easy! Really, the hardest part will be trying not to eat them all in one go after they come out of the oven.
Make the dough
In a big bowl, add the flour and Greek yogurt.
Mix until the dough looks shaggy.
Sprinkle some flour on the counter and knead the dough until it's smooth.
Using your hands, flatten the dough and shape it into a disk. Cover it with a towel and let it rest.
Cut the dough disk into and shape them into balls. Cover them up again and let them rest.
Poke a hole in the middle of each ball, pulling on the outer edge of the dough as you turn it around, your thumb to form an evenly shaped bagel.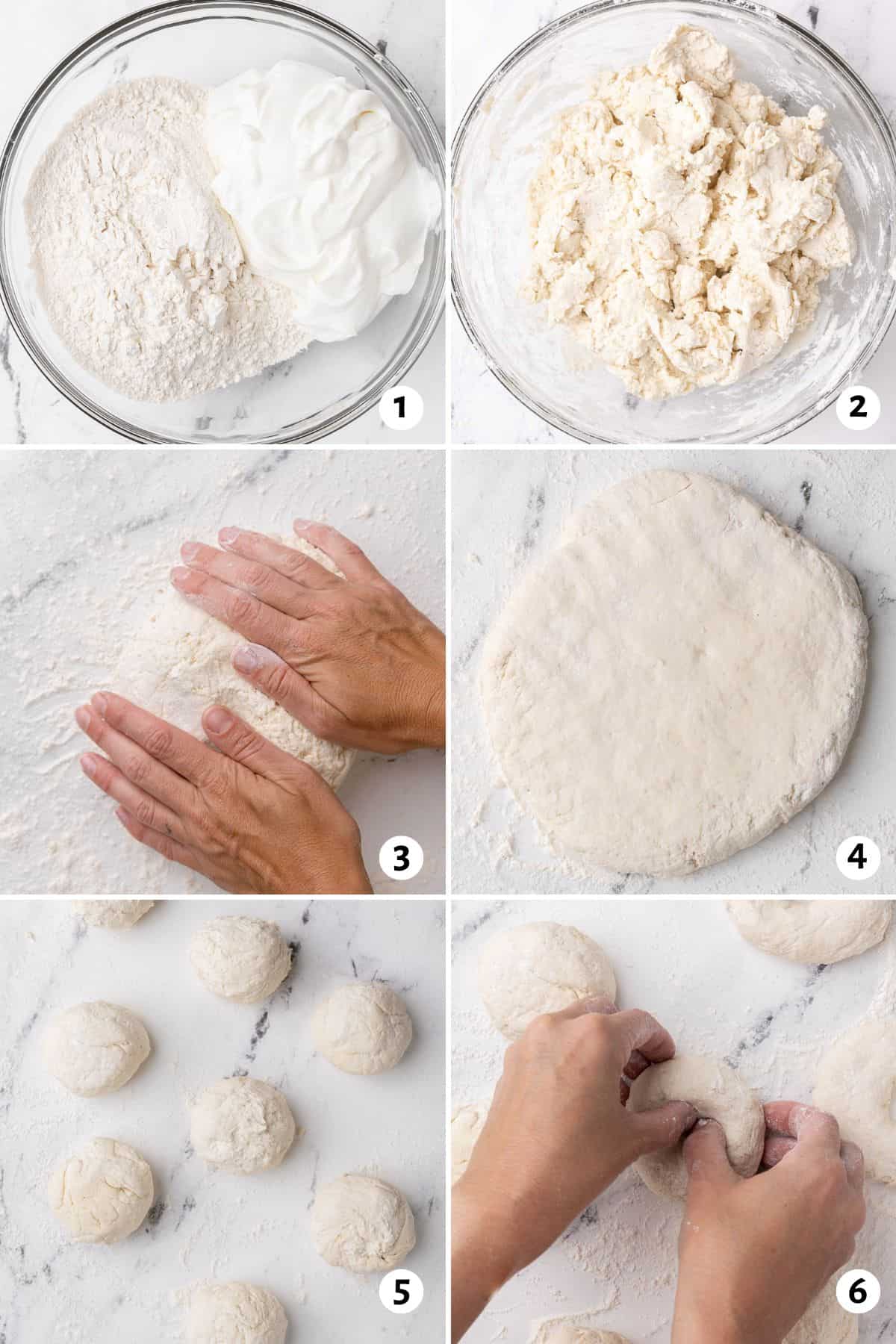 Bake the bagels
If adding toppings – Beat an egg with a pinch of salt and brush it on top of the bagels. Then, add any seeds or spices you like.
Bake until the bagels are golden brown on top and the dough is fully cooked.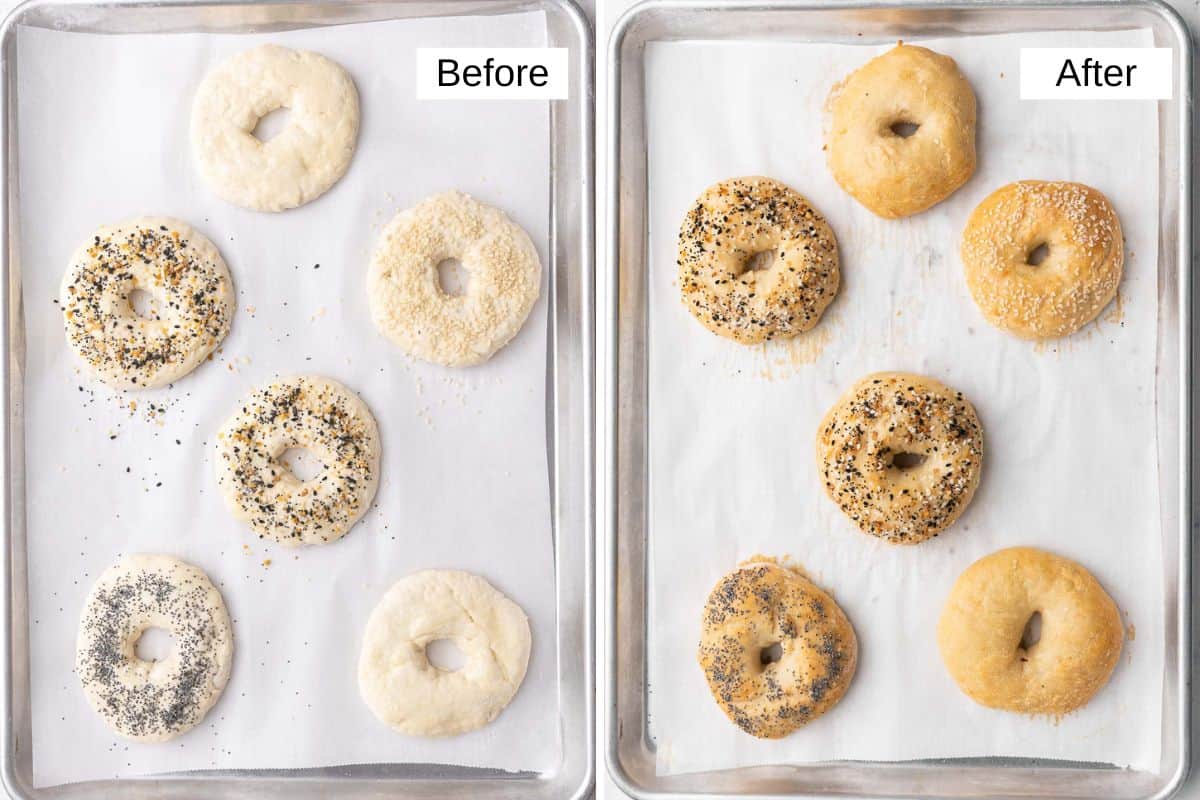 Tips for making the best 2-Ingredient Bagels
Start with cold Greek yogurt. Chilled yogurt helps the dough stay firm and easier to shape. So, keep that Greek yogurt in the fridge until you're ready to use it.
Pre-stir the yogurt. Before mixing it with the flour, give your yogurt a good stir. It makes it smoother and easier to combine with the flour.
Avoid using a rolling pin. Use your hands to shape the dough, not a rolling pin. This will prevent the dough from getting too thin.
Don't rush the baking. Keep an eye on the bagels, but don't open the oven door too often. You want to keep that heat in there!
Popular substitutions & additions
Try sweet additions. If you're in the mood for something sweet, add a swirl of cinnamon and sugar to the dough. Your bagels with yogurt and flour will now remind you of cinnamon rolls!
Change up the seeds. Not a fan of poppy or sesame seeds? Try sunflower seeds or even some chia seeds for a different crunch.
Use gluten-free flour. If gluten's not your friend, you can swap the self-rising flour for a 1:1 gluten-free flour. Remember to check if it has rising agents in it, if not, a pinch of baking powder will do the trick.
Add parmesan cheese. For a cheesy twist, mix some grated Parmesan right into the dough. When it bakes, you'll get these delightful cheesy pockets inside the bagel.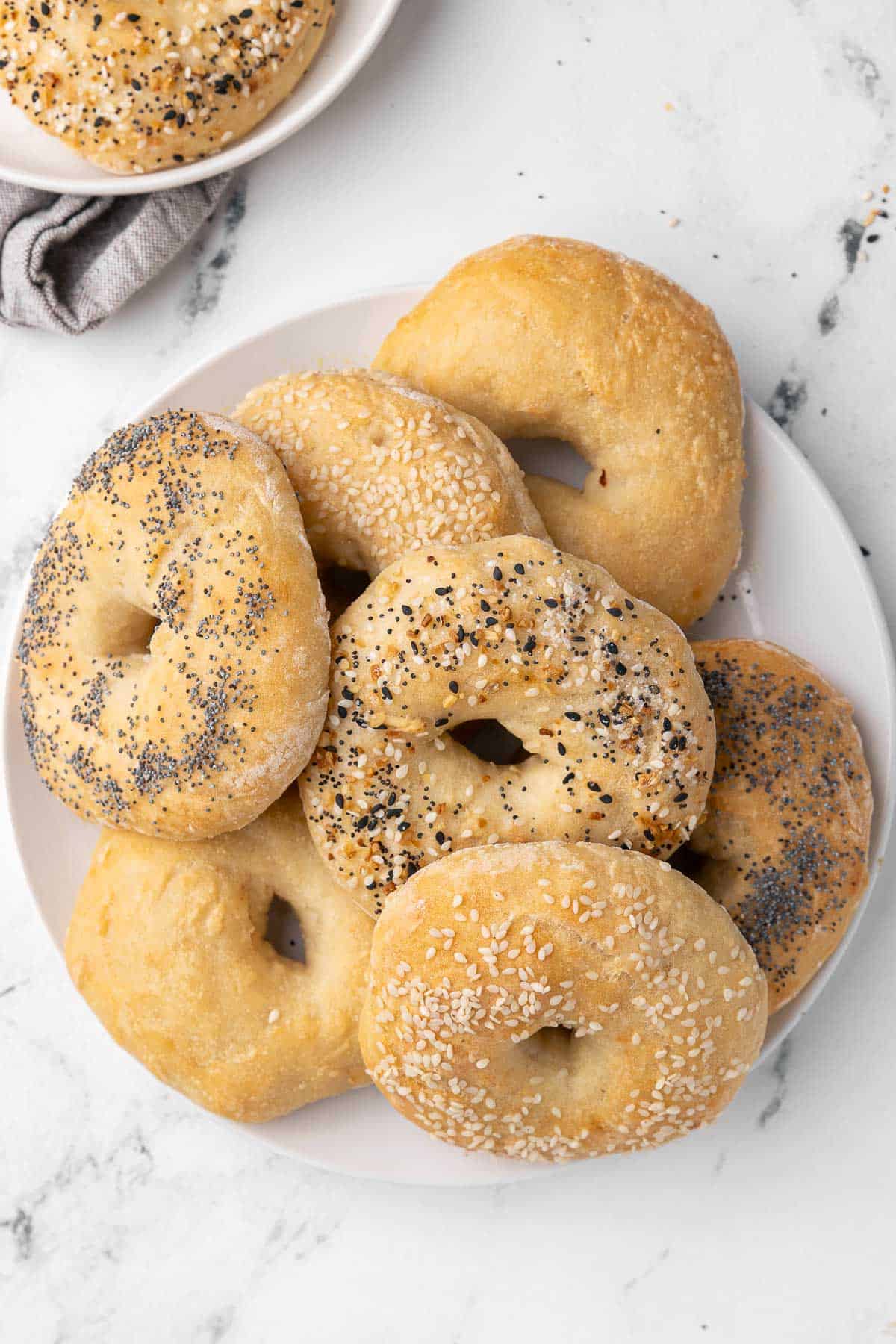 What to serve with bagels
How to store & reheat 2-Ingredient Bagels
Storing: Once your bagels have cooled down, pop them into an airtight container or a resealable plastic bag. This will keep them fresh and prevent them from spoiling or getting too stale.
Reheating: When you're ready for round two with your bagels, you've got options! The toaster works great for a crispy edge, or if they are a bit stale, you can wrap them in a damp paper towel and microwave for 20 seconds. They'll come out all warm and soft.
How long will your 2-Ingredient Bagels last in the fridge?
These bagels should be good for up to 5 days in the fridge. But honestly, they're so yummy, I'd be surprised if they lasted that long!
Can i freeze bagels with yogurt?
You can definitely freeze them! Once they're cool, wrap each bagel individually in plastic wrap and then place them all in a big freezer bag. They'll be good to go for up to 2 months. When you're craving one, just pull it out of the freezer and toss it straight into the toaster or the microwave.
Frequently asked questions
Why didn't my bagels brown properly?
If your bagels didn't brown well, it might be due to the oven not being preheated properly or because the egg wash was skipped. The egg wash helps in getting that golden brown crust.
How do I get a smooth surface on my bagels?
To achieve a smooth surface, make sure to knead your dough properly until it is smooth and elastic, and shape the bagels neatly without any creases or folds.
Can I make these bagels gluten-free?
Yes, you can substitute the self-rising flour with a gluten-free flour blend along with appropriate leavening agents. However, keep in mind that the texture might be slightly different.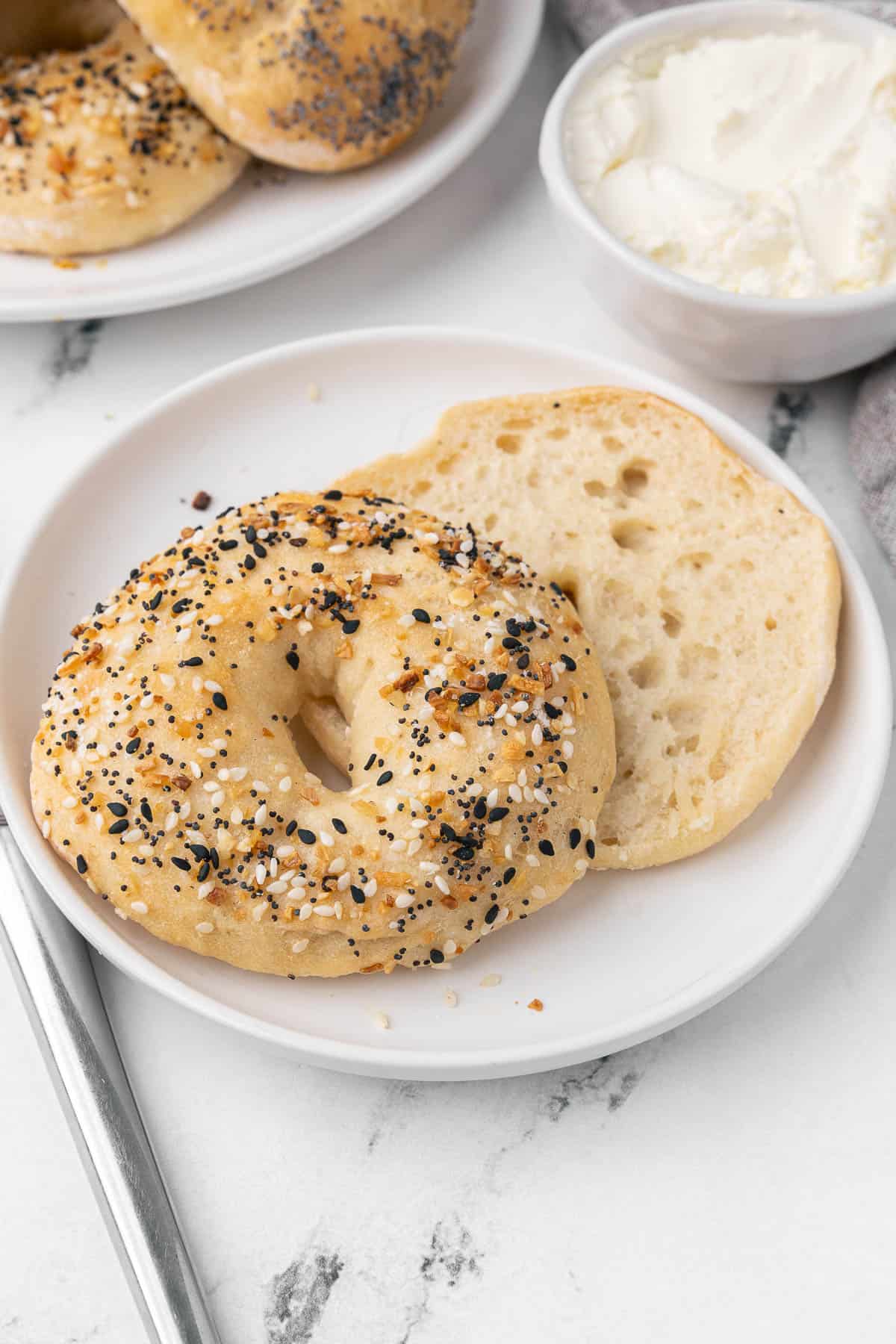 These 2-Ingredient Bagels are so good and perfect for any morning routine. With just a couple of basic ingredients, you can whip up delicious bagels that are perfectly soft on the inside and crispy on the outside. Whether you're short on time, aiming to eat healthier, or just curious about a fun twist on a classic breakfast item, these yogurt bagels are the way to go. Once you've tried them, you'll wonder how you ever started your day without them!
More bread recipes:
If you try this feel good 2-Ingredient Bagel recipe or any other recipe on Feel Good Foodie, then don't forget to rate the recipe and leave a comment below! It helps others who are thinking of making the recipe. We would love to hear about your experience making it. And if you snapped some shots, share it on Instagram so we can repost on Stories!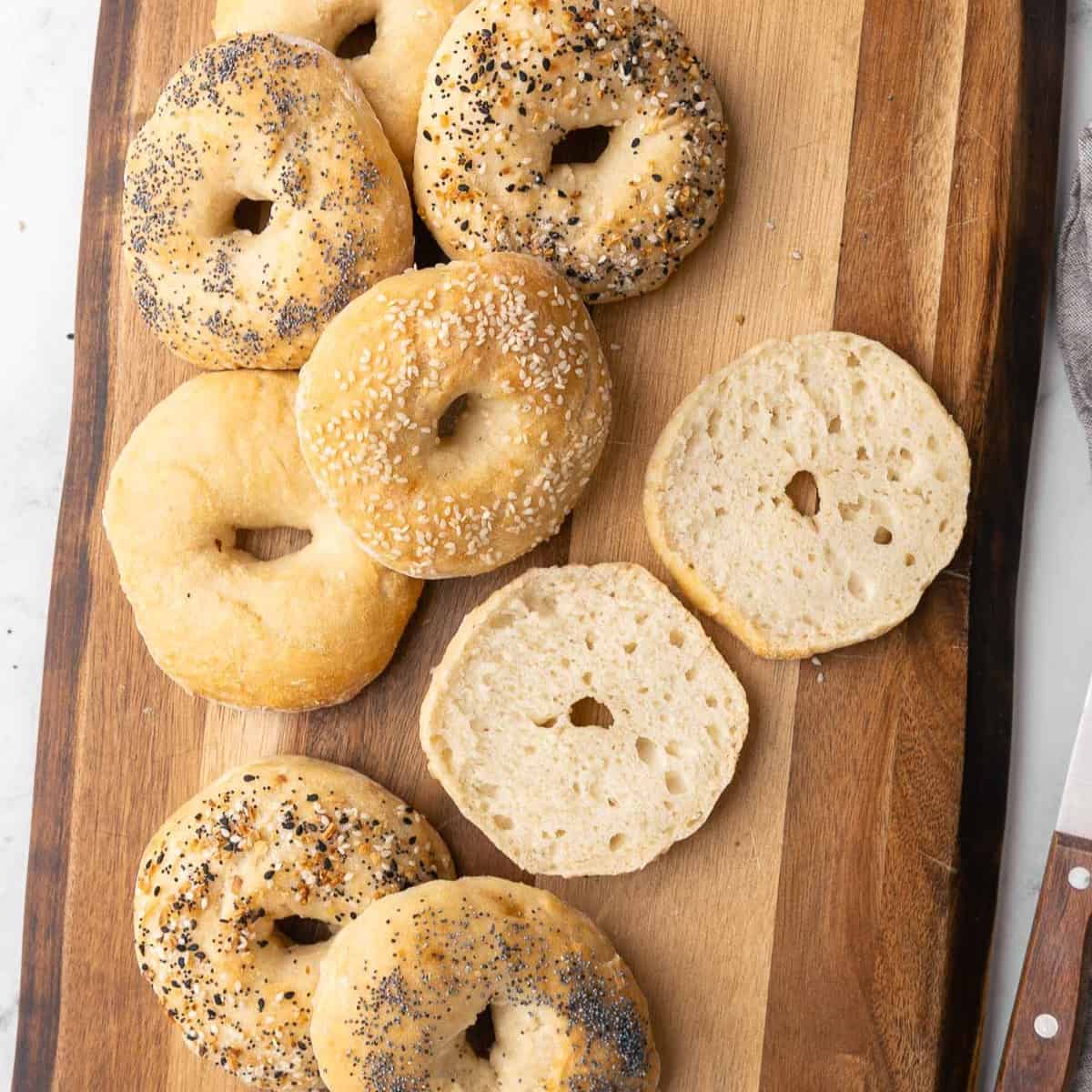 2-Ingredient Bagels
2-ingredient bagels made with Greek yogurt and self-rising flour. No boiling required! Bake delicious bagels with toppings or enjoy plain.
Ingredients
2

cups

self-rising flour

2

cups

Greek yogurt

1

egg

pinch

salt

3

tablespoons

toppings of choice

poppy seeds, everything bagel spice, sesame seeds
Instructions
Preheat the oven to 375˚F and line a rimmed baking sheet with parchment paper.

In a large bowl, combine flour and Greek yogurt. Stir with a wooden spoon until a coarse, shaggy dough forms. Scrape the dough onto a floured surface, then knead by hand for 2 to 3 minutes, or until a smooth round of dough forms. Flatten into a disc, cover with a towel and let rest for 10 minutes.

Cut into 8 equal pieces. Roll each piece of dough into a ball, then cover again and let rest for 10 minutes.

Lightly coat your hands in flour. Using your thumb, make a hole in the center of each ball of dough about 1 ½ -inch wide, pulling on the outer edge of the dough as you turn it around your thumb to form an evenly shaped bagel. Place on prepared baking sheet and repeat with remaining dough.

Lightly beat the egg with a pinch of salt. Brush the tops of the bagels with egg wash, then sprinkle with desired toppings, if using.

Bake for 25-30 minutes, or until golden brown on top.
Nutrition
Calories:
151
kcal
,
Carbohydrates:
25
g
,
Protein:
10
g
,
Fat:
1
g
,
Saturated Fat:
0.3
g
,
Polyunsaturated Fat:
0.3
g
,
Monounsaturated Fat:
0.3
g
,
Trans Fat:
0.01
g
,
Cholesterol:
23
mg
,
Sodium:
26
mg
,
Potassium:
109
mg
,
Fiber:
1
g
,
Sugar:
2
g
,
Vitamin A:
32
IU
,
Calcium:
63
mg
,
Iron:
0.4
mg
Nutrition information provided is an estimate. It will vary based on cooking method and specific ingredients used.