Healthy Tuna Salad Stuffed in Avocado
Jump To Recipe
Prep:
Cook:
Serves:

4 people
This recipe for Healthy Tuna Salad is a version made with greek yogurt instead of mayonnaise. Stuff it in avocado or slice bread for a quick and easy lunch
Author:

Yumna Jawad

Posted:
Healthy Tuna Salad Stuffed in Avocado
If anyone just read the title of the recipe and thought but wait, is tuna even healthy? I personally think it's healthy to eat tuna, as long as it's in moderation, because mercury levels, yo! A lot people who are on a weight loss diet will turn to tuna because of its high level of protein – 3 oz of albacore tuna has 20g of protein but only about 100 calories. My point here is not to convince you that tuna is healthy. I'm just here to show those who do enjoy tuna how to have it healthier!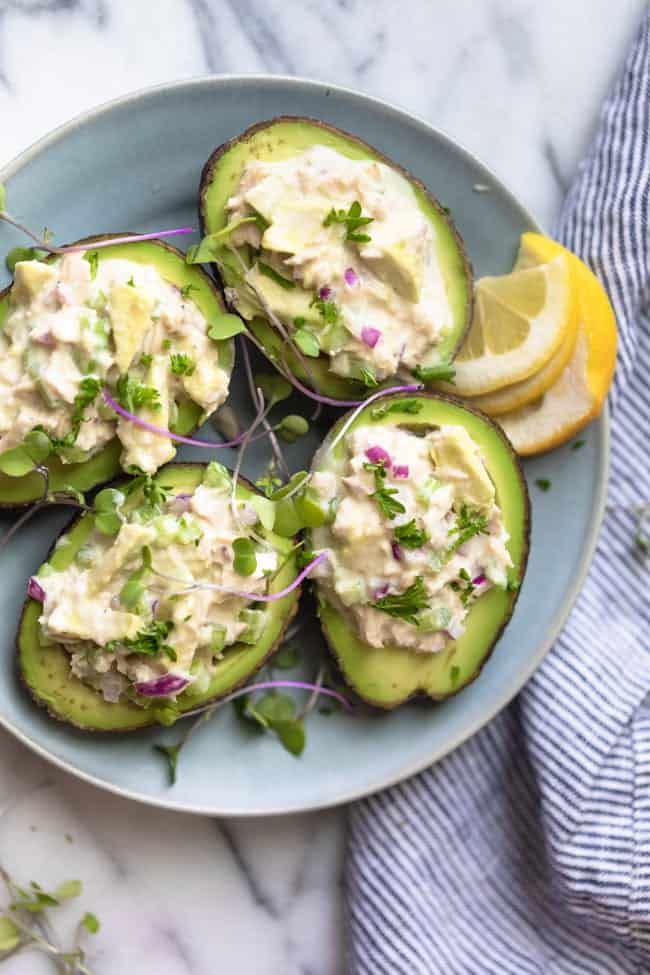 MY LATEST VIDEOS
What's wrong with traditional tuna salad? Absolutely nothing taste wise. I'm a big fan! But sometimes you just don't know how much mayonnaise is in there when you order tuna salad. And you may not know how many calories and grams of fat you're about to consume. 1 cup of mayo has more than 1400 calories and 24g of fat.
So tuna salad can quickly go from a healthy diet food to a highly caloric fatty food. The latter is totally cool sometimes, but let's focus on the former – a healthy tuna salad! And to make it even "healthier" by a many weight loss standards, we're cutting the carbs all together and stuffing the tuna salad in AVOCADOS!
How to Make Healthy Tuna Salad
This recipe is as easy as mixing some items in a bowl and either stuffing it in avocados (YUM!) or in your bread of choice (YUM!). Can you tell I love both ways? This also works just adding it on top of any salad situation you have going on.
So to start, I use canned albacore tuna and I add to it chopped celery and chopped red onions. I then season the tuna and vegetables with salt and pepper. The celery gives it a watery crunch and the red onions enhance the flavor. Season it with salt and pepper,
Next, I add in the greek yogurt (hello mayo replacement), dijon mustard (hello flavor richness) and lemon juice (hello tartness). Mix everything together, and it's ready to go!
For this recipe today, I'm stuffing the healthy tuna salad inside avocados. So I cut two avocados in half lengthwise, remove the seed and then use spoon to slightly remove some of the flesh from the avocado. This helps to create a larger crevice to stuff the tuna salad inside.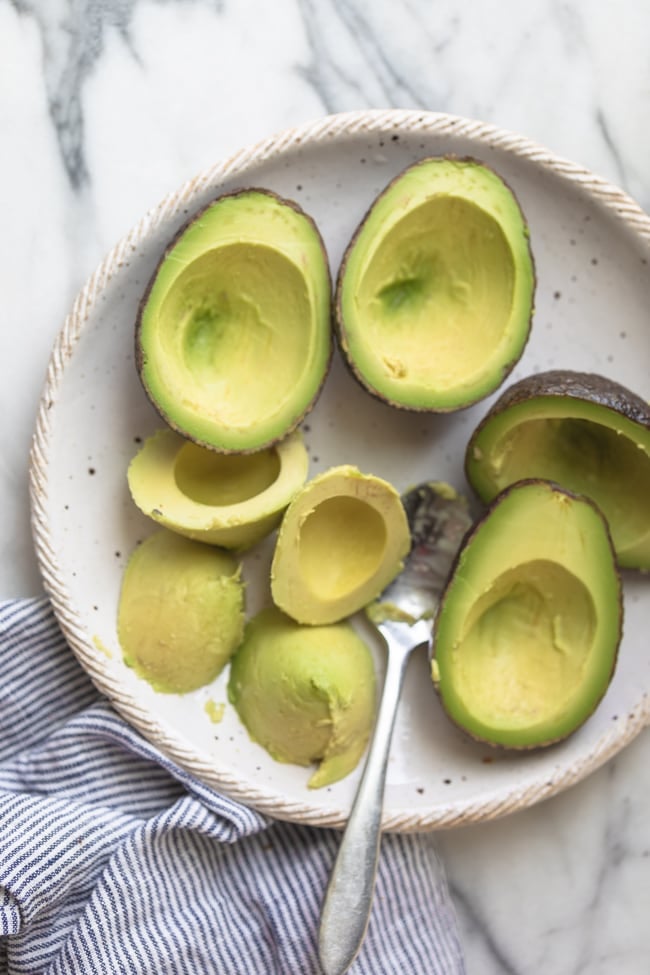 But wait, what do you do with that extra avocado flesh you just removed? I don't feel like there's ever a problem in my house with what to do with extra avocados. My son has a special sense for detecting them across the room and devouring them!
If you're not so fortunate, you can totally chop them up and throw them in the tuna salad like I did here. This also helps to add a creaminess to the texture of the healthy tuna salad. And so you really won't miss the mayo!
Who Would love this Healthy Tuna Salad?
Lunch goers – whip this up the night before work and enjoy it for up to 3-4 days.
Keto dieters – this group is growing so much lately and their weight loss results are impressive! This recipe will impress them.
Protein seekers – 13 grams per serving is like having 2 eggs!
This healthy tuna salad is full of flavor, light on calories and super easy to whip for lunch any day of the week! Swap the mayo for the greek yogurt and dijon mustard and save those calories for a treat later – it's on me ;0
If you make this healthy-ish feel good Healthy Tuna Salad recipe, please be sure to leave a comment and/or give this recipe a rating! I would love to hear about your experience making it. And if you snapped some shots of it, share it with me on Instagram so I can repost on my stories!
For more classic lunch salads, check out:
Healthy Tuna Salad Stuffed in Avocado
This recipe for Healthy Tuna Salad is a version made with greek yogurt instead of mayonnaise. Stuff it in avocado or slice bread for a quick and easy lunch
Course: Main Course
Cuisine: American
Keyword: Stuffed Avocado, Tuna Salad
Servings: 4 people
Calories: 228 kcal
Ingredients
2 avocados pitted
1 can albacore tuna
1/4 red onion minced
1-2 celery stalk chopped
3 Tbsp Greek yogurt
1 Tbsp Dijon mustard
Juice of 1 lemon
Salt and pepper to taste
Chopped parsley for garnish
Instructions
Scoop out avocados, leaving a small border. Dice avocado and set aside.

In a large bowl mix together the tuna, red onions, celery, Greek yogurt, Dijon mustard and lemon juice. Season with salt and pepper. Fold in the diced avocado

Spoon the tuna into the crevice of the halved avocados. Garnish with parsley, and enjoy!
Recipe Video
Recipe Notes
Storage: Store any leftovers in an airtight container. They will last about 3-4 days in the fridge.
Make Ahead: You can make the tuna salad ahead of time. But for best results, cut the avocado and add it to the tuna salad mix right before you're ready to eat. 
Nutrition Facts
Healthy Tuna Salad Stuffed in Avocado
Amount Per Serving (1 halve)
Calories 228 Calories from Fat 144
% Daily Value*
Total Fat 16g 25%
Saturated Fat 2g 10%
Cholesterol 18mg 6%
Sodium 222mg 9%
Potassium 640mg 18%
Total Carbohydrates 10g 3%
Dietary Fiber 7g 28%
Sugars 1g
Protein 13g 26%
Vitamin A 3.8%
Vitamin C 13.2%
Calcium 3.4%
Iron 5.7%
* Percent Daily Values are based on a 2000 calorie diet.