This post may contain affiliate links. Please read our disclosure policy.
You would be so surprised how similar this healthy cauliflower potato salad tastes like the real potato salad. That's because it has a similar color, similar texture and similar dressing. When you mix everything together, it's really hard to tell the difference. So it's pretty much a faux potato salad! Are you down with that?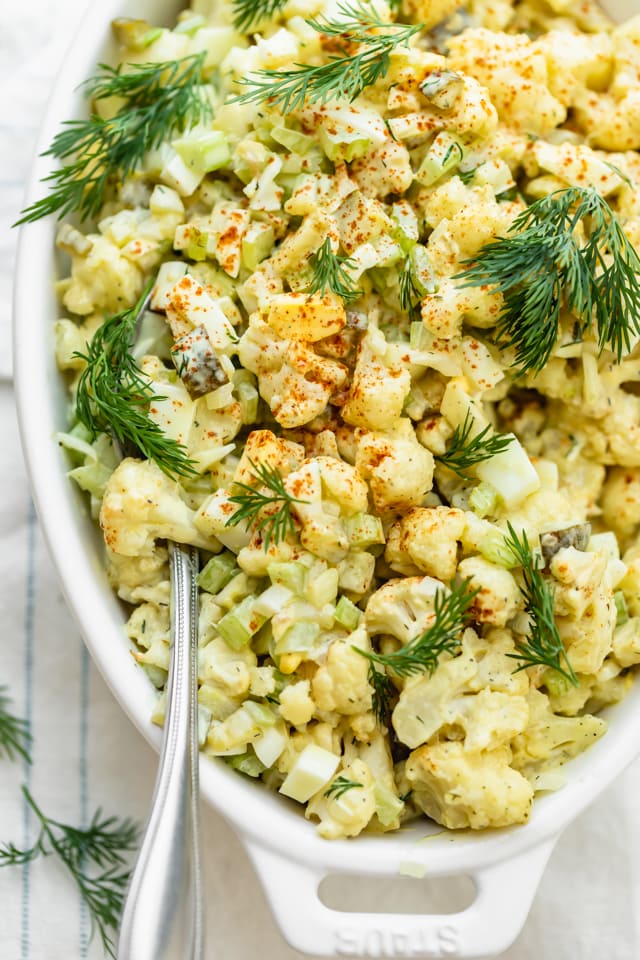 First thing's first, there are no actual potatoes in this recipe! Did I lose you? Hopefully you're here for the cauliflower part of the cauliflower potato salad! If so, this recipe is going to knock your socks off and make you forget you even liked potatoes to begin with. So whether you're doing a low carb diet, keto diet or just want to reduce starchy vegetables, you're going to love this recipe!
How to make cauliflower mock potato salad
Cook cauliflower
To start, you'll want to cut the cauliflower and then cook it. I recommend cutting the cauliflower into small bite sized pieces instead of large florets. Then, you can cook it in one of three ways.
Microwave: Place the cut cauliflower in a large microwave-safe bowl with one cup of water. Then, season with salt, cover with a paper towel and allow the water and heat to steam the cauliflower until fork-tender, about 4-5 minutes. Drain and allow to cool.
Stovetop: Place the cut cauliflower in a large pot of salted boiling water. You can cover the pot or leave it uncovered and cook until the cauliflower is fork-tender, about 7-12 minutes. The cook time will vary depending on the size and freshness of the cauliflower. Be careful not to over cook so it doesn't turn mushy. Drain and allow to cool.
Oven: Place the cut cauliflower on a rimmed baking sheet, drizzle olive oil to coat and season with salt and pepper. Bake in a preheated oven at 400°F for 15-20 minutes. Allow to cool. The oven method is my favorite for cooking the cauliflower. Here's teh full recipe:
Air fryer: Toss the ccut cauliflower in a bowl with oil and seasoning. Transfer them to an air fryer basket in a single layer. Air fry in a preheated the air fryer to 380ºF for 15-18 minutes. Cook until crisp tender with broned edges, shaking the basket halfway through. Here's the full recipe: Air Fryer Cauliflower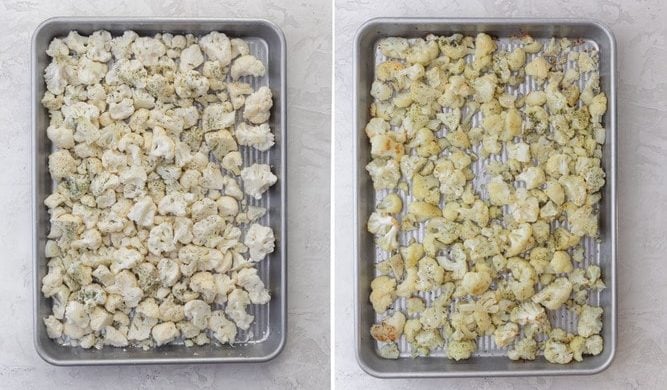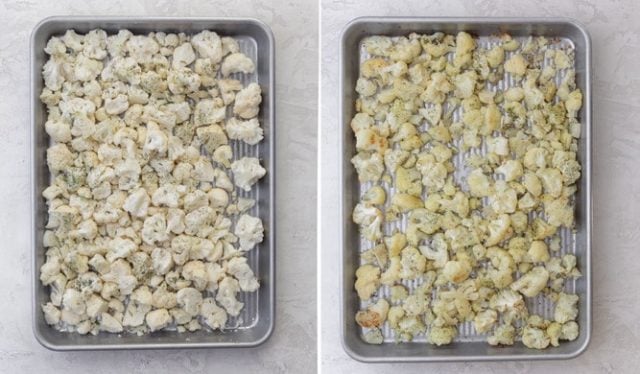 Make the dressing
To make the dressing, mix mayonnaise of your choice (I like to use avocado mayo) along with mustard and dill pickle juice. I tried making this a little bit healthier by not using mayonnaise, but I didn't like the way it turned out. I tried it with Greek Yogurt and sour cream, but the mayonnaise version came out the best. The ¼ cup though goes a lot way!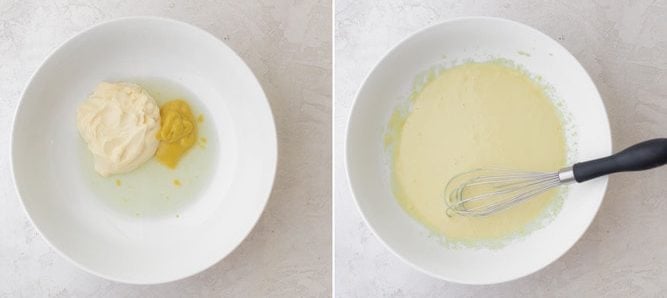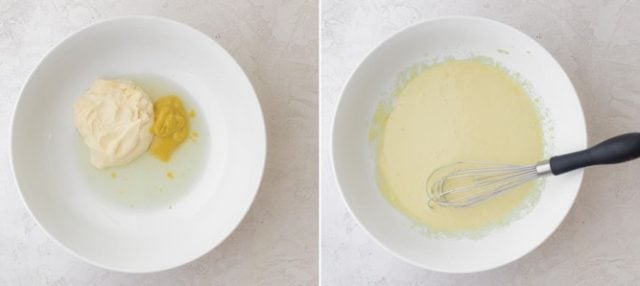 Assemble the potato salad
Now that the cauliflower is cooked and you've made the dressing, you can assemble the healthy potato salad. You'll just need to add some red or white onions, pickles, celery and hard boiled eggs. You can add some fresh dill here or as a garnish. I add it in both places because I can't get enough dill in the summer!
Give everything a toss and enjoy the cauliflower potato salad at room temperature or chilled for a couple hours.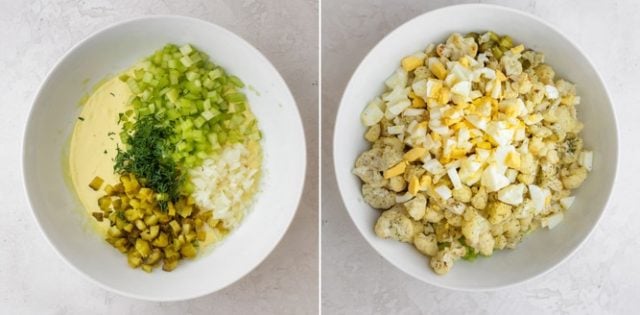 Tips for making cauliflower potato salad
Salt the cauliflower properly. This is important to do when you're cooking the cauliflower, whether in the microwave, stovetop or in the oven. When salted properly before it cooks, it really absorbs the flavor properly and you'll use less salt than you would if you added salt after it was cooked.
Cut the cauliflower pieces into relatively equal sizes. This allows them to cook in the same amount of time so they're all fork-tender without some being raw and others turning mushy. Consistency is key in this mock potato salad.
Cook the cauliflower to the same softness as cooked potatoes. The way to achieve this is to test the florets so they're fork tender. That's the ideal texture that will mimic that of boiled potatoes. There's also less of a chance of them turny mushy in the oven.
Refrigerate before serving. You can certainly enjoy it immediately after it's done, but it gets better the longer it sits in the fridge. When it chills, the cauliflower cools and the dressing clings better to all the ingredients. Plus it's just more reminiscent of the real potato salad.
Frequently Asked Questions
Is cauliflower potato salad healthy?
This recipe makes enough for six servings and each serving comes in under 150 calories. It's low in carbs, sodium and sugar and it's a great side dish if you follow a low carb or keto diet. Cauliflower is high in fiber and B vitamins, as well as a lot of other nutrients, so it's a great substitute for potatoes.
Can you make this ahead of time?
This cauliflower potato salad is a great option for gatherings as you can make it ahead of time. Simply keep it covered in the fridge for up to 3 days. It travels well, so it's a great option for a picnic or potluck.
What do you serve with cauliflower potato salad?
This tastes exactly like a classic potato salad, so it won't be out of place at barbecues or summer parties. Serve with all of your usual favorites like Greek Pasta Salad, Butternut Squash Mac and Cheese and Healthy Coleslaw.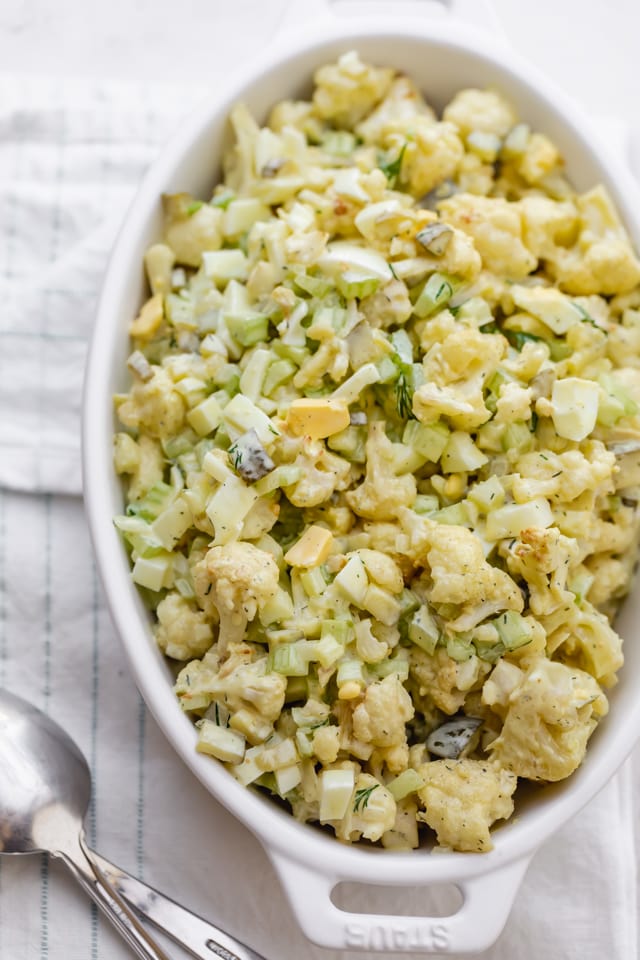 Mock potato salad for the win
By now you've probably heard of or tasted cauliflower as a stand-in for potatoes in recipes like mashed potatoes. This low carb potato salad is another excellent way to substitute cauliflower for potatoes without sacrificing on flavor. If you're skeptical at all of the cauliflower, I say throw in some potatoes as well. It's a great way to get a feel for the cauliflower without missing out on the potatoes that are so familiar in this classic recipe.
Whether you're mixing in some cauliflower or substituting it all the way, this is a healthy potato salad that will leave you so satisfied and not missing out on the traditional potato salad. I first tried this at my son's best friend's grandmother's house and I was hooked! It's a great summer recipe for Memorial Day cookouts, Fourth of July picnics or Labor Day potlucks. Whatever the occasion, everyone will appreciate this low carb cauliflower potato salad at your next gathering!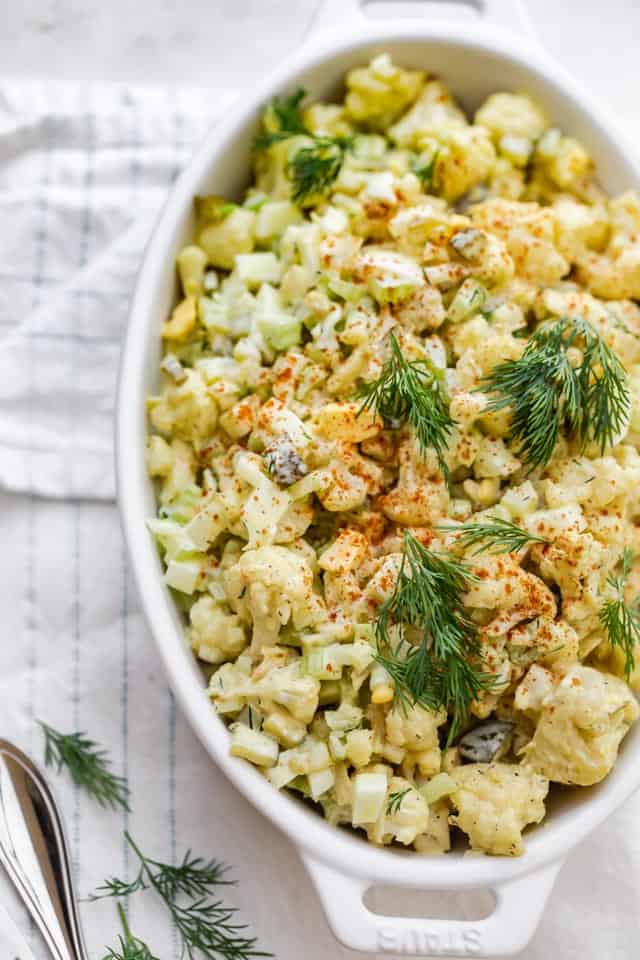 More low carb cauliflower recipes:
More summer salads:
If you've tried this healthy-ish feel good Cauliflower Potato Salad recipe or any other recipe on FeelGoodFoodie, then don't forget to rate the recipe and leave me a comment below! I would love to hear about your experience making it. And if you snapped some shots of it, share it with me on Instagram so I can repost on my stories!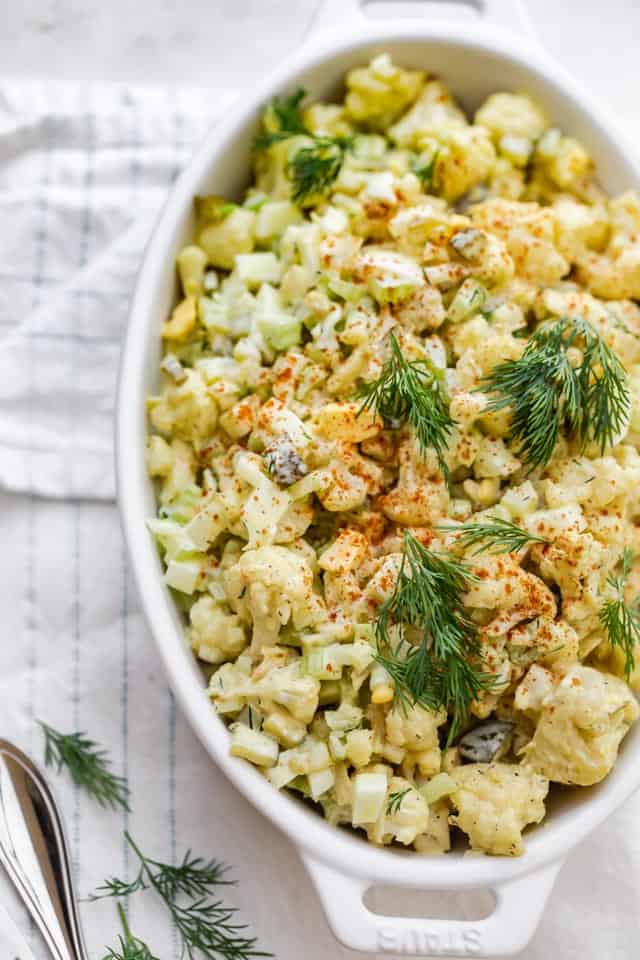 Cauliflower Potato Salad
This Cauliflower Potato Salad is made with cauliflower instead of potatoes for a low-carb keto friendly summer salad – just as tasty as the original recipe!
Ingredients
Dressing
¼

cup

avocado mayonnaise

2

tablespoon

Dijon mustard

2

tablespoon

dill pickle juice

¼

cup

celery

finely chopped

¼

cup

red onions

finely chopped

¼

cup

dill pickle

finely chopped

2

hard-boiled eggs

diced

Dill

for garnish

Dash

paprika
Instructions
Preheat the oven to 400°F and line a baking sheet with parchment paper. Toss the cauliflower with salt, pepper and olive oil and spread evenly on the prepared baking sheet. Bake in the preheated oven for 15-20 minutes until the cauliflower is fork tender. Set aside to cool.

In a large bowl, make the dressing by whisking the mayonnaise, mustard and dill pickle juice. Add the chopped celery, red onions, pickles, cauliflower and eggs, and season with salt and pepper. Toss gently to combine evenly.

Garnish with chives and sprinkle with paprika.
Notes
Storage: Store any leftovers in an airtight container. They will last about 3-4 days in the fridge.
Make Ahead Tips: You can make the dressing in advance and you can also cook the cauliflower in advance. Then all you'd have to do is assemble everything together.
Substitutes: For best results, follow the recipe as is. However here are some common substitutes that would work well in this recipe.
Instead of pickle juice, you can use another acidic liquid like apple cider vinegar or lemon juice.
Instead of pickles, you can use relish or dill relish.
Nutrition
Calories:
143
kcal
,
Carbohydrates:
7
g
,
Protein:
4
g
,
Fat:
12
g
,
Saturated Fat:
2
g
,
Cholesterol:
66
mg
,
Sodium:
295
mg
,
Potassium:
335
mg
,
Fiber:
2
g
,
Sugar:
3
g
,
Vitamin A:
115
IU
,
Vitamin C:
46.7
mg
,
Calcium:
36
mg
,
Iron:
0.7
mg
Nutrition information provided is an estimate. It will vary based on cooking method and specific ingredients used.