This post may contain affiliate links. Please read our disclosure policy.
Air Fryer Cauliflower roasts up wonderfully with a crispy outside and tender inside; it is the perfect quick and easy side dish. Skip the oven and utilize the air fryer to make all sorts of recipes easily. These cauliflower florets are tossed in oil and seasonings for a simple recipe that's ready in just 20 minutes! You can air-fry cauliflower for a side dish or substitute it in oven-roasted cauliflower recipes.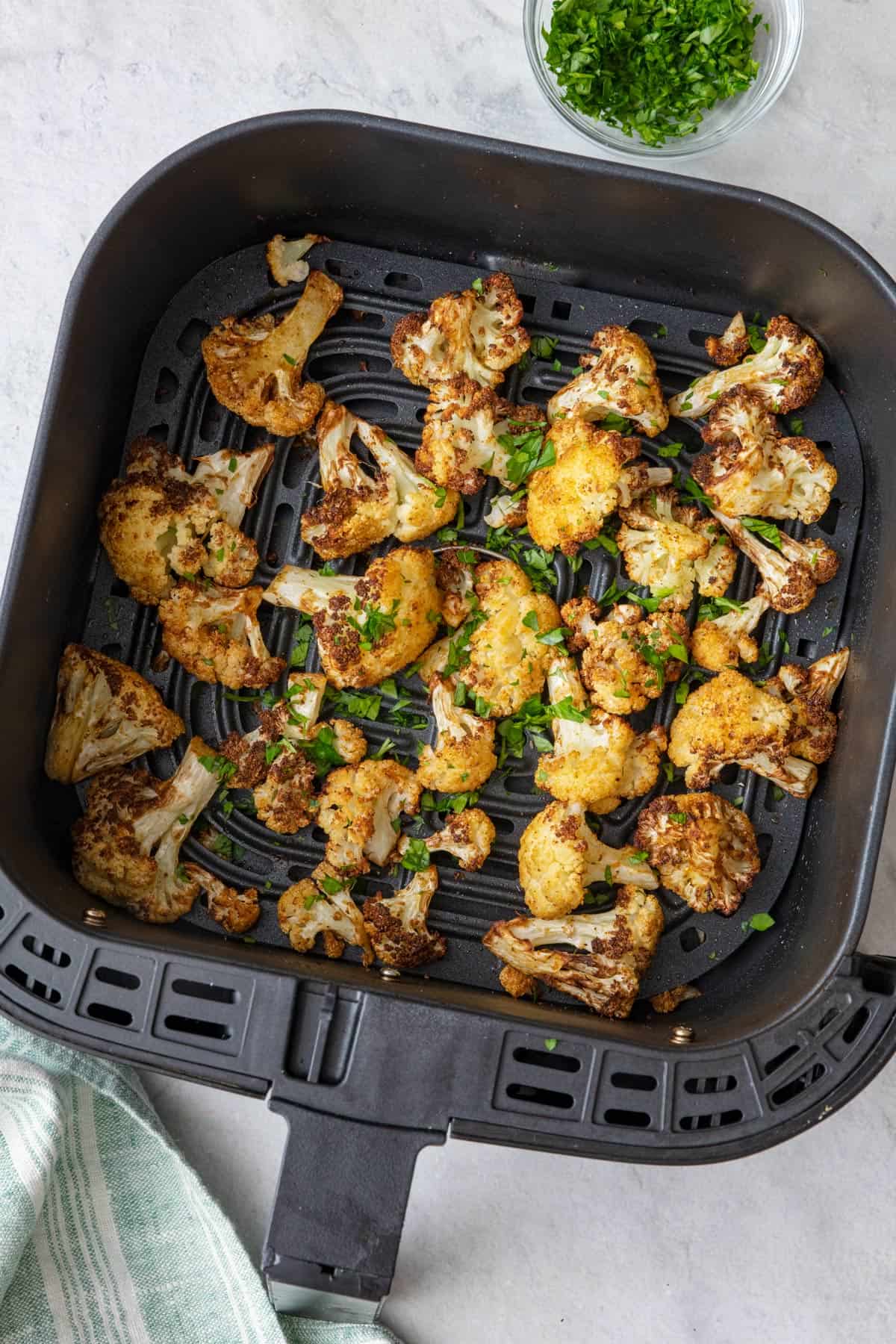 Once I tried this crispy air fryer cauliflower recipe, I was hooked. So much so that it's become my go-to method for roasting cauliflower, especially when I am serving it as a simple side dish. The florets cook up with a delicious toasty crust on the outside and have an irresistibly tender center. Believe you me – you'll have a hard time not wanting more.
Table of Contents
Why you'll love these air fryer cauliflower bites
Easy to make. This roasted cauliflower recipe is ready to pop into the air fryer with just a quick toss in oil with seasonings. Instead of opening the oven and stirring them around for even cooking, you simply give the basket a good shake.
No oven is needed. You're going to get the same roasty toasty results cooking these cauliflower florets in the air fryer as you would if they were oven roasted.
Adaptable flavor with spices. I use a mix of common seasonings, but you can easily swap out the spices for whatever flavor you're craving. This also makes it easy to adapt the cauliflower to your main dish. Try a cajun spice for a bit of heat, or season with Lebanese flare with this 7-spice blend.
It can be added to other recipes. I love roasting cauliflower as the start of another meal, but it can be a bit tedious using the oven. This air fryer recipe frees up oven space and makes it easy to prep other recipes while it cooks. Try it in my Roasted Cauliflower Soup or Roasted Cauliflower Au Gratin.
Ingredients to make Air Fryer Cauliflower
Cauliflower: Cauliflower is an incredibly healthy and delicious vegetable that's low in calories and carbs with a good boost of fiber and nutrients.
Oil: This helps adhere the spices and to crisp up the cauliflower in the air fryer. Choose a neutral oil such as olive oil or avocado oil.
Seasonings: paprika, cumin, garlic powder, salt, and pepper.
How to make Air Fryer Cauliflower Bites
Toss the cauliflower florets in a bowl with oil and seasonings until evenly coated.
Arrange them in a single layer at the bottom of an air fryer basket.
Halfway through cooking, shake the basket to encourage even cooking.
After roasting, the cauliflower will be crisp and tender with browned edges. Squeeze fresh lemon juice on top before serving, if desired.
Tips for making Cauliflower in an air fryer
Make sure the cauliflower is dry. Before tossing it with olive oil and seasoning, pat it dry with a paper towel. This helps to limit the moisture in the air fryer basket and ensures a better crisp.
Cut into even sizes. You want each piece to cook up simultaneously, so cut and break down the cauliflower into similar-sized florets. Here's a quick tutorial on how to cut cauliflower.
Avoid overcrowding the basket. If they are overlapping, they won't get crispy all over. Cook in a couple of batches if needed.
Shake the basket. About halfway through cooking, give the basket a good toss to get an even cook and crispness on every side. This way, each piece is exposed to the air fryer's convection.
Popular substitutions & additions
Add a breading. These cauliflower florets have no breading and get some pretty tasty, crispy bits on them, but you could toss them in a parmesan and breadcrumb mixture for a breaded air fryer cauliflower recipe.
Cook with broccoli. Make a vegetable medley of cauliflower and broccoli to add some color and extra goodness to this recipe. You could also try it as part of my air fryer vegetables recipe!
Switch up your spices. Use any seasonings you like or have on hand. Some other great options are chili powder, turmeric, or curry powder with various fresh herbs like cilantro, dill, or thyme.
Add to another recipe. Once you've roasted the cauliflower in the air fryer, pop them into another recipe, like a creamy roasted cauliflower soup or stuffed inside a pita sandwich.
Serve with a dip. These little cauliflower bites can make a good appetizer. Pair them with a tasty dip like avocado crema, homemade ranch dip, or creamy feta dip.
What to pair with roasted air fryer cauliflower
How to store & reheat air fried cauliflower
To store: Air fryer cauliflower is easy to store and reheat later! Simply add them to a container and store them in the fridge.
To reheat: Place in the air fryer or low and slow in the oven until heated through. The fastest method is in the microwave, but the vegetables aren't going to crisp back up this way.
How long will leftover cauliflower last in the fridge?
As long as they are stored in an airtight container, leftovers will last up to 4 days.
Can I freeze air fryer cauliflower bites?
This air fryer vegetable cauliflower is best eaten the day or shortly after cooking. I'd avoid the freezer in this case.
Frequently asked questions
Why didn't my cauliflower crisp up?
This is common when there's overcrowding in the air fryer basket or from not tossing them halfway through cooking. Cook in batches to ensure they roast evenly and get that tasty crisp to them. Try adjusting those things and see if that helps!
How long does it take to air fry cauliflower, and at what temperature do you cook it?
Preheat the air fryer to 380 degrees F and cook for 15-18 minutes, tossing the cauliflower halfway through cooking.
How do you know when cauliflower is done cooking?
Use a fork to pierce a floret. It should be tender on the inside and crisp on the outside.
These golden brown crispy cauliflower bites cook up deliciously in the air fryer, you may not go back to oven-roasted! Air fry these up for a quick side dish, an appetizer, or the start of another delicious recipe.
More air fryer recipes:
If you try this feel good Air Fryer Cauliflower recipe or any other recipe on Feel Good Foodie, then don't forget to rate the recipe and leave a comment below! It helps others who are thinking of making the recipe. We would love to hear about your experience making it. And if you snapped some shots, share it on Instagram so we can repost on Stories!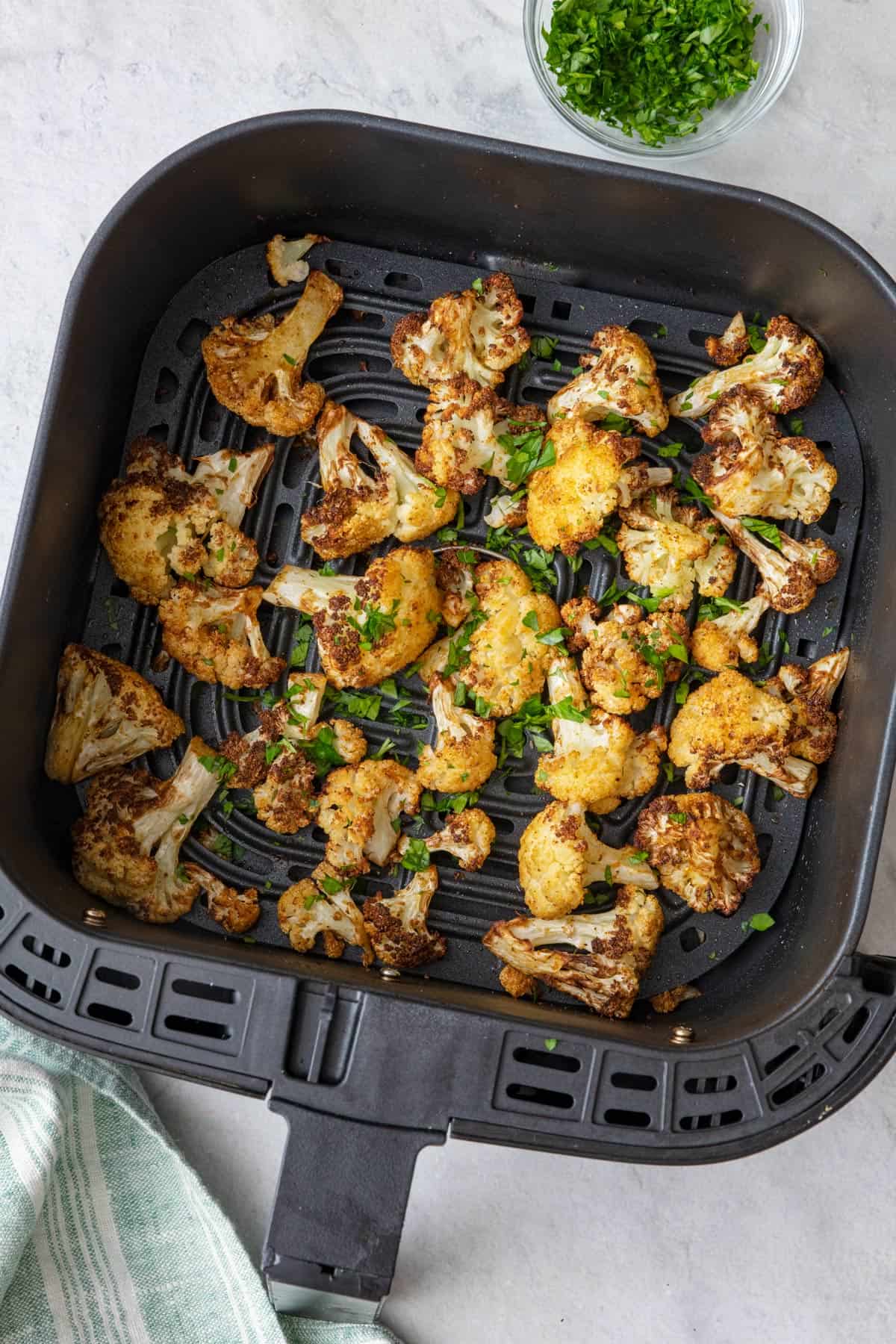 Air Fryer Cauliflower
Air fryer cauliflower is a simple side dish with the best roasted flavor and crisp-tender bite. If you're looking for more air fryer recipes, this is one you must try!
Instructions
Preheat an air fryer to 380ºF.

Place the cauliflower in a large bowl along with the olive oil and seasoning. Toss to combine.

Transfer the cauliflower to the air fryer and arrange in a single layer. You may need to cook in two batches. Cook until crisp tender with browned edges, shaking the basket halfway through, 15-18 minutes total.

Squeeze fresh lemon juice on top and serve immediately.
Notes
Tip: Shake the basket halfway through cooking. Storage: Store in the fridge in an airtight container for 3-4 days. Reheat in the air fryer or oven until heated through.
Nutrition
Calories:
51
kcal
,
Carbohydrates:
4
g
,
Protein:
1
g
,
Fat:
4
g
,
Saturated Fat:
1
g
,
Polyunsaturated Fat:
0.4
g
,
Monounsaturated Fat:
3
g
,
Sodium:
311
mg
,
Potassium:
214
mg
,
Fiber:
2
g
,
Sugar:
1
g
,
Vitamin A:
127
IU
,
Vitamin C:
32
mg
,
Calcium:
19
mg
,
Iron:
1
mg
Nutrition information provided is an estimate. It will vary based on cooking method and specific ingredients used.