This post may contain affiliate links. Please read our disclosure policy.
These crispy air fryer chickpeas are perfect for when you find yourself craving something crunchy, flavorful, and healthy. Warm cumin and earthy garlic come together perfectly in this snack, making it irresistible. The best part is that it's so easy to make! Simply drain and rinse a can of chickpeas, then mix with some seasoning and oil and let your air fryer do the rest of the work!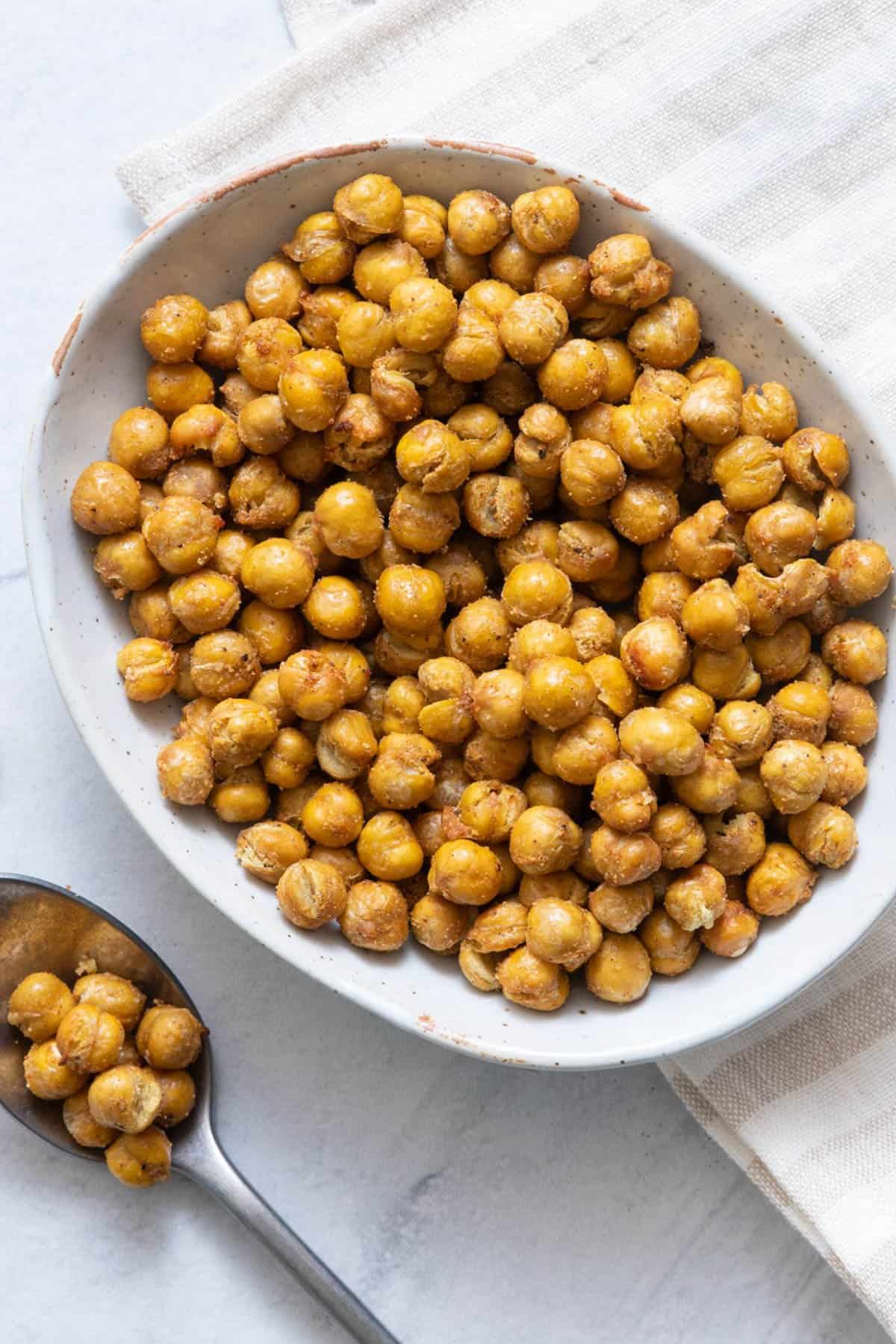 If you're looking for a healthy and delicious snack, look no further than crispy air fryer chickpeas! These little guys are packed with protein and fiber, and they're so easy to make. All you need is a can of chickpeas, some spices, and your air fryer. In just minutes, you'll have a batch of perfectly roasted, crispy chickpeas that are excellent for snacking on or adding to salads and bowls. And if you don't have an air fryer, try the oven roasted chickpeas instead!
why you'll love these Air Fryer Garbanzo beans
5-Ingredient recipe. And four of the ingredients are cooking staples like olive oil and spices you probably have in your kitchen already!
High-protein alternative. When you're craving something crunchy, these crispy air fryer chickpeas will give you more protein with the same crunch as chips or crackers. They're also vegan and gluten-free.
Perfect for meal prep. Make a big batch of these at the beginning of the week and store them in an airtight container. Then you'll have them on hand whenever you need a quick and healthy snack or to add to salads or soups.
They're addictive. Seriously, it's hard to stop eating these once you start! The combination of spices and the crispy texture is irresistible.
Ingredients to make Air Fryer Chickpeas
Chickpeas: I use canned chickpeas/garbanzo for this recipe, but you could also cook your own chickpeas from scratch. Just make sure they're well-cooked before adding them to the air fryer.
Olive oil: This helps the spices stick to the chickpeas and also helps them get nice and crispy in the air fryer. You'd be surprised how little you need though!
Spices: I use a combination of cumin, garlic powder, pepper, and salt, but you could use any spices you like. Chili powder or paprika would be delicious as well.
How to air fry chickpeas
Place chickpeas in a medium bowl and use a paper towel to dab them dry.
Add olive oil, garlic powder, cumin, salt, and pepper, and toss until the chickpeas are well coated.
Transfer the chickpeas to the air fryer.
Cook until golden brown and crisp.
Tips for air frying chickpeas
Shake the air fryer basket a couple of times. This really helps to ensure that the chickpeas get evenly toasted all around for the best crunch.
Toss the chickpeas in a Ziploc bag. This is an easy way to add the spices and oil to the chickpeas without making a mess. Just add everything to the bag, seal it up, and shake it until the chickpeas are evenly coated.
Don't overcrowd the air fryer basket. You want to make sure that there's enough space around each chickpea so that it can get nice and crispy. If necessary, cook the chickpeas in batches. One can of chickpeas will fit very comfortable in most air fryers though.
Don't skip patting your chickpeas dry. If they're too wet, they won't get crispy. Just give them a quick pat down with a paper towel before adding them to the air fryer.
popular substitutions & additions
Try using black beans. They'll work just as well in this recipe and will add a little bit of variety.
Add some chopped fresh herbs. Top your crispy chickpeas with a sprinkle of parsley or cilantro for a bit of freshness.
Marinate your chickpeas. Squeeze on some lemon juice or add a few drops of hot sauce before cooking for an extra bit of flavor. Let them sit for at least 30 minutes before patting off the excess.
Switch up your seasoning. Use any spices you like or have on hand. Some other great options are smoked paprika, chili powder, or even a bit of curry powder.
what to serve/pair with your Crunchy ChickPeas
Air fried chickpeas are a crunchy, salty snack that you can enjoy on their own. However, they can also replace croutons in soups or salads! Try them with:
how to store & reheat roasted chickpeas
These crispy air fryer chickpeas will stay fresh in an airtight container at room temperature for up to a week. If you want to reheat them, just pop them back in the air fryer for a few minutes until they're warm. You can also reheat them in the oven or microwave, but they won't be quite as crispy.
Frequently asked questions
How can I tell when my chickpeas are crispy?
The best way to tell is by looking at them. They should be golden brown and have a slightly crispy texture. You can also give them a taste test. If they're still soft in the middle, they need to cook for a few minutes longer.
What if I don't have an air fryer?
You can roast your chickpeas in the oven, but they won't be quite as crispy. Preheat your oven to 400°F and roast the chickpeas for 20-25 minutes, or until golden brown.
Are garbanzo beans the same as chickpeas?
Yes, garbanzo beans and chickpeas are the same things. They're just two different names for the same type of bean.
Crispy Air Fryer Chickpeas are a delicious and healthy snack that can be enjoyed on their own or with other dishes. If you don't have an air fryer, you can even roast chickpeas in the oven.
Do you have any other tips for making crispy air fryer chickpeas? Let me know in the comments below! And don't forget to check out my other air fryer recipes while you're here.
More air fryer recipes:
If you try this feel good Air Fryer Chickpeas recipe or any other recipe on Feel Good Foodie, then don't forget to rate the recipe and leave a comment below! It helps others who are thinking of making the recipe. We would love to hear about your experience making it. And if you snapped some shots, share it on Instagram so we can repost on Stories!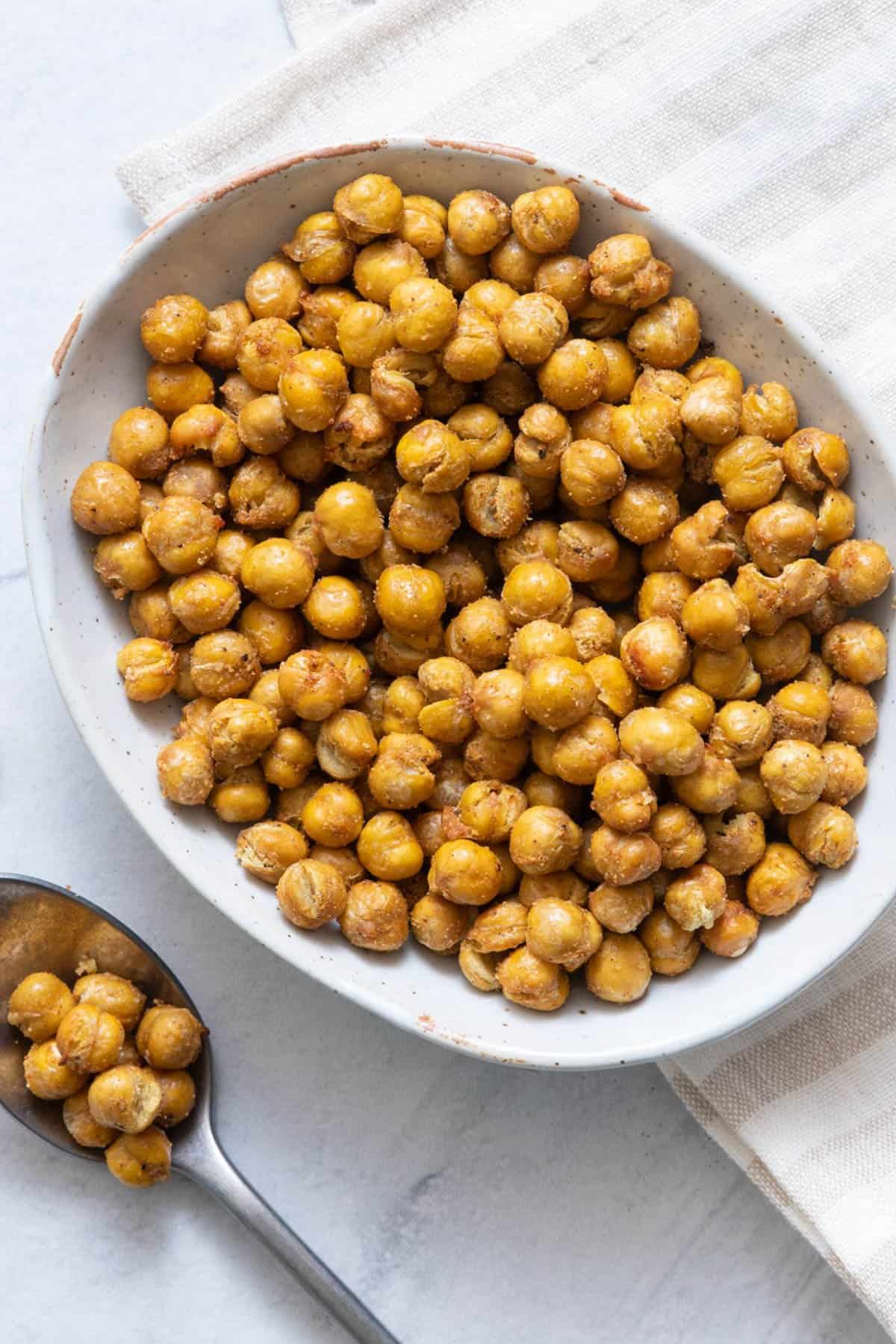 Air Fryer Chickpeas
Crispy, crunchy air fryer chickpeas (garbanzo beans) make for the perfect snack! Seasoned & roasted to perfection you're sure to love this savory treat.
Instructions
Preheat air fryer to 400°F.

Place chickpeas in a medium bowl and use a paper towel to dab them dry. Add olive oil, garlic powder, cumin, salt and pepper, and toss until the chickpeas are well coated.

Transfer the chickpeas to the air fryer and cook for 12-15 minutes, shaking the air fryer basket once or twice during cooking to ensure even cooking.

Allow to cool slightly and enjoy warm or completely cooled.
Notes
Storage: Store in an airtight container or Ziploc bag at room temperature for up to a week. 
Nutrition
Calories:
209
kcal
,
Carbohydrates:
29
g
,
Protein:
11
g
,
Fat:
6
g
,
Saturated Fat:
1
g
,
Polyunsaturated Fat:
2
g
,
Monounsaturated Fat:
2
g
,
Sodium:
592
mg
,
Potassium:
324
mg
,
Fiber:
9
g
,
Sugar:
1
g
,
Vitamin A:
38
IU
,
Vitamin C:
1
mg
,
Calcium:
80
mg
,
Iron:
3
mg
Nutrition information provided is an estimate. It will vary based on cooking method and specific ingredients used.