This post may contain affiliate links. Please read our disclosure policy.
Cook up the most delicious French toast sticks quickly and easily in the air fryer. Perfect for a quick breakfast, they come out so beautifully. Seasoned with cinnamon for a tasty bite!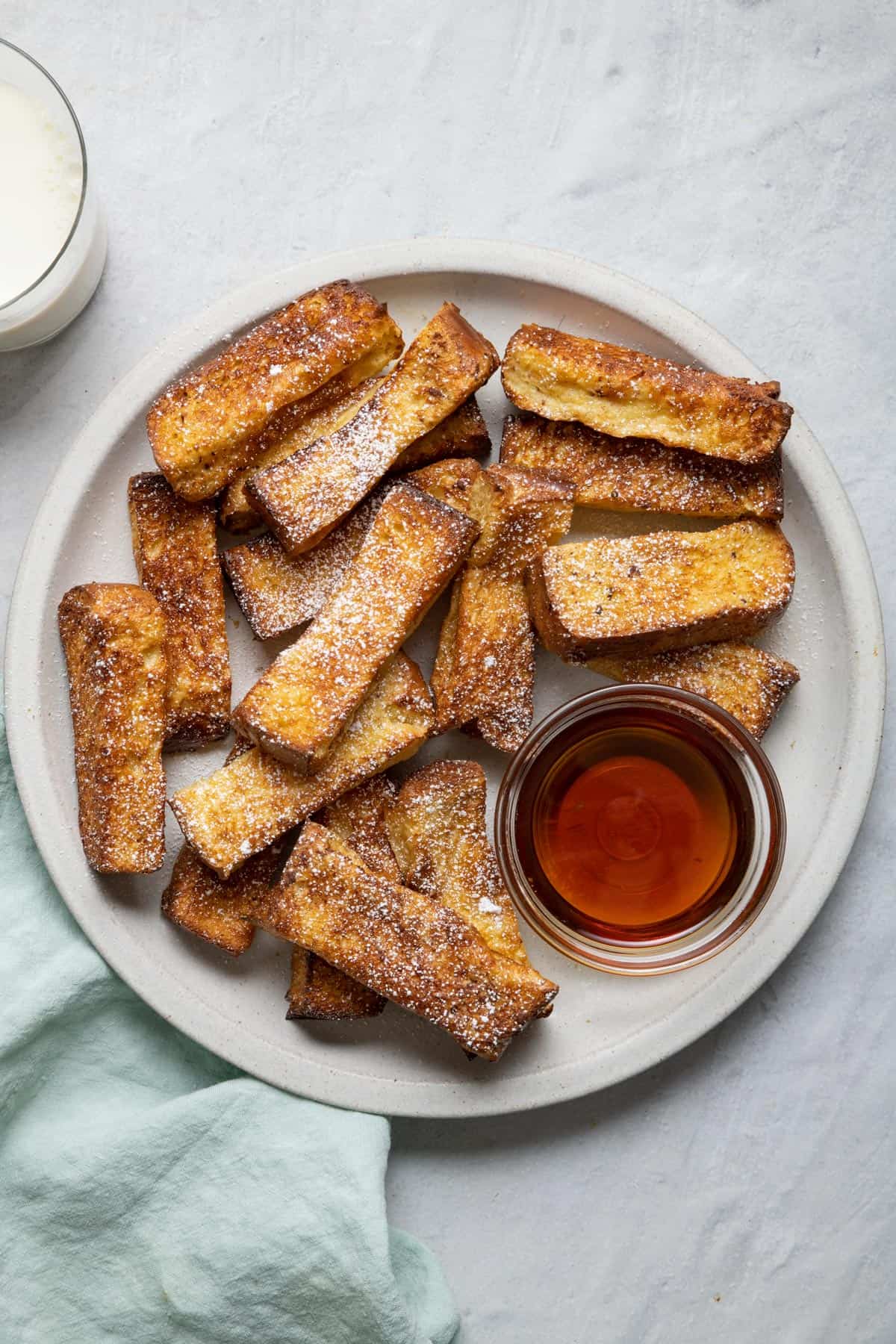 Ingredients & substitutions
Bread: We love to make this recipe with sliced brioche. It's slightly sweet and it's soft texture soaks up the egg and milk mix well.
Eggs: Bread slices are dipped in beaten eggs so that when they cook in the air fryer they form a perfect crisp.
Milk: You can use any type of milk to make this recipe. 2% dairy works great, or a plant-based milk like unsweetened almond milk or oat milk works great.
Seasonings: Vanilla extract, cinnamon and salt.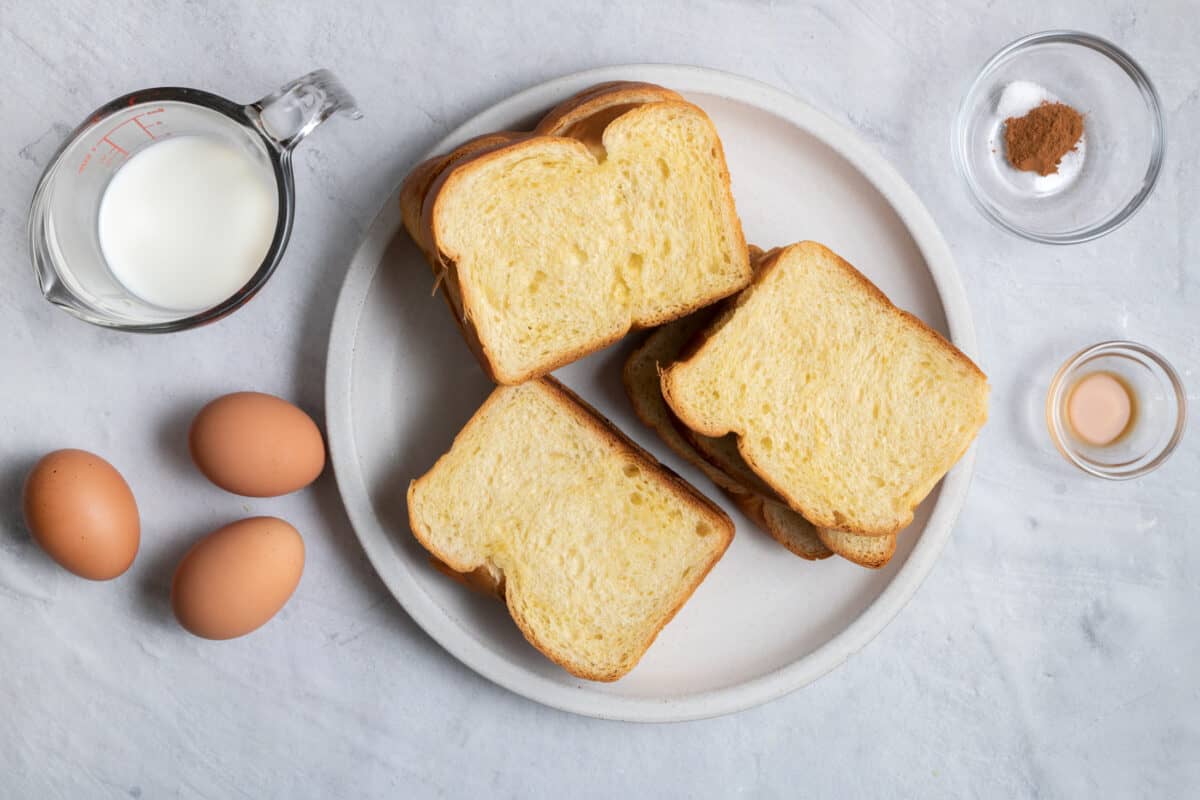 How to make air fryer french toast
make the batter
Add the eggs, milk and seasonings to a bowl.
Mix well to combine, but some cinnamon clumping is normal.
Dip the sliced bread into the batter and coat all over.

cook in air fryer
Place the coated bread sticks into the air fryer basket, making sure they're not touching. Feel free to use parchment paper here if your air fryer basket is not non-stick.
Cook until golden brown.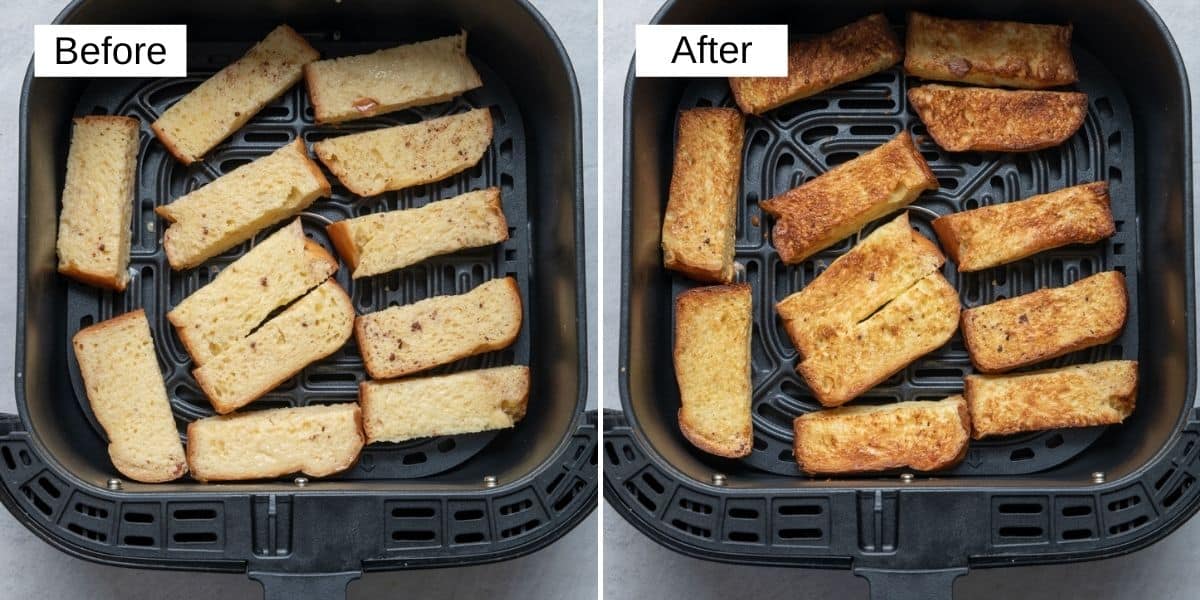 Tips for air frying french toast
Don't over soak the bread. Brioche has a soft texture and will soak up the custard mixture quickly. If you over soak it, it can start to fall apart.
Line your air fryer basket with parchment paper. If your bread is a little soggy, you can line the basket with a piece of parchment to stop the liquid from making a mess in the bottom. The air fryer pictured here did not need parchment paper. Some comments below still experienced sticking with the parchment paper, so you can spray the paper with cooking spray for extra assurance too.

Also, another tip from the comments by the lovely Kristina is not to put the parchment paper in to preheat. You want to preheat and then carefully place the parchment paper in the basket, spray it and place the french toast on top. This will prevent the parchment paper from catching on fire. Parchment is safe to use in the air fryer as long as there is something holding it down. When it becomes free-floating, there is a risk of fire.  
Preheat your air fryer. If you don't preheat your air fryer, the French toast sticks won't cook through evenly and the middles can still be raw. If you don't have a preheat function, let the air fryer run at 375F for 5 minutes before placing in the bread.
Use a different bread. We love the richness and sweetness of brioche, but you can make this recipe with other sliced breads. If using a dense bread like sourdough you will need to soak it for a little longer in the egg mix.
Frequently asked questions
How long does it take to cook French toast in the air fryer?
Between 5 and 6 minutes at 375F works perfectly and results in a light and fluffy bite. Air fryer models can run slightly differently, so check at around 4 minutes.
Can you overlap the bread sticks?
For the best results, place the soaked pieces of bread in a single layer in the air fryer basket. This will ensure that they crisp up all over. You don't need to flip the toast sticks during cooking.
How do you serve them?
We love to serve this with a dusting of powdered sugar and then some maple syrup of dipping. Serve along side some fresh fruits and berries, or go all out with some whipped cream.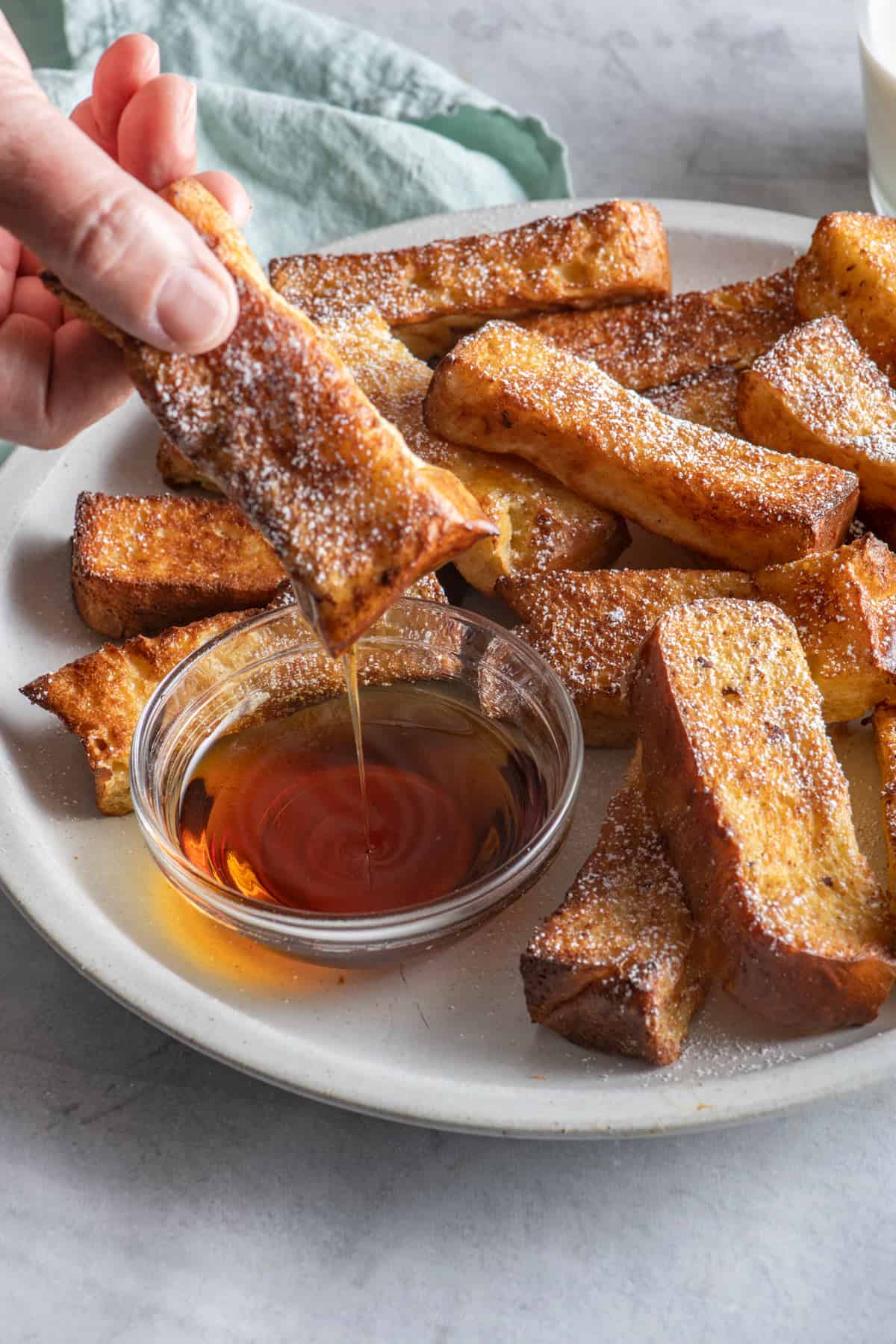 This air fryer French toast recipe is so easy and quick to make and guarantees perfect results every time. They are perfect for kids too as they'll love dunking the sticks in maple syrup!
More french toast recipes:
If you try this healthy-ish feel good Air Fryer French Toast recipe or any other recipe on Feel Good Foodie, then don't forget to rate the recipe and leave a comment below! It helps others who are thinking of making the recipe. We would love to hear about your experience making it. And if you snapped some shots, share it on Instagram so we can repost on Stories!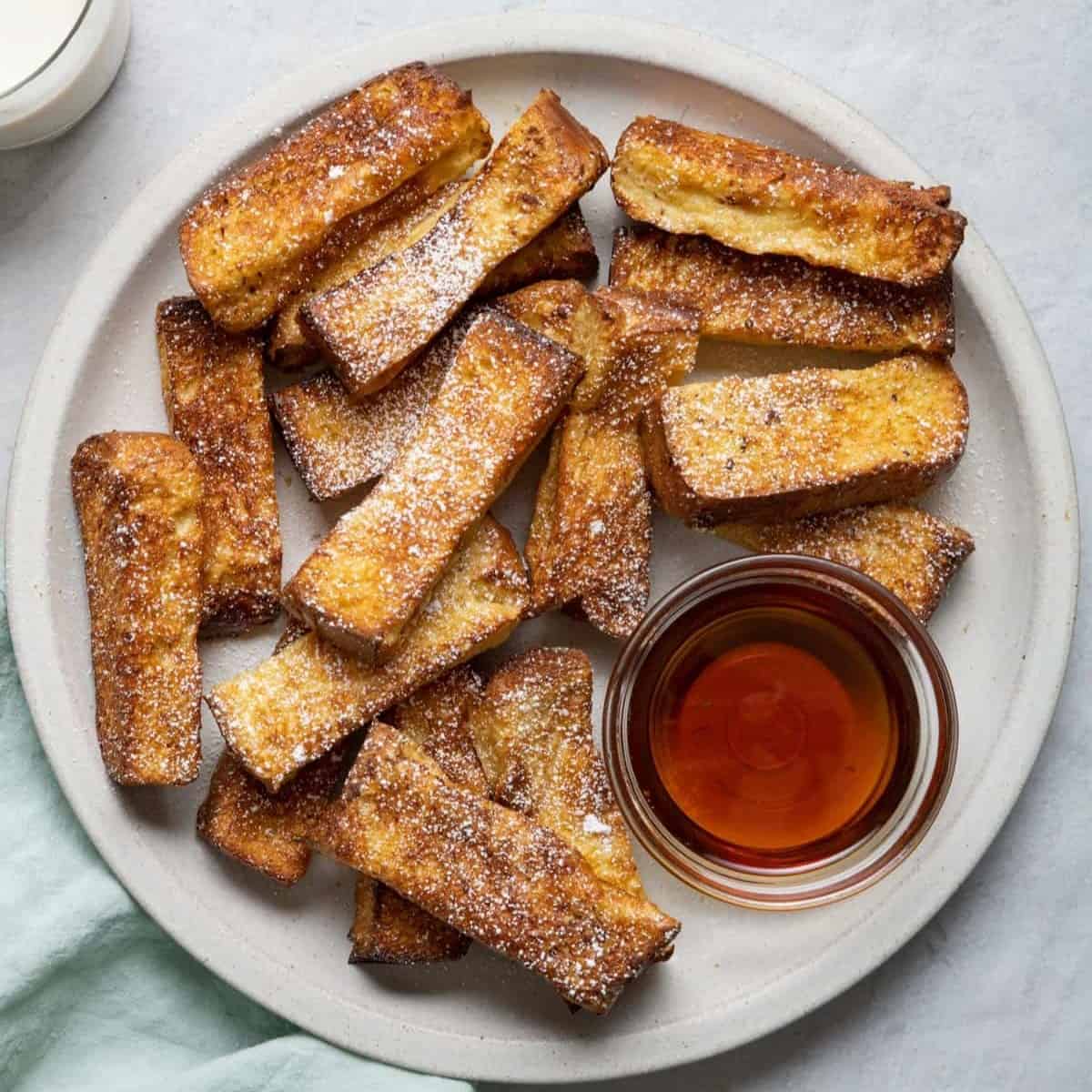 Air Fryer French Toast
These air fryer French toast sticks are one delicious breakfast treat. Easy to prep and quick to cook, you can enjoy them within minutes!
Instructions
Preheat the air fryer 375°F and line the air fryer with parchment paper and spray with cooking spray if needed.

In a large shallow bowl, whisk together the eggs, milk, vanilla, cinnamon and a pinch of salt.

Dip each piece of bread into the egg mixture and then flip it over to coat both sides. Place the french toast sticks in the air fryer and repeat with as many pieces as will fit in the air fryer at once, about 8-12 pieces.

Cook for 5-6 minutes, or until the french toast is golden brown and puffed.

Serve the french toast sticks warm with maple syrup and powdered sugar, if desired.
Notes
Storage: Once cooked, the French toast sticks will keep well for 2 days and can be reheated in the ai fryer. Freeze: These freeze really well and will keep well for up to 3 months. They can be reheated from frozen in the air fryer.
Nutrition
Calories:
374
kcal
,
Carbohydrates:
53
g
,
Protein:
15
g
,
Fat:
10
g
,
Saturated Fat:
3
g
,
Polyunsaturated Fat:
2
g
,
Monounsaturated Fat:
4
g
,
Trans Fat:
1
g
,
Cholesterol:
180
mg
,
Sodium:
463
mg
,
Potassium:
210
mg
,
Fiber:
3
g
,
Sugar:
4
g
,
Vitamin A:
452
IU
,
Vitamin C:
1
mg
,
Calcium:
154
mg
,
Iron:
4
mg
Nutrition information provided is an estimate. It will vary based on cooking method and specific ingredients used.