This post may contain affiliate links. Please read our disclosure policy.
These air fryer chicken tenders are crispy on the outside and juicy on the inside, making them an absolute favorite in my household. I used to think that achieving the perfect crispy chicken strip without deep-frying was impossible. But, once I tried making chicken fingers in the air fryer, I was proven wrong. The panko breadcrumbs add an incredible crunch, and the simple seasonings pack these tenders with flavor.
Table of Contents
These air fryer chicken strips are perfect for those nights when you want something that's quick to prepare yet utterly satisfying. And trust me, they're so easy to make that you'll find yourself whipping them up regularly. Plus, chicken tenders pair well with almost anything and are perfect for dipping in your favorite sauces.
Why you'll love this Air fryer chicken strips recipe
Quick and Easy: With this air fryer recipe you'll have chicken fingers that are ready and on the table in under 20 minutes, making them perfect for a busy weeknight dinner or a last-minute snack.
Healthier Alternative: Air frying uses significantly less oil than deep frying, offering a lighter and healthier option without sacrificing flavor.
Perfect for Leftovers: These chicken tenders taste just as good the next day. Simply reheat in the air fryer for a few minutes to bring back that crispy texture.
Kid-Friendly: A meal that even picky eaters will love! Serve them with a side of veggies or a simple salad to create a balanced meal.
Meal Prep Friendly: Make a larger batch and store them in the fridge or freezer for a convenient and tasty meal option throughout the week.
Ingredients to make crispy air fried chicken tenders
Chicken Tenders: I like to use boneless, skinless chicken tenderloins for this recipe. They're the perfect size for snacking, and they cook up quickly and evenly in the air fryer.
Salt & Pepper: These two classic seasonings bring out the natural flavors of the chicken. Don't be shy – a good pinch of salt and a few cracks of pepper make all the difference.
Egg: The egg acts as a binder, helping the panko breadcrumbs adhere to the chicken strips.
Panko Breadcrumbs: Panko breadcrumbs are lighter and airier than traditional breadcrumbs, which gives these chicken fingers that signature crispy, crunchy coating. If you prefer a different type of breadcrumb, feel free to make the swap.
Garlic Powder & Onion Powder: These two seasonings add a subtle depth of flavor to the breadcrumb mixture. Trust me, you'll taste the difference.
Paprika: Paprika brings a hint of smokiness and warmth to the coating. It complements the garlic and onion powders beautifully.
Mustard Powder (optional): If you're a fan of a little tang in your chicken tenders, add some mustard powder to the mix. It's not for everyone, but I personally love the flavor it adds.
Olive Oil Spray: A light spritz of olive oil spray gives the chicken strips that extra crispy texture in the air fryer. You can use any cooking spray you have on hand, but I prefer olive oil for its mild flavor.
How to make Air Fryer Chicken Strips
To get a crunchy crust on your chicken fingers you want to start by breading them in a simple seasoning mix.
Bread The chicken tenders
Pat the chicken strips dry with a paper towel and season with salt and pepper.
Dip the chicken into the beaten egg,.
Then toss it into the panko mixture. Dust off any excess panko mixture.
Lay the chicken tenders on the prepared baking sheet. Repeat for the remaining chicken and place them on the baking sheet.
Air fry the chicken tenders
Place the chicken strips in the air fryer careful not to overlap.
Flip halfway through, and continue cooking until the chicken is golden.
Tips for Making the Best Breaded Chicken Tenders Air Fryer
Season the Chicken: Don't skip the step of seasoning the chicken tenderloins with salt and pepper. It's the foundation for a flavorful dish.
Pat the Chicken Dry: Before seasoning and coating, pat the chicken dry with a paper towel. This helps the egg and panko mixture adhere better, resulting in a crispier coating.
Don't Overcrowd the Air Fryer: Place the chicken strips in a single layer in the air fryer, ensuring there is space between each tender. This allows the air to circulate and ensures even cooking.
Flip Halfway Through: Turn the chicken fingers halfway through cooking to ensure both sides are evenly browned and crispy.
Check the Internal Temperature: The safest way to know if your chicken is cooked through is to check the internal temperature with a food thermometer. It should read 165ºF.
Popular Substitutions & Additions
Breadcrumb Alternatives: If you don't have panko breadcrumbs, you can use regular breadcrumbs or even crushed crackers for a different texture.
Spice it Up: Add a pinch of cayenne pepper or red pepper flakes to the breadcrumb mixture for some extra heat.
Add Cheese: Mix in some grated Parmesan cheese with the breadcrumbs for a cheesy twist on these chicken fingers.
Dips and Sauces: Serve these air fryer chicken tenders with your favorite dipping sauce, like honey mustard, barbecue sauce, or ranch dressing.
What to serve with chicken fingers
How to Store & Reheat Air Fryer Chicken Tenders
Storing: After your chicken strips have cooled completely, store them in an airtight container. Layer them with parchment paper between each layer to prevent them from sticking together and place in the fridge.
Reheating: To maintain the crispiness of your chicken tenders, it's best to reheat them in the air fryer. Preheat your air fryer to 350ºF, then place the tenders in a single layer in the air fryer basket. Cook them for 3-4 minutes, turning them once halfway through until they're heated through.
How Long Will Air Fryer Chicken Tenders Last in the Fridge?
Air fryer chicken tenders will last in the refrigerator for 3-4 days when stored properly in an airtight container.
Can I Freeze Breaded Chicken strips?
Yes! Once the chicke fingers have cooled completely, place them on a baking sheet lined with parchment paper. Freeze them until solid (about 1-2 hours) to prevent them from sticking together. Then, transfer them to a freezer bag or airtight container, separating layers with parchment paper, and store them in the freezer for up to 3 months. When you're ready to eat them, you can reheat the frozen tenders directly in the air fryer without thawing.
Frequently asked questions
Can I use chicken breasts instead of tenders?
Absolutely! If you're using chicken breasts, just cut them into thin strips similar in size to chicken tenders and follow the rest of the recipe.
Do I have to use an egg wash?
The egg helps the breadcrumb mixture adhere to the chicken. However, if you prefer not to use an egg, you can substitute with buttermilk, yogurt, or any other sticky liquid.
Can I make these in the oven?
Yes! I actuallly have a an oven baked chicken tenders recipe that will walk you through how to do it.
These Air Fryer Chicken Tenders are a winning recipe that will quickly become a favorite in your household. They're crispy, flavorful, and easy to make, making them a fantastic choice for a quick weeknight dinner, game day snack, or simply when you're in the mood for some delicious comfort food. Whether you're a fan of air frying or new to this cooking method, these chicken strips are so good!
More recipes:
If you try this feel good Air Fryer Chicken Tenders recipe or any other recipe on Feel Good Foodie, then don't forget to rate the recipe and leave a comment below! It helps others who are thinking of making the recipe. We would love to hear about your experience making it. And if you snapped some shots, share it on Instagram so we can repost on Stories!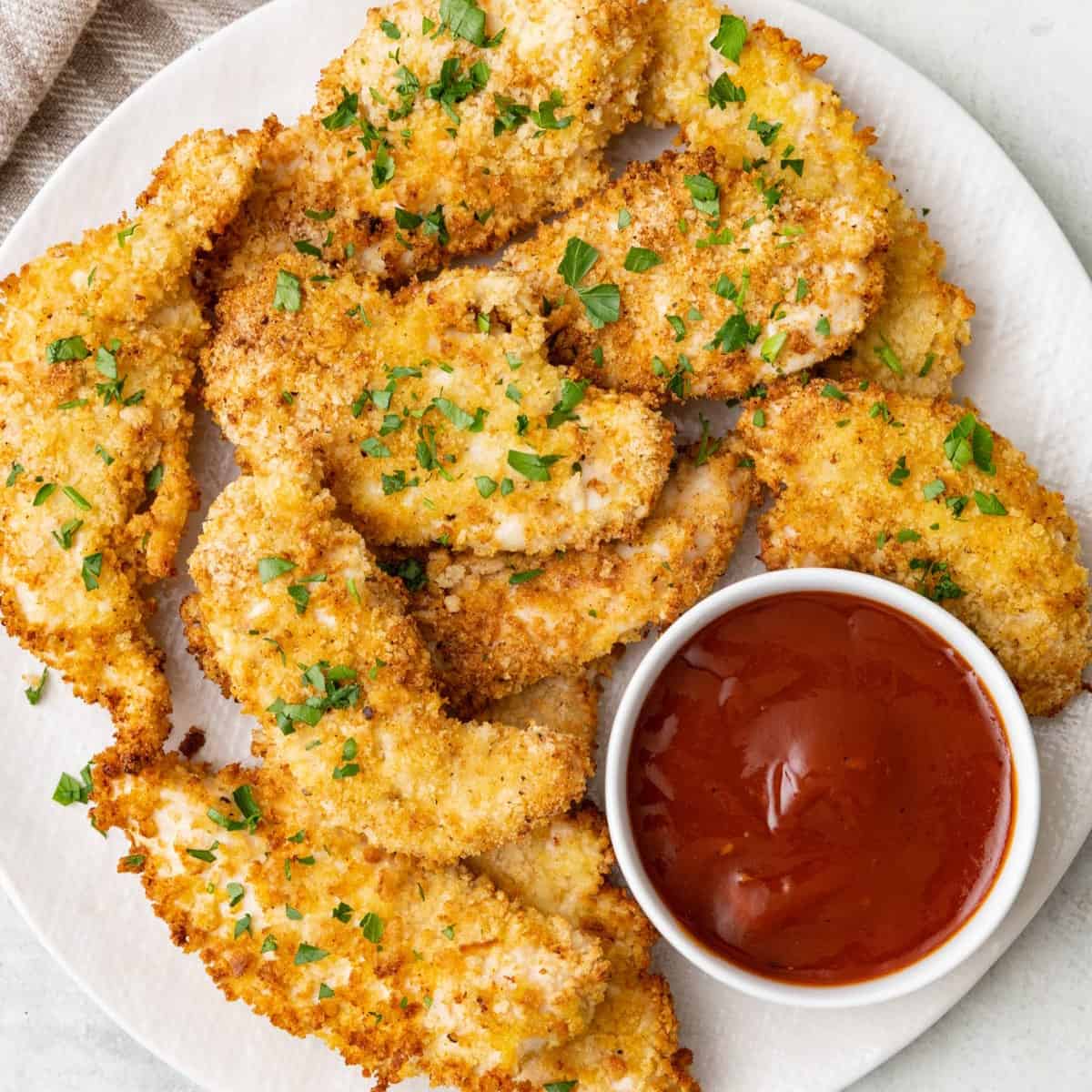 Air Fryer Chicken Tenders
Whether you call them tenders, strips, or fingers – this air fryer chicken tender recipe is oh-so-good! Crispy, crunchy outside tender juicy inside!
Instructions
Preheat an air fryer to 400ºF and line a small baking sheet with parchment paper.

Pat the chicken tenders dry with a paper towel and season with salt and pepper.

In a small size bowl, whisk the egg. In another medium size bowl, combine the panko breadcrumbs, garlic powder, onion powder, paprika, and mustard powder, if using.

Dip the chicken into the beaten egg, then toss into the panko mixture. Dust off any excess panko mixture and lay the chicken tenders on the prepared baking sheet. Repeat for the remaining chicken and place them on the baking sheet.

Air fry for 8 minutes, flipping halfway through, until the chicken is golden. Enjoy immediately with any dip you like.
Nutrition
Calories:
277
kcal
,
Carbohydrates:
12
g
,
Protein:
40
g
,
Fat:
7
g
,
Saturated Fat:
2
g
,
Polyunsaturated Fat:
1
g
,
Monounsaturated Fat:
2
g
,
Trans Fat:
0.03
g
,
Cholesterol:
155
mg
,
Sodium:
616
mg
,
Potassium:
697
mg
,
Fiber:
1
g
,
Sugar:
1
g
,
Vitamin A:
242
IU
,
Vitamin C:
2
mg
,
Calcium:
46
mg
,
Iron:
2
mg
Nutrition information provided is an estimate. It will vary based on cooking method and specific ingredients used.