This post may contain affiliate links. Please read our disclosure policy.

This Healthy Egg Salad is one of my go-to favorite lunches! It's light, simple to make, and oh-so good! I've swapped out the mayo for Greek yogurt in this recipe making for a healthy twist on a classic dish. The Greek yogurt creates a creamy base with a little added tang and protein. The addition of Dijon mustard gives the egg salad a flavor boost, and a hint of lemon zest adds a fresh touch to the mix. Plus, with the fresh celery, you've got added crunch for a nice contrast in texture. To sum it up, this light egg salad checks all the boxes!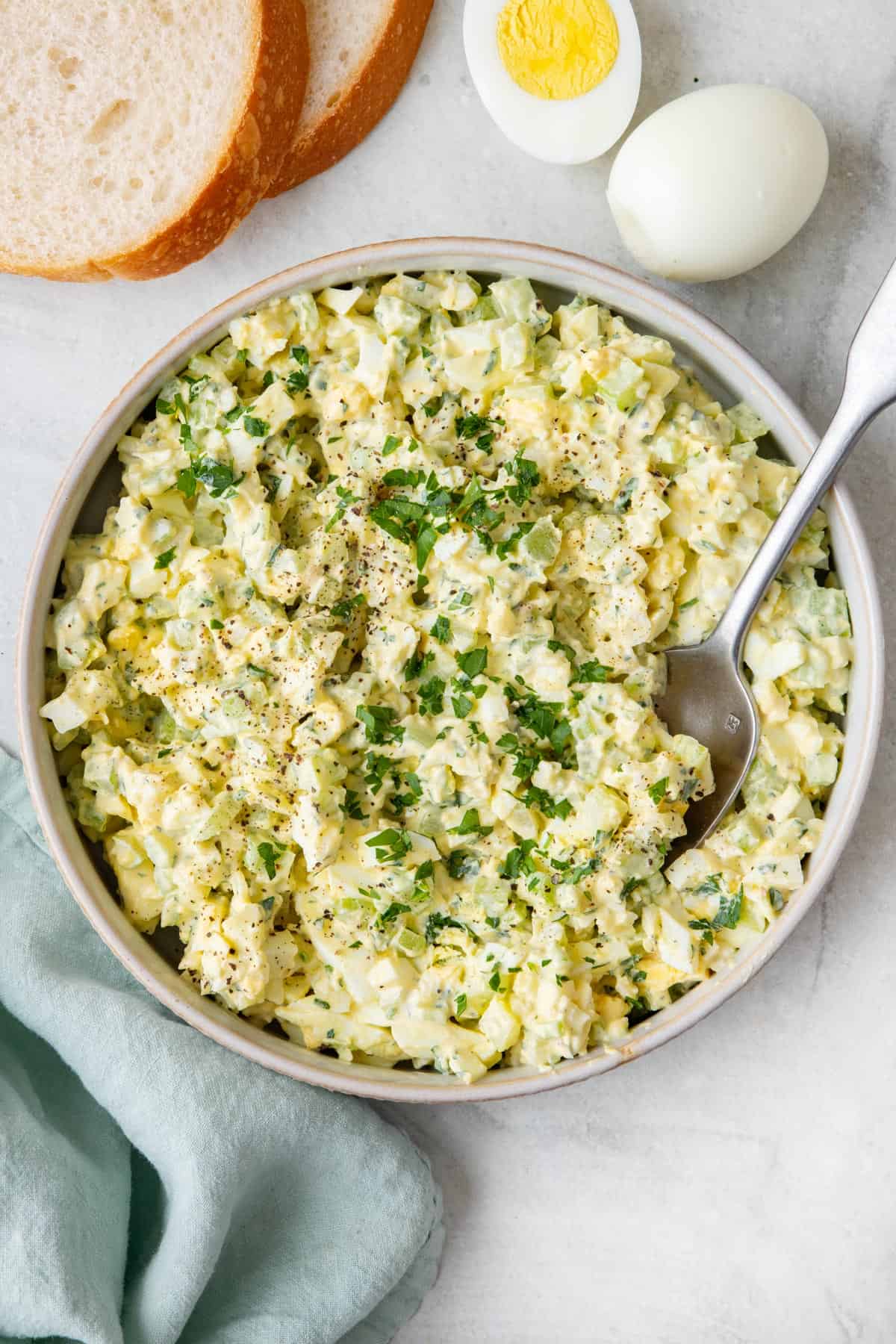 Table of Contents
If you love egg salad but have been avoiding it due to the mayo, this recipe is for you! I've maintained the classic element of hard-boiled eggs but amped it up with the addition of fresh parsley that not only brightens up the dish visually but also imparts an earthy flavor. The best part? This egg salad is incredibly versatile. Whether you tuck it into a sandwich, serve it in crisp lettuce cups, toss it into a fresh salad, or use it as a dip, it always delivers on flavor.
Why you'll love this egg salad With Greek Yogurt
Portable and Picnic-Friendly: This egg salad is perfect for on-the-go lunches and picnic baskets. It travels well and doesn't need any special packaging beyond an ice pack.
Kid-Friendly: Kids often love egg salad, and this healthy version is no exception. It's a great way to sneak in some additional protein and probiotics into their meal.
Perfect for Meal Prep: This egg salad keeps well in the refrigerator, making it an excellent option for meal prep. Prepare a batch at the start of the week, and you've got a quick, ready-to-go meal at your fingertips.
Ingredients to make This healthy egg salad
Eggs: Hard-boiled eggs provide a rich and velvety texture and pack in a protein punch. They also absorb the flavors of the dressing, resulting in a well-balanced overall flavor.
Celery: Adds a satisfying crunch and a refreshing, slightly earthy flavor to the salad.
Greek yogurt: Plain Greek yogurt is a healthier alternative to mayonnaise, offering a creamy consistency and tangy flavor. It also helps to bump up the protein content.
Dijon mustard: Adds a tangy and slightly spicy flavor that complements the eggs and yogurt.
Lemon zest: Provides a bright and refreshing citrusy flavor that cuts through the richness of the eggs. Learn how to zest a lemon.
Salt and black pepper: Enhances the flavors of all ingredients, bringing balance and seasoning to the salad.
Parsley: Fresh parsley brings a fresh taste and herbal aroma to the boiled egg salad.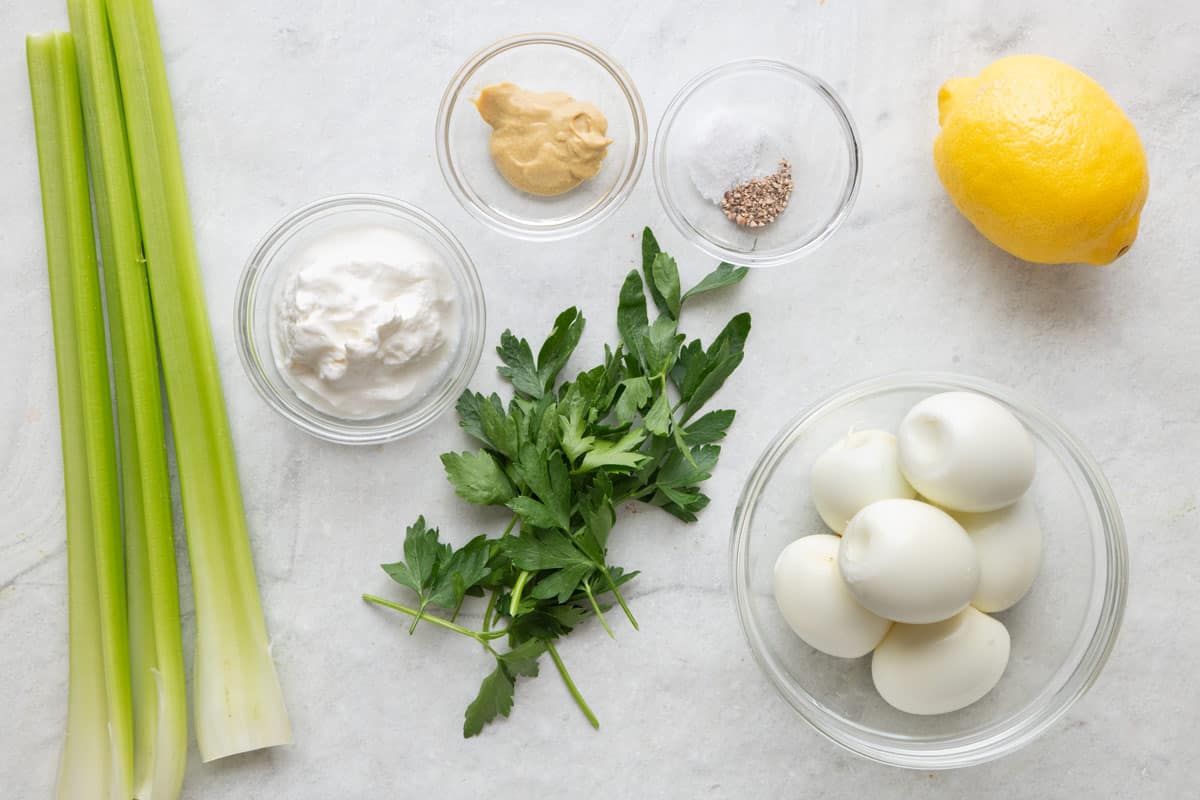 How to make a healthy egg salad
The first step to making a healthy egg salad is to first make hard-boiled eggs. Here are 4 great ways to do that:
Once your eggs are cooked and cooled, peel them and roughly chop them. Next, continue with the rest of the recipe:
Add Greek yogurt, Dijon mustard, lemon zest, salt, and pepper to a large bowl.
Whisk together until fully combined. You can adjust the seasoning if needed.
Add the chopped eggs, celery, and parsley on top of the dressing.
Toss together until fully combined.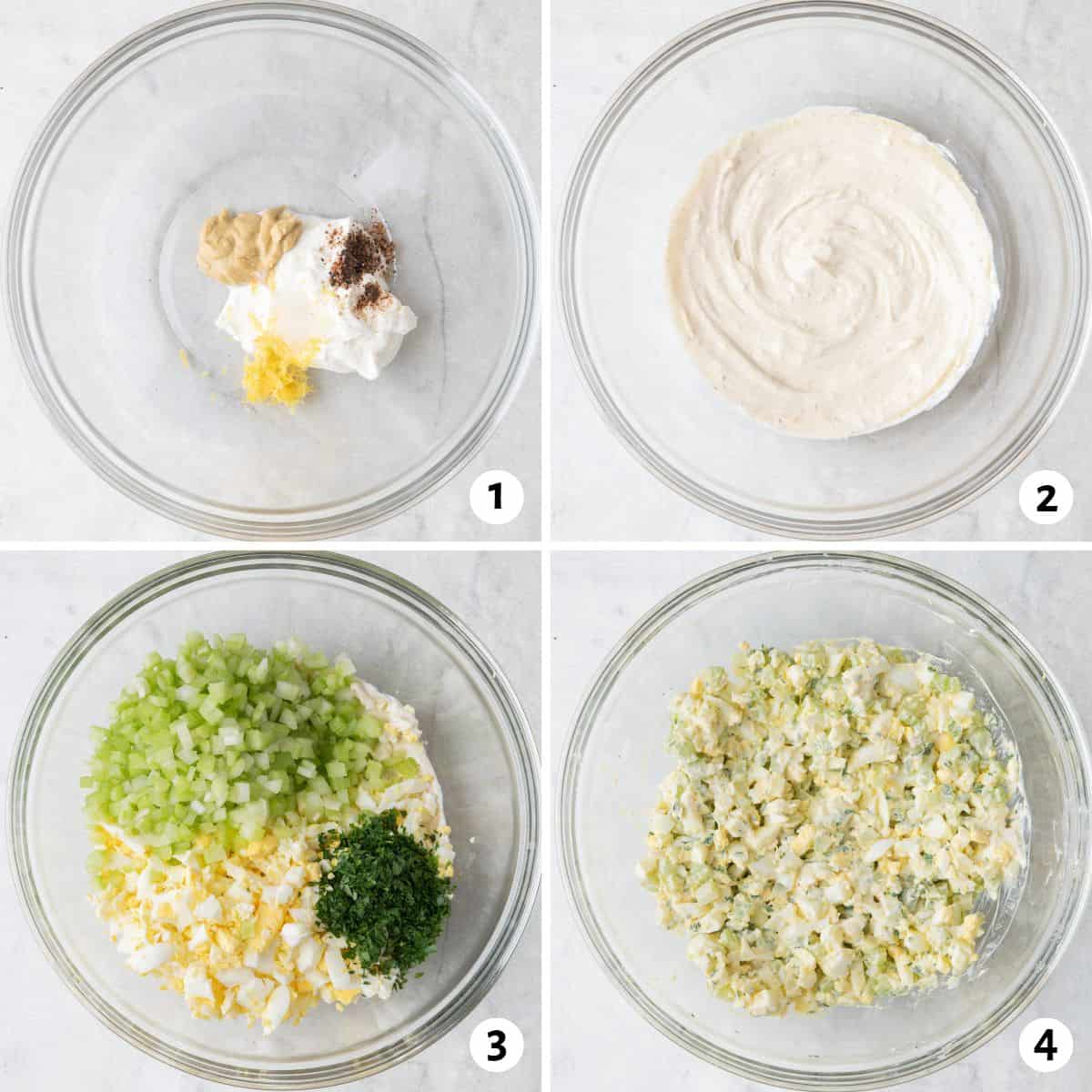 Tips for making the best boiled egg salad
Don't skip the ice bath for the eggs. When making hard boiled eggs, shock them in an ice bath immediately after they are cooked. This stops the boiling process right away and makes the peeling so much easier.
Use whole milk, plain Greek yogurt. Because you're substituting the yogurt for mayonnaise, the extra creaminess from the whole milk yogurt compared to a leaner variety will help to thicken the dressing, making it more creamy and rich.
Go easy on the stirring. Avoid over-stirring the egg salad to prevent it from turning to mush and looking like baby food. When you add the chopped eggs to the dressing, fold just enough to coat all the ingredients while still keeping the boiled egg salad chunky.
POPULAR SUBSTITUTIONS & ADDITIONS
Switch up the protein: While this recipe uses hard-boiled eggs, you could also try it with tofu for a vegan option or diced, cooked chicken for a different protein punch.
Change the greens: If you're not a fan of celery or parsley, try other crunchy vegetables like diced bell pepper or cucumbers. For herbs, dill or chives could be a great replacement for parsley, adding a different layer of flavor.
Try a different dairy: While Greek yogurt provides a tangy creaminess, you could substitute it with sour cream or a non-dairy yogurt alternative to cater to different dietary needs or preferences.
Boost it with grains: To make this salad even more filling, consider adding some cooked quinoa, farro, or even chickpeas. These will add not only texture but also extra nutritional benefits.
Add some heat: If you like a bit of a kick, add in some chopped jalapenos or a sprinkle of red pepper flakes. You could also try a dash of hot sauce or even some wasabi for a unique twist.
Cheese, please: For an extra layer of creaminess and flavor, try adding a sprinkle of shredded cheddar, crumbled feta, or diced avocado.
Go nuts with toppings: Sprinkle on some toasted almond slivers, sunflower seeds, or even some crunchy pumpkin seeds for an added layer of texture. For a refreshing touch, finish it off with a bit of lemon or lime zest.
How to serve egg salad
Sandwich. Spread the healthy egg salad on everything bagel or between two slices of bread.
Lettuce cups. This option is excellent for anyone currently doing a keto or low-carb diet or if you just want to eat more vegetable servings and cut down on bread. Serve the egg salad in large lettuce leaves like Bibb (butter) lettuce or romaine hearts.
Open on toasted bread. Slice baguettes, toast them, then top with egg salad for a fun hand-held appetizer for a brunch with friends.
As a salad. Spoon the egg salad over a bed of fresh greens like you would do if it were a Waldorf salad for a pretty presentation.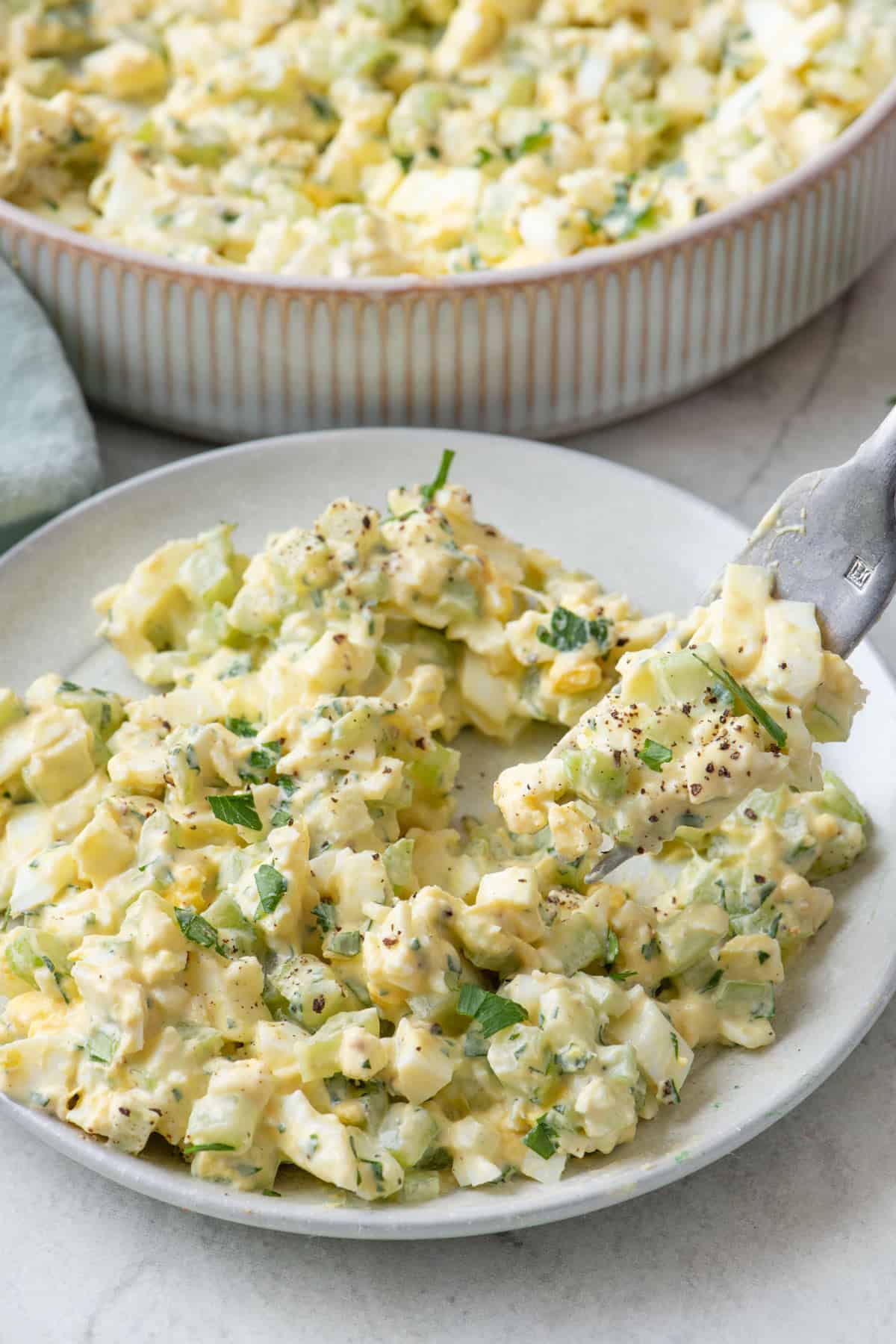 How to store healthy egg salad
Store egg salad in an airtight container in the refrigerator to maintain freshness and quality. Because of the Greek yogurt, make sure the egg salad does not sit at room temperature for more than 2 hours.
How long will healthy egg salad last in the fridge?
The egg salad will last for up to 3 days in the fridge. When ready to enjoy it again, just give it a quick stir and serve.
Frequently asked questions
Can I use a different type of mustard?
Absolutely! While Dijon mustard provides a nice tangy flavor, you can substitute it with yellow mustard for a milder taste or use grainy mustard for additional texture. The type of mustard you use really depends on your personal preference.
Can I use pre-boiled eggs from the store instead of boiling them myself?
Yes! You can use store-bought cooked eggs to save time. Simply chop the pre-boiled eggs as directed in the recipe and proceed with mixing them with the other ingredients.
Does egg salad taste better the next day?
Yes, egg salad can taste better the next day as the flavors have had time to meld together. However, it's best to eat it within 3 to 4 days as the ingredients are fresh.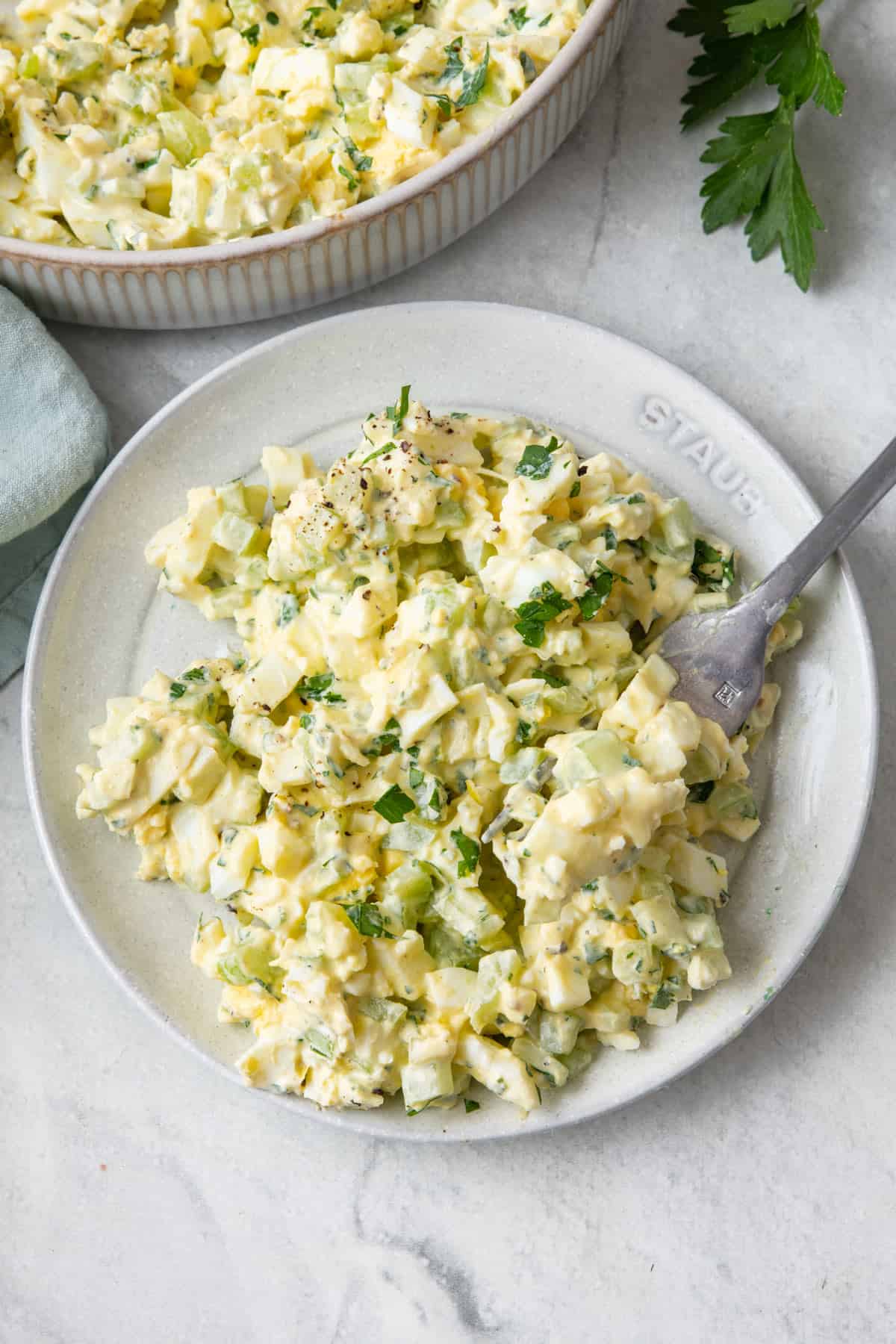 This healthy, mayo-free egg salad is more than just a simple dish; it's a versatile, protein-packed meal that can be tailored to your tastes. Its flavorful and creamy base allows for tons of variation, so feel free to experiment with different add-ins or substitutions. It's a great way to use up leftover hard boiled eggs and lasts in the fridge for a few days, making meal prep for the week a breeze!
More salad Recipes:
If you've tried this healthy-ish feel good Healthy Egg Salad recipe or any other recipe on FeelGoodFoodie, then don't forget to rate the recipe and leave me a comment below! I would love to hear about your experience making it. And if you snapped some shots of it, share it with me on Instagram so I can repost on my stories!
This Healthy Egg Salad recipe was originally published on August 21, 2018. The recipe has not been modified but includes new photography and step-by-step collages.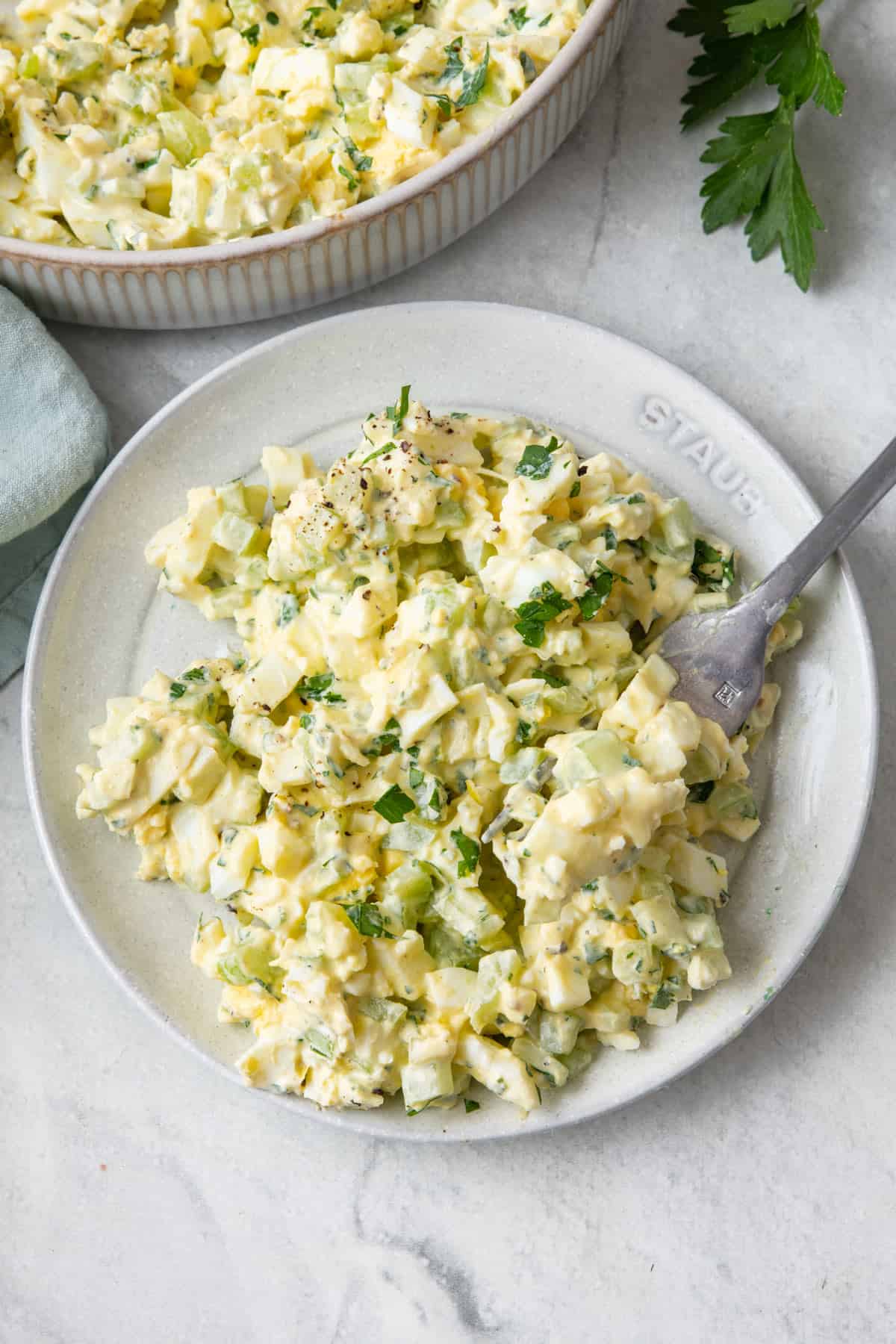 Healthy Egg Salad
My recipe for Healthy Egg Salad is light, creamy and perfect for lunches or meal prep I make it healthier by replacing the mayo with Greek yogurt and by pairing it with low-carb serving options. It's fast, full of flavor and filling!
Ingredients
6

hard boiled eggs

peeled

⅓

cup

plain Greek yogurt

2

teaspoons

dijon mustard

½

teaspoon

lemon zest

½

teaspoon

salt

¼

teaspoon

black pepper

3

celery stalks

chopped

1

tablespoon

parsley chopped
Instructions
Peel the eggs and roughly chop; set aside.

In a large bowl, whisk together the Greek yogurt, dijon mustard, lemon zest, salt and pepper. Add the chopped eggs, celery and parsley, and stir to combine with the dressing.

Serve the egg salad in a sandwich, lettuce cups, salad or even as a dip.
Notes
Insta Pot Instructions: To boil the eggs in an Insta Pot, add 1 cup of water, placing eggs on a trivet and pressing Pressure Cook for 5 minutes, then vent right away and place in cold water.
Store any leftover healthy egg salad in a airtight container in the fridge for up to 3 days. For best results, stir before serving.
Nutrition
Calories:
129
kcal
,
Carbohydrates:
2
g
,
Protein:
11
g
,
Fat:
8
g
,
Saturated Fat:
2
g
,
Polyunsaturated Fat:
1
g
,
Monounsaturated Fat:
3
g
,
Cholesterol:
281
mg
,
Sodium:
418
mg
,
Potassium:
131
mg
,
Fiber:
0.2
g
,
Sugar:
1
g
,
Vitamin A:
481
IU
,
Vitamin C:
2
mg
,
Calcium:
60
mg
,
Iron:
1
mg
Nutrition information provided is an estimate. It will vary based on cooking method and specific ingredients used.