This post may contain affiliate links. Please read our disclosure policy.
Learn how to make shredded chicken in your instant pot in under 30 minutes! The IP has made making shredded chicken so convenient and easy. It's perfect for busy weeknights and batch-cooking several pounds of chicken breast to portion and save for later! Not to mention pulled chicken is so versatile, and cooking it in the instant pot yields perfectly juicy and tender chicken that shreds (really, it just falls apart!) easily with a fork.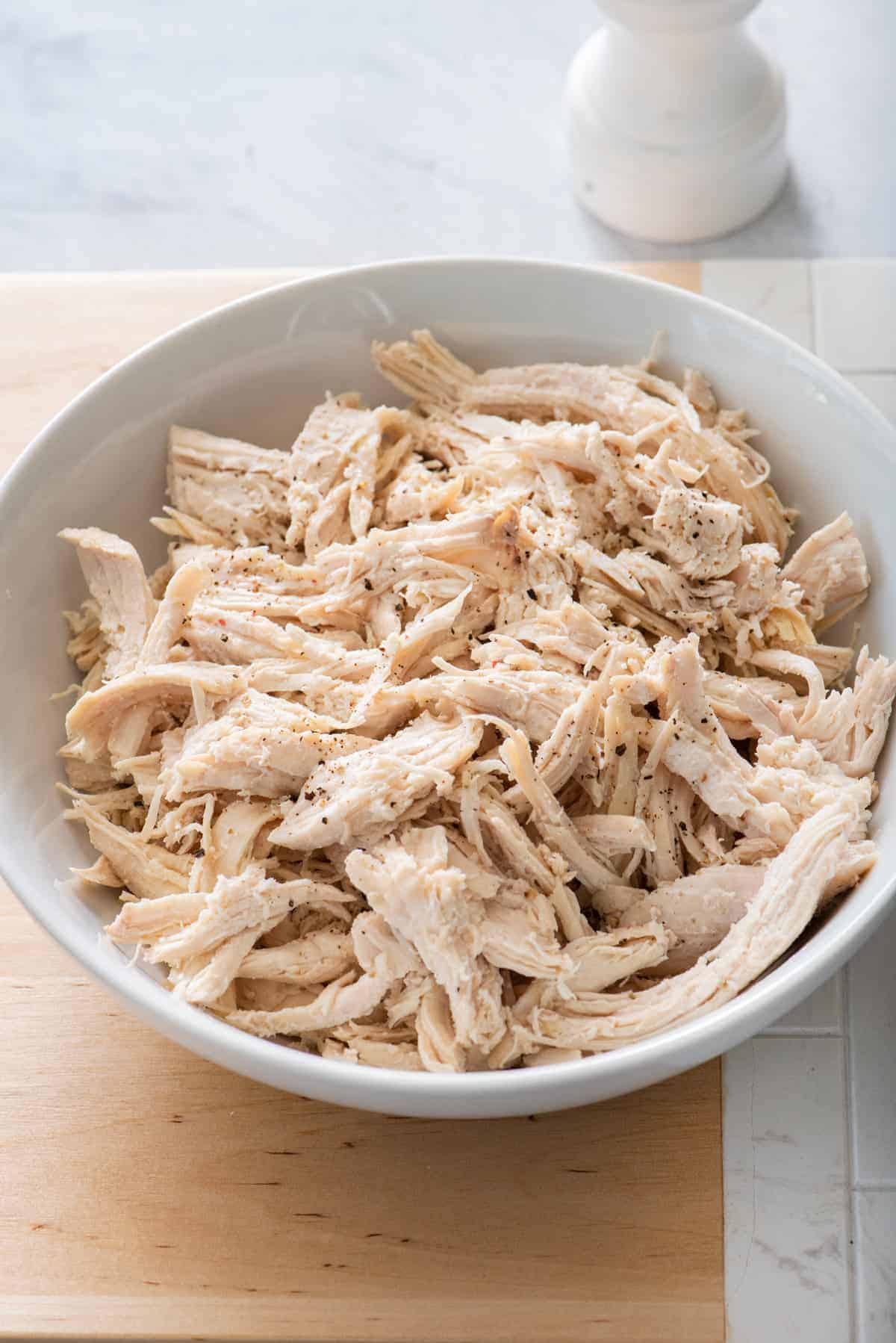 When you use the Instant Pot to make shredded chicken, it saves you a lot of time and hassle. The chicken tastes like it's been simmering all day in seasoned broth, and shredding it is so easy. It falls apart like magic. Shredded chicken is also one of the easiest Instant Pot recipes for beginners, and it will allow you to get used to (and fall in love with) your pressure cooker. Enjoy this shredded chicken in lemon chicken soup, chicken and rice, chicken fettah, chopped Asian chicken salad, and everything in between!
Why you'll love this Instant Pot Pulled Chicken
Perfect for meal prep: Because instant pot pulled chicken can be used in so many ways, it makes the perfect addition to a meal prep menu. You'll likely find a new use for it every week.
A huge time saver: Shredded chicken can be easily added to pasta and vegetable dishes to transform them from sides to mains.
Versatile: Because this shredded chicken has such a mild flavor, it can either be an addition to a recipe or the foundation of the meal. Shredded chicken is also incredibly kid friendly.
Broth Bonus: The recipe doesn't just give you juicy, tender chicken. You're also left with a flavorful broth that you can use in other recipes. It's a zero-waste approach that makes the most of your ingredients. Plus, homemade broth always beats the store-bought stuff!
Ingredients to make IP Shredded chicken
Chicken breasts: This shredded chicken recipe is for raw, thawed chicken breasts, not frozen chicken breasts, but you can easily add more time and cook chicken from frozen using this tutorial. You can also place them in a ziplock bag and submerge in cold water. Swap the water every 30 minutes, and it will take around an hour and a half for them to fully defrost.
Broth: Cooking the chicken in broth helps to add more flavor to the chicken. You can use vegetable or chicken stock. You can swap it for water, but it won't be as flavorful.
Spices: Salt, black pepper, and garlic powder. But you can also add other spices like taco seasoning. Cajun seasoning, lemon pepper or 7 spice for example.
Bay leaves: Use dried bay leaves to add flavor to the chicken. You can make this recipe without them, but they add more flavor. You can also use celery leaves instead!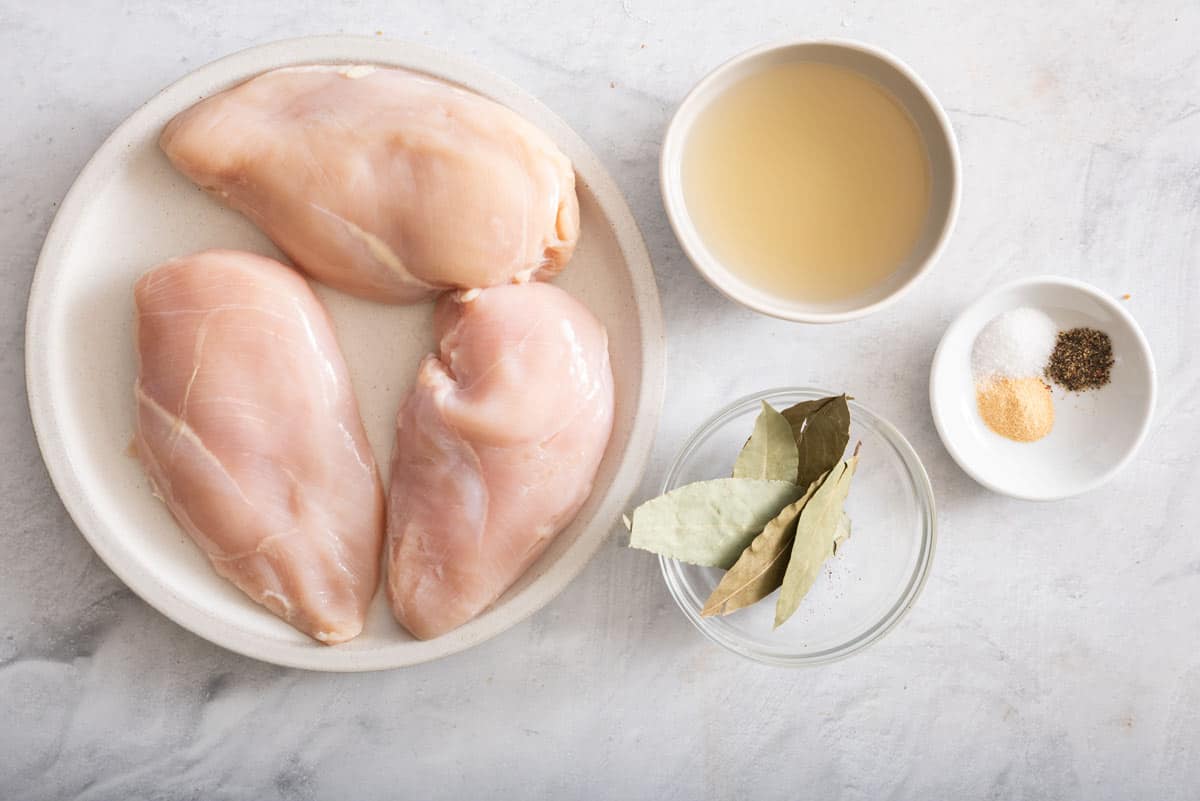 How to make instant pot shredded chicken
Place the chicken breasts in the Instant Pot. Some overlapping is ok.
Add the seasoning and bay leaves and pour in the broth.
Cook on high and release the pressure. Use an instant-read thermometer to check that the chicken is cooked through.
Remove the chicken and shred it with two forks or your hands.
Tips for making The Best Instant Pot Shredded chicken
Make sure all the breasts are even sizes. They can be thinner or thicker, but for even cooking, it helps to have them all the same width and thickness.
Save the chicken broth. Whether you use water or chicken broth to cook the chicken, save the cooking liquid after making the shredded chicken. You can use this in soups and stews for great flavor!
Shred the chicken with a hand mixer. For a super fast and easy way to shred the chicken, shred it with a hand mixer on low speed.
Try searing the chicken breasts first. Use the saute function on your Instant Pot and sear them on each side in a little oil. This creates a deeper flavor and more texture.
Popular Additions and Substitutions:
Here are some popular substitutions and additions you might want to consider for this recipe.
Substitutions:
Different Poultry: Not a fan of chicken breasts? You can easily swap them out with chicken thighs or turkey breasts. You will need to increase the cooking time to 12 to 15 minutes, depending on the thickness, otherwise, the recipe remains the same. As with the chicken breasts, it's best to use a thermometer to check the internal temperature before shredding.
Vegetable Broth: If you don't have chicken broth on hand, vegetable broth is an excellent substitute and will keep the recipe just as flavorful.
Spices: Don't limit yourself to salt, pepper, and garlic powder. If you prefer different seasonings, feel free to experiment. Maybe try some onion powder, smoked paprika, or a touch of cayenne for a spicy kick!
Additions:
Herbs: Adding fresh or dried herbs like rosemary, thyme, or oregano can give the chicken a more complex flavor profile.
Vegetables: To make this a complete meal, consider adding some veggies into the mix. Bell peppers, onions, or carrots would be great additions.
Citrus: For a refreshing twist, add some citrus like lemon or lime. A little squeeze before serving can really brighten up the dish!
Marinade: If you have more time, you can marinate the chicken in your favorite marinade before cooking. This will infuse the chicken with even more flavor.
Remember, the best part about cooking at home is making a recipe your own, so feel free to experiment and see what works best for you!
What to use your Instant Pot Shredded Chicken for
The possibilities are endless. Add it to salads for a protein-packed lunch or dinner. Create flavorful tacos, toss it with pasta, vegetables, and a creamy sauce for a comforting and filling meal. Or use it as a topping for pizzas, stuffed into sandwiches, or mixed into soups and stews. The options are limited only by your imagination.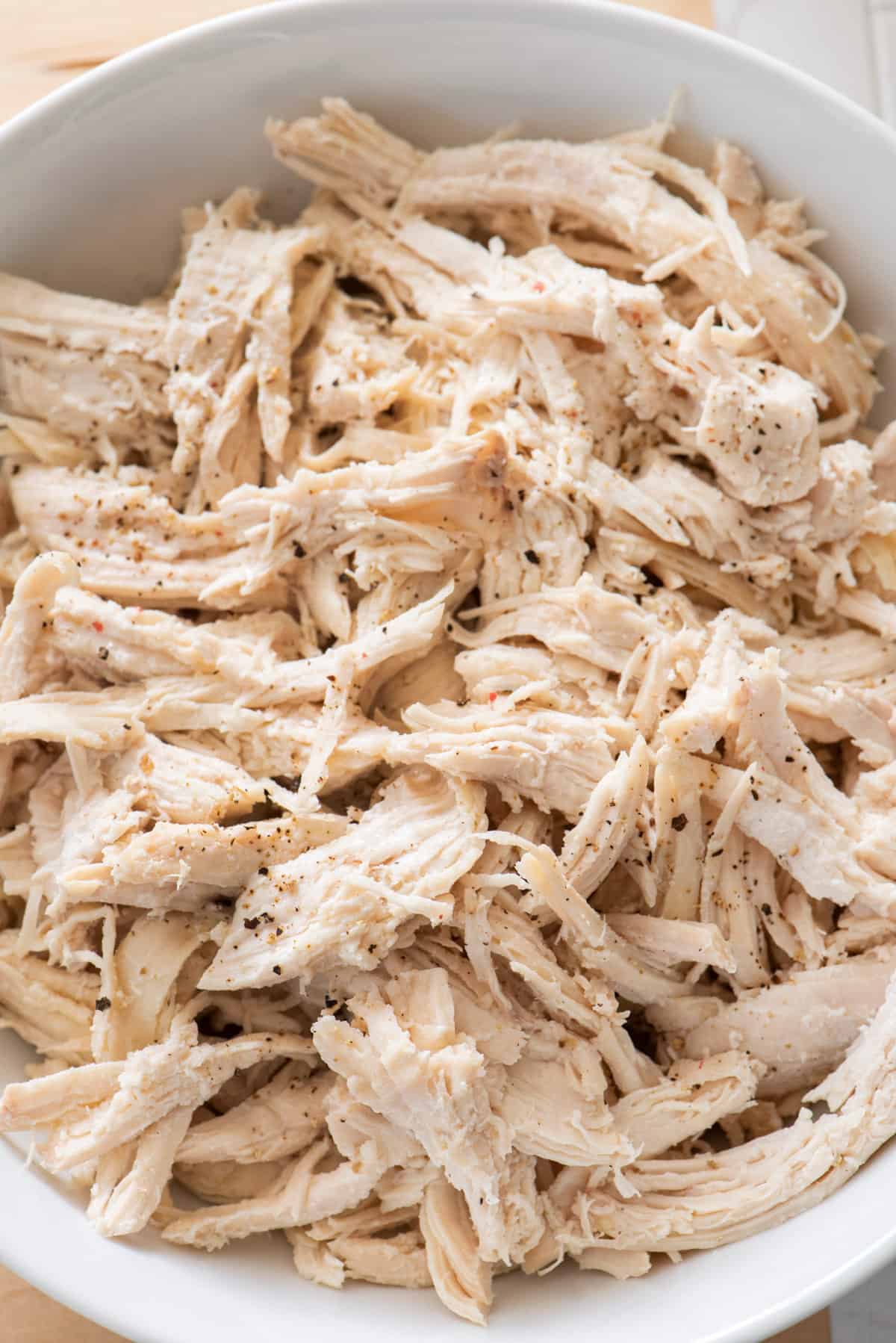 How to Store & Reheat shredded chicken:
Once cooled, place the chicken in an airtight container or in zip-top storage bag(s) and keep it in the fridge or freeze.

Refrigerated chicken can either be reheated in the microwave or on the stovetop with a few teaspoons of broth added to keep it from drying out.
Frozen chicken should be thawed overnight in the fridge before being reheated, or it can be added straight to stews and chilis.
How long does shredded chicken last in the fridge?
Shredded chicken should last up to 4 days after being refrigerated. Make sure to freeze it if you are getting close to the 4th day and know you aren't going to use it.
How to freeze shredded chicken
You can also freeze the chicken in bags, with as much air pushed out as possible. In the freezer, the chicken will keep for up to 4 months.
Frequently asked questions
Can I use frozen chicken for this recipe?
Yes, you can use frozen chicken. However, the cooking time will need to be increased. A general rule of thumb is to add an additional 3-5 minutes of pressure cooking time for frozen chicken.
I don't have an Instant Pot. Can I make this in a slow cooker?
Yes, you can definitely make this in a slow cooker. Cook the chicken on low for 6-8 hours or on high for 3-4 hours, or until the chicken is cooked through and easily shreds with a fork.
What if my chicken isn't done after the recommended cooking time?
If the chicken isn't done after the recommended cooking time, simply put the lid back on and cook for an additional 2-3 minutes under high pressure. The internal temperature of the chicken should be at least 165°F.

Remember, every Instant Pot and chicken size can vary slightly so the timing might not be exact. It's always a good idea to check the chicken's internal temperature to ensure it's fully cooked.
This simple Instant Pot shredded chicken recipe is a game-changer. It's very easy to make and will save you so much time in the kitchen. With so much versatility and delicious flavor, this recipe is a meal prep dream come true. Customize it to your taste and experiment with different combinations to keep things exciting. Be sure to make a few batches and stock your freezer!
More instant pot recipes:
If you've tried this healthy-ish feel good Instant Pot Shredded Chicken recipe or any other recipe on FeelGoodFoodie, then don't forget to rate the recipe and leave a comment below! It helps others who are thinking of making the recipe. We would love to hear about your experience making it. And if you snapped some shots, share it on Instagram so we can repost on Stories!
Instant Pot Shredded Chicken
Meals just got easier with this simple Instant Pot shredded chicken recipe. Great for meal prep and effortless to make with basic ingredients.
Instructions
Place the chicken breasts inside the Instant Pot. Season with salt, pepper and garlic powder. Add the bay leaves next to the chicken and pour the broth over the chicken.

Place the lid on and move the valve to sealing. Press manual pressure and set the timer to 10 minutes high pressure. You'll notice the Instant Pot will start to come to pressure first and then the timer will begin. It can take 8-10 minutes to come to pressure.

When the cook time is up, let the pressure release naturally for 5 minutes, then do a quick release for any remaining pressure. Carefully open and remove the lid. Check the internal temperature of the chicken to make sure it's 165°F or higher. If it's not, seal again and cook for an additional 2-3 minutes.

Strain the remaining broth in the Instant Pot to use for soups. Shred the chicken with two forks or electric mixer and use as desired. Add more broth on top to keep the chicken juicy.
Notes
Storage: Store it in an airtight container in the fridge for up to 4 days. Freezing Instructions: Freeze in portions for up to 4 months.
Nutrition
Calories:
132
kcal
,
Carbohydrates:
1
g
,
Protein:
24
g
,
Fat:
3
g
,
Saturated Fat:
1
g
,
Trans Fat:
1
g
,
Cholesterol:
73
mg
,
Sodium:
540
mg
,
Potassium:
424
mg
,
Fiber:
1
g
,
Sugar:
1
g
,
Vitamin A:
99
IU
,
Vitamin C:
1
mg
,
Calcium:
7
mg
,
Iron:
1
mg
Nutrition information provided is an estimate. It will vary based on cooking method and specific ingredients used.