This post may contain affiliate links. Please read our disclosure policy.
Pillowy soft pita bread is a must in any Middle Eastern household. It's the perfect vessel for scooping up delicious hummus and perfect for sauces like my cucumber yogurt one. AND it can also be used to make amazing pizzas or wraps. Plus, making your own pita bread is not only fun, but it's also really easy! If you've always wanted to make homemade pita bread, but were intimidated by the process, then this recipe is for you!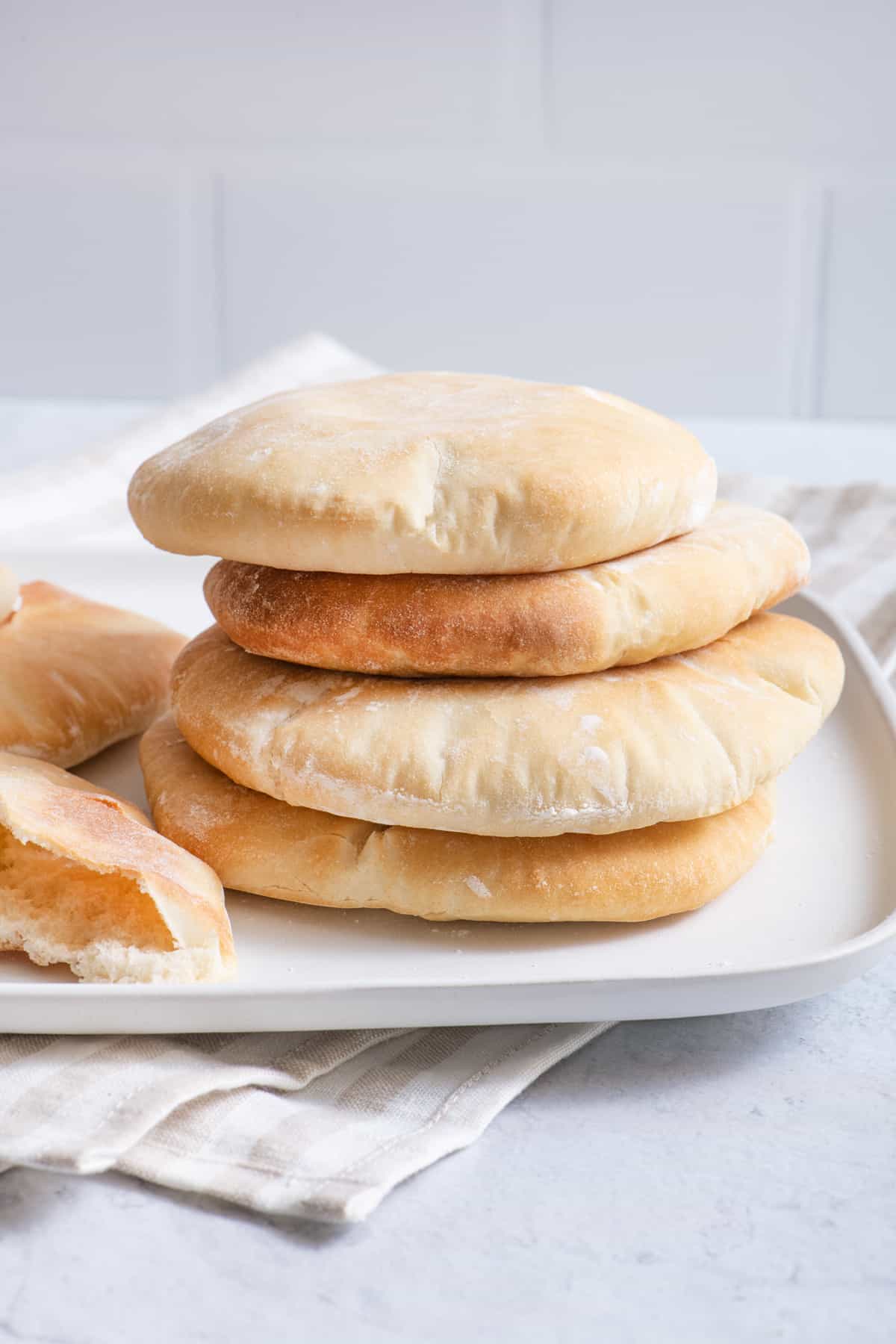 Growing up in Dearborn, Michigan, we had the luxury of enjoying the most delicious authentic pita bread sold in dozens of bakeries and grocery stores for $1 a bag. Now living away from Dearborn, I buy it in bulk and freeze it. But there's nothing like fresh pita bread.
When I set out to research the recipe, I learned that the super-thin authentic Lebanese pita bread can only be made with special machinery. Homemade pita bread has a thicker consistency. I based my recipe on the pita from Amanda's Plate and tweaked it to add olive oil and elaborate on the steps, so you get the perfect pita in your oven easily!
why you'll love this soft pita bread recipe
Pantry staples: This recipe only requires basic pantry staples that you likely have on hand- all-purpose flour, salt, sugar, yeast, olive oil, and water!
Easier than you think: The dough is very easy to make. You don't need to be a baker or have a ton of experience making bread for it to turn out perfectly.
Freezer friendly: This recipe makes 12 rounds of pita bread, so you can freeze them for later.
Versatile: Pita bread can be used for all sorts of things! Serve it with a creamy feta dip or Tzatziki Sauce.
Ingredients You'll Need To Make Pita Bread
All-purpose flour: All-purpose flour supports a perfectly soft and airy texture. You could also try using whole wheat flour if you want something a little heartier.
Yeast: Yeast is what makes the dough rise and helps aerate it for a light and fluffy bite.
Sugar: Sugar helps to activate the yeast and also contributes to a lightly sweet flavor in the pita bread.
Salt: Salt is key in bread recipes to bring out the flavors of all the other ingredients.
Olive oil: Adding olive oil to the dough adds additional flavor and helps keep the dough from drying out.
Water: Warm water is necessary for activating the yeast and helping it grow.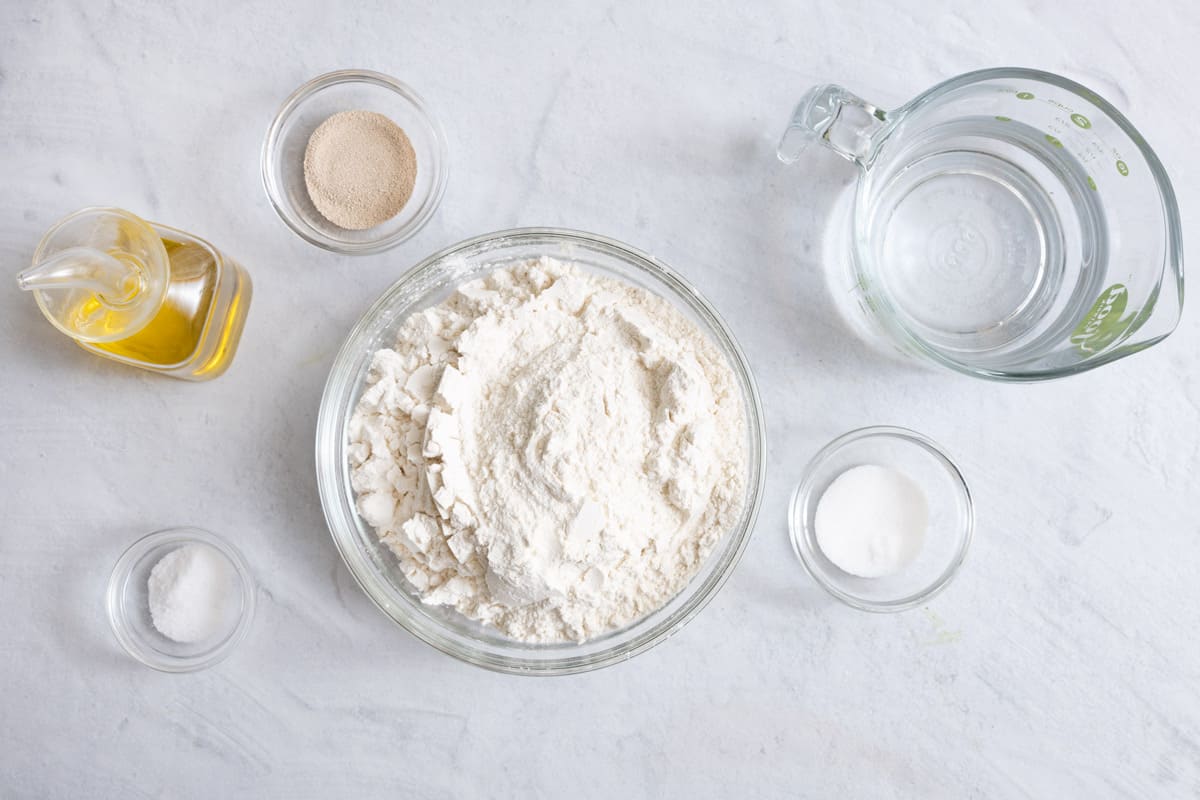 RECIPE VIDEO TUTORIAL
How to make Homemade Pita Bread from Scratch
Before I get into how to make the pita bread, it's important to note that handling the yeast correctly is key in the rising process. You must make sure your water is not too hot or too cold. Instant yeast does need slightly warmer water (around 120°F to 130°F) to get started. If your water is too hot, it will kill the yeast, and colder water won't activate it.
Prepare the dough
Combine your dough ingredients in a large bowl and mix. Slowly add flour until a shaggy dough is formed.
Once formed, continue to knead until the dough comes together and is smooth.
Allow dough to rise in a warm, dark place until the dough has doubled in size.
Form balls and Roll out
Separate dough into 12 round pieces. While forming the dough balls with your hands, you can tuck roll until you have a smooth dough ball.
Use a rolling pin to roll out the dough as evenly as possible. Transfer the rolled out pita onto small squares of parchment paper floured lightly.
Flip the rolled out pita onto the heated baking sheet.
Bake the pita bread
Bake on the bottom rack of your oven until lightly golden brown and puffed.
Tear open one of your freshly baked pita rounds and admire your bubble work!
Tips for making homemade pita bread
Knead the dough by hand. If you don't have a stand mixer, you can use a flat wooden spoon to mix the ingredients. Then turn the dough onto a well-floured surface and knead until smooth. It will take about 10 minutes to do it by hand.
Adjust the flour amount in the dough recipe based on humidity. It should feel slightly sticky but without sticking to your fingers.
Roll out as evenly as possible. This is very important because it helps to disperse air bubbles and evens out the dough to ensure that the pita separates in the oven equally without one part being too thick or not separating.
Pay attention to the seam when placing the dough in the oven. This is not necessary, but a helpful tip to result is the best looking homemade pita. Make sure the seam (or the part of the dough ball with the folds) is facing down, which will allow the top seamless part to rise perfectly.
Keep the pita size small. It's tempting to try to make larger pita bread, but without special pita machinery to press the dough perfectly flat, it can be hard to get the dough to separate and form pita pockets if you make them too large. Aim for 4-6 inches in width.
popular substitutions & additions
Use whole wheat flour. You can substitute up to half the amount of flour for whole wheat flour, which actually has a better taste because it's more nutty. If you do use whole wheat flour, make sure to add more water until the dough feels smooth.
Add seasonings. If you want a bit of flavor in your pita bread, why not add some dried herbs like rosemary, oregano or thyme (try ½ teaspoon to start). It's not traditional but would be a fun variation of the pita bread
what to serve/pair with your Fresh Baked Pita Bread
As a Lebanese foodie with pita bread being a staple in my fridge, my answer to this is EVERYTHING! But here are a few favorites that are definitely great with homemade pita bread.
how to reheat & store pita bread
If you have leftover pita bread, you can store it in a zip-top bag or an airtight container at room temperature for two-three days. You can also store it in the fridge to prolong its shelf life.
To reheat, place the pita bread on a baking sheet and bake at 350°F for about 1 minute or until warm or it's faster to reheat in the microwave for 10 seconds.
how long will pita bread last in the fridge?
Homemade pita bread should last in the refrigerator for up to five days. If you're coming up on the end of the five days, you can always freeze it.
can i freeze pita bread?
Yes, you can freeze pita bread! Just make sure to wrap it tightly in plastic wrap or place it in a zip-top bag and freeze for up to two months. When you're ready to eat it, just thaw out at room temperature or in the fridge.
Frequently asked questions
What's the difference between pita, naan, and flatbread?
Pita bread and naan are both leavened with yeast, but naan is traditionally made with yogurt and an egg. Making naan denser results in a thicker, chewier texture than pita. Pita and naan both are generally soft in texture, but pita will have a pocket in the center that naan will not. As far as flatbread goes it is the umbrella term for all bread that is, well, flat.
Why does pita bread have a pocket?
Pita bread gets its pocket-like shape from being baked in a very hot oven with yeast. The high temperature causes the yeast to release a gas which causes the dough to puff up and form a pocket.
Why is my pita bread dense?
If your pita bread is dense, it might be because you didn't roll the dough out thin enough. Make sure to roll it out as evenly as possible. If you're having issues with it puffing up, your oven may not be hot enough. A good oven thermometer can help you troubleshoot this.
Can I make this recipe without yeast?
No. The yeast is what creates the pocket in the pita. If you don't have yeast on hand, you can make a simple two-ingredient flatbread that is just as tasty, but a tad bit denser, and it will lack a pocket.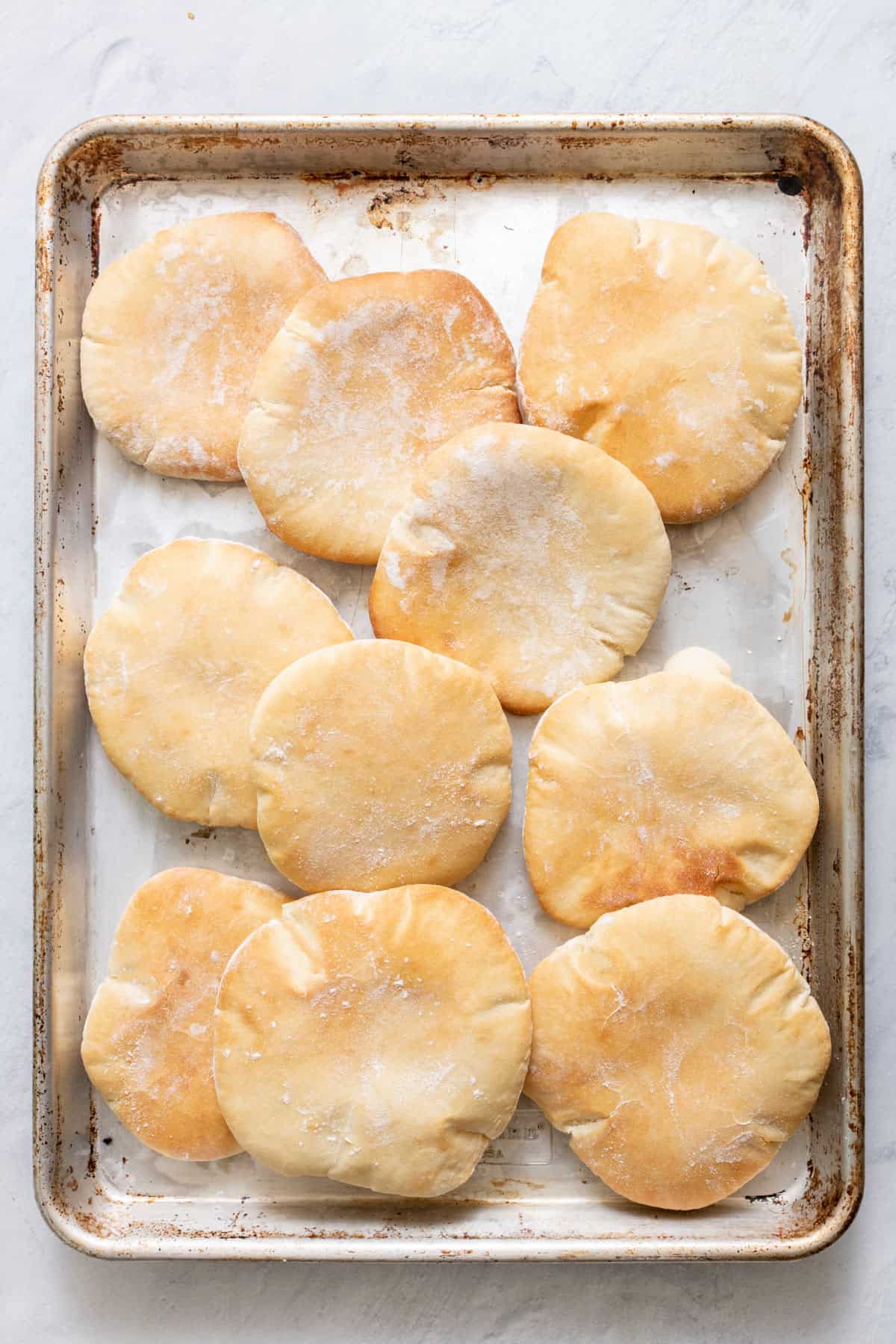 Homemade pita bread is a delicious and easy-to-make addition to your weekly meal rotation. With only six ingredients, this recipe is simple and straightforward. Pita bread is perfect for sandwiches, dips, or even wrapping up leftovers. Be sure to reheat it before serving for the best results. Enjoy!
More homemade bread recipes:
If you try this healthy-ish feel good Homemade Pita Bread recipe or any other recipe on Feel Good Foodie, then don't forget to rate the recipe and leave a comment below! It helps others who are thinking of making the recipe. We would love to hear about your experience making it. And if you snapped some shots, share it on Instagram so we can repost on Stories!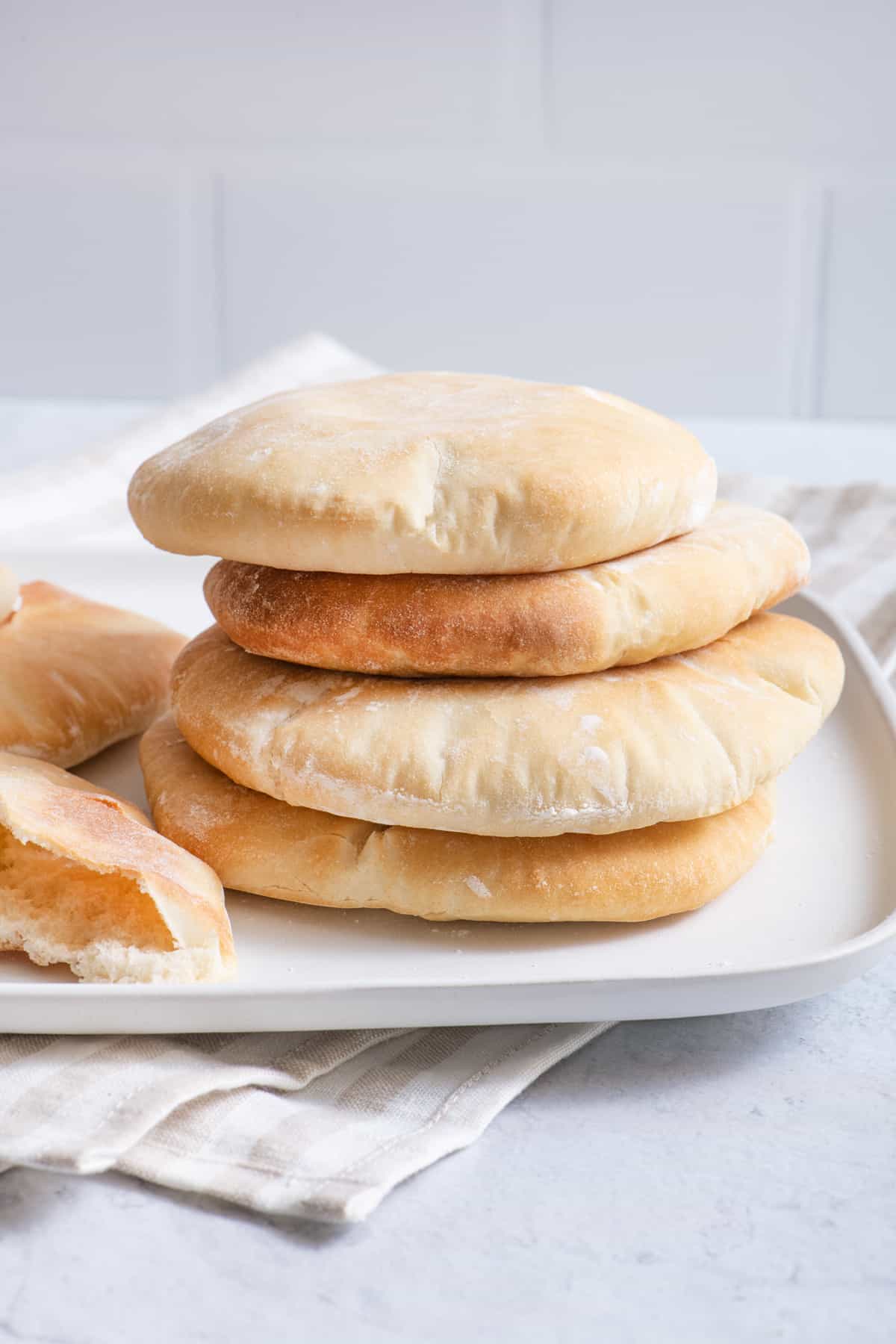 Homemade Pita Bread
Learn how to make the best pita bread from scratch and enjoy homemade pita anytime you'd like! It's soft and only requires 6 ingredients!
Instructions
In a large bowl or stand mixer fitted with hook attachment, dissolve sugar in the warm water. Sprinkle in yeast and let stand until mixture is foamy, about 5 minutes.

Add 1 cup flour, olive oil and salt and stir with a wooden spoon. Slowly add remaining flour until a shaggy dough is formed. Knead for 10 minutes in the stand mixer until the dough comes together and is smooth.

Cover dough with a moist kitchen towel. Allow dough to rise in a warm, dark place, until the dough has doubled in size, about 1 hour.

Punch dough down and separate dough into 12 round pieces by pinching off some of the dough. Use your hands to tuck the sides and roll into an even ball, covering the pieces with a moist kitchen towel as you work. Allow to rest for 10 minutes.

Use a rolling pin to roll out the dough as evenly as possible. This is important to ensure that the pita puffs up. Transfer the rolled out pita onto small squares of parchment paper floured lightly.

Preheat oven 550°F (or to the highest temperature it will go) with the baking sheet inside the oven. While the oven is heating, allow the pita rounds to rest for about 30 minutes.

Flip the rolled out pita onto the heated baking sheet. Bake on the bottom rack of your oven until lightly golden brown and puffed, about 3-5 minutes. Wrap them in a clean kitchen towel as soon as they come out of the oven.
Notes
Storage: Store in an airtight container at room temperature for up to three days. Store in the fridge for up to five days.
Nutrition
Calories:
127
kcal
,
Carbohydrates:
25
g
,
Protein:
3
g
,
Fat:
1
g
,
Saturated Fat:
1
g
,
Polyunsaturated Fat:
1
g
,
Monounsaturated Fat:
1
g
,
Sodium:
196
mg
,
Potassium:
34
mg
,
Fiber:
1
g
,
Sugar:
1
g
,
Calcium:
6
mg
,
Iron:
1
mg
Nutrition information provided is an estimate. It will vary based on cooking method and specific ingredients used.