This post may contain affiliate links. Please read our disclosure policy.
Arayes is a popular street food in Lebanon that is basically kafta meat stuffed inside pita bread and then grilled or oven baked. It's a great way to use up leftover kafta meat or hashweh meat and works well as an appetizer or main meal.
Table of Contents
The best way to enjoy arayes is a delicious condiment like yogurt sauce or with creamy tahini sauce on top. The sauce is the perfect complement to the rich and savory flavors of the meat. What's great about arayes is that they're so versatile. You can eat it as a lunch or dinner or add your crispy meat stuffed pitas to a mezze board.
Why you'll love this beef arayes recipe
So flavorful with Lebanese flare. Beef arayes are packed with flavor, thanks to the combination of savory meat and aromatic spices such as cumin, 7-spice, cinnamon, and cayenne.
Easy to make. Beef arayes are surprisingly easy to make, despite their impressive flavor. All you need to do is prepare the meat filling, stuff it into pita bread, and grill or bake until the bread is crispy and the filling is cooked through.
Authentic and delicious. Beef arayes is a beloved street food in the Middle East that has stood the test of time. Its authentic flavor and rich history make it a delicious and intriguing option for anyone looking to try something new and exciting.
Ingredients & substitutions
Ground Beef: The beauty of this recipe is that you don't have to cook the beef before you stuff the pitas, so it's so fuss free to make! I prefer to use lean ground beef that is 85-90% fat free.
Seasonings: Fresh parsley, 7 spice, cumin, cinnamon, coriander, cayenne, salt and pepper.
Onion: Finely mince the onion so that it combines easily with the ground beef.
Pita: Use double ply pita bread for these arayes. We spread the seasoned beef between the two layers of the pita, so you need pita with a pocket.
Oil: For cooking. I always like to use olive oil, but canola or vegetable will work too.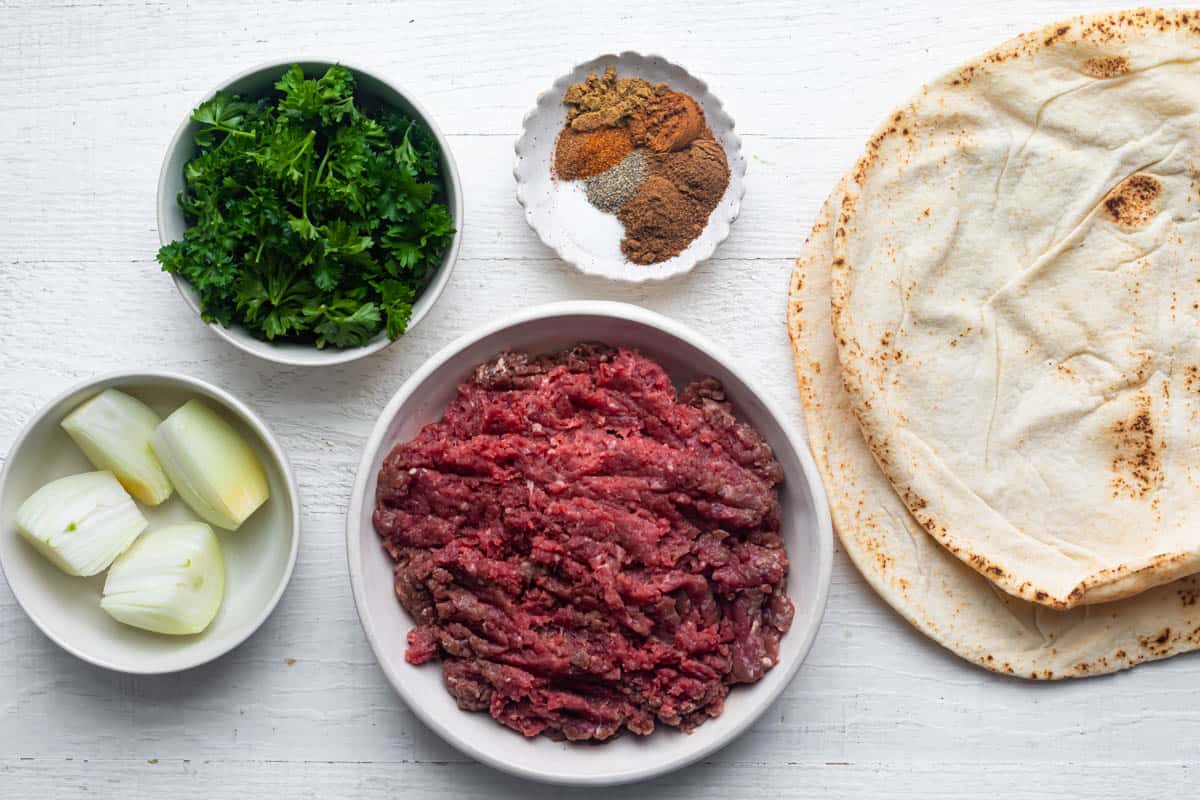 How to make Arayes
Add the ground beef and seasonings to a bowl.
Use your hands to combine together.
Cut each pita into quarters.
Spread the beef mix into each piece of pita.
Heat the oil in a grill pan, once hot, place in the stuffed pitas.
Cook on both sides til golden brown.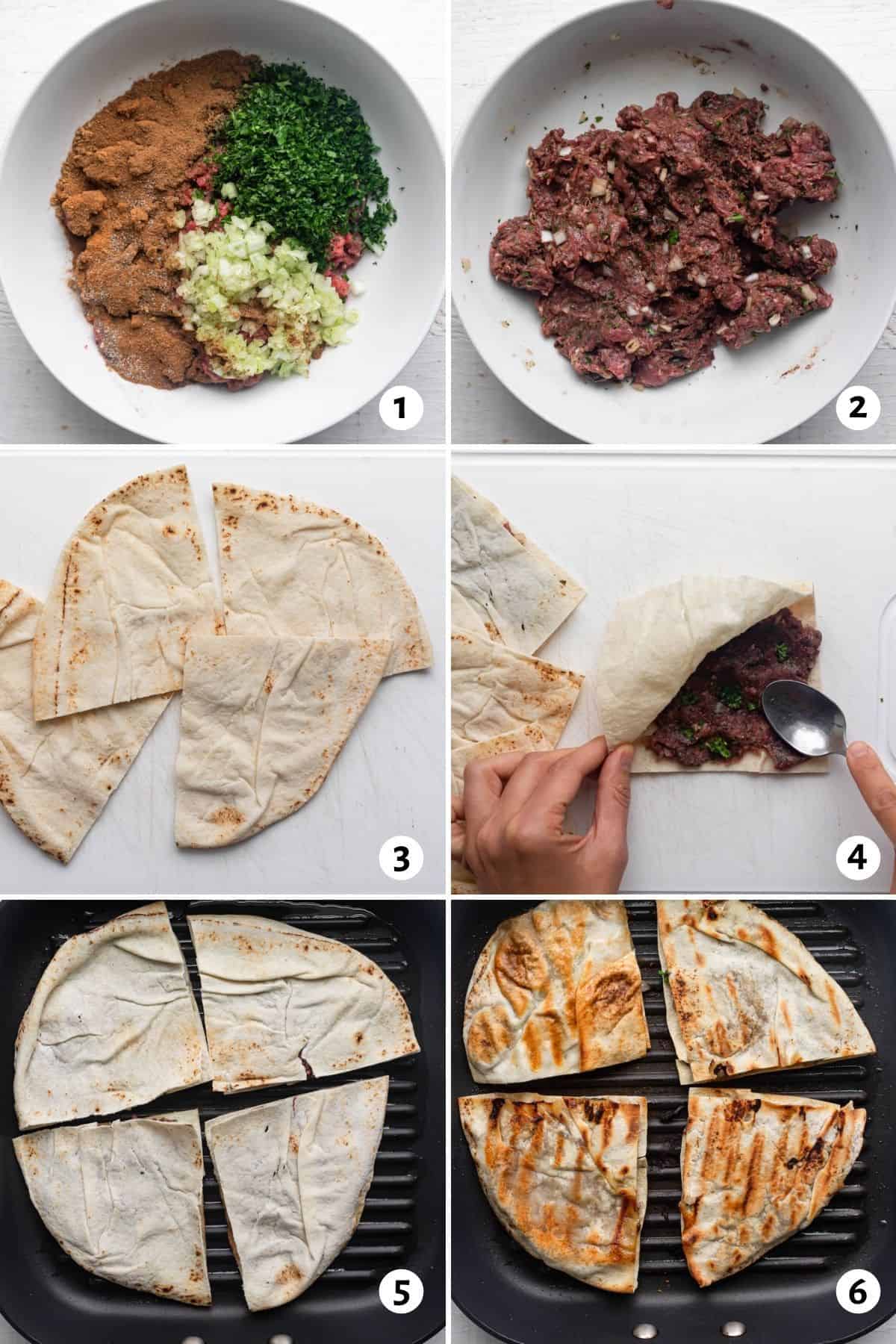 Tips for making arayes
Use ground beef with some fat in it. Aim for 85% or 90% fat-free ground beef which has some fat in it to keep the pita pockets juicy without drying out.
Don't over-cook the arayes. You want to make sure that the pita is crisp and golden on the outside and that's your cue that they are done cooking. Over-cooking the beef can make it really dry. Feel free to lift up the pita to check on the beef.
Use thin pita bread if possible. The thin pita bread allows the beef mixture on the inside to cook faster since the heat permeates through it more easily. It also tends to get more crispy.
Don't over-stuff the pita bread. When stuffing the pita bread, make sure not to overdo it. The filling should be evenly distributed throughout the pita bread, but not so much that it becomes difficult to seal.
Popular Substitutions + additions
Add veggies inside. While it's traditional to enjoy these meat stuffed pitas alone, you can certainly stuff veggies inside for a full meal. It's best to use cooked veggies like peppers, zucchini or mushrooms and add them after cooking.
Add cheese. Try adding feta, halloumi, or mozzarella are common choices that can be added to the meat mixture or placed on top of the arayes before grilling or baking your ground beef stuff pitas.
Different sauces and dips. In addition to the classic tahini sauce, you can also try serving arayes with hummus, tzatziki, or a spicy harissa sauce for a bit of heat.
How to store and reheat Lebanese arayes
Arayes are best enjoyed fresh and hot, but if you have any leftovers allow them to cool completely and then store them in an airtight container in the fridge.
To reheat the arayes, preheat your oven to 350°F and place them on a baking sheet. Bake for 10-15 minutes until they are heated through and the pita bread is crispy.
How long does this arayes kafta recipe last in the fridge?
You can store arayes in the fridge for up to 2-3 days.
Can I freeze meat stuffed pitas?
If you want to keep your arayes for longer, you can freeze them. Wrap them individually in plastic wrap or foil and place them in a freezer-safe container or bag. They will keep well for up to 2-3 months. Reheat in the oven at 350°F for 25 minutes.
Frequently asked questions
Can you make arayes with other meats?
I love to make meat stuffed pitas with ground beef, but ground lamb is also really tasty and popular. You can use ground chicken or turkey, but make sure that it is fully cooked through, I also find that the fat content can be too low and they can dry out more easily.
Can you make them ahead of time?
These Lebanese pitas are best served as soon as you make them so that the pita is crispy and the meat is perfectly cooked. If you like, you can make the beef filling a day or two ahead of time and keep it covered in the fridge. If you make too much meat mixture, leftovers can be frozen for later use.
What do you serve them with?
These can be served as an appetizer or main course. As an app, I like to serve them with a cilantro yogurt sauce, and as a main, they are great to pair with a salad like tabbouleh or shirazi.
So simple to make, but hands down delicious! Arayes are a tasty and satisfying Lebanese snack or meal that are enjoyed by many around the world. With their flavorful meat filling, crispy pita bread, and creamy tahini sauce, they are a delicious treat that can be enjoyed on their own or as part of a larger meal. Whether you're a fan of Middle Eastern cuisine or just looking to try something new, arayes are definitely worth a try!
More lebanese recipes:
If you've tried this healthy-ish feel good Meat Stuffed Pitas recipe or any other recipe on FeelGoodFoodie, then don't forget to rate the recipe and leave me a comment below! I would love to hear about your experience making it. And if you snapped some shots of it, share it with me on Instagram so I can repost on my stories!
Meat Stuffed Pitas (Arayes)
Quick and easy to make, these Lebanese meat stuffed pitas are one delicious recipe! These beef arayes are ready to enjoy in minutes and every bite is truly tasty!
Ingredients
1

pound

ground beef

¼

cup

chopped parsley

1

small yellow onion

minced

2

teaspoons

7 spice

½

teaspoon

cumin

½

teaspoon

cinnamon

½

teaspoon

coriander

⅛

teaspoon

cayenne pepper

½

teaspoon

salt

¼

teaspoon

black pepper, to taste

2

double-play pita breads

2

tablespoons

olive oil

for stovetop cooking

Olive oil cooking spray

for oven baking
Instructions
Place the ground beef, parsley, onions, 7 Spice, cumin, cinnamon, coriander, cayenne pepper, salt and pepper in a large bowl. Use your hands to mix until well combined.

Cut each pita into fourth. Pull part the two sides of pita. Spoon about 2 tablespoons of the beef mixture
Stovetop Instructions
Heat a grill pan or regular pan on medium heat. Add 1 tablespoon olive oil.

Place four of the stuffed pitas on the grill pan and cook until the pita is golden in color and beef is cooked to your liking, about 7-10 minutes total. Repeat with the remaining olive oil and the remaining stuffed pitas.
Baking Instructions
Preheat the oven to 400°F.

Place the stuffed pitas on a baking dish and spray with olive oil cooking spray. Bake until the pita is golden and crispy and the beef is cooked to your liking, about 8-10 minutes.

Serve hot with plain yogurt for dipping, if desired.
Nutrition
Calories:
444
kcal
,
Carbohydrates:
19
g
,
Protein:
23
g
,
Fat:
30
g
,
Saturated Fat:
10
g
,
Trans Fat:
1
g
,
Cholesterol:
81
mg
,
Sodium:
537
mg
,
Potassium:
429
mg
,
Fiber:
2
g
,
Sugar:
1
g
,
Vitamin A:
644
IU
,
Vitamin C:
7
mg
,
Calcium:
65
mg
,
Iron:
3
mg
Nutrition information provided is an estimate. It will vary based on cooking method and specific ingredients used.