This post may contain affiliate links. Please read our disclosure policy.
Lebanese baklava is very special occasion dessert that we eat during the holidays, after breaking our fast for Ramadan or during big events with family. What makes this Lebanese baklava recipe unique from other types of baklava is the aromatic simple syrup flavored with orange blossom water.
This version is very similar to how my mom used to make it growing up. However, through my researching and testing, I found an easy recipe for baklava with this simple pouring method I learned from Maureen Abood.
Instead of buttering each layer of phyllo, which is so time consuming, I pour the melted butter over the entire pan that's been cut into. This is the secret tip for making the most efficient baklava recipe.
Baklava origin
From my research, it seems that the exact origin can't really be pinpointed to one country. But in general it started in the Ottomon Empire by the Turks, then modified and popularized by Greeks and then spread throughout the Mediterranean region, with each country adding their unique twists.
What distinguishes Lebanese baklawa from others in different regions is the popular simple syrup we use in many desserts like Kanafa. We always get extra on the side whenever ordering Lebanese desserts!
Video tutorial for making baklava
Ingredients to make the recipe
Phyllo sheets: Use the 9×14 package with one pound of phyllo split into 2 packages of 20 sheets.
Clarified Butter or Ghee: While you might be tempted to just use butter, clarified butter is best in this case because it's essentially the fat component of butter without the liquid part that can create a soggy baklava. You'll get a more golden color and more crisp texture.
Walnuts: Walnuts are traditionally used to make the recipe, but you can use other types of nuts like pistachios, which are very popular ingredient in Middle Eastern sweets.
Sugar: I use cane sugar in most of my desserts, so that's what I mix with the walnuts here. You can use regular white sugar or coconut sugar, but go for something granulated and not liquid for best texture.
Simple Syrup: This is basically sugar cooked down with water to form a liquid sauce to pour over the baklava. We add lemon juice and orange blossom water to give it that unique Lebanese flavor. This simple syrup is the prime distinction of Lebanese baklawa from other variations.
How to make baklava
Place a layer of phyllo pastry sheets in the bottom of a prepared and greased pan.
Add the mixture of crushed walnuts and sugar evenly on top, smoothening out with a spatula.
Add the rest of the phyllo sheets carefully on top.
Cut into diamonds and pour over the clarified butter. Bake.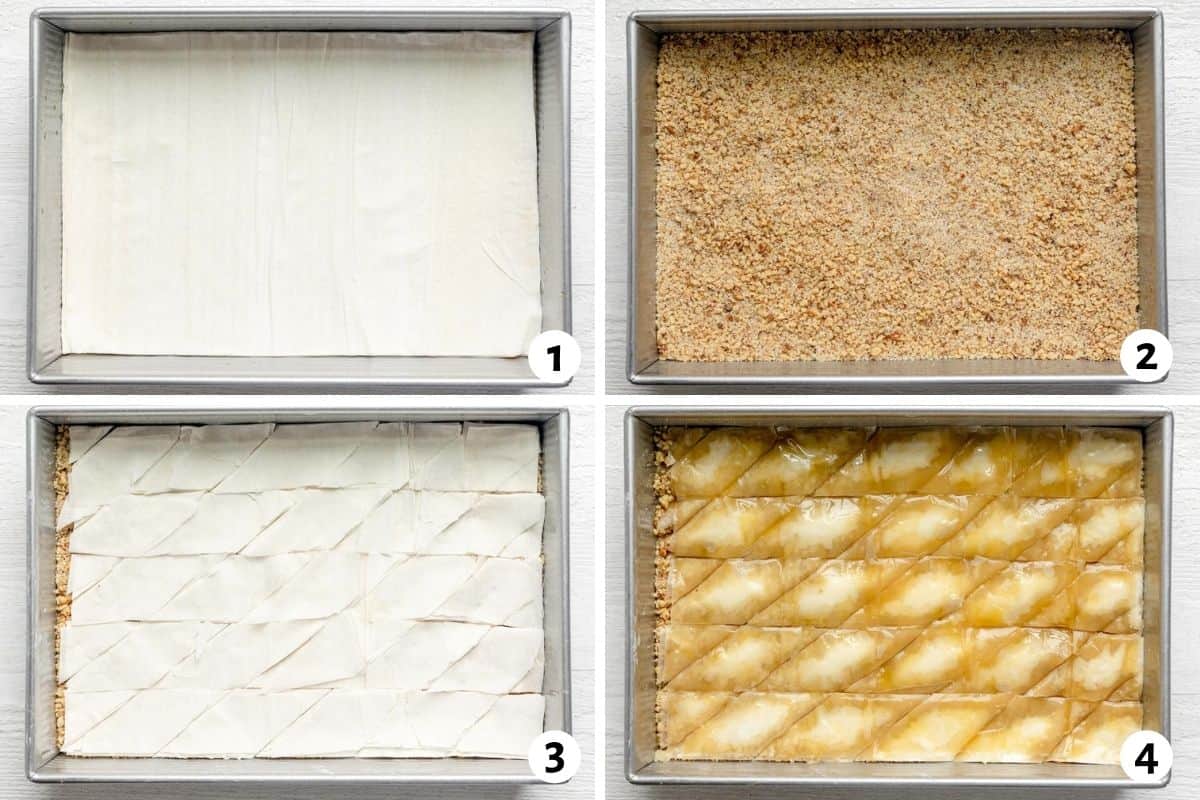 When it's done cooking, you have to make sure to drizzle the cooled simple syrup immediately! The cool syrup on top of the hot baklava not only creates the best crackling sound, but also help the syrup stick to the phyllo for the best texture and taste.
Tips for making the recipe well
Trim the phyllo with a pizza cutter to fit properly in the pan. Keep in mind though that the phyllo will shrink as it bakes, so it's ok to leave it just a little wider than the pan.
Lay more phyllo sheets on the bottom layer than the top layer. It's totally fine to keep them even, but splitting unevenly creates a more compact baklawa without as many crunchy fluttering sheets on the top.
Make sure the top layer of the stack of phyllo sheets is not ripped for best presentation. It it gets torn accidentally, you can take a sheet from the center of the sheets and use as the top layer.
Be sure to cut all the way through to the bottom of the pan. This is essential for allowing the clarified butter to seep through all phyllo layers. It's important to have a super sharp chef knife for this process.
Hold the knife downward when cutting into the stacked phyllo. I've learned this is the most efficient and clean way to cut through all those sheets.
Keep the top layers of phyllo sheets down by lighting holding on to them while cutting into the phyllo stacks. The top layers will tend to lift as you make your way through cutting the lines, so be patient in this step.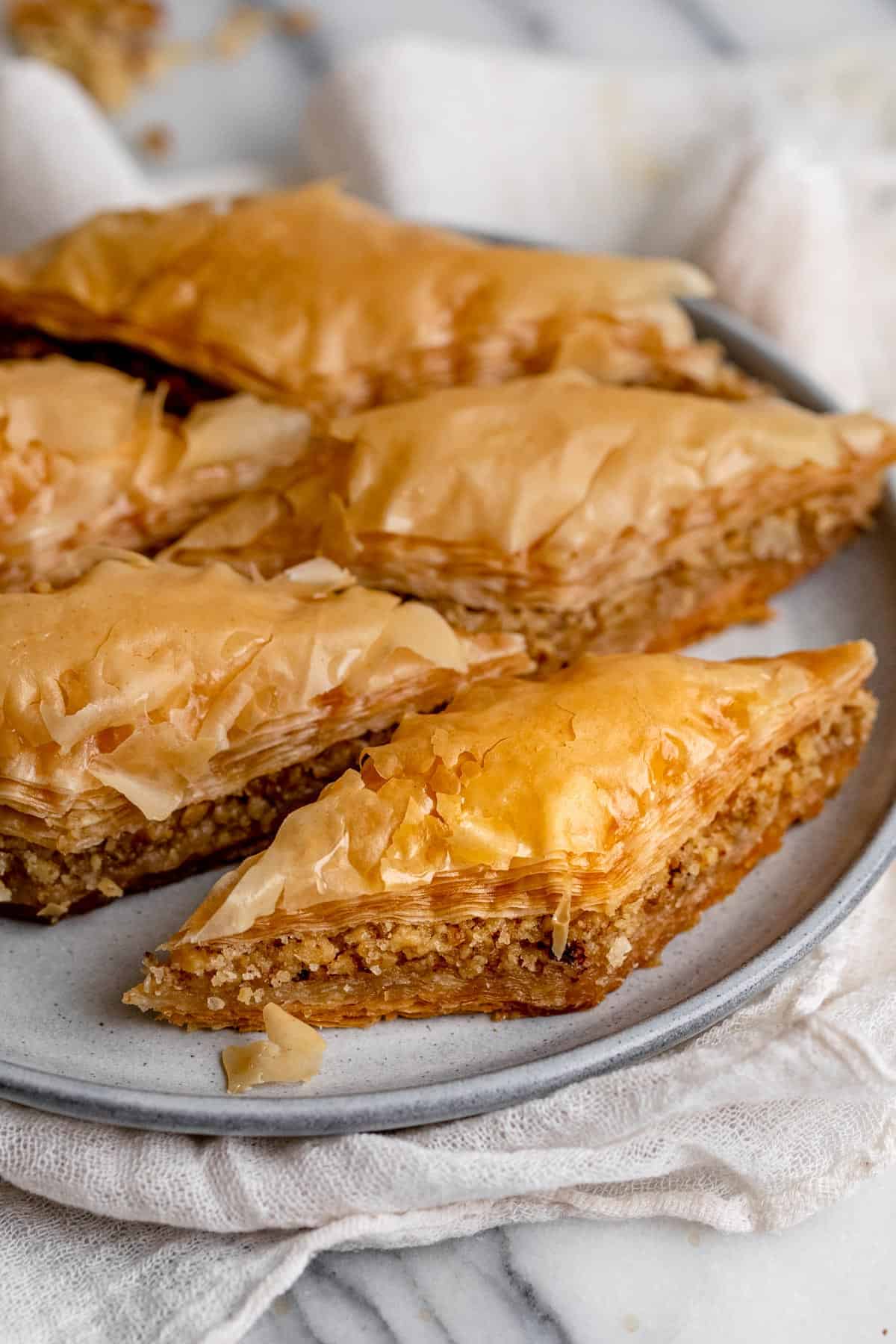 Frequently asked questions
How long does it keep?
Once you have made your walnut baklava, let it cool to room temperature. You can then lightly cover the tin with foil or parchment to store, or place the individual pieces into a container. You can store it in the fridge or at room temperature for up to 2 weeks.
Can you freeze it?
Yes, this Lebanese baklava freezes really well, and it will keep for up to 3 months.Wrap the whole tin in plastic wrap and foil to freeze and thaw it at room temperature to serve.
Can I use regular butter instead of clarified butter?
Clarified butter is the best option when you make baklava as it helps to get the phyllo pastry perfectly crispy. It also has a much richer taste. You can buy clarified butter from the store, or make your own fairly easily. You can also use ghee. I'd definitely not recommend just using melted butter, it won't have the same finish or flavor to it.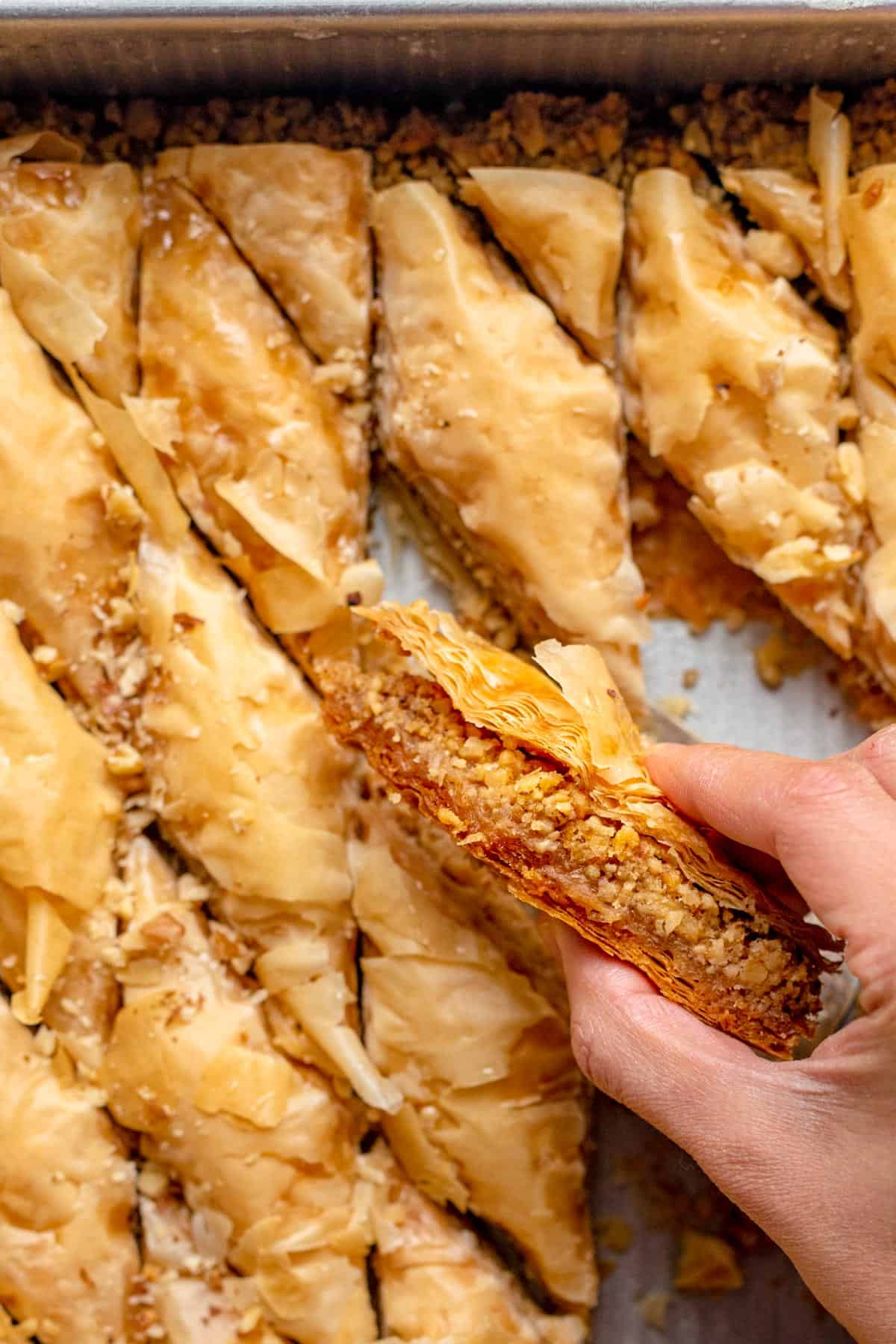 This is one of my favorite sweets to enjoy, it's so rich and sweet and is a real treat! This new method I found worked so well, meaning that you can easily make a batch in the fraction of the time. I can't wait for you all to try this flakey, buttery, irresistible version at home!
More Middle Eastern inspired desserts:
If you've tried this healthy-ish feel good Lebanese Baklava recipe or any other recipe on FeelGoodFoodie, then don't forget to rate the recipe and leave me a comment below! I would love to hear about your experience making it. And if you snapped some shots of it, share it with me on Instagram so I can repost on my stories!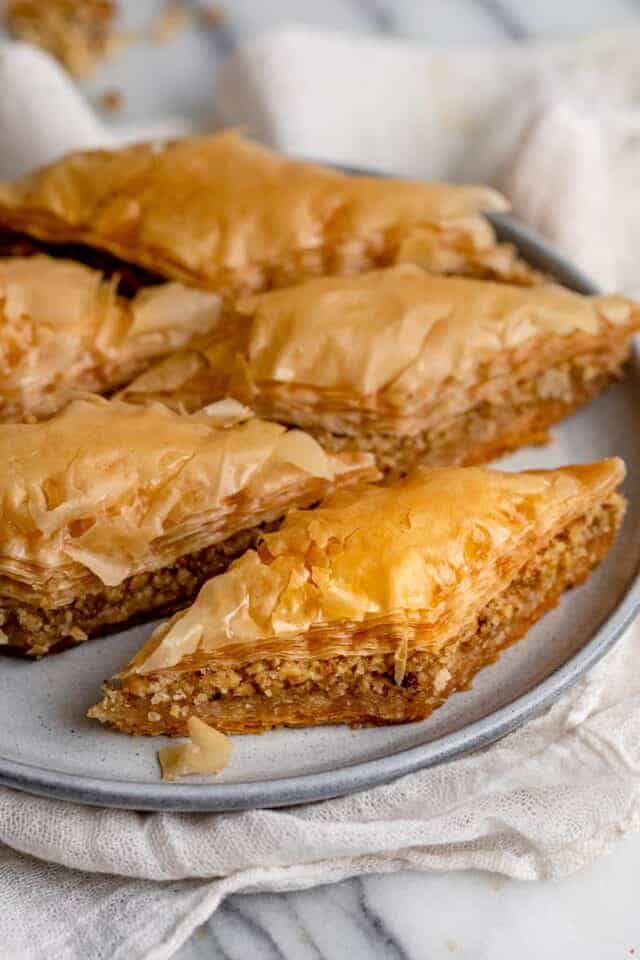 Lebanese Baklava
Make homemade baklava in a fraction of the time with this deliciously easy method! Filled with walnuts and finished with an orange blossom simple syrup.
Ingredients
1

pound

box of phyllo

9″x14″ sheets, room temperature

¾

cup

clarified butter or ghee
For the Sugared Nuts
3

cups

raw or roasted walnuts

coarsely chopped in food processor

½

cup

granulated sugar
Instructions
To make the simple syrup, combine the water, sugar and lemon juice in a small saucepan over medium-high heat. Bring mixture to a boil, then reduce heat to simmer, stirring occasionally until the sugar is dissolved and the mixture is thickened but still clear colored, about 5-7 minutes. Remove from heat, add the orange blossom water, and set aside to cool to room temperature.

In a large bowl, combine the walnuts and granulated sugar until well mixed.

Preheat the oven to 350°F. Brush the bottom of a 9 x 13 pan with clarified butter.

Open the two sleeves of phyllo sheet – each will have about 20 sheets. Unroll them and cut off an inch at the end to make them fit into the 9 x 13 pan.

Lay one stack of 20 phyllo sheets in the pan. Add about 5-10 more phyllo sheets on top of the first stack. Spread the nuts mixture over the phyllo in one even layer. Lay the remainder 10-15 phyllo sheets over the nuts.

Cut the baklava into diamonds by making 4 cuts lengthwise and 9 cuts crosswise on the diagonal, holding down the phyllo sheets with your other hand as you cut carefully.

Pour the melted clarified butter over the baklava evenly. Allow the butter to settle in, about 5 minutes.

Bake until golden brown all the way into the cut lines, about 50-60 minutes, rotating the baklava halfway through baking.

Remove the pan from the oven and immediately pour the cooled simple syrup evenly over the baklava. Allow to cool at room temperature for several hours before serving.
Notes
Recipe: I learned how to make this recipe from Maureen Abood. Check out her blog for much more detail and expertise on this recipe.
Storage: Keep the baklava lightly covered in the pan or storage container at room temperature or in the fridge for up to 2 weeks.
Substitutes: For best results, follow the recipe as is. However here are some common substitutes that would work well in this recipe.
Instead of walnuts, you can use other types of nuts like pistachios or pecans.
Instead of cane sugar, you can use white granulated sugar. 
Instead of ghee, you can use butter, but I recommend clarifying the butter first.
Nutrition
Calories:
500
kcal
,
Carbohydrates:
49
g
,
Protein:
7
g
,
Fat:
33
g
,
Saturated Fat:
9
g
,
Cholesterol:
29
mg
,
Sodium:
184
mg
,
Potassium:
157
mg
,
Fiber:
3
g
,
Sugar:
26
g
,
Vitamin A:
6
IU
,
Vitamin C:
1
mg
,
Calcium:
33
mg
,
Iron:
2
mg
Nutrition information provided is an estimate. It will vary based on cooking method and specific ingredients used.