This post may contain affiliate links. Please read our disclosure policy.
This no-bake, fuss-free homemade edible cookie dough recipe takes less than 15 minutes to come together, and the result is just as good and satisfying as traditional cookie dough, but with a grain-free spin. Not only is it gluten-free, but it's also dairy-free and vegan! The almond flour offers a nutty and slightly sweet base to the edible cookie dough, combined with the richness of dark chocolate chips. Learn how to make edible cookie dough that is safe to eat and satisfies your sweet tooth.
Table of Contents
Who can resist the temptation of sneaking a bit of cookie dough before it's baked? It's a guilty pleasure we all share, but it comes with a risk due to raw eggs and untreated flour. Well, worry no more! This easy edible chocolate chip cookie dough recipe is perfectly safe to eat and has the most irresistible texture – soft, chewy, and a bit of bite from the chocolate chops. And the best part is this edible, gluten-free cookie dough can be enjoyed immediately after making it.
Why you'll love this easy Gluten-free edible cookie dough
No heat treatment needed. Unlike other edible cookie dough recipes that require you to heat-treat the flour to make it safe to eat, this recipe uses almond flour, which doesn't need to be heat-treated. This saves you an extra step and makes the process quicker and easier.
Easy no-bake treat. With just a few simple ingredients and easy-to-follow instructions, you'll be able to whip up a batch of delicious cookie dough in no time. Better yet, consider doubling the recipe and freezing the dough so you can satisfy those sweet tooth cravings whenever they strike.
Nutrient-dense almond flour. Almond flour doesn't just give this cookie dough its delightful texture, it's also packed with nutrients like protein, healthy fats, and fiber. A treat that's also good for you? Yes, please!
Loved by all ages. This edible cookie dough isn't just for the kids – adults can't resist it, either! It's a universally loved treat that brings back childhood memories for adults and creates new ones for the little ones.
Ingredients to Make edible chocolate chip cookie dough
Almond flour: This forms the base of our cookie dough, providing a unique nutty flavor and ensuring our dough is safe to eat raw, as there's no need to heat-treat it like traditional flour.
Sugar: I use cane sugar which is less processed than granulated sugar, and it has a slightly deeper flavor.
Unsweetened almond milk: Adds moisture and helps to bind our ingredients together without adding any extra sugar.
Coconut oil: This will help bind the ingredients together and adds moisture. Use refined coconut oil if you want to avoid that distinct coconut taste or scent.
Salt and vanilla extract: Salt balances the sweetness and enhances the overall flavor, while vanilla extract adds depth and complexity to this cookie dough recipe.
Mini dark chocolate chips: It wouldn't be chocolate chip cookie dough without the chocolate chips, would it? Using mini chips ensures you get a bit of chocolate in every bite, plus it makes folding the ingredients together easier.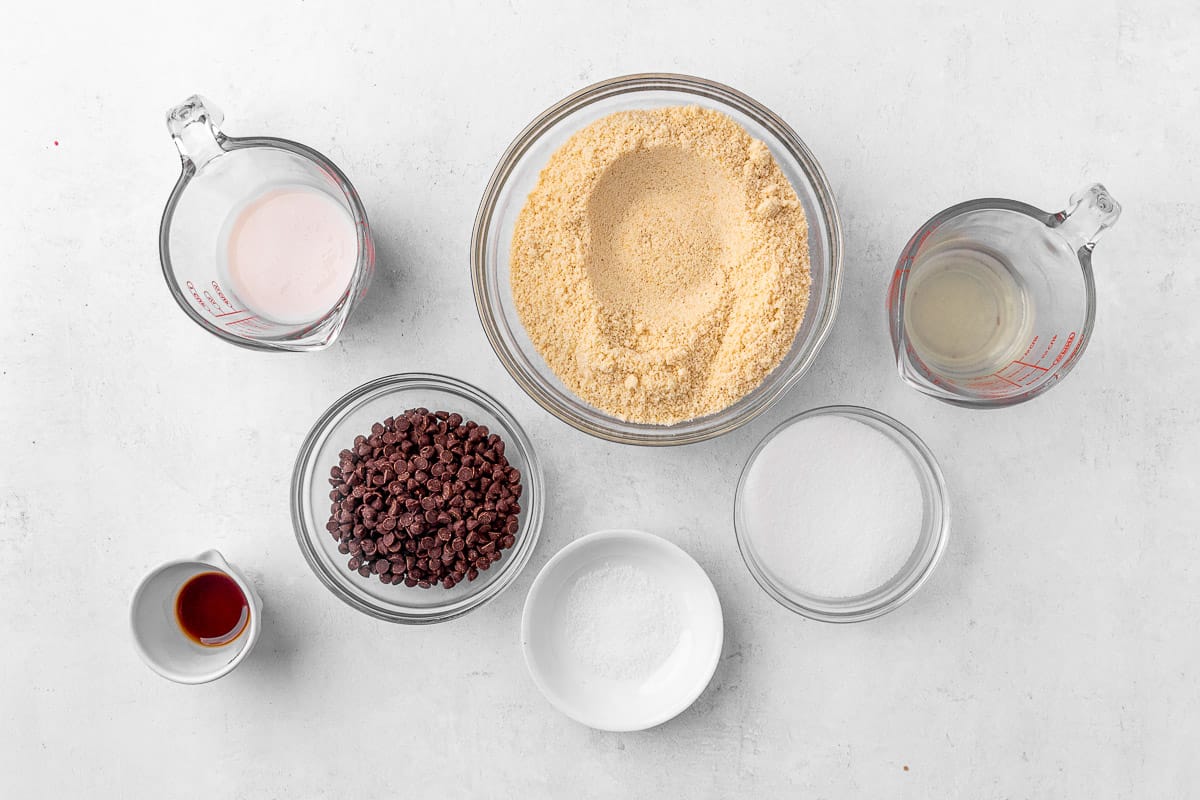 How to make edible cookie dough
Mix the almond flour, sugar, and salt until well combined.
Add the almond milk, melted coconut oil, and vanilla extract to the almond flour mixture. Stir until a dough-like consistency forms.
Add in the chocolate chips.
Using a spatula or a wooden spoon, fold the cookie dough and the chocolate chops together.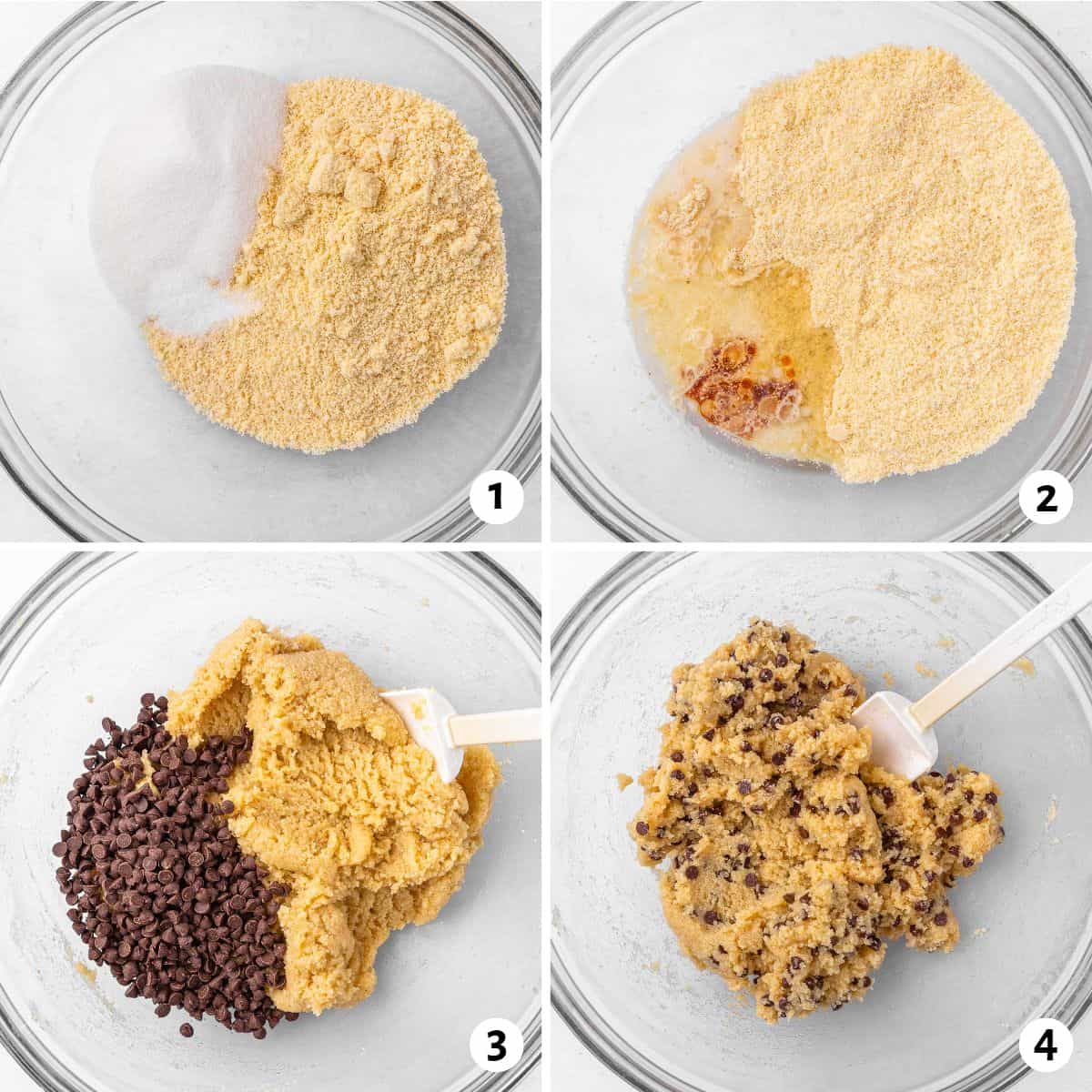 Tips for making the best edible cookie dough recipe
Taste a small amount of the cookie dough to ensure it's sweet enough for your liking. Since it's completely edible, you can taste it while mixing it to decide if it needs more sugar or vanilla extract.
Adjust the dough consistency. The cookie dough should have a slightly sticky but moldable texture. If the dough feels too sticky, gradually add more almond flour, one teaspoon at a time, until it becomes easier to handle. If the dough feels too dry, add more milk, one teaspoon at a time, until you achieve the desired consistency.
Roll into cookie balls. While you can just dig into the bowl straight with a spoon, I like rolling the gluten-free cookie dough into balls. It makes 12 servings and makes it easier to avoid eating the entire bowl in one sitting.
Use Melted and Cooled Coconut Oil: Make sure your coconut oil is melted but not scorching hot before using it in your dough. Adding hot oil can change the texture of your dough and potentially melt the chocolate chips. It's best to let it cool down if you had to use heat to get it to its liquid form.
Patience in Chilling: If you can resist, allow your cookie dough to chill in the fridge for about 30 minutes before scooping and serving. This allows the flavors to meld together and the dough to firm up, enhancing the overall taste and texture.
Popular additions & substitutions
Use butter for a richer flavor. I prefer to keep this vegan with coconut oil, but you can use regular melted butter or vegan butter for that unmistakable cookie flavor. Same principle though, as the coconut oil, avoid scorching hot melted butter!
All the delicious add-ins. Consider adding some chopped nuts like pecans, walnuts, or almonds for extra crunch and flavor. Or try pretzel pieces for a salty-sweet combination. Or perhaps a touch of natural sweetness in dried fruits like cranberries, cherries, or dried apricots. The possibilities are endless!
Coconut delight. If you enjoy the taste of coconut, add some shredded coconut to the dough. You can take it up a notch and add chopped almonds to recreate Almond Joy in cookie dough form.
Decadent chocolate bliss. Add a tablespoon of cocoa powder to intensify the chocolate flavor. Take that to a whole new level and give it Rocky Road flavor by adding chopped almonds and marshmallows to the chocolate cookie dough.
Cookie dough ice cream. This recipe is excellent to add to your favorite ice cream. Try it in no churn ice cream, or add small balls to mason jar ice cream for a no-fuss treat.
Change Up The Flour
Coconut Flour: If you're out of almond flour or looking for a nut-free alternative, you can use coconut flour. However, keep in mind that coconut flour is much more absorbent than almond flour. Generally, you'll need to use about ¼ to ⅓ cup of coconut flour for every cup of almond flour in a recipe. So for this recipe, start with ½ cup of coconut flour and adjust if necessary.
All-Purpose Flour: You can substitute all-purpose flour for almond flour in a 1:1 ratio. However, raw all-purpose flour is not safe to eat out of the bag due to the risk of E.coli, so you will need to heat treat it first. To do this, spread your flour on a baking sheet and bake it at 350°F (175°C) for about 5 minutes or until it reaches an internal temperature of 160°F (70°C). Let it cool completely before using it in your recipe. This extra step will kill any potential bacteria and make your flour safe for this edible cookie dough recipe.
How to Store Edible Cookie Dough
Storing your edible cookie dough is straightforward and easy. Simply place your unused cookie dough in an airtight container. You can keep it in the fridge or freezer depending on how long you plan to store it.
How Long Can I Store Edible Cookie Dough in the Fridge?
When stored properly in an airtight container in the fridge, your edible cookie dough should last up to 5 days. Always check the dough before eating – if it has any odd smells or colors, it's best to err on the side of caution and discard it.
Remember, this recipe does not contain any preservatives or eggs, which makes it safer to eat raw but also means it doesn't have as long a shelf life as traditional cookie dough. Enjoy it as a treat within a few days for the best experience.
Can I freeze homemade edible cookie dough?
Yes! This freezes beautifully and will keep well for up to a month. It's best to freeze them in individual balls on a baking sheet first, then transfer to a freezer bag or container. This will allow for quick and easy thawing when you want a treat. Or to eat one straight out of the freezer!
Frequently asked questions
How do I know when the dough has the right consistency?
You're looking for a dough that's not too dry and crumbly, but not too wet and sticky either. It should hold together well when you press it, but it shouldn't stick to your fingers.
Can I bake this cookie dough to make traditional cookies?
This cookie dough is made to be eaten raw, not baked into cookies. The dough has no leavening agents, so they will not rise or spread out. If you baked them, they would come out quite dense and greasy, so enjoy them in raw form!
I don't have a cookie scoop. How else can I portion the dough?
If you don't have a cookie scoop, a regular tablespoon will work just fine. You can also use your hands to roll the dough into balls.
This edible chocolate chip cookie dough with almond flour is the perfect, quick treat to satisfy your sweet cravings. It's simple to make, with no baking or heat treatment required, and it's versatile enough for you to customize with your favorite mix-ins. Whether you're making it for a solo treat, a fun activity with the kids, or a unique dessert for a gathering, it's bound to be a hit..
More vegan dessert recipes:
If you've tried this healthy-ish feel good Edible Cookie Dough recipe or any other recipe on FeelGoodFoodie, then don't forget to rate the recipe and leave me a comment below! I would love to hear about your experience making it. And if you snapped some shots of it, share it with me on Instagram so I can repost on my stories!
How to Make Edible Cookie Dough
Learn how to make edible cookie dough that's safe to eat at home! This easy cookie dough recipe is gluten-free, dairy-free, and vegan-friendly!
Instructions
In a medium mixing bowl, whisk together the almond flour, granulated sugar and salt until well combined.

Add the unsweetened almond milk, melted coconut oil, and vanilla extract to the almond flour mixture. Stir until a dough-like consistency forms. Add more almond flour if it feels too sticky.

Fold in the chocolate chips using a spatula or a wooden spoon.

Once the dough is well mixed, you can either enjoy it immediately or refrigerate it for about 30 minutes to firm it up.

After chilling, enjoy as is or use a 1.5 tablespoon-size spring loaded cookie scoop to scoop out portions of the cookie dough.
Notes
Storage: Store in an airtight container in the fridge for up to 5 days or in the freezer for 1 month.
Freezing Instructions: If storing in the freezer, scoop out 1 tablespoon size mounds and freeze individually to facilitate defrosting for snacking.
Substitutes: For best results, follow the recipe as is. However here are some common substitutes that would work well in this recipe.
You can use granulated sugar instead of cane sugar.
You can use melted butter (regular or vegan) instead of coconut oil.
You can use any type of milk.
You can use white, milk or semi-sweet chocolate chips if you prefer.
Nutrition
Calories:
223
kcal
,
Carbohydrates:
14
g
,
Protein:
6
g
,
Fat:
18
g
,
Saturated Fat:
5
g
,
Polyunsaturated Fat:
0.1
g
,
Monounsaturated Fat:
0.2
g
,
Cholesterol:
0.1
mg
,
Sodium:
42
mg
,
Potassium:
32
mg
,
Fiber:
3
g
,
Sugar:
8
g
,
Vitamin A:
1
IU
,
Vitamin C:
0.03
mg
,
Calcium:
75
mg
,
Iron:
1
mg
Nutrition information provided is an estimate. It will vary based on cooking method and specific ingredients used.