This post may contain affiliate links. Please read our disclosure policy.
If you've never had mason jar ice cream, you're in for a fun treat! I am going to show you how to make this simple homemade ice cream recipe with just 4 ingredients and a little arm power. It's one of those novelties that kids and adults both enjoy and get a sense of satisfaction from making.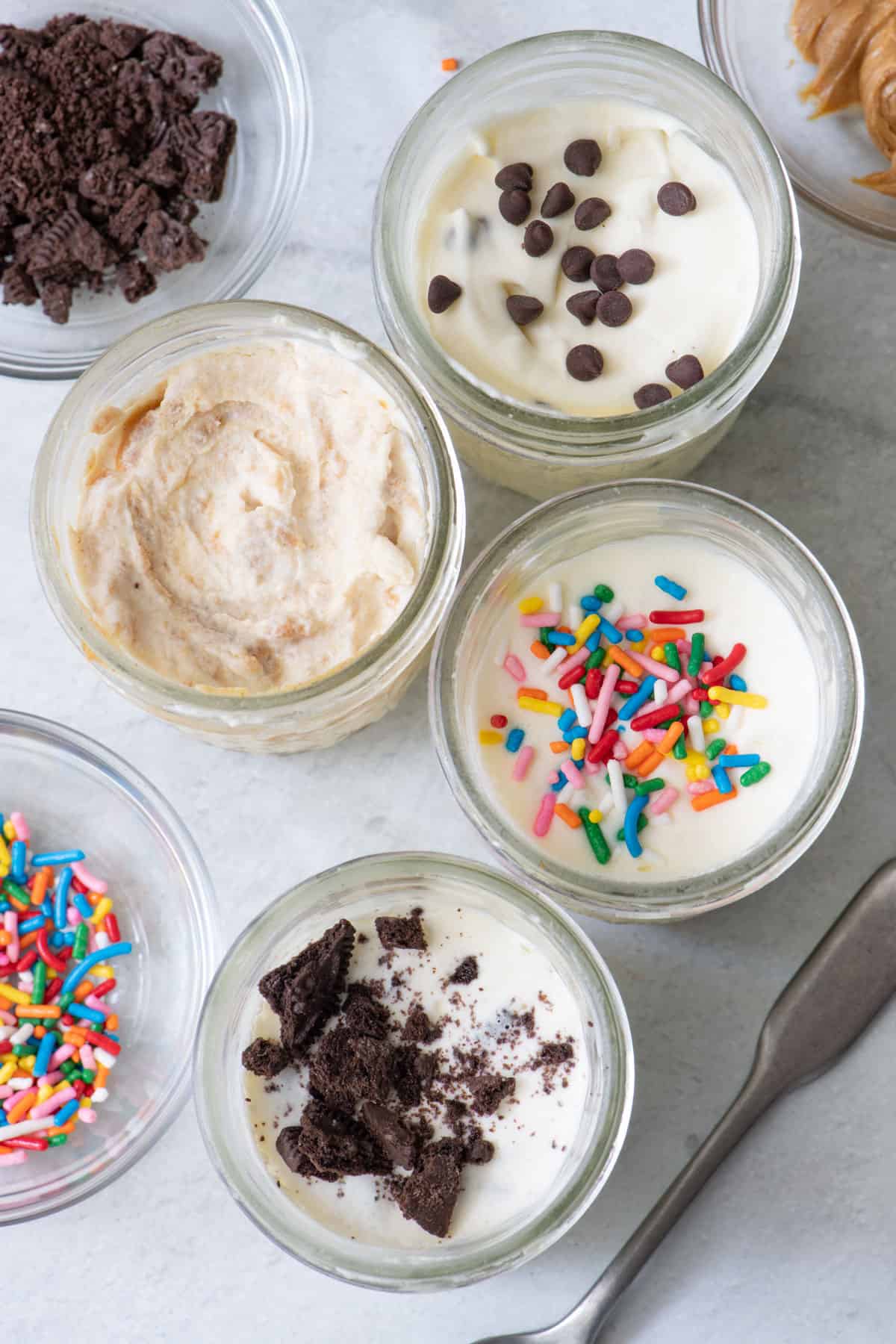 Summertime is the perfect time for ice cream (really, any time of the year is a perfect time for ice cream)! This mason jar ice cream recipe is so easy and will have the kids (and you) anxiously checking the freezer to see the final results.
why you'll love this homemade mason jar ice cream
Fun to make! If you've ever made mason jar butter, you'll love this ice cream method too. In fact, you'll love it even more because you can actually eat the whole thing when it's finished.
You can get creative with your flavors and mix-ins. The sky is the limit when it comes to mason jar ice cream flavors. You can go classic with chocolate and vanilla or get creative with mix-ins like crushed cookies, candy, or fresh fruit.
It's a great activity to do with kids. This is a perfect recipe to involve the kids in because they can help measure, pour, and shake everything together.
No need for an expensive ice cream maker. For some, homemade ice cream may seem like an expensive endeavor because you have to buy an ice cream maker. But for this mason jar method, all you need is a little arm power and some patience while it freezes.
Ingredients to make mason jar ice cream
Heavy cream: You'll need half a cup of heavy cream for this recipe. You could also use whipping cream, but I find that the heavy cream yields a richer ice cream.
Sugar: Regular granulated sugar is what you'll need for this recipe. You will want to add some sort of sweetness to the heavy cream, or it will be like eating frozen milk.
Vanilla extract: This is completely optional, but I like to add a teaspoon of vanilla extract for flavor.
Sea salt: A pinch of salt helps to balance out the sweetness and enhances the flavors.How to make mason jar ice cream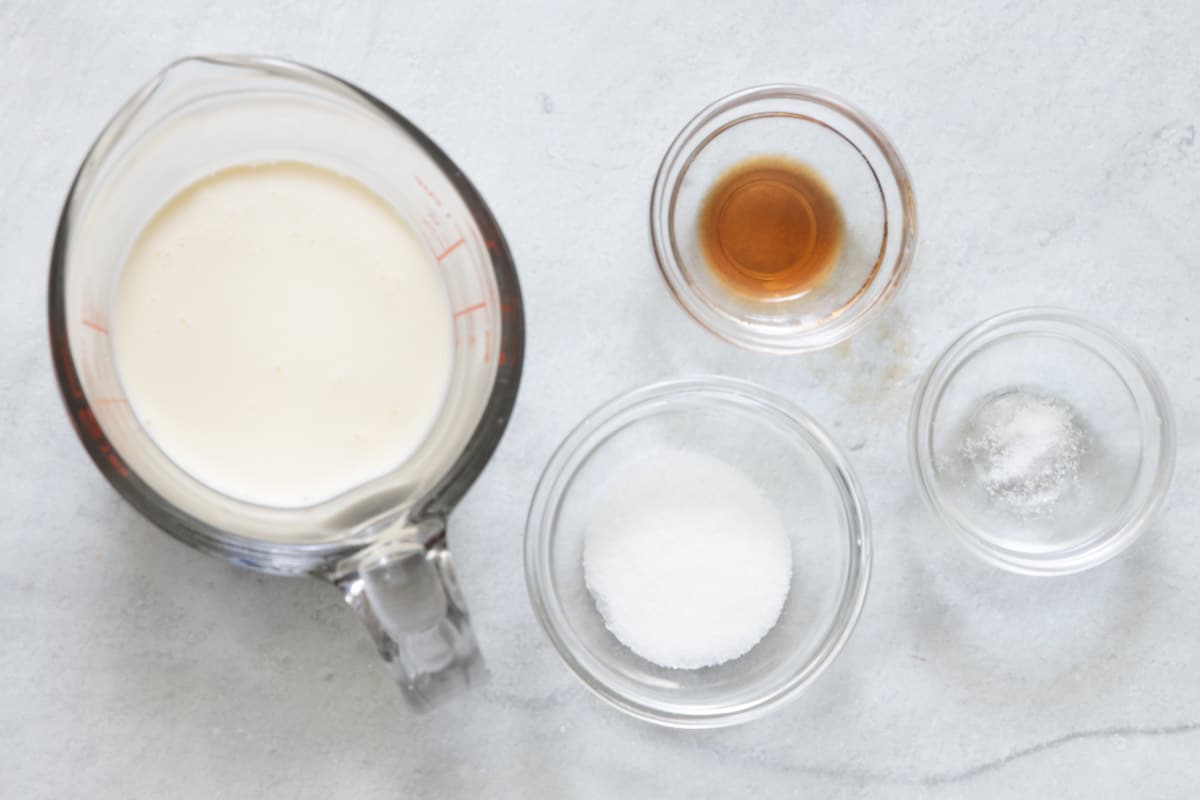 How to make mason jar ice cream
Pour cream into your mason jar.
Add in the sugar.
Next, is the vanilla.
Last but not least, the salt.
Cover the jar with its tight-fitting lid and shake until the ingredients become thick and double in size.
Freeze until the consistency resembles soft-serve ice cream, and enjoy!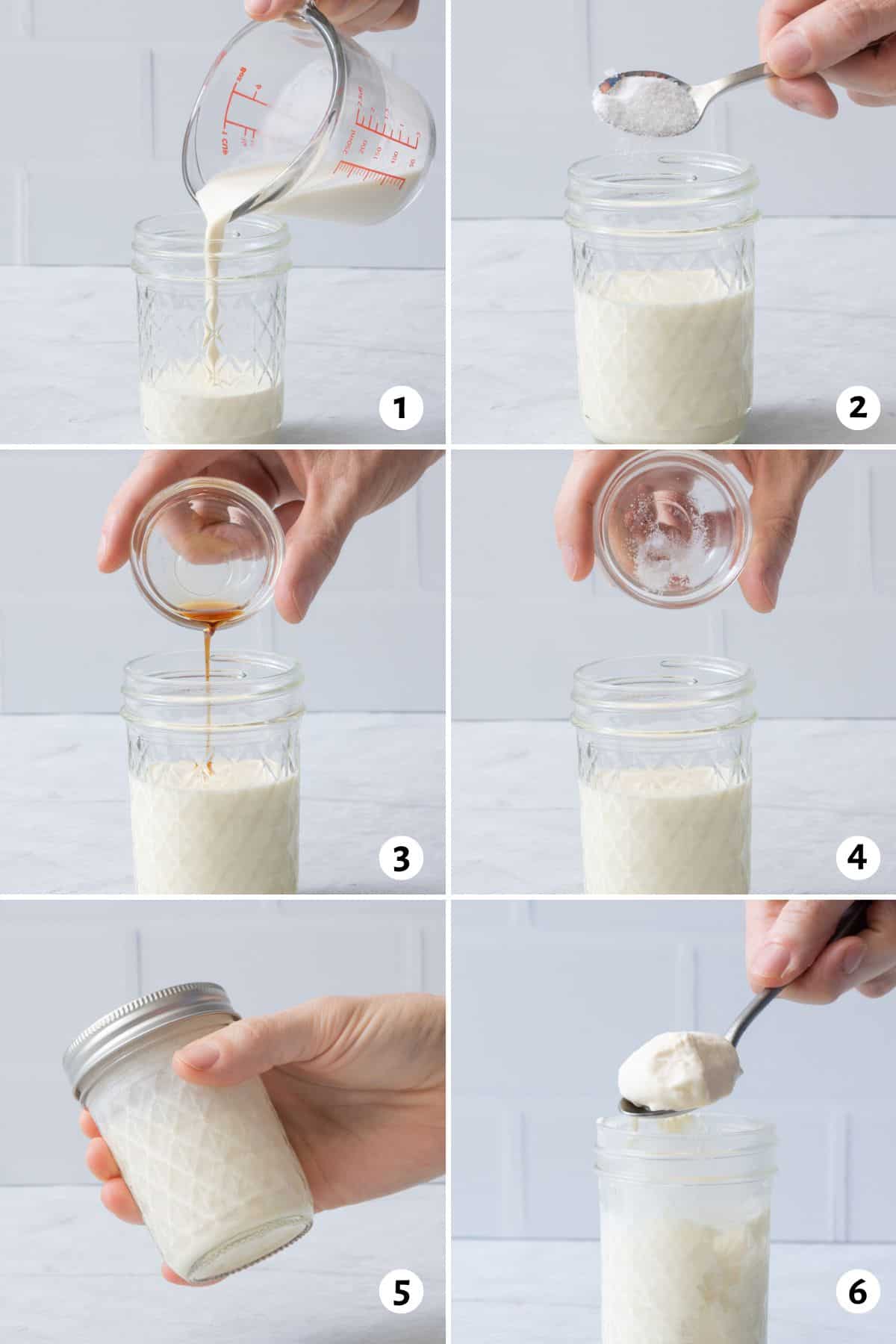 Tips for making homemade mason jar ice cream
Use a wide-mouth mason jar to make the ice cream. This is great if you want to use a whisk for making the ice cream and even better for when it's time to enjoy the ice cream right out of the mason jar.
Make sure not to over-mix. If you're shaking by hand, this shouldn't be an issue. However, if you're using a whisk, you could potentially over-mix and turn the heavy cream into whipped cream or butter. The best way to test this is to dip the spoon into the jar and pull it out. Look for the back of the spoon to be covered with the mixture but easily drip off.
Don't freeze for more than 3 hours. You're looking for a soft serve consistency for the ice cream. If you freeze for longer, the consistency can be hard, or you may get ice crystals.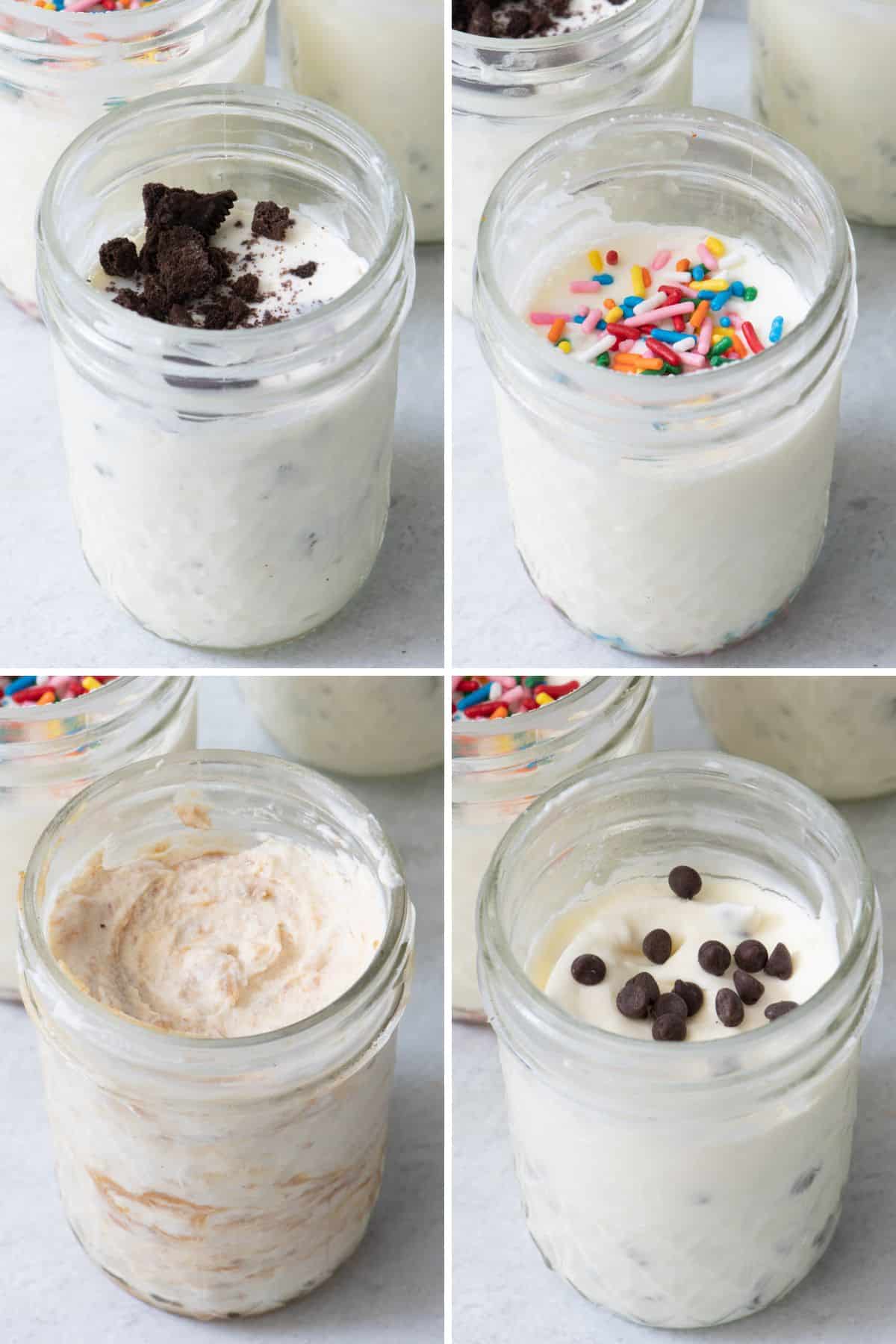 add-ins & topping ideas
how to store mason jar ice cream
This ice cream recipe should really be eaten within 3 hours of making it for the best taste, consistency, and quality. However, if you have leftovers, you can store them in the freezer.
When you're ready to eat it again, let it sit out on the counter for about 15 minutes so it can soften up a bit.
how long will mason jar ice cream last in the freezer?
Ideally, you'll want to eat it within a week for the best quality. After that, it will still be safe to eat but may not taste as good.
Frequently asked questions
Can I use regular milk instead of heavy cream to make mason jar ice cream?
Yes, but I don't recommend it. The fat in heavy cream is what makes this ice cream creamy and rich. Milk (even whole) does not have enough fat content to make a good mason jar ice cream, and you may end up with icy milk due to the water content if you use it.
Can I make this mason jar ice cream without sugar?
Yes, you could try using a sugar substitute like honey, maple syrup, or stevia. Or you could omit the sweetener altogether and just add some mix-ins that are already sweet, like crushed cookies or chocolate chips.
What can I use if I don't have a mason jar?
You could use any type of airtight container that can be sealed shut. A ziplock bag would work in a pinch, but you'll need to transfer it to a freezer-friendly container.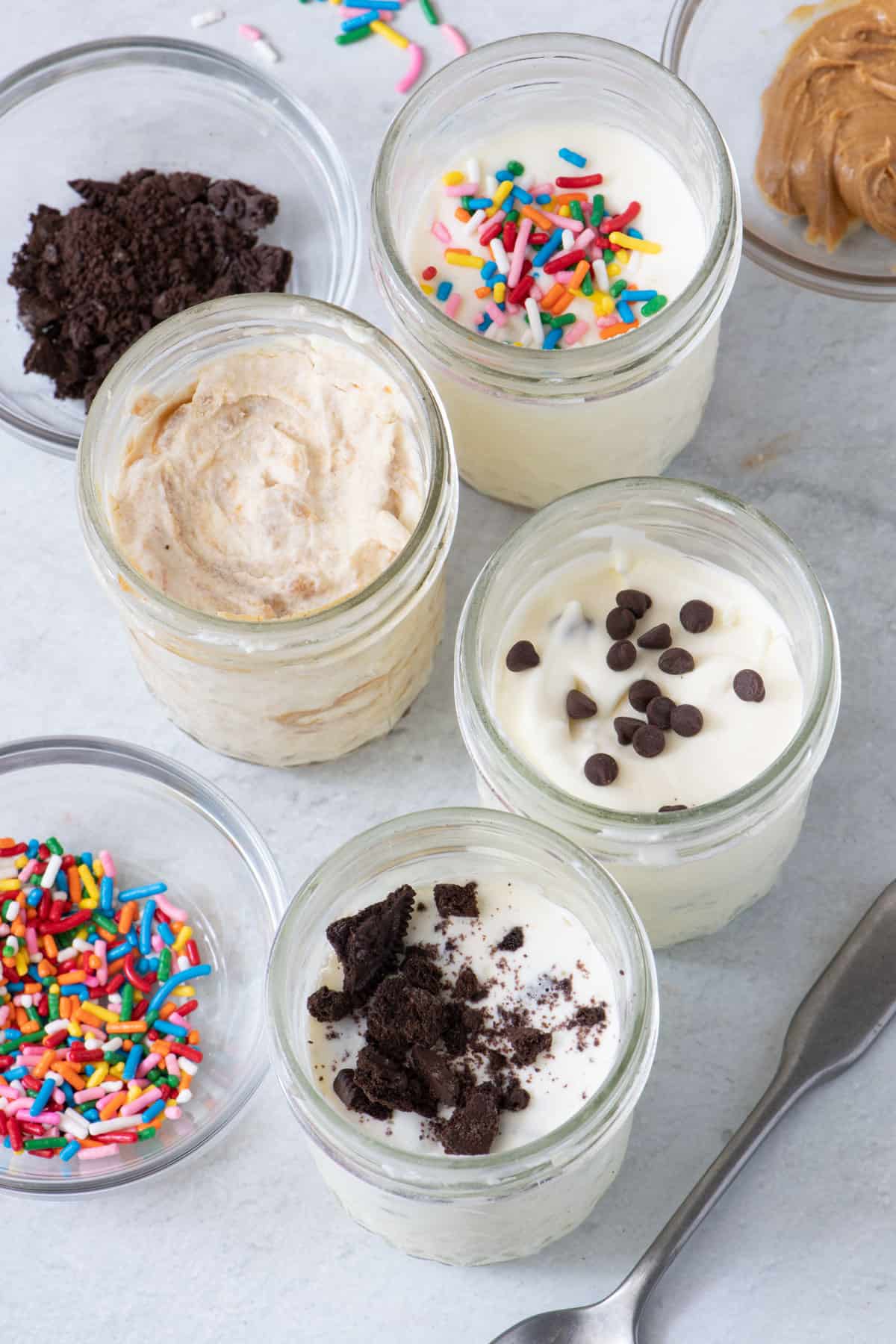 There you have it! A simple and fun homemade mason jar ice cream recipe that the whole family will love. Be sure to try out some of your favorite flavor combinations, and let me know what you come up with in the comments below. Happy ice cream making!
More ice cream recipes:
If you try this feel good Mason Jar Ice Cream recipe or any other recipe on Feel Good Foodie, then don't forget to rate the recipe and leave a comment below! It helps others who are thinking of making the recipe. We would love to hear about your experience making it. And if you snapped some shots, share it on Instagram so we can repost on Stories!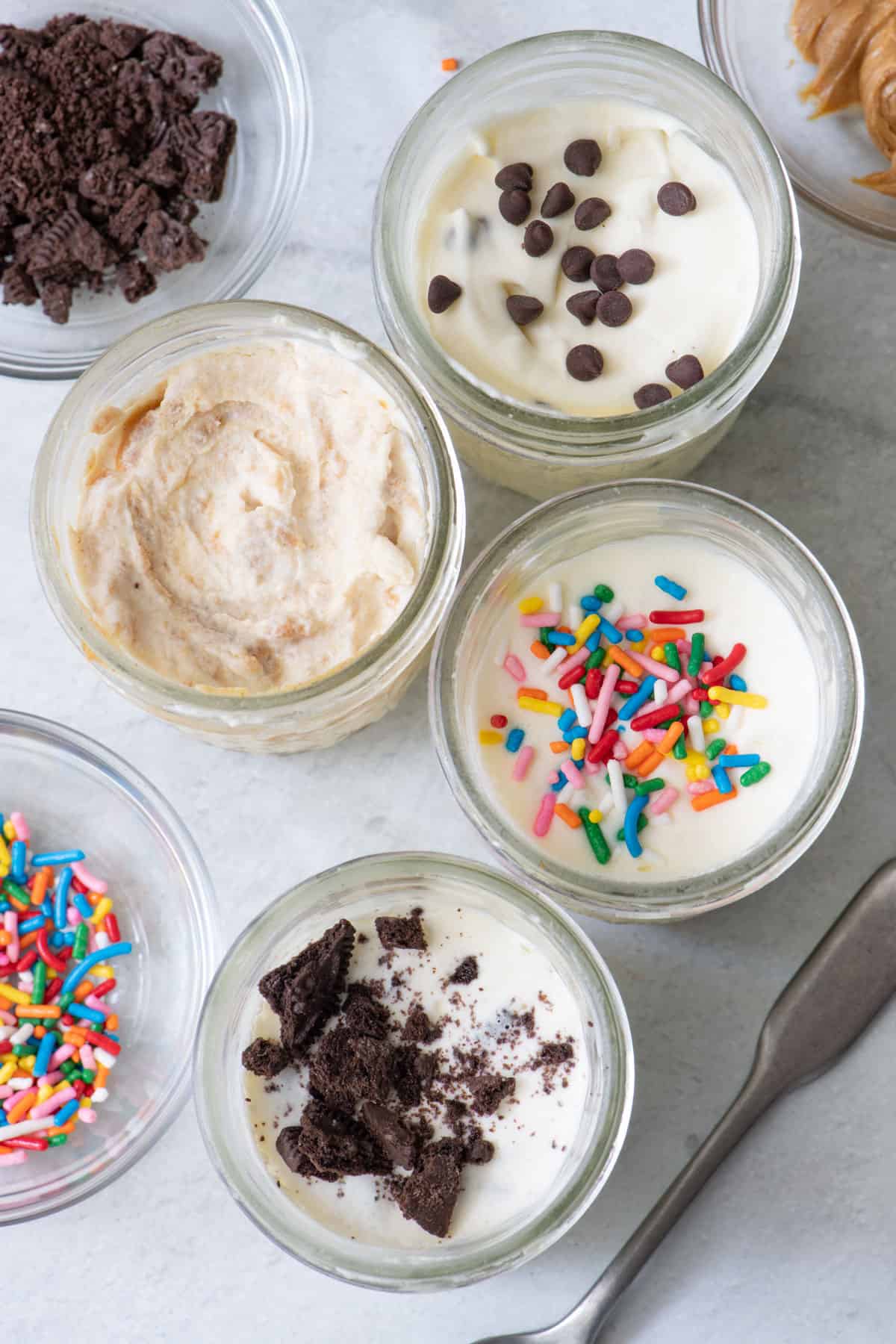 Mason Jar Ice Cream
This easy mason jar ice cream recipe uses 4 ingredients for a delicious soft serve ice cream. No ice cream maker required, and it's fun for the whole family!
Instructions
Pour cream, sugar, vanilla and salt into an 8 ounce mason jar. Add any mix-ins you're using. Cover the jar with its tight-fitting lid and shake until the ingredients become thick and double in size, about 3 to 4 minutes. You can also use an electric mixer to blend quicker.

Freeze for 2 to 3 hours until the consistency resembles soft-serve ice cream, being careful not to freeze any longer to avoid ice crystals.

Scoop out ice cream and serve with your favorite toppings
Notes
Tip: If you accidentally over-mix your ice cream base, turn it into whip cream instead. If you go beyond whipped cream into the butter territory, don't toss it! Save it for a sweet treat to use on toast, bagels, or English muffins. 
Nutrition
Calories:
438
kcal
,
Carbohydrates:
11
g
,
Protein:
3
g
,
Fat:
43
g
,
Saturated Fat:
27
g
,
Polyunsaturated Fat:
2
g
,
Monounsaturated Fat:
11
g
,
Cholesterol:
134
mg
,
Sodium:
32
mg
,
Potassium:
115
mg
,
Sugar:
12
g
,
Vitamin A:
1749
IU
,
Vitamin C:
1
mg
,
Calcium:
79
mg
,
Iron:
0.1
mg
Nutrition information provided is an estimate. It will vary based on cooking method and specific ingredients used.