This post may contain affiliate links. Please read our disclosure policy.
Learn how to make whipped cream the simple, old-school way, with a bowl, a whisk, and arm power. You only need two ingredients – heavy cream and sugar – to put together this classic dessert topping. FYI, young scientists and/or cooks may relish this challenge: Adding enough air to this liquid (cream) creates a foam (whipped cream)! For more!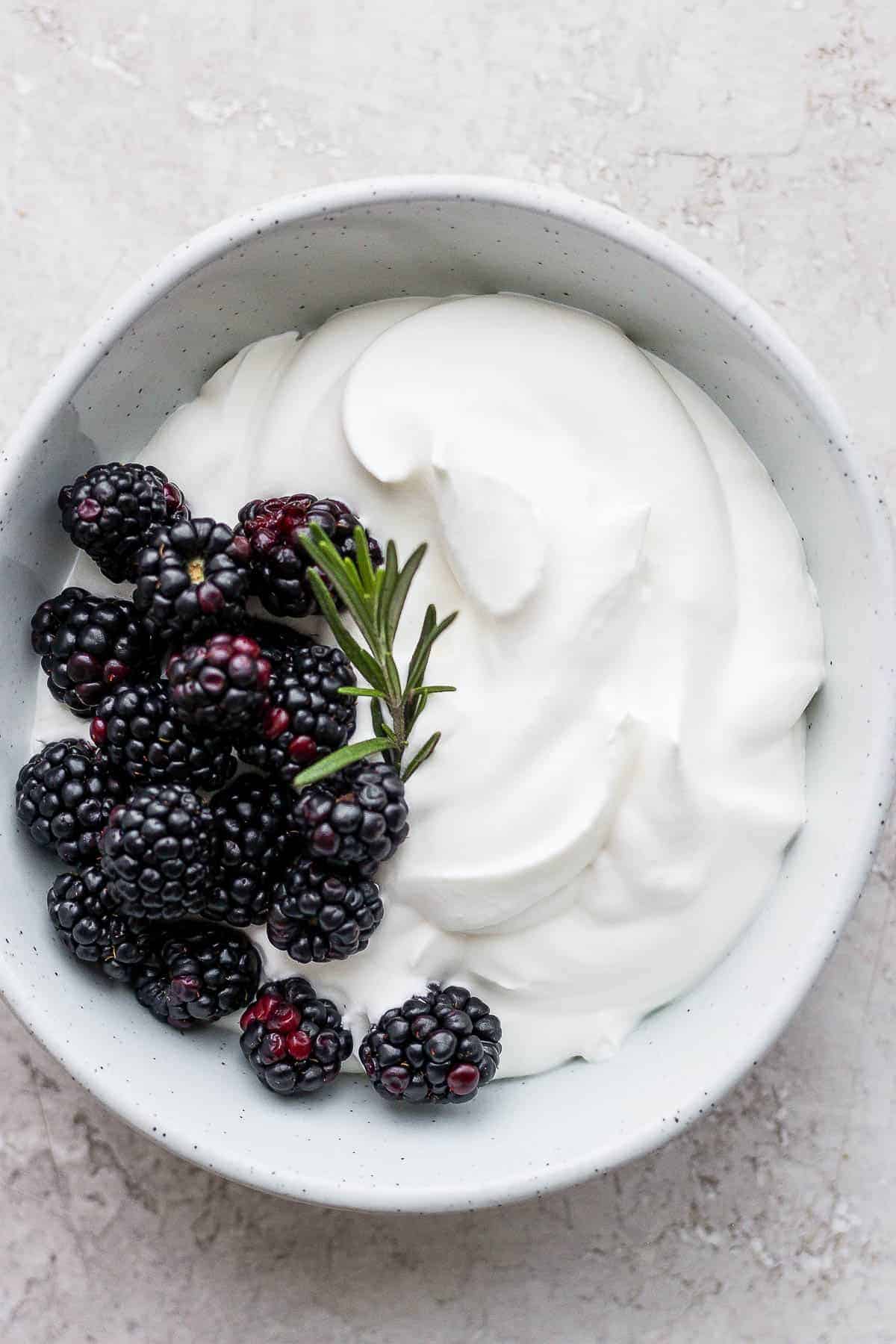 Typically, whipped cream sold in aerosol cans includes corn syrup and other additives. Avoid them all. Make your own.
2 ingredient recipe
Heavy cream: It may be labeled "heavy whipping cream" or just "heavy cream."
Sugar: Regular granulated works fine. Superfine or powdered sugar will also do.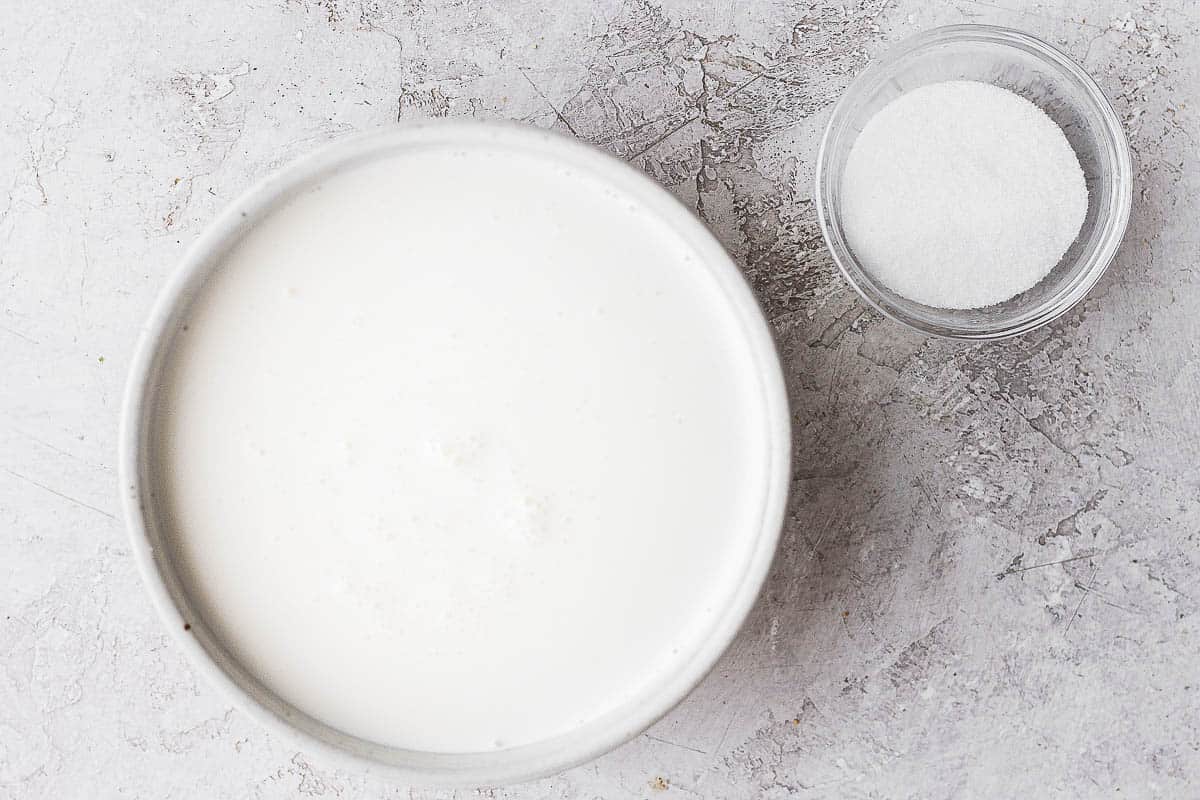 How to make homemade whipped cream
Begin by placing a bowl and whisk in the freezer for at least 15 minutes prior to whipping the cream. (Make sure the bowl is freezer-safe. Some pottery is not.)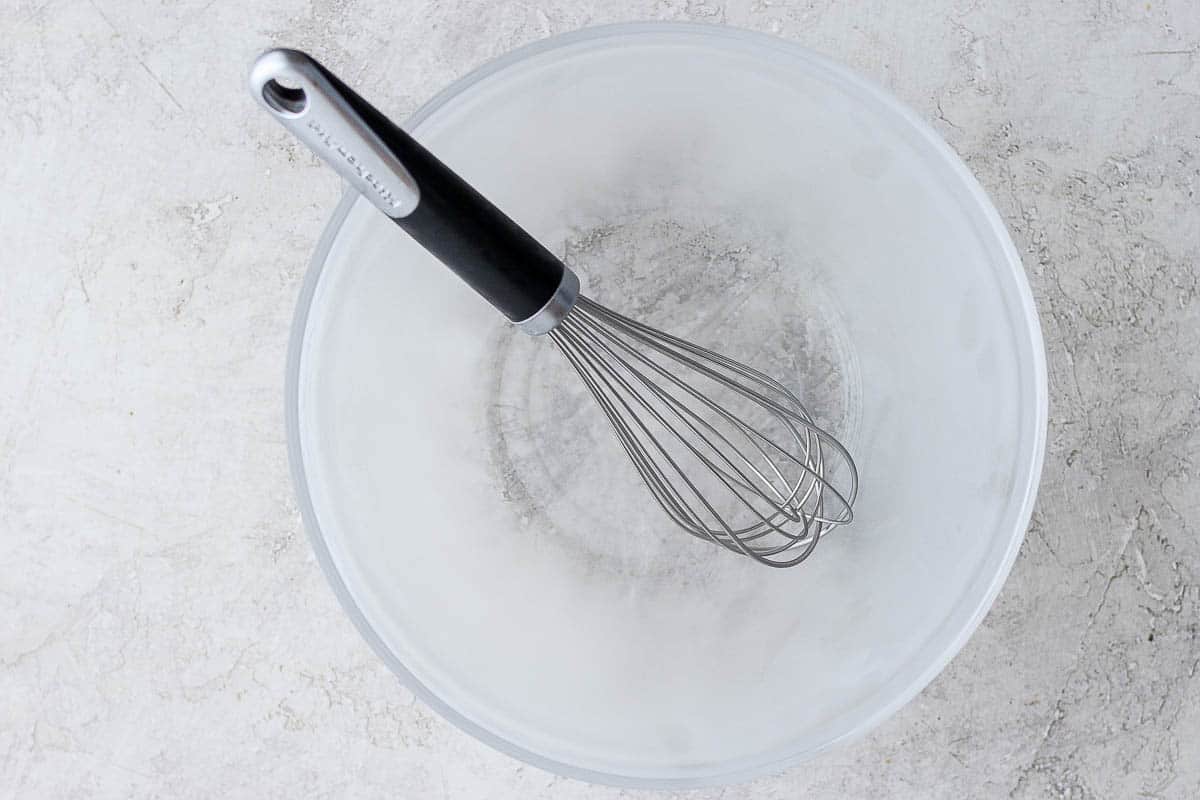 Take the bowl out and add cream and sugar.
Whisk back and forth and front to back.
Feel the texture move from soupy to the consistency of thick yogurt.
Eventually, it takes on even more body . .
Until it will form peaks.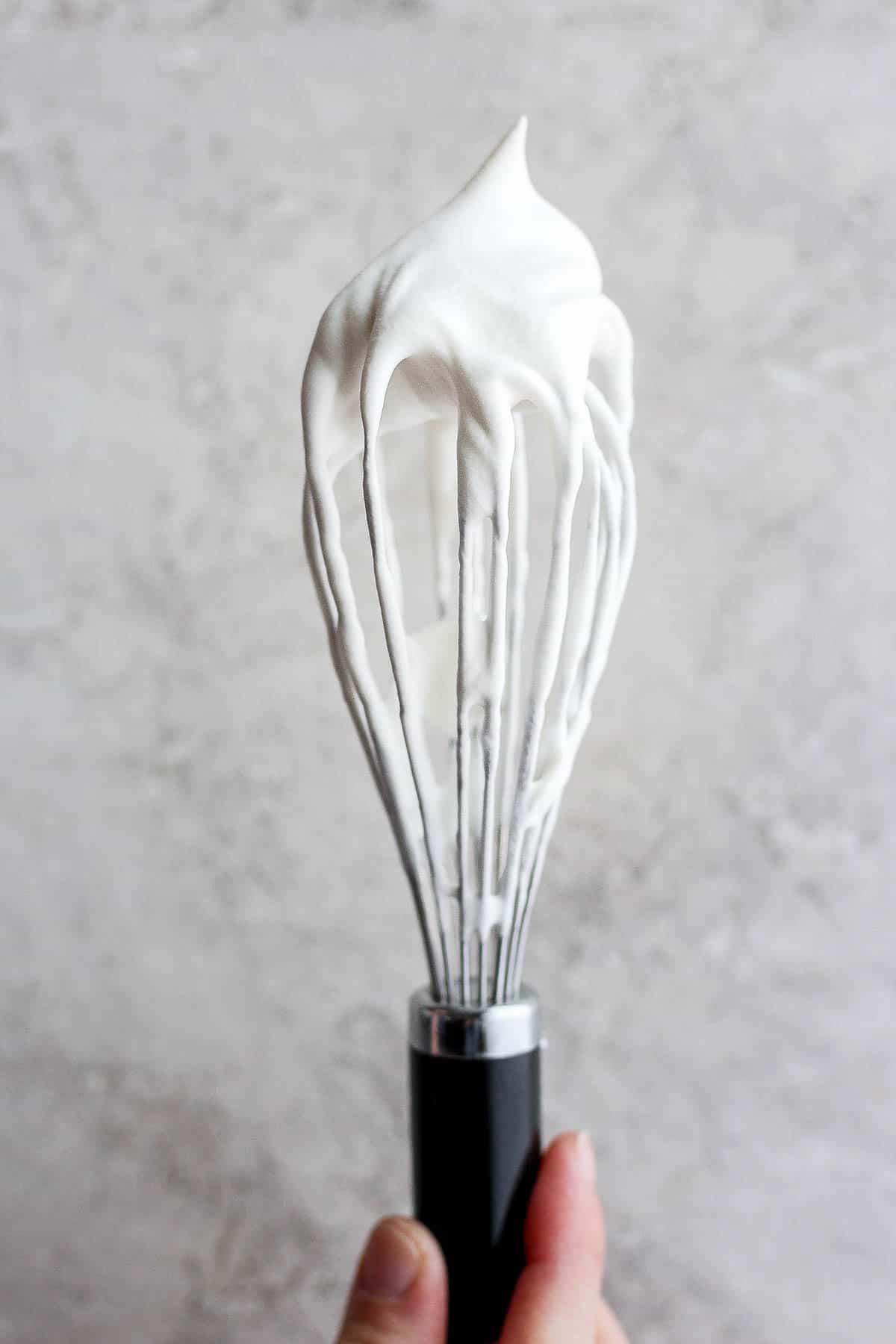 Tips for making whipped cream
Add a small pinch of salt to the mixture in the stand mixer. It will enhance the flavor of the cream. Make sure to add prior to whipping
Use a metal bowl, if possible. Metal stays colder than glass or ceramic bowls. However, avoid copper or plastic bowls. Beware that both copper and plastic bowls can, for various reasons, chemically inhibit your cream from fluffing up.
Swap granulated sugar with honey or maple syrup for alternative sweeteners.
Add flavor with a teaspoon of vanilla, lemon, or almond extract; instant coffee or espresso crystals; or cocoa powder (will require extra sugar, too;). Add at the start.
Buy the cream marked "heavy" or "heavy whipping" cream. It has the highest fat content which creates the most stable whipped cream. Cream labeled "Light" will work but be lighter in texture and will not hold its shape as long.
Use fresh cream because it is the easiest to whip.
Make it faster in a stand mixer or hand held mixer.
Recipes with whipped cream
Frequently asked questions
How long will it last in the refrigerator?
Fresh whip cream can be refrigerated for up to four days. If you plan on using your cream later, the Joy of Cooking recommends slightly under whipping and then giving a few brisk stirs right before serving for peek peaks.
Can I freeze whipped cream?
Yes! Make sure you have it wrapped up airtight and allow 10 to 15 minutes of defrosting before use. It should last in the freezer for three months.
I think I have over whipped my cream, what should I do?
Whipped cream has a point of no return. The second it starts to get a little piece-y or grainy, stop. It is still useable, though maybe not gorgeous. If you have extra cream, add a teaspoon at a time and whisk gently to return to a nice texture. But if the cream is very chunky, you are making butter and there is no turning it back.
Can I use my stand or hand-held mixer instead of a whisk?

Yes, if you prefer. It is still a good idea to chill the bowl and whisk or beaters. Beat on a medium-high speed and proceed carefully as the cream thickens so as not to overbeat into butter.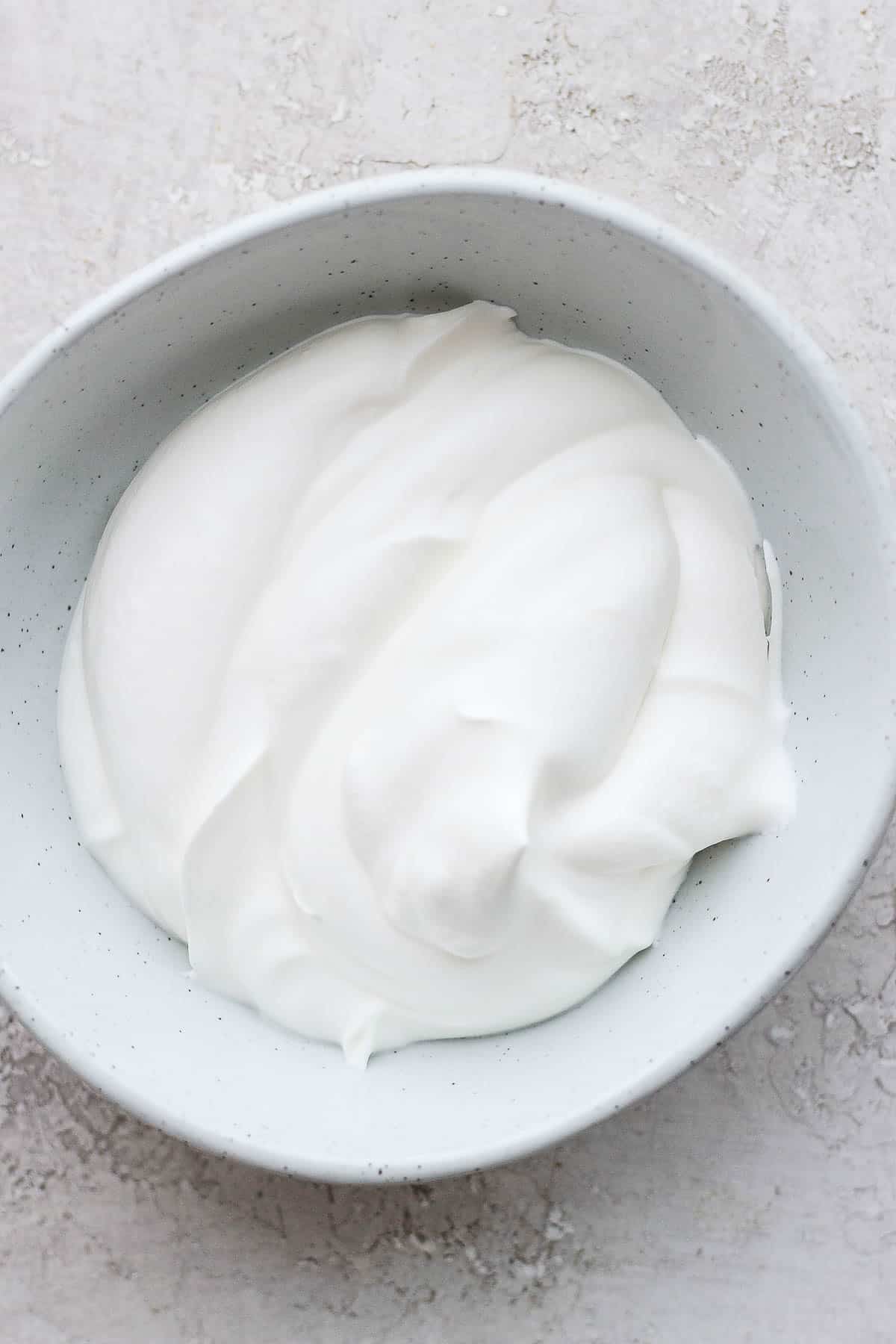 It seems impossible that something so delicious and decadent can be this easy, but it is. Try making your own homemade whipped cream and you'll taste the difference!
For more easy tutorials, check out:
If you've found this cooking resource for How to Make Whipped Cream helpful or if you've tried any recipe on FeelGoodFoodie, then don't forget to rate the recipe and leave me a comment below! I would love to hear about your experience with this technique. And if you snapped some shots of it, share it with me on Instagram so I can repost on my stories!
How to Make Whipped Cream
Learn how to make whipped cream with this homemade recipe made with only heavy cream and sugar – perfect for dessert topping & fruit dipping!
Instructions
Place a bowl and whisk in the freezer for 15 minutes prior to whipping the cream

Place cream and sugar in the cold mixing bowl and whisk back and forth and front to back until you have just reached stiff peaks.
Notes
Storage: Store in an airtight container for up to 4 days, depending on the freshness of your cream.
Freezing: Freeze in an airtight container for up to 3 months. Thaw for 10 to 15 minutes before using.
Substitutions: For best results, follow the recipe as is. However here are some common substitutes that would work well in this recipe.
Heavy Cream: It's not recommended to substitute for anything else. You can use light heavy cream but the consistency won't be same or hold as well.
Sugar: You can substitute the granulated sugar for equal parts honey or maple syrup but the consistency is best with granulated sugar.
Photo Credit:
Erin Jensen
Nutrition
Calories:
431
kcal
,
Carbohydrates:
9
g
,
Protein:
2
g
,
Fat:
44
g
,
Saturated Fat:
27
g
,
Cholesterol:
162
mg
,
Sodium:
45
mg
,
Potassium:
89
mg
,
Sugar:
6
g
,
Vitamin A:
1739
IU
,
Vitamin C:
1
mg
,
Calcium:
77
mg
,
Iron:
1
mg
Nutrition information provided is an estimate. It will vary based on cooking method and specific ingredients used.