This post may contain affiliate links. Please read our disclosure policy.
Want to learn how to make cashew cream? Suddenly it is the darling of all sorts of sweet and savory vegan and dairy-free recipes. Why? Because cashew cream does a really good job of mimicking the fluffy lusciousness of traditional cream. Bonus, it is easy to make with only two ingredients. Let's go!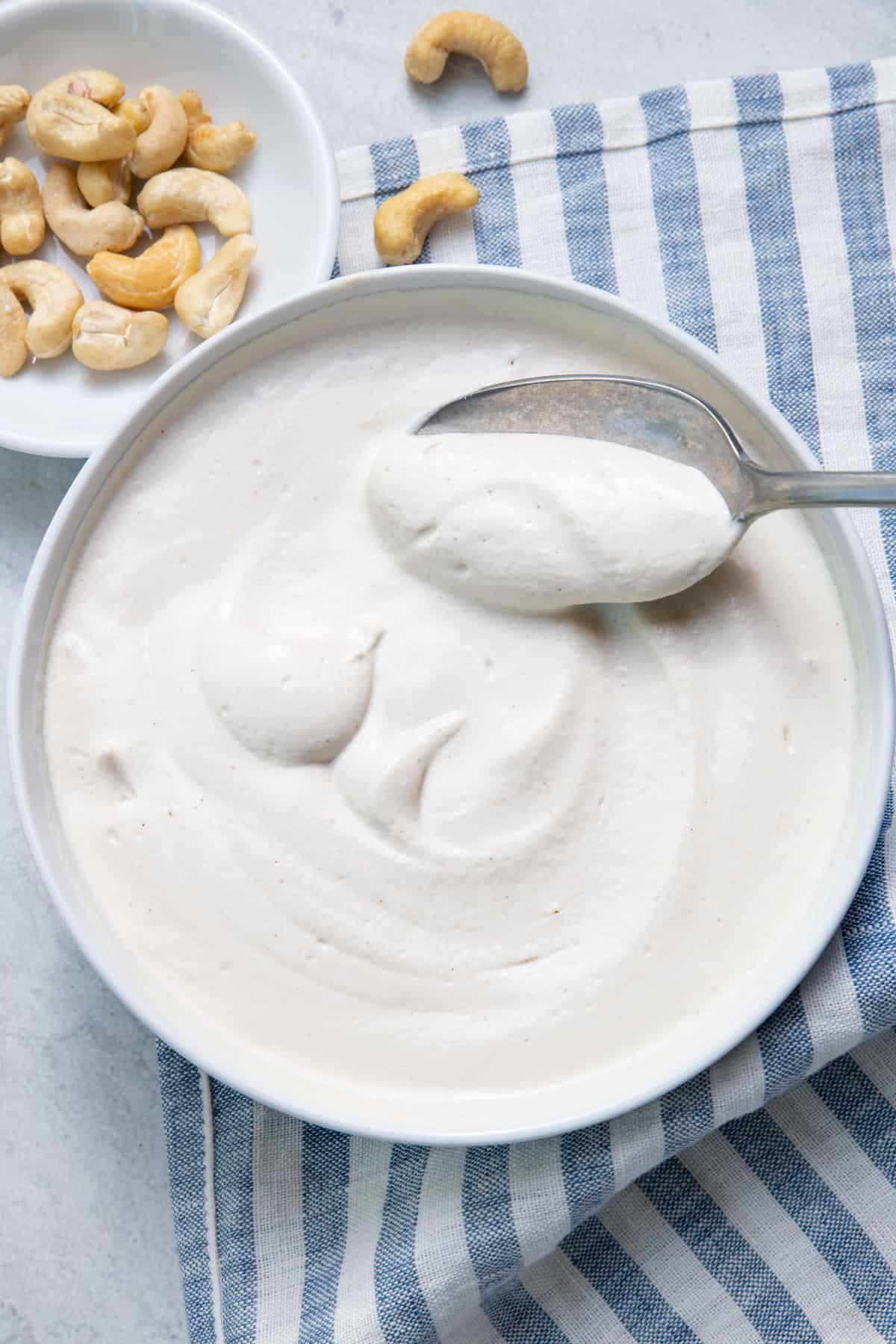 Making a nut cream employs the same process as making nut milk, like almond milk, but uses less water for a richer product. The basic process is soak the nuts, rinse, and then grind with fresh water. So simple!
WHY learn to MAKE CASHEW CREAM?
Great texture and neutral taste: It opens up more vegan and dairy-free options and hacks, because this nut cream achieves dairy-like results with a fairly neutral flavor. While, the common vegan sub, coconut cream, comes with its distinctive flavor.
Heats well: Vegan chefs love it because it behaves so similarly to traditional cream. It can be chilled and whipped into frostings and heated – without separating or getting weird – in pasta sauces.
No frantic supermarket searches: Cashew cream has become fairly mainstream in vegan kitchens, but manufacturers have not caught up. It can be hard to find on market shelves – physical or online. Save time and make it yourself with just raw cashews.
Makes healthier foods: While cashews and the cream from cow's milk and coconuts are all high-calorie foods, the fat in cashews contains more unsaturated fats (the heart-healthy ones) than either dairy or coconut cream. Plus, iron, calcium, and fiber!
ingredients to make cashew cream
Raw, unsalted cashews: Read labels and take a close look at your cashews' packaging. Raw cashews are a lighter beige than the roasted ones. The raw nuts possess a uniform, milky color and softer-looking texture.
Water: Filtered water, if available, is best here because it will not leave any chlorine taste in the cashew cream.
HOW TO MAKE Cashew cream
Put your raw, unsalted cashews in a bowl large enough to hold them with some room.
Cover with boiling water and let soak.
The soaked nuts absorb water, become bigger and softer.
Put the drained cashews in a blender or food processor.
Add fresh water on top and make sure it adequately covers the cashews.
Blend until smooth. The consistency should be like that of regular yogurt, thick, yet pourable. Now your cashew cream is ready for recipes!
TIPS FOR making cashew cream
Plan ahead: This recipes is super simple but it does take time. You cannot whip it up 30 minutes before starting a recipe so plan accordingly.
Soak overnight if possible. While it's enough to soak the raw cashews for one hour, soaking overnight will help to really soften them so they are extra creamy for the sauce.
Refrigerate: If soaking more than two hours, put them in the refrigerator and cover.
Don't use roasted cashews. Unlike raw cashews, roasted cashews will taste toasty and they do not produced as creamy of a final product.
Scape your blender for maximum creaminess: Pause and scrape down the sides of your blender to make sure every piece of nut gets incorporated.
Add more water if needed: If the cream seems thicker than you would like, keep adding more water, a half teaspoon at a time, to achieve the desired consistency.
Strain according to use: When, an ultra-thick consistency is desired, put the nut cream in a colander lined with cheesecloth and strain until desired texture is reached. For instance, if you are using the nut cream to replace cream cheese in frosting, definitely strain to thicken. If it is replace heavy cream in pasta sauce, do not bother.
Cashew cream variations
The cashew cream recipe is only made with cashews and water so it has the most flexibility to be used for any dish. However, here are some popular variations you can try if using for a specific recipe.
Nutritional yeast: The vegan's favorite way to add a cheesy note to everything. This is great if you are using cashew cream on pasta. Add to taste starting with a heaping tablespoon and going up to even ½ a cup. This pairs well with adding salt and lemon juice, too.
Salt: Salt always enhances the flavor of food and if your cashew cream is destined to be slathered plain on a sandwich or atop a baked potato, salt is a great edition. Use ½ to 1 teaspoon.
Garlic & herbs: One to two cloves of minced garlic and a few teaspoons of your choice of minced fresh herbs (or a lesser amount of dried) make cashew cream into a smashing spread for crackers or an excellent base for pasta sauce.
Acid: One to two tablespoons of lemon juice or white vinegar will help give cashew cream the tang that mimics sour cream.
Liquid sweetener: Start with one teaspoon and add to taste when sweetening the cream to use on baked goods. Honey, maple syrup, or agave syrup – use whatever works with the treat to be topped.
Dates: For a natural, non-sugar sweetener, pit and soak one to two fresh Medjool dates in boiling water. (Depending on the freshness of the dates, they may take from 10 minutes to one hour to soften.) Cut the dates into smaller pieces before blending with with cashews.
recipes to make with cashew cream
HOW TO STORE Cashew Cream
Store cashew cream in a tightly lidded jar in the refrigerator.
HOW LONG WILL CASHEW CREAM LAST IN THE FRIDGE?
Cashew cream has a fairly short refrigerator life. It is best used within three to four days. Do not use it if it looks or smells off.
CAN I FREEZE CASHEW CREAM?
Yes! It will last six months in the freezer. Pack tightly in a freezer-safe ziplock-type bag or freezer-safe container. Fill the container almost to the top. Before placing a lid on the container, cut a small piece of parchment paper over the very top to prevent freezer burn.
FREQUENTLY ASKED QUESTIONS
Oops, I bought roasted, salted cashews will my cashew cream be a total disaster?
It will not be a total disaster but it will different: not as creamy with a salty roasted flavor. If that works for the recipe go ahead. But it probably will not enhance most baked goods.
I don't have a specific recipe in mind, how can I get started using cashew cream?
Sub it for mayo in homemade salad dressings like caesar, sub for cream cheese in frosting on cupcakes or cookie bars, or add to sautéed garlic and some herbs an easy, creamy pasta sauce. Thin out with pasta water if necessary.
My soaked cashews have swollen to a huge size and are purple!
The soaking cashews will swell, especially the ones that sit overnight. However, if they have turned purple-ish it is a sign they have soaked too long and you should start over.

Ready to join the cashew cream craze and make your own plant-based creamy sauce using cashews? Buy some cashews the next time you are marketing and give this cashew cream a try!.
MORE plant-based tutorials tutorials:
If you found this tutorial for How to Make Cashew Cream helpful or if you try any recipe on Feel Good Foodie, then don't forget to rate the recipe and leave a comment below! It helps others who are thinking of trying out this tutorial and we would love to hear about your experience. And if you snapped some shots, share it on Instagram so we can repost on Stories!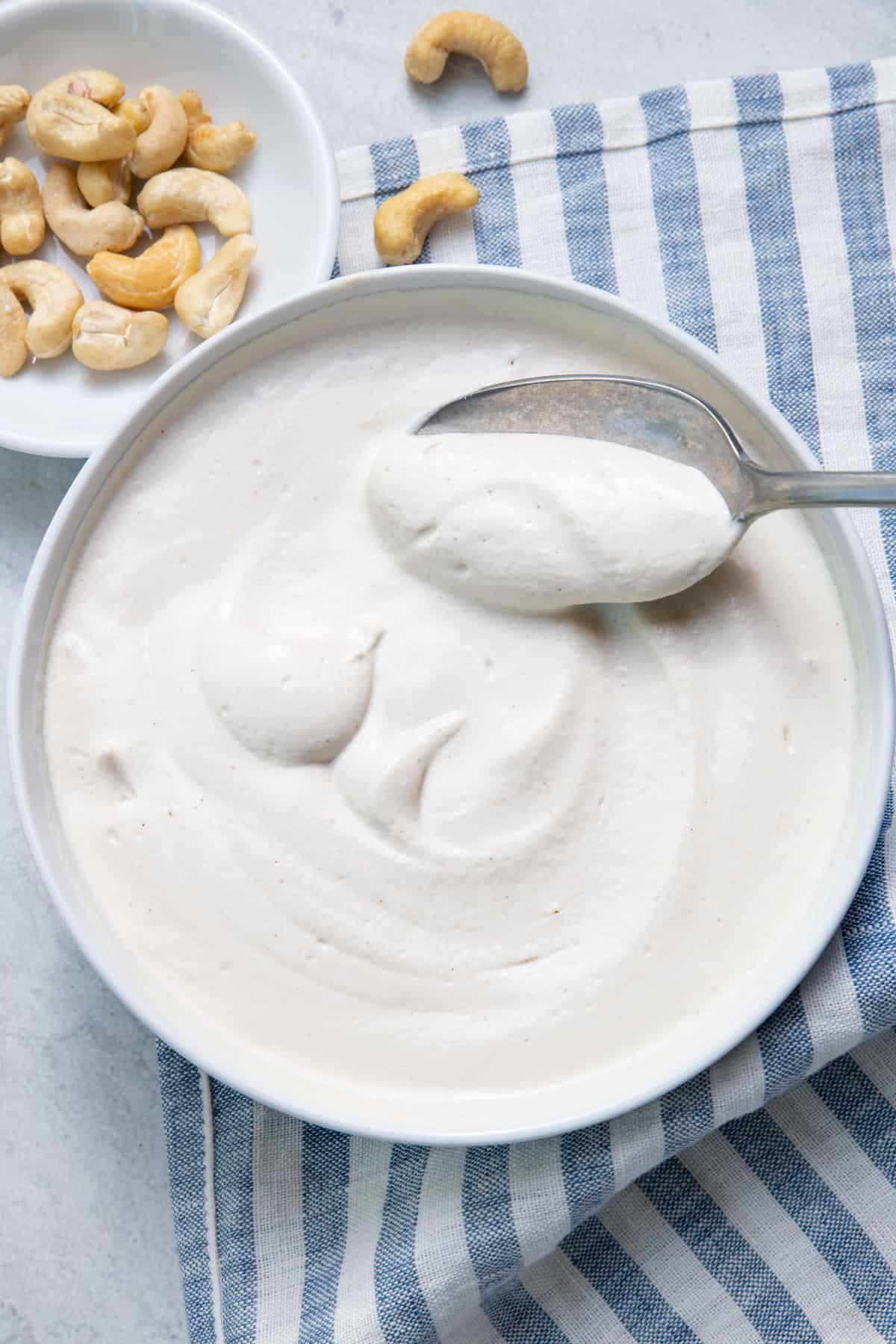 How to Make Cashew Cream
Make your own homemade cashew cream with just two ingredients and a blender/food processor – easy step-by-step tutorial with customization ideas!
Ingredients
2

cups

whole raw cashews

1

cup

cold water
Instructions
Place the cashews in a small bowl and cover with boiling water. Let soak until cashews are tender, at least 60 minutes or overnight.

Drain cashews and rinse under cold water.

Transfer the drained cashews to a blender or small food processor. Add the water on top, making sure it's covering the cashews by at least 1 inch.

Blend until smooth. Place the cashew cream in a colander lined with cheesecloth to strain for an ultra smooth consistency, if desired. Then use in a recipe that calls for cashew cream.
Notes
Storage: Store cashew cream in a tightly lidded jar in the refrigerator. It is best used within three to four days. Do not use it if it looks or smells off.
Nutrition
Calories:
178
kcal
,
Carbohydrates:
10
g
,
Protein:
6
g
,
Fat:
14
g
,
Saturated Fat:
3
g
,
Polyunsaturated Fat:
3
g
,
Monounsaturated Fat:
8
g
,
Sodium:
5
mg
,
Potassium:
213
mg
,
Fiber:
1
g
,
Sugar:
2
g
,
Vitamin C:
1
mg
,
Calcium:
13
mg
,
Iron:
2
mg
Nutrition information provided is an estimate. It will vary based on cooking method and specific ingredients used.