Avocado Ice Cream
Jump To Recipe
Prep:
Cook:
Serves:

6 servings
Avocado Ice Cream. This avocado ice cream is a very easy healthy homemade ice cream that's vegan, paleo-friendly and absolutely tasty. Creamy, smooth and ultra rich with no ice cream maker.
Author:

Yumna Jawad

Posted:
Avocado Ice Cream
It's always interesting to me when one of my readers or followers asks me "what does avocado tastes like?". To me, there's really no taste and it's more of a texture experience. But my answer is always "please just taste it". You're not living your best life if you haven't tried avocados! But seriously, it's smooth and naturally creamy texture makes it such a perfect candidate to throw in smoothies, mousses and even ice cream – hello avocado ice cream!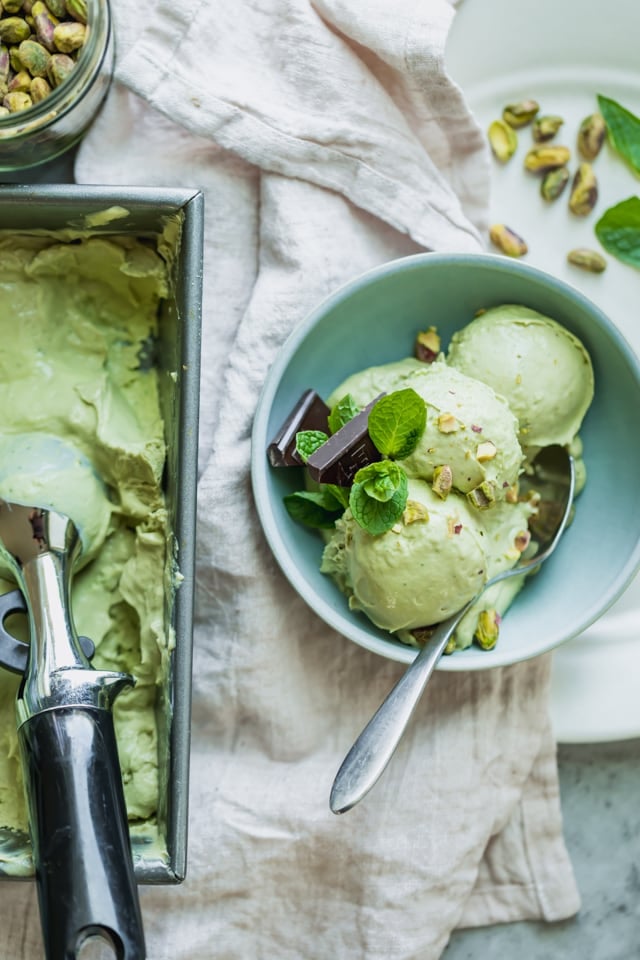 This avocado ice cream was a new trend started a few years ago and I was always skeptical. But then I tried it at a vegan ice cream store in Boston, and wow. Just wow! I had to figure out how to make my own avocado ice cream!
MY LATEST VIDEOS
There are some simple versions of this recipe that basically use avocados, heavy cream, sugar and lemon juice (to prevent the avocados from browning). You'll need 2 ripe avocados to start.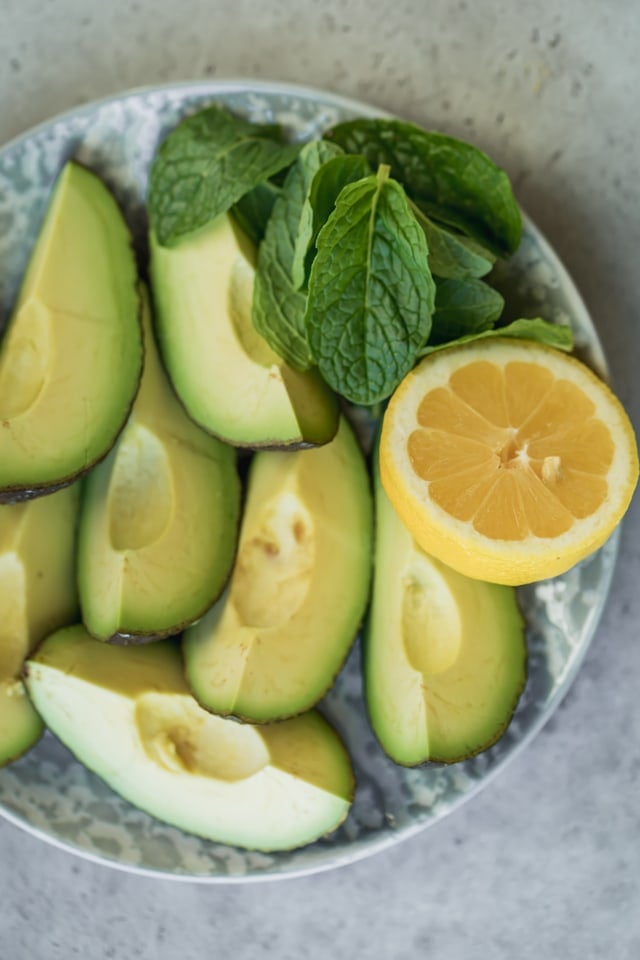 My version is pretty similar to the general ones, but I also add bananas for some sweetness and I used canned coconut milk to make this vegan and paleo friendly.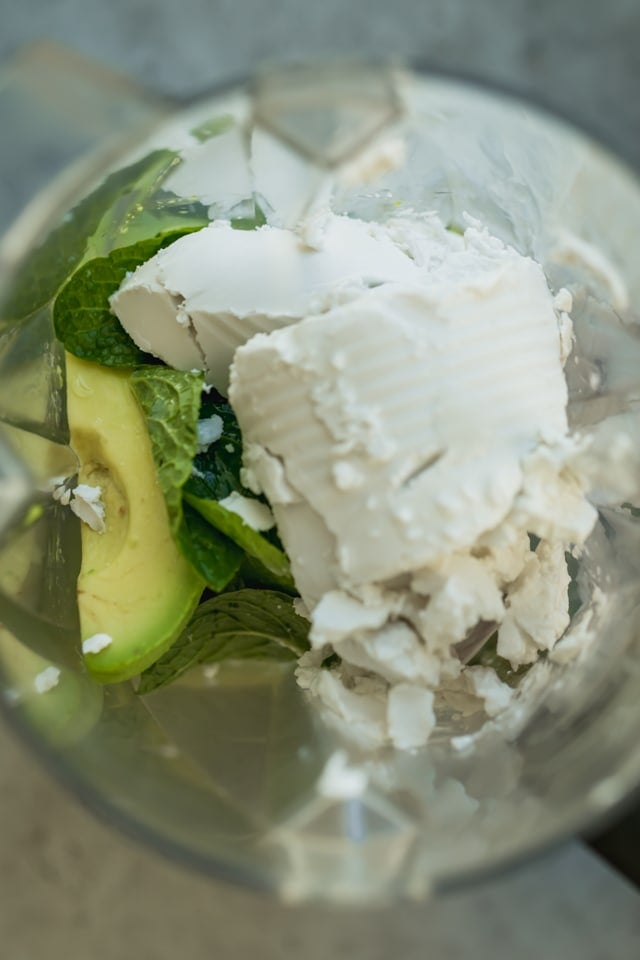 If you'e never made ice cream before and you don't have an ice cream maker, don't be intimidated. All you need is a good blender. You'll blend all the ingredients, place it in a loaf pan and freeze for 4 hours. And you've got avocado ice cream! The waiting part is the hard part.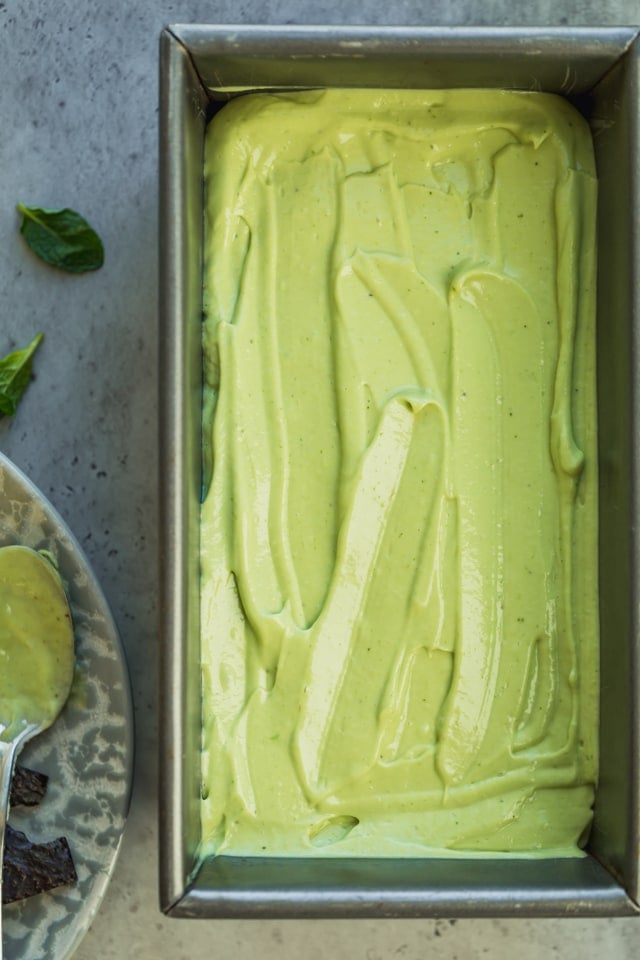 There may be some discoloration on the top after you freeze the avocado ice cream, but a tightly wrapped plastic touching the ice cream will usually help!
Avocado Ice Cream Variations
Don't like mint? Leave it out!
Want to make this into a mint chocolate chip ice cream? Double the amount of mint leaves and fold in chocolate chips in the end!
Craving some chocolatey? Add 2 tablespoons of cacao powder to the recipe to make Chocolate Avocado Ice Cream.
Want to add a citrus flavor to it? Blend 1 tablespoon of lemon zest or orange zest, or combination of the two into the blender.
Love nuts? Chop them finely and fold them in right before freezing. I love adding pistachios or almonds to this.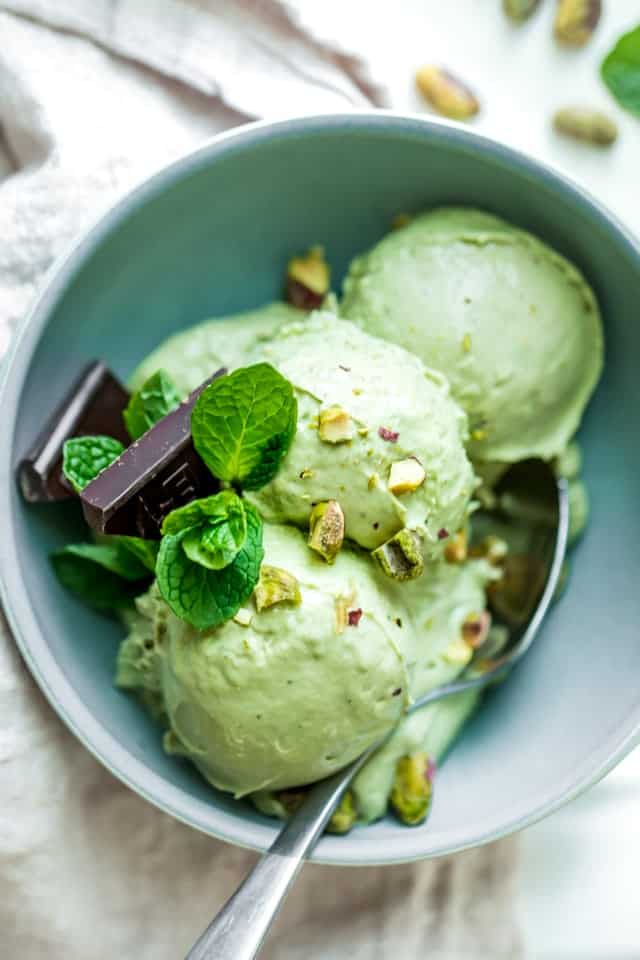 Now that you know how to make homemade avocado ice cream, here are some great desserts that would be perfect with this!
I hope you love this healthy-ish feelgood avocado ice cream. If you make it, please leave me a comment telling me how you like it, or use hashtag #feelgoodfoodie on Instagram so I can see your recreations.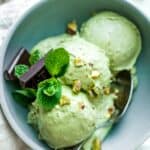 Avocado Ice Cream
Avocado Ice Cream. This avocado ice cream is a very easy healthy homemade ice cream that's vegan, paleo-friendly and absolutely tasty. Creamy, smooth and ultra rich with no ice cream maker.
Course: Dessert
Cuisine: American
Keyword: Avocado Ice Cream, Homemade Ice Cream
Servings: 6 servings
Calories: 292 kcal
Ingredients
1 14- ounce can full-fat coconut milk refrigerated overnight
2 ripe avocados halved, pitted and peeled
1 ripe banana
3 tablespoon maple syrup
2 tablespoon lemon juice
4-5 large mint leaves
Instructions
Chill a loaf pan in the refrigerator for at about 30 minutes.

In a high-speed blender, add the peeled and pitted avocados. Scoop out the solid part of the coconut milk into a blender and save the liquid part to use in another recipe (like a smoothie). Add the banana, maple syrup, lemon juice and mint leaves. Blend until smooth and creamy.

Pour the mixture into the chilled loaf pan and use the back of a spoon to distribute evenly. Place in the freezer for at least 4 hours or overnight.

For best results, let soften for 10-15 minutes at room temperature before serving.
Recipe Video
Recipe Notes
For best results, eat the ice cream within 48 hours
To minimize browning, make sure to place a plastic wrap tightly over the ice cream, so that it is touching the ice cream, right before you freeze it
Store any leftovers in the loaf pan or an airtight container in the freezer
Nutrition Facts
Avocado Ice Cream
Amount Per Serving (1 bowl)
Calories 292 Calories from Fat 225
% Daily Value*
Total Fat 25g 38%
Saturated Fat 14g 70%
Sodium 15mg 1%
Potassium 573mg 16%
Total Carbohydrates 19g 6%
Dietary Fiber 5g 20%
Sugars 8g
Protein 3g 6%
Vitamin A 2.8%
Vitamin C 13.7%
Calcium 3.2%
Iron 15.5%
* Percent Daily Values are based on a 2000 calorie diet.