This post may contain affiliate links. Please read our disclosure policy.
Avocado Chocolate Mousse is a healthy no-bake dessert recipe made with a handful of ingredients and takes only minutes to prepare. It's vegan, refined-sugar-free, and an indulgent dessert you can feel good about eating! This avo choc mousse is thick, creamy, dark chocolatey goodness with a signature mousse texture that is simple to make and even easier to indulge in.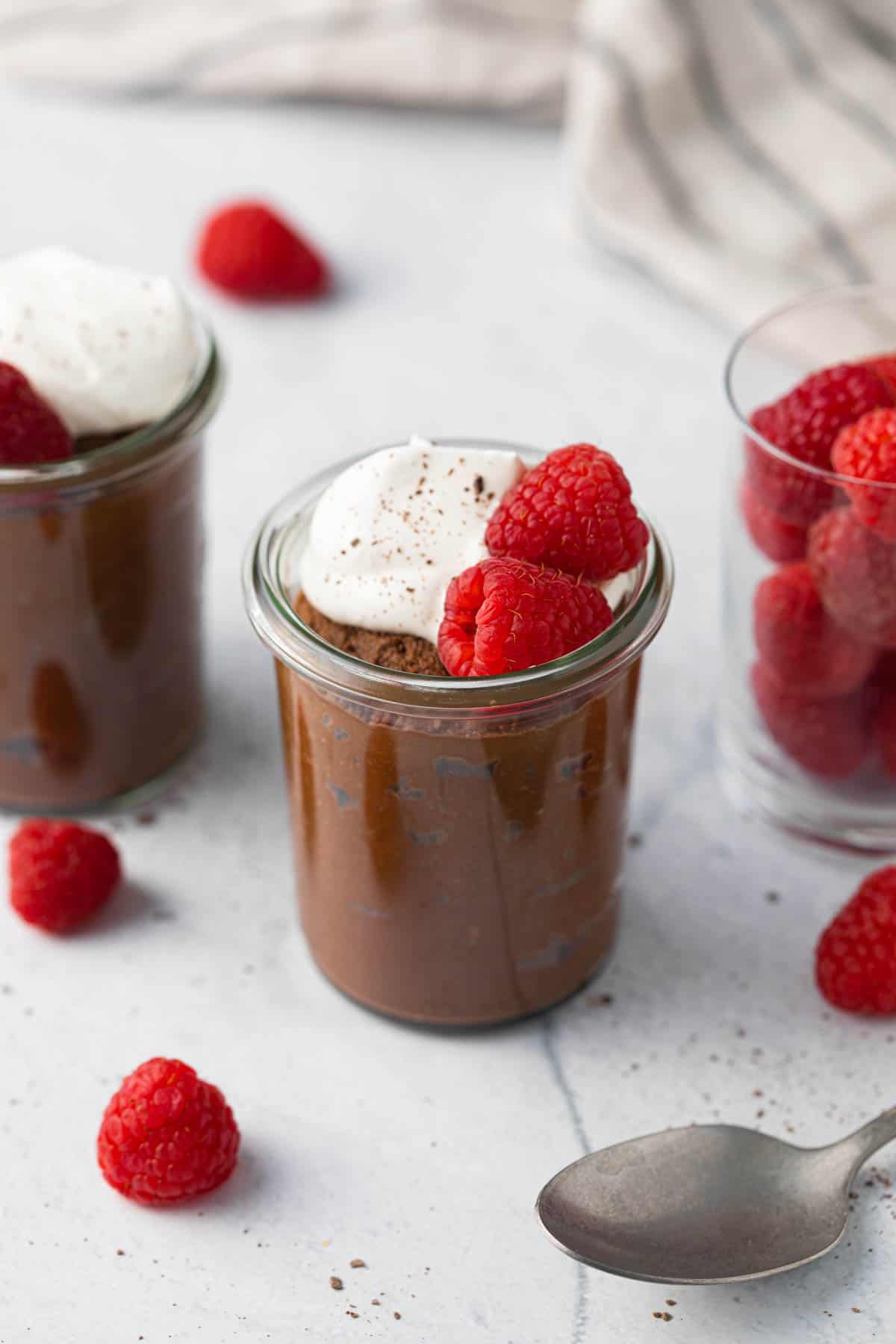 Table of Contents
Avocados weren't always marketed as an ingredient in desserts but have always been considered a superfood. When discovered that this hardy produce had certain qualities such as fat content, neutral taste, and a thick and creamy texture, avocados became a fantastic replacement for other ingredients.
They're commonly used to slightly mimic cream in some desserts and treats like avocado ice cream and green avocado smoothies. That is precisely how I use it in this avocado chocolate mousse – as a substitute for heavy cream. It replaces a rich, unhealthy fat with one that's good for you, tastes great, and has a genuinely compelling texture.
Why you'll love this healthy AVO chocolate mousse
The best mousse texture. It's light, airy, and everything you look for in a mousse recipe! Chill it for at least an hour to get the most delectable consistency. It does wonders for a cool and creamy mouthfeel.
Just 7 ingredients! Make this vegan mousse recipe in minutes with just a few simple ingredients: avocados, chocolate, cocoa powder, almond milk, maple syrup, vanilla, and salt.
A seriously decadent dessert. The rich bittersweet dark chocolate and avocado whip up a delightfully light and delectable dessert you'll be craving. The whipped cream and berries take this treat over the top.
An easy recipe to scale. This mousse recipe serves 4, or you could halve it for a special treat for two or just something just for you. within seconds! If you're serving a crowd, you'll love how easy it is to double or triple with the same delicious results.
Ingredients to make avocado chocolate mousse
Avocados: Use extra ripe avocados to blend more easily with the other ingredients. Avocados are cholesterol-free, making them a great substitute for heavy cream with their similar qualities of being buttery, rich, and creamy.
Almond milk: Use unsweetened almond milk. It's low in calories and high in calcium. Feel free to substitute with another plant-based milk or regular milk.
Cocoa powder: Use unsweetened cocoa for this recipe. It adds a deep and rich chocolatey flavor.
Melted chocolate: You can use your favorite brand. I like to use bittersweet, but semisweet will work well too. To make the recipe vegan, use your favorite vegan chocolate chips.
Maple syrup: To naturally sweeten the mousse.
Vanilla extract & salt: These both help to bring out the rich chocolate flavors in this dessert.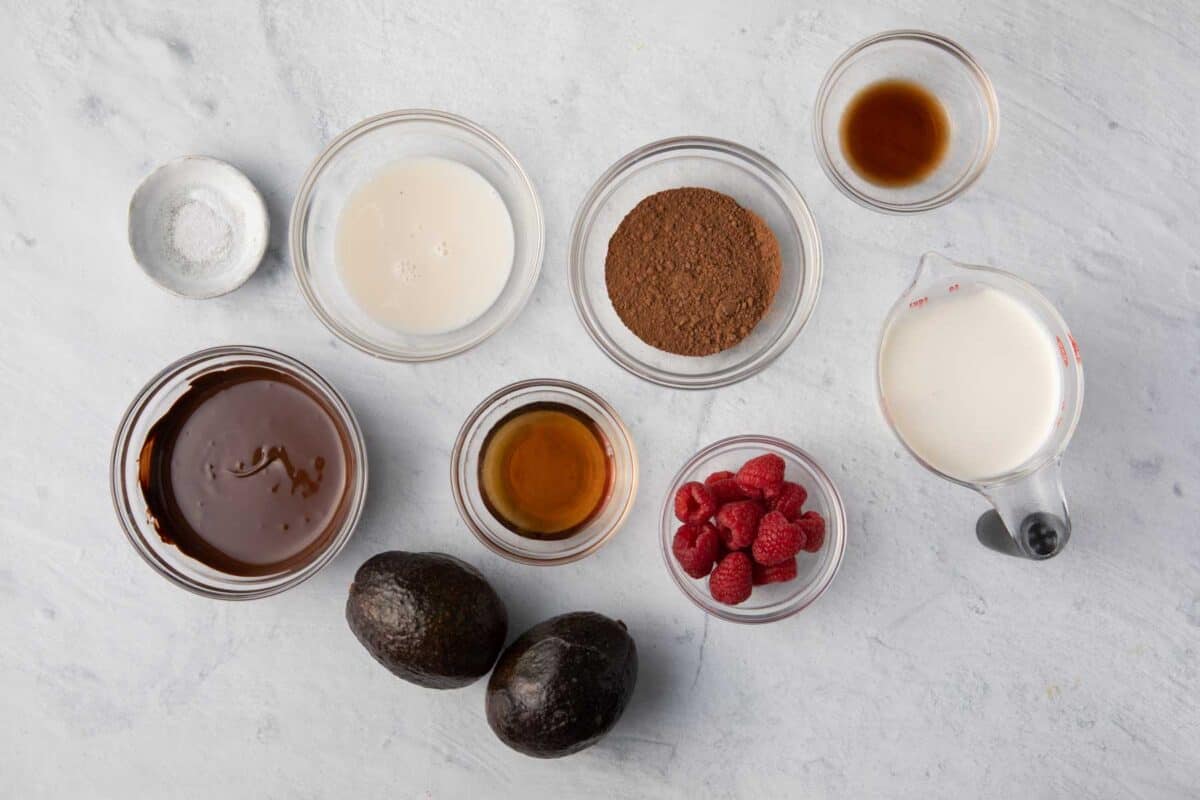 How to make chocolate mousse with avocado
Add all the ingredients into a food processor (or blender).
Blend until smooth and creamy, scraping down the sides as needed.
It will be a thick pudding like-consistency that can be enjoyed immediately as more of an avocado chocolate pudding. To reach the light and airy mousse texture, transfer it into individual-sized serving bowls or jars to chill in the fridge. Top your chocolate mousse with fresh raspberries and homemade whipped cashew cream for a dairy-free topping or regular whipped cream.
Tips for making The best avocado chocolate mousse
Use ripe avocado. To make sure everything blends well together. I tried this recipe with what I thought were ripe avocados a couple of times, and I noticed it took a while for the avocados to break apart in the food processor. And as a result, there were streaks of avocado oil in the mousse. To avoid this, use very ripe avocados.
Warm the milk first. Before adding milk to the food processor, warm it slightly to prevent the melted chocolate from hardening. You could also blend the other ingredients first and slowly pour the milk into the running food processor until combined.
Use good quality bittersweet chocolate. Ghiradelli is my go-to to get the best dark chocolate taste in desserts. Aim for a 60% or more cacao ratio to ensure you hit those deep rich chocolate notes.
Make sure to chill it for at least one hour. Letting it cool is essential to getting the best mousse-like consistency. When it's done blending, it's tempting to dig in and start eating it, but it tastes so much better after it's had time to chill and the flavors have time to set.
Popular substitutions & additions
Switch up the sweetener. Instead of maple syrup, use honey or another liquid sugar.
Any milk will do. You can use other plant-based milk like oat, soy, or dairy milk if you are not dairy-free or vegan.
Add instant espresso. Before adding the milk, stir in about a teaspoon of instant espresso or coffee. Talk about a deep rich chocolatey flavor!
Make homemade almond milk. Storebought works just fine, but if you use almond milk often enough, you'll enjoy the simplicity and wholesomeness of making it yourself.
How to store chocolate avocado mousse
Divide the mousse into individual containers, such as bowls or jars, and cover it with a lid or plastic wrap to store in the refrigerator.
How long will avocado chocolate mousse last in the fridge?
When stored properly, avo choc mousse can last up to 5 days in the fridge.
Can I freeze vegan avocado chocolate mousse?
This mousse freezes really well and makes a great substitute for ice cream! Store it in an airtight container and freeze for up to 2 months. Defrost in the fridge overnight to regain the mousse consistency.
Frequently Asked Questions
Can you make this dessert ahead of time?
This avocado dark chocolate mousse is a great dessert to make ahead of time, so it's perfect if you are hosting a dinner party. Place the mousse into the jars, cover tightly with plastic wrap, and store in the fridge. The mousse will keep for up to 5 days. When ready to serve, simply add the toppings!
Can you taste the avocado in the chocolate mousse?
No, you actually cannot taste the avocados as long as they are super ripe. The taste is chocolatey, rich, and creamy. With the amount of chocolate, cocoa powder, and maple syrup going into the recipe, there is really no avocado taste. However, the taste will be different than traditional mousse made with heavy cream and eggs.
Why is my chocolate not blending into the rest of the ingredients?
If you find that your chocolate mousse with avocado isn't blending well, it could be because you used cold ingredients. Once the chocolate is melted, any cold additions will cause the mixture to seize up, leaving you with a chunky mousse. Start with room-temperature ingredients and slightly warmed milk to get a thick, well-blended mix.
What I love about this avocado chocolate mousse recipe is the silkiness the avocado lends to the mousse without adding too many calories. It's a rich, decadent, chocolatey recipe that you can easily whip up in under 10 minutes to impress your family or guests. It's also a pretty fool-proof mousse recipe with a final product that looks like it took way more effort than it did!
For more desserts:
If you try this feel good Avocado Chocolate Mousse recipe or any other recipe on Feel Good Foodie, then don't forget to rate the recipe and leave a comment below! It helps others who are thinking of making the recipe. We would love to hear about your experience making it. And if you snapped some shots, share it on Instagram so we can repost on Stories!
This Avocado Chocolate Mousse recipe was originally published on February 12, 2019. The post has been updated to include helpful cooking tips, frequently asked questions, and step-by-step photos.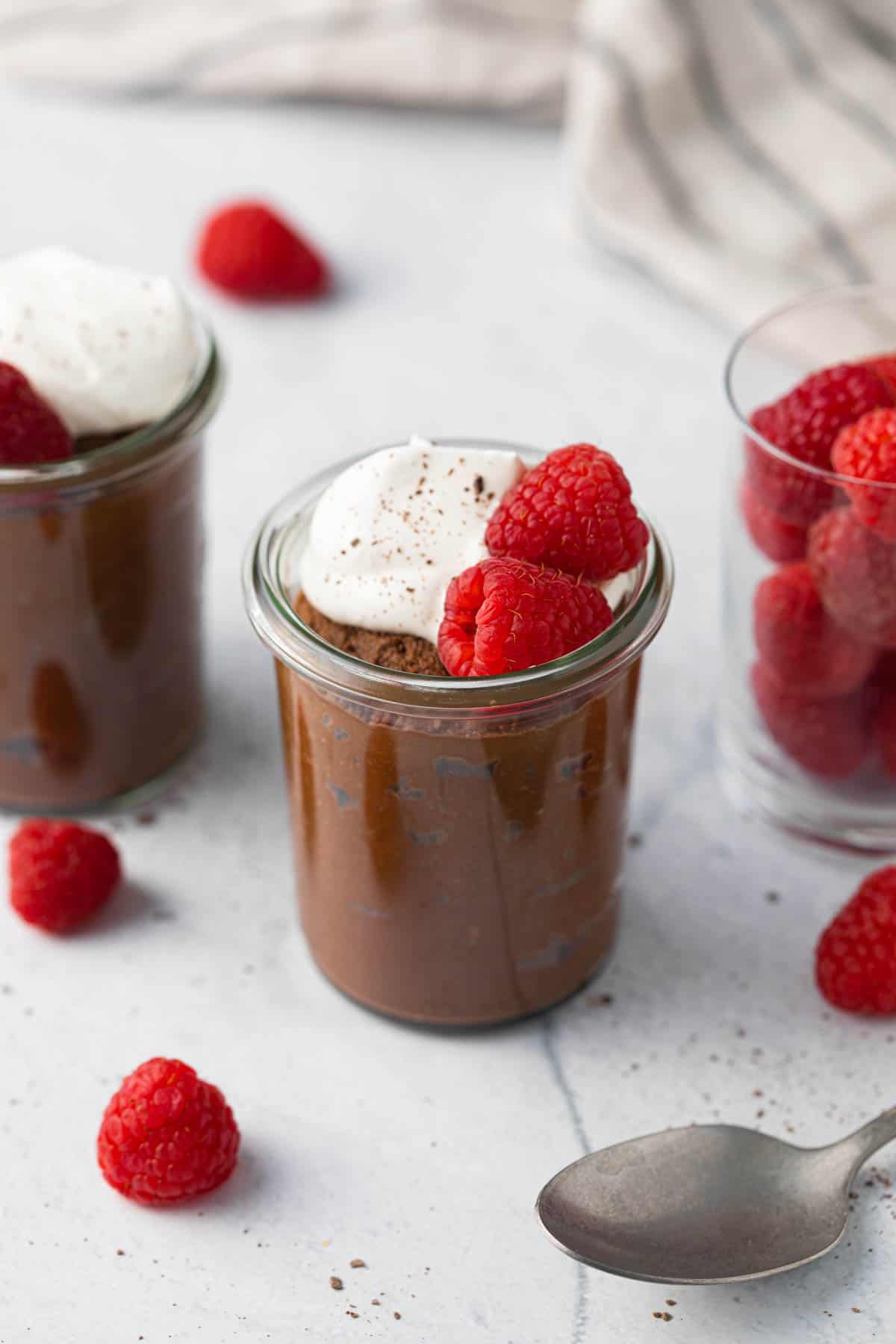 Avocado Chocolate Mousse
Avocado Chocolate Mousse is a healthy dessert that's rich, decadent, and airy, just like the classic. It's vegan and refined-sugar-free, too!
Instructions
In a food processor or high-speed blender, combine avocados, melted chocolate, cocoa powder, almond milk, maple syrup, vanilla extract and salt. Blend until smooth and creamy, about 2 minutes, stopping as needed to scrape down the sides.

Divide the mousse equally into four bowls or jars, and chill for at least one hour to get a more mousse-like consistency.

Serve mousse cold with coconut whipped cream and raspberries, if desired.
Equipment
Notes
*Nutrition label is for mousse only and does not include whipped cream or raspberry toppings.
Storage: Store any leftovers in an airtight container. They will last about 4-5 days in the fridge
Nutrition
Calories:
335
kcal
,
Carbohydrates:
30
g
,
Protein:
4
g
,
Fat:
24
g
,
Saturated Fat:
7
g
,
Polyunsaturated Fat:
2
g
,
Monounsaturated Fat:
13
g
,
Trans Fat:
0.02
g
,
Cholesterol:
1
mg
,
Sodium:
32
mg
,
Potassium:
719
mg
,
Fiber:
11
g
,
Sugar:
15
g
,
Vitamin A:
158
IU
,
Vitamin C:
10
mg
,
Calcium:
62
mg
,
Iron:
3
mg
Nutrition information provided is an estimate. It will vary based on cooking method and specific ingredients used.