This post may contain affiliate links. Please read our disclosure policy.
If you're looking for a way to save that bunch of ripe and browning bananas on the counter, then learning how to freeze bananas is a game changer! Once they start to ripen, you've got to decide do you want to eat them now, use them in a recipe, or freeze them. Freezing bananas is a fantastic way to hang on to that deliciously sweet fruit longer and to use in recipes like smoothies or baked goods. They're easy to prep for freezing and last long enough to use them.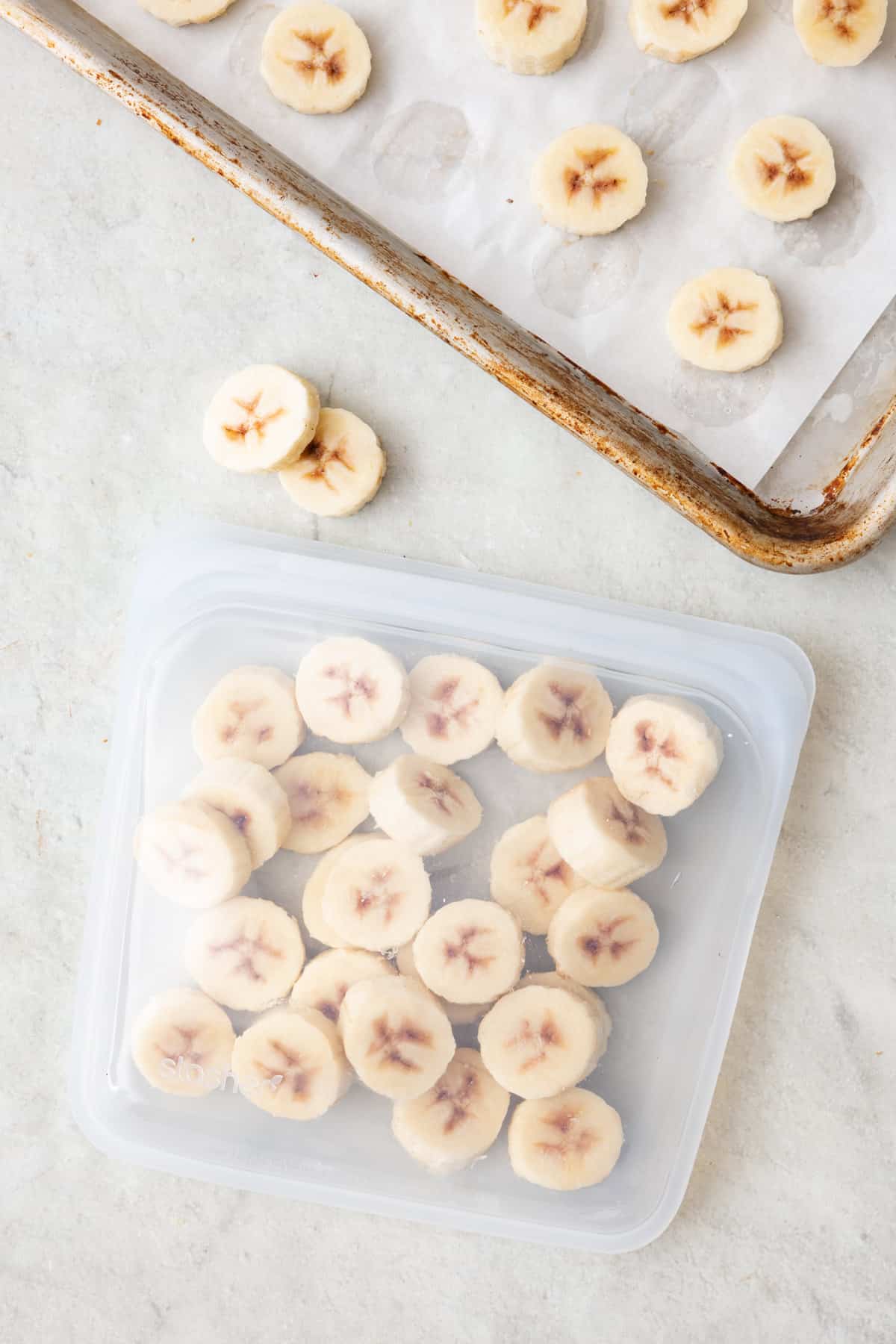 This easy step-by-step tutorial will walk you through how to slice bananas 2 different ways for freezing. Whether you slice or halve the bananas, you'll have a quick ingredient to add to cold recipes or sweets.
Table of Contents
WHY freeze bananas
Save money. Freezing fruit is a great way to save a grocery trip and save bananas that might be too ripe to eat alone.
Extend their life and freeze! Sometimes your intentions are good, and you bag up a bunch of bananas, assured you will get through them all. Once they ripen, you have the decision to make: eat, bake, or freeze. Freezing makes it easy to save the ripe banana if you don't get to eating them or finding a recipe to make.
Ideal sweetness for recipes. Whether tossing them into a blender to make a smoothie or thawing them out to make baked goodies like banana bread or baked oats, bananas are frozen at the peak of their sweetness for the best flavor.
Bananas are always a healthy option. Keeping frozen bananas on hand makes it easy to choose healthier snack options. They're ready to go when you need them and full of fiber, potassium, and vitamins for a healthy addition to recipes.
HOW TO freeze bananas
Freezing bananas is a quick and easy way not only to extend the life of your fruit but also to make frozen treats and smoothies that much quicker. An icy cold banana gives you the best texture for smoothies and bowls without adding ice.
Prepare a baking sheet by lining it with parchment paper and clear out some room in the freezer to place the trays for a few hours.
Prepare Banana Slices
Slice the bananas into 1/2-inch rounds and spread them in a single layer on the parchment-lined baking sheet.
Place in the freezer and allow them to freeze completely for about 2-4 hours. They will be cold and hard to the touch.
Freeze Banana Halves
Cut a whole banana in half and then slice the halves in half. You can also just slice the banana in half into larger pieces. These are quartered mainly for portion size and because they fit into smaller freezer bags to take up less space and not break when frozen.
Place the halves cut side down on a parchment-lined baking sheet and place in the freezer, allowing them to freeze for about 2-4 hours completely.
TIPS FOR freezing bananas
Use parchment paper. Parchment paper or wax paper is so versatile! You can bake with it and use it to freeze foods and keep things from sticky to the pan.
Keep them from touching while freezing. Prevent them from sticking together by spacing the slices apart while freezing. Once they're frozen, you can toss them together in a bag.
Prevent excess browning. Once the peeled banana is exposed to air, it will turn brown from oxidation. Work quickly to transfer the cuts and slices to the freezer to prevent too much browning.
Measure out for easy recipe conversion. I have found that about ¾ – 1 cup of ½ inch slices of banana equal close to 1 large banana. After freezing the slices, do a quick measure to see how many cups 1 banana equals for easier measurement for recipes.
recipes to make with frozen bananas
You can use frozen bananas in many recipes or thaw them out first for baked or cooked recipes. If you are using them in baked goods, they will need to be thawed first. Here are a few different frozen and cooked recipes to try.
Frozen Banana Recipes
Baked Goods using Frozen Bananas
HOW TO STORE frozen bananas
Once frozen, store them in reusable silicone bags, plastic zip-top bags, or any freezer-friendly container. To use, you can add bananas that are still frozen to a blender for smoothies or to make non-dairy ice cream. It will be nice and thick, adding a cool and refreshing flavor.
To thaw, place in the refrigerator overnight. You can then use the banana and any liquid remaining in baked goods like banana bread, muffins, or oatmeal. Bring to room temperature, depending on the recipe.
HOW LONG WILL frozen bananas LAST IN THE freezer?
When stored properly, frozen bananas will last up to 3 months in the freezer.
FREQUENTLY ASKED QUESTIONS
How long to freeze bananas?
Bananas will freeze in about 2-4 hours and should not be exposed to the freezer after 4 hours to prevent freezer burn. After frozen, transfer to a freezer safe container and store for up to 3 months.
Should I peel bananas before freezing?
Bananas can be frozen whole with the peel on but the peel will turn dark when in the freezer. While this doesn't affect the banana, it does cause the peel to soften and can become difficult to remove. Peeling allows for a quick and easy solution to freezing bananas.
Why do some frozen bananas taste bitter?
Bananas will bitter when frozen if underripe. To prevent the bitter taste of frozen bananas, chose to freeze them when ripe, and even better is over riped, but not banana bread ripe (brown and mushy).
Freezing bananas is a fantastic way to prolong the freshness of ripe bananas without tossing them. Frozen bananas can be used in many different recipes, like a nice cold addition to smoothies and to make nice cream, or thawed and used in sweet bread, cookies, or oatmeal.
how to freeze other foods:
If you found this tutorial for How to Freeze Bananas helpful or if you try any recipe on Feel Good Foodie, then don't forget to rate the recipe and leave a comment below! It helps others who are thinking of trying out this tutorial and we would love to hear about your experience. And if you snapped some shots, share it on Instagram so we can repost on Stories!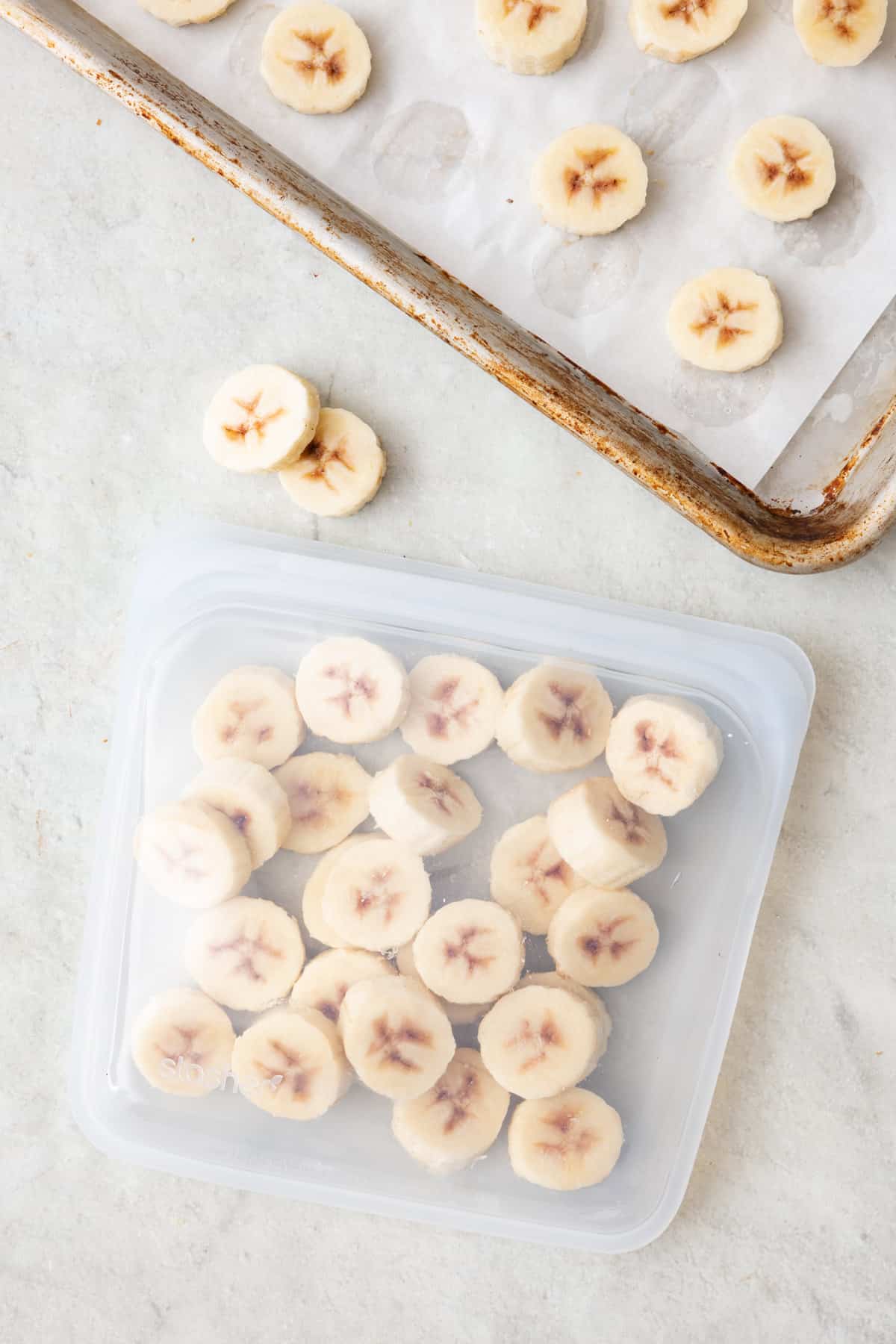 How to Freeze Bananas
THis quick tutorial teaches you how to freeze bananas in just a few steps to use in smoothies, ice cream, oatmeal, and baked goods like breads and muffins.
Instructions
Line a baking sheet with parchment paper.

Slice the bananas into ½-inch round slices or simply cut the bananas in half. Place on the prepared baking sheet in a single layer, making sure they are not overlapping.

Freeze for 2-4 hours, being careful not to leave longer than 4 hours since they will get freezer burn.

Transfer the frozen bananas to freezer bags or freezer-safe containers and seal, making sure to remove as much air as possible. Return to the freezer and store for up to 3 months.
Nutrition
Calories:
105
kcal
,
Carbohydrates:
27
g
,
Protein:
1
g
,
Fat:
0.4
g
,
Saturated Fat:
0.1
g
,
Polyunsaturated Fat:
0.1
g
,
Monounsaturated Fat:
0.04
g
,
Sodium:
1
mg
,
Potassium:
422
mg
,
Fiber:
3
g
,
Sugar:
14
g
,
Vitamin A:
76
IU
,
Vitamin C:
10
mg
,
Calcium:
6
mg
,
Iron:
0.3
mg
Nutrition information provided is an estimate. It will vary based on cooking method and specific ingredients used.