This post may contain affiliate links. Please read our disclosure policy.
Learn how to freeze strawberries, the lush, flavorful red beauties that flood farmstands and grocer's shelves this time of year. Depending on your climate, strawberries hit their peak anytime between late spring and midsummer. And, there is nothing like an in-season berry.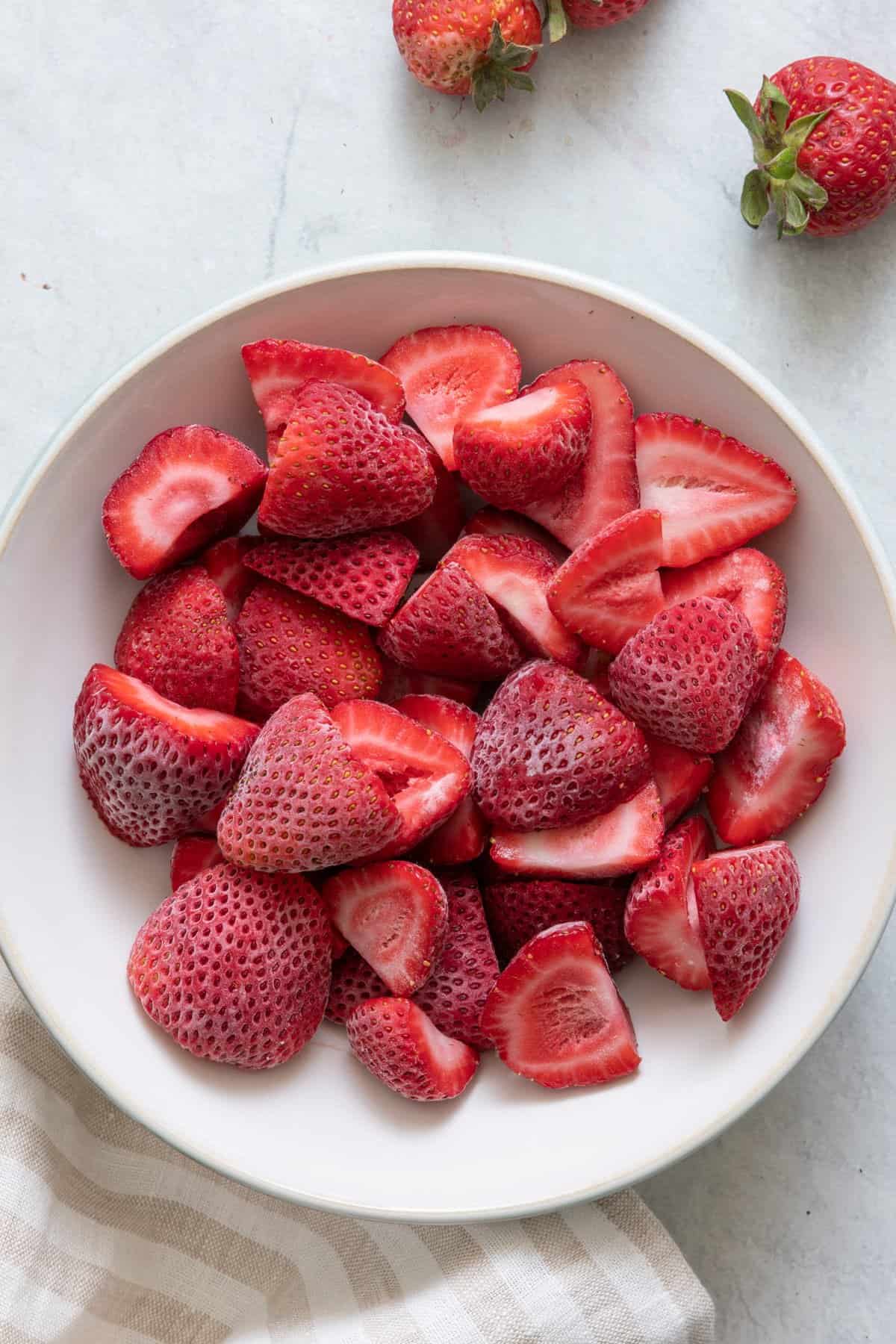 WHY freeze strawberries?
Save money: Buy at low in-season prices and enjoy later when the prices have gone up and the berries on grocer's shelves are white and woody instead of red and juicy.
Prolong the fresh taste: Gorgeous, fresh strawberries dripping with juice are so good but they are notorious for their short refrigerator life – sometimes as brief as 2 or 3 days before mold starts in. Extend the fresh-picked goodness in the freezer.
Always smoothie or salad ready: Food in the freezer is such a valuable asset. It's like money in the bank. Frozen fresh strawberries can be thrown into smoothies and yogurt or partially defrosted and mixed into salads or baked goods.
They are so good for you: Besides being sweet and delicious, strawberries have hunger-fighting fiber, antioxidants, vitamins C, B6, and folate, plus potassium and magnesium.
HOW TO freeze FRESH strawberries
Freezing fresh strawberries is easy. You just have to leave yourself enough time for each step. First, rinse and allow to thoroughly dry on a kitchen towel. Next, cut the berries into desired sizes and freeze them on parchment paper-lined trays. The last step is transferring them into freezer-safe containers for long-term storage. Yumminess for months!
Prepare strawberries
Under cold running water, rinse the strawberries well and allow them to drain for a few minutes.
Gently place the berries on a kitchen towel to absorb more moisture. Blot gently. Let them sit.
Slice off the green tops.
Cut the strawberries in half or into smaller pieces if desired.
Freeze Strawberries
On a parchment paper-lined tray, spread out the strawberries in an even layer. Rimmed sheet pans work very well for this.
Pop into the freezer for just the allotted time. The fruit can get freezer burn so do not leave for a long time, like overnight. Transfer the frozen berries to freezer bags or a freezer-safe container.
TIPS FOR freezing strawberries
Allow them to dry: Don't skip the drying time. When the strawberries have too much moisture on them, ice crystals easily form in the fridge leading to freezer burn and increased mushiness.
Hull before freezing: Hull is a fun word that means to cut off the green leafy stems. Hull the berries before freezing, because if left on the green leaves contribute to the strawberries being soggier when defrosted.
Even cuts make for even defrosting: If it matters for your berries' future purpose, try to cut the strawberry pieces into even sizes so they will all defrost at the same rate.
Lay down the parchment If placed directly onto the sheet pan, the strawberries can freeze onto the metal and they will be all ragged when you scrape them off.
recipes to make with frozen strawberries
HOW TO STORE frozen strawberries
After freezing strawberries on a sheet pan, store them either in freezer-safe bags, wrapped in tightly in two to three layers of freezer paper and/or foil, or in a tightly lidded freezer-safe container.
HOW LONG WILL frozen strawberries LAST IN THE freezer?
Frozen berries have a long freezer life! Expect frozen strawberries to last 8 months to a year in the freezer.
FREQUENTLY ASKED QUESTIONS
How long does it take to freeze strawberries?
Strawberries usually freeze in 2 to 4 hours depending on the temperature in your freezer and the size of your strawberries.
How do you freeze strawberries without getting mushy?
Defrosted strawberries will always have a mushier texture than fresh ones. A workaround is to serve them while they are partially still frozen and have a firmer texture. Why the mush? Strawberries have a high water content naturally. As the freezing water expands inside the strawberries, it breaks through cell walls making the fruit softer when defrosted.
What should I do if my strawberries get freezer burn? Are they still edible?
Fruit with freezer burn will not taste as nice but they are fine to eat. You can also shave off the freezer burned parts and proceed.
Yes, you can freeze fresh strawberries and this is how you freeze strawberries for smoothies, yogurt parfaits, and all sorts of uses.
MORE useful tutorials:
If you found this tutorial for How to Freeze Strawberries helpful or if you try any recipe on Feel Good Foodie, then don't forget to rate the recipe and leave a comment below! It helps others who are thinking of trying out this tutorial and we would love to hear about your experience. And if you snapped some shots, share it on Instagram so we can repost on Stories!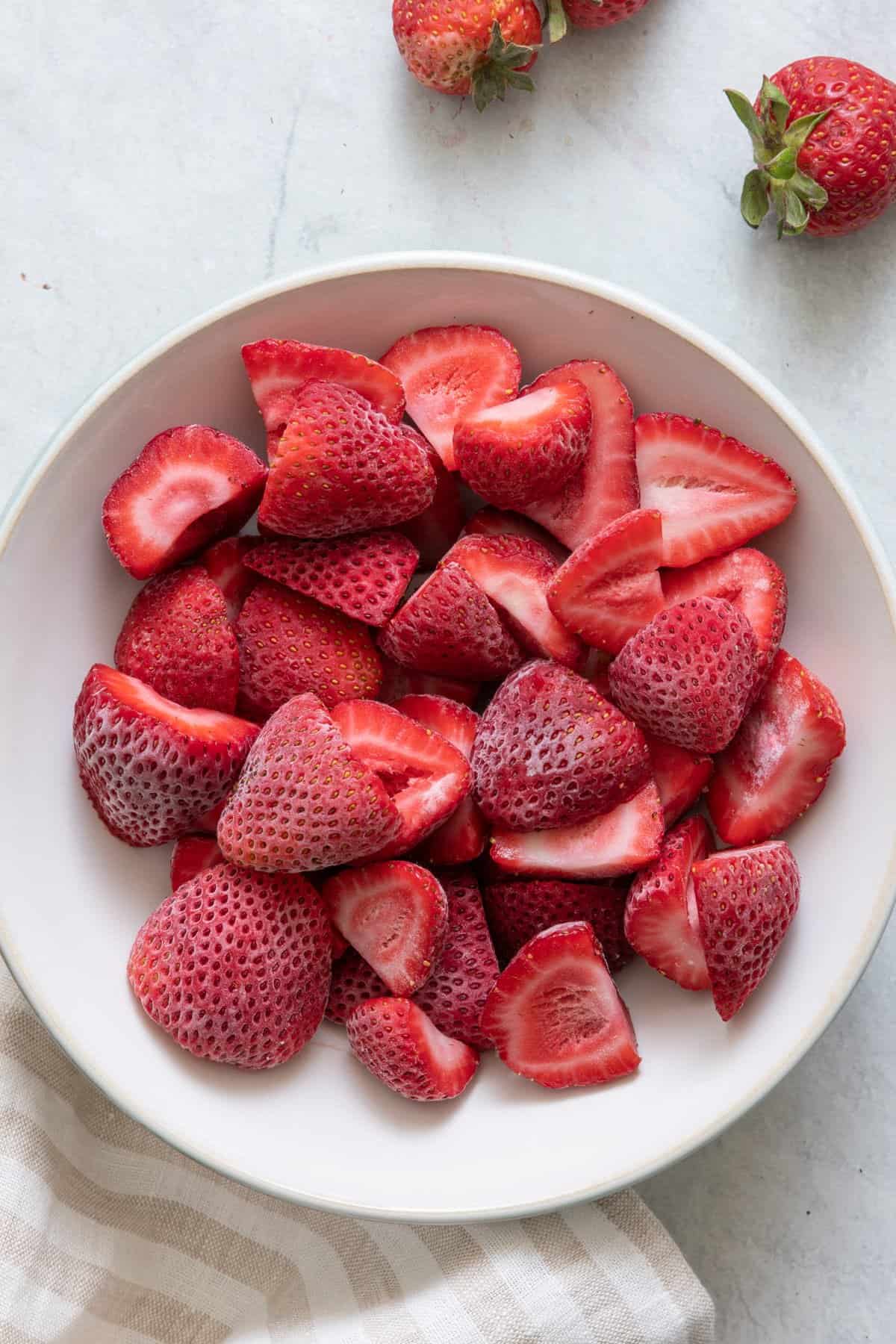 How to Freeze Strawberries
Learn how to freeze fresh strawberries for later use all year long. Perfect for smoothies, strawberry syrup, and pies.
Ingredients
1

pound

fresh strawberries
Instructions
Wash the strawberries with cold water and drain using a colander.

Transfer strawberries to a kitchen towel and spread out on the towel. Allow 15-20 minutes for them to air dry.

Slice off the green tops and then slice the strawberries in half.

Spread the strawberries in a single layer on a freezer safe rimmed baking tray.

Freeze for 2-4 hours, being careful not to leave longer than 4 hours since they will get freezer burn.

Transfer the frozen strawberries to freezer bags or freezer safe containers and seal. Return to the freezer and store for up to one year.
Notes
Tip: Cut the strawberries into uniform pieces for easier defrosting. 
Nutrition
Calories:
145
kcal
,
Carbohydrates:
35
g
,
Protein:
3
g
,
Fat:
1
g
,
Saturated Fat:
1
g
,
Polyunsaturated Fat:
1
g
,
Monounsaturated Fat:
1
g
,
Sodium:
5
mg
,
Potassium:
694
mg
,
Fiber:
9
g
,
Sugar:
22
g
,
Vitamin A:
54
IU
,
Vitamin C:
267
mg
,
Calcium:
73
mg
,
Iron:
2
mg
Nutrition information provided is an estimate. It will vary based on cooking method and specific ingredients used.