This post may contain affiliate links. Please read our disclosure policy.
If you've been wondering how to make applesauce, here's a foolproof recipe for making the best one I've tried so far. Here is a foolproof recipe for making applesauce. Homemade applesauce is simply fresh apples that have been simmered in water with sugar and spices to taste.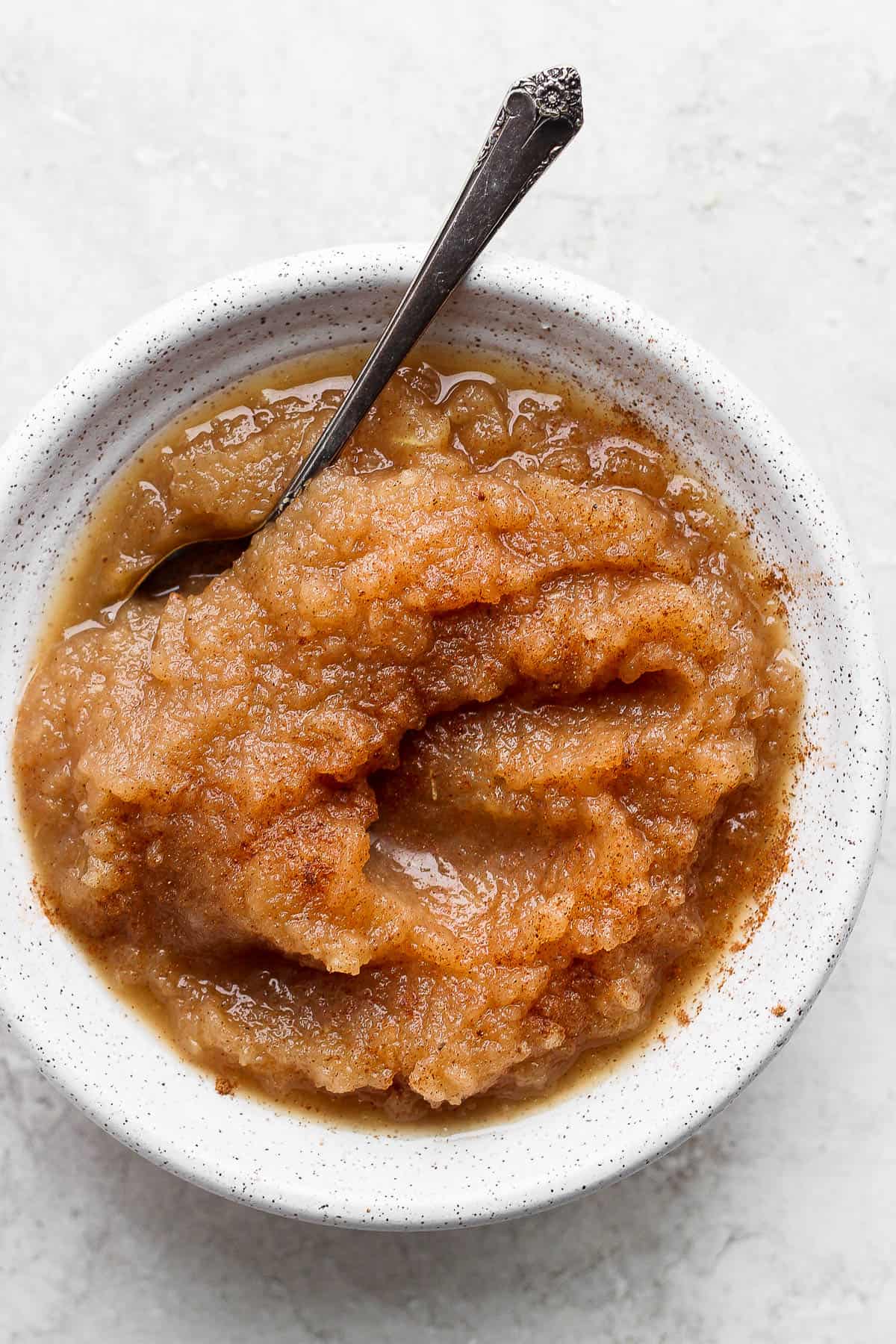 With just a few basic ingredients like apples, some light brown sugar, and a pinch of cinnamon and nutmeg, you'll have a delicious homemade applesauce in no time. It's simple, healthier than many store-bought versions, and super satisfying. Perfect for spooning over pancakes, adding to yogurt, or just enjoying by the spoonful. Homemade applesauce also puts the cook in the driver's seat – make it sweet, tart, spiced, or plain. It's your choice.
Why you'll love this easy applesauce recipe
Simple Ingredients. You probably have most, if not all, of these items in your pantry or fridge already. No need for any fancy ingredients or last-minute grocery store runs. 
Naturally Sweet. This applesauce recipe uses light brown sugar, which gives the applesauce a rich, natural sweetness. It's a sweet treat without a ton of added sugar. Bonus? It smells heavenly when cooking.
Kid-Friendly. If you have picky eaters at home, this applesauce is sure to please. It's sweet, a bit spicy, healthier than most store-bought versions, and super fun to make. Let your little ones help with mashing the apples; they'll love it!
Versatile in Use. Beyond just a spoonful snack, you can use this applesauce in baking, cooking, or as a topping. It's great for muffins, as a side dish, or even as a yogurt mix-in.
Ingredients & substitutions
Apples: Which apples make the best sauce? There are so many opinions on this! Bottom line: use what you have and like (except Red Delicious and their cousins like Envy apples. They do not cook down well.) Go tart with with Granny Smith or sweet with Galas.
Sugar: Any type of granular sugar – white, brown, or cane sugar will do. Honey or maple syrup can sub in, too.
Spices: Cinnamon is the classic. Simmer with a stick or about ½ teaspoon of ground spice. Or try any warm spice, like pumpkin spice mix, nutmeg, or cardamon.
Water: Used to simmer with the apples for the perfect consistency.
How to make applesauce
Prepare the apples
Peel the off the apple skins.
Core using spoon, melon baller or corer.
Chop into small-ish pieces.
Cook the apples
Place all your ingredients into a sauce pan.
Stir to mix well.
Cover and bring to a boil then reduce to simmer.
The sauce is ready when the apples are soft and can easily be pierced with a knife.
Tips for making the best applesauce from scratch
Choose the freshest, most flavorful apples. This will make a big difference in the texture and flavor of your homemade applesauce.
Feel free to mix varieties of apples, especially if you want to blend sweet and tart apples. There's no rule that says you only have to use one type.
Be stingy with your sweetener in the beginning. Wait until the apples are cooked down, and then taste and adjust to avoid over-sweetening.
Check for the moisture level of the applesauce. If your cooked-down apple mixture seems very watery, drain a little excess water out before mashing. Some apple varieties are naturally more watery than others.
Popular substitutions & additions
Mix apple types. For a more complex flavor, use a mix of apple types. Something tart like Granny Smith combined with something sweet like Gala can give your applesauce a unique twist.
Spice it up. While cinnamon and nutmeg are classic spices for homemade applesauce, feel free to experiment with other spices like cardamom or allspice.
Add apple cider. For an extra apple punch, replace half of the water with apple cider. It amplifies the apple flavor and adds a bright tangy note.
Make it chunky or smooth. If you prefer chunkier applesauce, just mash it less. For a smoother sauce, cook the apples a bit longer and give them a good mix using a food processor or a blender.
How to store & reheat cinnamon applesauce
Once your homemade applesauce has cooled down, transfer it into an airtight container or jar with a tight-fitting lid. Keep it in the fridge, away from strong-smelling foods.
If you want to enjoy your applesauce warm, just spoon out the desired amount into a microwave-safe bowl and heat for a few seconds. You can also warm it in a saucepan over low heat on the stove.
How long will this homemade applesauce last in the fridge?
Your cinnamon applesauce will stay fresh in the fridge for up to 4-6 days. Always give it a quick sniff and look for any changes in texture or color before enjoying.
Can i freeze this applesauce recipe?
Yes, you can freeze applesauce! Pour it into freezer-safe bags or containers, leaving a little space at the top for expansion. When you're ready to use it, thaw in the fridge overnight or warm it directly from the freezer on low heat on the stove.
recipes with applesauce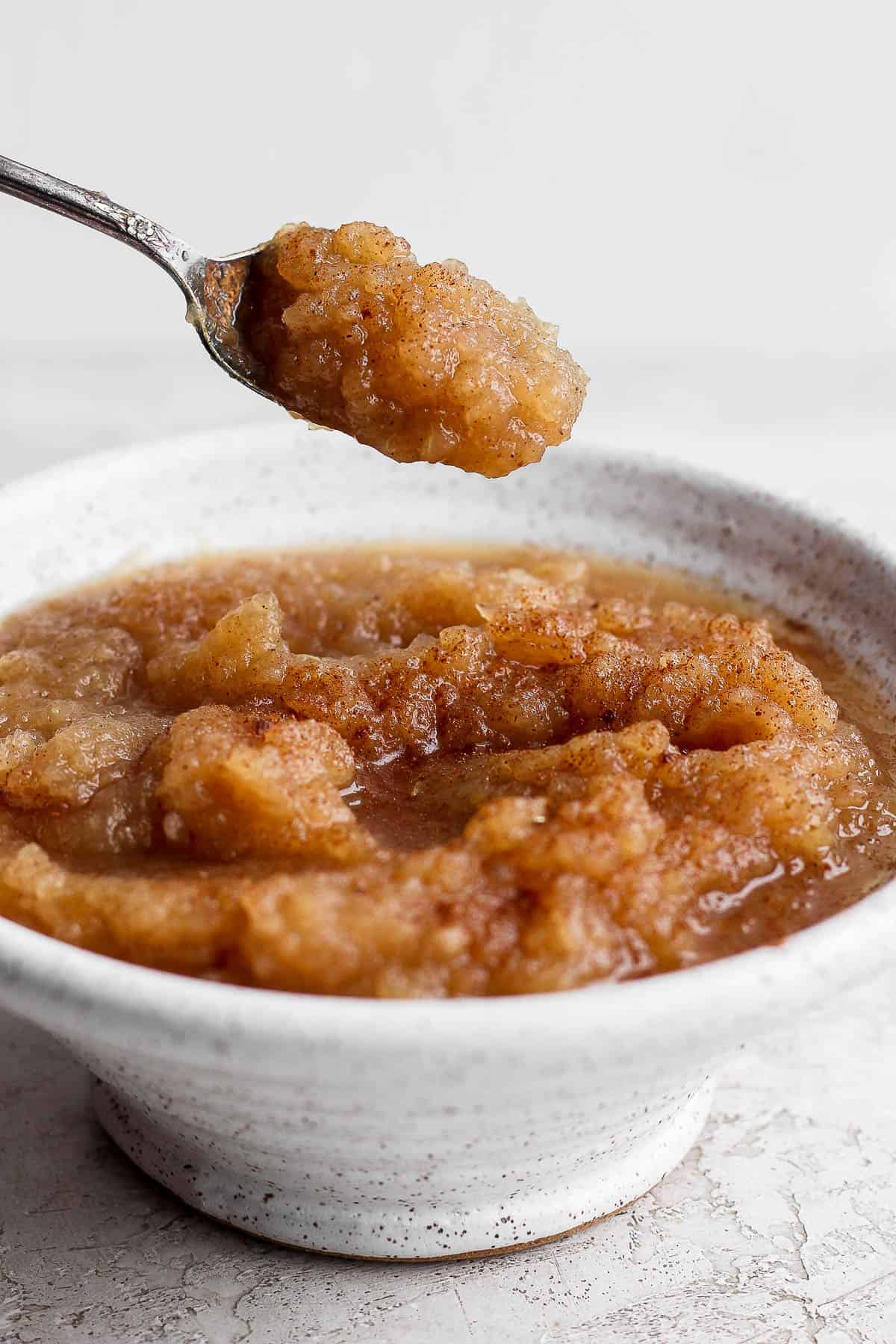 Frequently asked questions
Can I use a blender to mix the applesauce?
You can use a regular blender or an immersion blender but pulse carefully so as not to over blend into a smooth paste unless that is what you want. Blenders allow you to cook with the nutrient-rich peel.
Can I make this applesauce recipe in an Instant Pot?
Absolutely! To make applesauce in an Instant Pot, toss in all the ingredients as usual. Set it to manual mode, high pressure, for about 8 minutes. Once done, allow for a natural pressure release. Mash or blend, and you're good to go.
How do you fix applesauce that came out too sweet?
Always try to tailor the amount of sugar used according to whether your apples are sweet or tart. Some very fresh, sweet apples may need no sugar at all. To even out an oversweet batch, add a squeeze of lemon.
How do I thicken watery applesauce?
If your applesauce is too runny, you can simmer it longer on the stovetop, letting some of that extra liquid evaporate. As it cools, it'll thicken up a bit more. Another quick fix is to dissolve a teaspoon of cornstarch in water and stir it into the applesauce. Let it simmer for a few more minutes, and it should help thicken it up.
So there you have it, the best guide on how to make applesauce from scratch! This recipe is an easy and practical way to use up extra apples, and it gives you control over sweetness and spices. It's a healthier alternative to many store-bought versions, and you can use it in a variety of ways, from a standalone snack to an ingredient in other recipes. With so many reasons to love it, you might just find yourself making this homemade applesauce on repeat!
MORE COOKING TUTORIALS:
If you find this cooking resource for How to Make Applesauce helpful or if you try any Feel Good Foodie recipe, then don't forget to rate the recipe and leave a comment below! It helps others who are thinking of trying out this tutorial and we would love to hear about your experience. And if you snapped some shots, share it on Instagram so we can repost on Stories!
How to Make Applesauce
Learn how to make homemade applesauce from scratch using only apples, sugar and spices; it's easy, healthy & delicious for snacking or baking
Instructions
Peel the apple skin, remove the core and chop.

Place all of your ingredients into a sauce pot and bring to a boil, reduce to a simmer and cook for 20 minutes or until the apples are soft.

Allow the mixture to cool, then mash with a fork and enjoy.
Notes
Storage: Store in an airtight container and keep in the fridge for up to 10 days. For longer term storage it can be frozen.
Photo Credit:
Erin Jensen
Nutrition
Calories:
148
kcal
,
Carbohydrates:
39
g
,
Protein:
1
g
,
Fat:
1
g
,
Saturated Fat:
1
g
,
Polyunsaturated Fat:
1
g
,
Monounsaturated Fat:
1
g
,
Sodium:
8
mg
,
Potassium:
215
mg
,
Fiber:
5
g
,
Sugar:
32
g
,
Vitamin A:
99
IU
,
Vitamin C:
8
mg
,
Calcium:
26
mg
,
Iron:
1
mg
Nutrition information provided is an estimate. It will vary based on cooking method and specific ingredients used.