This post may contain affiliate links. Please read our disclosure policy.
If you're looking for an easy no-fail pumpkin recipe for a crowd this fall, you should try these classic pumpkin bars. These are light and fluffy with have a cake-like texture and a sweet and subtle pumpkin taste that everyone will love! We are also really digging No-Bake Pumpkin Balls and Healthy Pumpkin Pancakes this fall.
These pumpkin bars with no frosting have been my go-to cinnamon-y dessert for years now. Making them is as simple as mixing wet and dry ingredients, and into the oven they go. Also, the pumpkin bars bake up quickly—so you don't have to spend all day in the kitchen. Perfect for when you want something satisfying without a lot of fuss!
What are pumpkin bars?
These popular fall treats are basically like a soft and moist cake made in a long baking pan to create bars. They are more airy and light compared to traditional bars, and are often confused with pumpkin cake. It's pretty much a pumpkin sheet cake.
You can make your own icing for the pumpkin bars recipe, use store bought icing, or just add a dollop of coconut cream on top like I did. A lot of my friends and family remove the icing on cakes and bars to consume less fat and sugar. So, I opt for making these bars without the icing, and serving some cream on the side.
Why you'll love these brown sugar pumpkin bars
No Frosting Needed: While you can certainly frost them, these bars stand out with their flavor alone. They don't need any additional toppings or frostings.
Versatile Serving Options: These bars work great as a breakfast snack, midday pick-me-up, or evening dessert. Their balanced sweetness and rich texture fit any time of the day.
Simple Tools: All you really need are two large bowls, a baking pan, and a whisk to bring this recipe together. No stand mixer or fancy gadgets are required! That's why this is one of my favorite easy pumpkin desserts.
Ingredients to make Easy Pumpkin Bars
All-purpose flour: The foundation for the bars. Make sure it's fresh for the best results. For a healthier option, you can substitute with whole wheat flour, but it might change the texture a bit.
Cinnamon: Adds that classic warmth and fall flavor to the bars. You could also toss in a pinch of nutmeg or cloves if you like a little more spice depth.
Baking powder & baking soda: These ensure your brown sugar pumpkin bars rise nicely and get that light, cake-like texture.
Salt: It enhances the flavors of the other ingredients and balances the sweetness.
Eggs: Acts as a binder for the bars. Make sure they're at room temperature for even mixing.
Cane sugar & dark brown sugar: These sweeten the bars without going overboard. Remember, the applesauce and pumpkin also add sweetness. You can try using coconut sugar or maple syrup as a replacement, but keep in mind that this might alter the texture and sweetness level.
Pumpkin puree: The main ingredient! Ensure you're using pure pumpkin puree and not pumpkin pie filling. I use store-bought, but homemade pumpkin puree works wonders too!
Unsweetened applesauce: This adds moisture and natural sweetness. Store-bought works great, but if you have the time, homemade applesauce can elevate the flavor.
How to make pumpkin bars
This pumpkin bars recipe involves your standard dry bowl and wet bowl, and then mixing everything together.
Combine flour, cinnamon, baking powder, baking soda and salt in one bowl. Beat the eggs, sugar, pumpkin and applesauce in another large bowl. Then bring it all together, mixing just enough so there are no more flour streaks, without over-mixing the batter.
Then transfer it to a large 9×13 baking pan. You don't need to grease the pan and you don't even need to use parchment paper. The moisture of these pumpkin bars from the applesauce just makes these peel right off the pan.
Bake the pan in the preheated oven until the batter is completely set. You can insert a toothpick in the middle to make sure it comes out dry. But you can tell when the color darkens and the edges start to pull away from the pan.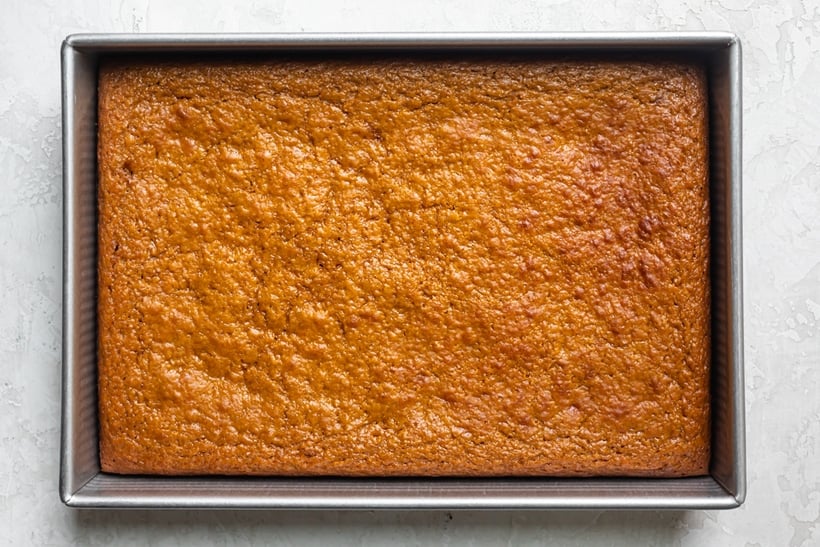 Tips for making pumpkin bars
Use pumpkin puree not pumpkin pie filling. The cans sit right next to each other on shelves, so it's easy to mistake them for each other. But you want to make sure the only ingredient is pumpkin puree since you'll be adding the sugar and spices to make the pumpkin bars.
Don't over-mix the batter. A few lumps in the batter are definitely OK! In fact, over-mixing the batter can actually make the batter tough. To avoid over-mixing, make sure the dry ingredients and wet ingredients are thoroughly mixed separately before combining. Then combine using a wooden or silicone spatula, not a mixer.
Use a 15×10 baking pan for thinner bars. There's no customary size for these pumpkin bars so you can use what you have on hand. But the 15×10 and 9×13 sizes are the most common.
Popular substitutions & additions
Add nuts. Give your easy pumpkin bars a crunchy twist by adding in walnuts, pecans, or even almonds. They not only provide a texture contrast but also add a layer of nutty flavor that complements the pumpkin nicely.
Fold in chocolate chips. If you want something a bit more indulgent, stir in some semi-sweet or dark chocolate chips before baking.
Use coconut sugar. It's a more natural alternative to cane and brown sugars. Plus, it has a subtle caramel taste.
Swap applesauce for oil. If you're out of applesauce or just don't like it, you can replace it with an equal amount of canola oil, vegetable oil or coconut oil.
How to store & reheat these Easy Pumpkin Bars
Storing these pumpkin bars is simple. Just place them in an airtight container and keep them in the fridge. You can also just leave them in the baking dish and cover them tightly with tin foil. This helps them stay moist and fresh.
Reheating is easy, too. If you're looking to warm them up a bit, just put a bar in the microwave for about 20 seconds. You can also reheat them in an oven at 350°F for about 5 minutes if you prefer.
How long will these Easy Pumpkin Bars last in the fridge?
When stored properly in the fridge, your pumpkin bars will stay fresh for up to 5 days. Remember, the fresher they are, the better they'll taste.
Can i freeze these brown sugar pumpkin bars?
If you're looking to keep them longer, these bars freeze well. Once completely cooled, wrap them individually in plastic wrap and then store in a freezer-safe bag or container. They can be frozen for up to 3 months. When you're ready to enjoy, just thaw them at room temperature or pop them in the microwave for a quick reheating.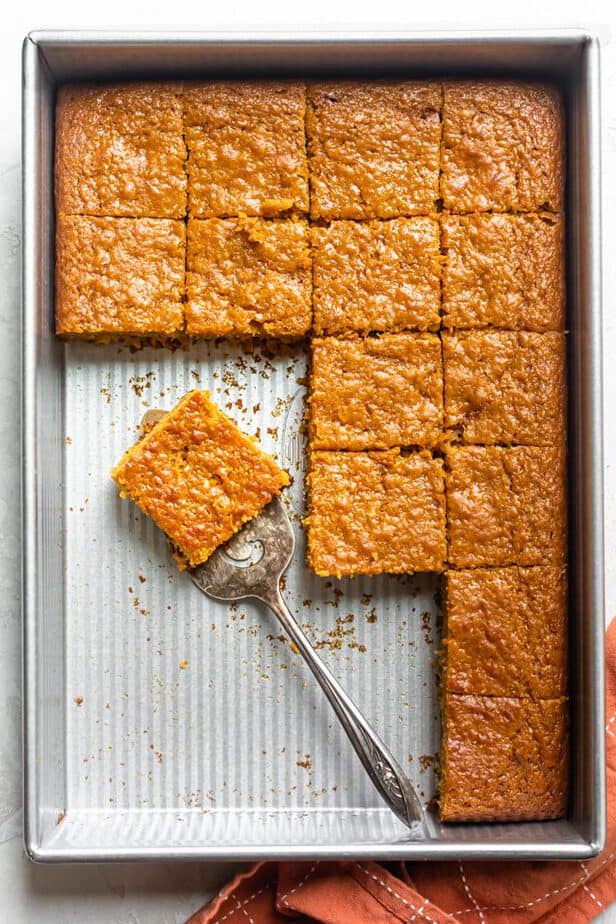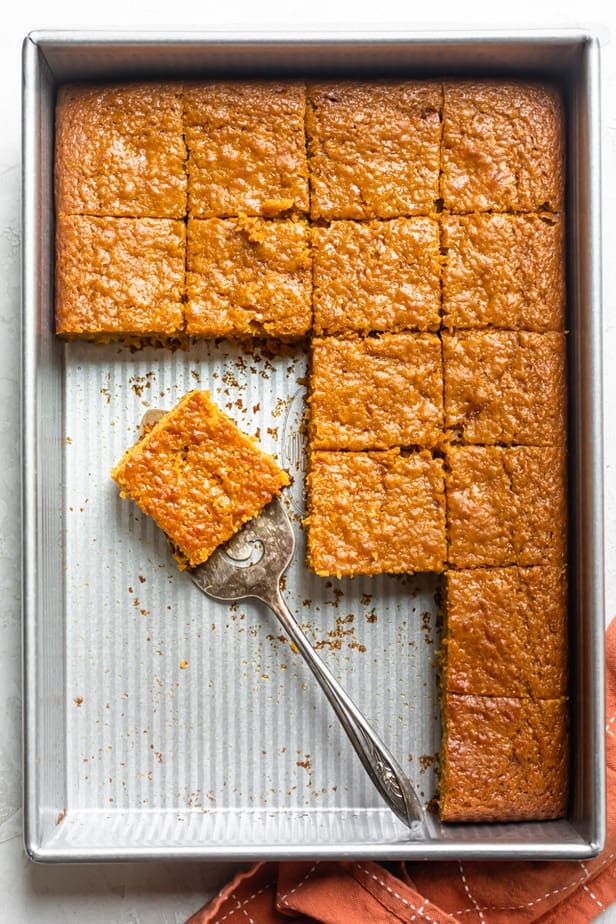 Frequently asked questions
What's the difference between these pumpkin bars and pumpkin cake?
While both have similar ingredients and flavors, the main difference lies in the texture and serving style. Pumpkin bars are denser and typically cut into squares or rectangles, making them perfect for a grab-and-go snack. Pumpkin cakes, on the other hand, are fluffier and usually served as a dessert with frosting or icing.
Do pumpkin bars need to be refrigerated?
Because they contain eggs in the recipe, I would highly recommend refrigerating these pumpkin bars after baking and cooling. They stay fresh for up to 5 days in the fridge.
Can I make this recipe vegan?
Yes! You can swap out the eggs for flax or chia seed 'eggs'. Combine 1 tablespoon of ground flaxseed or chia seeds with 2.5 tablespoons of water for each egg. Let it sit for a few minutes to gel up, and it's ready to use. As for the sugars, make sure they're vegan-friendly, as some sugars are processed with animal-derived products.
This easy pumpkin bars recipe is great for fall and wonderful to serve a large crowd of people. They're easy to make and can be customized to add different icings, frosting or whipped cream. Make them for parties, snacking or even Thanksgiving dessert. Everyone will love them! So, if you're aiming for a laid-back dessert that hits the right notes without being overly sweet, this one's for you!
For more pumpkin recipes:
For more bars recipes
If you've tried this healthy-ish feel good Pumpkin Bars recipe or any other recipe on FeelGoodFoodie, then don't forget to rate the recipe and leave me a comment below! I would love to hear about your experience making it. And if you snapped some shots of it, share it with me on Instagram so I can repost on my stories!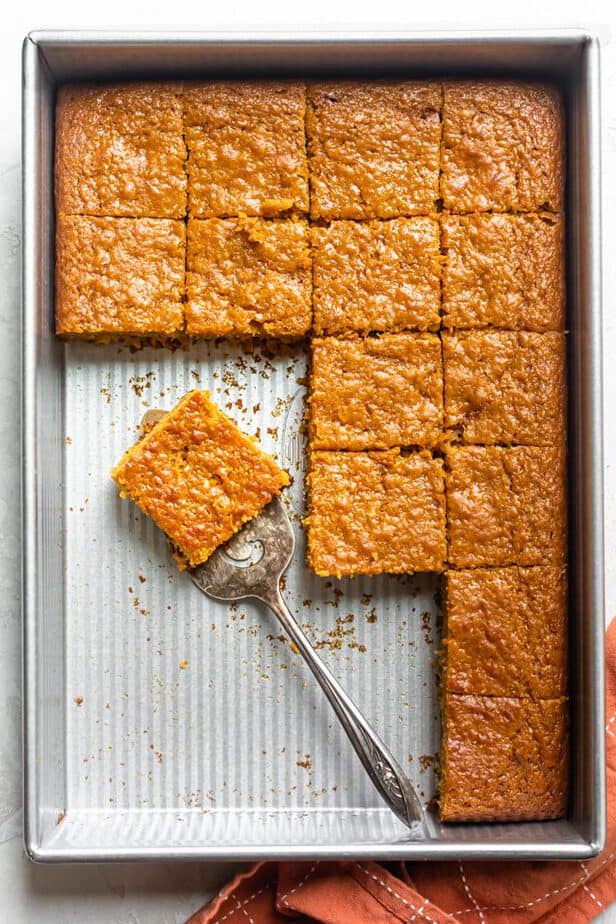 Pumpkin Bars
This pumpkin bars recipe is a perfect one to make for fall, especially when you're entertaining a crowd. They're moist, tender with a light pumpkin-y flavor
Instructions
Preheat the oven to 350°F.

Whisk flour, cinnamon, baking powder, baking soda and salt in a large bowl. Beat the eggs, sugar, pumpkin and applesauce in another large bowl.

Gradually pour the dry ingredients into wet ingredients and mix until just combined.

Pour the batter into an ungreased 9×13 baking pan and bake for 25-30 minutes or until set. Remove from the oven and allow the bread to cool completely in the pan set on a wire rack.
Notes
Recipe: Adapted from Paula Deen with modifications to make it healthier like swapping the vegetable oil for applesauce.
Storage: Store the remaining pumpkin bars in an airtight container. They will last up to 5 days in the fridge.
Freezing Instructions: Cool the pumpkin bars completely. Then tightly wrap the entire pan or the bars in plastic wrap or aluminum foil. Then place the wrapped pan or slices in a freezer-friendly storage bag or airtight container for up to 3 months. Thaw in the fridge or at room temperature.
Substitutes: For best results, follow the recipe as is. However here are some common substitutes that would work well in this recipe.
You can substitute whole wheat flour for the all purpose flour, but the texture will not be as moist.
To make this gluten-free, use an all-purpose gluten-free flour mix, but again the texture will not be as moist. Do not substitute only almond flour or only coconut flour though
You can substitute the sugar for coconut sugar.
I swapped the oil entirely for applesauce. But you can use canola oil, vegetable oil or coconut oil instead or swap half the amount.
You can substitute homemade pumpkin puree but I think the taste is better with canned pumpkin.
Nutrition
Calories:
98
kcal
,
Carbohydrates:
21
g
,
Protein:
2
g
,
Fat:
1
g
,
Saturated Fat:
1
g
,
Cholesterol:
27
mg
,
Sodium:
83
mg
,
Potassium:
71
mg
,
Fiber:
1
g
,
Sugar:
12
g
,
Vitamin A:
43
IU
,
Vitamin C:
1
mg
,
Calcium:
27
mg
,
Iron:
1
mg
Nutrition information provided is an estimate. It will vary based on cooking method and specific ingredients used.