This post may contain affiliate links. Please read our disclosure policy.
Pumpkin Chocolate Chip Cookies are easy to bake, have a chewy consistency and perfect for fall! It only takes 15 minutes to make a batch of these yummy pumpkin chocolate chip cookies! And if you have leftover pumpkin puree and chocolate chips from this recipe, then you have to try my Pumpkin Chocolate Chip Bread.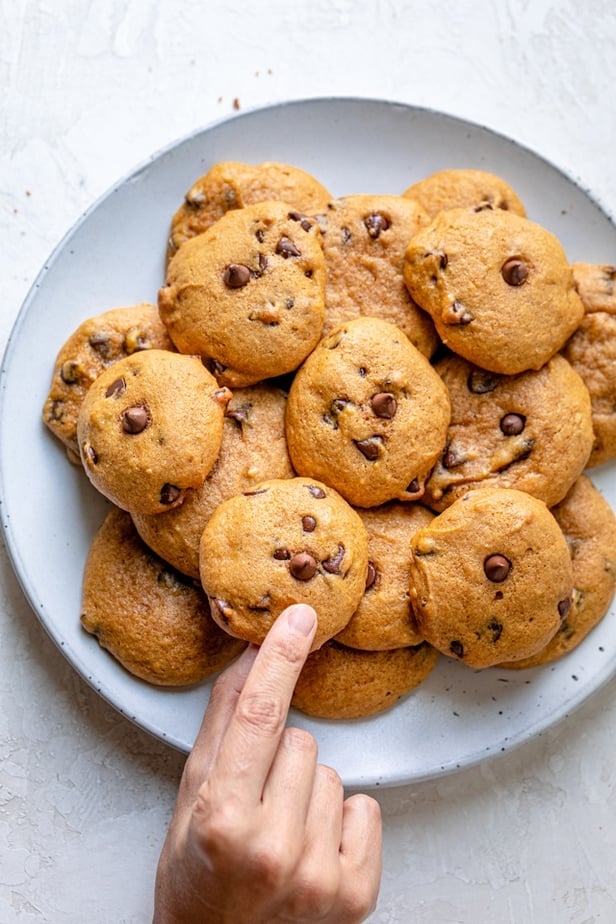 I promise you that you will absolutely love these pumpkin chocolate chip cookies, and they will probably be gone in your house in a jiffy. They're soft and chewy with a cake-like texture, rich in flavor from the chocolate chips, and I'm seriously thinking…addicting! I had 4 of these just during the photo shoot…it's a must-have fall cookie recipe!
A butterless cookie recipe
These Pumpkin Chocolate Chip Cookies don't need butter! They need a little canola oil or vegetable oil, a little applesauce and a lot of tender, love and care in whisking that yummy batter!
Why You'll Love These Pumpkin Chocolate Chip Cookies
When the season turns cooler, nothing beats the comfort of a homemade cookie that brings together the rich flavors of pumpkin and chocolate. Here are a few reasons why these pumpkin chocolate chip cookies will become a favorite in your household:
Simple and Easy: This recipe is straightforward to follow, making the process of baking cookies a breeze even if you're not a pro in the kitchen. Simple steps and easy-to-find ingredients mean you can have a batch of cookies ready in no time.
Moist and Fluffy Texture: Thanks to the inclusion of pumpkin and applesauce, these pumpkin chocolate chip cookies have a wonderfully soft and moist texture, different from your regular chocolate chip cookies. Every bite is a perfect blend of fluffy and chewy textures, giving you the ultimate cookie experience.
Warm and Comforting Flavors: The pumpkin brings a comforting warmth, paired wonderfully with the familiar sweet notes of chocolate. The hint of cinnamon adds a spicy touch that ties everything together, offering a comforting feeling of fall.
Wholesome Ingredients: Utilizing white whole wheat flour adds a wholesome touch to these cookies, allowing you to enjoy a treat that is slightly more nutritious compared to those made with refined flours.
Perfect for Fall: The blend of pumpkin and spices makes these cookies the perfect companion for a cozy fall day, giving you all the autumnal vibes in one delightful package.
INGREDIENTS FOR PUMPKIN CHOCOLATE CHIP COOKIES
Canned pumpkin: Provides a moist base for the cookies and gives that signature pumpkin flavor. Opt for pure pumpkin puree without added spices or sugars.
Cane sugar: Adds sweetness. You can adjust the quantity slightly based on your preference.
Canola oil: Gives the cookies a tender texture. If preferred, you can replace it with a similar oil like vegetable oil.
Unsweetened applesauce: Works as an added moistening agent without introducing too much sugar.
Milk: Helps dissolve the baking soda, ensuring an even texture in the cookies.
Egg: Acts as a binder, holding all the ingredients together.
Vanilla extract: Gives an added depth of flavor. Always go for pure vanilla extract for the best flavor.
White whole wheat flour: A healthier flour option that still provides a soft cookie texture. Regular all-purpose flour can also be used if needed.
Baking powder & baking soda: Helps the cookies rise and become fluffy.
Cinnamon: Adds a warm spice note that pairs wonderfully with pumpkin.
Salt: Just a bit to enhance all the flavors.
Semisweet chocolate chips: For that delightful chocolatey bite. If you're a chocolate lover, feel free to add a bit more!
How to make pumpkin chocolate chip cookies
In a medium bowl, whisk the pumpkin, sugar, oil, applesauce and egg until smooth. You can use a handheld electric mixer or just a whisk will do.
Dissolve the baking soda with the milk in a small bowl, and stir into the wet ingredient mixture.
Measure out the dry ingredients in another bowl.
Whisk the dry ingredients: flour, baking powder, ground cinnamon, and salt.
Pour the dry ingredients into the wet ingredients and mix together with a large spoon or rubber spatula. Then it's time to fold in the chocolate chips.
Drop the pumpkin chocolate chip cookie dough by spoonful on two cookie sheets or a baking sheet lined with a silpat and bake the cookies for 10 minutes until browned and firm. You want to let them cook for 10 minutes on the cookie sheet before transferring to a wire rack.
Tips for making pumpkin chocolate chip cookies
Use pumpkin puree not pumpkin pie filling. The cans sit right next to each other on shelves, so it's easy to mistake them for each other. But you want to make sure the only ingredient is pumpkin puree since you'll be adding the sugar and spices to make the pumpkin chocolate chip cookies.
Line baking sheets with parchment paper or silpat, but don't grease the pan. Otherwise, this will result in the cookies spreading too much or browning too much.
Flatten the cookie dough when you put them on the baking sheet. Because we're not using butter in these cookies, you'll notice they don't spread as much as other cookies, so flattening them will help them spread more.
Allow the cookies to cool on the baking sheet for 10 minutes before moving them onto a cooling rack. That's because they will continue to cook on the hot baking sheet and firm. Otherwise they may crumble if you try to lift them too soon.

Popular substitutions & additions
Swap out the chocolate chips. While the recipe calls for semisweet chocolate chips, feel free to use dark chocolate chips, white chocolate chips, or even butterscotch chips for a different flavor profile. Adding in some chopped nuts can introduce a crunchier texture to your cookies.
Experiment with spices. This pumpkin chocolate chipe cookie recipe uses cinnamon, but don't hesitate to try adding a pinch of nutmeg or a pumpkin spice blend to enrich the fall flavors in your cookies.
Use different flour. If white whole wheat flour isn't available, you can replace it with all-purpose flour or a gluten-free flour blend to cater to different dietary needs.
Change the sugar type. Instead of cane sugar, you can use coconut sugar or a sugar substitute that measures equally, creating a lower-calorie cookie.
Alter the wet ingredients. If you'd rather not use canola oil, melted coconut oil or butter are great substitutes. Similarly, if applesauce isn't available, simply increase the amount of oil to a quarter cup to maintain the cookie's moist texture.
Frequently asked questions
Can I refrigerate the dough overnight before baking?
Yes, you can make the dough and refrigerate overnight. The cookies will be more moist though since the dough will absorb all the moisture from the pumpkin puree.
Can I use fresh pumpkin instead of canned?
Yes you can substitute fresh pumpkin instead of canned pumpkin puree. If you're doing that, I recommend draining some of the liquid with a colander and then dabbing it with a paper towel as much as possible to remove some of that moisture. The result may be more moist cookies though.
How long will pumpkin chocolate chip cookies keep?
Store these cookies in an airtight container at room temperature, and they will be good for around 7 days. You can also freeze them. Freeze them uncovered on a baking sheet and then transfer to freezer bags when they're solid. Thaw them at room temperature.
Incorporating the flavors of pumpkin and chocolate together might seem unexpected, but one bite of these cookies will have you wondering why you didn't try it sooner. Perfect for fall, or frankly, any time of the year when you're in the mood for a comforting treat, these pumpkin chocolate chip cookies strike a fine balance between rich, chocolaty goodness and the mellow warmth of pumpkin.
More cookie recipes:
I hope you enjoy these cookies as much as we did! They are full of the flavors of fall and so easy to make!
If you make this healthy-ish feel good Pumpkin Chocolate Chip Cookies recipe, please be sure to leave a comment and/or give this recipe a rating! I would love to hear about your experience making it. And if you snapped some shots of it, share it with me on Instagram so I can repost on my stories!
Pumpkin Chocolate Chip Cookies
These Pumpkin Chocolate Chip Cookies are chewy, moist and perfect treat for fall – made healthier by using applesauce and whole wheat flour, but no butter!
Instructions
Preheat oven to 350°F and line two cookie sheets with parchment paper.

In a large bowl, whisk the pumpkin, sugar, oil, applesauce, egg and vanilla extract until smooth. Dissolve the baking soda with the milk and stir into the wet ingredient mixture.

In another medium bowl, toss together the flour baking powder, ground cinnamon, and salt.

Pour the dry ingredients into the wet ingredients and mix together with a rubber spatula. Fold in the chocolate chips.

Use a spring-loaded cookie scoop to drop cookie dough on prepared cookie sheets.

Bake 10 minutes or until lightly brown and firm.

Allow the cookies to cool for 10 minutes on the cookie sheets before transferring to a wire rack.
Notes
Recipe: This recipe adapted from AllRecipes because it had over 1000 comments and 5 stars. I made a couple changes though with a few modifications:
I swapped ¼ cup of the vegetable oil for applesauce
I used organic cane sugar instead of white sugar
I also used 1 ½ cups of chocolate chips instead of the recommended 2 cups.
Storage: They will typically stay fresh in a sealed container for up to 5 days and they will continue to soften overtime due to the moisture from the pumpkin puree.
Substitutes: For best results, follow the recipe as is. However here are some common substitutions:
To make it vegan, substitute the egg for a flax egg, which is made by mixing together 1 tablespoon flaxseed with 2 tablespoons water and letting it rest for 5 minutes. You can also skip the egg entirely. And you can use non-dairy milk.
Nutrition
Serving:
2
g
,
Calories:
161
kcal
,
Carbohydrates:
22
g
,
Protein:
2
g
,
Fat:
7
g
,
Saturated Fat:
2
g
,
Cholesterol:
7
mg
,
Sodium:
105
mg
,
Potassium:
144
mg
,
Fiber:
2
g
,
Sugar:
13
g
,
Vitamin A:
1605
IU
,
Vitamin C:
0.4
mg
,
Calcium:
39
mg
,
Iron:
1.2
mg
Nutrition information provided is an estimate. It will vary based on cooking method and specific ingredients used.