This post may contain affiliate links. Please read our disclosure policy.
Tahini chocolate chip cookies are one of my favorite chocolate chip cookie recipes. Instead of using only butter to make the cookies, swap half the amount for tahini – a sesame seed paste popular in Middle Eastern cooking. It adds a slight savory taste to your chocolate chip cookies, similar to adding sea salt, tahini makes them flavorful and irresistible.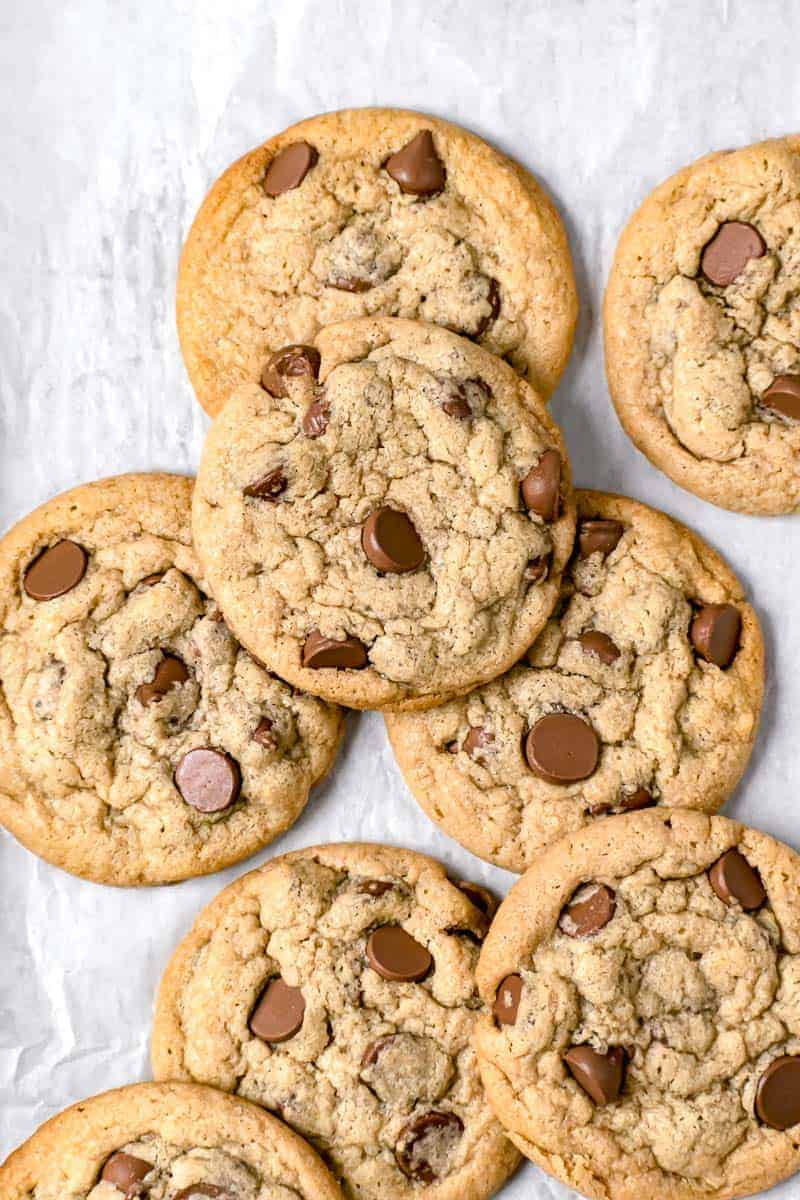 Sesame seed paste has a slightly salty taste to it, which is a wonderful complement to the sweet buttery taste of chocolate chip cookies. It does give these tahini chocolate chip cookies a small hint of savory flavor.
"Since I grew up in the Middle East, this recipe is so close to the heart. They're so delicious that you can't stop at just one! Love love love them!" – Maneka
Table of Contents
Recipe at a glance
Cuisine Inspiration: American
Primary Cooking Method: Baking
Dietary Info: Vegetarian
Key Flavor: Chocolate
Skill Level: Intermediate
Summary
Unique Flavor Fusion: A blend of delicious flavors – rich butter, nutty tahini, and sweet chocolate chips truly make these cookies a unique treat.
Balanced Sweetness: This recipe strikes a balance between sweet and savory, making it perfect for those who enjoy a diverse flavor profile.
One Of A Kind: The effort and patience that goes into making, chilling, and then baking is well worth the wait for this unique tahini cookie.
Ingredients to make tahini chocolate chip cookies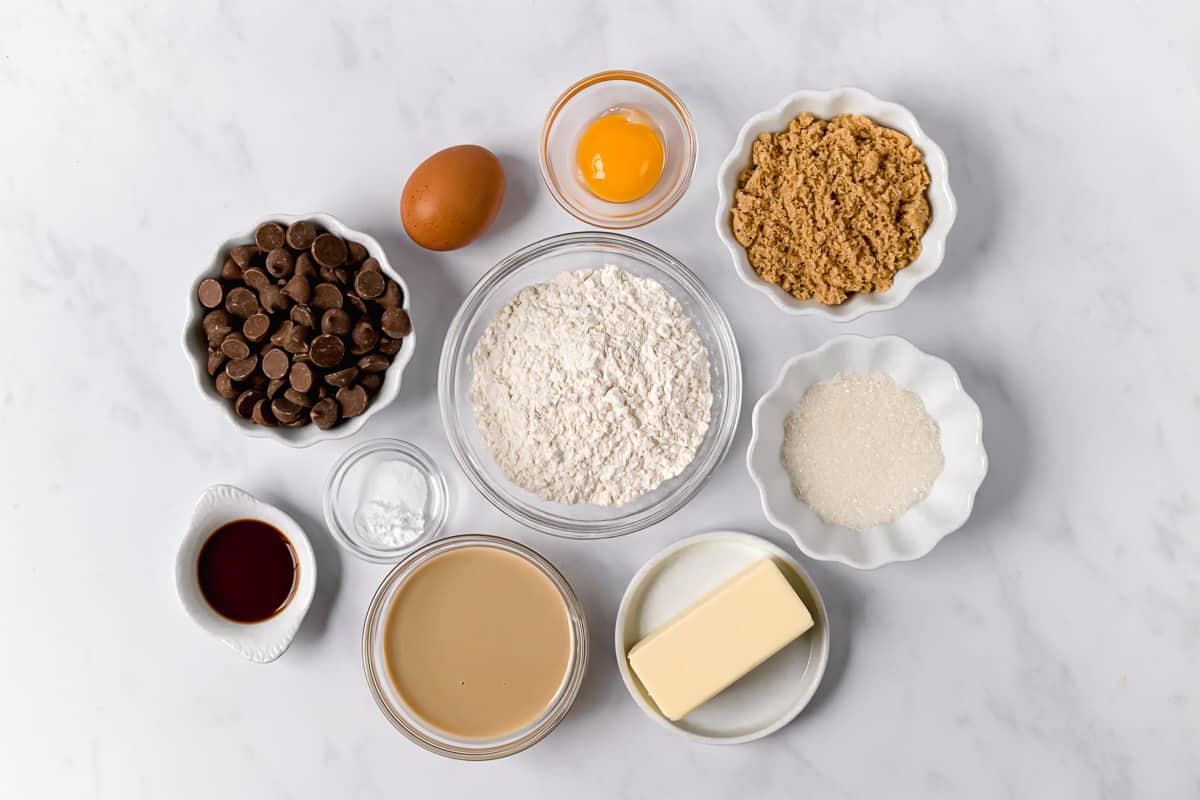 Butter: Use unsalted butter for this recipe.
Tahini: Tahini is a sesame seed paste and it adds a wonderful flavor to these chocolate chip cookies.
Cane sugar: I prefer to use cane sugar, which is less processed, but you can use granulated.
Light brown sugar: The molasses in the brown sugar adds a rich sweetness to each bite.
Egg: To bind the ingredients together.
Vanilla extract: For flavor and sweetness.
Flour: Use all purpose flour in this recipe.
Baking soda: To allow your cookies to rise when they are baked.
Chocolate chips: I love the flavor of bittersweet chocolate chips, but you can use semi-sweet or milk if you prefer.
Popular substitutions & additions
Nut Butter: While tahini is a prominent ingredient in this cookie, you could replace it with a creamy almond butter, peanut butter, or another nut butter of your choice.
Nutty Crunch: Chop and add your favorite nuts like pecans, walnuts, or almonds for extra crunch.
Warm Spices: Bring these cookies with you to the cooler seasons by adding warm spices like cinnamon, nutmeg, or a premade pumpkin or apple pie spice.
Chocolate: Dark, milk, or white chocolate chips would all be equally delicious. Bittersweet chocolate is a happy medium between milk and dark chocolates.
Flaky Salt: Once baked, top your cookies with a pinch of flaky salt for a delicious sweet and salty bite.
RECIPE VIDEO TUTORIAL
How to make tahini chocolate chip cookies
Beat together the tahini, butter, and sugars until fluffy. Mix in the eggs and vanilla. Then add the dry ingredients on top and continue mixing until well combined.
Fold in the chocolate chips and then cover and refrigerate for best results.
When you're ready to bake, place balls of the cookie mixture onto a baking sheet, keeping space between them.
Bake until the edges are golden brown and allow them to rest before tasting one!
"These are so tasty! I was a little apprehensive at first, but followed the recipe exactly, and they turned out great! Leave them in a bit longer if you want it less gooey in the center!" – Carol
Tips for making the best chocolate chip tahini cookies
Store the cookie batter in the fridge for 24 hours before baking. If you're impatient, give it at least 2 hours. This helps the fat in the butter and tahini to solidify so they make a more moist cookie
Use less tahini if you are skeptical of it in these cookies or unsure if you'll like it. Try just 2 or 4 tablespoons and substitute the rest with softened butter.
Don't over mix the cookie batter when you add the flour. The dry ingredients should be just combined. Over mixing can cause the gluten to develop and your cookies will turn out tough and chewy.
Buy high quality tahini. Make sure the sesame seed paste is the only ingredient in the tahini and look for lighter colored tahini when possible. The ones imported from the Middle East like this tahini brand tend to have great taste and consistency.
What to serve with your cookies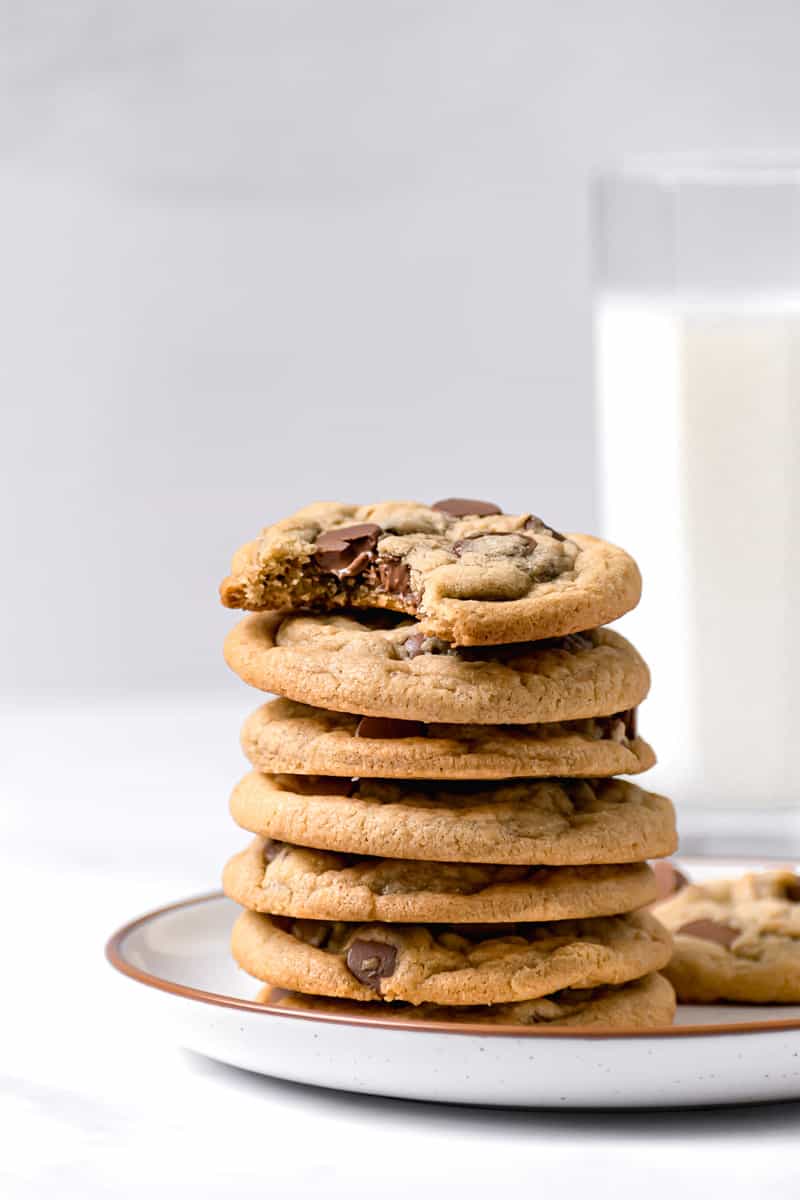 How to store
How long will tahini chocolate chip cookies last in the fridge? Once your cookies have cooled, place them into an airtight container. They will keep well for 3 to 4 days at room temperature and up to a week in the fridge.
Can I freeze tahini cookies? Yes, these freeze really well. Place them into a freezer-safe container with the layers separated by parchment. They will keep well for up to 3 months and can be thawed at room temperature on a cooling rack.
Frequently asked questions
Why add tahini to cookies?
Tahini is essentially sesame seed butter. It's an oily paste, similar to natural peanut butter in texture, so its a great way to add moisture to your baked goods. It's nutty and creamy and so good!
Why did my cookies turn out dry and crumbly?
Overbaking or using too much flour can result in dry and crumbly cookies. Ensure you follow the recommended baking time, keeping an eye on them towards the end. Take care to measure the flour correctly. The smallest amount of extra flour can result in dry cookies.
How do I choose the best tahini for baking?
The best tahini for baking is one that is made with just two ingredients. Your best bet is to go with a tahini that you're familiar with and that you like. If you're unsure, feel free to test out a few different brands. Keep in mind that tahini is slightly bitter, so think about how that flavor is going to mesh with your tahini chocolate chip cookies.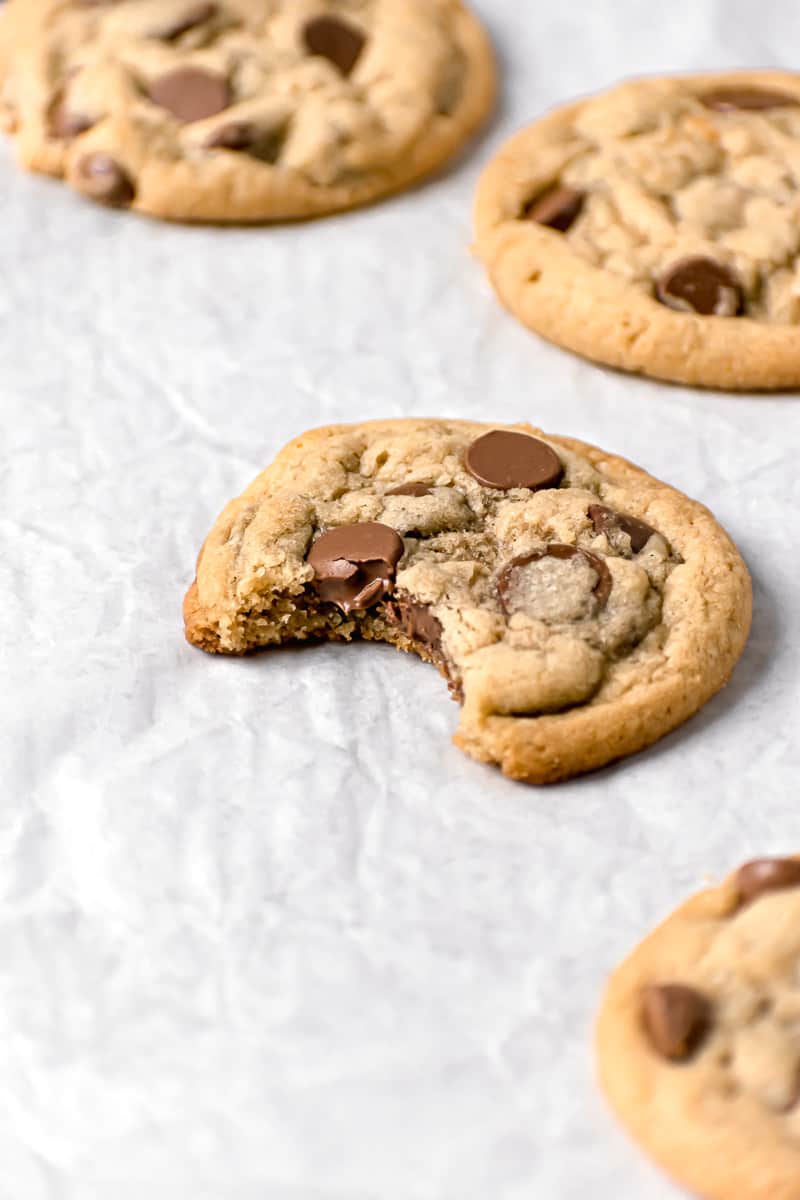 These tahini chocolate chip cookies are slightly crunchy on the outside, super chewy on the inside, and totally chocolatey all over. You're going to be obsessed! Sweet enough to kick that craving, and delicious enough to want to share. It's the unique cookie combination you never knew you needed!
More cookie recipes:
If you make this feel good Tahini Chocolate Chip Cookies recipe, please be sure to leave a comment and/or give this recipe a rating! I would love to hear about your experience making it. And if you snapped some shots of it, share it with me on Instagram so I can repost on my stories!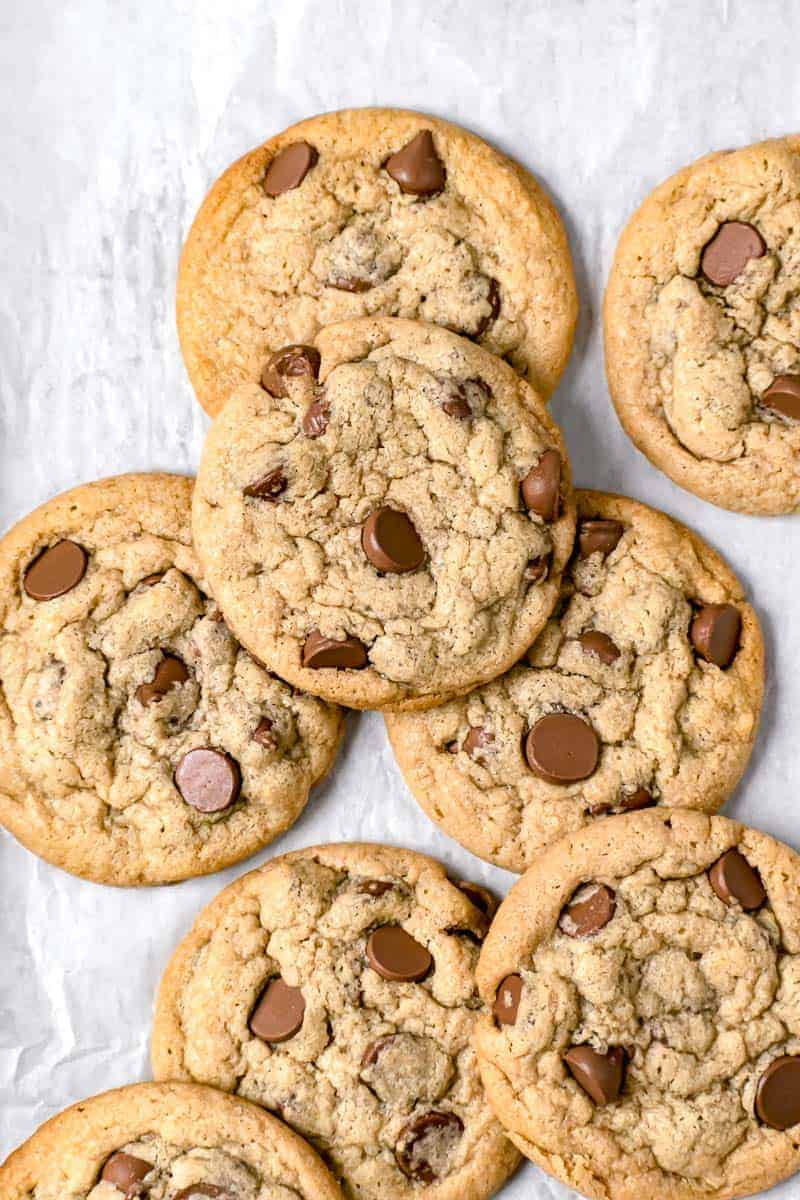 Tahini Chocolate Chip Cookies
These Chocolate Chip Tahini Cookies have a Middle Eastern twist by swapping half the butter in traditional chocolate chip cookies with tahini (sesame paste)
Instructions
In the bowl of a stand mixer, beat the butter, tahini, cane sugar and brown sugar on medium speed for 2 to 3 minutes, or until fluffy.

Add the egg, egg yolk and vanilla extract and beat for 1-2 minutes, until the eggs are incorporated.

In a small bowl, whisk together the flour, baking soda, and sea salt.

With the mixer on low speed, add the dry ingredients until just combined, then fold in the chocolate chips. Cover the dough and refrigerate overnight.

Preheat the oven to 325°F. Line two baking sheets with parchment paper.

Divide the dough into 1 ½ tablespoon-sized balls using a spring-loaded scoop. Bake for 12-15 minutes or until cookies are firm and slightly golden brown at the edges. Cool on the baking sheet for 5 minutes, then transfer to wire racks to cool completely.
Notes
Shopping: You can find tahini in Middle Eastern stores or many common grocery stores as well. Preparation: For best results, store the cookie batter in the fridge for 24 hours before baking. If you're impatient, give it at least 2 hours. Storage: These cookies will keep in an airtight container for 3 to 4 days at room temperature or in the fridge for up to a week.
Nutrition
Serving:
2
g
,
Calories:
202
kcal
,
Carbohydrates:
22
g
,
Protein:
3
g
,
Fat:
11
g
,
Saturated Fat:
7
g
,
Cholesterol:
25
mg
,
Sodium:
158
mg
,
Potassium:
132
mg
,
Sugar:
13
g
,
Vitamin A:
140
IU
,
Vitamin C:
0.2
mg
,
Calcium:
60
mg
,
Iron:
0.7
mg
Nutrition information provided is an estimate. It will vary based on cooking method and specific ingredients used.