This post may contain affiliate links. Please read our disclosure policy.
This two-ingredient strawberry sauce (or compote), whichever name you prefer to call it, has slices of fresh, juicy strawberries that have been lightly simmered with just a touch of sugar. Making for a delicious, fresh-tasting strawberry topping for pancakes, cheesecake, waffles, yogurt, ice cream, or cake.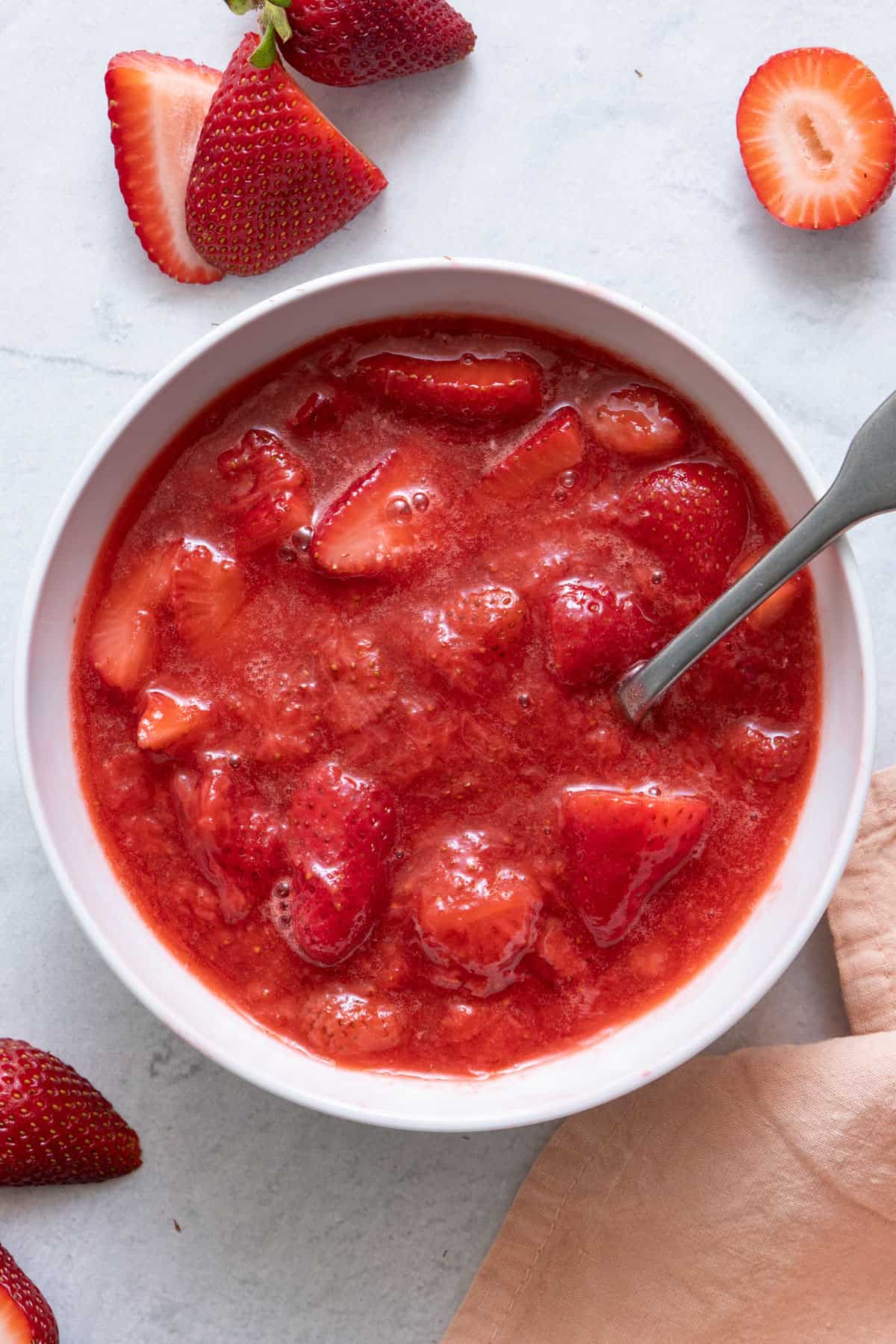 What's better than store-bought strawberry sauce? 2-Ingredient Strawberry Sauce! The strawberries are cooked just enough to soften them and bring out their natural sweetness. And with only two ingredients required, this strawberry compote/sauce couldn't be any simpler to make. So if you're looking for an easy, fresh-tasting strawberry topping, give this two-ingredient compote/sauce a try. You won't be disappointed.
why you'll love this easy strawberry compote
Fresh. Nothing beats the taste of fresh strawberry compote. Most store-bought versions are full of dye and other additives, which taints the strawberry flavor.
Quick and easy. This strawberry compote/sauce comes together in less than 15 minutes, start to finish.
Versatile. Serve this compote/sauce over pancakes, waffles, yogurt, ice cream, or cheesecake. Or use it as a filling for tartlets or turnovers. The possibilities are endless.
Two ingredients. All you need is fresh strawberries and sugar. That's it!
Ingredients to make a strawberry sauce
Strawberries: You'll want to use fresh strawberries for this recipe if you can. Frozen strawberries will work in a pinch, but they won't be quite as good.
Sugar: I like to use cane sugar or organic sugar, but you can really use any type of sugar you have on hand. If you want to cut down on the sweetness, you can always reduce the amount of sugar used.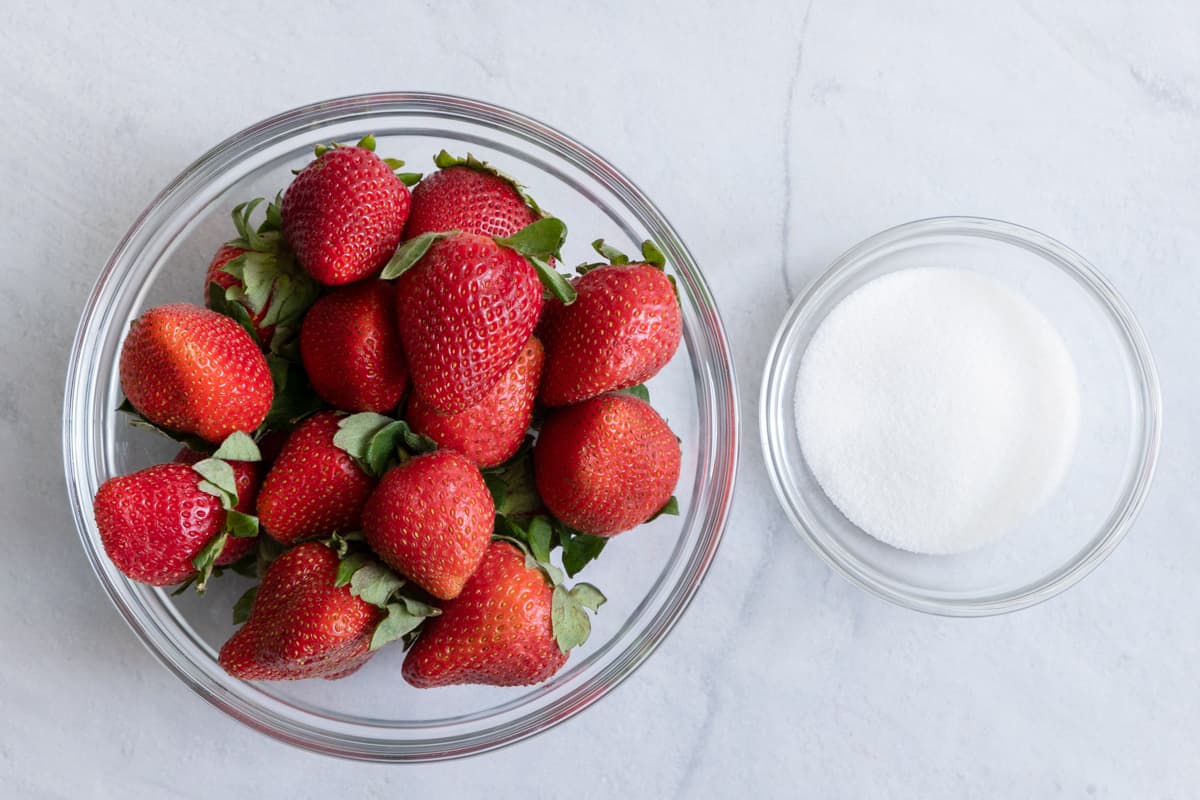 How to make a strawberry sauce
In a small saucepan, combine the strawberries and sugar and cook.
Stir occasionally until the strawberries begin to release their juices and start to boil.
Reduce heat and continue cooking the strawberries uncovered.
Remove from heat once a thick sauce starts to form.
Tips for making strawberry compote without lemon
Cut the strawberries into uniform pieces. This helps ensure that the strawberries cook evenly.
Don't overcook the strawberries. You don't want to turn this into strawberry jam! Cook the strawberries just until they're softened and have released their juices. Any longer, and they'll start to break down too much.
Try baking it in the oven! For a more hands-off approach, try baking the strawberry sauce instead of cooking it on the stovetop. Just place the same ingredients in a deep baking dish and bake at 400°F for 15-20 minutes until the strawberries are softened and bubbly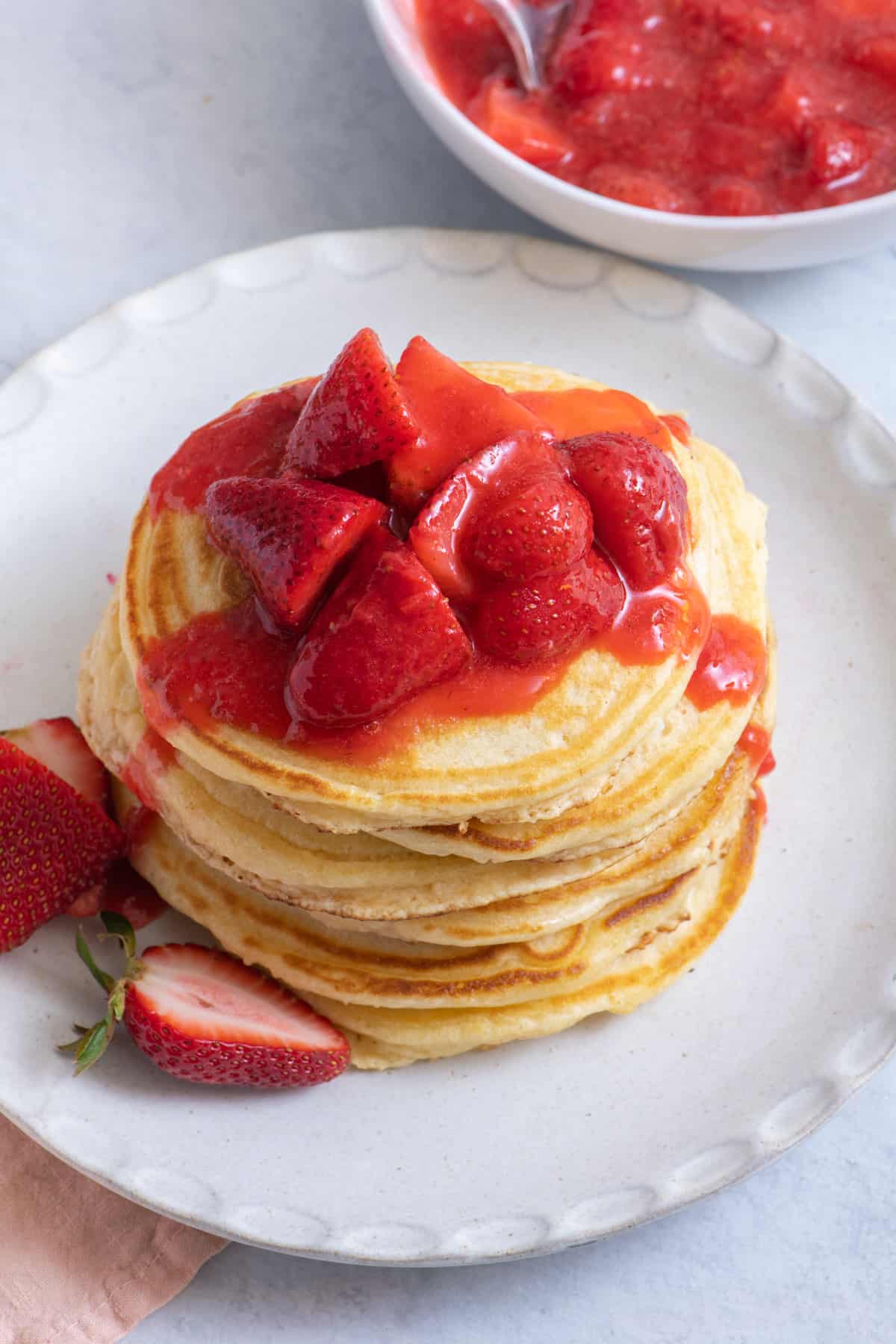 popular substitutions & additions
Add a little vanilla extract. For an extra boost of flavor, try adding a splash of vanilla extract to the compote/sauce.
Add water for a thinner sauce. If you want a thinner strawberry sauce, you can add a few tablespoons of water to the pot.
Add lemon juice for tartness. If you like a little tartness in your compote/sauce, add a squeeze of fresh lemon juice. This will also help to brighten up the flavor.
Swap out the sugar. For a more natural sweetness, try using honey or agave nectar instead of sugar. You may need to adjust the amount used depending on how sweet your strawberries are.
Mix the fruit up. This recipe works well for any type of berries. Try using raspberries, blueberries, or blackberries in place of the strawberries. You can even use peaches or mangos!
what to eat with strawberry sauce
how to store & reheat strawberry compote
This strawberry compote/sauce can be stored in the fridge. Just place it in an airtight container, and you're good to go.
To reheat, simply microwave the compote/sauce on high for 30-60 seconds until heated through. You can also reheat it on the stovetop over low heat. Tip: Only reheat as much as you're going to use in a serving. This will help keep the compote fresher for longer.
how long will strawberry sauce last in the fridge?
This strawberry compote/sauce will last in the fridge for up to three days. After that, it starts to lose its flavor and freshness. So be sure to eat it up while it's still at its best!
can i freeze homemade strawberry sauce?
Yes! This strawberry compote/sauce can be frozen for up to three months. Just place it in a freezer-safe container and pop it in the freezer. When you're ready to use it, thaw it overnight in the fridge.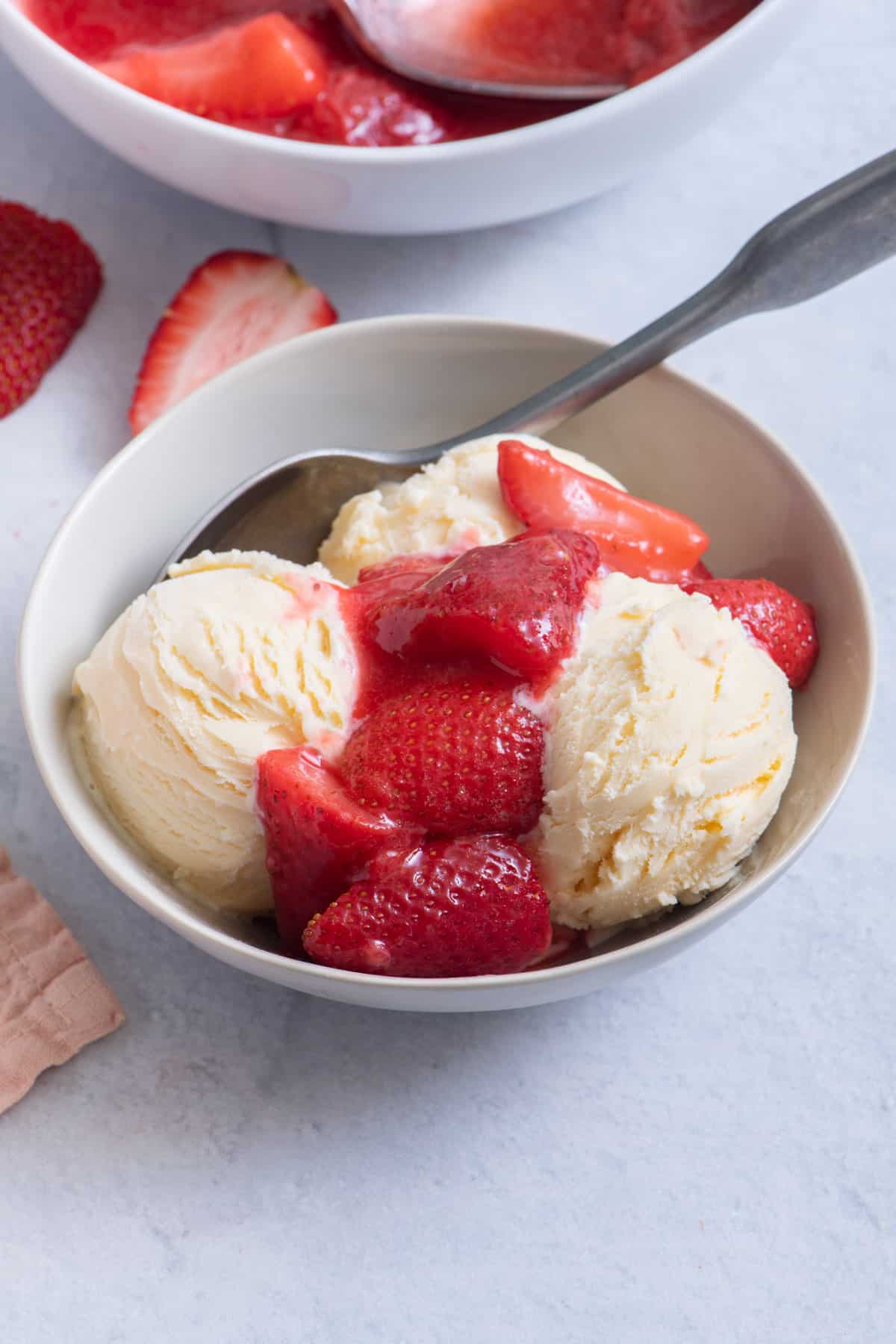 Frequently asked questions
Why isn't my strawberries sauce thickening?
If your strawberry compote/sauce isn't thickening, it's likely because the strawberries you're using are too ripe. Riper strawberries have more water content, which can make it harder to achieve a thick sauce. For best results, use strawberries that are slightly underripe. You can use a cornstarch slurry to help thicken the sauce. Just mix together equal parts cornstarch and cold water. Add it to the pot a little at a time, stirring until you reach the desired consistency.
Can I make this strawberry compote/sauce ahead of time?
Yes! This recipe is perfect for meal prep. Just make the compote/sauce ahead of time and store it in the fridge. It will last for up to three days.
Do I have to use the sugar?
Nope. You can omit sugar altogether if you choose. Or, you can use a natural sweetener like honey or agave nectar. Just keep in mind that the sweetness of your compote/sauce will depend on how ripe and sweet your strawberries are.
There you have it! A quick and easy recipe for homemade strawberry compote/sauce. This two-ingredient sauce is perfect for topping pancakes, waffles, or French toast. So many possibilities! What will you make with it?
More strawberry recipes:
If you try this feel good 2-Ingredient Strawberry Sauce recipe or any other recipe on Feel Good Foodie, then don't forget to rate the recipe and leave a comment below! It helps others who are thinking of making the recipe. We would love to hear about your experience making it. And if you snapped some shots, share it on Instagram so we can repost on Stories!
This 2-Ingredient Strawberry Sauce Salad recipe was originally published on February 5, 2017. The recipe has been slightly modified and the post now includes new step-by-step photos for how to make the strawberry sauce.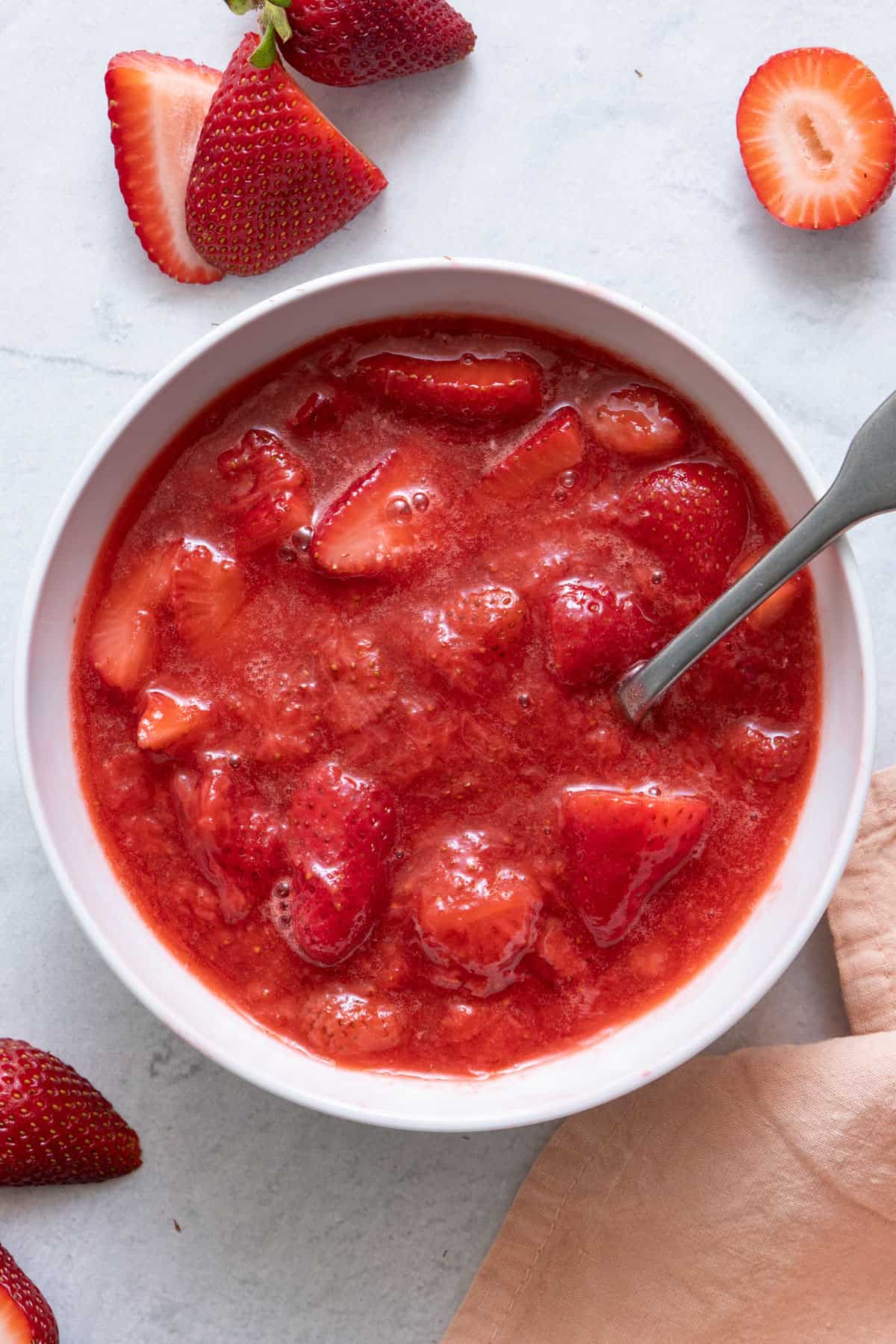 2-Ingredient Strawberry Sauce
This 2-Ingredient Homemade Strawberry Sauce (or compote) is made with only strawberries and sugar. Perfect for cheesecake, pancakes, and ice cream!
Instructions
In a small saucepan over medium high heat, combine the strawberries and sugar and cook, stirring occasionally until the strawberries begin to release their juices and start to boil.

Reduce heat to low and continue cooking the strawberries uncovered, stirring occasionally, until a thick sauce forms, about 15-20 minutes.

Remove from heat and bring to room temperature. Use immediately or store in an airtight container in the refrigerator for up to 7 days.
Notes
Tip: Make a double batch of this strawberry compote, so you have some to save and freeze for later! 
Nutrition
Calories:
56
kcal
,
Carbohydrates:
14
g
,
Protein:
1
g
,
Fat:
1
g
,
Saturated Fat:
1
g
,
Polyunsaturated Fat:
1
g
,
Monounsaturated Fat:
1
g
,
Sodium:
1
mg
,
Potassium:
116
mg
,
Fiber:
2
g
,
Sugar:
12
g
,
Vitamin A:
9
IU
,
Vitamin C:
44
mg
,
Calcium:
12
mg
,
Iron:
1
mg
Nutrition information provided is an estimate. It will vary based on cooking method and specific ingredients used.