This post may contain affiliate links. Please read our disclosure policy.
It's very rare that I turn on my oven during the summer months. But when I do, it's usually to make some type of baked fruit crisp, like this Strawberry Rhubarb Crisp. This is such a great way to use up abundant spring and summer produce. It's a wonderfully forgiving and adaptable recipe that you can use with any fruits you like. But I urge you to try this strawberry rhubarb version!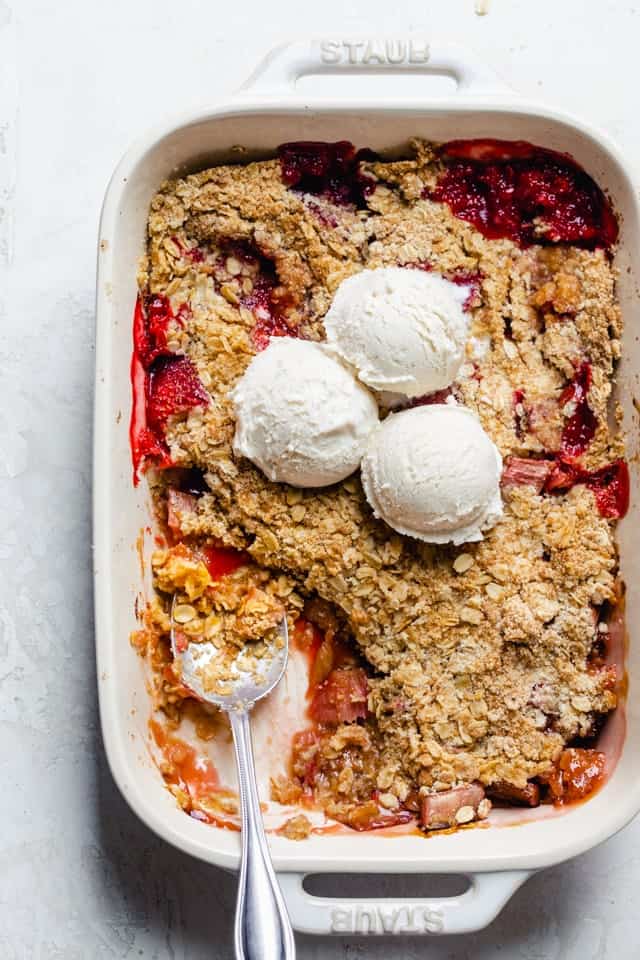 The prep is minimal. The baking time is relatively short. And the result is an irresistibly sweet and saucy fruit filling topped with a buttery golden crisp topping. Serve it with some ice cream and it's seriously dessert perfection in the fraction of the time it takes to make pie!
What is rhubarb?
If you've never seen rhubarb before, it looks like pink celery. I recently learned that rhubarb is actually a vegetable. And that was surprising to me because I've only ever heard of rhubarb followed by the words pie, crisp or crumble. So while you can eat rhubarb raw as you would celery, the most common use for it is for baking fruit-based desserts.
And since it can have a tart taste, rhubarb is often mixed with sweeter fruits like apples or strawberries, like I did with this strawberry rhubarb crisp. Rhubarb is generally in season between April and June. So now's the time to stock up on it and try out some recipes, or freeze some for later.
How do you make rhubarb crisp
Prepare the fruit filling
Start by preparing the rhubarb and strawberries. You want to wash them thoroughly and cut them into bite sized pieces. I usually fill a baking dish with 5 cups of fruit. You can decide the ratio between the two fruits. Then toss the fruit with cane sugar and cinnamon. Some recipes even call for adding cornstarch or flour here to get a thicker filling. However, I don't think that's necessary.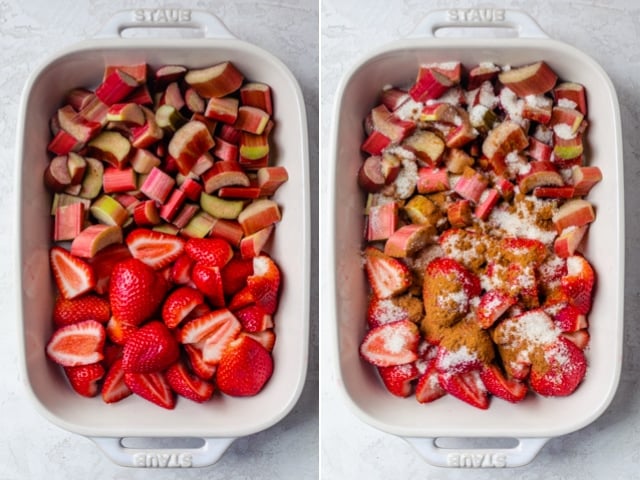 Prepare the crisp topping
Now, you'll want to set aside the fruit filling and make the streusel crisp topping. In a bowl, mix flour, oats and brown sugar.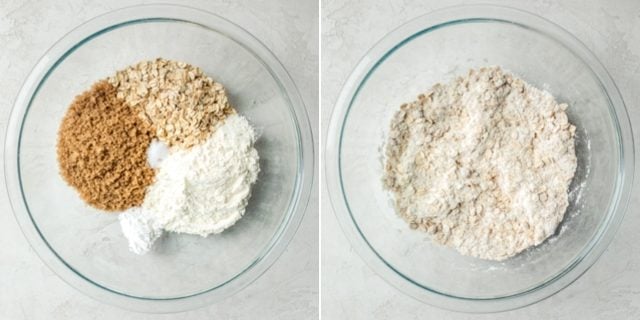 Then cut cold butter into the mixture until it's well blended.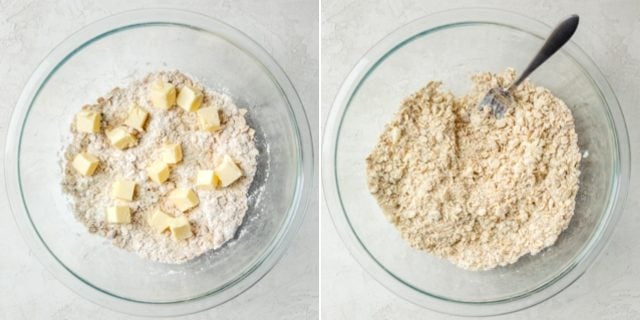 Now, just pour the crisp topping over the strawberries and rhubarb mixture and bake it in the oven until it's golden and crisp.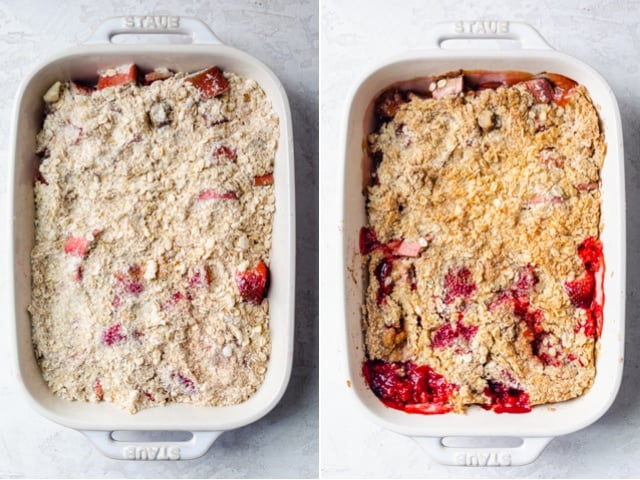 The fruit filling will be bright pink, warm and bubbling straight out of the oven, and the streusel topping will be crisp and crumbly. All it's missing now is some scoops of vanilla ice cream to enjoy the strawberry rhubarb crisp a la mode!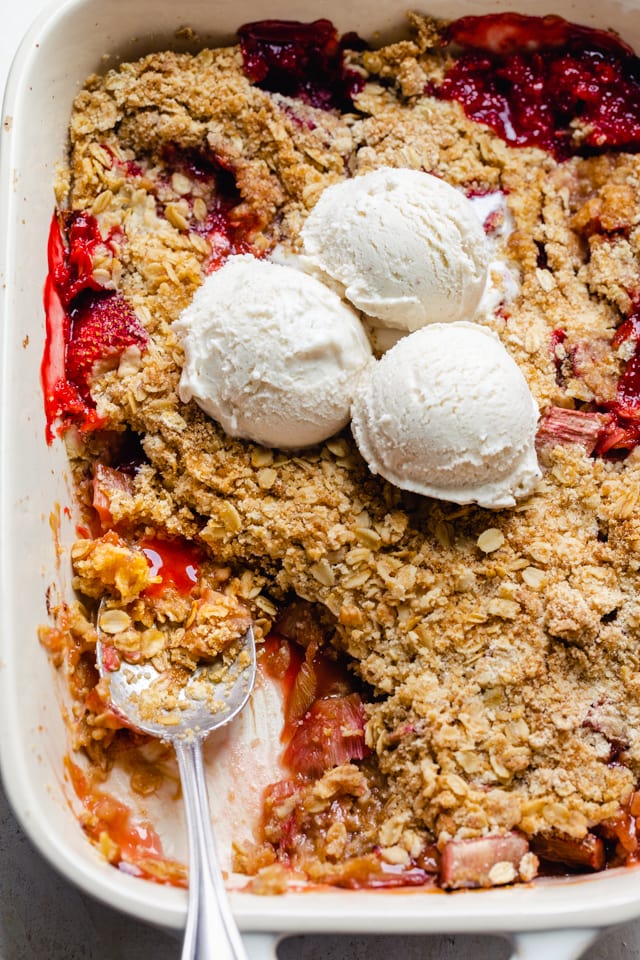 FAQ about rhubarb crisp
How do you prepare rhubarb?
Just like celery, you wash and slice rhubarb. You can eat the green parts, but make sure to remove the leaves and discard since they are poisonous. At most grocery stores, rhubarb is sold without the leaves though.
Do I need to peel rhubarb?
It's not necessary to peel rhubarb before cutting it and adding it to the rhubarb crisp. It's very similar to celery though. So if you notice some fibrous outer strings or a tough exterior, you can peel of some of the skin to get rid of the strings.
Can I use frozen rhubarb
Yes, you can definitely use frozen rhubarb to make the recipe. You can place it into the baking dish, but it may release some extra liquid this way. I recommend you thaw it completely, then drain any liquid before adding to the recipe.
Tips for making strawberry rhubarb crisp
Slice the fruit into small bite sized pieces. This allows the fruit to become fully tender so you're not left with any crunchy rhubarb pieces.
Adjust the rhubarb to strawberry ratio to your liking. I use 3 cups rhubarb and 2 cups strawberry, so this version will be slightly more tart than sweet. If you're looking for a sweeter version, you can use more strawberries and less rhubarb.
Allow the crisp to sit for a few minutes before serving. Like most baked desserts, this one needs a few minutes to cool and set when it comes out of the oven. This ensures that the fruit is set and not runny.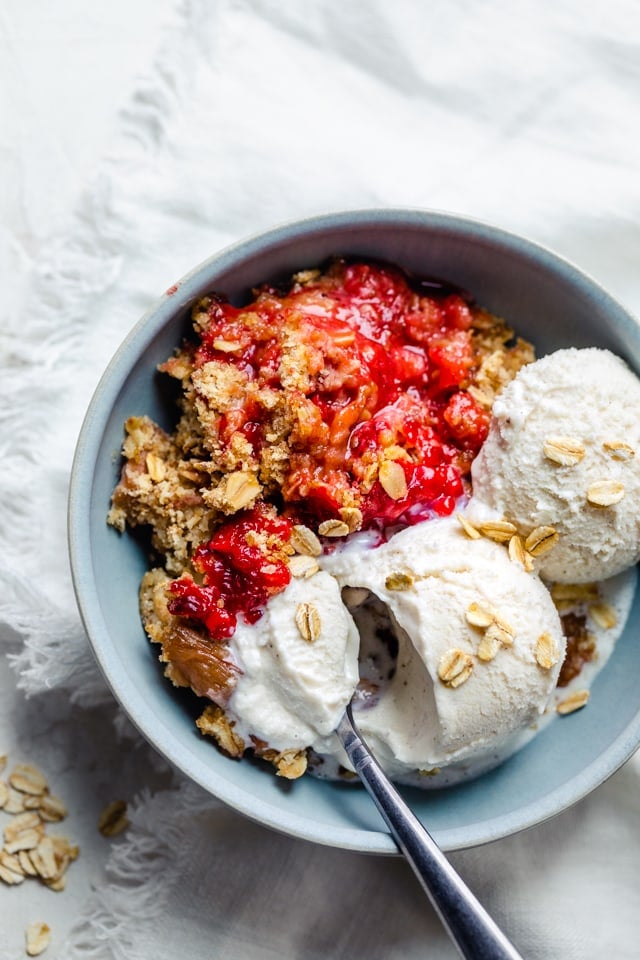 When you're looking for an easy alternative to rhubarb pie, this strawberry rhubarb crisp totally satisfies the craving! It's an easy dessert to put together within 15 minutes. The sweetness of the strawberries balances out the tartness of the rhubarb, and the warm crumbly topping makes it comforting and delightful. It's simple, delicious and makes for a great last minute dessert!
If you've tried this healthy-ish feel good Strawberry Rhubarb Crisp recipe or any other recipe on FeelGoodFoodie, then don't forget to rate the recipe and leave me a comment below! I would love to hear about your experience making it. And if you snapped some shots of it, share it with me on Instagram so I can repost on my stories!
More fruit-based baked recipes: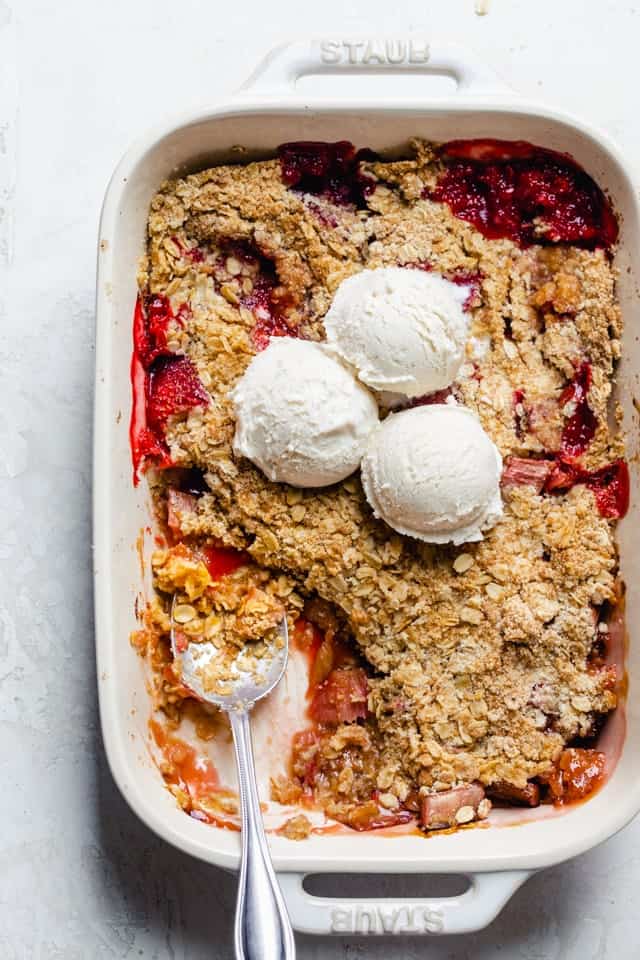 Strawberry Rhubarb Crisp
Strawberry Rhubarb Crisp is the ultimate simple spring dessert filled with a sweet and tart fruit filling and topped with a buttery golden crisp topping
Ingredients
Filling
3

cups

rhubarb

fresh or frozen, sliced 1/2-inch pieces

2

cups

strawberries

chopped

1/3

cup

cane sugar

1/2

teaspoon

cinnamon
Instructions
Preheat oven to 375°F. Grease an 8-inch or 7-inch x 11-inch baking dish.

Place the rhubarb and strawberries into the greased baking dish; sprinkle sugar and cinnamon on top and set aside.

In a small bowl, combine the flour, oats, brown sugar, baking powder and salt. Cut in butter using a fork until mixture resembles coarse crumbs. Sprinkle the streusel mixture over rhubarb mixture.

Bake until the crisp topping is lightly brown and filling is bubbly, about 35-40 minutes. Serve warm with a scoop of ice
cream, if desired.
Notes
Recipe: This recipe was adapted from Taste of Home.
Storage: Store the cooled rhubarb crisp leftovers in an airtight container. They will last about 7 days in the fridge. Serve cold, at room temperature, or re-warmed in the microwave or oven.
Make ahead: You can make the crisp topping in advance. Store in the fridge for up to 3 days or freeze for up to a month.
Substitutes: For best results, follow the recipe as is. However here are some common substitutes that would work well in this recipe.
Instead of strawberries, you can use apples.
Instead of granulated sugar, you can use coconut sugar, honey or maple syrup
To make it vegan, use vegan butter or coconut oil
To make this gluten-free, use an all-purpose gluten-free flour mix and gluten free rolled oats. Do not substitute only almond flour or only coconut flour.
* Please note the nutrition label does not include the ice cream.
Nutrition
Calories:
291
kcal
,
Carbohydrates:
52
g
,
Protein:
3
g
,
Fat:
8
g
,
Saturated Fat:
5
g
,
Cholesterol:
20
mg
,
Sodium:
173
mg
,
Potassium:
382
mg
,
Fiber:
3
g
,
Sugar:
32
g
,
Vitamin A:
295
IU
,
Vitamin C:
33.1
mg
,
Calcium:
112
mg
,
Iron:
1.5
mg
Nutrition information provided is an estimate. It will vary based on cooking method and specific ingredients used.