This post may contain affiliate links. Please read our disclosure policy.
Learning how to make crepes can seem intimidating but don't fret because they are easy to make and will impress your breakfast guests. This delicately thin egg pancake hits all the marks for a crave-able breakfast or brunch dish, and you can get creative with toppings and fillings. We're talking Nutella, sweet cream, orange sauce, loaded with fresh fruits, or enjoyed with just a light dusting of powdered sugar and jam.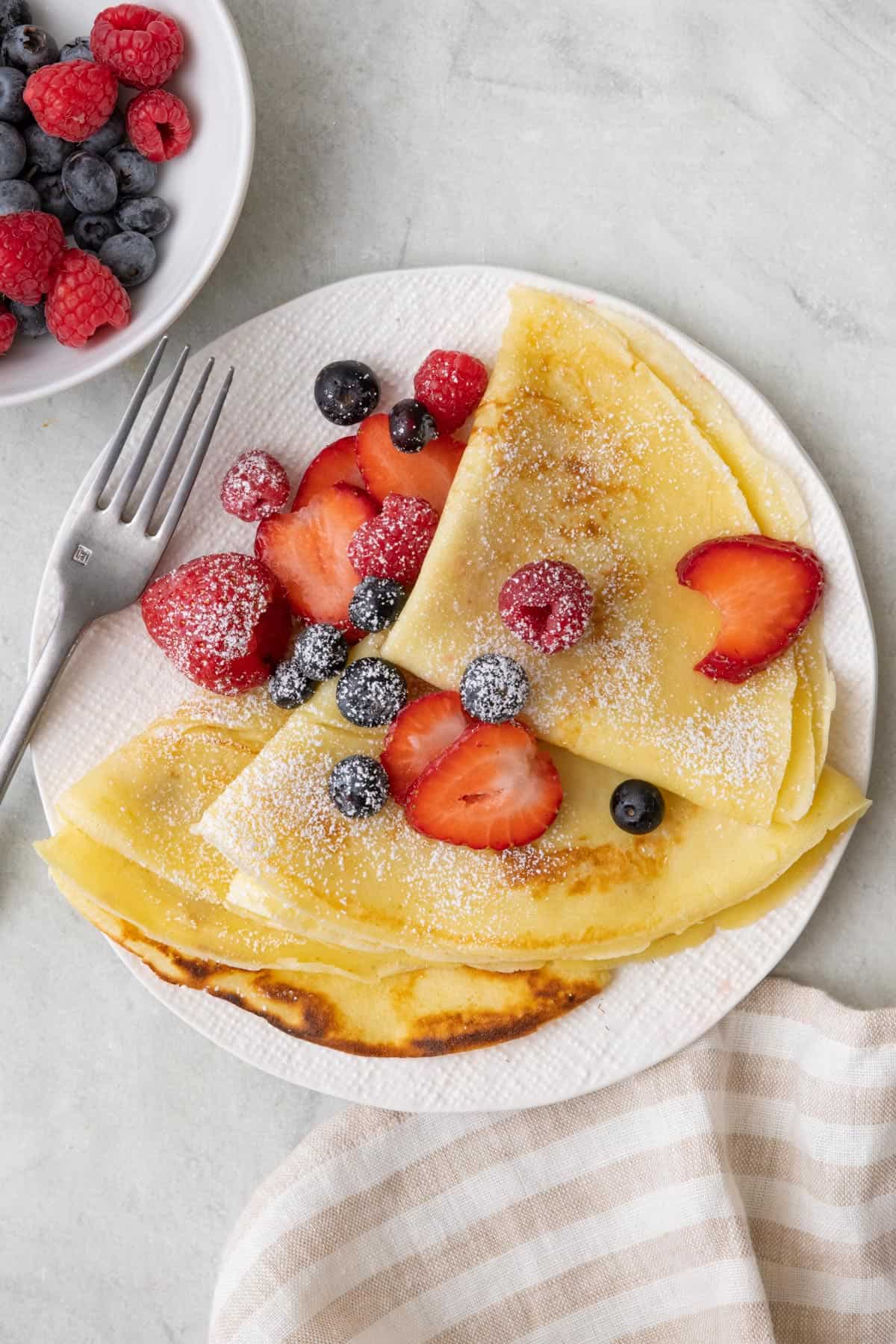 When you make crepes at home, everyone can appreciate their unique flavor combination, and they can accompany other breakfast foods, such as hashbrowns, toast, and breakfast meats.
What are crepes?
Crepes are a popular French specialty that are basically a delicate, rich, savory, thin egg-based pancake. The batter has similar ingredients to a pancake or waffle containing egg, milk, butter, vanilla, sugar, and salt. The difference between a crepe and a pancake is the amount of each ingredient used and the lack of a rising agent such as baking powder. These blender crepes are buttery and tender with crispy edges and complement various sweet and savory additions.
WHY learn to make your own crepes
Perfect breakfast food. Crepes complement any breakfast and are perfect as a standalone dish, too. Fill with sweet or savory options for an interchangeable breakfast to satisfy everyone's tastebuds!
An elegant dish that's too easy to make. Crepes may seem like a restaurant-only recipe, but they're just too easy for you not to try. If you can make pancakes, then this recipe is a breeze. They are perfect for a casual weekday breakfast but fancy enough for special occasions, too!
Can be made in advance: Make the batter a day or two before cooking, or cook and store them in the fridge until ready to serve for a hassle-free breakfast.
Pretty tasty for a savory option: You may think crepes are usually a sweet treat, but they are also fantastic for a savory filling! Skip the vanilla in the batter and stuff them for lunch or dinner with chicken, spinach, and mushrooms. Or try a delicious breakfast crepe filled with scrambled eggs and veggies with hollandaise sauce.
Ingredients for Crepes
Unsalted Butter: Butter is an essential ingredient in the mix and for adding extra to the skillet before cooking the next.
Eggs: Eggs add so much flavor and structure to crepes, binding the ingredients together for a delicate bite.
All-purpose flour: Just like butter, eggs, and milk, flour is one of the 4 main ingredients you can't do without!
Milk: This is the liquid part of the batter and adds fullness to the crepe. You can halve the milk for water, use lower-fat milk, and even non-dairy milk such as almond milk if preferred.
Granulated sugar: A little goes a long way and adds a subtle sweetness to the batter.
Vanilla: A light and sweet aromatic that adds flavor to crepes and creates those beautiful brown strings throughout the crepe as it cooks. You can leave it out if preparing savory crepes.
Salt: Just a bit of salt adds and balances flavors.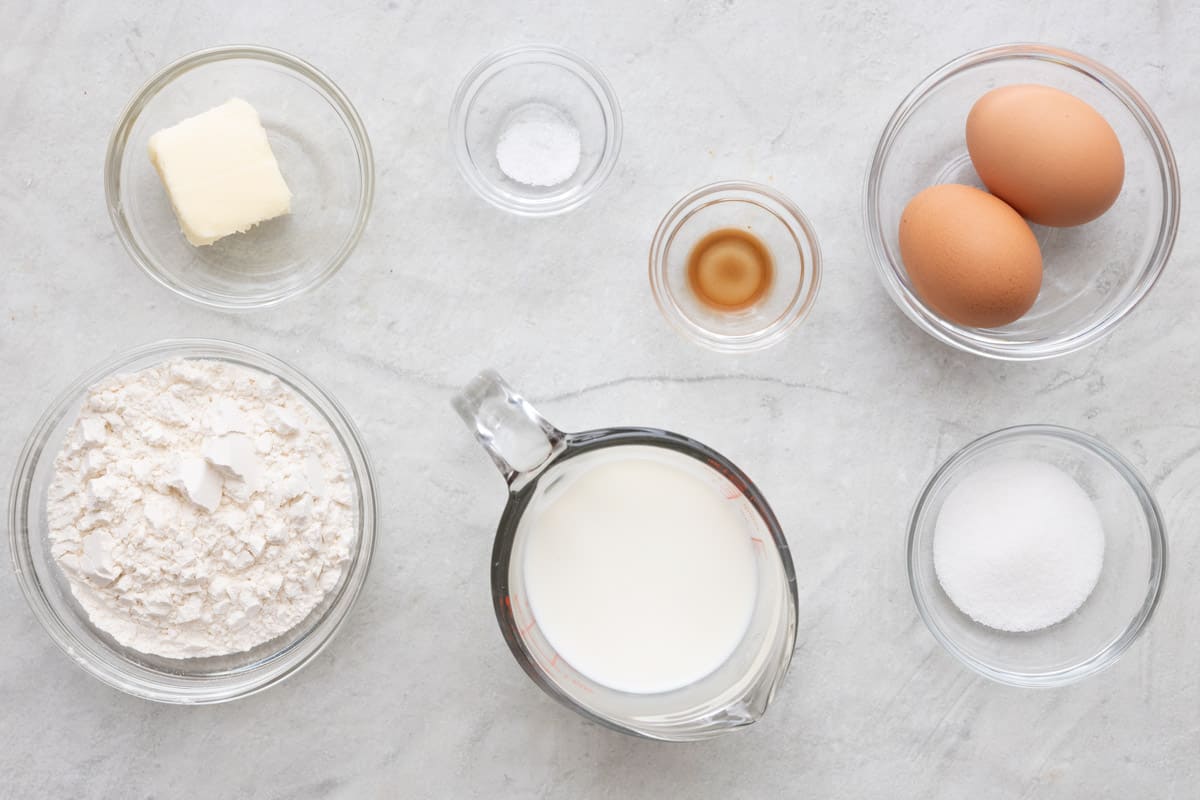 HOW TO MAKE crepes from scratch
To a small blender, add all the ingredients and mix until well blended.
Cover the blender and transfer to the fridge to rest. Give it an extra spin before cooking to evenly distribute the butter again after resting.
Heat a large non-stick skillet with butter and swirl it around to coat the bottom of the pan. Pour a small amount of batter into the center and tilt the pan in a circular motion to distribute the batter evenly all the way to the sides of the pan.
Cook one side until lightly brown and gently flip to the other until cooked through and brown. Remove from the pan and repeat with the remaining batter, adding butter as needed.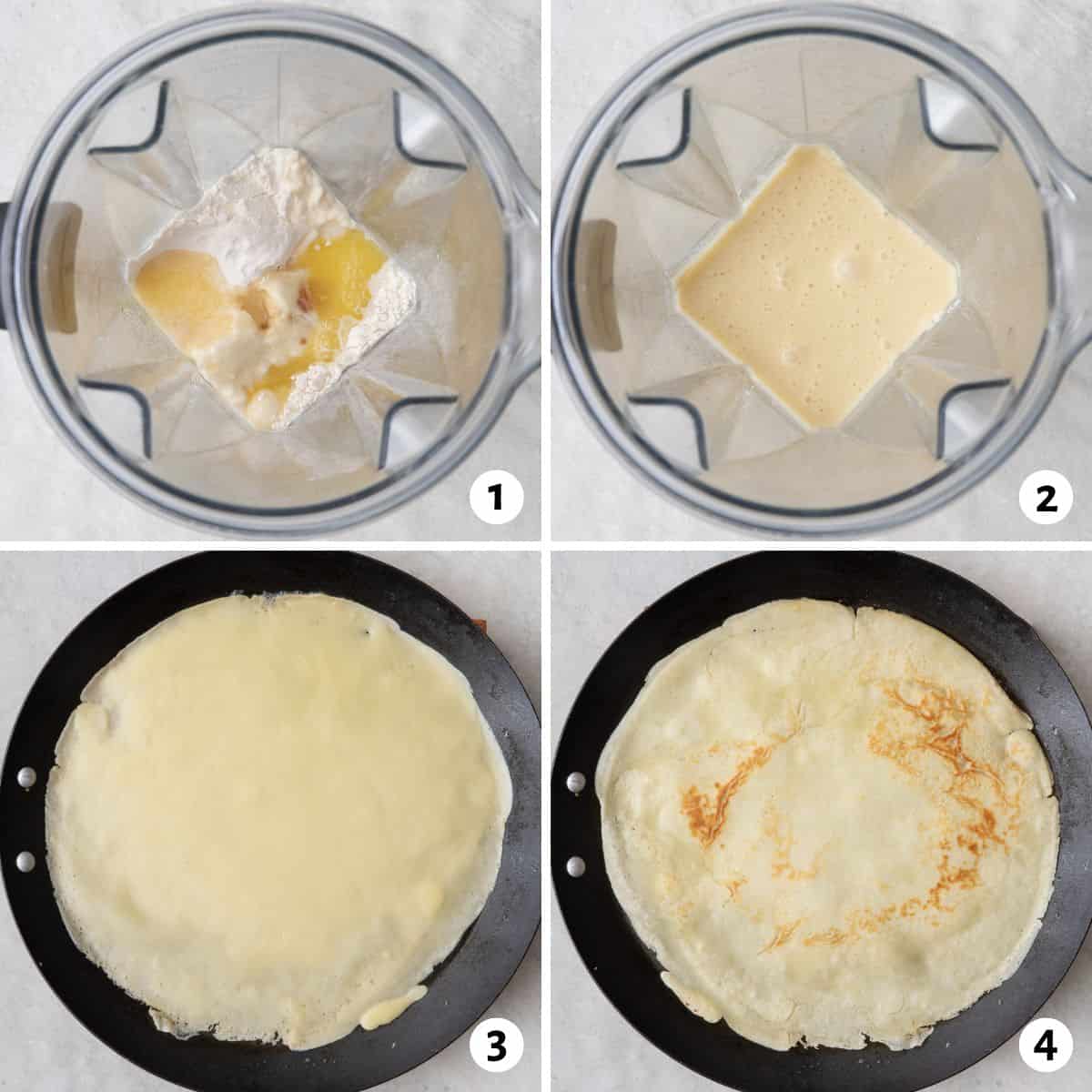 TIPS FOR Making Crepes from Scratch
Allow the batter to rest. Resting the batter in the fridge is a pretty important step! The batter will have time to develop gluten, and the flour will fully absorb into the mix for a tender crepe. Plus, when refrigerated before cooking, the melted butter solidifies and melts again while cooking with a buttery outcome.
Add butter in between each crepe. This helps to make sure that nothing sticks to the pan and to flip easily with the most delicious buttery crisp edges. I also think it keeps the crepes from sticking to each other after cooking.
Fold the crepes in the pan with the spatula. I find it easier to fold the thin pancake in the pan into fourths instead of trying to slide the thin, perfectly circular crepes neatly onto a plate. They're also really cute for serving this way.
Try other ways to fold crepes. Shape into a square by folding each side toward the middle but not touching. Or, roll them by folding two sides towards the center where they are just touching. Then, from an unfolded end, roll through to the other end. Square folds are great for savory toppings, whereas rolled would be perfect for sweet additions stuffed inside or on top.
Stack crepes for storing. If making ahead of time, stack crepes on a plate, cover them with plastic wrap, or place them in a zip-top bag for storing.
what to serve with crepes
Stuff or top these sweet, delicate crepes with fresh fruit combined with one of these tasty additions. Nutella and banana, sweet cream and fresh berries, homemade jam, all topped with freshly whipped cream to boot.
HOW TO REHEAT & STORE Crepes
Stack on a plate and cover tightly with plastic wrap, or store stacked in an airtight container in the fridge. You can also use parchment paper or wax paper between each one to prevent them from sticking and tearing if needed. To reheat, carefully pull the crepe from the stack and warm it in a nonstick skillet for 30 seconds.
HOW LONG WILL Crepes LAST IN THE FRIDGE?
Store in the fridge for up to 3-4 days.
CAN I FREEZE Crepes?
Crepes are great for freezing and make for a quick breakfast. Stack cooled crepes on a plate with wax paper between each. Cover the stack with plastic wrap and then with foil. Freeze for up to 4 months. Transfer to the fridge the night before to thaw.
FREQUENTLY ASKED QUESTIONS
Do I have to use a blender to make crepes from scratch?
No, a blender is not necessary, but rather to make this an easy and quick recipe. To make the batter without a blender, simply use a bowl and whisk everything together very well.
Can I make crepes ahead of time?
Crepes are perfect for making ahead of time! You can prepare the batter a day or two before cooking and store it in the fridge until ready. Just give it a quick whirl or whisking before cooking. Cooked crepes can be made ahead of time and stored in the refrigerator or the freezer.
Is crepe batter the same as pancake batter?
They are very similar, except crepe batter does not have a rising agent, such as baking powder. The ratio of liquid to dry ingredients is different, too. The batter will be thin and have more liquid from the eggs and milk, whereas pancake batter is thick, has a rising agent, and is more flour heavy to get those big tall, fluffy cakes.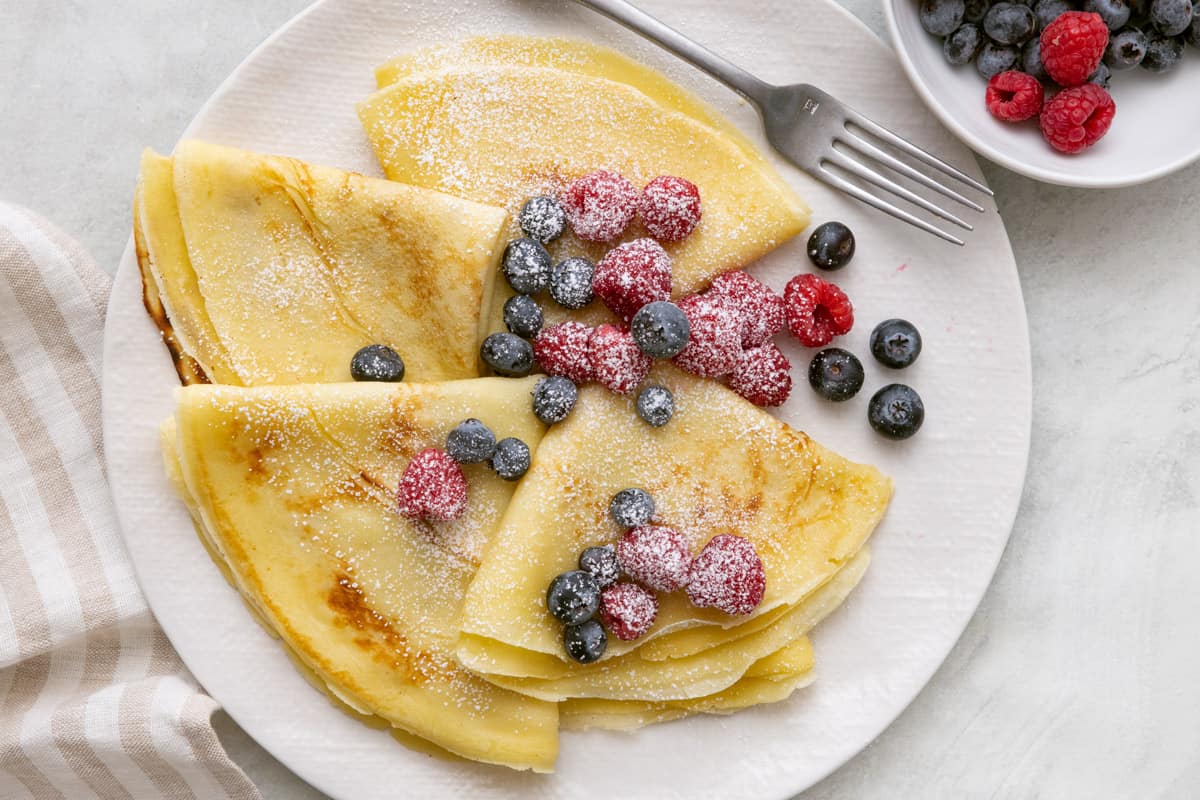 Learning how to make crepes at home is a delicious way to enjoy more breakfast recipe varieties and enhance your cooking skills. These are ultra-thin, delicate, and easy to make with a blender and skillet – perfect for filling with sweet and savory options. Plus, this recipe only requires 7 ingredients and a little time for an irresistible buttery thin pancake.
MORE Pancake & Waffle Recipes:
If you found this tutorial for How to Make Crepes helpful or if you try any recipe on Feel Good Foodie, then don't forget to rate the recipe and leave a comment below! It helps others who are thinking of trying out this tutorial and we would love to hear about your experience. And if you snapped some shots, share it on Instagram so we can repost on Stories!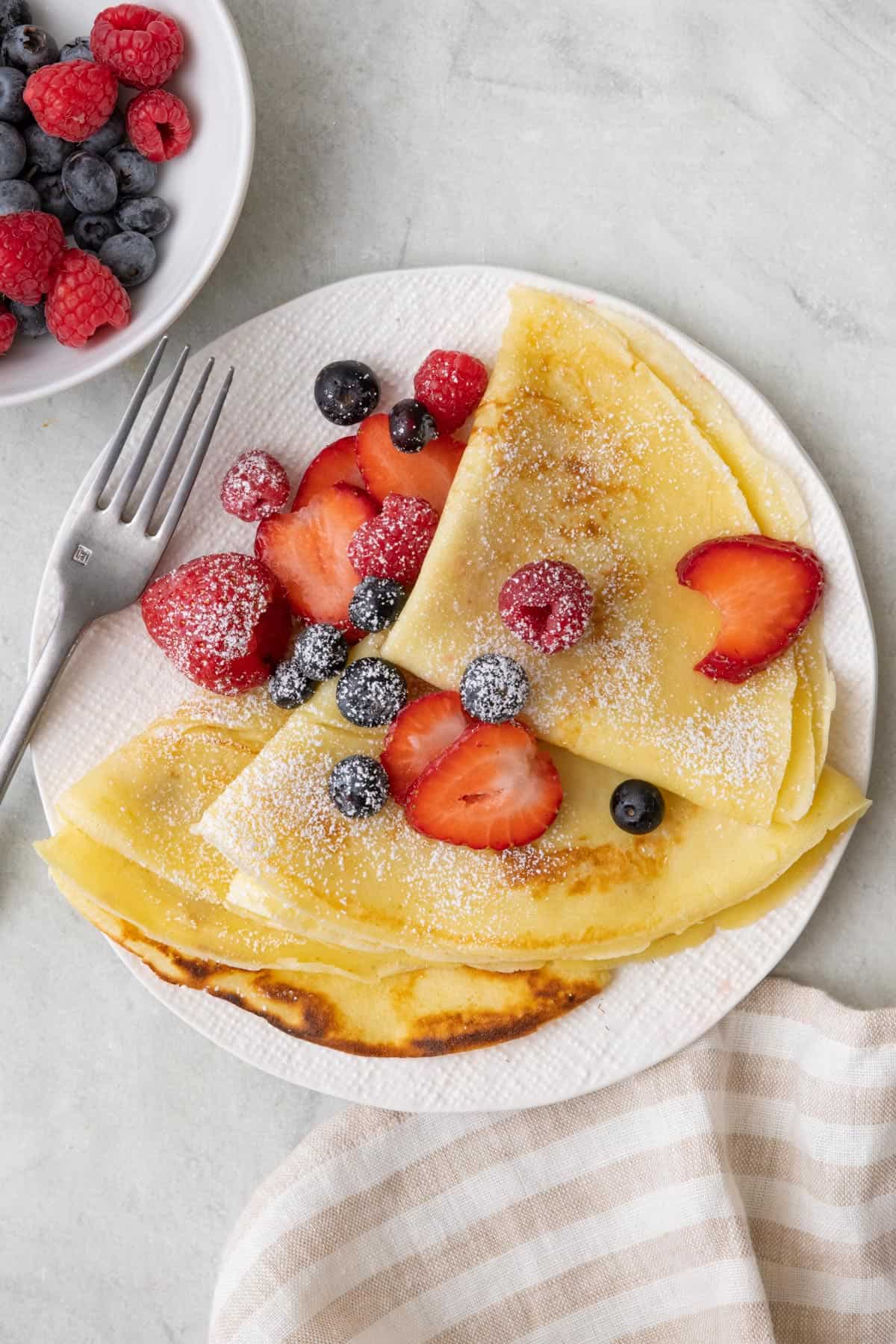 Instructions
In a small blender, blend all the ingredients together for 30-60 seconds until well blended. Cover and allow to rest in the fridge for at least 20 minutes. (give it one extra blend if it separates after cooling)

Heat a large non-stick skillet (at least 9") over medium low heat. Melt about ½ tablespoon of unsalted butter and distribute evenly throughout the pan.

Pour ¼ cup batter into the center of the pan. Tilt the pan with a circular motion to distribute the batter evenly all the way to the sides of the pan.

Cook the first side for 60-90 seconds until lightly browned. Gently slide a spatula under the edges of the crepe to flip. Cook for an additional 45-60 seconds until cooked through and browned.

Stack the crepes on a plate or fold into fourths. Repeat with the remaining batter, adding butter as needed.
Notes
Tip: To help keep crepes from ripping, fold them in the pan while still hot and pliable. 
Nutrition
Calories:
104
kcal
,
Carbohydrates:
12
g
,
Protein:
3
g
,
Fat:
5
g
,
Saturated Fat:
3
g
,
Polyunsaturated Fat:
0.4
g
,
Monounsaturated Fat:
1
g
,
Trans Fat:
0.1
g
,
Cholesterol:
51
mg
,
Sodium:
98
mg
,
Potassium:
64
mg
,
Fiber:
0.3
g
,
Sugar:
3
g
,
Vitamin A:
184
IU
,
Calcium:
37
mg
,
Iron:
1
mg
Nutrition information provided is an estimate. It will vary based on cooking method and specific ingredients used.