This post may contain affiliate links. Please read our disclosure policy.
If you're looking for more ways to add vegetables to your meals, especially at breakfast time, you should try these Cauliflower Waffles. The batter is mostly made up of riced cauliflower along with egg and cheese and a little almond flour to help it bind. It's a grain-free low carb veggie-packed breakfast idea!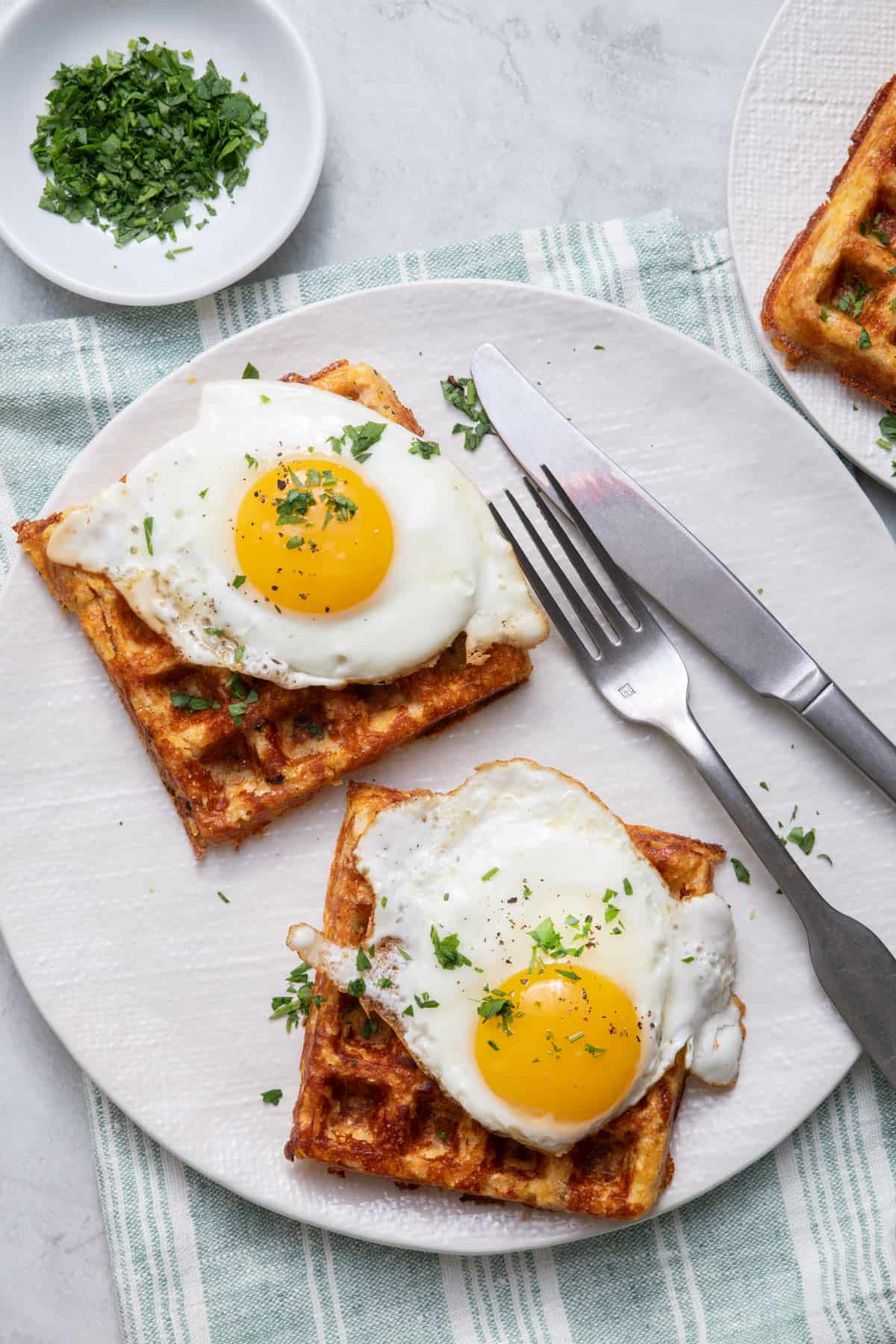 It's amazing how we've learned to use cauliflower in so many low-carb versions of recipes like my cauliflower pizza and cauliflower mashed potatoes. The same idea can be done with cauliflower waffles that get crisp on the outside and cheesy on the inside.
why you'll love This healthy waffle recipe
Easy way to add more vegetables to your daily diet.
Flavorful and fast to make.
A simple low carb breakfast to make you feel full and give you energy to fuel your day.
ingredients to make keto cauliflower waffles
Cauliflower: Grab a head of cauliflower from the store and use a food processor to chop it up. Grab my tips here on how to make cauliflower rice.
Mozzarella cheese: Shredded cheese creates a delicious salty addition to this recipe and you can really use any cheese you like.
Eggs: The eggs are the perfect binding agent to hold all the ingredients of the low carb waffle mix together.
Almond flour: Paired with the eggs and other ingredients, the almond flour adds a delicious nutty flavor and texture and helps to balance the moisture from the cauliflower and eggs so the waffles are not soggy.
Seasonings: Add salt, black pepper, paprika, oregano, and onion powder for extra flavor. Chopped parsley is an excellent topping!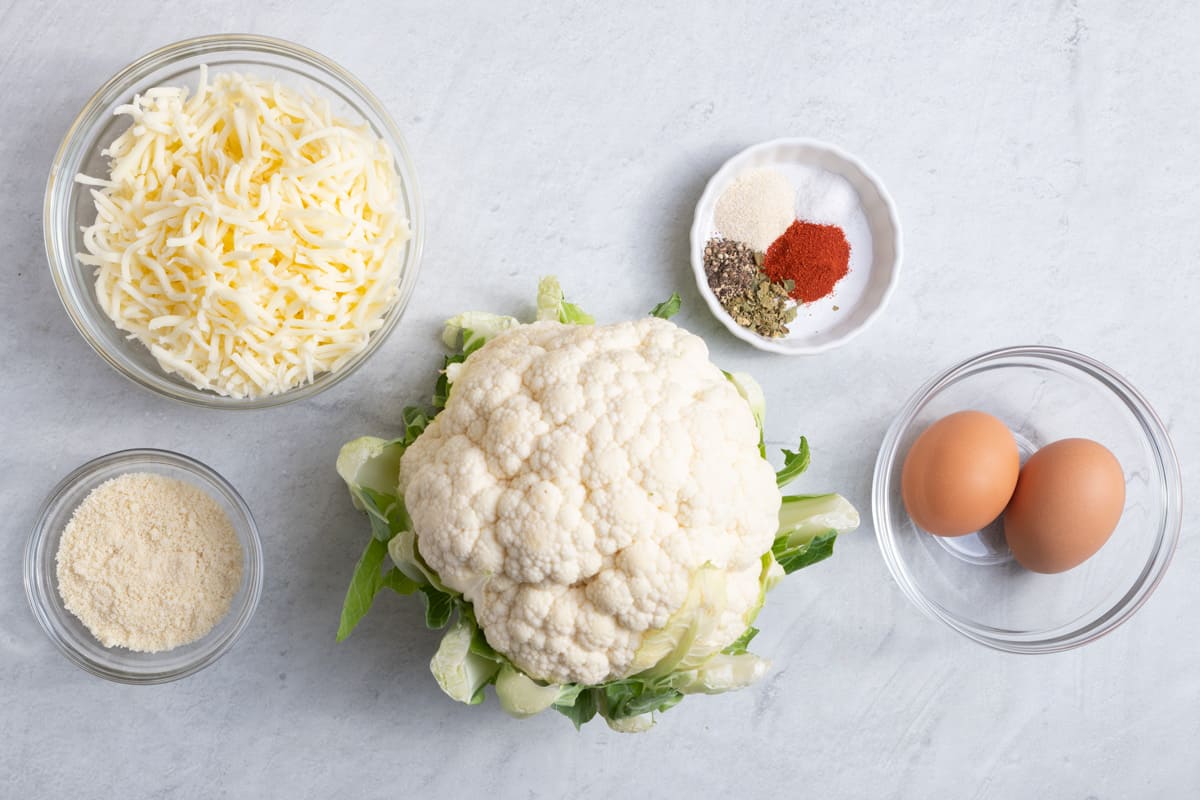 How to Make Cauliflower Waffles
Start with raw some cauliflower florets in the food processor.
Pulse the cauliflower until they start to look like rice or couscous. Some large chunks are totally fine.
Transfer the riced cauliflower to a large bowl along with the egg, cheese and spices.
Mix it all together until it holds well together but doesn't feel too wet. You can adjust the almond flour here if you need to.
Add the cauliflower waffle batter to a preheated waffle iron.
Cook until the top of the waffles are crisp and browned. The timing will really depend on your waffle iron and how much of the batter you pile on.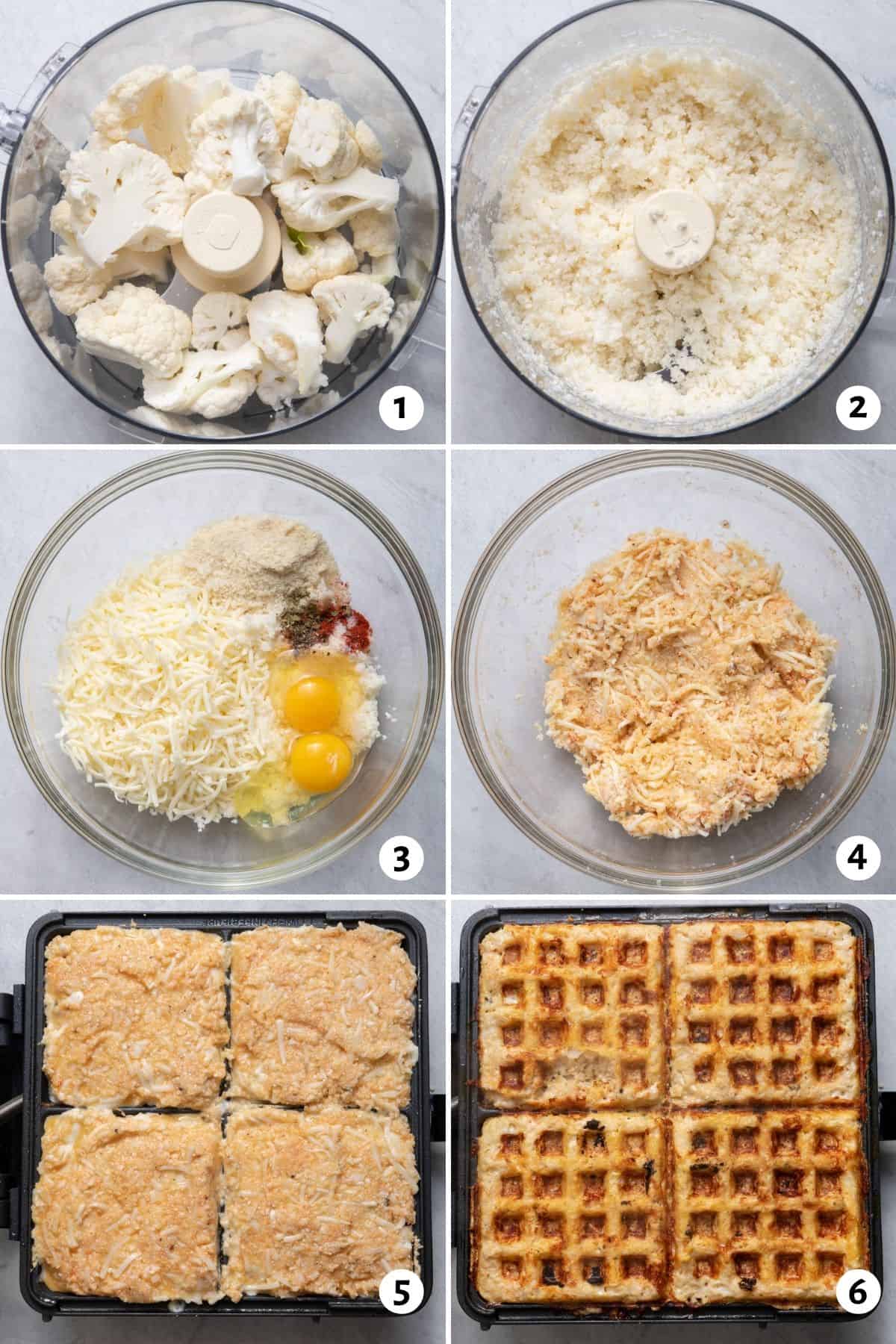 tips for making low carb waffles
Use a small plate to lift the waffles from the waffle machine. Because there is no oil used in this recipe and the batter can get sticky sometimes, I've found that you can slide a plate under the waffles and they come off so much easier than using a spatula.
Adjust the almond flour. Depending on how large the egg is and how much moisture is in the half head of cauliflower, you may need to add more flour. Just test a small portion with your fingers to see that it holds well without falling apart and adjust the flour as needed.
Don't stress over the texture. Pulsing the cauliflower means that there will be various sizes of cauliflower and that's fine. Small and large pieces together will get cooked down and and won't matter too much once it comes out of the waffle machine.
Buy riced cauliflower at the store. If you're running low on time or just need a quick hack, you can purchase riced cauliflower at the store already chopped up and ready to go. Make sure that you buy it in the fresh produce section, and not from the frozen aisle since that can container more moisture.
popular substitutions & additions
Change up the type of cheese. I love the flavor of mozzarella cheese but you can easily swap it out for colby, pepperjack, or any of flavor that you like. Mix and match.
Use oat flour. If you're not a fan of almond flour or need to change out that ingredient, oat flour or other grain free flours will work as well.
Toss in a few more vegetables. You have to be careful here as you don't want to overload the waffles because then they won't stick together well. But, if you want to add in some finely chopped onions or even some bell peppers, that can be a great addition for more flavor and benefits.
what to pair with low carb waffles
how to reheat & store waffles and eggs
best way to store waffles
While I do think that the waffles are best served hot and fresh, you can store them in an airtight container and serve them again. Just be sure to let them cool down all the way so that there isn't any heat or moisture that gets released into the container so that the waffles will stay nice and crisp.
how long will leftover waffles last in the fridge?
As long as they're in an airtight container, they should be good to enjoy within the next 3-4 days.
can i freeze low carb waffles?
You can but I do recommend eating them fresh from the waffle iron. If you do freeze them, make sure that you keep them as airtight as possible to prevent freezer burn.
You can make the batter ahead of time and freeze it for up to 3 months. When you're ready to cook them, you just have to thaw the batter overnight in the fridge for at least 4 hours before cooking them.
how to reheat savory cauliflower waffles
The quickest way to reheat waffles made with cauliflower is to reheat them in a toaster oven for 2 minutes until they crisp up again.
Frequently asked questions
How do I know when waffles are done cooking in the waffle maker?
Pay attention to the cooking time listed on the recipe card below. Also, a golden brown coloring is going to be a big indicator that the waffles are done, or very close to being done.
What's the difference between low carb waffles and chaffles?

Chaffles are usually just made with cheese and eggs while these waffles will have many more ingredients to use.
Can you make these into sweet cauliflower waffles?
Yes. If you want to add a bit of jam to the top or even a drizzle of maple syrup, you just might find that you prefer these waffles to be sweeter rather than savory.
When it's all done, you can have these low carb waffles as is with ketchup for something savory, maple syrup for something a little sweeter or just on their own. I love topping them with fried or scrambled eggs for a delicious and filling breakfast idea!
For more breakfast recipes
If you try this healthy-ish feel good Cauliflower Waffles recipe or any other recipe on Feel Good Foodie, then don't forget to rate the recipe and leave a comment below! It helps others who are thinking of making the recipe. We would love to hear about your experience making it. And if you snapped some shots, share it on Instagram so we can repost on Stories!
This Cauliflower Waffles recipe was originally published on September 22, 2018. The recipe has not been modified, but the post now includes new step-by-step photos for how to make the waffles.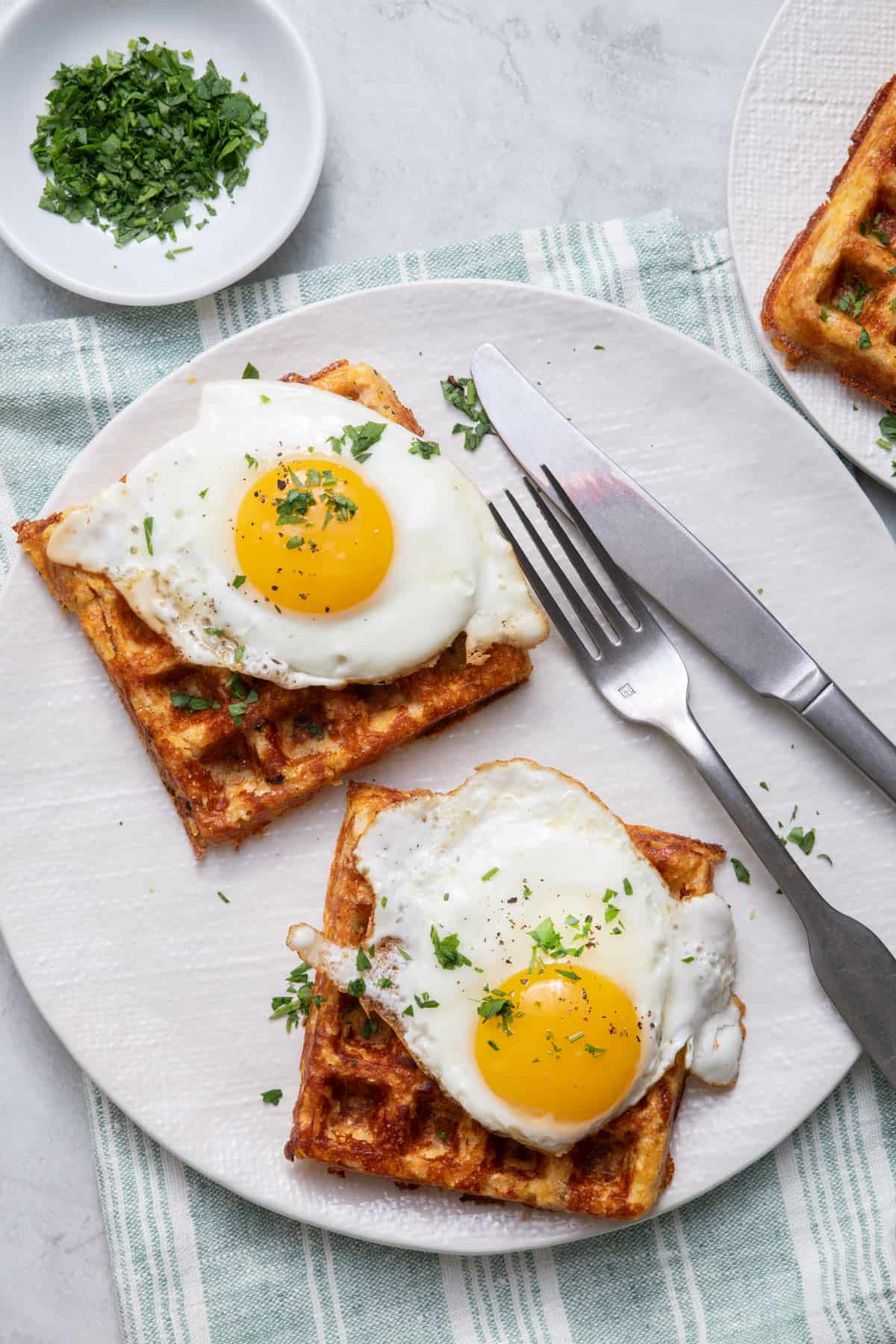 Cauliflower Waffles
These Cauliflower waffles are a low carb waffle idea that are grain-free, crispy and cheesy – perfect with fried eggs for a new breakfast!
Instructions
Preheat the waffle iron on medium heat (about 325°F) and coat with nonstick spray.

Cut the florets from the cauliflower and transfer to a food processor. Pulse until the cauliflower is minced and looks almost like rice or couscous.

Transfer the cauliflower to a bowl, then add the cheese, eggs, almond flour, paprika, onion powder, oregano, salt and pepper. Mix together until well-blended.

Spray the waffle maker with non-stick spray and add about ½ cup of the cauliflower mixture to the pre-heated waffle iron per serving. Cook for 8-10 minutes, until golden brown brown and crisp.

Remove the cauliflower waffle from the waffle iron and rest for a minute on a wire rack.

Serve with fried eggs and chopped parsley, if desired.
Notes
Storage: Store any leftovers in an airtight container. They will last about 3-4 days in the fridge. Make Ahead: You can make the batter ahead of time and freeze for up to 3 months. When ready to cook the waffles, them, thaw in the fridge overnight or for at least 4 hours and then cook on a waffle iron.
Nutrition
Calories:
143
kcal
,
Carbohydrates:
4
g
,
Protein:
12
g
,
Fat:
9
g
,
Saturated Fat:
4
g
,
Polyunsaturated Fat:
1
g
,
Monounsaturated Fat:
2
g
,
Trans Fat:
1
g
,
Cholesterol:
79
mg
,
Sodium:
366
mg
,
Potassium:
204
mg
,
Fiber:
1
g
,
Sugar:
2
g
,
Vitamin A:
346
IU
,
Vitamin C:
23
mg
,
Calcium:
322
mg
,
Iron:
1
mg
Nutrition information provided is an estimate. It will vary based on cooking method and specific ingredients used.