This post may contain affiliate links. Please read our disclosure policy.
Get ready for the ultimate breakfast egg wrap! Not only is it scrumptious, but it is also perfect for those on the go. Filled with nutritious ingredients like avocado, peppery arugula, and tomatoes, this egg wrap is sure to give you a boost of energy to start your day right. The thin crepe-like egg wrap makes the wrap light and you can wrap it with anything you like. Best of all, this recipe only takes about 10 minutes to make! If you're looking for something new and exciting to add to your breakfast rotation, this egg wrap is definitely worth trying!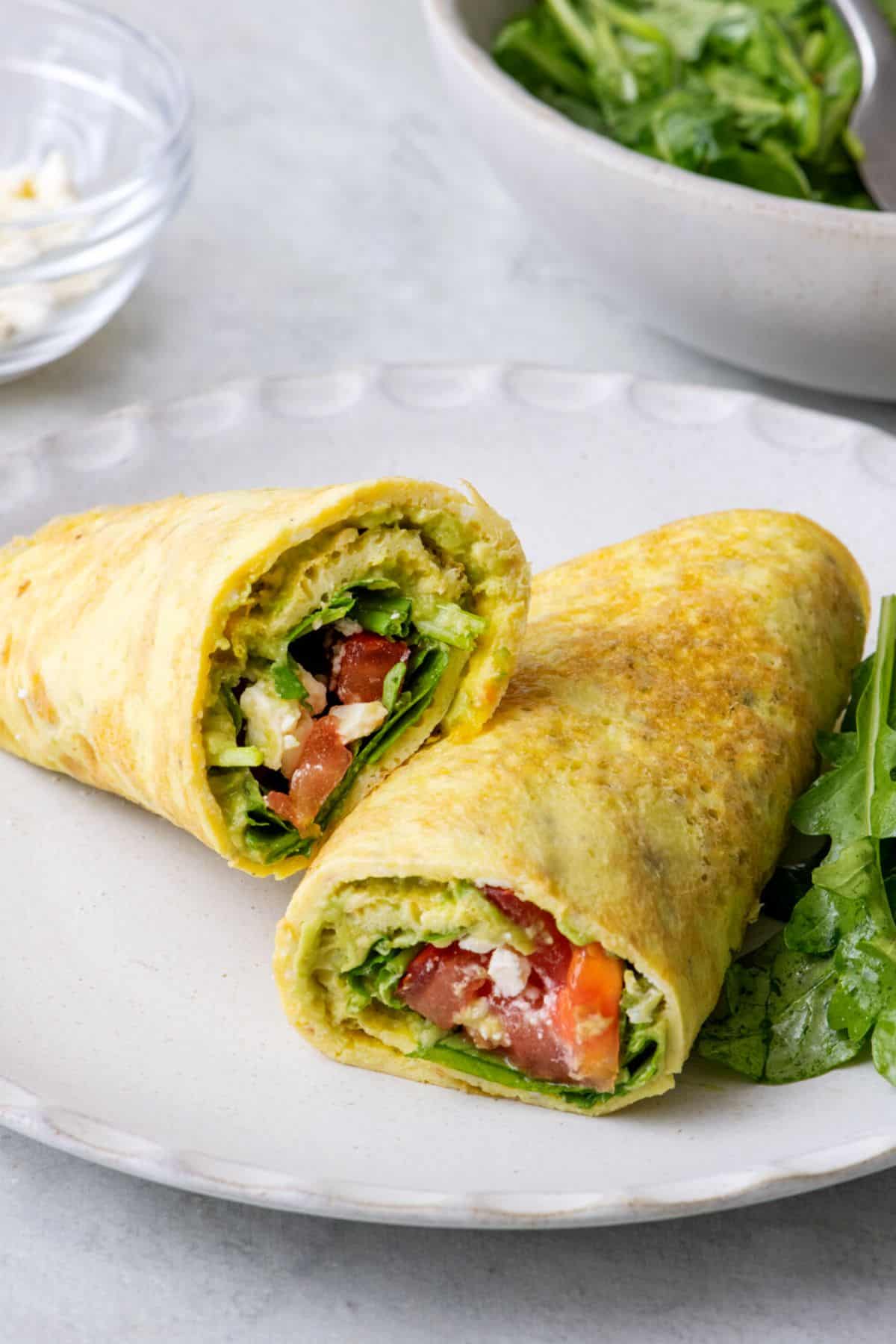 This is breakfast egg wrap recipe is inspired by a Lebanese-style omelette called "ejjeh" which is a mix of eggs, flour, spices, and herbs that is then formed into patties or pancakes and fried. While the concept of adding flour to breakfast eggs may seem odd to many outside of the Middle East, it's a secret ingredient that creates a unique egg wrap. Adding flour to an omelette, egg wrap, or even eggs, in general, gives it more structure and substance. Trust me, just try it!
Table of Contents
Why you'll love this egg wrap sandwich
Thin crepe-like protein-packed exterior. Eggs are a great source of protein, and when made into a thin crepe-like egg wrap, they make the perfect vessel.
Low-carb. If you're trying to watch your carb intake, using an egg to make a wrap is the way to go. Yes, even with the addition of the flour, (which only adds 2g of carbs), this is still a low-carb breakfast wrap. Keep in mind this recipe has about 17g of carbs in total, making it low-carb but not Keto.
Loaded with flavor. The feta cheese adds a fantastic salty, acidic flavor, while the peppery arugula brings a touch of heat to the wrap. Then you've got creamy, nutrient-rich avocado and bright tomatoes! It's a light but filling breakfast that will keep you full without weighing you down afterward.
Quick & easy to make. This recipe only takes about 10 minutes to make, and the egg wrap can be made ahead of time and stored in the fridge, ready for assembly in the morning!
Ingredients to make a breakfast egg wrap
Eggs: The eggs are the main ingredient and you want to use at least 2. That being said, you can add in additional eggs or even opt to use the egg whites only (if you go egg white only, you'll need at least 3 eggs). Keep in mind the more eggs you add, the thicker the wrap will be, and the egg flavor becomes more prominent.
Flour: You only need one teaspoon, and it's optional. But if you whisk the flour with the beaten egg mixture, it gives it a bit more substance. And it also changes the consistency to mimic a (bright and yellow!) tortilla.
Vegetables (and meat): This is the fun part where you can add whatever ingredients you'd like inside the egg wrap. I recommend using some type of leafy greens like arugula, spinach, or kale. Then you can add tomatoes, onions, bell peppers, zucchini, or even cooked potatoes. You can also add turkey bacon or breakfast sausage, or cold cuts like turkey in it.
Spread/Sauce: To keep this wrap on the healthy side, I mash avocado and spread it on the inside of the egg wrap. You can also add some mayonnaise, cream cheese, or plain yogurt but you'll need something to contain the ingredients so they don't fall out.
Cheese: For a Mediterranean vibe, I use crumbled feta cheese, but any type of cheese works, like mozzarella, fontina, Havarti, or gouda.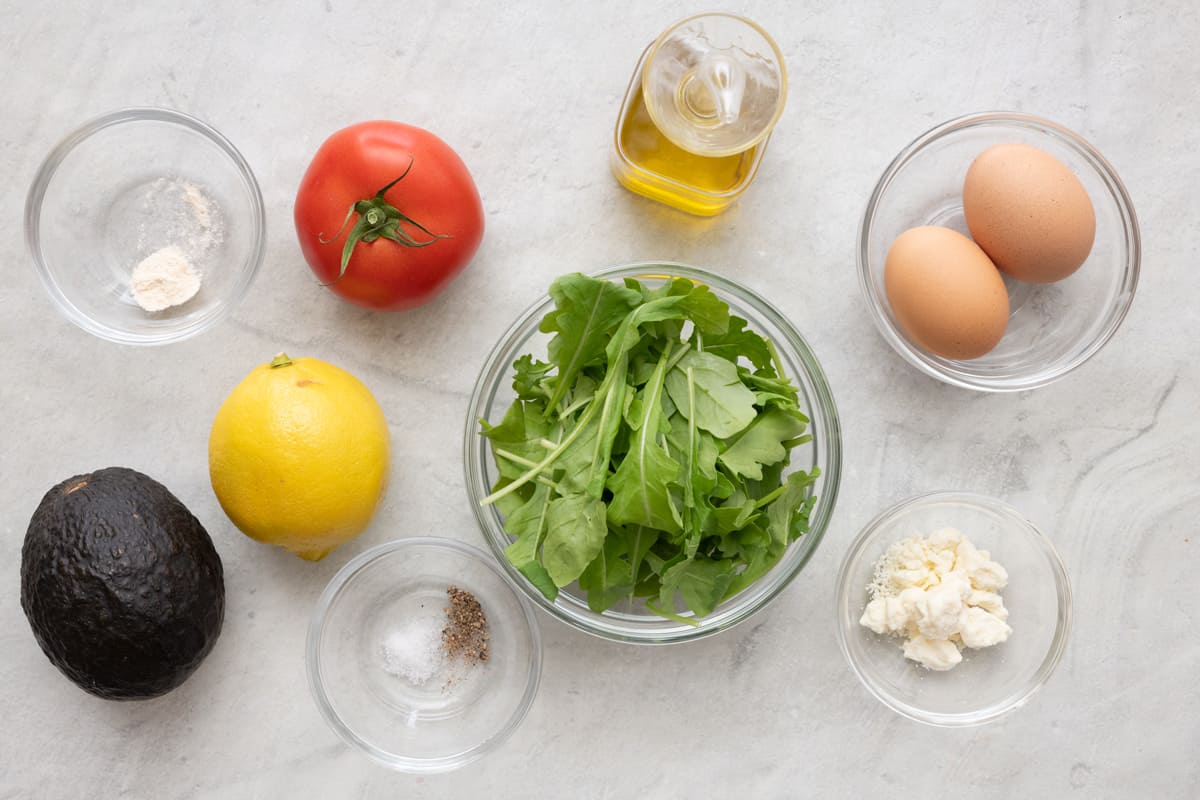 How to make an egg wrap
In a medium bowl, place the eggs, water, flour, salt, and pepper.
Whisk until well combined, and the flour is completely dissolved.
Heat the olive oil in a nonstick frying pan. Pour the egg mixture into the pan and spread it out evenly. Cook until the egg mixture is completely set, breaking up any air bubbles that form.
Gently slide a spatula under the edges of the egg mixture to flip. Slide the cooked egg wrap onto a plate to allow it to cool slightly.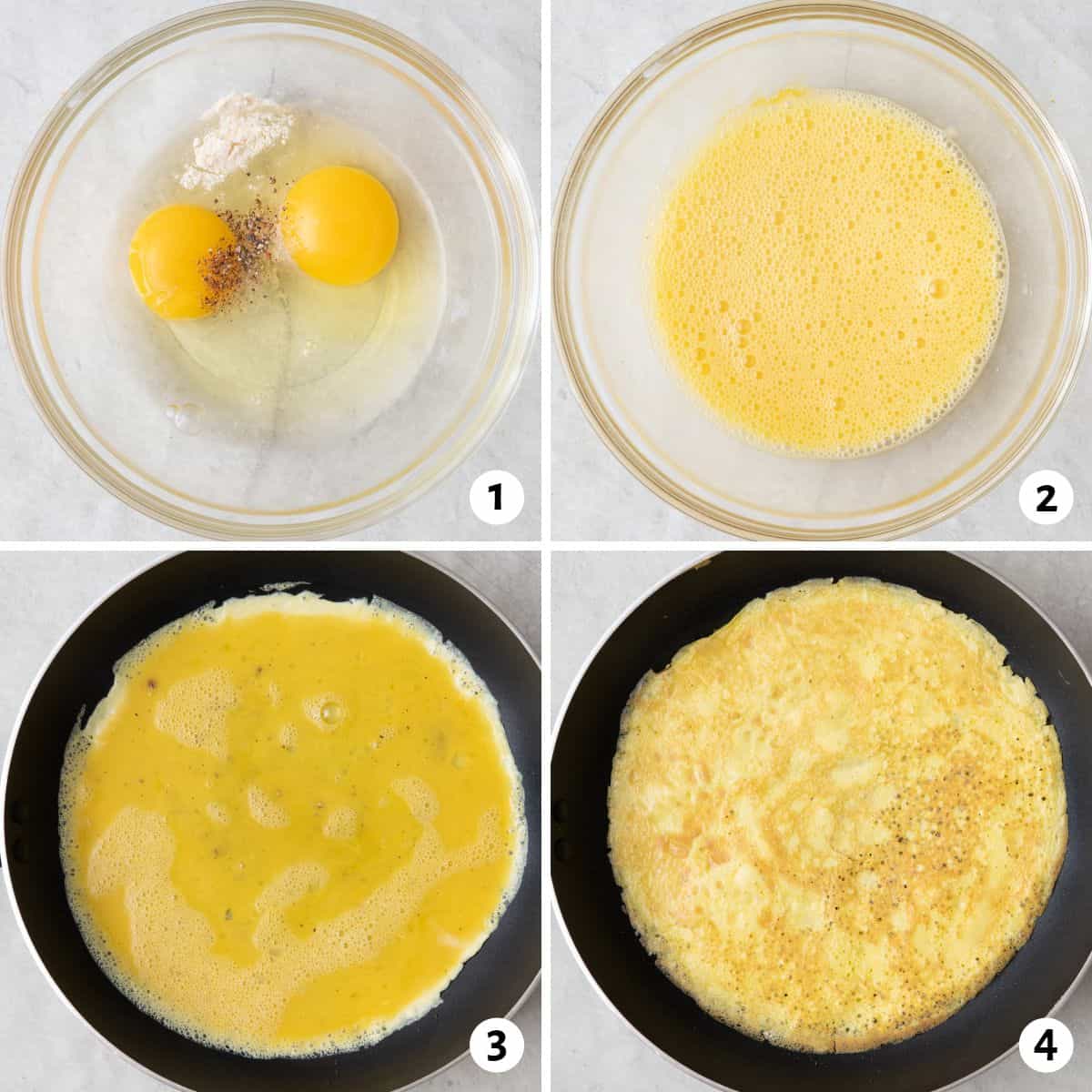 Tips for making an egg wrap sandwich
Be mindful of thickness. If you prefer a thinner crepe-like egg wrap, you'll need to use at least a 10-inch frying pan, ideally a 12-inch frying pan and only two eggs. For a thicker wrap, I'd still stick with a 10-inch frying pan, so you have room for the filling, and you can use up to 4 eggs.
Make your egg wrap ahead of time. You can make the exterior wrap ahead of time – up to two days and store it in the refrigerator. This way, you just have to assemble it in the morning for a quick and easy breakfast!
Let the egg cool for a few minutes before assembly. If you want your egg wrap sandwich to hold together, let it cool off a bit before rolling it up. Otherwise, if you try to roll it up in a hurry, the egg may split, and your wrap may not hold together.
Don't overfill the wrap. If you overfill the wrap, it will be difficult to roll up and more likely to break. It may take a few times to get the filling-to-wrap ratio, but once you do, you'll be throwing egg wraps together like a pro!
Popular substitutions & additions
Make it savory. My mom makes a similar version of this egg wrap inspired by Lebanese "ejjeh". She adds mashed potatoes mixed with garlic, lemon juice, salt, and pepper to the inside of the wrap. Who can argue with potatoes and eggs?
Use a low-carb tortilla. If you're not on a strict Keto diet, you can use a low-carb tortilla in place of the egg wrap or in addition to it for a double wrap situation.
Get creative with the filling. Think of an egg wrap as a deconstructed omelette. You can add just about any type of filling you'd like – mushrooms, pesto, sautéed spinach or try my breakfast burrito fillings.
Add some heat. If you're looking for an extra kick to your egg wrap, add some homemade harissa or a dash of hot sauce or chili flakes before folding it up. The mild spiciness really takes this dish to the next level!
How to store & reheat an egg wrap
Depending on what filling you use inside your wrap determines if it can or can not be stored put together. For example, if you do a simple turkey sausage and cheese egg wrap, you can roll it and store it in the fridge until you're ready to reheat. If you have fresh, watery veggies, like tomatoes, or air-sensitive ingredients, like avocado, you won't want to store the egg wrap filled.
If you can avoid the microwave when reheating eggs, I would. Eggs tend to get rubbery when microwaved. If you have a toaster oven, you can throw the egg wrap in to reheat on 300˚F for a few minutes or use a pan on medium-low heat until the chill has just worn off.
How long will an egg wrap last in the fridge?
I recommend eating your egg wrap within two days of making it. Any longer, and you may notice a change in texture, taste, or smell.
Can I freeze the egg wrap?
You can, but the egg may become rubbery and the vegetables inside a bit soggy. If you're going to freeze your egg wrap, I'd do it without the filling. Make sure that you let your eggs come to room temperature to avoid excess moisture when freezing.
Frequently asked questions
Do I have to use flour in my eggs?
Nope! You do not have to use the flour inside your egg mixture. Though, I'd love for you to try it at least once!
Do I need to flip my egg wrap?
Yes! If you don't flip your egg wrap, one side will cook much faster than the other. So be sure to flip it halfway through! To keep your egg from tearing, use a thin spatula and be sure to slide it under the entire egg.
Can I add stuff directly to the egg mixture?
You can, but I would keep it simple with ingredients that are flat, like deli turkey, shredded cheese, etc. You don't want big chunks in your wrap that may cause more air bubbles and tearing.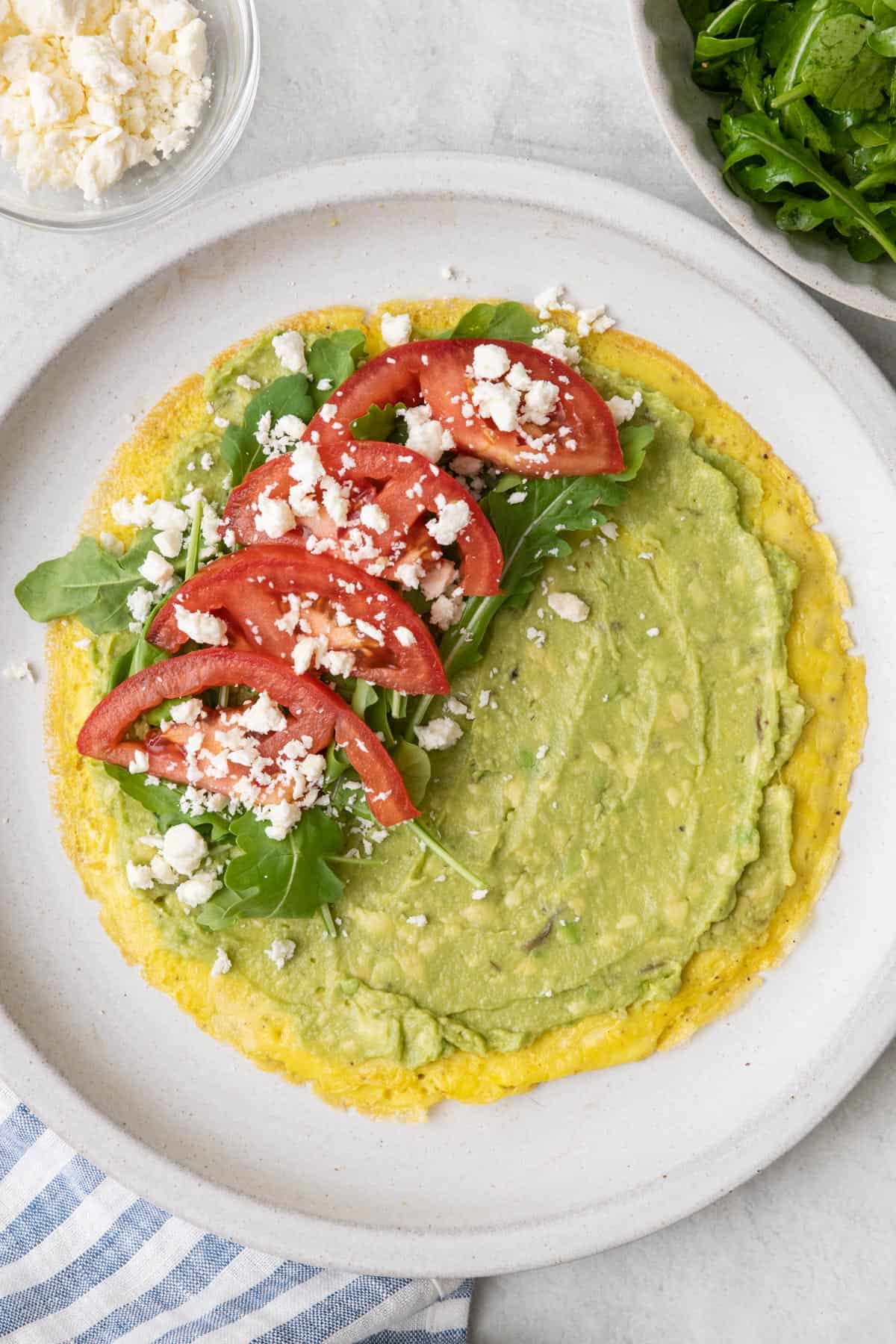 This egg wrap is a delicious, nutritious, and super satisfying meal. With just a few ingredients, you can make this breakfast creation in no time. So keep it in your arsenal of go-to breakfast meals and impress your family. Pair it with a cup of coffee or freshly-squeezed orange juice for a balanced and nutritious meal. Enjoy!
More egg recipes:
If you try this feel good Low Carb Egg Wrap recipe or any other recipe on Feel Good Foodie, then don't forget to rate the recipe and leave a comment below! It helps others who are thinking of making the recipe. We would love to hear about your experience making it. And if you snapped some shots, share it on Instagram so we can repost on Stories!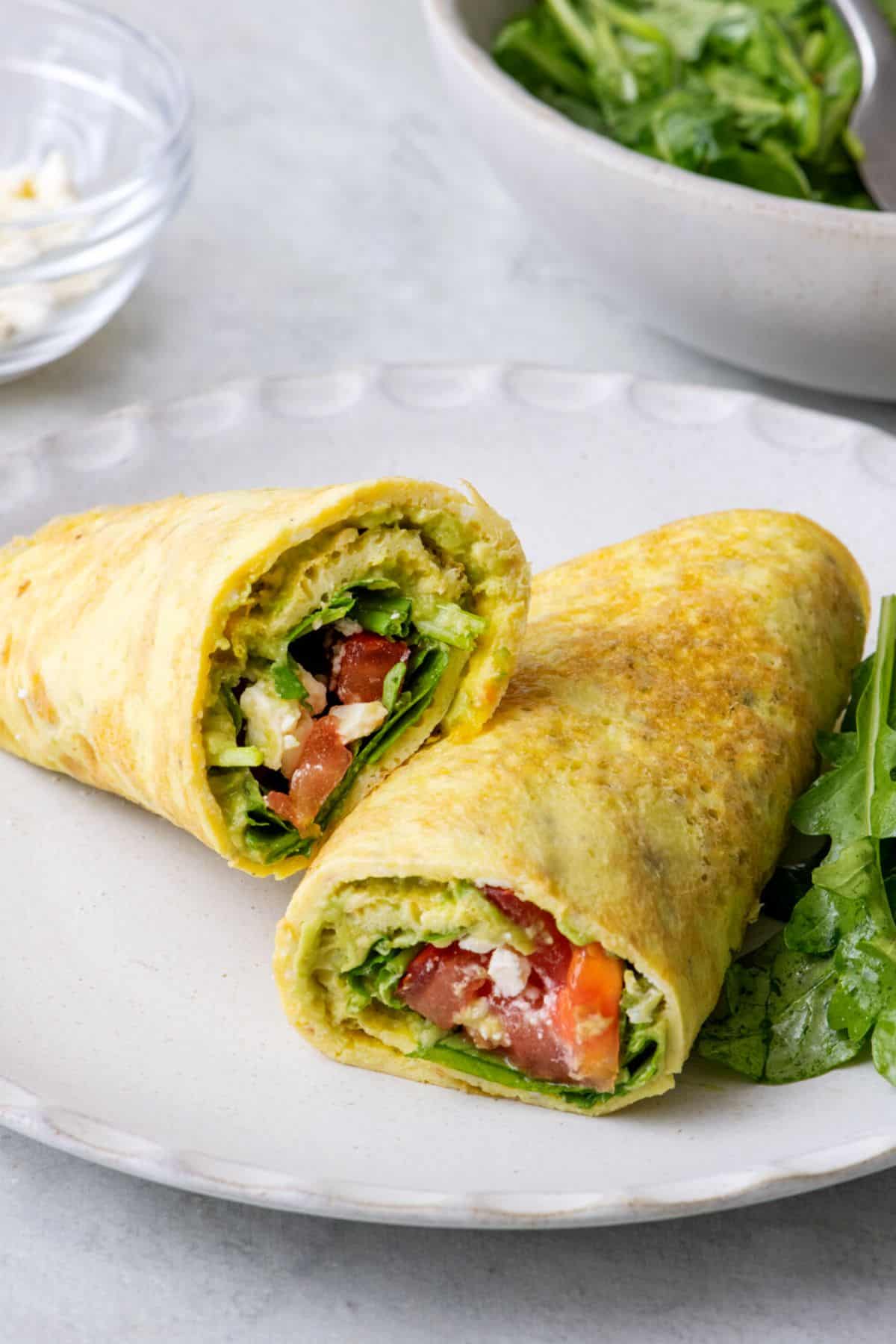 Breakfast Egg Wrap
This low-carb egg wrap is a customizable powerhouse breakfast wrap recipe! The egg wrap itself is thin, crepe-like, and can be filled with anything!
Ingredients
For the filling
½

avocado

1

teaspoon

lemon juice

¼

teaspoon

garlic powder

1

cup

arugula

1

small

tomato

sliced

1

tablespoon

feta cheese
Instructions
In a medium bowl, place the eggs, water, flour, salt and pepper; and whisk until well combined and the flour is completely dissolved.

Heat the olive oil in a nonstick frying pan over medium heat. Pour the egg mixture into the pan and spread it out evenly.

Cook for about 3 minutes until the egg mixture is completely set, breaking up any air bubbles that form. Gently slide a spatula under the edges of the egg mixture to flip. Slide the cooked egg wrap onto a plate to allow it to cool slightly.

To make the avocado spread, mash the avocado, garlic, lemon juice, salt and pepper in a small bowl.

Spread the mashed avocado over the entire egg wrap, top it with arugula, add sliced tomatoes and feta cheese. Roll it up tightly and then slice in half. Enjoy immediately!
Notes
Storage: Store any leftovers in an airtight container. They will last about 3-4 days in the fridge.
Substitutes: For best results, follow the recipe as is. However here are some common substitutes that would work well in this recipe.
Instead of all purpose flour, you can use any gluten-free flour mix.
Feel free to add any vegetables, meat or cheese you'd like.
Nutrition
Calories:
435
kcal
,
Carbohydrates:
17
g
,
Protein:
17
g
,
Fat:
35
g
,
Saturated Fat:
8
g
,
Polyunsaturated Fat:
5
g
,
Monounsaturated Fat:
20
g
,
Trans Fat:
0.03
g
,
Cholesterol:
342
mg
,
Sodium:
366
mg
,
Potassium:
925
mg
,
Fiber:
8
g
,
Sugar:
4
g
,
Vitamin A:
1927
IU
,
Vitamin C:
27
mg
,
Calcium:
188
mg
,
Iron:
3
mg
Nutrition information provided is an estimate. It will vary based on cooking method and specific ingredients used.