This post may contain affiliate links. Please read our disclosure policy.
Learn how to cut mushrooms into slices and quarters with this super easy knife guide. I'll share the best way to clean mushrooms, different cuts, a collection of tasty recipes, and how to store them before and after cooking. With this quick guide, you'll find everything you need to know to prepare mushrooms for cooking.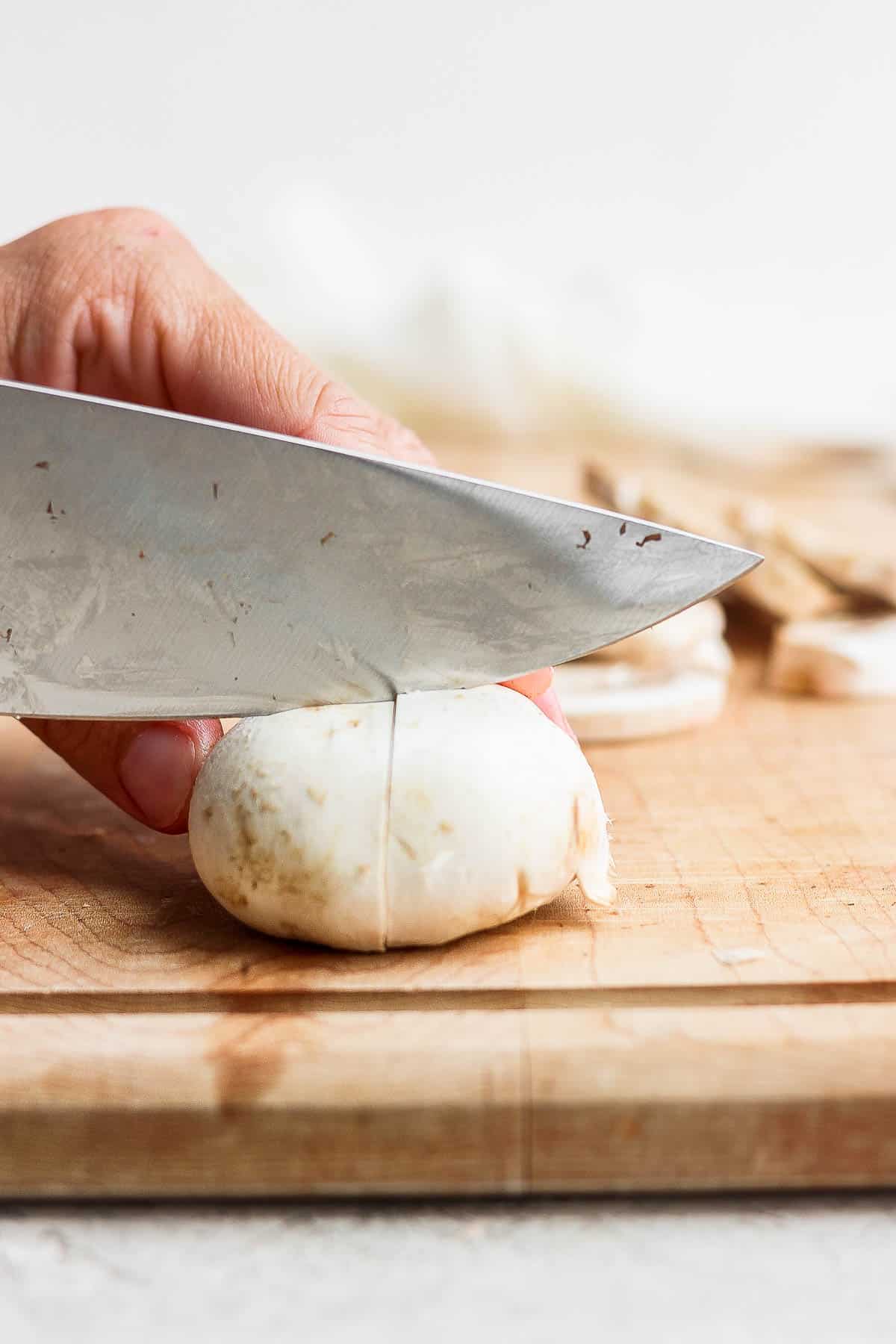 Table of Contents
WHY learn to Cut Mushrooms
Make all the recipes. You can use these different ways to prepare mushrooms to cook any recipe you need. Sliced for soups, sautees, and salads, or quarters for hearty stews or as a side dish.
Even cuts for even cooking. When you prep vegetables for recipes you'll find that symmetry in cuts is important for even cooking.
Add depth to recipes. Mushrooms are versatile and add a depth of flavor to recipes. Whether they are served on their own or mixed into recipes, you'll enjoy some fantastic earthy flavor.
Improve your knife skills. Easy vegetables like mushrooms are great for beginners to start on. They're soft and manageable, making it comfortable to practice perfecting your knife skills, making preparing for recipes that much easier.
HOW TO Cut Mushrooms
Mushrooms are one of the easier vegetables to prepare and a good beginner knife skill. Once you're comfortable handling smaller veggies and a knife, you'll be quicker to prep and assemble your recipes with ease.
How to Clean Button Mushrooms
Use a damp paper towel to gently wipe the debris off the mushrooms before cutting. Mushrooms are like sponges and will soak up liquid quickly, so using a paper towel to clean them is the best method, unlike running them under water which will absorb too much moisture.
How to Slice Mushrooms
Place the mushroom on its side on a cutting board and hold it in place.
With a sharp knife, slice off the stem.
Place the mushroom cut side down and begin to slice through in even slices.
Continue slicing to the end.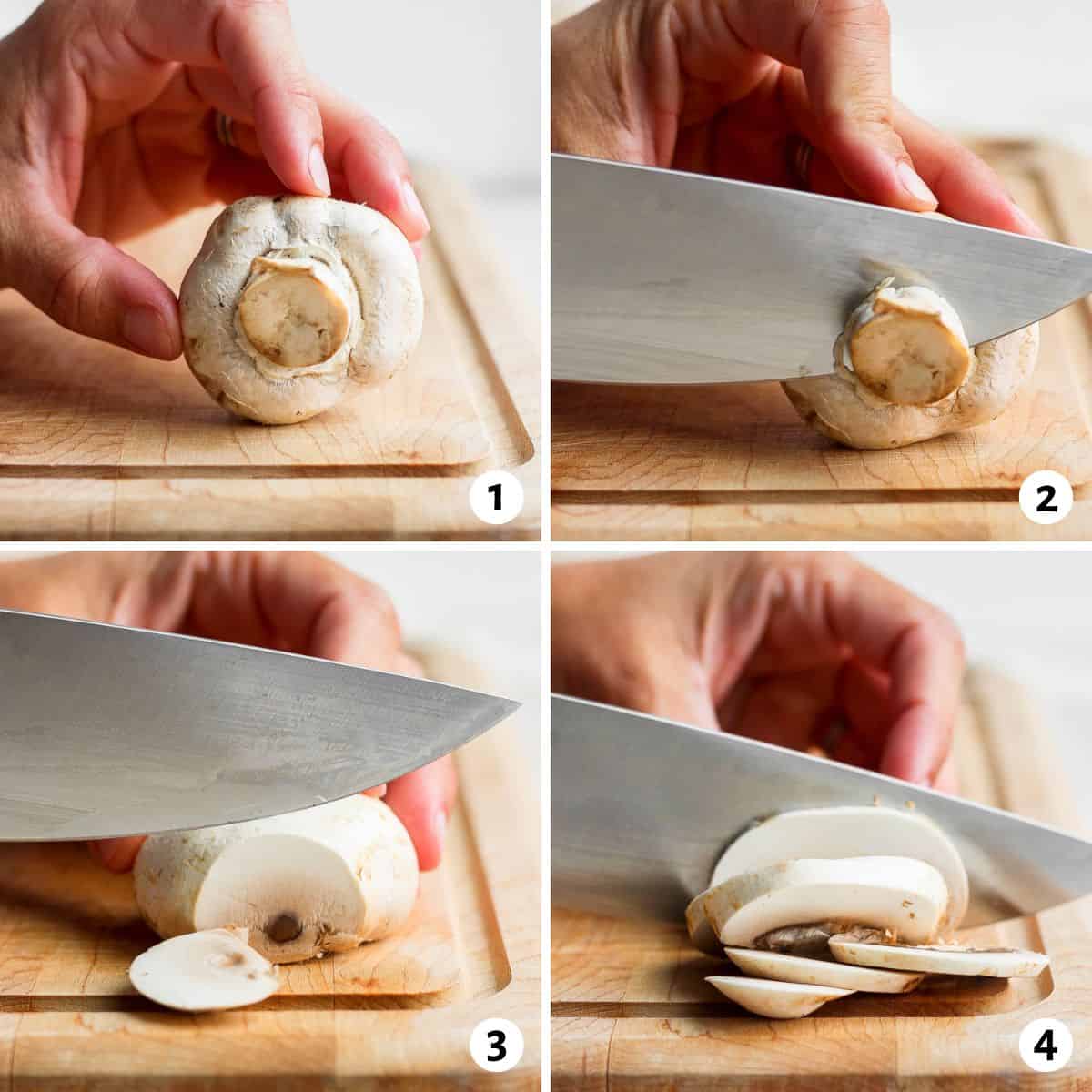 How to dice mushrooms: Once you've sliced the mushrooms, slice them lengthwise into strips and then crosswise for diced mushrooms.
How to Cut White Mushrooms into Quarters
Place the mushroom on its side on a cutting board and hold it in place.
With a sharp knife, slice off the stem.
With the mushroom cut side down, cut it in half.
Turn and cut in half again for quartered pieces.
TIPS FOR Cutting Whole Mushrooms
Save the stems. I always recommend saving the scraps from vegetables to make vegetable stock. If you're not quite ready to make stock and are collecting enough scraps, place them in a freezer bag and freeze them until ready to use.
Use an egg slicer. Want a quick way to slice your mushrooms? Try an egg slicer! Press down firmly and quickly to ensure it slices through and doesn't smush them. This works best for button mushrooms.
Review the recipe. Each recipe will require a particular cut of mushrooms, such as a heartier quartered cut or a more common sliced mushroom.
Choose the best knife for you. You have options when deciding what knife is best for you to use. A chef's knife or pairing knife works best for cutting mushrooms.
Use proper hand posture. Slightly curl your fingertips back where the knuckles rest on the mushroom before slicing. Doing so will keep your fingers safe from the blade and give you a firm grip on what you're cutting.
Use a food processor. If a recipe calls for finely chopped mushrooms, simply quarter or rough chop them before placing them in a food processor and then pulse a few times to get small pieces of mushrooms.
recipes to make with Mushrooms
HOW TO STORE Cut Mushrooms
For storing uncooked cut mushrooms, you'll want to keep them in a porous container with a paper towel to help absorb extra moisture or in a paper bag. Storing mushrooms where air can still enter is best versus storing in a sealed container.
You can store cooked mushrooms in an airtight container in the fridge like other cooked foods.
HOW LONG WILL Cut Mushrooms LAST IN THE FRIDGE?
You can store cut mushrooms in the fridge for 4-6 days. Once they begin to look and feel slimy, discolored, or soft, they are no longer fresh and should be tossed.
CAN I FREEZE Cut Mushrooms?
No. Because mushrooms have a high water content, freezing them will result in a mushy shroom. You'll have a loss of flavor and texture. If you want to freeze mushrooms, it's best to blanch or sautee them first.
FREQUENTLY ASKED QUESTIONS
Do you have to peel mushrooms before using?
No, peeling isn't necessary. Just wipe with a paper towel
What happens if you wash mushrooms?
Because mushrooms are porous and absorb moisture easily you will end up with a waterlogged mushroom. Once it is in this state you'll find it difficult to crisp them and can become rubbery.
Can you eat the mushroom stem?
While the stems are edible some tend to be very woody and tough. It's best to remove them before cooking. But save them to add to vegetable stock! They're also great to use in soups, stuffing, and as a filling for stuffed mushrooms.
Mushroom lovers, get to chopping with the quick and easy guide on how to cut mushrooms. Your knife skills will improve, and you can make all the tasty recipes you desire when you've mastered the art of preparing vegetables!
MORE Vegetable Cutting tutorials:
If you found this tutorial for How to Cut Mushrooms helpful or if you try any recipe on Feel Good Foodie, then don't forget to rate the recipe and leave a comment below! It helps others who are thinking of trying out this tutorial and we would love to hear about your experience. And if you snapped some shots, share them on Instagram so we can repost them on Stories!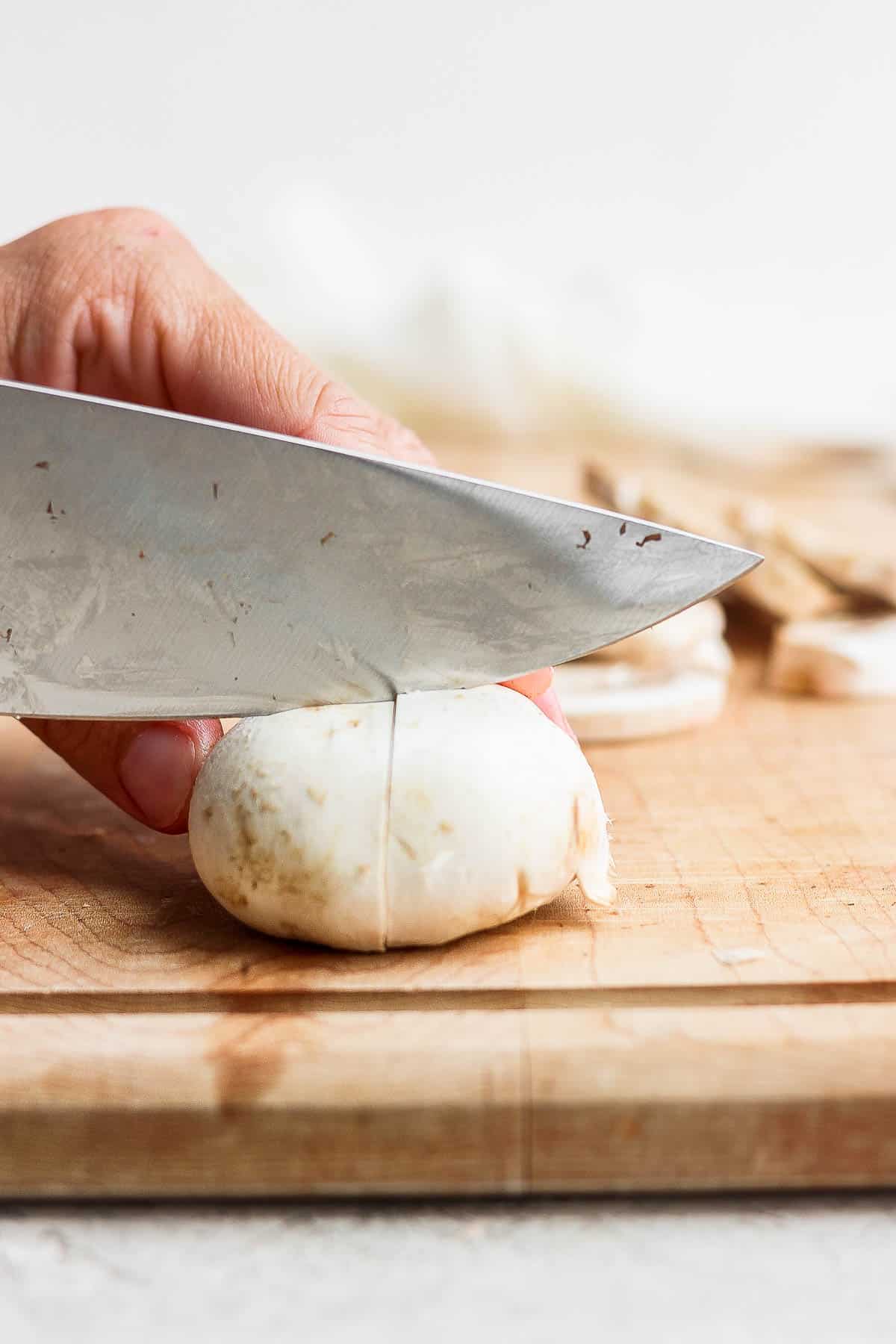 How to Cut Mushrooms
This quick and easy guide will walk you through how to cut mushrooms into slices, quarters, plus sharing my favorite recipes using mushrooms!
Ingredients
8

ounces

Mushrooms

cleaned and dried (Button style)
Instructions
Use a paper towel to wipe the dirt off the mushrooms. It's best not to run the mushrooms under water since they will soak up all the liquid and become soggy when cooked.

Cut off the stem, if desired to make the mushrooms more sturdy for cutting. You can mince the stems to use in a recipe.

Using a firm grip, lay the mushroom on its side.
For slices
Using a sharp knife, start from one end and slice until the mushroom has been cut.
For quarters
Using a sharp knife, cut the mushroom in half and cut each half in half.

Use as desired in a recipe.
Nutrition
Calories:
25
kcal
,
Carbohydrates:
4
g
,
Protein:
4
g
,
Fat:
0.4
g
,
Saturated Fat:
0.1
g
,
Polyunsaturated Fat:
0.2
g
,
Sodium:
6
mg
,
Potassium:
361
mg
,
Fiber:
1
g
,
Sugar:
2
g
,
Vitamin C:
2
mg
,
Calcium:
3
mg
,
Iron:
1
mg
Nutrition information provided is an estimate. It will vary based on cooking method and specific ingredients used.