This post may contain affiliate links. Please read our disclosure policy.
Sharpen your knife skills as you learn to cut eggplant in three different ways. Eggplant appears in many Mediterranean recipes from Italian Eggplant Parmesan to Greek Moussaka and Middle Eastern Baba Ganoush. Its ability to work with many different flavors makes it a natural for vegan and vegetarian dishes, too.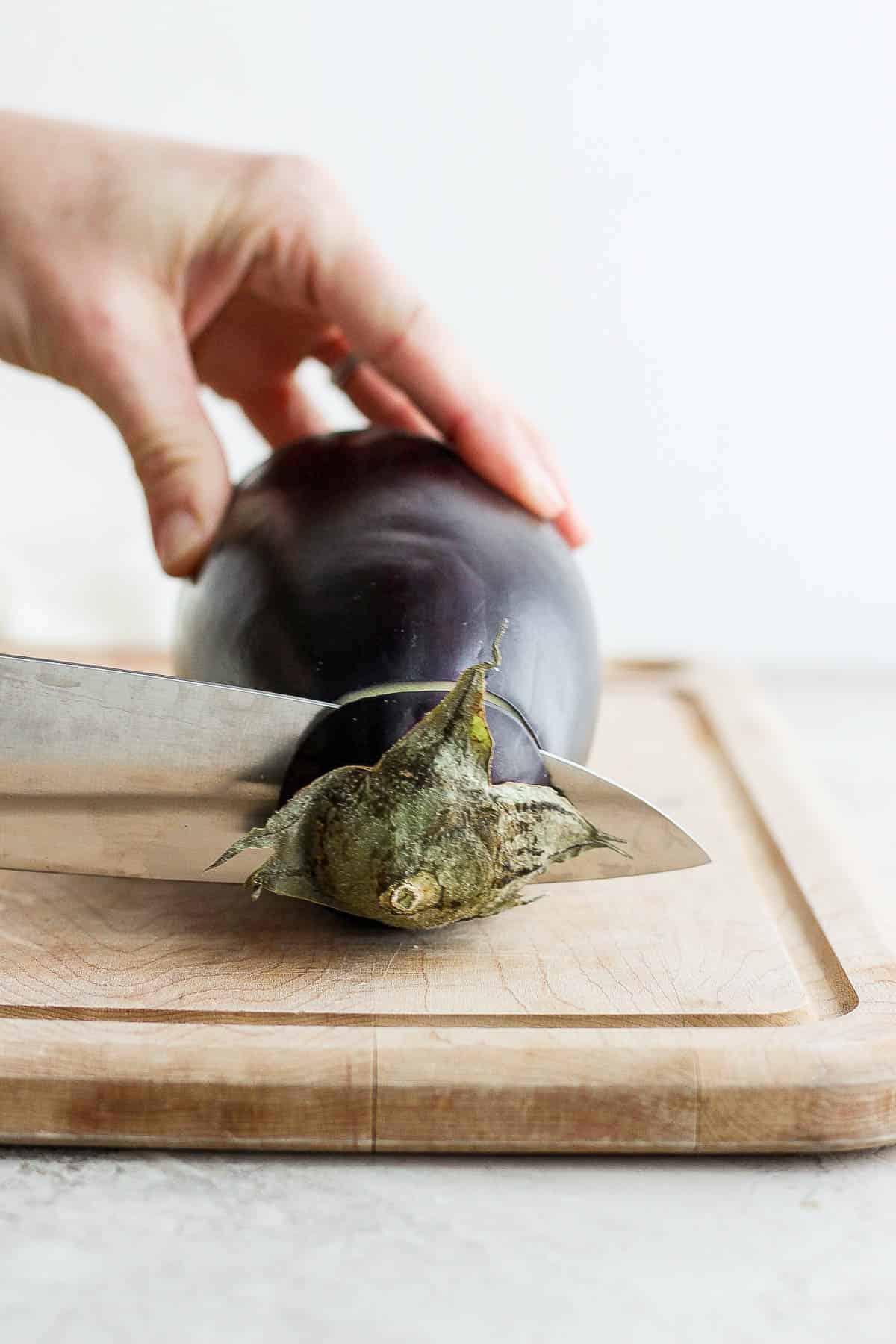 Eggplant contains iron, calcium, fiber and lots of vitamins. The purple skin boasts an antioxidant which is believed to be good for your heart.
How to cut eggplant
Before you cut the eggplant, you should decide if the recipe requires you to peel the eggplant. If it's not specified, keep the peel for extra fiber and nutrients. If using Chinese or Japanese eggplant you can leave the skin on as it is thinner.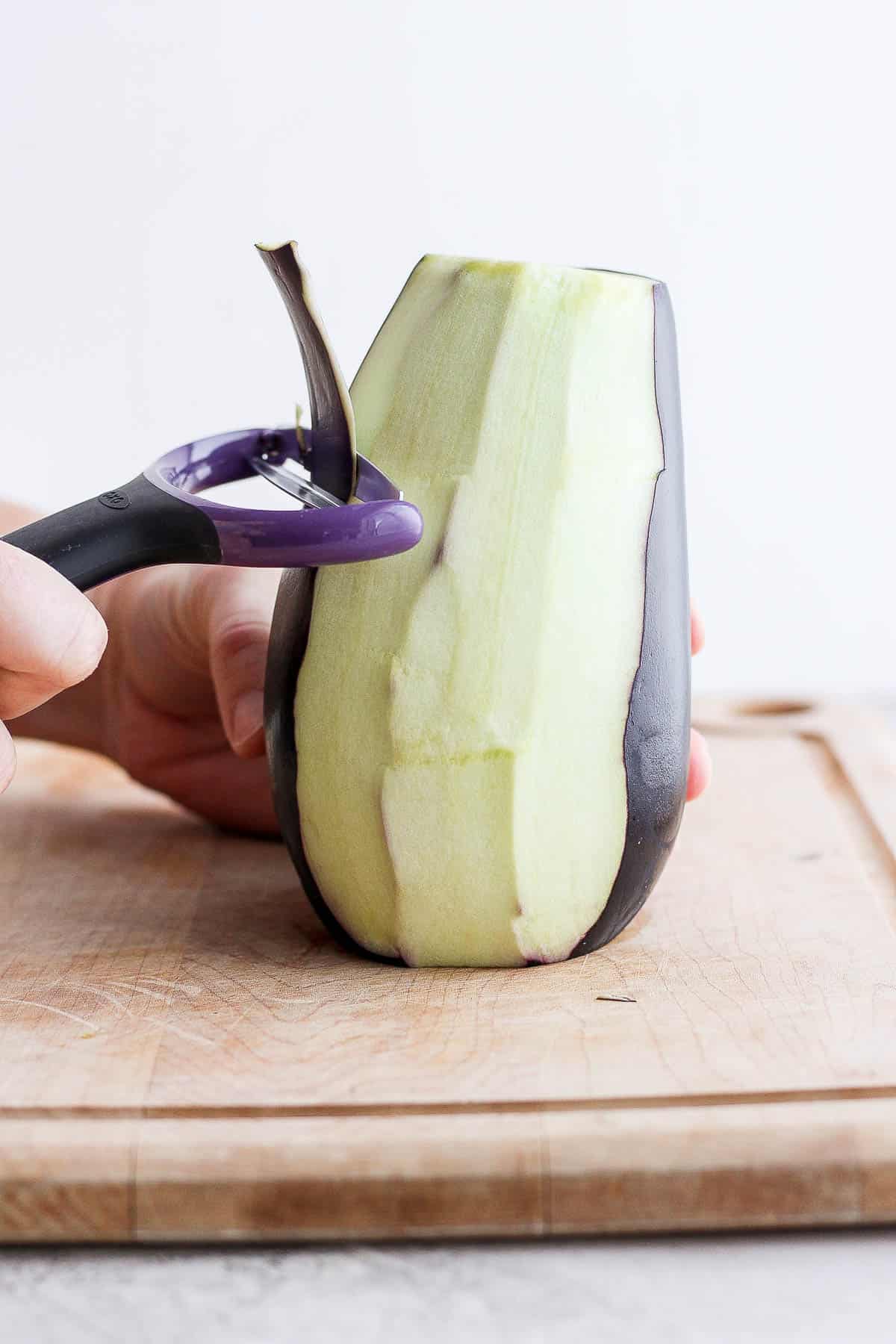 Check out below for the most popular 3 methods of cutting eggplant. Note that the thicker the slice the better it will cook. It will allow a creamier texture in the middle. The first step for any cut is slicing the green stem some of the eggplant's bottom.
Slice lengthwise
Stand the eggplant up vertically.
Make 1/2″ vertical slices from top to down.
Slice into rounds
Lay the eggplant on its side.
Make 1/2″ slices across the eggplant.
Cut into cubes
Stand the egg up vertically and make 1/2″ vertical slices.
Lay the eggplant down on its side.
Slice each of these vertical slices into sticks.
And finally, cut the stickers into the desired cube size.
Tips for cutting eggplant
Start with the freshest eggplant you can find. Look for bright, shiny purple skins and veggies with no bruises or soft spots. They should feel heavy for their size and their firmness will make it easier to cut them.
Use a sharp large knife. This will make cutting so much easier and it will give you the most precise cuts.
Preserve the eggplant slices longer with lemon. If you are worried about your slices turning brown, brush them with lemon juice.
Recipes with eggplanT
Frequently asked questions
Why do some recipes call for salting the eggplant?
Salting preps the eggplant for cooking so that it absorbs less fat and grease.
Are the different kinds of eggplants interchangeable in recipes?
Yes, mostly. The large meaty purple globe variety, aka American, is the most common in the US. It is great for recipes calling for plentiful, thick slices of eggplant. The smaller, thinner-skinned Asian varieties can be sweeter, though.
How do I prevent my eggplant from being bitter?
Do not let it sit in the fridge too long. While technically, eggplants are edible if refrigerated for up to two weeks, the older the eggplant, the more bitter it can be, so better to consume sooner. Also, bigger is not better here. Very large eggplants tend toward bitterness.
How do you store sliced/cut eggplant?
Store the eggplant in an airtight container in the fridge for up to one week. Brush them with lemon juice to slow down the browning process.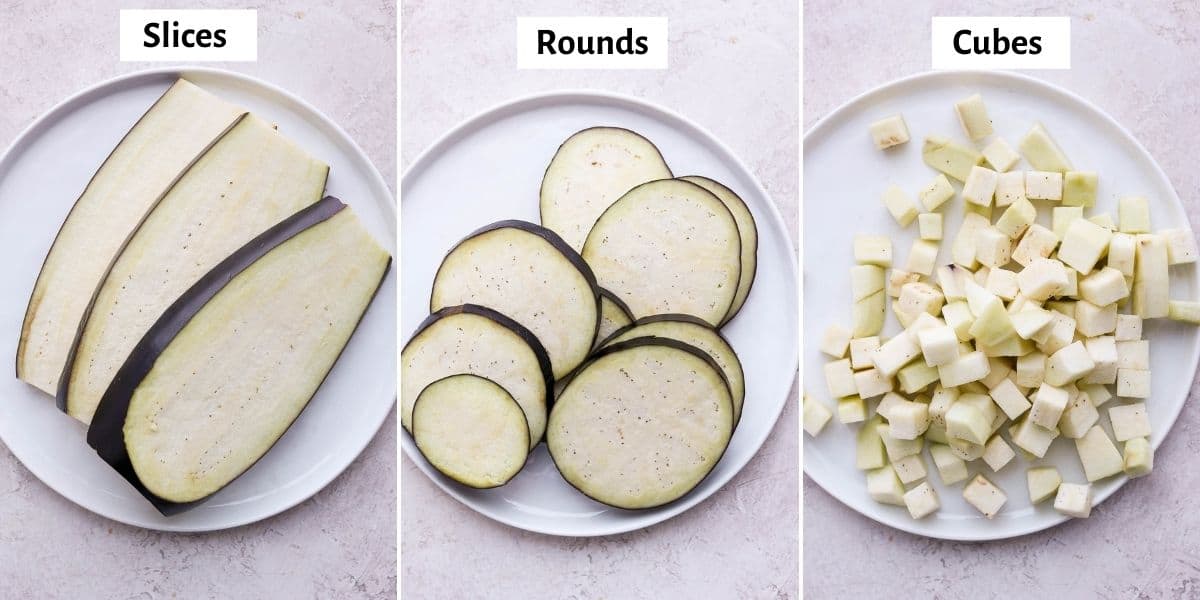 With their creamy, substantial texture, eggplants make a great stand-in for meat in a wide range of dishes. Baked, fried, or grilled, eggplants are an endlessly versatile but sometimes under-appreciated vegetable that fits into any cuisine. And now you know how to slice and chop them to use in any recipe that calls for them!
For more cutting skills tutorials:
If you find this tutorial for How to Cut Eggplant helpful or if you try any recipe on Feel Good Foodie, then don't forget to rate the recipe and leave a comment below! It helps others who are thinking of trying out this tutorial and we would love to hear about your experience. And if you snapped some shots, share it on Instagram so we can repost on Stories!
How to Cut Eggplant
Follow this step-by-step method for how to cut eggplant three different ways for stews, bakes and soups. Learn easy practical knife skills!
Instructions
Remove the top and about ¼" of the bottom of the eggplant. You can leave the peel on or remove it using a sharp paring knife or peeler.

Then cut into desired shape

Slices: Stand the eggplant up vertically and make ½" vertical slices.

Rounds: Lay the eggplant on its side and make ½" slices across the eggplant

Cubes: Stand the eggplant up vertically and make ½" vertical slices. Then slice each slice into sticks. And finally, cut the sticks into desired cub size.
Notes
Storage: Store the eggplant in an airtight container in the fridge for up to one week. Brush them with lemon juice to slow down the browning process.
Freezing: Raw cut eggplant needs to be blanched before freezing it. It will keep well for up to 6 months and should be fully thawed before cooking it.
Photo Credit:
Erin Jensen
Nutrition
Calories:
115
kcal
,
Carbohydrates:
27
g
,
Protein:
4
g
,
Fat:
1
g
,
Saturated Fat:
1
g
,
Sodium:
9
mg
,
Potassium:
1049
mg
,
Fiber:
14
g
,
Sugar:
16
g
,
Vitamin A:
105
IU
,
Vitamin C:
10
mg
,
Calcium:
41
mg
,
Iron:
1
mg
Nutrition information provided is an estimate. It will vary based on cooking method and specific ingredients used.