This post may contain affiliate links. Please read our disclosure policy.
This Stuffed Eggplant blog post is sponsored by Lundberg, although the content represents my own personal opinion/experience
Stuffed Eggplant (also known as mahshi) is one of my favorite family recipes that I learned from my parents. It's a popular Lebanese recipe using eggplant stuffed with a rice and meat mixture and cooked in a tomato broth (similar to kousa). The flavor is rich and unique, but the ingredients are simple and accessible. You just need to get your hands on some small eggplants.
This recipe is one that I grew up eating and one that serves a large family. It's a labor of love, but the outcome is always so cherished by everyone that it's iconic on our family table. Plus it makes for lots of leftovers!! It's healthy, hearty and well-balanced while bursting with great Mediterranean flavor.
We're all spending more time at home and with family these days, and it can be hard to find inspiration when cooking. That's why Lundberg is creating an online recipe database for you to share your classic family meals and find new favorites!
Share your family recipe using #LundbergFamilyTable hashtag or submit through www.lundbergfamilytable.com. The best part? It doesn't even have to be a rice recipe or include Lundberg products. They are just creating a resource for inspiration around daily meals for the family, in whatever form that may be.
Ingredients to make stuffed eggplant
Eggplant: Look for baby eggplant that are about the size of your palm, which will be best for stuffing. Larger eggplants can also be used, but the smaller ones are more practical for serving and more flavorful for stuffing.
Short Grain Rice: Rice is crucial in the eggplant stuffing and it's best to use short grain rice since it expands a lot when cooked. My brand of preference is always Lundberg Family Farms because their rice is high quality, organic and non-GMO. For this recipe I used their Organic Short Grain Brown Rice. It gives me peace of mind in the consistency of cooking time and quality, especially when it comes to cooking with brown rice, which takes longer than white rice.
Ground beef: The ground beef along with the rice makes up most of the stuffing. Look for lean ground beef for best results. You can also use lamb or ground turkey, or a combination of two meats.
Onions: I use them in the stuffing along with short grain rice, ground beef and 7 spice.
Tomatoes and tomato paste: This is for the tomato broth that I cook the stuffed eggplant in. You can use crushed tomatoes, diced tomatoes or a combination of fresh tomatoes and tomato paste.
Garlic: This is combined with the tomatoes and tomato paste to flavor the tomato broth. Don't substitute with garlic powder.
RECIPE VIDEO TUTORIAL
How to make stuffed eggplant
Make the stuffing (hashweh)
The stuffing is a very simple recipe that I use in a lot of Lebanese recipes, so it may look familiar to you. Cook the ground beef and onions with olive oil and 7 Spice, then add uncooked rice and stir to combine. Transfer the stuffing (with the uncooked rice) to a bowl.
Core and stuff the eggplant
Using a sharp knife, cut off the stalks of the eggplant. Then use an apple corer or other coring tool to remove the flesh from inside the eggplant. You want to be careful not to remove too much of the eggplant while doing this, so you don't puncture through its tender skin. Save the flesh to stir fry later or add to soup.
Use a small spoon or your hands to stuff the rice and beef mixture into the eggplant. You can then add a tomato wedge to help seal the eggplant. Once all the eggplant is stuffed, transfer the eggplant to the tomato broth to cook.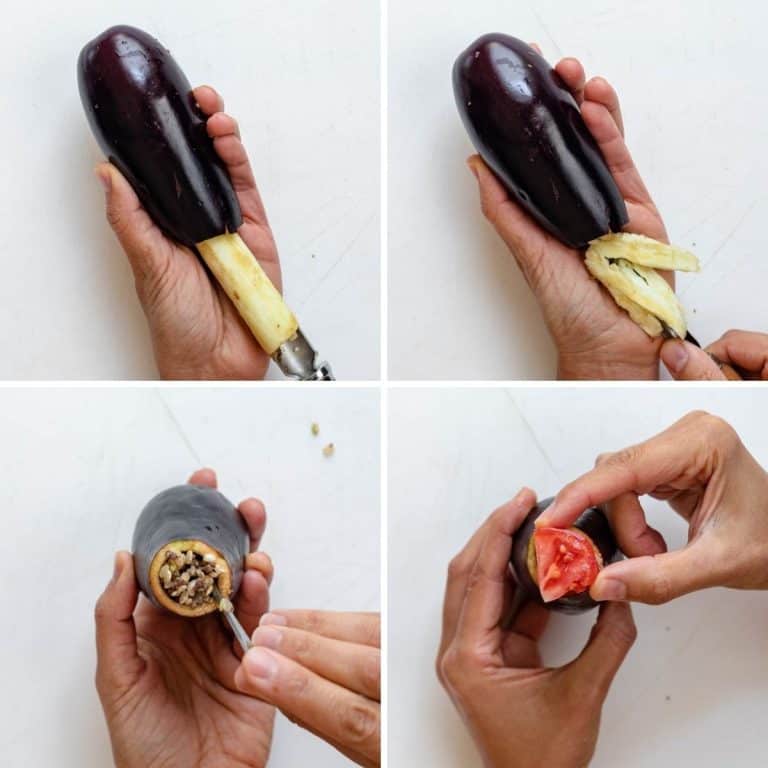 Make the tomato broth and cook the eggplant
I make the tomato broth in the same pot used to cook the beef mixture, which helps to flavor the broth. You simply need olive oil, garlic, tomato paste and fresh tomatoes along with salt and pepper. Then add about 6 cups of water or chicken broth and cook the broth while stuffing the eggplant.
After 45 minutes of cooking, you'll notice the eggplant will shrink and shrivel, the broth will be reduced and the brown rice on the inside of the eggplant will be tender and fluffy. You can then turn off the heat and let it rest for 15 minutes.
Tips for making stuffed eggplant
Use the smallest eggplant you can find. Baby eggplant is ideal for this recipe along with Italian eggplant which is small but wide enough for coring.
Don't toss the flesh that you remove from the eggplant. While it's not used for this recipe, the flesh is so good in an omelette, in stir fry with bell peppers and onions, or in a soup.
Seal the stuffed eggplant with small wedges of tomatoes. This is not necessary, and many cooks don't take the time to do this step. However, it is useful for keeping the stuffing inside the eggplant instead of spilling into the broth.
Use a small round plate to set over the eggplant while cooking. This prevents the eggplant from moving around too much so their tender skin doesn't get bruised while cooking.
Remove lid when cooking if the tomato broth looks watery. The broth will reduce while cooking but removing the lid will help to thicken the sauce more if you notice that it's thin.
Frequently asked questions
What's the best tool for coring the eggplant?
I found that an apple corer (Amazon Affiliate) works really well to remove the flesh inside the eggplant. To get it extra hallowed, you can also use an electric veggie corer drill (Amazon Affiliate link).
Can you freeze the stuffed eggplant recipe?
You can freeze the hallowed out eggplant if you buy it in bulk when it's seasonal. It makes it tender when cooked. You can also freeze the stuffing on its own. Or alternatively, you can freeze the cooked stuffed eggplant after it's been cooled. Whatever option you choose, enjoy it within 3 months of freezing for best results.
How can I make this recipe vegetarian?
It's very popular to make this recipe vegetarian (and vegan actually) by omitting the ground beef. Instead of the ground beef, you can use a mixture of parsley, tomatoes and green onions, similar to the stuffing I use when I make  vegetarian stuffed grape leaves.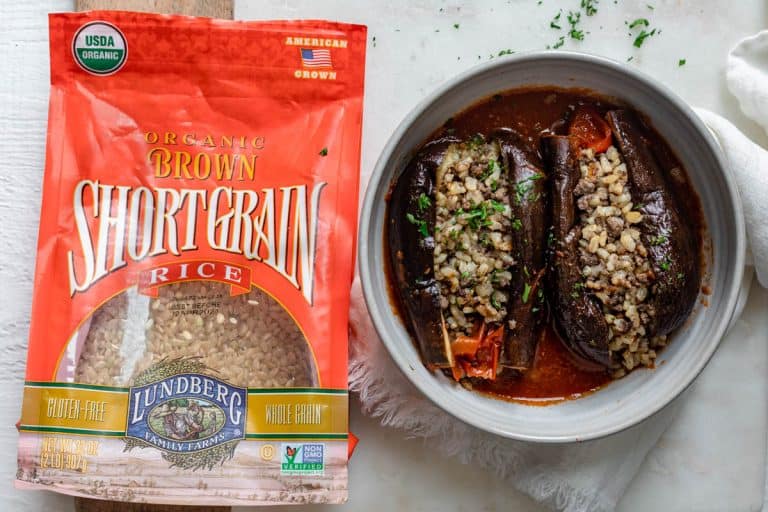 Thank you Lundberg for sponsoring this Stuffed Eggplant recipe post and for helping to reduce food insecurity during these difficult times with their ongoing donations to food pantries to make sure that all families can still have the comfort of home-cooked meals.
For more Mediterranean food:
If you've tried this healthy-ish feelgood Stuffed Eggplant recipe or any other recipe on FeelGoodFoodie, then don't forget to rate the recipe and leave me a comment below! I would love to hear about your experience making it. And if you snapped some shots of it, share it with me on Instagram so I can repost on my stories!
Stuffed Eggplant
This authentic Stuffed Eggplant recipe is a my family's popular Lebanese dish made with a spiced beef & rice stuffing and cooked in a garlicky tomato broth!
Ingredients
12

small eggplants

1

tablespoon

olive oil

1

small onion

chopped

1

pound

ground beef

1

teaspoon

7 Spice

2

teaspoons

salt

divided

¼

teaspoon

black pepper

1 ½

cups

Lundberg Short Grain Brown Rice

1

large tomato

cut into 12 chunks
Tomato Broth
2

tablespoons

olive oil

6

ounces

tomato paste

1

tomato

chopped

1

teaspoon

salt

½

teaspoon

black pepper

6

garlic cloves

pressed

4

cups

water
Instructions
Cut off the stalks of the eggplant. Using a knife, apple corer or veggie drill, carefully hallow out the eggplant and remove the flesh without puncturing the outside of the eggplant. You can reserve the flesh for another recipe.

Heat the olive oil in a large deep pot on medium heat large. Add the onions and ground beef and season with 7 Spice, 1 teaspoon salt and pepper. Cook until the beef is browned, about 7-10 minutes. Add the uncooked rice, the remaining salt and stir to combine the ingredients. Transfer the rice mixture to a bowl.

To make the tomato broth, heat the olive oil in the pot used to cook the beef over medium. Add the tomato paste, chopped tomatoes and pressed garlic and season with salt and pepper. Cook until the mixture becomes fragrant, about 1 minute. Add the water and bring mixture to a boil. Lower heat to a simmer, while stuffing the eggplant.

Using a small spoon or your hands, fill the hallowed out inside of each eggplant with the rice stuffing. Be sure to leave about ¼ inch of empty space at the top since the rice will expand when cooked. Then stuff a tomato chunk on top to seal the eggplant and prevent the stuffing from coming out when cooked. Repeat with the remaining eggplant. If you have any leftover stuffing, you can cook it with water.

Transfer the stuffed eggplant to the deep pot and bring mixture to a boil, then simmer over low heat for 45 minutes, allowing the sauce to reduce and the rice to fully cook.

Serve the stuffed eggplant warm with the sauce on top.
Notes
Substitutes: For best results, follow the recipe as is. However here are some common substitutes that would work well in this recipe.
Instead of ground beef, you can use lamb or a combination of the two.
Instead of brown rice, you can use short grain white rice, which is more common.
Instead of 7 Spice, you can use All Spice or cinnamon.
Storage: Store any leftovers in an airtight container. They will last about 3-4 days in the fridge. 
Freezing Instructions: Freeze the hallowed out eggplant and store in freezer safe containers. Freeze the hashweh without cooking the rice. Or alternatively, you can freeze the cooked stuffed eggplant after it's been cooked and cooled. Enjoy it within 3 months of freezing for best results. Thaw overnight in the fridge and reheat in the microwave or on the stovetop.
Make Ahead Tips: You can make the stuffing up to 2 days in advance. You can also core the eggplant a few days in advance and store it in the fridge until ready to stuff.
Equipment: I use an apple corer (Amazon Affiliate link) to core the eggplant. It works really well with one motion. But you may need to core a couple times depending on the thickness of the squash. To get it extra hallowed, you can also use an electric veggie corer drill (Amazon Affiliate link).
Nutrition
Calories:
617
kcal
,
Carbohydrates:
76
g
,
Protein:
27
g
,
Fat:
25
g
,
Saturated Fat:
7
g
,
Cholesterol:
54
mg
,
Sodium:
1528
mg
,
Potassium:
1925
mg
,
Fiber:
16
g
,
Sugar:
22
g
,
Vitamin A:
977
IU
,
Vitamin C:
24
mg
,
Calcium:
101
mg
,
Iron:
4
mg
Nutrition information provided is an estimate. It will vary based on cooking method and specific ingredients used.