This post may contain affiliate links. Please read our disclosure policy.
This baba ghanoush (baba ghanouj) recipe is smokey, creamy and a flavorful dip that you can make with very little preparation! It's a tasty appetizer or snack dish that takes 5 minutes to prepare and 45 minutes to smell the eggplant roasting in your oven. What I love about it is the fact that it's super simple to whip up and that it's vegan, gluten-free, keto-friendly and Whole 30!
Today I want to share with you my other Middle Eastern dip love (after hummus) – baba ganoush! My recipe for Baba Ganoush is one I learned from my Lebanese parents. It's authentic, simple to make and the perfect accompaniment to your party platters. So if you're looking to for an alternative dip to hummus, you've gotta try this one!
What is baba ganoush?
But first, what is this funny sounding recipe? Well, it's basically an eggplant dip. The hero ingredient is eggplant, which gets sweet and smoky in the oven. And it's mixed with three other pantry staple Mediterranean ingredients: fresh garlic, fresh lemon juice and tahini (sesame paste) to bind it all together. It's basically like hummus' lesser known cousin, but it's just as amazing and just as easy to make!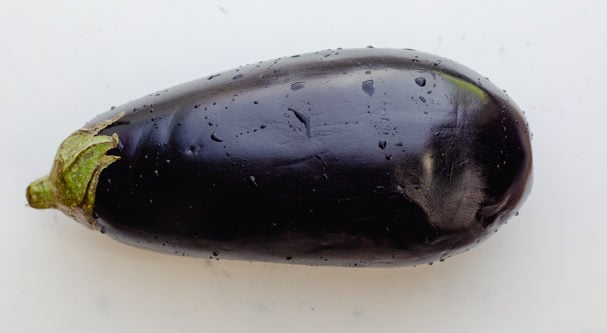 No one really knows where the name came from, but in Arabic, baba means father and ganoush means spoiled. Put it together and it's just fun to say! You're going to love this dish as much you'll love saying its name!
RECIPE VIDEO TUTORIAL
How to make this baba ganoush recipe
Roast the eggplant
The first step is to roast the eggplant. The traditional way to prepare the eggplant is to broil it over an open flame or grill it on a wood burning fire. That's what gives it the strong smokey flavor. I opt for the easier faster method of just roasting it in the oven for 45-60 minutes. You'll still get a mildly smoky flavor, and it's less hassle.
You can wrap it in aluminum foil or skip that part. Once it's soft to the touch and wrinkly, I remove the flesh and pulp to use in the dip, and discard the skin.
Blend the ingredients
Next, it's time to blend everything together. You can use a food processor or a blender. I've made it with both appliances, and had successful results each time. You can literally throw everything in the blender together at once. Or you can blend the tahini, garlic and lemon juice first to get a smooth and creamy sauce and then just pulse the roasted eggplant.
The final consistency will depend on your preference. Some like it chunky; and others prefer it to be as smooth as hummus.
I like a smooth texture, that's creamy and spreadable. You'll notice that the mixture will get thicker as it cools in the fridge too.
Tips for making baba ganoush
Select high quality ingredients. There are only 4 ingredients in this homemade baba ganoush recipe. Because of the minimal items, it's important that each of those ingredients is high quality. That means fresh garlic, fresh lemon juice and tahini made with only sesame seed paste.
Strain the eggplant to remove excess liquid. You can strain the whole eggplant or chop it into smaller pieces and strain it that way. I usually just let it sit for 10 minutes in a colander to cool and release excess liquid. This step is not mandatory.
Adjust the ingredients to your taste. When it comes to baba ganoush, and actually most Lebanese dips, you can really tinker with the proportions to make it your own. So adjust the tahini, make it more lemony or more garlicky to your taste.
Allow the dip to set in the fridge. You'll notice that the dip will get thicker as it cools and sets in the fridge. That's because any liquid released from the roasted eggplant in addition to the natural fats from the tahini will solidify.
Frequently asked questions
Is hummus or baba ganoush healthier?
Baba ganoush is similar to hummus, but it is made with eggplant instead of chickpeas. Eggplant contains fiber like chickpeas, but it contains less protein, but it is higher in antioxidants and lower in calories.
How long does the dip last in the fridge?
Baba ganoush will keep well in the fridge for around 7 days in an air tight container. It freezes well too – let it chill in the fridge for at least an hour, and then place in an airtight container or freezer bag.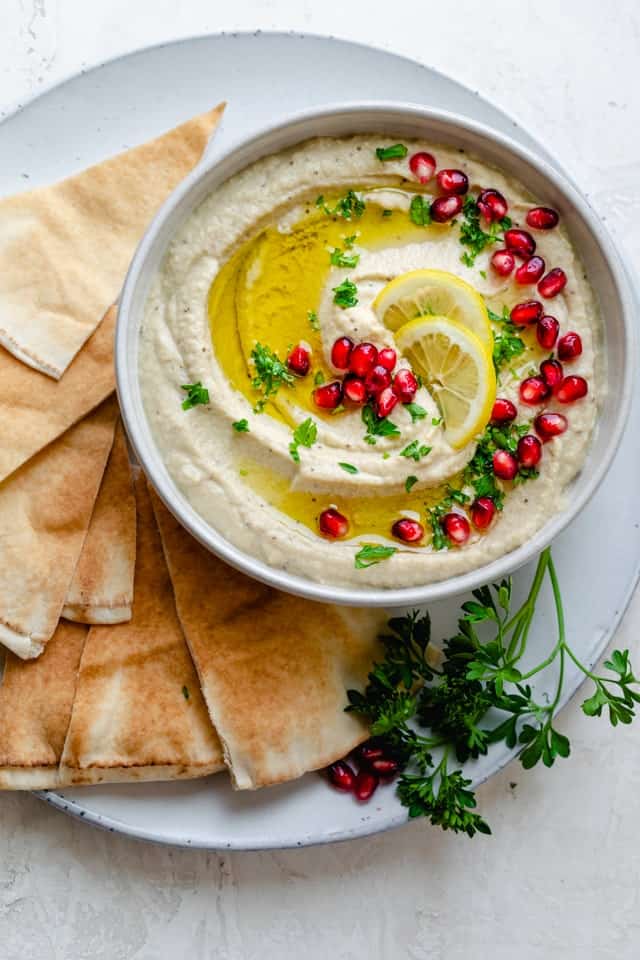 This Baba Ganoush is totally creamy, decadent, and has a wonderful balance of smokey and tangy flavor from the roasted eggplant and the lemon. I love that it's super versatile like hummus. It pairs with pita bread, vegetables, pretzels, crackers or even as a condiment in your favorite sandwich.
More Middle Eastern dips:
If you've tried this healthy-ish feel good Baba Ghanoush recipe or any other recipe on FeelGoodFoodie, then don't forget to rate the recipe and leave me a comment below! I would love to hear about your experience making it. And if you snapped some shots of it, share it with me on Instagram so I can repost on my stories!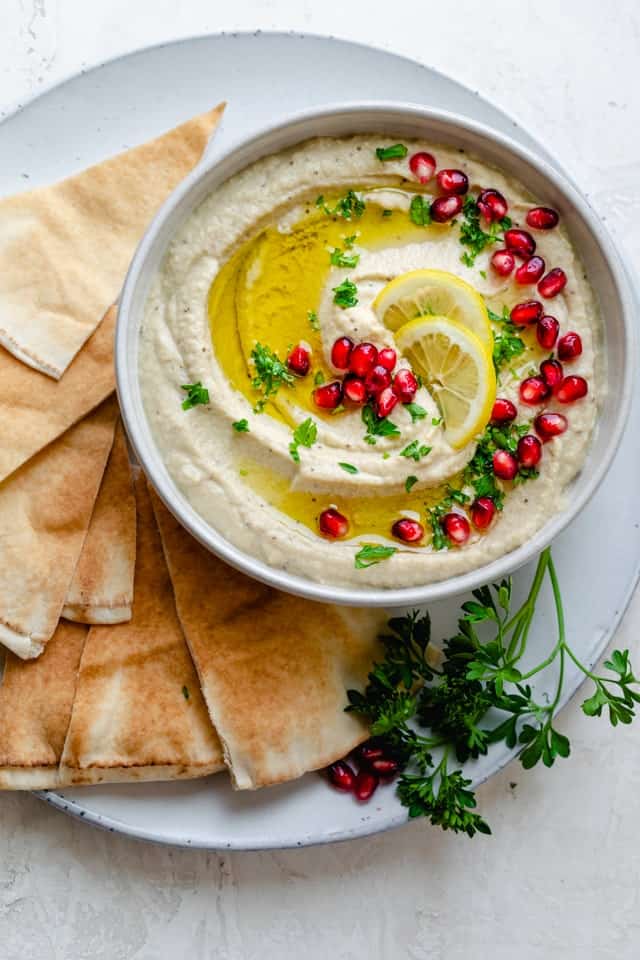 Lebanese Baba Ghanoush
This Lebanese inspired Baba Ghanoush is made with only 4 ingredients: oven-roasted eggplant, lemon juice, tahini & garlic – a great alternative to hummus!
Ingredients
Instructions
Preheat oven to 400° F degrees.

Wrap eggplant in aluminum foil and roast for 45-60 minutes until the eggplant is soft when poked with a fork or knife. Unwrap the eggplant and allow it to cool for 10 minutes.

When the eggplant is cool to the touch, cut off the top and peel off the skin. Discard the skin, keeping only the flesh of the eggplant.

Place the flesh of the eggplant in a food processor or blender. Add the lemon juice, tahini, garlic cloves and salt. Blend for 1 minute until the mixture is smooth and creamy.


Alternatively, you can blend the lemon juice, tahini and garlic first, and then add the eggplant. Either way works.

Garnish with parsley and olive oil, if desired. Enjoy with pita bread, crudité or crackers.
Notes
Storage: Store any leftovers in an airtight container. They will last about 7 days in the fridge. Make Ahead: I would recommend making this one day ahead of eating it, or at least a few hours in advance. The dip will get thicker and the flavors will enhance as it cools in the fridge. The easiest part to make ahead though is roasting the eggplant. I recommend roasting it next time you have the oven on or you're firing up the grill.  Sourcing: You can find the tahini at Middle Eastern markets, natural-foods stores. Most large supermarkets now carry it as well, often located with other Middle Eastern ingredients or in the peanut butter section. Substitutes: For best results, follow the recipe as is and use only fresh garlic and fresh lemon juice. If you are allergic to tahini, you can use olive oil.
Nutrition
Serving:
340
g
,
Calories:
82
kcal
,
Carbohydrates:
7
g
,
Protein:
2
g
,
Fat:
5
g
,
Sodium:
102
mg
,
Potassium:
231
mg
,
Fiber:
2
g
,
Sugar:
2
g
,
Vitamin A:
20
IU
,
Vitamin C:
6.4
mg
,
Calcium:
23
mg
,
Iron:
0.6
mg
Nutrition information provided is an estimate. It will vary based on cooking method and specific ingredients used.