This post may contain affiliate links. Please read our disclosure policy.
This mushroom gravy is an easy, naturally vegan gravy recipe made with mushrooms, vegetable broth, and a few other simple ingredients. Even if you're not vegan, this is one mushroom gravy you're sure to love! Plus, it never hurts to have a couple of different gravy recipes to serve during the holidays and even for easy weeknight dinners. If you've been wanting to learn how to make a mushroom gravy that won't disappoint, I've got you covered!
I first started making this mushroom gravy as a way to use up leftover sautéed mushrooms, and I've been making it ever since. The beauty of this vegan mushroom gravy is you don't need any turkey drippings, which means you can make it ahead of time, and you can make it for non-meat eaters! It's a dairy-free gravy recipe that takes about 10 minutes to make, so it's an ideal fuss-free gravy – no gravy packets required.
"This recipe was absolutely delicious! I made it for family and friends during Thanksgiving, and it was perfect! Some people liked it even more than the non-vegetarian gravy. It's easy and soooo tasty! Highly recommend" – Karen
Table of Contents
Recipe at a glance
Cuisine Inspiration: American
Primary Cooking Method: Stovetop
Dietary Info: Vegan
Key Flavor: Earthy
Skill Level: Easy
Summary
Simple and delicious. The mushrooms paired with fresh thyme give this gravy an amazing flavor, and the onions add a nice depth of flavor as well as texture.
Easily made ahead of time. This is perfect for holiday meals or easy weeknight dinners.
Vegan and dairy-free, non-vegans enjoy this gravy too. This is the perfect gravy for serving to everyone at your table, regardless of dietary restrictions.
Goes with a variety of sides and main dishes. Serve this over mashed potatoes, roasted vegetables, or even tofu and tempeh dishes. It's also perfect for turkey, roasted chicken, hamburger steak, and more.
Ingredients to make homemade mushroom gravy
Mushrooms: You can use any kind of fresh mushrooms for this recipe, or a mix of different ones. Chop them finely before cooking.
Onion: Minced onion adds a great flavor to this gravy. You could also add in some garlic if you like.
Oil: For cooking. We like to use olive oil, but vegetable or avocado oil would work well too.
Herbs: I like to use fresh thyme to add flavor to this mushroom gravy. You can use other herbs like rosemary or sage too.
Broth: Use vegetable broth or chicken broth if not meat-free.
Soy sauce: This adds a nice umami flavor to the savory gravy, and the low-sodium one works well to ensure the gravy is not too salty. If gluten-free, you can use tamari sauce.
Flour: To thicken the gravy. Use all-purpose or a gluten-free flour.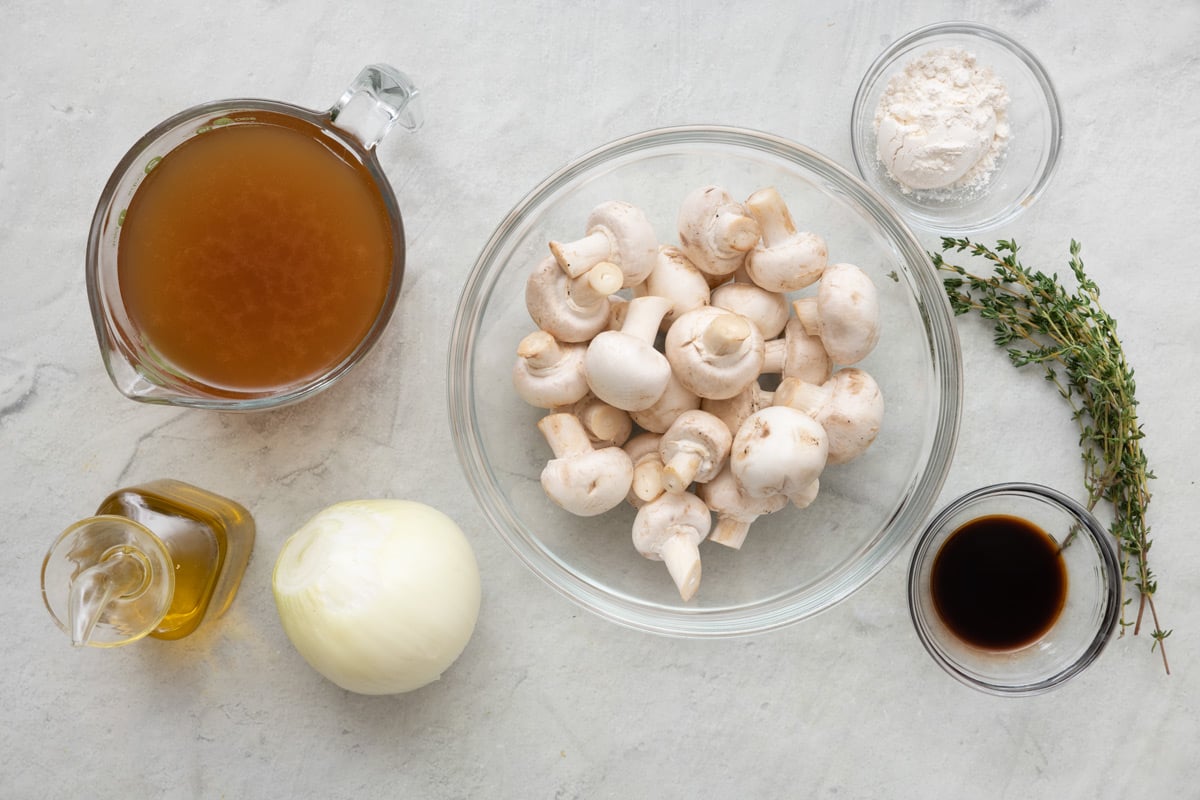 How to make mushroom gravy from scratch
Saute the mushrooms and onions in the oil to caramelize them. It should take about 5 minutes.
Add the vegetable broth and soy sauce, along with some fresh herbs. At this point, the mixture will look quite separated, kinda like soup.
Reduce the heat and slowly start adding flour. I only used two tablespoons of flour, which gave it the perfect consistency. I recommend adding a little at a time until you're happy with the consistency. Keep in mind that the gravy will thicken as it settles.
After simmering for a few minutes, this was the final product. The vegan mushroom gravy has a decadent, rich color from the soy sauce, and a noticeable shimmer from the olive oil. At this point, you can taste it and season it with salt and pepper.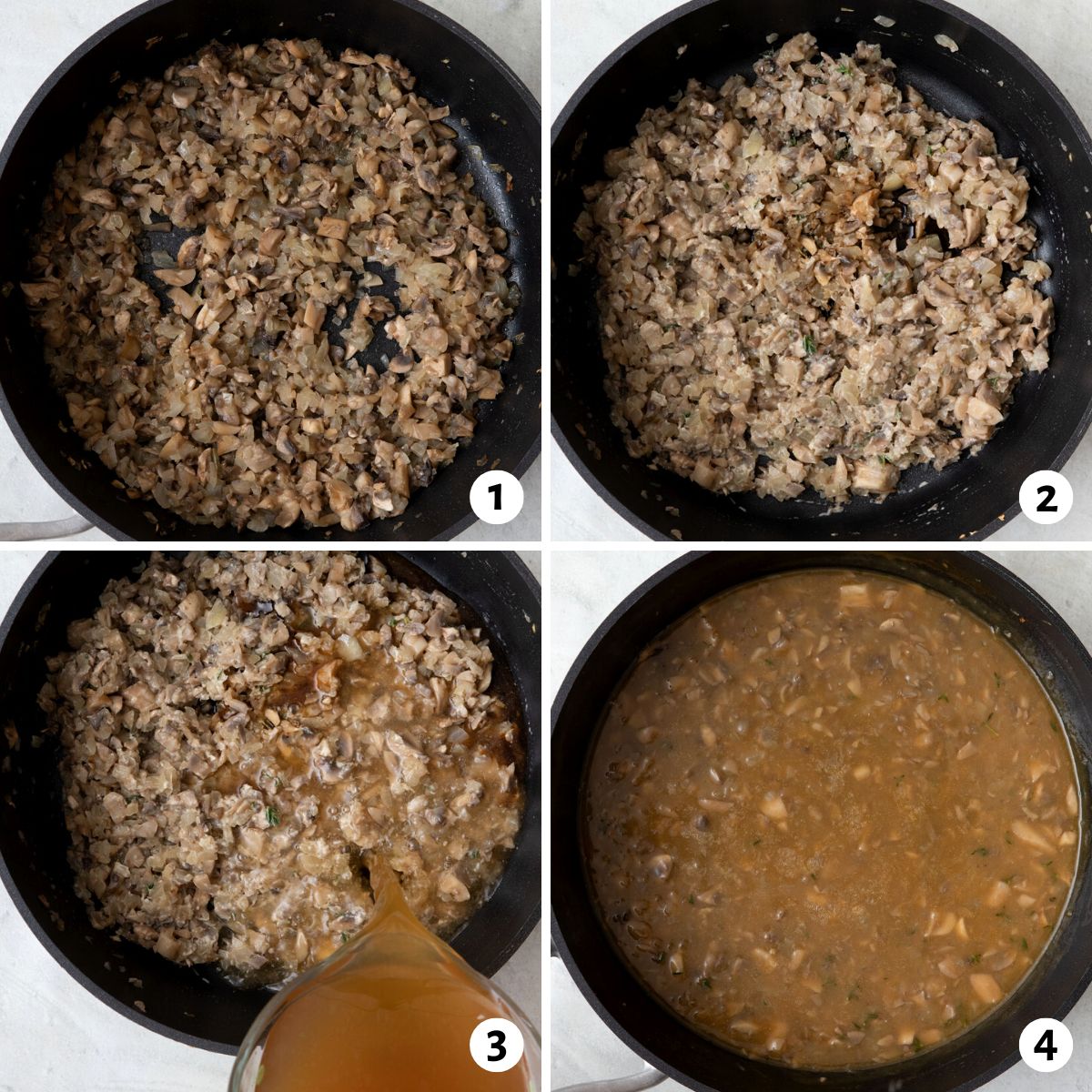 RECIPE VIDEO TUTORIAL
Check out this tutorial for how to make mushroom gravy from scratch using a few simple ingredients. Please note that the recipe has been slightly updated to reduce the olive oil and soy sauce in the original video recipe; I used two tablespoons but have reduced it in the updated video to decrease the sodium level. I also changed the order in which the ingredients are added. The technique shared in the video below is still correct, but the one outlined in this updated recipe is slightly enhanced.
"This gravy was a huge hit at Thanksgiving! It was easy to make and tastes great. Thank you!" – Patti
Tips for making the best gravy from mushrooms
Chop the mushrooms and onions very finely. It's tedious but so worth it. This will help them cook faster and ensure that they dissolve nicely into the broth when cooked. No one wants large chunks of onions in their gravy. Well, at least my kids don't!
Blend the gravy for a smoother texture. If you prefer a smooth gravy without any onions or mushrooms chunk (even finely minced ones), try using a hand immersion blender to blend the gravy. I use the Cuisinart Smart Stick. It's quick and easy and will give you a smooth and silky consistency.
Take the time to caramelize the onions and mushrooms. Make sure to do this before adding the flour, and it's important to do this sequentially, and not just throw everything together in the saucepan. This ensures that the vegetables release their flavors fully.
Don't add too much flour. Remember that the gravy will get thicker as it sits. If after 15-30 minutes of the gravy resting, you feel that it needs to be thicker, you can whisk in one more tablespoon of flour until well blended.
Add vegetable broth to thin out the gravy. On the other hand, if your mushroom gravy looks too thick to your liking, you can add about 2-4 tablespoons of vegetable broth to thin it out.
popular substitutions & additions
Use baby Bella mushrooms instead of button. Baby Bellas have a more robust flavor, so they work well in this gravy.
Try adding a splash of balsamic vinegar for added depth of flavor. A little goes a long way!
For a creamier gravy, add some almond milk or coconut milk after the flour is incorporated and well-cooked. Start with about 2 tablespoons and see if you want to add more for desired consistency.
Use a cornstarch slurry instead of flour. For a gluten-free option, mix 1 tablespoon of cornstarch with 2 tablespoons of water and add it to the gravy towards the end. Stir well until thickened.
what to serve with your mushroom gravy
Well, for starters, definitely pour this all over your Thanksgiving turkey. It will be a huge hit even for the meat-eaters! The mushrooms have such a strong depth of flavor (they call it umami), and the soy sauce gives it that salty bite we all like in gravy. But if you're looking for other things to enjoy with this gravy, try these recipes:
how to store & reheat mushroom gravy
Store the gravy in an airtight container in the fridge. Reheat on the stove over medium heat, stirring occasionally until hot. Add a splash of vegetable broth to the gravy if you notice it is too thick after storing. You can also microwave individual servings covered with a damp paper towel for about 1-2 minutes or until heated through.
Reheat on the stove over medium heat, stirring occasionally until hot. Add a splash of vegetable broth to the gravy if you notice it is too thick after storing. You can also microwave individual servings covered with a damp paper towel for about 1-2 minutes or until heated through.
how long will mushroom gravy last in the fridge?
Mushroom gravy will last for about 4-5 days in the refrigerator, stored in an airtight container.
can i freeze mushroom gravy?
I wouldn't recommend freezing this gravy as the texture may change upon thawing. It is best enjoyed fresh within 4-5 days. If you have leftovers, try using it as a sauce for pasta or tossing with roasted vegetables for an easy weeknight meal.
Frequently asked questions
Can you make it ahead of time?
Yes! This is a great make-ahead side! Once you have made the gravy, let it cool and then transfer it into an airtight container
Can you make this gravy smooth?
This mushroom gravy has texture to it. If you prefer a smoother consistency, you can use a blender to blend it smooth before serving.
What can I use instead of soy sauce?
Tamari or coconut aminos can be used as a substitute for soy sauce in this recipe. You can also try using Worcestershire sauce, (note Worcestershire is NOT vegan, so only use it if you don't need a vegan gravy}, but it may change the overall flavor of the gravy slightly.
This mushroom gravy is a hearty, rich, and flavorful vegan gravy that is perfect for the big Thanksgiving meal or can be used for topping your weeknight chicken, steak, potatoes, or biscuits. I'm just an all-around fan of this magic sauce they call gravy baby!
More recipes with mushrooms:
If you try this feel good Vegan Mushroom Gravy recipe or any other recipe on Feel Good Foodie, then don't forget to rate the recipe and leave a comment below! It helps others who are thinking of making the recipe. We would love to hear about your experience making it. And if you snapped some shots, share it on Instagram so we can repost on Stories!
This Vegan Mushroom Gravy recipe was originally published on November 15, 2018. The recipe has not been modified, but the post now includes new step-by-step photos of how to make vegan mushroom gravy.
Vegan Mushroom Gravy
Easy, Vegan Mushroom Gravy. Made from scratch with caramelized mushrooms & onions and fresh herbs. Learn how to make it for a versatile gravy option!
Instructions
Heat the olive oil in a medium saucepan over medium heat. Add the onions and mushrooms and cook until softened, 8-10 minutes.

Sprinkle the flour and thyme over the mushroom mixture and stir until the flour is incorporated and the thyme is fragrant, about 1 minute.

Add the broth and soy sauce, and simmer until the sauce thickens, whisking occasionally, about 10-15 minutes. Remove it from the heat and serve.
Notes
Storage: Store any leftovers in an airtight container. They will last about 5 days in the fridge.
Make Ahead Tips: You can make the gravy up to five days ahead and store it in the fridge. Reheat just before serving. If the gravy thickens too much, you can add vegetable broth to thin it out.
Substitutes: For best results, follow the recipe as is. However here are some common substitutes that would work well in this recipe.
You can use chicken broth or beef broth instead of vegetable broth (although it won't be vegan anymore)
You can substitute cornstarch, arrowroot starch, potato starch or tapioca for flour. Use half as much cornstarch as you would flour. Since the recipe calls for 2 tablespoons of flour, you would use only 1 tablespoon of cornstarch, for example
Equipment: If you prefer a smooth gravy without any onions or mushrooms chunk, I highly recommend using the Cuisinart Smart Stick hand immersion blender. It's quick and easy and will give you the perfect consistency.
Nutrition
Calories:
68
kcal
,
Carbohydrates:
4
g
,
Protein:
2
g
,
Fat:
5
g
,
Saturated Fat:
1
g
,
Polyunsaturated Fat:
1
g
,
Monounsaturated Fat:
4
g
,
Sodium:
74
mg
,
Potassium:
115
mg
,
Fiber:
1
g
,
Sugar:
1
g
,
Vitamin A:
42
IU
,
Vitamin C:
3
mg
,
Calcium:
7
mg
,
Iron:
0.5
mg
Nutrition information provided is an estimate. It will vary based on cooking method and specific ingredients used.