This post may contain affiliate links. Please read our disclosure policy.
This traditional Shakshuka recipe is a must-try for a savory, wholesome vegetarian breakfast! It's bursting with Middle Eastern flavor and the best runny eggs cooked in one pan! This mixture of just 6 main ingredients plus spices is an impressive yet easy recipe that may be unique to your typical breakfast. Use crusty bread to scoop up all the deliciously rich and spicy sauce and gooey runny eggs.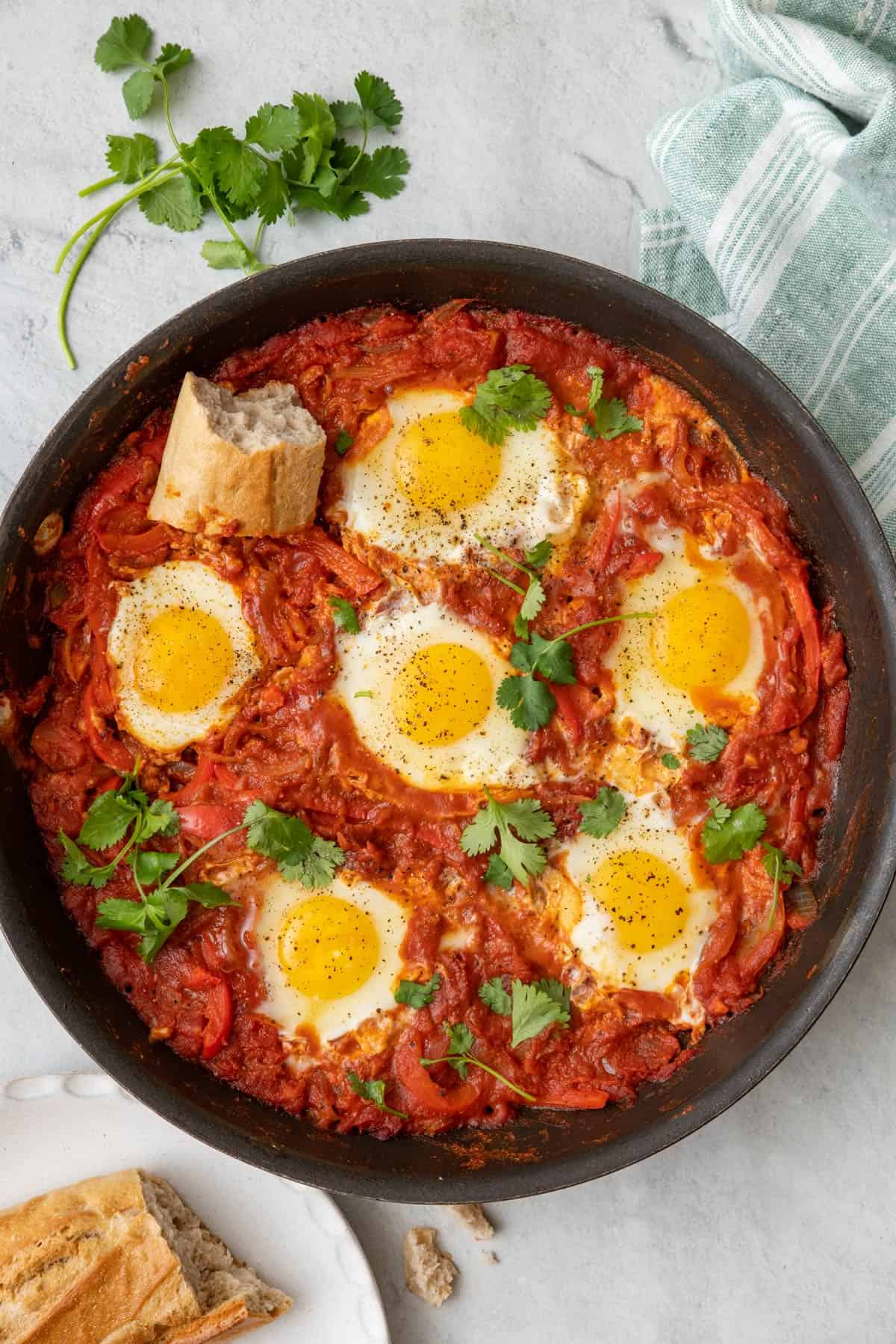 Have you ever had Shakshuka? It's as fun to eat as it is to say! The best thing about a Shakshuka recipe for me is the sauce that's rich and full of some amazing flavors. This is one of those breakfast recipes that is totally doable for dinner. It hits all the marks for an easy-to-make vegetarian recipe that's also a low-carb, paleo, and keto-friendly dish exploding with flavor!
Table of Contents
What is Shakshuka
Shakshuka is a classic Middle Eastern recipe made from wholesome ingredients. This traditionally vegetarian dish has a rich, spicy tomato base that cooks into a thick sauce with a mixture of onions, bell peppers, and common Middle Eastern spices such as cumin, cayenne, and paprika. Then, eggs are poached right in the deepened stew-like tomato sauce for a one-pan breakfast.
Why you'll love this easy shakshuka recipe
Easy one-pan breakfast. Everyone loves a quick and easy recipe that doesn't use many dishes. This shakshuka recipe starts by cooking down the veggies, then the tomato sauce, and finishes by poaching the eggs all in the same pan!
The best savory tomato sauce. Not only is this sauce cooked down in to a thick, velvety consistency, but it's seasoned with delicious Middle Eastern spices for an aromatic and zingy bite.
It's delicious for breakfast or dinner! I love serving this up in the morning, but it's a game-changer for dinner, too! Make it more filling by serving it over rice or potatoes and adding in diced eggplant!
Ingredients to make shakshuka breakfast
Vegetables: I like to use a yellow onion for a stronger bite and red bell pepper for its slightly sweeter flavor, both sauteed with garlic until soft.
Tomatoes and tomato sauce: Use both and allow to cook down to get the best texture and rich, velvety sauce.
Seasonings: Cumin, paprika, coriander, salt, and pepper.
Eggs: The shakshuka eggs are dropped into little 'nests' or intentions in the sauce and poached to your liking. I prefer a medium cook where the white is cooked through and the yolks are left runny.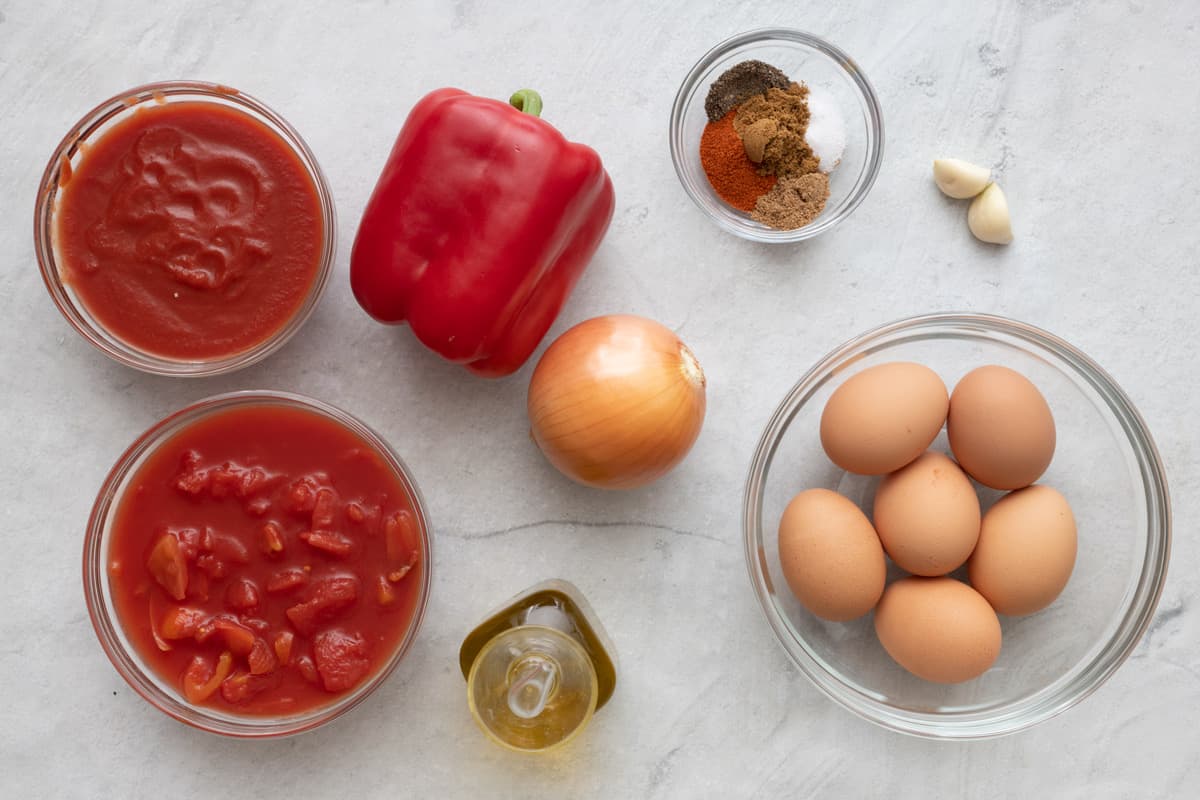 How to make this easy shakshuka recipe
Cook onions and peppers until soft and translucent, stirring in the garlic after and cooking until fragrant.
Add the tomatoes, tomato sauce, and spices and stir together.
After bringing to a boil, reduce the heat and simmer the sauce until it thickens.
Create small nests in the tomato stew with the back of a spoon.
Carefully crack an egg into each nest.
Allow the shakshuka with eggs to steam with a lid until the eggs cook to your liking. Add some fresh cilantro on top and serve with crusty bread.
Tips for making shakshuka with poached eggs
Use a nonstick skillet. The vegetables cook for about 10 minutes, plus more time to reduce the sauce and cook the eggs, so using a nonstick pan helps ensure no sticking or burning.
Allow the sauce to simmer before adding eggs. Once the vegetables soften, add the tomatoes and tomato sauce and allow it to simmer and become more stew-like before cracking in the eggs. This thickened consistency of the sauce will help cradle the eggs and deepen the flavor of the Shakshuka.
Cover the skillet to cook the eggs. The steam created from the lidded pan will help to set the eggs. A glass lid will make it easier to see when they have cooked to your liking without losing any steaminess from being covered.
Adjust for more runny eggs. If you prefer the eggs runnier, you'll want to reduce the sauce a couple of extra minutes before cracking the eggs into the pan. Otherwise, the sauce will run into the eggs, and we want to keep them separated for the most part. And make sure to reduce the egg cooking time by 2-3 minutes to get that gooey runny yolk.
Popular substitutions & additions
Switch up the spices. I love the traditional spices here, including cumin, paprika, and cayenne pepper. But you can add also some coriander, caraway, red pepper flakes, chili powder, and even sugar (which I don't find necessary).
Add a pinch of sugar. The sugar cuts the acidity of the tomatoes, and you'll notice the flavor becomes more balanced for the Shakshuka sauce.
Switch up the vegetables. Use yellow or another white onion for the sauce. You can also use green or yellow bell peppers instead of red. Make it more hearty by sauteeing in mushrooms, too.
Add some cheese. A crumbly cheese such as feta adds the best tangy, salty flavor and is a perfect complement to this tomato egg dish, just like my shakshuka with feta recipe.
Include some greens. Before adding the eggs, grab a handful of spinach or kale and stir it in. No need to let it cook completely as they will continue to wilt and soften while the eggs steam.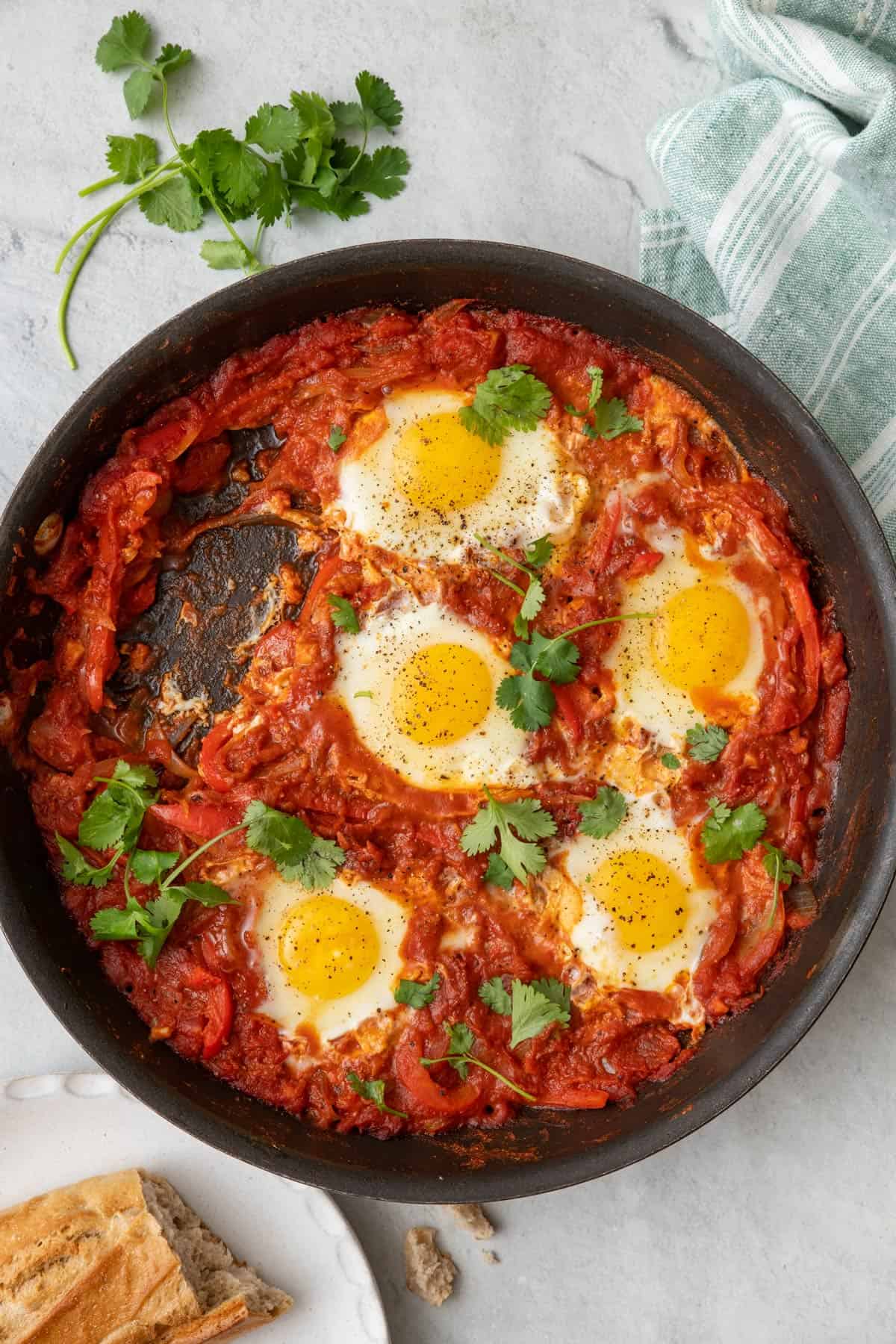 How to store & reheat Shakshuka
Transfer the shakshuka with egg to an airtight container and store it in the fridge. Because it has eggs, it's best to reheat it on the stove instead of the microwave. If you just have sauce left, reheat it on the stove and crack fresh eggs in and cook them to your liking.
How long will Shakshuka last in the fridge?
Without eggs, the tomato base sauce can be stored for up to 3-4 days. If it has leftover eggs, it's best to eat them within a day or two or just toss the eggs and make them fresh when reheating.
Can I freeze Shakshuka breakfast?
You can certainly freeze the shakshuka sauce after cooking. Bring into to room temperature before transferring to a airtight freezer-safe bag or container.
Want to meal prep a shakshuka breakfast? Lightly spray a muffin pan with oil and divide the sauce into each cup. Place the tray into the freezer until solid, and then transfer the frozen tomato discs into a bag. Then, you can heat up individual serving sizes of shakshuka for a quick breakfast. Use a small pan so you can cook the egg in the sauce.
Frequently asked questions
How do you serve it?
You can enjoy this shakshuka recipe for breakfast, lunch, or dinner. For breakfast or brunch, you can enjoy it as is. I love eating it with pita bread or crusty bread, like sourdough or garlic bread. For a larger meal, it pairs really well with a simple salad, like fattoush, or a side, like oven-baked fries or crispy smashed potatoes.
Can you make it ahead of time?
Ideally, this should be enjoyed as soon as it's cooked so that the egg yolks are nice and runny. You can make the sauce ahead of time and keep it covered in the fridge for 2 to 3 days, reheat it, then add the eggs to serve.

If you have leftovers, they will keep well for 3 to 4 days in the fridge.
What else can you add?
This is pretty delicious as it is, but you can easily add other things to this shakshuka. Feta cheese is an amazing addition, or add in other veggies like mushrooms.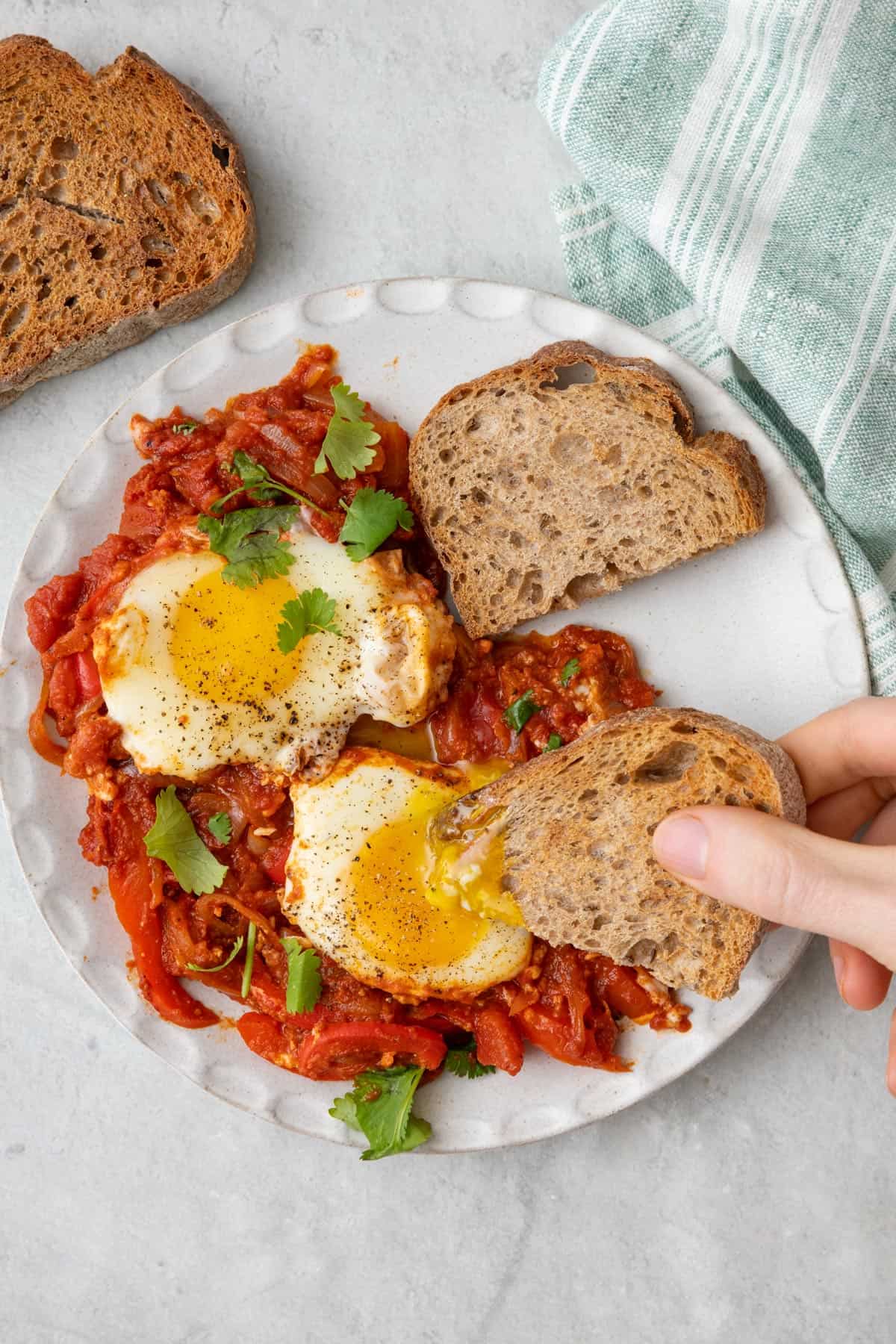 This Shakshuka Recipe is a staple dish I serve when inviting friends over for a Middle Eastern breakfast or brunch. I love that it's all made in one skillet and that it's totally acceptable (and preferable) to serve it in that one skillet. This is one of my favorite egg recipes that is bursting with flavor, full of protein, and enjoyable any time of the day. And if you like this version, be sure to check out my Shakshuka with feta and my Green Shakshuka!
More egg recipes
If you try this feel good Shakshuka recipe or any other recipe on Feel Good Foodie, then don't forget to rate the recipe and leave a comment below! It helps others who are thinking of making the recipe. We would love to hear about your experience making it. And if you snapped some shots, share it on Instagram so we can repost on Stories!
This Shakshuka recipe was originally published on October 28, 2018. The recipe has not been modified, but the post now includes new step-by-step photos for how to make Shakshuka.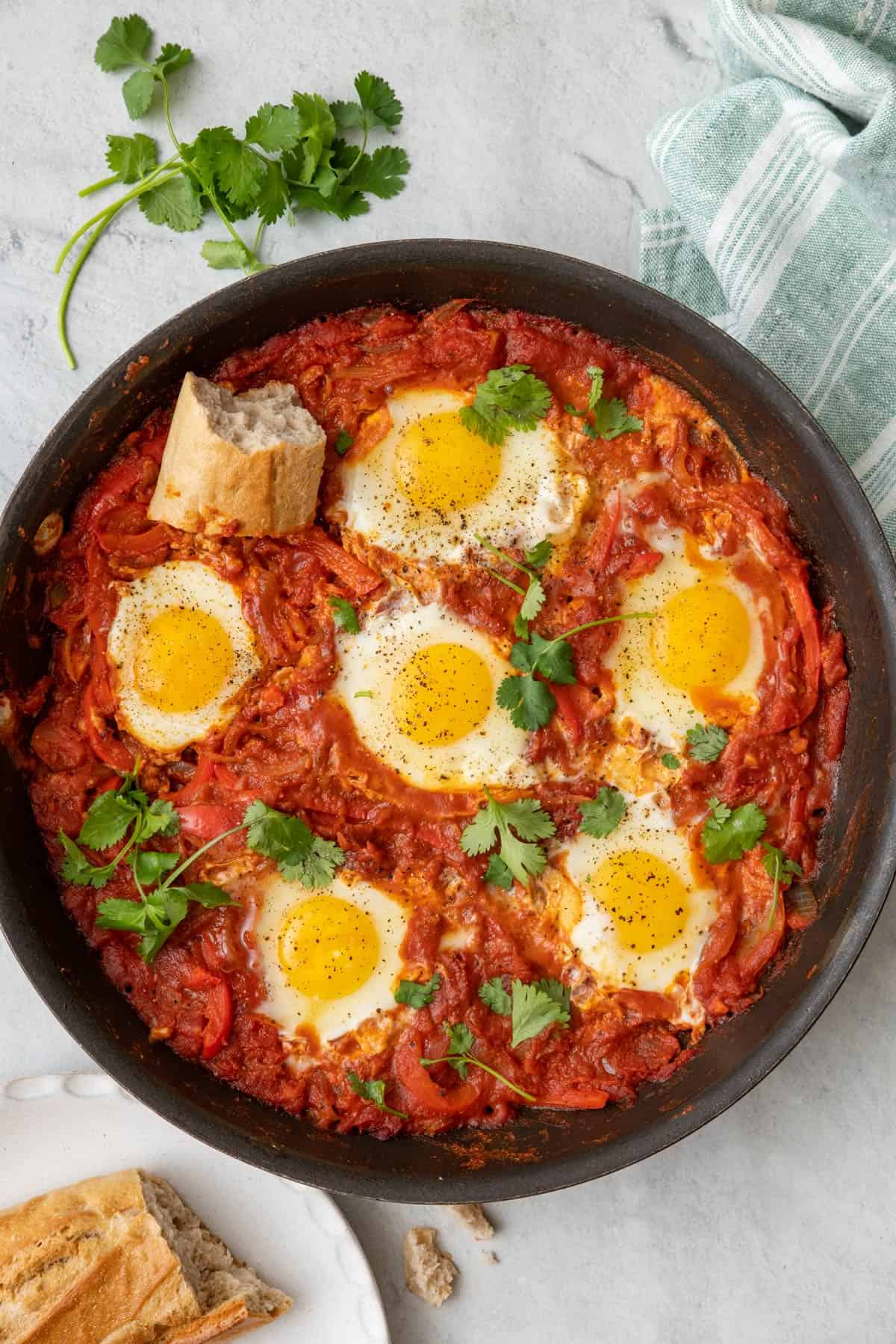 Shakshuka
This Shakshuka Recipe is a popular Middle Eastern breakfast that is basically poached eggs in a spicy tomato sauce – it's vegetarian, easy and healthy!
Instructions
Heat olive oil in a large skillet over medium heat. Add the onions and peppers and cook for about 10 minutes until the onions become soft and translucent. Stir in garlic and cook for an additional minute until the garlic becomes fragrant.

Pour the tomatoes and tomato sauce, and add cumin, paprika and coriander. Season with salt and pepper. Bring to a boil, then reduce heat to low and simmer until the tomato sauce thickens like a stew, about 10-15 minutes.

Create 6 small nests in the tomato stew. Gently crack the eggs into the skillet over the tomatoes in the nests formed. Season with salt and pepper. Cover the skillet, and cook until the egg whites have set, about 5-8 minutes, depending on your desired doneness.

Garnish with fresh cilantro and serve with crusty bread or pita.
Notes
Storage: Store any leftovers in an airtight container. They will last about 3-4 days in the fridge. Sourcing: You can find all the spices for this recipe at your local grocery store. Substitutes: For best results, follow the recipe as is. However you can substitute red peppers or green peppers. You can also use fresh tomatoes instead of canned tomatoes, but the consistency will be slightly different
Nutrition
Calories:
150
kcal
,
Carbohydrates:
6
g
,
Protein:
9
g
,
Fat:
10
g
,
Saturated Fat:
3
g
,
Polyunsaturated Fat:
2
g
,
Monounsaturated Fat:
5
g
,
Trans Fat:
0.03
g
,
Cholesterol:
246
mg
,
Sodium:
390
mg
,
Potassium:
226
mg
,
Fiber:
1
g
,
Sugar:
3
g
,
Vitamin A:
1545
IU
,
Vitamin C:
41
mg
,
Calcium:
56
mg
,
Iron:
2
mg
Nutrition information provided is an estimate. It will vary based on cooking method and specific ingredients used.