This post may contain affiliate links. Please read our disclosure policy.
These Garlic Smashed Potatoes are soft on the inside and crispy on the outside with a burst of rosemary garlicky flavor. They are so easy to make and packed full of flavor. Perfect for Thanksgiving, Christmas, and Easter, but easy enough to make as a side dish in the week. So next time you want crispy skinned potatoes with a soft, fluffy center, pull out this garlic smashed potatoes recipe!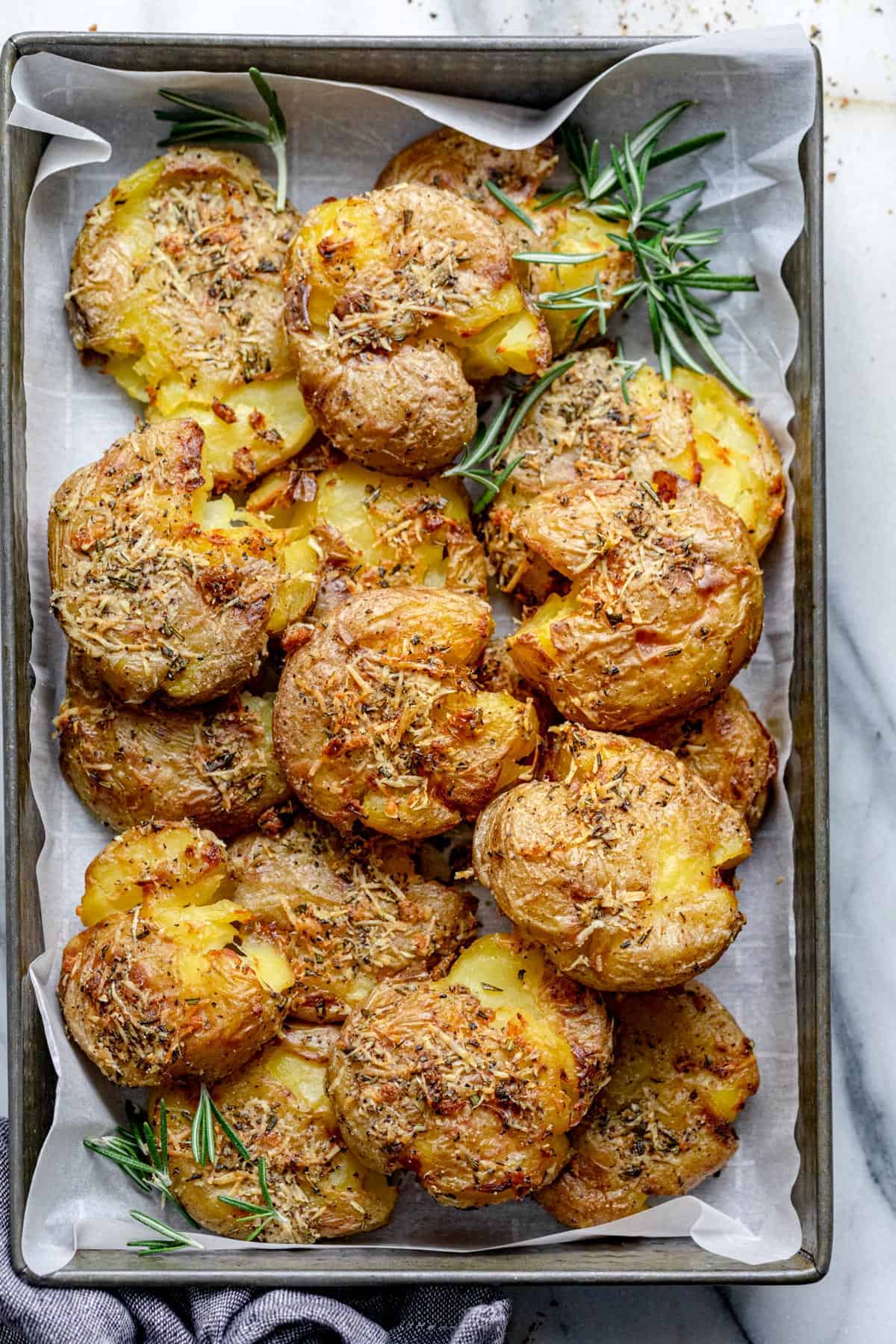 Can I just say that I truly appreciate all the wonderful ways we can eat potatoes? And here's a relatively new way that I've been making for a few years…it's not mashed potatoes, it's smashed potatoes! It's the best of both worlds for those who love a crispy potato on the outside and a smooth creamy inside. The garlic and parmesan add so much flavor to these smashed potatoes too.
"These are amazing!!! And my husband loves them 😍 Your recipes never fail.
Thank you!" – Mary
Table of Contents
Recipe at a glance
Cuisine Inspiration: American
Primary Cooking Method: Boiled & Baked
Dietary Info: Vegetarian, Gluten Free
Key Flavor: Garlic and rosemary
Skill Level: Beginner to Intermediate
Summary
Smashed Potatoes Recipe Video
Ingredients to make the garlic smashed potatoes
Substitutions & Additions
How to make garlic smashed potatoes
Cook the potatoes in boiling salted water until fork tender and transfer the potatoes to a large baking dish. You can line it with parchment paper if you'd like for easier clean-up.
Drizzle olive oil on top of the potatoes and add rosemary, garlic, salt, pepper and parmesan cheese. Use your hands to coat the potatoes really well.
Use the bottom of a cup or jar to lightly smash the potatoes, pressing firmly but gently so they become flatter, but still remain in one piece.
Bake until the potatoes are golden brown and crispy.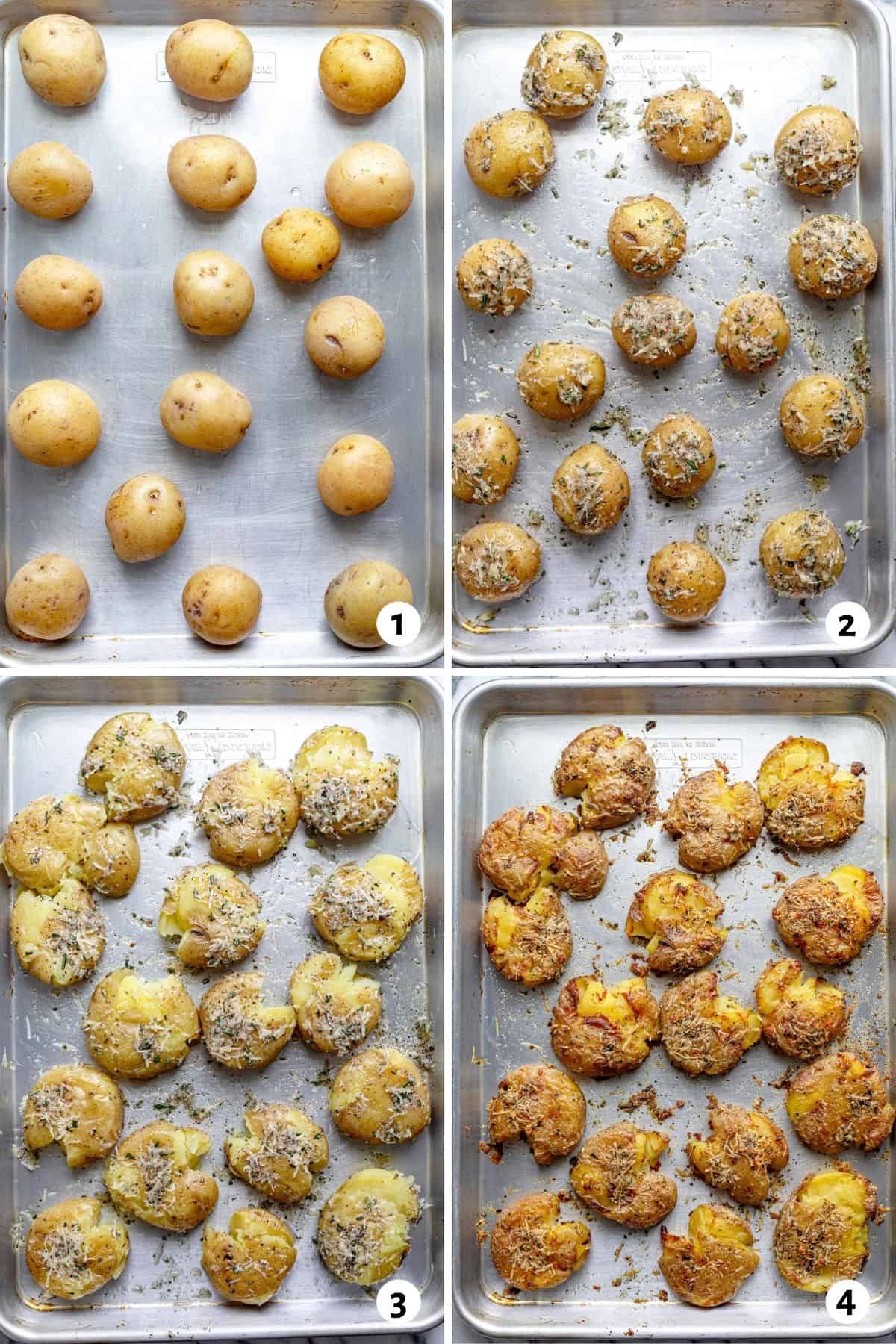 I'd just been wanting to try out this recipe for the longest time. I'm so glad I finally got a chance to make it, and it turned out sooo delicious. The prep is so easy and gets done in just a snap. The hard part is the wait while it's baking in the oven, but it's totally worth it.
Can't wait to make it more often!! – Varshila
Tips to make the best parm smashed potatoes
Don't over boil the potatoes. They should be fork tender, not falling apart. Test them by inserting a fork, it should be easy to pierce but have a little resistance.
Apply light but firm pressure when you smash the potatoes. You want them to become flatter but they need to remain in tact.
Keep space between the potatoes on the baking sheet. This will help them to get nice and crispy. Use two baking sheets if necessary.
Don't be tempted to add more oil. You only need a little to achieve that delicious crispiness!
What to serve with your smashed potatoes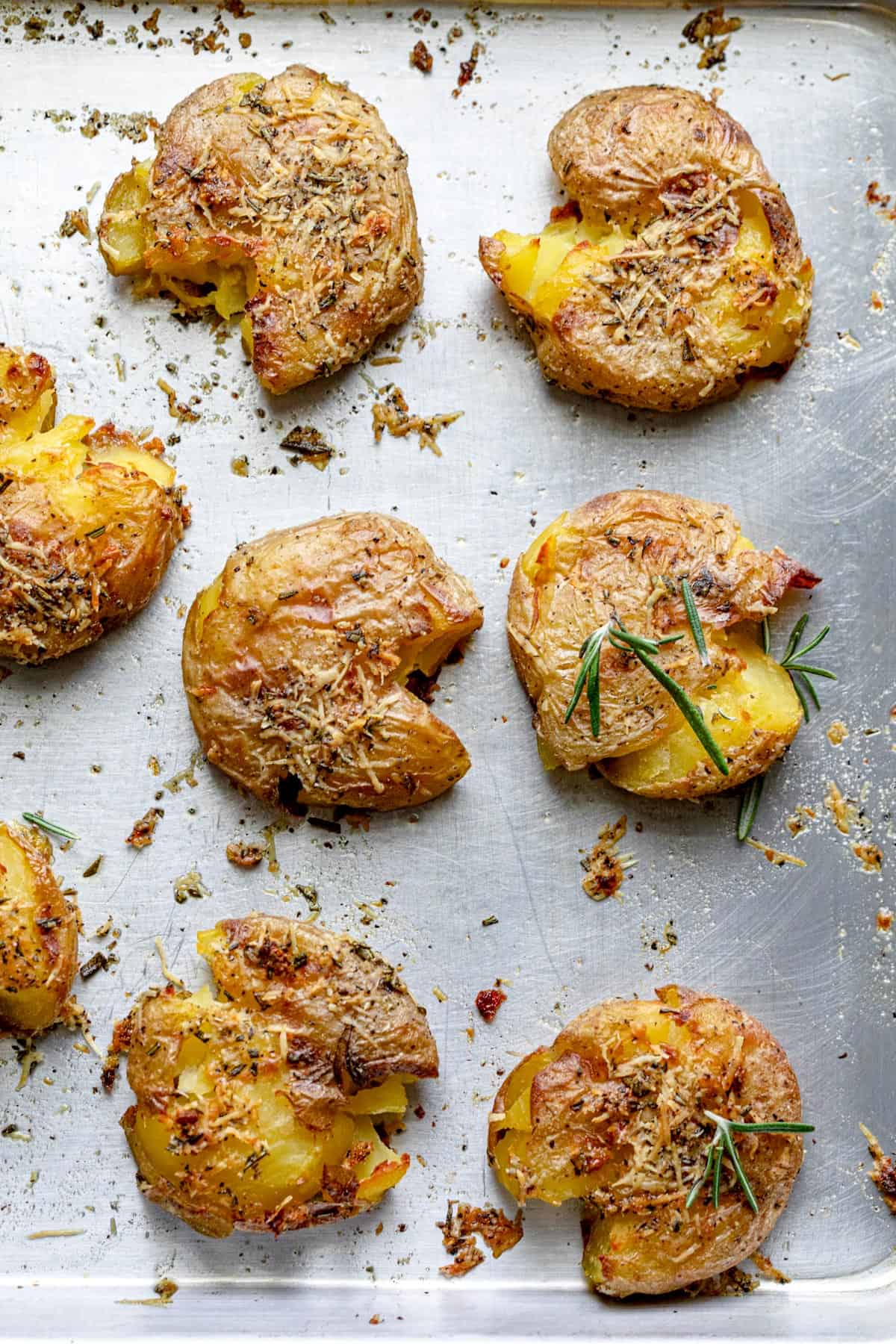 How to store and reheat
Allow your potatoes to cool to room temperature after cooking. This helps to prevent condensation inside the storage container.
How long will garlic smashed potatoes last in the fridge? You'll expect leftover smashed potatoes to last 3 to 4 days in the refrigerator when stored properly.
Can I freeze smashed potatoes? Transfer your cooled garlic smashed potatoes to a freezer-safe container, or wrap them tightly with heavy-duty foil. Freeze for up to 2 to 3 months.
Frequently asked questions
What are the best potatoes to use?
Use small red potatoes for this recipe, they look pretty as well as being super fluffy and crispy when baked. No need to peel them either!
What's the difference between smashed and mashed potatoes?
Smashed potatoes are more similar to roasted potatoes rather than mashed. They have a crispy outside and are soft and fluffy in the middle. I love the texture you get with these compared to mashed potatoes and they are loaded with flavor without the need for butter and cream.
Is this potato recipe difficult to make?
The cool thing about it is you just need to worry about boiling the potatoes until they are tender and then baking until they're crispy. Every other detail of this recipe can be ignored, altered or enhanced to your liking. So you can really have fun with this recipe and step up your potato side-dish game!
Can you make them ahead of time?
You can boil and smash the potatoes several hours ahead of time so all you need to do is pop them in the oven to roast them. Leftovers will keep well for up to 5 days and are easily reheated.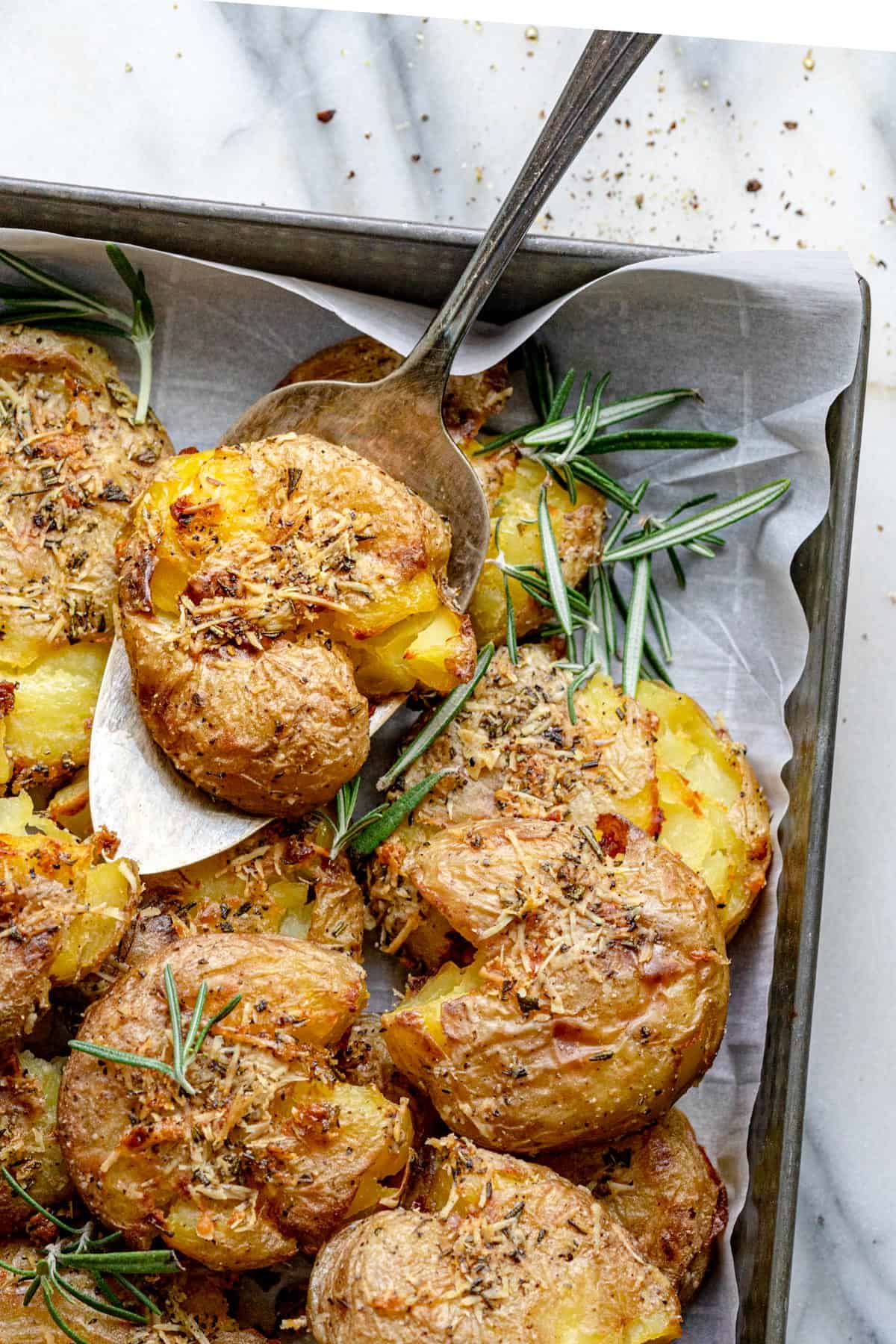 This smashed potatoes recipe is a versatile side dish that's sure to be a hit, whether you're hosting a dinner party or just spicing up a family meal. With options to customize the recipe to your taste, from the type of potatoes to the herbs and toppings you choose, there's plenty of room to make it your own.
For more potato recipes
If you've tried this healthy-ish feel good Garlic Smashed Potatoes recipe or any other recipe on FeelGoodFoodie, then don't forget to rate the recipe and leave me a comment below! I would love to hear about your experience making it. And if you snapped some shots of it, share it with me on Instagram so I can repost on my stories!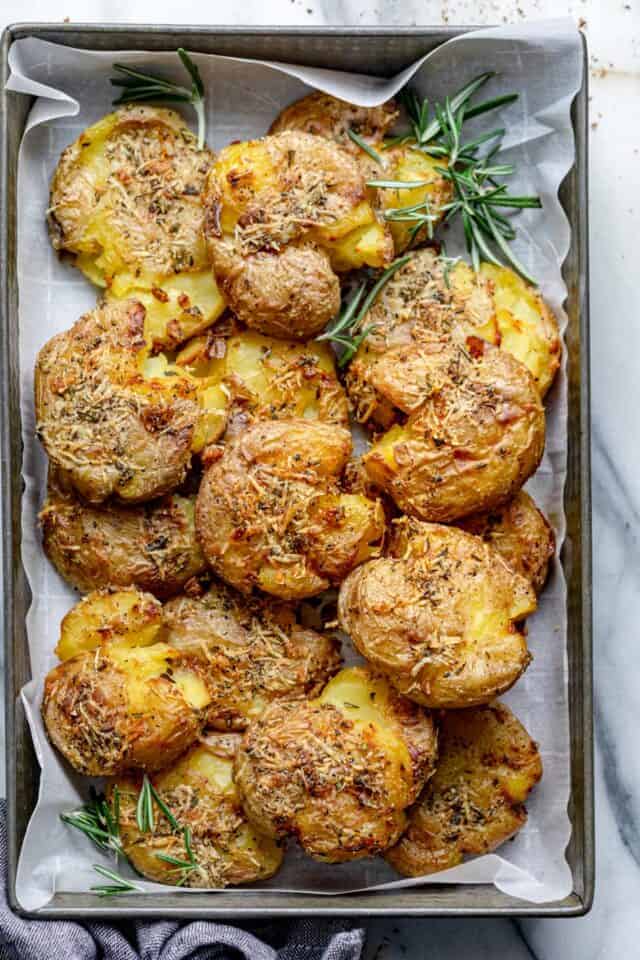 Rosemary Garlic Smashed Potatoes
Rosemary Garlic Smashed Potatoes are a best of both worlds recipe – mashed and roasted potatoes! They are soft on the inside and crispy on the outside
Instructions
In a large pot of salted boiling water, cook the potatoes until fork tender, about 15-20 minutes. Drain and allow potatoes to cool slightly.

Transfer the potatoes to a large rimmed baking sheet. Use a potato masher or the bottom of a measuring cup or glass to press down on the potatoes to smash them.

Drizzle the olive oil on top of the potatoes, add the garlic, rosemary, parmesan cheese, salt and pepper, and toss with your hands to combine.

Bake for 15 minutes until the bottoms are golden. Use a spatula to flip them and add more salt, pepper and olive oil, if desired. Return to the oven for 12-15 more minutes until the potatoes become crispy.
Notes
Storage: Store any leftovers in an airtight container. They will last about 5 days in the fridge. To reheat, just place in the oven at 350°F for 5-7 minutes or in a toaster oven. You can also reheat in the microwave, but the potatoes won't retain a crispy texture that way. Substitutes: For best results, follow the recipe as is. However you can switch out the herbs if you'd like, use butter instead of olive oil and make these with other types of potatoes.
Nutrition
Calories:
496
kcal
,
Carbohydrates:
102
g
,
Protein:
12
g
,
Fat:
5
g
,
Sodium:
116
mg
,
Potassium:
2929
mg
,
Fiber:
11
g
,
Sugar:
8
g
,
Vitamin A:
115
IU
,
Vitamin C:
55.9
mg
,
Calcium:
74
mg
,
Iron:
4.8
mg
Nutrition information provided is an estimate. It will vary based on cooking method and specific ingredients used.