This post may contain affiliate links. Please read our disclosure policy.
Learn how to poach an egg with my easy technique below – no need for a thumbtack, no need for a strainer, and no need for a poach pod. It just takes some water, vinegar, and a little patience to make perfectly poached eggs every time. Then, serve them on top of avocado toast or cauliflower waffles for a hearty breakfast!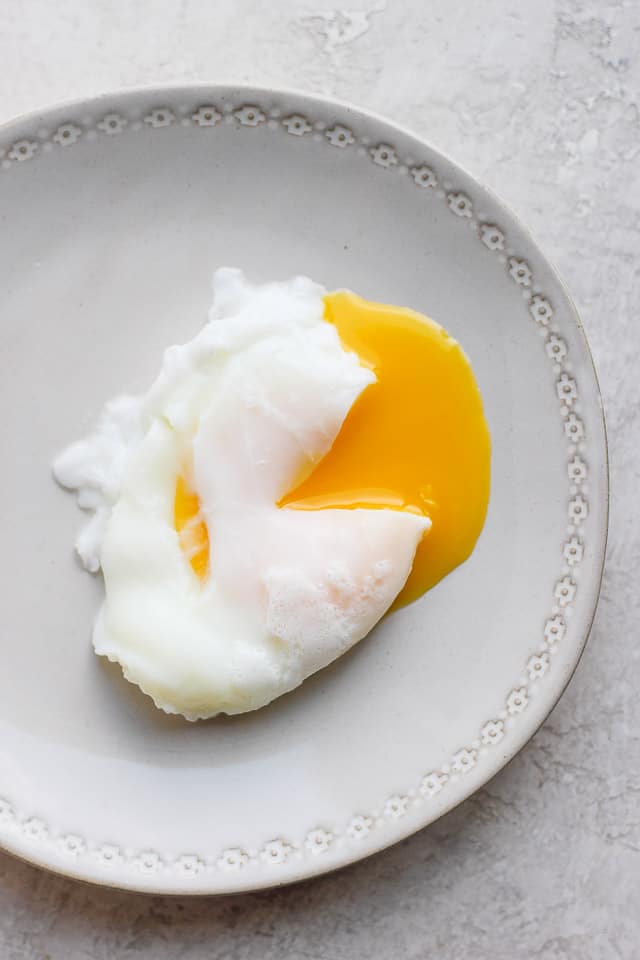 How to poach an egg
Start by cracking an egg into a small bowl or ramekin. There are many methods that recommend straining the egg through a mesh sieve to get rid of the wispy whites. But that part is completely edible. And I say it's no big deal keeping it there and can be tucked under for presentation sake.
Combine the water and vinegar in a small pot and bring to a gentle simmer. Swirl the water with a slotted spoon in a clockwise motion to create a vortex.
While the water is still in a vortex motion, bring in the bowl of ramekin right over the pot.
Gently pour the egg into the center of the pot,
Cook the egg to the desired doneness. Cook for 3 minutes for a runny yolk or 5 minutes for a firmer, creamy yolk.
Remove the egg with a slotted spoon and dab with a paper towel to remove any excess water.
Two types of poached eggs
Keep in mind these cooking times so you can get the poached eggs perfectly the way you prefer:
Set white and runny yolk: 3 minutes
Set white and firmer creamy yolk: 5 minutes
The cooked eggs can be shocked in an ice bath to halt further cooking, which could change the yolk's texture. However, I don't think this step is necessary.
Runny yolk
A runny yolk will gently spill out over the plate. This is great for serving on top of a noodle dish, avocado toast or a breakfast grain bowl as it creates a great sauce to mix with the other ingredients.
Firm creamy yolk
A firm, creamy yolk can be almost solid with just a whisper of liquid left in the yolk. This is what I usually prefer because it's great on its own and perfect for kids as well.
Tips for Poaching Eggs
I consulted the experts, aka some of my favorite cookbooks, for tips on poaching eggs.
Poach only the freshet eggs according to Mastering the Art of French Cooking."A stale egg with watery white is unpoachable because the white trails off in wisps leaving the yolk exposed."
Use one tablespoon vinegar per quart of poaching water. You can apply this to as many eggs as you want in a single pot.
Make sure there are visible fading bubbles in the poached water according to Salt, Fat, Heat, Acid. The simmering water should resembles a stale glass of champagne.
Keep in mind these skillet sizes fo amount of eggs according to Joy of Cooking handily matches skillet size to poaching job: Use an 8-inch skillet for 4 eggs, 10-inch skillet for 6 eggs and 12-inch skillet for 10 eggs.
Frequently asked questions:
Can you refrigerate poached eggs?
Poached eggs are best eaten immediately, but they can be stored in cold water in the refrigerator. Eat within two days.  
How do you rewarm poached eggs?
Very gently in hot but not boiling water. Let the eggs warm up for five to 10 minutes and try to keep the temperature constant.
Can you freeze poached eggs?
Not a great idea. Egg whites freeze well; egg yolks do not and your defrosted product will be compromised.
What do the dates on an egg carton mean?
Refrigerated eggs last a long time – up to five weeks in the fridge and that is often past the "sell-by date." For the freshest eggs, look for the more revealing three-digit Julian date, printed near the sell-by date. The Julian date is the specific day the eggs were packaged: 001 is January 1. December 31 is 365 . Let this converter do the math for you.
How can you tell if an egg is too old ?
Try the floating hack. Put the egg in question in a wide drinking glass or glass bowl. Does it float? Throw it out. If it lays on the bottom on its side, it's very fresh. If the tip hits the bottom of the glass, it is still okay to eat.
Recipes to make with poached eggs
More egg recipes
Poached eggs are not just a restaurant treat! Now you can make them at home using my easy-to-follow tutorial for how to poach an egg perfectly!
If you've found this cooking resource for How to Poach an Egg helpful or if you've tried any recipe on FeelGoodFoodie, then don't forget to rate the recipe and leave me a comment below! I would love to hear about your experience with this technique. And if you snapped some shots of it, share it with me on Instagram so I can repost on my stories!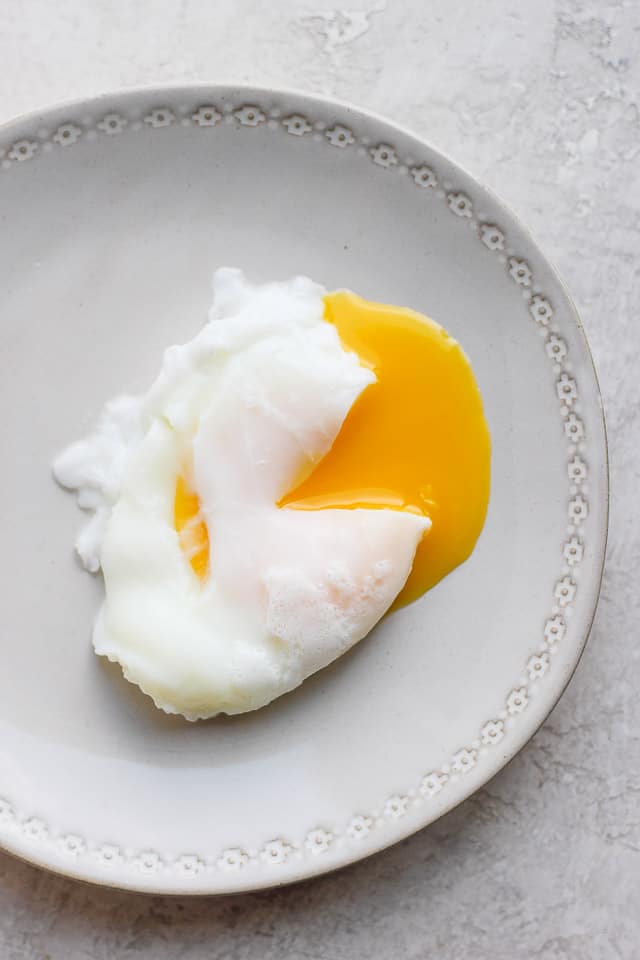 How to Poach an Egg
Learn how to poach an egg simply using water and vinegar in pot without any special tools/tricks. Use my easy no-fail step-by-step tutorial!
Ingredients
2

cups

water

1

tablespoon

white vinegar

1

large eggs
Instructions
Combine the water and vinegar in a small pot; bring to a simmer.

Crack an egg into a ramekin or small bowl.

Swirl the water with a slotted spoon in a clockwise motion to create a vortex

Gently pour the egg into the center of the pot, cook to desired doneness. Remove with a slotted spoon and dab with a paper towel to remove any excess water. Cook for 3 minutes for runny yolk or 5 minutes for firmer creamy yolk.
Notes
Storage: Store any leftovers in an airtight container. They will last about 2 days in the fridge but best eaten right after they're made.
Photo Credit:
Erin Jensen
Nutrition
Calories:
66
kcal
,
Carbohydrates:
1
g
,
Protein:
6
g
,
Fat:
4
g
,
Saturated Fat:
1
g
,
Cholesterol:
164
mg
,
Sodium:
86
mg
,
Potassium:
61
mg
,
Sugar:
1
g
,
Vitamin A:
238
IU
,
Calcium:
39
mg
,
Iron:
1
mg
Nutrition information provided is an estimate. It will vary based on cooking method and specific ingredients used.