This post may contain affiliate links. Please read our disclosure policy.
Have you heard? Sweet potatoes are the new toast! Well, they don't actually taste like toast. But I think once you toast them and top them with your favorite ingredients, they make a tasty breakfast that won't have you missing grains! So this weekend, ditch the traditional bread toast, and try sweet potato toast!
Why are Sweet Potatoes Healthy?
I'm obsessed with sweet potatoes…they're naturally gluten-free, high in fiber and packed with a chockful of nutrients…something you probably can't say about most slices of bread. In addition, sweet potatoes are:
Whole30 approved – they are a whole, real, nutrient-dense food.
Paleo and Keto approved – it's the good (low) carbs you eat when craving grains!
Low in calories but high in fiber – one medium sweet potato is only about 100 calories with 4 grams of fiber.
Sweet potatoes are one of the best sources of vitamin A; a large one contains more than 100 percent of the daily recommended intake. What's Vitamin A good for? Anti-aging benefits, cancer prevention and good eyesight maintenance.
How do you make sweet potato toast?
Start by washing the sweet potatoes and scrubbing them clean. You'll be eating the skin on the sweet potatoes, so it's important to make sure they are clean.
Use a large sharp knife to slice the potatoes lengthwise, or if you're lucky to have a mandolin slicer, (I don't have one) you can use that to make it easier.
Cut the sweet potatoes into ¼ – ⅓ inch slices. If the slices are too thin, they won't hold their shape and if they're too thick they won't cook fast enough in the toaster.
Toast until they are fork tender but not soft. Allow the sweet potatoes to cool off slightly on a wire rack before adding the toppings to make sure they don't get soggy.
Sweet potato toast ideas
Now the fun starts. You get to add toppings! The possibilities are pretty much endless just like with regular toast. Not sure what to top yours with? Check out these five ideas.
Savory sweet potato toast
This is the most popular way to enjoy sweet potato toast as it replaces how we often have toast for breakfast with fried eggs on top or avocado slices:
Fried egg with fresh chopped parsley
Avocado slices with hemp seeds and oregano
Cream cheese with strawberry jam, blueberries and chia seeds
Ricotta cheese with raspberries, coconut and honey
Peanut butter with banana slices, pecans and maple syrup
Tips for Making Sweet Potato Toast
Choose the largest sweet potatoes you can find at the store. You'll want to find the ones that are relatively tube-shaped so they're easier to slice.
Boil the sweet potatoes for 5 minutes before toasting. This will help it be more tender with less toasting time, but it's not necessary.
Slice off part of one end before slicing into the toast. This helps to prop up the sweet potato so that you can make cut through with the knife easier without it wobbling.
Make the sweet potato toast in a toaster oven. Instead of using a traditional toaster, you can use a toaster oven. That way if there are any drippings from the sweet potato, it's easier to clean up.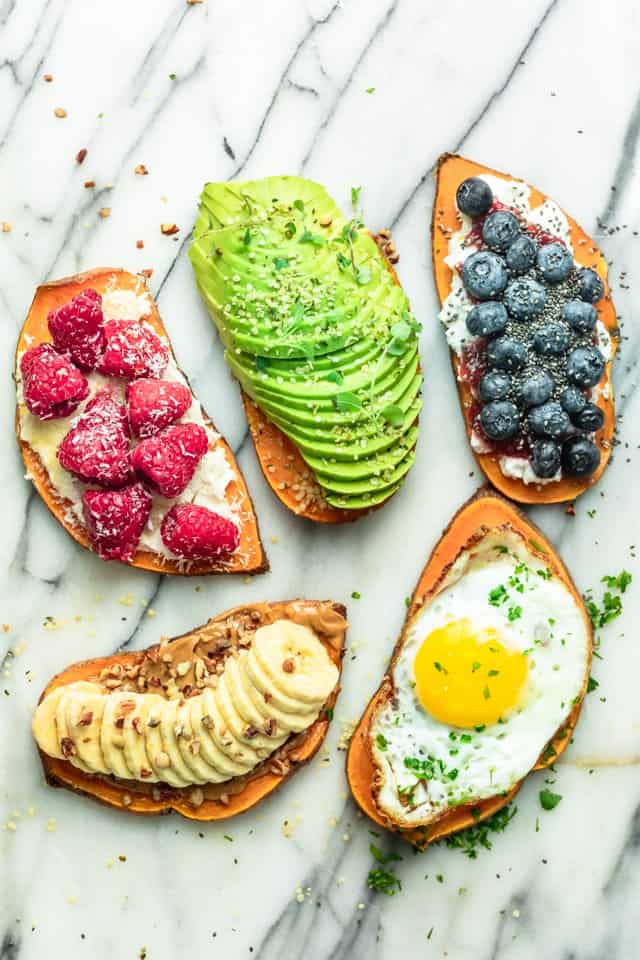 For more toast recipes:
For more sweet potato recipes:
What do you think? Will you try swapping out the bread slices every once in a while for sweet potato toast? They are tender thin slices with crispy edges and endless toppings and amazing nutrition that I'm currently obsessed with.
If you've tried this healthy-ish feel good Sweet Potato Toast recipe or any other recipe on FeelGoodFoodie, then don't forget to rate the recipe and leave me a comment below! I would love to hear about your experience making it. And if you snapped some shots of it, share it with me on Instagram so I can repost on my stories!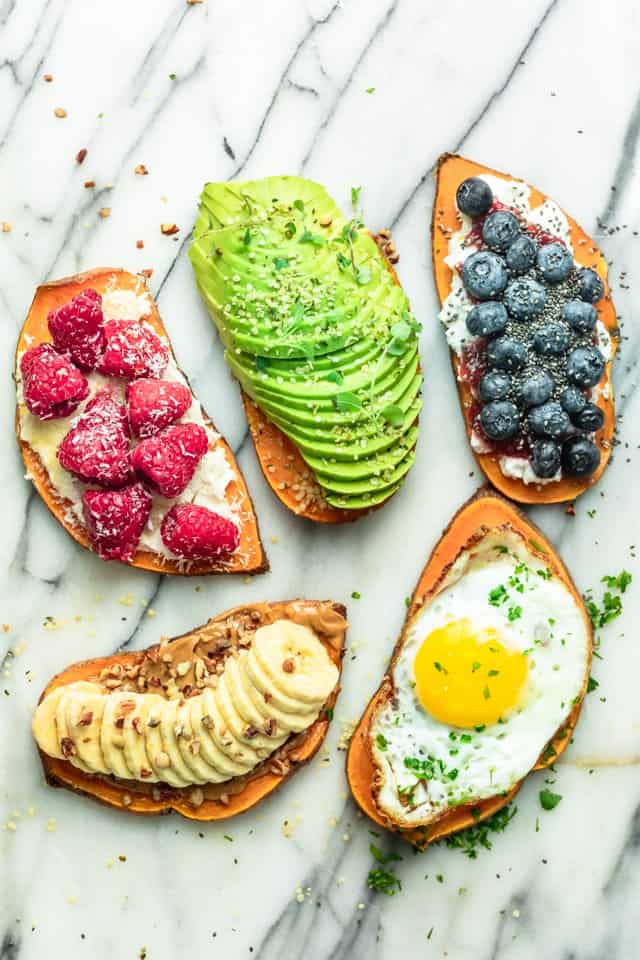 Sweet Potato Toast
Switch the bread slices in your toaster to Sweet Potato Toast! There are endless sweet and savory toppings for a low carb, low calorie, tasty breakfast!
Instructions
Using a large sharp knife, slice the sweet potato lengthwise down the middle. With a steady hand, make 4-5 thin slices about 1/4″-1/3″ thick from the middle of the sweet potato. You can keep the skin or discard. I prefer keeping the skin.

Spray sweet potato slices with cooking spray and season with salt and pepper
Toaster Instructions
Insert slices into toaster (similar to bread) and toast the slices on high. Alternatively, you can toast them in a toaster oven.

After the sweet potatoes pop up from the toaster, check to see if they are fork tender, and toast longer if desired. Depending on your toaster, you may also want to turn down the toaster setting to Medium.

Remove the sweet potatoes from the toaster, and cool on a wire rack before adding toppings.
Oven Instructions
Preheat oven to 350℉.

Place a wire rack on a large rimmed baking sheet.

Bake for 15-20 minutes, until potatoes are fork tender, but not fully cooked or soft.

Remove the sweet potatoes from the oven, and cool on a wire rack before adding toppings.
Notes
Storage: Store any leftovers in an airtight container. For best results, don't store with the toppings which will eventually make the sweet potatoes soggy. The sweet potato toast will last about 3-4 days in the fridge. When you're ready to eat, place it back in the toaster over or toaster for just 1 minute to reheat.
What do do with Leftover Sweet Potato: After slicing the widest part of the sweet potatoes, you'll be left with two halves. You can roast these in the even and add toppings of choice. Here's a loaded breakfast sweet potato idea that works great! Or you can peel the skin, and dice the sweet potato to make a sweet potato hash.
* Please note the nutrition label is only for two slices of toast and does not include whatever toppings you add to the sweet potato toast.
Nutrition
Serving:
2
slices
,
Calories:
27
kcal
,
Carbohydrates:
6
g
,
Sodium:
17
mg
,
Potassium:
109
mg
,
Sugar:
1
g
,
Vitamin A:
4610
IU
,
Vitamin C:
0.7
mg
,
Calcium:
10
mg
,
Iron:
0.2
mg
Nutrition information provided is an estimate. It will vary based on cooking method and specific ingredients used.