This post may contain affiliate links. Please read our disclosure policy.
If you're looking for a morning muffin recipe that is oil-free, low in sugar and filled with nutrition, these roasted sweet potato muffins are the perfect treat! They're vegan, easy to whip up with everyday ingredients and have a sweet and satisfying taste that kids and grown-ups alike love!
The recipe video uses coconut milk and coconut sugar while my updated recipe I've swapped for almond milk and regular sugar. Use whichever you prefer!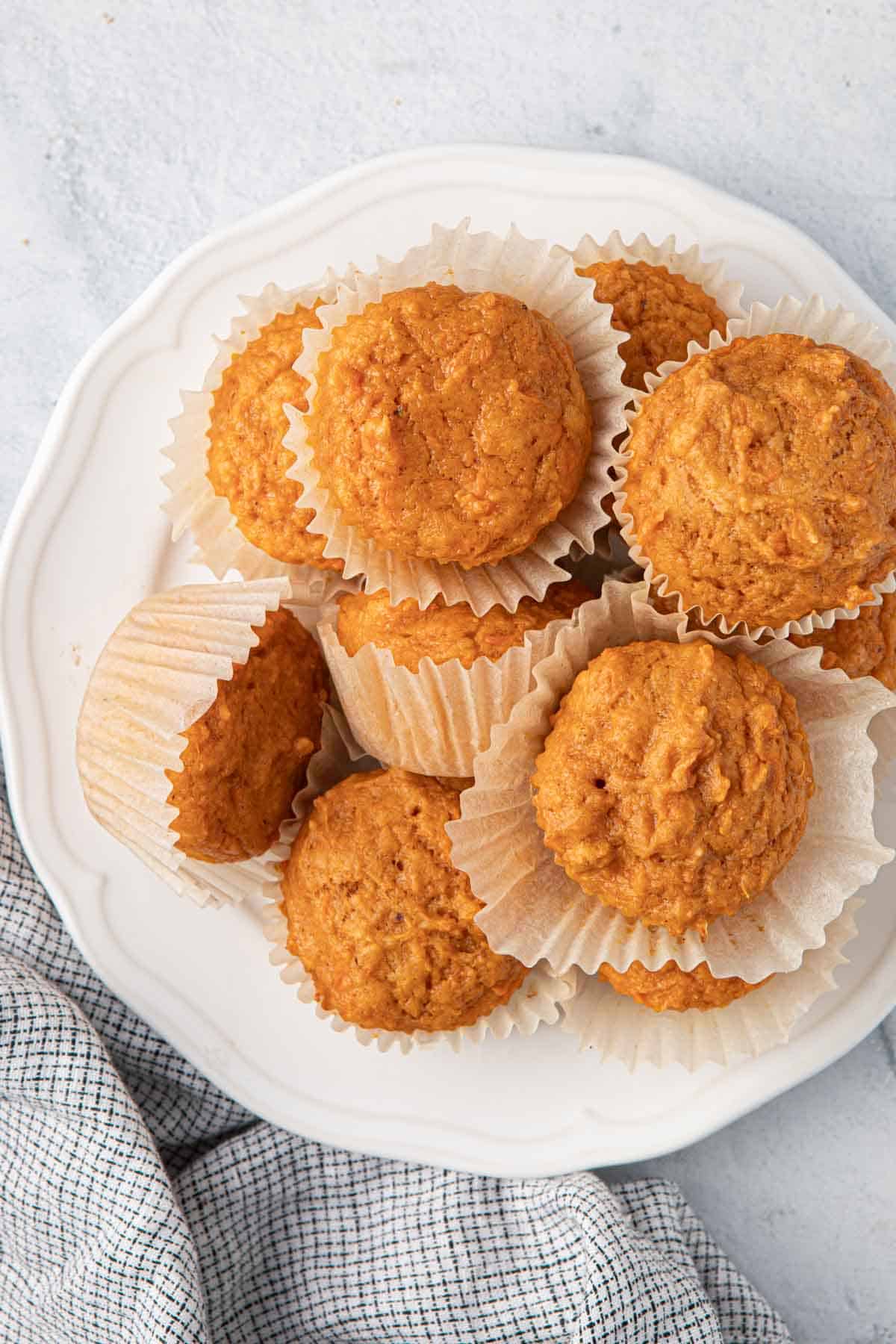 Table of Contents
Because of the natural sweetness of the sweet potatoes, you'll use way less sugar than most muffin recipes. And the outcome is a moist and delicious muffin you can enjoy for breakfast, snack or even dessert. I add these healthy sweet potato muffins to my kids lunchboxes, and they are perfect for school.
Ingredients for roasted sweet potato muffins
Roasted sweet potatoes. For the best results, I highly suggest using roasted sweet potatoes instead of another method of cooking them. This ensures that extra moisture is baked off before mashing.
Dry ingredients: all-purpose flour, sugar, baking powder, cinnamon, and salt.
Wet ingredients: almond milk and vanilla extract.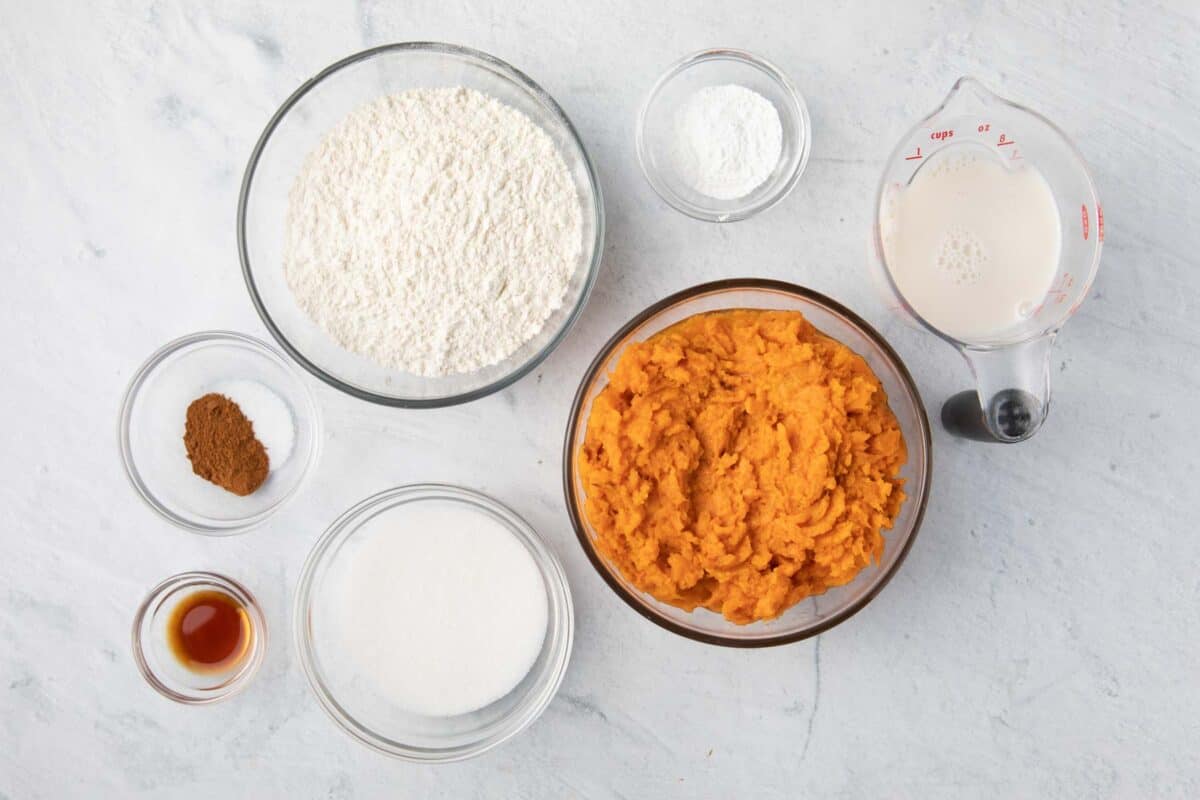 How to make sweet potato muffins
The first step to making sweet potato muffins is to cook the sweet potatoes. While this is a great recipe to use leftover sweet potatoes, roasting them in the oven gives a smoky sweet flavor that truly makes the recipe delicious. Roast at 425°F for 45-50 minutes. About 2 medium sweet potatoes should get you about 2 and half cups of sweet potatoes. Allow them to cool completely before making the batter.
Prepare the batter
Add the flesh of the sweet potatoes to the bowl with the milk and vanilla. You can also add this mixture to a blender to quickly combine them.
Mix until it's well combined. You can do this with a whisk or handheld mixer.
Mix the dry ingredients and add them on top of the sweet potato mixture.
Mix until well combined. It's ok if it's a little clumpy, but make sure there are no more streaks of flour left.
Bake muffins
Scoop the batter into a muffin pan.
Bake until the muffins are cooked through a toothpick comes out clean.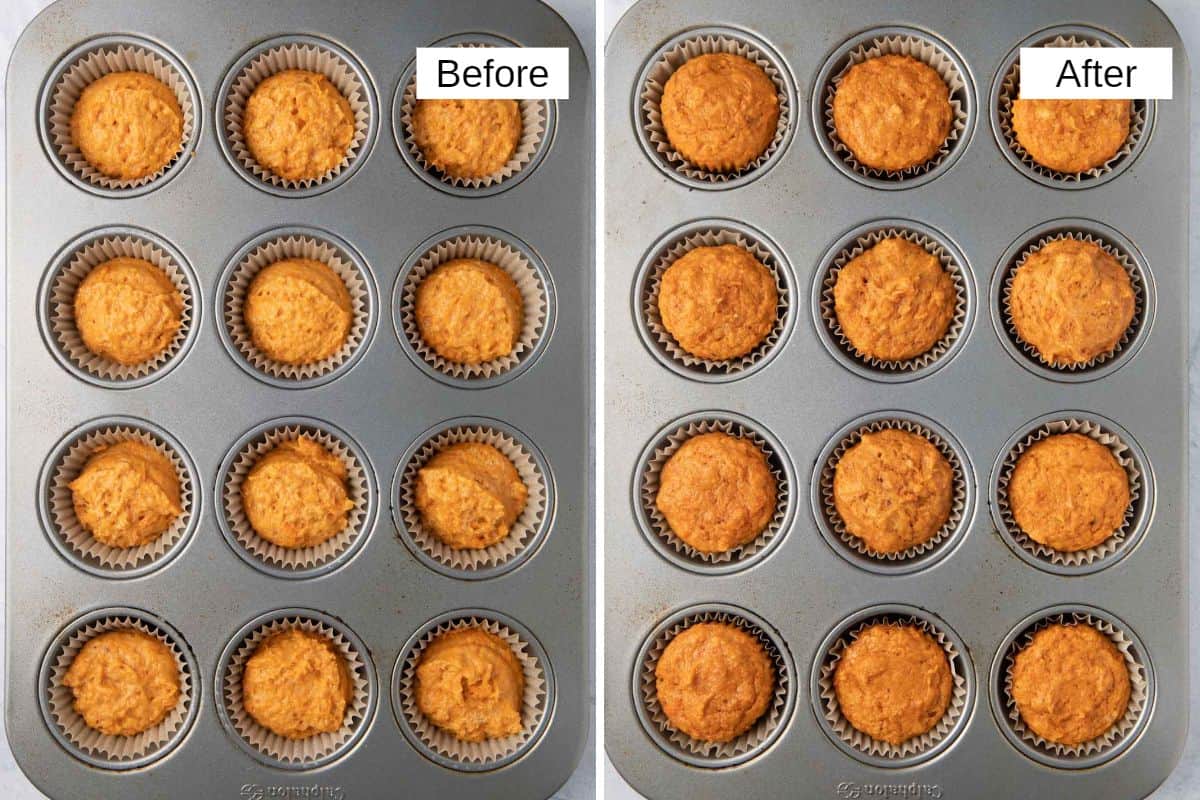 I don't bake much, so I tend to celebrate the results dramatically when I do. Hey, you should too! There's some magic that happens in that oven.
Optional Add-Ins
It's so fun experimenting with add-ins for healthy muffins. When I first made these I tested them with raisins, chocolate chips, granola and almond butter. I loved the almond butter the most, but the kids loved the chocolate chips…obviously! Here are some fun topping ideas though:
Chocolate: chips, chunks, nibs…you name it!
Nuts: walnuts, almond or pecans
Dried fruit: raisins or cranberries
Fresh fruit: bananas or blueberries
Something savory: spinach or corn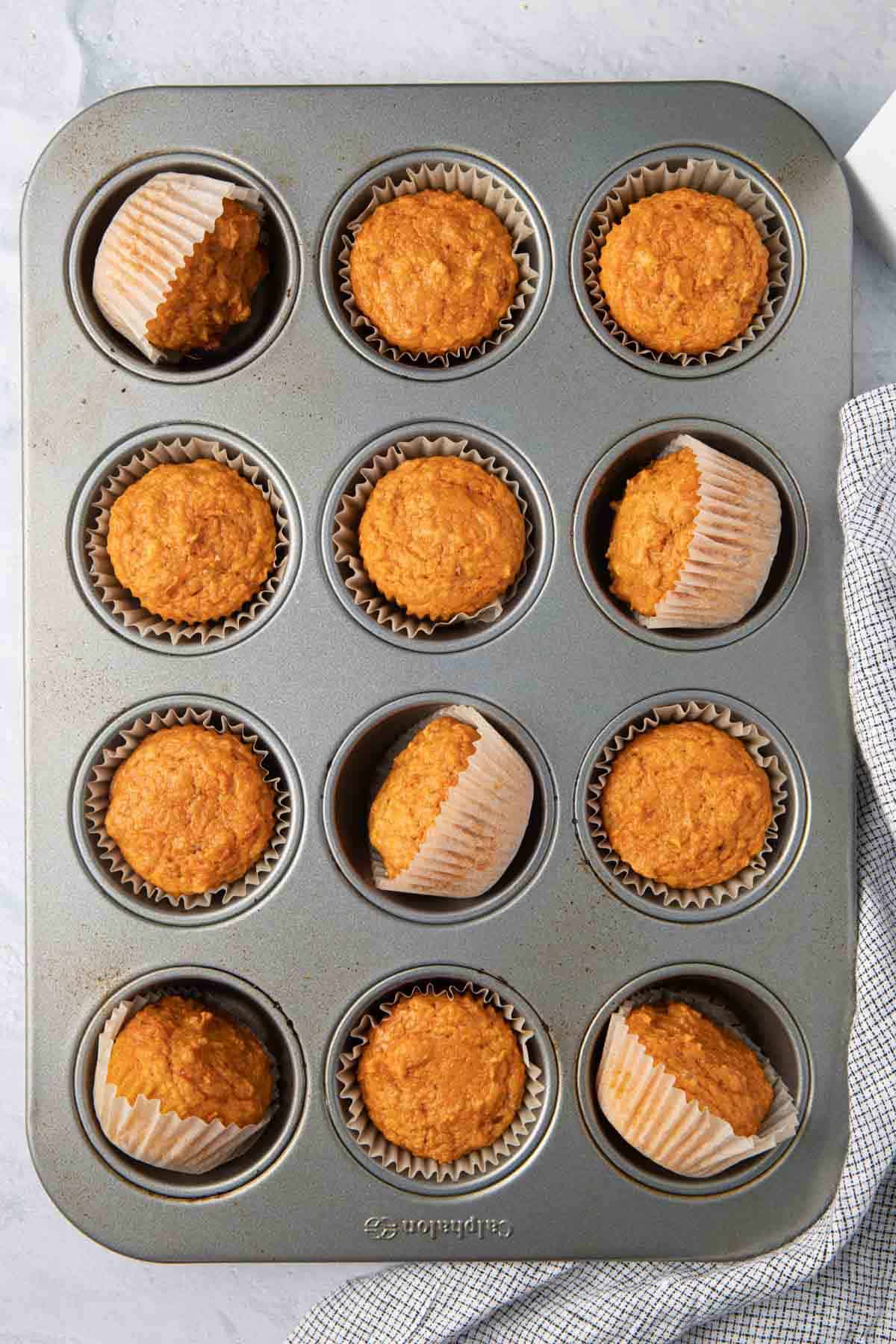 Tips for making the best sweet potato muffins
Roast the sweet potatoes ahead of time. While this is a super quick recipe, roasting the sweet potatoes is the most time consuming part. I roast it at 425°F for 45-50 minutes. Then allow it to cool so it's easier to handle. This is great to do when you have other food in the oven.
Don't overmix the batter. Just mix until you don't see any more flour streaks. If you overmix the batter, the muffins may bake unevenly or become extra chewy and tough.
Customize with add-ins. Feel free to fold in chocolate, chopped nuts or fruit after you've mixed the wet ingredients with the dry ingredients.
Use parchment paper muffin cups. This batter tends to be pretty moist so some sticking may occur if you use traditional muffin liners or no muffin liners. I recommend the parchment paper ones for best results.
Allow muffins to cool before removing from pan. It's tempting, I know. But when you give it time, the steam that condenses around the muffins actually makes it easier to remove from pan. And then don't forgot to cool them on the wire rack for a total of 15-20 minutes.
Frequently asked questions
How to store sweet potato muffins
Cool the muffins in the pan for a few minutes. Then transfer them to a wire wrack and cool them completely.
Then you'll want to place the muffins in an airtight container. But it's important to add a paper towel under the muffins to absorb any moisture that they release. This helps keep them fresher longer. And you won't get any soggy muffins on day 2 of enjoying these goodies!
Can you freeze sweet potato muffins?
Then you'll want to place the muffins in an airtight container. But it's important to add a paper towel under the muffins to absorb any moisture that they release. This helps keep them fresher longer. And you won't get any soggy muffins on day 2 of enjoying these goodies!
I love how easy these muffins are to make and how healthy and delicious they are! It's a vegan recipe without any hard-to-find ingredients. In fact, it's mostly ingredients you probably have in your pantry. And the result is a super moist and nutritious sweet potato muffins recipe that everyone will love!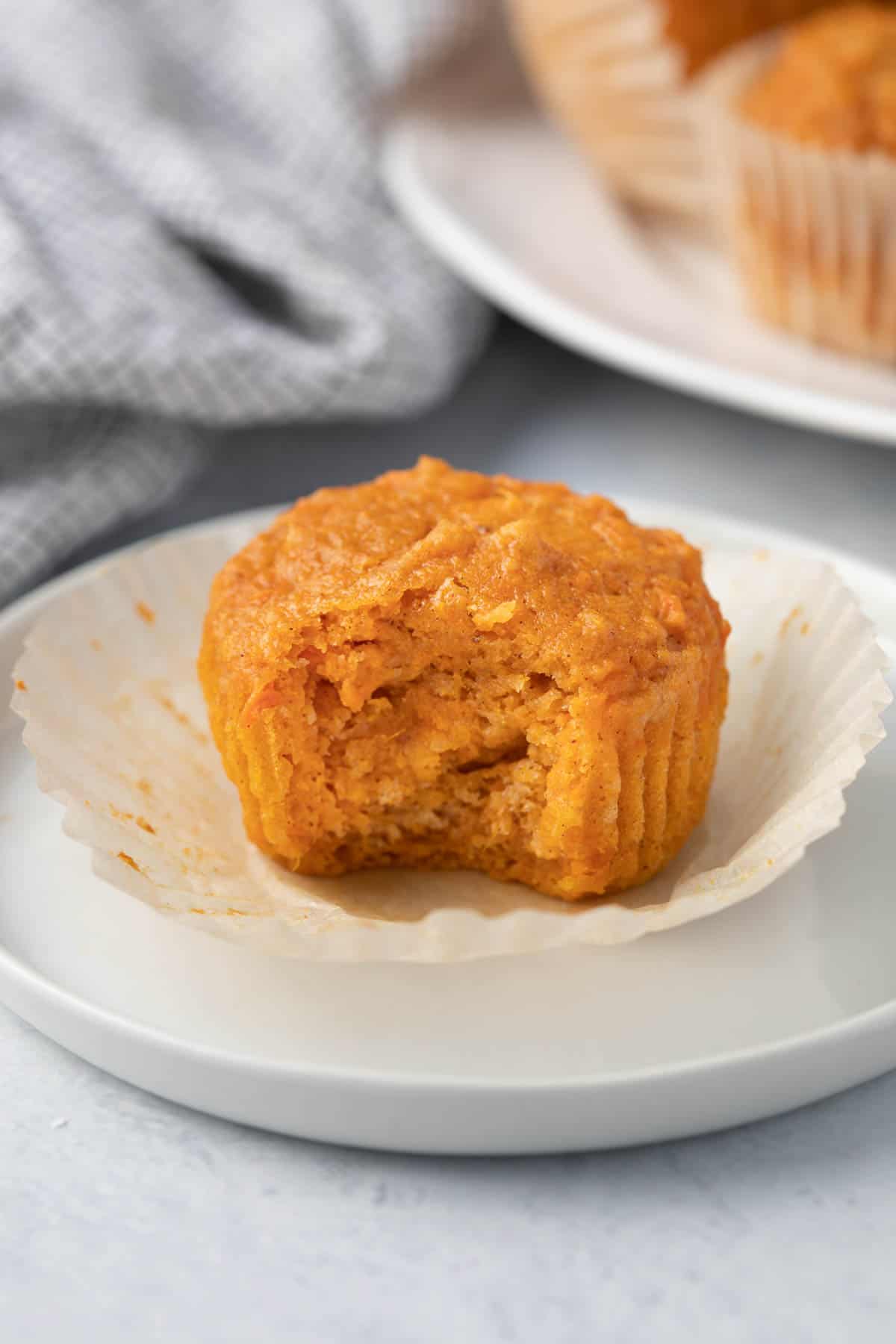 For more muffin recipes:
This sweet potato muffin recipe post was originally published on March 23, 2019, updated on April 19, 2023 with new images and step-by-step instructions. The recipe has been slightly modified from the original to use almond milk instead of coconut, regular sugar instead of coconut sugar, and highlighting that roasted sweet potatoes work best! I've also made it simpler by mixing everything in one bowl instead of using a blender.
If you've tried this healthy-ish feel good Sweet Potato Muffins recipe or any other recipe on FeelGoodFoodie, then don't forget to rate the recipe and leave me a comment below! I would love to hear about your experience making it. And if you snapped some shots of it, share it with me on Instagram so I can repost on my stories!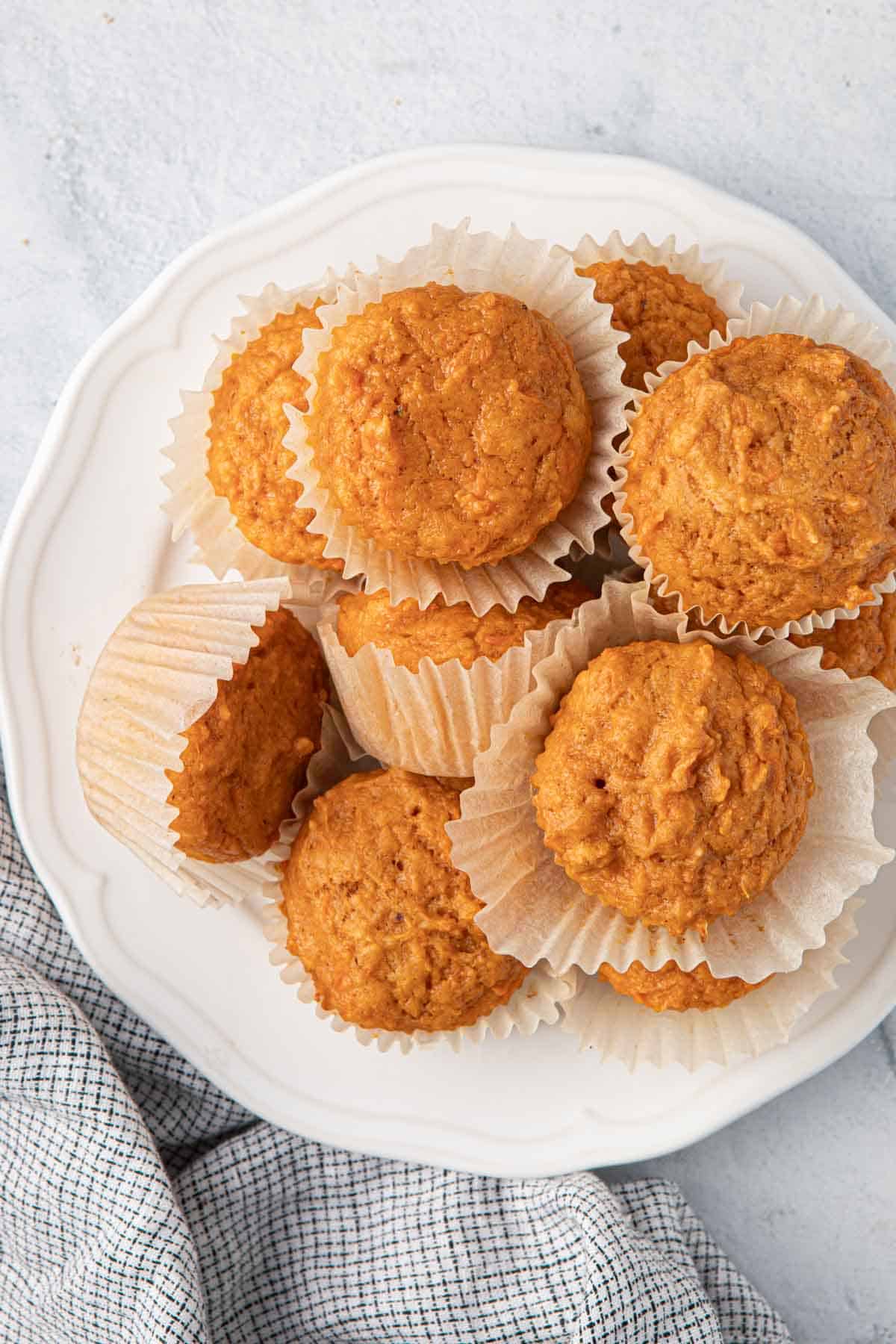 Sweet Potato Muffins
Try these vegan Sweet Potato Muffins made with easy ingredients in 30 minutes. They are kid-friendly and nutritious – great for breakfast or school lunchbox
Instructions
Preheat the oven to 350°F. Line a 12-count muffin pan with parchment paper cups, then spray with non-stick cooking spray (for best results).

In a large bowl, whisk the flour, sugar, baking powder, cinnamon, and salt. Set aside.

In a large bowl, whisk together the mashed sweet potatoes, almond milk, and vanilla extract until smooth.

Add the dry ingredients to the sweet potato mixture. Stir with a wooden spoon until combined.

Scoop the batter into the prepared muffin pan, filling each muffin cavity about ¾ full.

Bake for 25-30 minutes or until a toothpick comes out clean. Allow them to cool completely before enjoying.
Notes
Recipe: This recipe was adopted from Vegan Heaven
Storage: Store any leftovers in an airtight container with a paper towel under them to absorb any moisture. They will last about 4-5 days in the fridge. You can also freeze the muffins for up to 3 months.
Substitutes: For best results, follow the recipe as is and use roasted sweet potatoes. However here are some common substitutes that would work well in this recipe.
I would not recommend using yams instead of sweet potatoes. They have more starch than sweet potatoes so they won't lend enough moisture to the recipe as sweet potatoes do.
Instead of almond milk, you can use any other plant-based milk or regular milk.
I tested this recipe with a whole wheat white flour, but it will work with any other all purpose flours.
To make this gluten-free, use an all-purpose gluten-free flour mix. Do not substitute only almond flour or only coconut flour.
Replace sugar with other types of granulated sugar.
Nutrition
Calories:
116
kcal
,
Carbohydrates:
26
g
,
Protein:
2
g
,
Fat:
0.4
g
,
Saturated Fat:
0.03
g
,
Polyunsaturated Fat:
0.2
g
,
Monounsaturated Fat:
0.1
g
,
Sodium:
190
mg
,
Potassium:
111
mg
,
Fiber:
1
g
,
Sugar:
10
g
,
Vitamin A:
3932
IU
,
Vitamin C:
1
mg
,
Calcium:
90
mg
,
Iron:
1
mg
Nutrition information provided is an estimate. It will vary based on cooking method and specific ingredients used.