This post may contain affiliate links. Please read our disclosure policy.
Learn how to make pancakes from scratch! It's easier than you think and takes only a few more minutes of work than stirring up a mix that asks you to add milk and eggs. And the results are way yummier. C'mon, who says no to a hot, homemade pancake breakfast?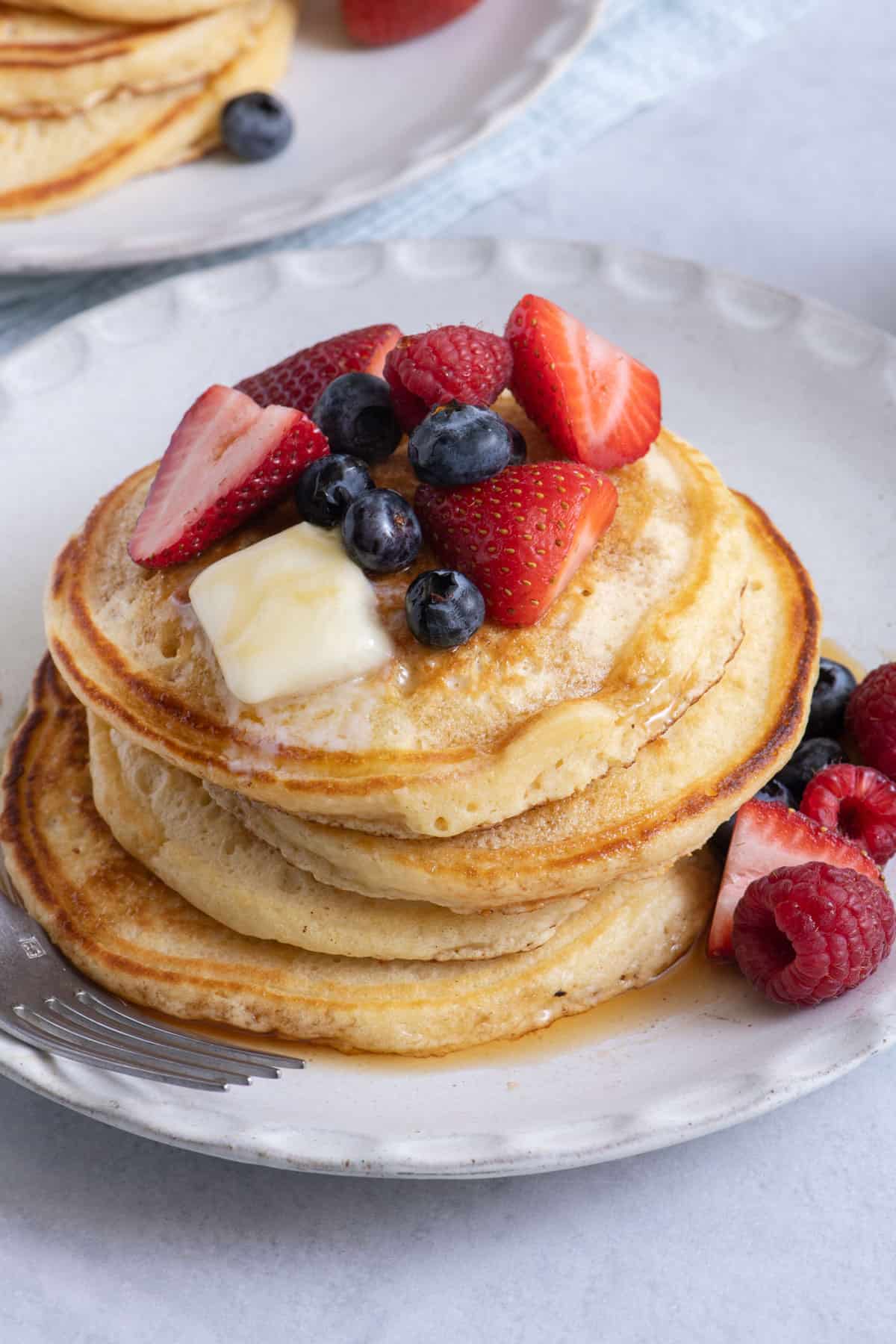 This basic homemade pancake recipe uses common pantry ingredients: all-purpose flour, baking powder, milk, and eggs. Add-ins or substitutions are optional.
WHY learn to make pancakes from scratch
They require no fancy techniques or equipment. You don't have to whip eggs to soft peaks or use a stand mixer. Gear-wise, all you need is the most basic equipment: two bowls, a whisk or fork, and a pan or griddle.
Save money and streamline shopping. Instead of buying flour and pancake mix – which sometimes includes unwanted fats – you buy only flour.
Have fun. Pancakes make breakfast a party. They are people pleasers.
Great master recipe to know. Make this a few times and you'll have it committed to memory and feel confident taking on fancier versions like cornmeal or ricotta pancakes.
Sneak in fruit and nutrition. They are a great vehicle for adding fresh fruit, like antioxidant-rich blueberries, to your family's diet.
Ingredients to make pancakes
All-purpose flour. Substitute ½ the required amount with whole wheat flour if you would like.
Light brown sugar. Brown sugar lends a rich taste, but the same amount of white sugar or honey can be substituted.
Baking powder. This leavens the pancake batter and creates bubbles making it lighter.
Salt. Accentuates the flavors.
Milk. Use whatever you have, from skim to full-fat. Non-dairy milk works, too.
Eggs. Eggs bind the batter together and make it fluffier. If you want to go vegan or are out of eggs, try substituting ¼ cup applesauce, a small banana mashed, or a flaxseed egg.
Butter. Butter adds richness and moisture to the pancakes. We love butter flavor here but using the same amount of vegetable oil, or olive oil is acceptable, too.
HOW TO MAKE pancakes
Start by melting the butter so it has some time to cool off before being mixed in with the milk and eggs. Next, in a medium bowl, whisk together the dry ingredients. In a larger bowl, beat the wet ingredients together until a uniform color. Add wet to dry and stir just until all is moistened. Pour onto a hot griddle, flip when bubbles appear, and cook until done!
Mix Batter
After melting the butter, gather the dry ingredients – the flour, brown sugar, baking powder, and salt – in a medium bowl and whisk to combine. FYI, combining these four ingredients is how you make homemade pancake mix!
In a second, larger bowl, whisk the egg until blended. Next, whisk in the milk and melted butter.
Now, add the dry ingredients to the wet.
Gently mix together the dry and wet ingredients until all dry bits of flour are folded in. But lumps are okay. Overbeating or mixing until completely smooth will make the pancakes leaden. Less is more here.
Cook Pancakes
On a large nonstick skillet preheated to medium and sprayed with non-fat cooking spray, use a ⅓ cup-size measuring cup and pour 3 to 4 circles of batter into the pan.
Now, cook, watching for the tiny bubbles to dot the whole surface. When you see the bubbles and the pancakes are puffed on top and golden brown on the bottom, it is time to flip and cook on the other side until risen and cooked through. Plate and enjoy!
TIPS FOR making pancakes
Check your brown sugar for clumps. They will not incorporate well into the rest of the batter once you've added the wet ingredients. If you notice there are a few clumps as you add the sugar to the rest of the dry ingredients, mash them up with a fork right away!
Baby the melted butter. When very hot butter is added to an ice-cold milk and egg mixture, it quickly separates into little bits. If your butter is still pretty hot, mix a tiny bit of the milk-egg mixture into it to cool it down before adding it to the main bowl.
Do not over-mix: Like muffins and quick bread, the wet and dry parts of pancake batter are lightly mixed together. Lumps are okay and create tender pancakes. If your mixture is super lumpy, let it sit for 15 minutes. The batter will naturally hydrate the drier bits.
Test your pan for hotness: Pancakes cook on medium, but the pan still needs to be hot enough. Test the pan or griddle for readiness by flicking a few drops of water onto the surface. If it sizzles and quickly forms beads, it is hot enough.
popular pancake add-ins
This pancake recipe is a perfect back pocket recipe that you can make any time of the year. To switch it up and take it to the next level, we love adding different ingredients while cooking the pancakes. Whatever you choose, I recommend sprinkling the add-ins over top of the pancakes right after you've dropped them in the pan (before you flip them!) This way, you'll get some fun in every bite!
Fresh fruit. We love adding bananas, blueberries, and raspberries. Feel free to add whatever your family loves and chop them up small, so they don't make the pancakes too chunky.
Nuts. You can use walnuts, pecans or almonds, or any other nuts you like. Make sure to chop them up, so they integrate well into the batter.
Chocolate chips. Regular or mini chocolate chips are my kids' favorite pancake mix-ins, so we always have them on hand to throw on top of the pancakes while they're cooking.
HOW TO REHEAT & STORE pancakes
Pancakes are always best enjoyed fresh off the griddle. If making a large batch, keep them warm in a low oven. However, to reheat, place them on a sheet pan, cover them with foil, and reheat in a 350° oven. Start checking after five minutes. Or, place in the microwave, covered by a damp paper towel or microwave-safe cover, and heat at 30-second intervals until hot.
HOW LONG WILL pancakes LAST IN THE FRIDGE?
Tightly wrapped or packed into refrigerator bags, pancakes will last up to five days in the refrigerator.
CAN I FREEZE cooked pancakes?
Yes, pancakes freeze well if tightly packed into freezer bags or wrapped well. They are best eaten within 2 to 3 months.
FREQUENTLY ASKED QUESTIONS
My pancakes were very flat. Where did I go wrong?
One big reason for flat pancakes is outdated baking powder. Check the expiration date before starting.
Does self-rising flour work for pancakes?
You can make pancakes with self-rising flour. Since it already contains baking powder, just skip that ingredient.
Can I substitute different types of dairy, like Greek yogurt, regular yogurt, or cottage cheese, for the milk in pancakes?
Yes, you can make those protein-rich substitutions. However, use ½ teaspoon baking soda instead of baking powder. It brings out the tanginess in the heavier dairy.
I have trouble flipping pancakes without mangling them. Any tips?
There are a few ways to ensure success when flipping pancakes. First, if you have a flat griddle, use that because it gives you more room to maneuver with the spatula. Next, make sure your griddle or pan is well greased. If you don't have cooking spray, wet a paper towel with cooking oil and rub the pan with that. Finally, use a spatula large enough to support most of the pancake. After that, scoop and flip with confidence!
Hot, homemade pancakes topped with maple syrup, beautiful jam, or fresh fruit and yogurt make breakfast so special. Wait! Who says they are just for breakfast, anyway?
MORE cooking tutorials:
If you found this tutorial for How to Make Pancakes helpful or if you try any recipe on Feel Good Foodie, then don't forget to rate the recipe and leave a comment below! It helps others who are thinking of trying out this tutorial and we would love to hear about your experience. And if you snapped some shots, share it on Instagram so we can repost on Stories!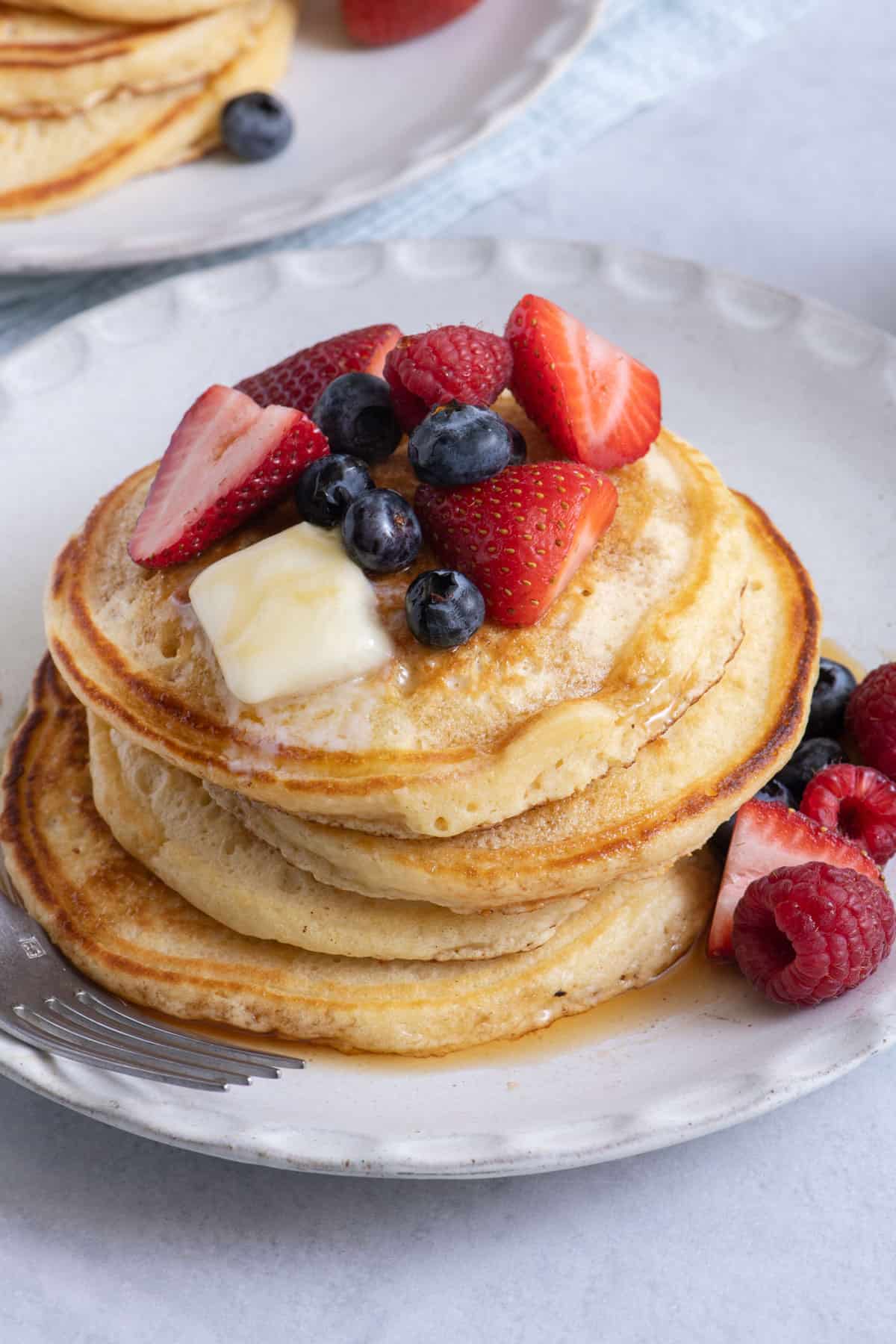 How to Make Pancakes
Learn how to make pancakes from scratch with this easy to follow (and remember) pancake recipe. Make your own homemade pancake mix to enjoy!
Instructions
In a medium bowl, whisk together the flour, brown sugar, baking powder, and salt. In another larger bowl, whisk the egg until blended. Whisk in the milk and melted butter, then whisk in the dry mixture until well combined.

Heat a large nonstick pan over medium heat. Spray with nonstick cooking spray.

Using a ⅓-cup measuring cup, pour 3-4 circles of batter into the pan. Cook until the pancakes are puffed on top and golden brown on the bottom, 2-3 minutes, then flip and cook on the other side until risen and cooked through, 1-2 minutes more. Makes 8 pancakes.

Serve with butter, maple syrup, and fresh fruit, as desired.
Notes
Tip: Make extra pancakes for a quick and easy weekday breakfast. Freeze the leftovers and then when ready to eat wrap the frozen pancake(s) in a paper towel and pop in the microwave for a few minutes. 
Nutrition
Calories:
235
kcal
,
Carbohydrates:
34
g
,
Protein:
7
g
,
Fat:
8
g
,
Saturated Fat:
5
g
,
Polyunsaturated Fat:
1
g
,
Monounsaturated Fat:
2
g
,
Trans Fat:
1
g
,
Cholesterol:
61
mg
,
Sodium:
194
mg
,
Potassium:
444
mg
,
Fiber:
1
g
,
Sugar:
9
g
,
Vitamin A:
295
IU
,
Vitamin C:
1
mg
,
Calcium:
218
mg
,
Iron:
2
mg
Nutrition information provided is an estimate. It will vary based on cooking method and specific ingredients used.